A Wedding Recap
We are on the plane flying back from the most magical honeymoon in Italy writing this recap. Neither of us can believe that only 9 months ago we had just gotten engaged and now we are landing back on planet earth, aka New Jersey, after a whirlwind month.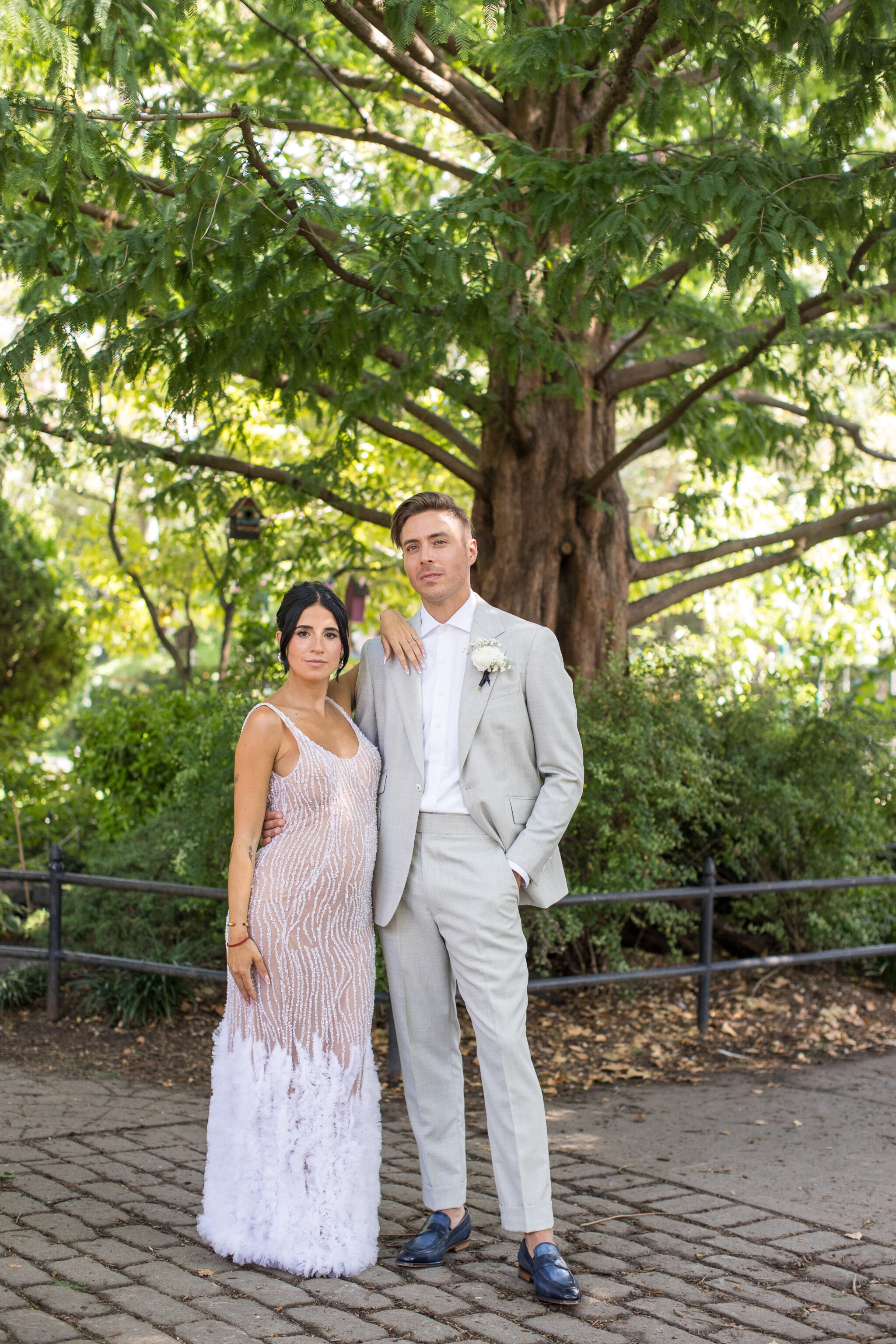 From the beginning…
The day after we got engaged, at 6am, while facetiming my family in Israel, we set the date. Thursday, July 28th, 2022. We had 9 months to plan a wedding. Which at that time was plenty, but knowing what was going on in the wedding industry, we had to get to work.
The first thing a couple needs to do before planning is talk about the budget.
The dreaded budget. We came up with a random number that in a matter of days realized that all that would buy us would be a sexy Atlantic City wedding. Which sounds awesome, but not exactly what we wanted.
Months prior, before we got engaged, we sat down for dinner outside of Bistro La Source in Jersey City and talked about our dream wedding. That night we planned the whole thing. Jersey City is obviously a very special place to me so it had to be local.
But where?
4 years ago, when I was going through a rough time in my life and needed a new home, I reached out to Paul Silverman of SILVERMAN building and asked him if he had any available apartments. No questions asked, Paul helped me immediately, and went above and beyond to make the transition easy for me (given my circumstances). A month later, I moved into Charles & Co in downtown JC.
I have so many fond memories of living in this building with Mia & Harvey. Until I met Tony, who after a few months of dating we decided to move to a bigger apartment in the same building.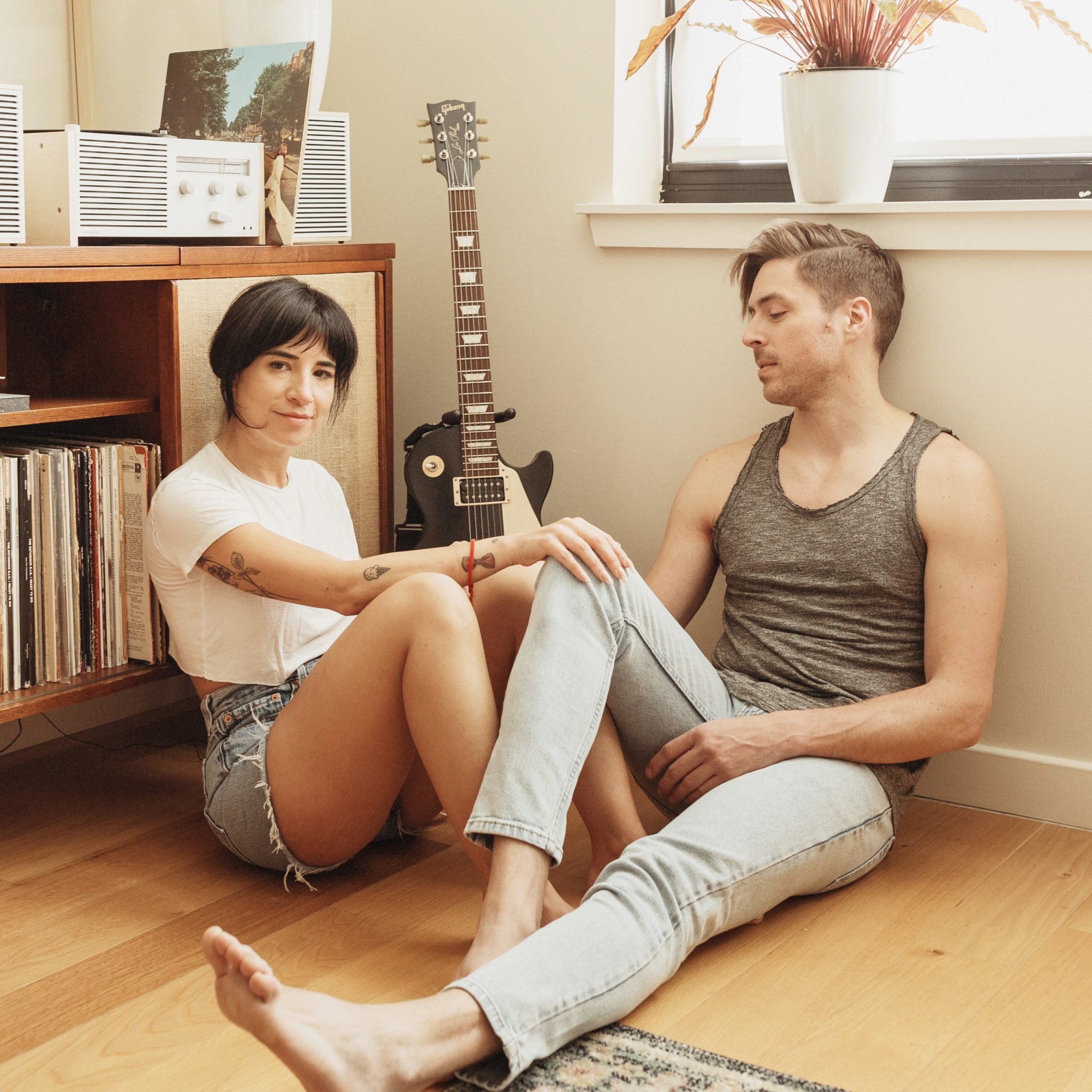 It made sense for us to get married on the rooftop of our building, overlooking the Manhattan skyline.
That night at Bistro La Source, while eating mussels and steak we planned our whole wedding.
8 months later, Tony proposed to me on that very rooftop.
A day or two later, I ran into Paul Silverman in the hallway and as he congratulated us I blurted "Can we get married on the rooftop"
He paused and said. "I have a better idea! You should get married on the rooftop of our new building that's under construction Swift & Co… should be ready before your wedding"
We had a date. We had our venue within 24 hours.
Now for the rest of the vendors… As soon as I announced our engagement, I took to social media to ask my readers for all their recommendations. After doing some research, reaching out to a few local peeps, we came up with the group of people who would make our wedding dreams a reality- and happy to report that they all exceeded our expectations. All within (sort of) our budget.
The Vendors
Wedding Planner
In the 8 years of running this blog, I've planned my fair share of epic events and had a good grasp of what that entailed. When Tony and I talked about hiring a wedding planner my first thought was "I planned Terminal of Terror, a halloween event with over 3,000 people in a state park, I can plan a wedding for 60!" – Well, sadly I was very wrong. Planning a wedding is way scarier and I quickly come to terms with needing professional help. We decided to go with month of/day of planner to help us get all the last minute details together, fill in any open gaps, and just make sure everything runs smoothly.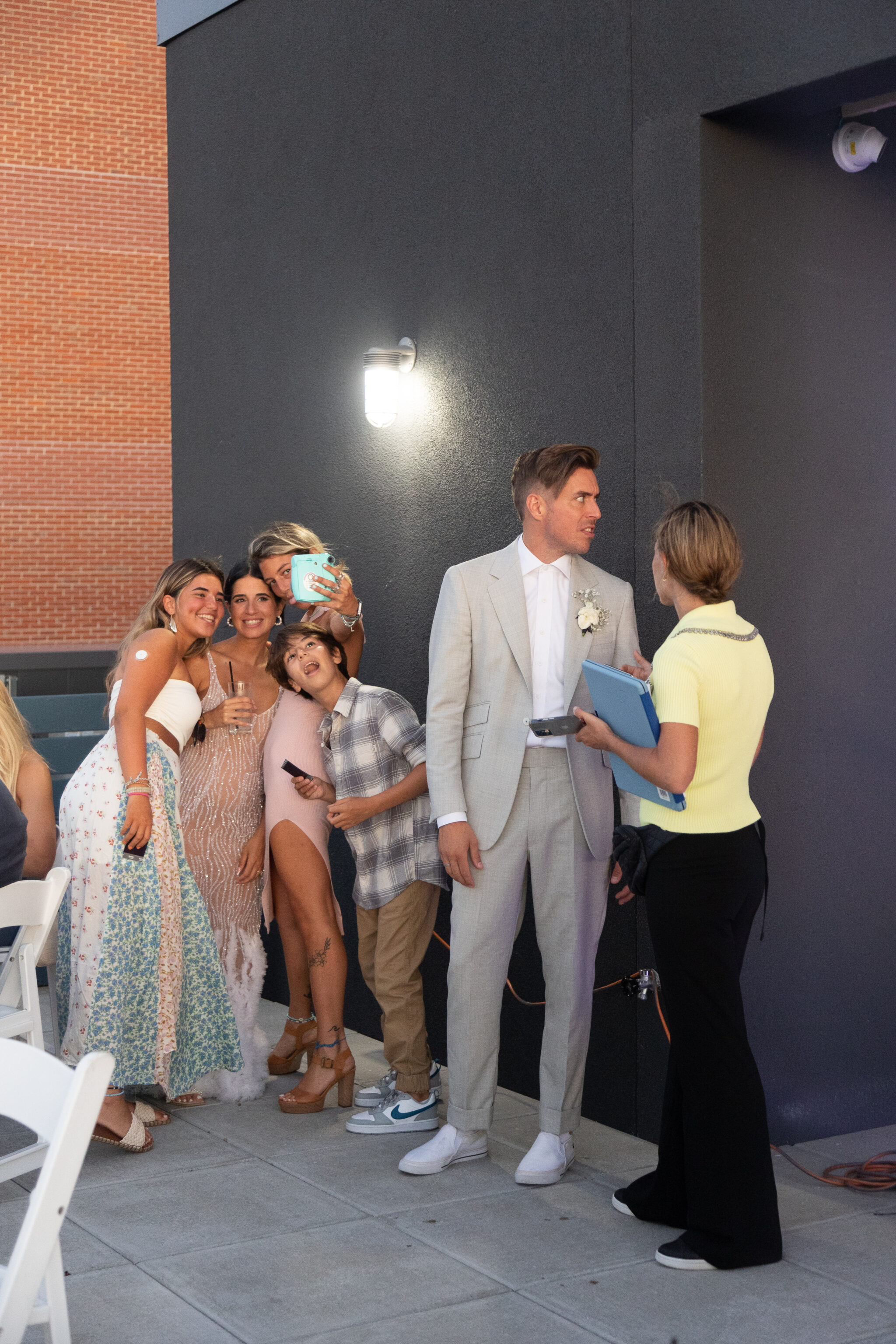 We interviewed a few planners and our gut told us to go with Amanda- "Smiling Through The Chaos" – She was absolutely wonderful to work with, super organized and on top of it, helped us with all the last minute details and created the perfect timeline for our day.
Now looking back, we sort of do regret not hiring her for full planning because it would've avoided ALOT of stress and headaches. Especially if I would've known that I would be getting pregnant along the process…. Dealing with first trimester symptoms and planning a wedding is no bueno.
Follow her on Instagram! for so many wedding planning tips and Inso.
Photographer
This was an easy decision for us because I've worked with Rebecca and her partner Chris on a boudoir shoot about a year ago and just loved their vibe and how they shoot weddings. They were so easy to work with, they knew exactly what we wanted and needed and they captured all the beautiful moments. I also just love Rebecca's enthusiasm when she loves a shot. All her photos are sprinkled in this blog post. Literally each one is perfection.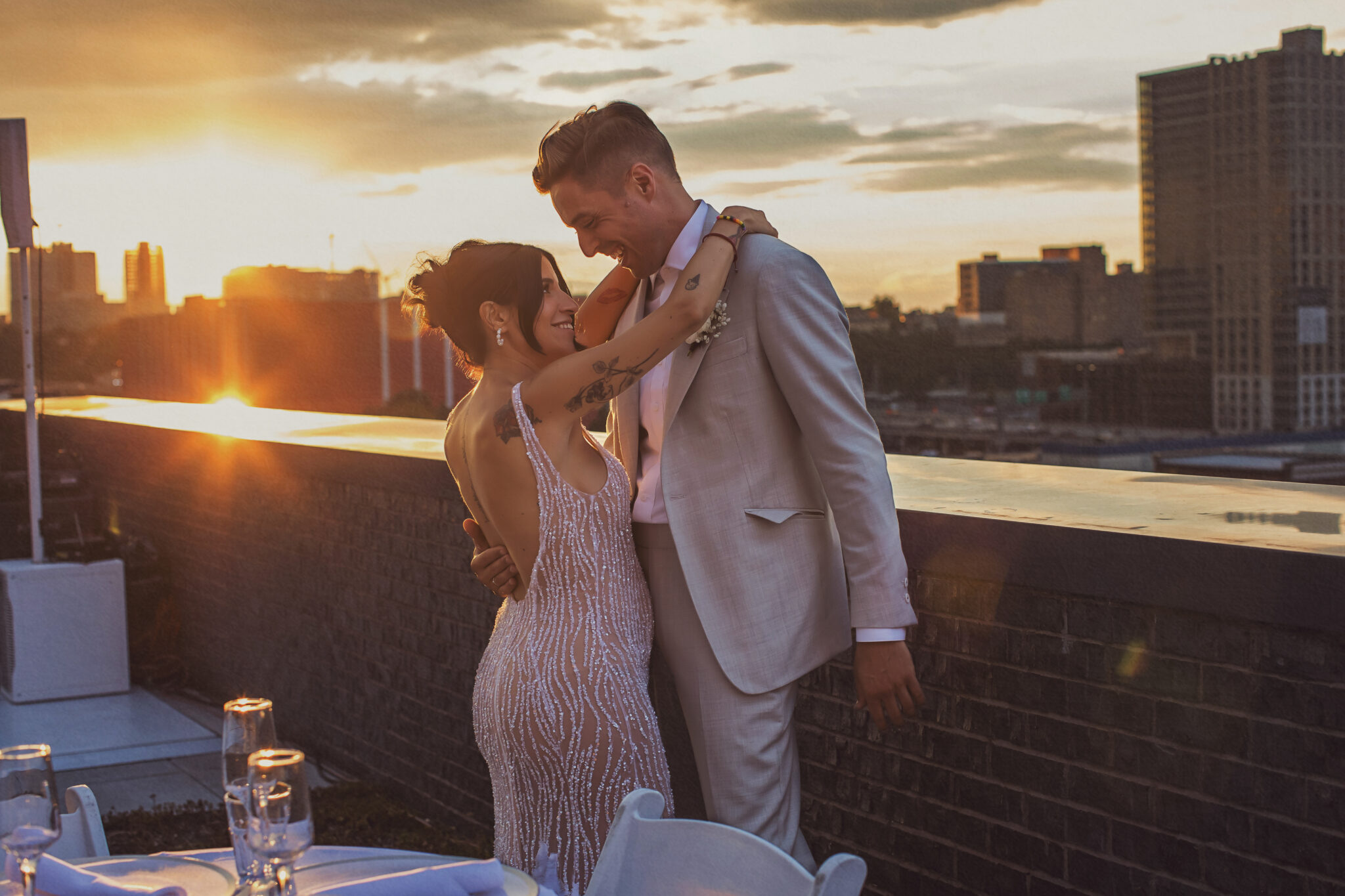 Rebecca Ferrier Photography Instagram
Catering & Bar
Before Tony and I were even engaged, I told Chef Anthony Bucco that he would be catering our wedding. He said "get engaged and then we'll talk"- The day after Tony proposed I texted him and asked "are you in?"
Chef Bucco has years of experience working in the restaurant and wedding industry, and his food is immaculate. He's also just a great dude and takes so much pride in his food. We decided to do buffet style instead of a sit down, as we wanted our guests to chill, eat as much as they wanted, and mingle with each other. A few months before the wedding we had a tasting at Cellar 335 in Jersey City and it was the highlight of our wedding planning journey.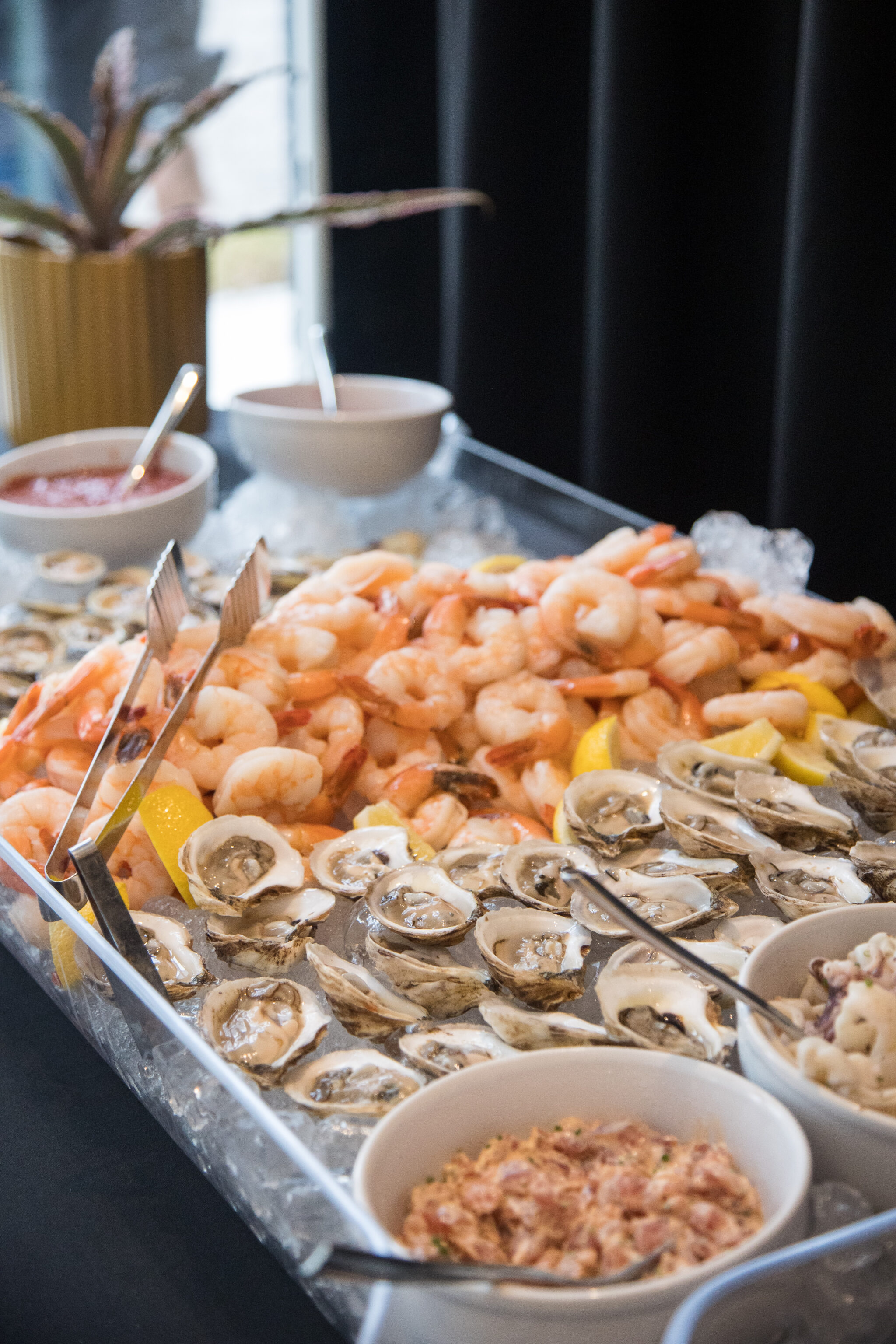 The food at the wedding did not disappoint. Every guest I spoke to raved about how delicious everything was- to which my response was- DUH. Chef Bucco also put together the best catering and bartending staff we could ask for, everyone on the team were so awesome and literally became part of the wedding party. I had a chat with the ladies at the bar at the end of the night and they had the best time! Top notch food, top notch customer service. What more can you ask for?
Email: abucco925@gmail.com
Rentals & Production
Years ago, Bryan, founder of Premiere Vibes Entertainment, came to my small office in Jersey City to introduce himself and his production company. Weeks later we became partners and started throwing events together from the Quiet Parties, Terminal of Terror and ChicpeaJC anniversaries. Nowadays he does massive events, and can put together a flawless event in his sleep- Weddings are like amateur hour for this guy. It made sense for us to work with him and his team.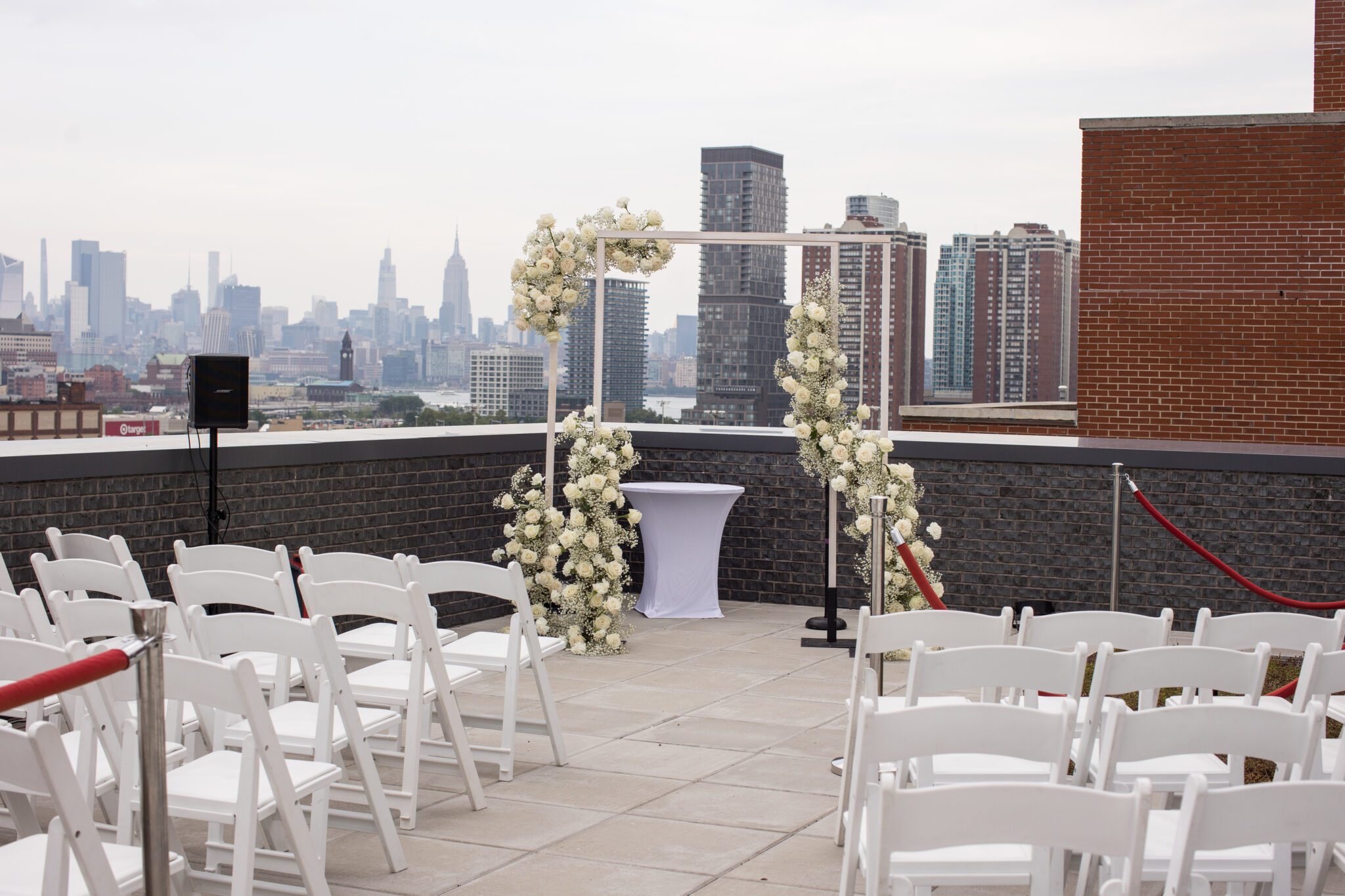 Since we were doing our wedding on a residential building, we had to rent EVERYTHING. Like plates, glasses, chairs, tables, linens, sound, lights, bar…. literally everything you can think of we needed to rent. So that is the disadvantage of throwing an event in a non-event space, but the result was absolute perfection. AND I know that our wedding was one of a kind.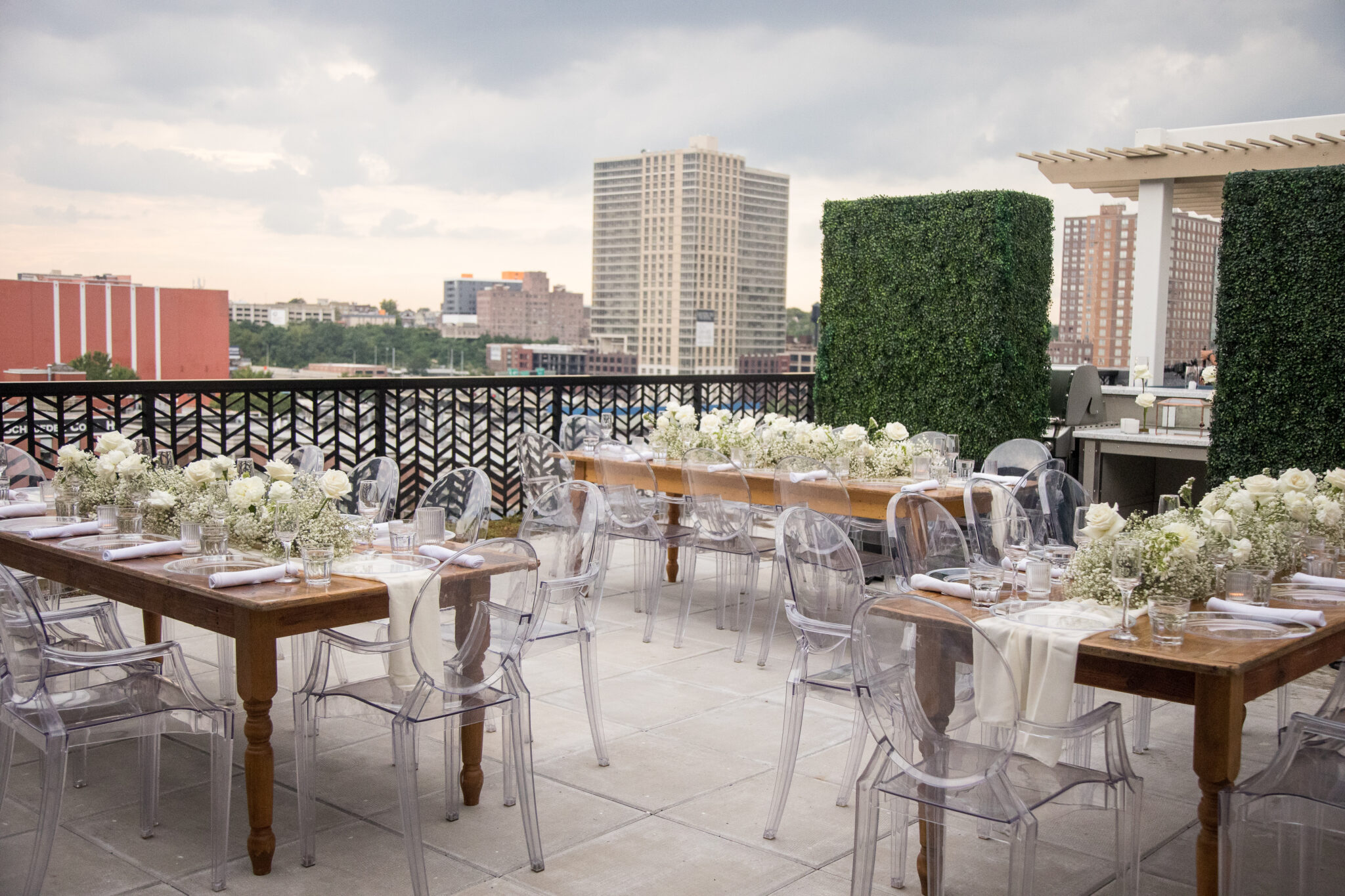 Any roadblock we had the team pulled it together for us. It wasn't always the smoothest and easiest process but everything worked out and we were so happy with everything. Like I said, they can do weddings in their sleep and have literally everything you would need to plan a wedding from scratch.
Premiere Vibes on Instagram
Officiant
Having Jewish elements as part of our wedding was really important to me, but I didn't want it to be a religious fiasco. Tony is not Jewish but respected my wishes so we went with a reformed Rabbi who came highly recommended by friends in the community.
We met with Rabbi Bronwen a few times before our wedding day to talk about our relationship, what we envisioned for our ceremony and our marriage. She had us both send her individual letters and blessings she would use for the ceremony.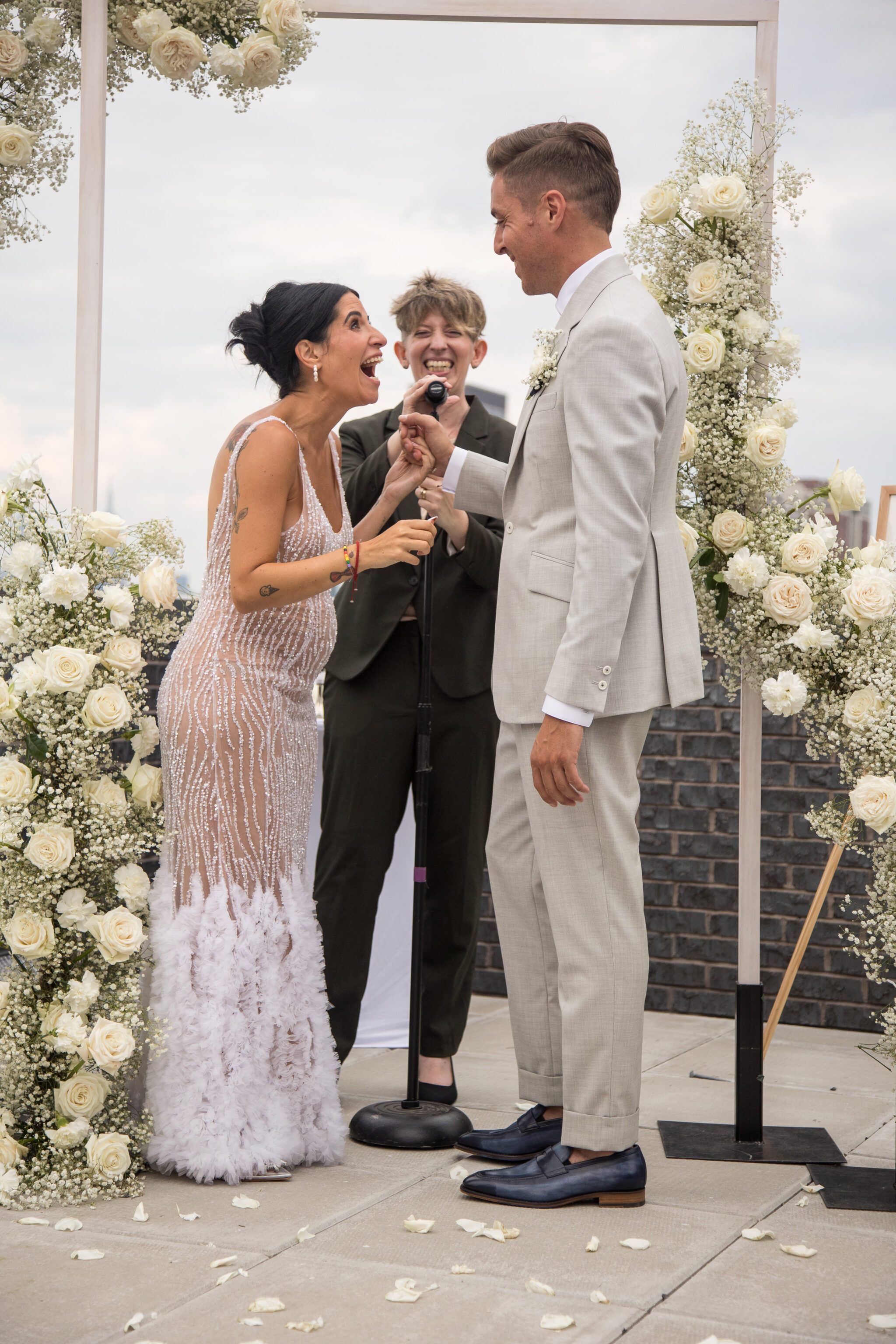 Prior to the ceremony we had an intimate Ketubah Signing with our families which was one of my favorite moments of the whole day. She explained the whole process and what it meant in the Jewish Religion. We signed our marriage licenses as well and just like that we were legally bound.
The ceremony was beautiful, romantic, spiritual and emotional. Everything we could ask for. A Core memory.
Rabbi Mullin: Email bronwen.mullin@gmail.com
Florals
One of THE most highly recommended florists in the Hudson County area was A Petal To Peddle, so it was a fairly easy decision. I personally don't believe in spending a gazillion dollars on wedding arrangements that end up in the trash at the end of the night. What I love about A Pettle To Peddle is that they are all about sustainability, and offer a tailored experience.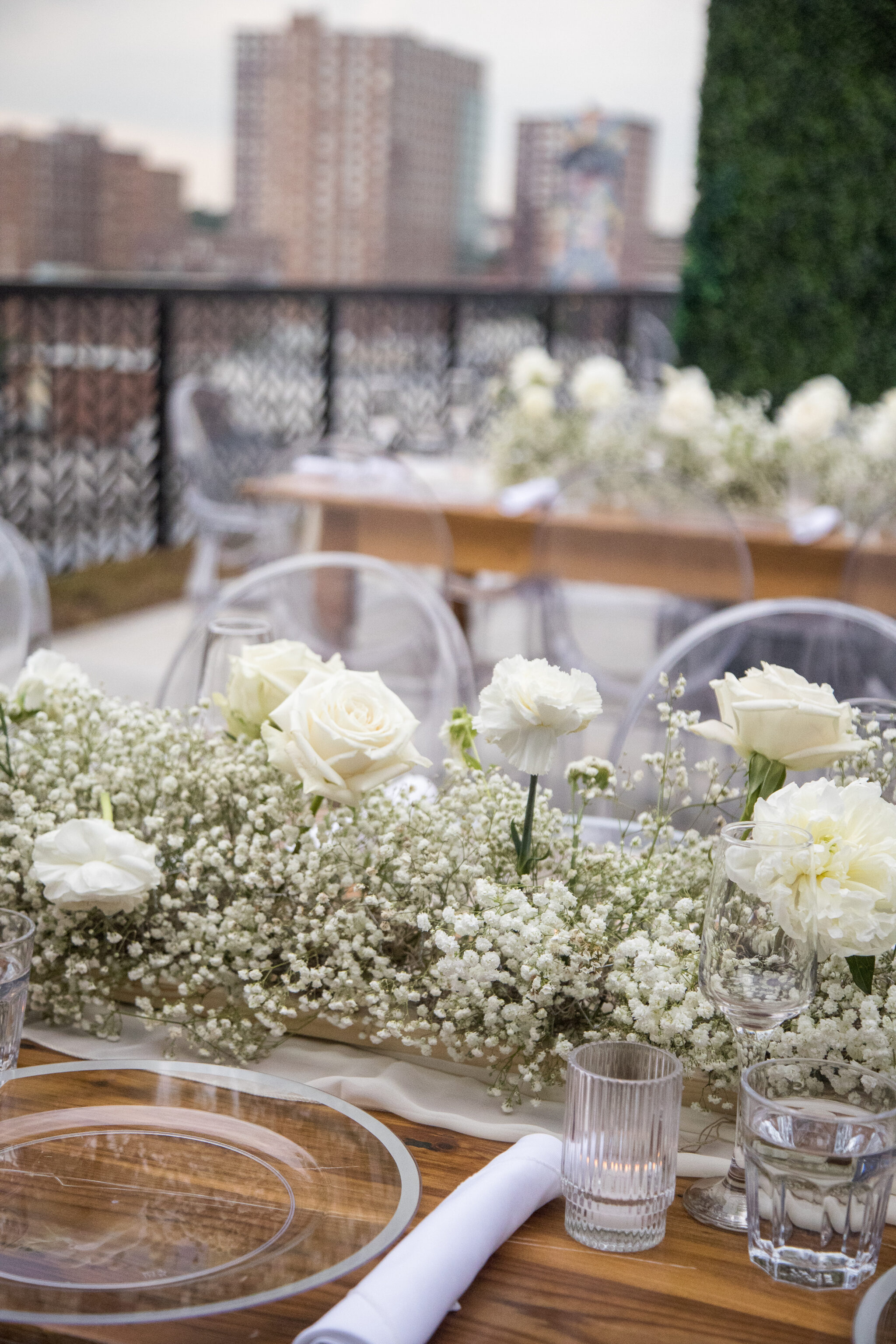 Since we were doing our wedding on a rooftop, I wanted to go with something chic and simple. All white, accents of greenery. Christa did a wonderful job bringing our vision to light while also staying within our budget. All our guests commented on how beautiful our arrangements were.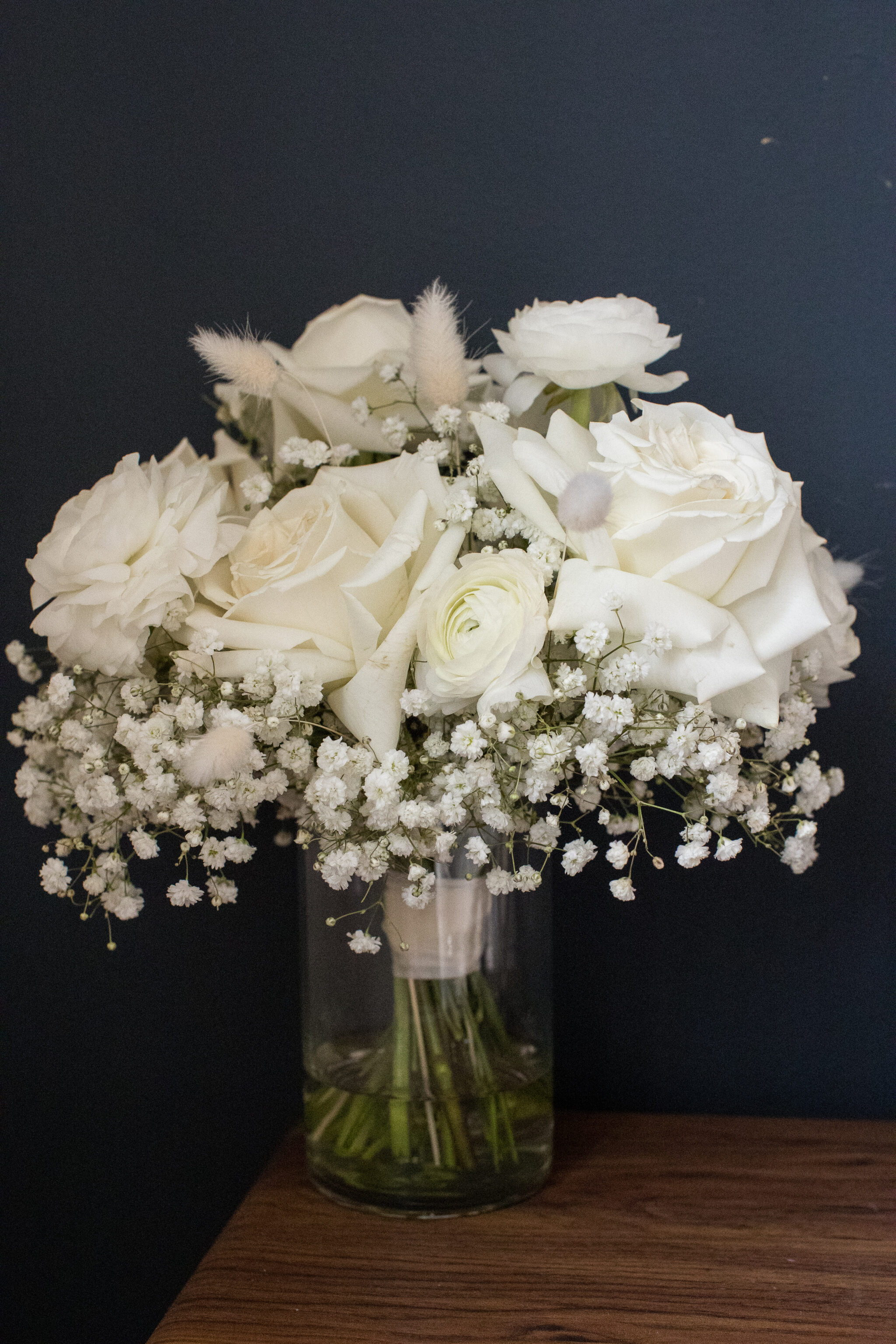 My bouquet was also just perfect. Legit was obsessed with how everything came out.
Dessert
Although there are so many amazing local cake vendors, we decided not to do a wedding cake and went with a Dessert Cart from Baonanas to treat our guests at the end of the night. Baonanas is a local bread pudding shop that we are obsessed with and they have a cute cart they offer for special events. Definitely a fun thing to do for your wedding if you want to think outside of the box. Their banana bread pudding is beyond addictive and your guests will love it!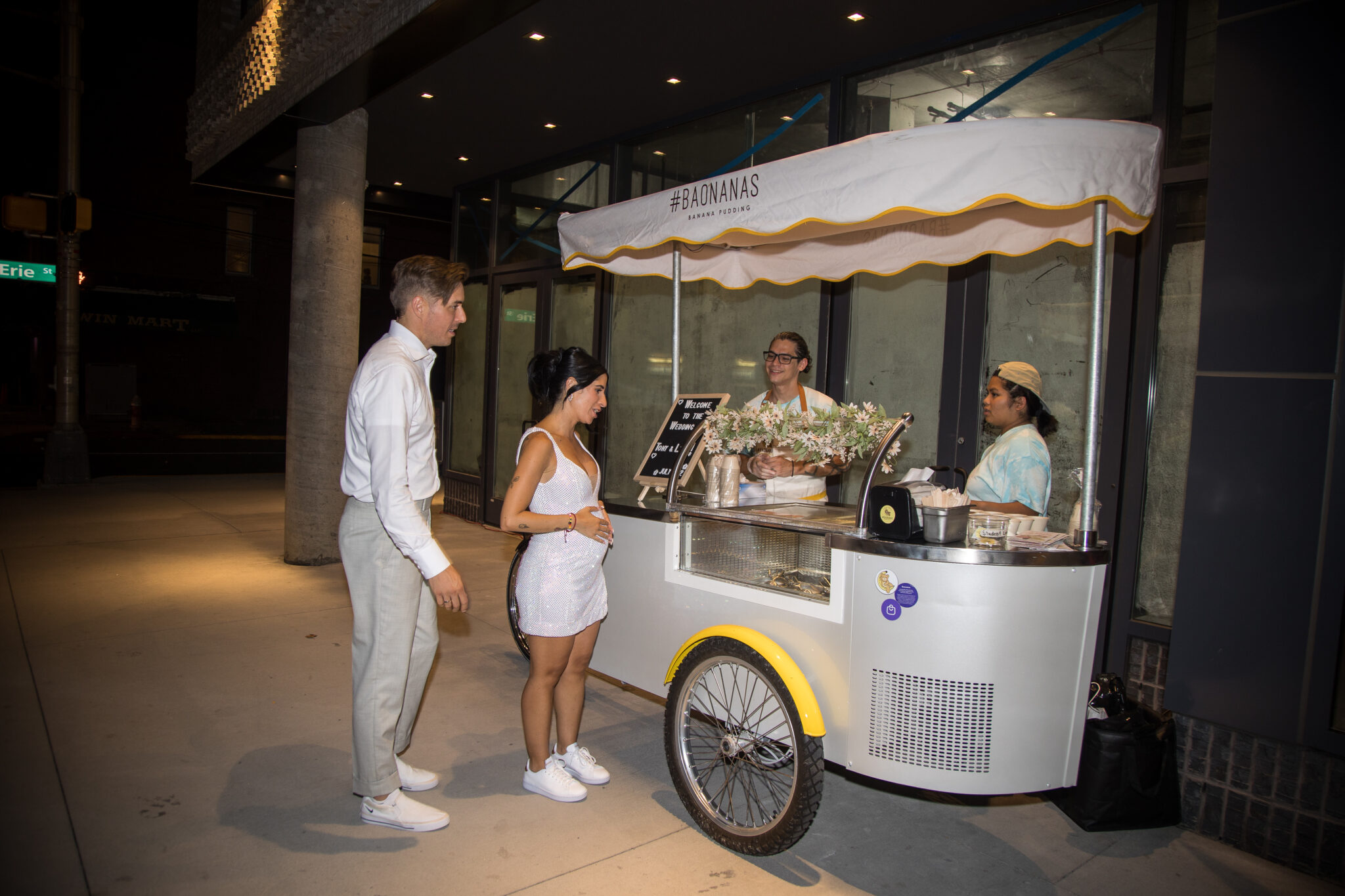 Videography
The number one regret people have after their wedding is not hiring a videographer. Thankfully, I work with an amazing one Louie Salazar who I knew I could trust with this task. The result was perfection! He created a few video shorts for social media as well as a full wedding recap. I will let the video speak for itself!
My Dress & Mia's
Soon after getting engaged, the first thing I did was make a ton of appointments at bridal shops to try on wedding dresses. It was a lot of fun for sure but I wasn't even close to saying "Yes to the dress"- I knew in my heart all along that I wanted something custom made. I had to go through the bride experience first.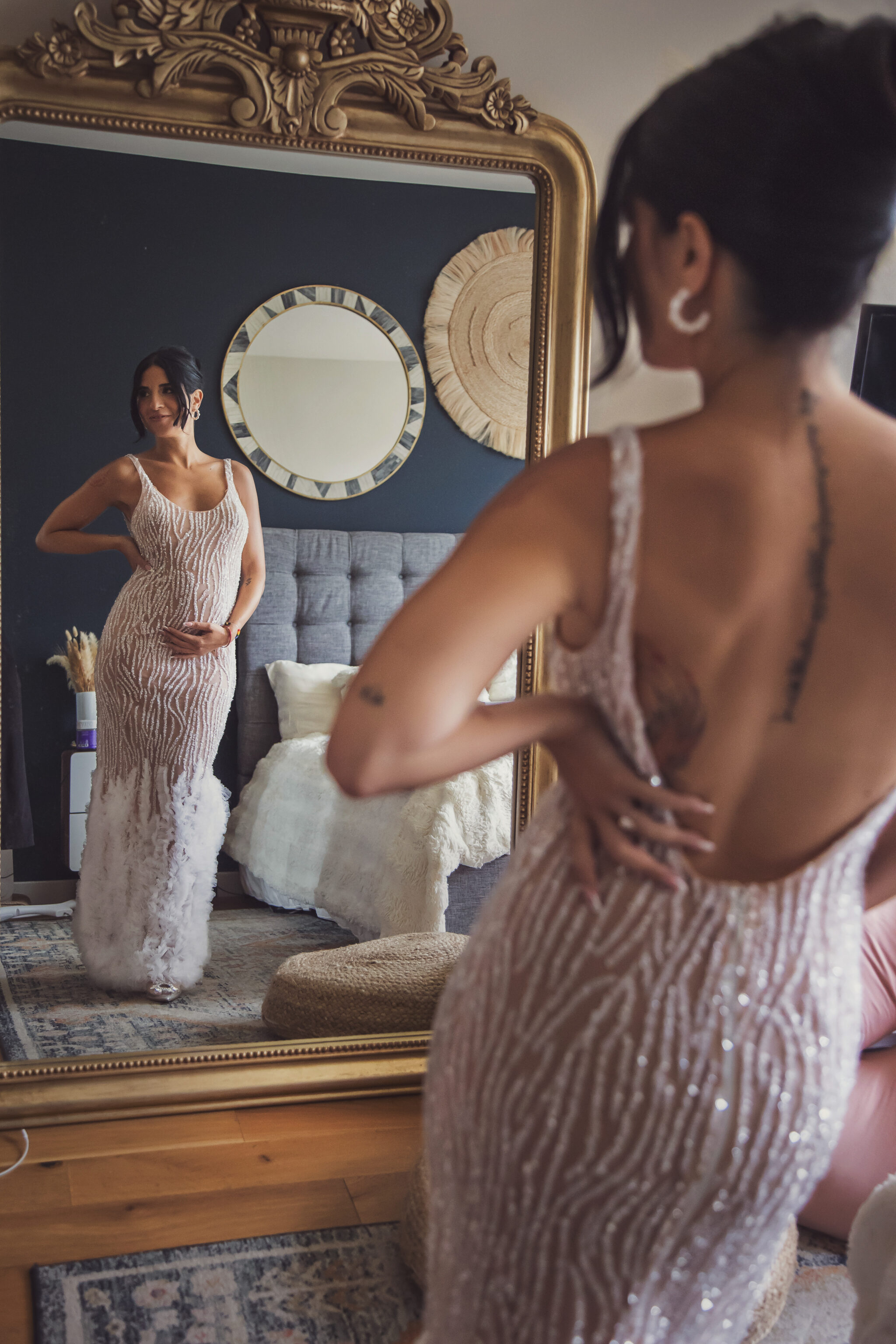 Tyler Neasloney is a dear friend, JC local, Project Runway alumni and the creator of some of my best event looks- notably the gold number he created for ChicpeaJCTurns5.
I reached out to him to design my wedding dress. I had a design in mind and we hit the ground running. We already had a prototype done, chose the fabric and then I got pregnant.
Fun fact- The first person I called, before even telling my family was Tyler. He was so cool about the change, even looked at it as a fun challenge. So we changed the whole design to a dress that I thought would fit a bump but would also be a big risk. We really had to wait till the last minute to finish my dress so that he could fit it exactly to my growing bump. It ended up being absolutely perfect.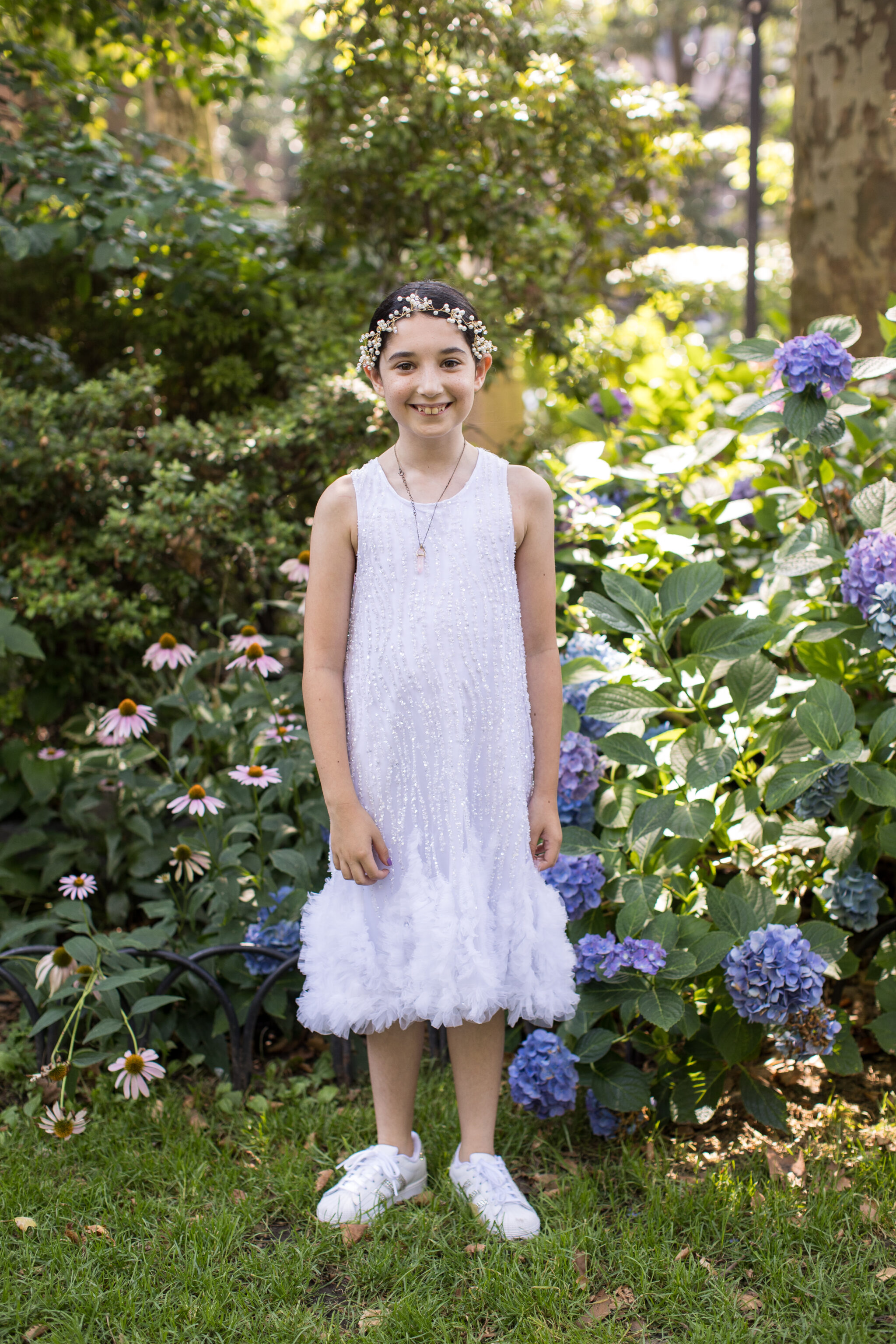 For Mia, we decided to use the same fabric as an homage to my dress and she looked adorable.
Ofcourse I had to have a second look for the party vibes and Tyler did not disappoint.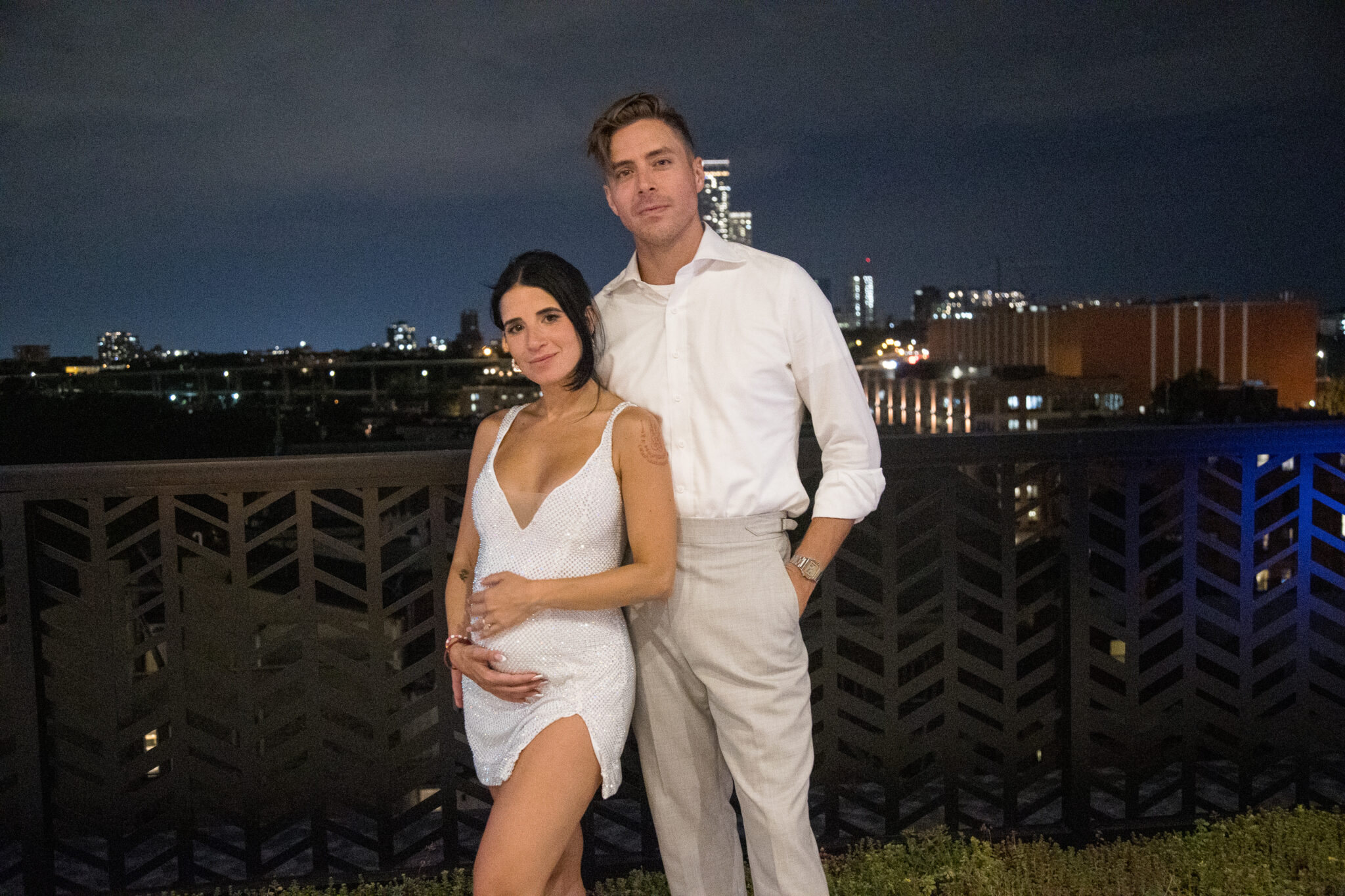 I felt so beautiful on my wedding day!
So if you're looking for a custom wedding dress, Tyler is the BEST.
Mia's bedazzled Sneakers
We got Mia a pair of Adidas sneakers bedazzled by Vinny @thestoneaesthetic and loved it! It fit the whole look perfectly and she was comfortable to dance all night. Sort of wish I got a pair for myself!
Wedding Rings and Earrings
Tony got my engagement ring at LoveLocked and we are absolutely obsessed with this local shop that there was no question we would get our wedding rings there. They are the BEST. They also loaned me a pair of pearl hoop earrings for my "Something Borrowed". I love LoveLocked!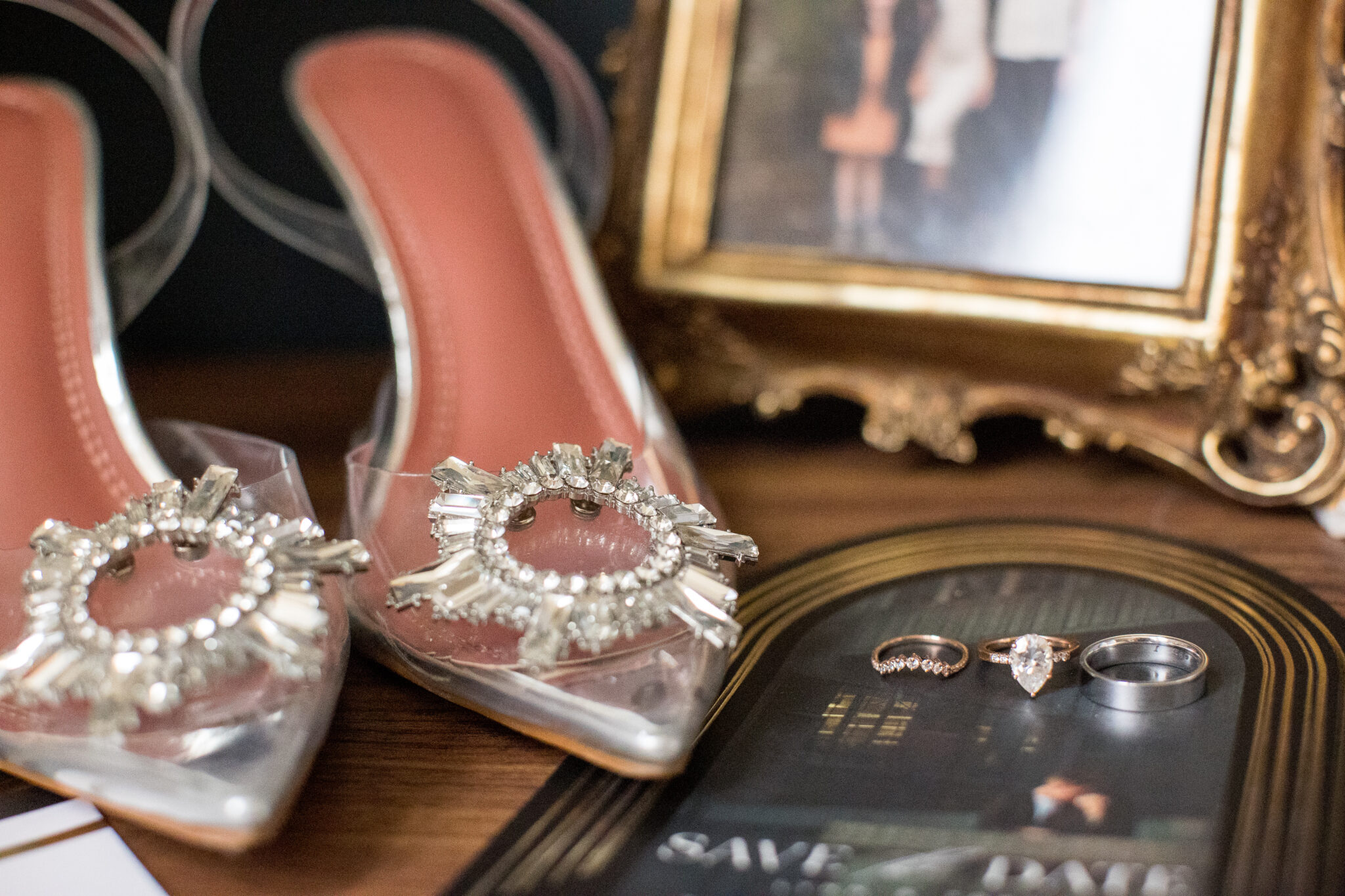 Tony's Suit
Tony could wear a paper bag and look handsome and I would marry him over and over again. Just putting that out there. I interviewed DeCarlos for the blog on various occasions and he also made me my own custom suit last year. I was so thrilled when Tony wanted a custom suit for his wedding. I came with him to the initial meeting to discuss fabric, color etc and we opted for a light fabric and color since we knew the wedding would be on a hot day.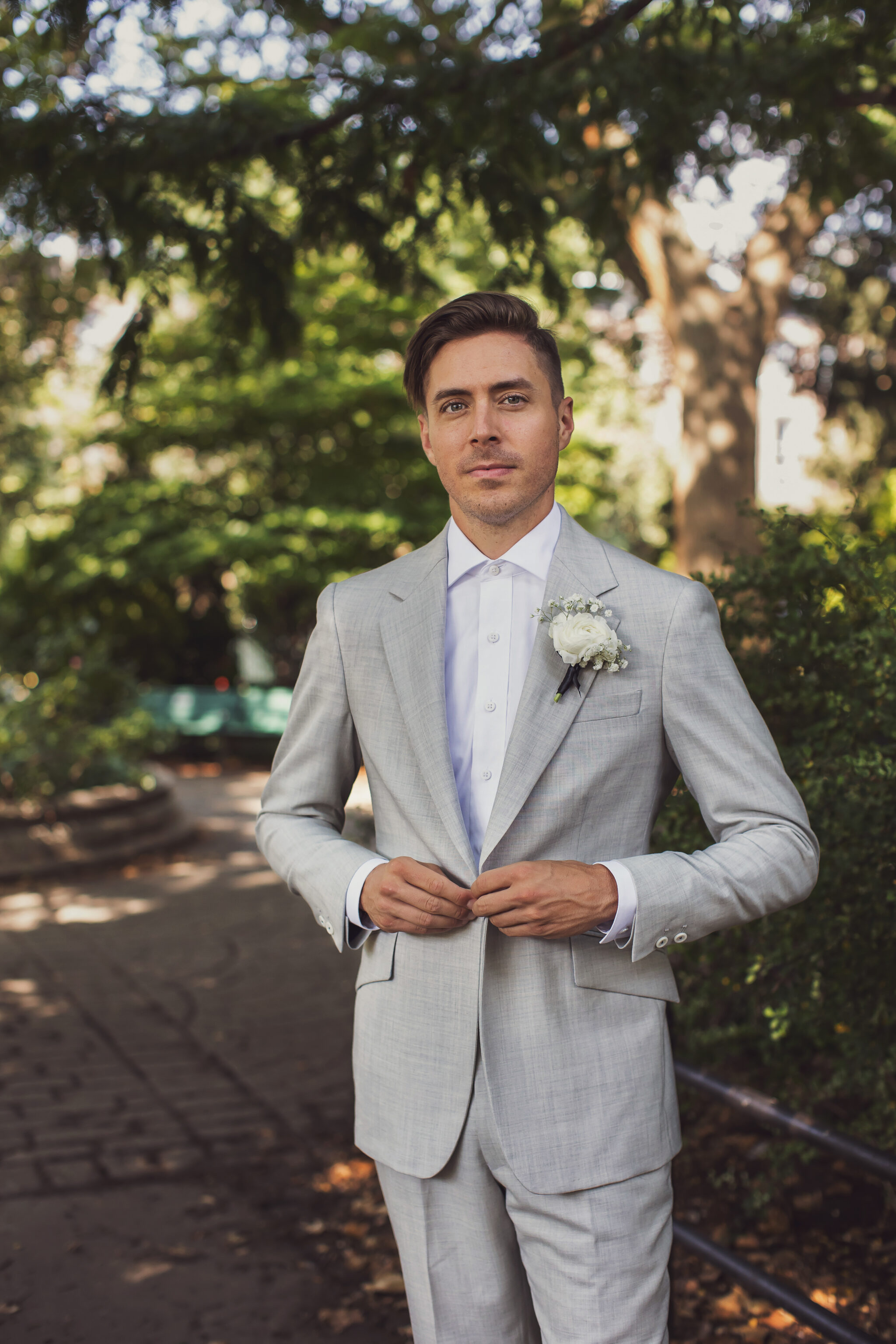 The result- Let's just say if I wasn't already pregnant I would've been on our wedding night!
He looked so so handsome.
MUSIC
One of the most important elements of a wedding is the music! We toyed with maybe getting a live band but decided it was a little too expensive for such a small wedding. We were at Hudson Hall one night and DJ Monte was spinning all the good tunes, and I literally went up to him and asked him if he would DJ at our wedding.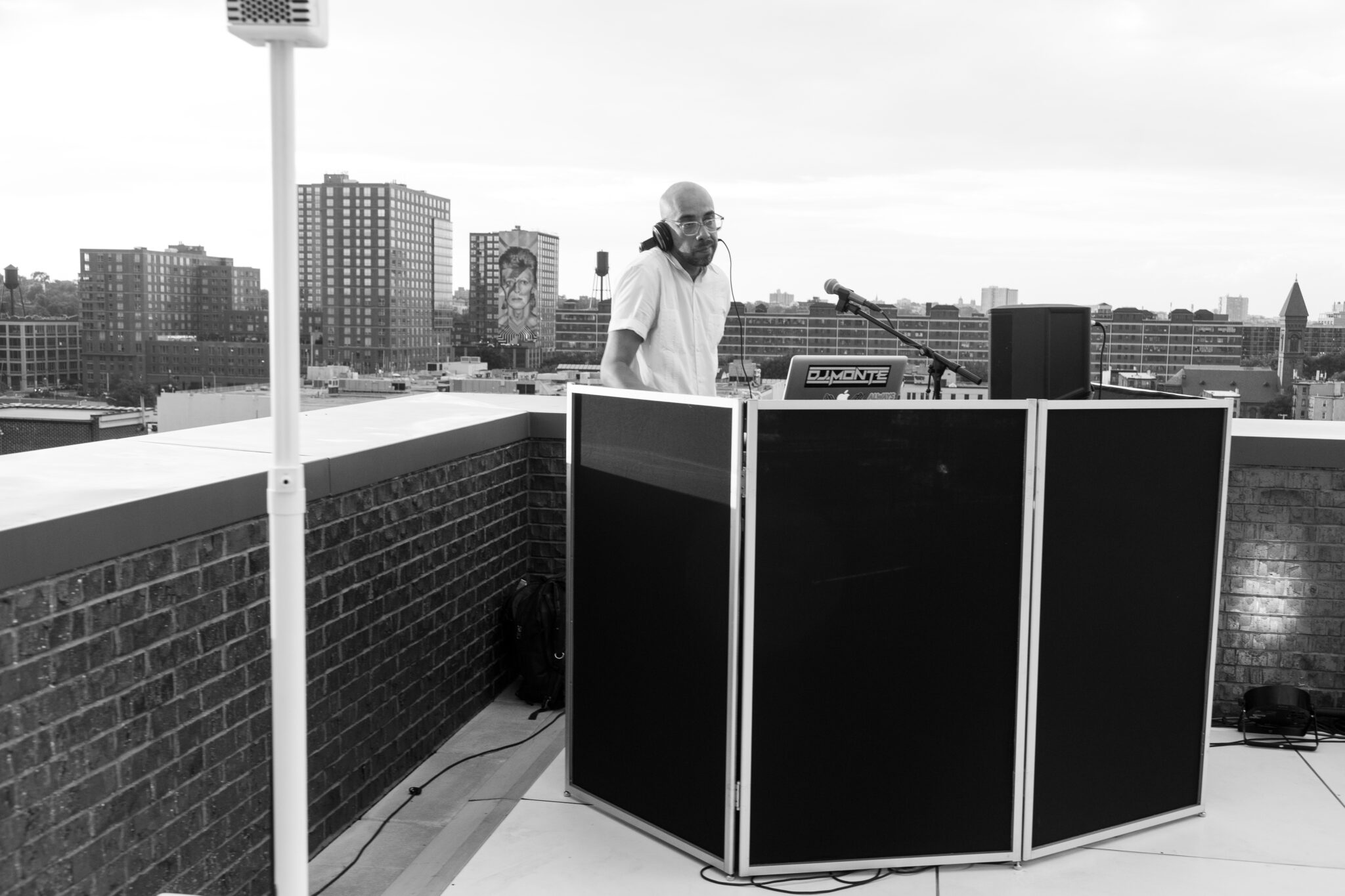 Monte was awesome. We worked with him on a no-play list and playlists for various parts of our wedding and he did the best job keeping everyone on the dance floor.
Invitations
Kept it simple and online.
Minted.com
Wedding website
Zola.com
Hair
I am a very lucky gal- My maid of honor happens to be a celebrity hairstylist who also specializes in brides- but like expensive brides. I met Olivia a few years ago when we worked together on a shoot and we instantly became friends. She is one of my besties and I love her so much. She is so incredibly talented and was thrilled when she agreed to be part of my wedding- and also do my hair. We went for a sexy/chic updo so that I could be comfortable and not sweaty at my wedding. I was super happy. She also did my hair for the rehearsal dinner, and engagement shoot! If you're interested in booking here, book her way in advance! She's tough to get!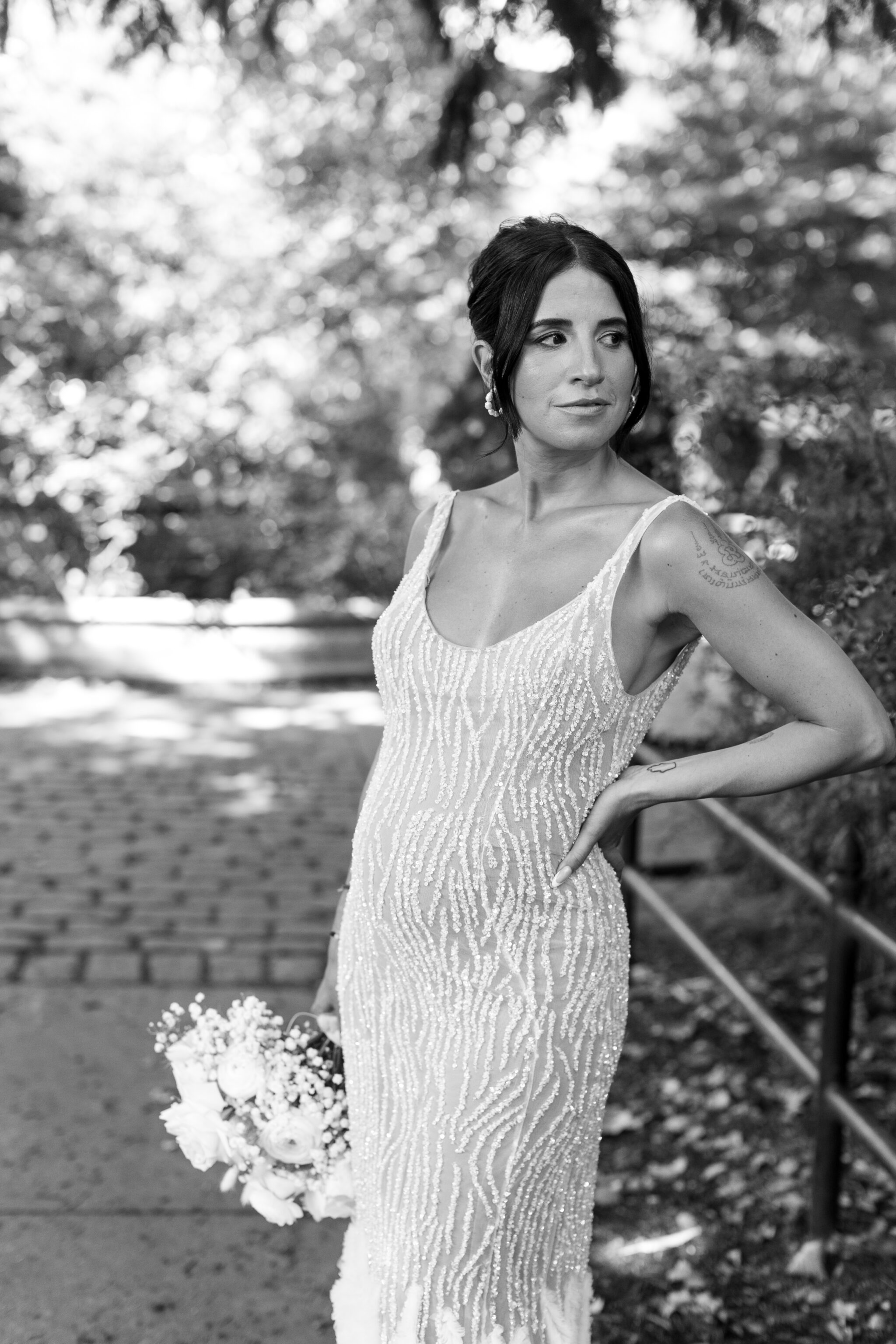 Makeup
I've worked with a lot of makeup artists throughout my career and don't particularly enjoy having too much makeup in general. It's just not my thing! When I started working with Laura, she just gets me. I look polished and pretty without tons of makeup being caked on. She's really great to work with, super professional and knows what a bride needs to look and feel her best! In the last couple of years, I've developed an allergy for non-clean makeup and she was super accommodating and let me know what clean makeup would work for my skin. Highly recommend working with her!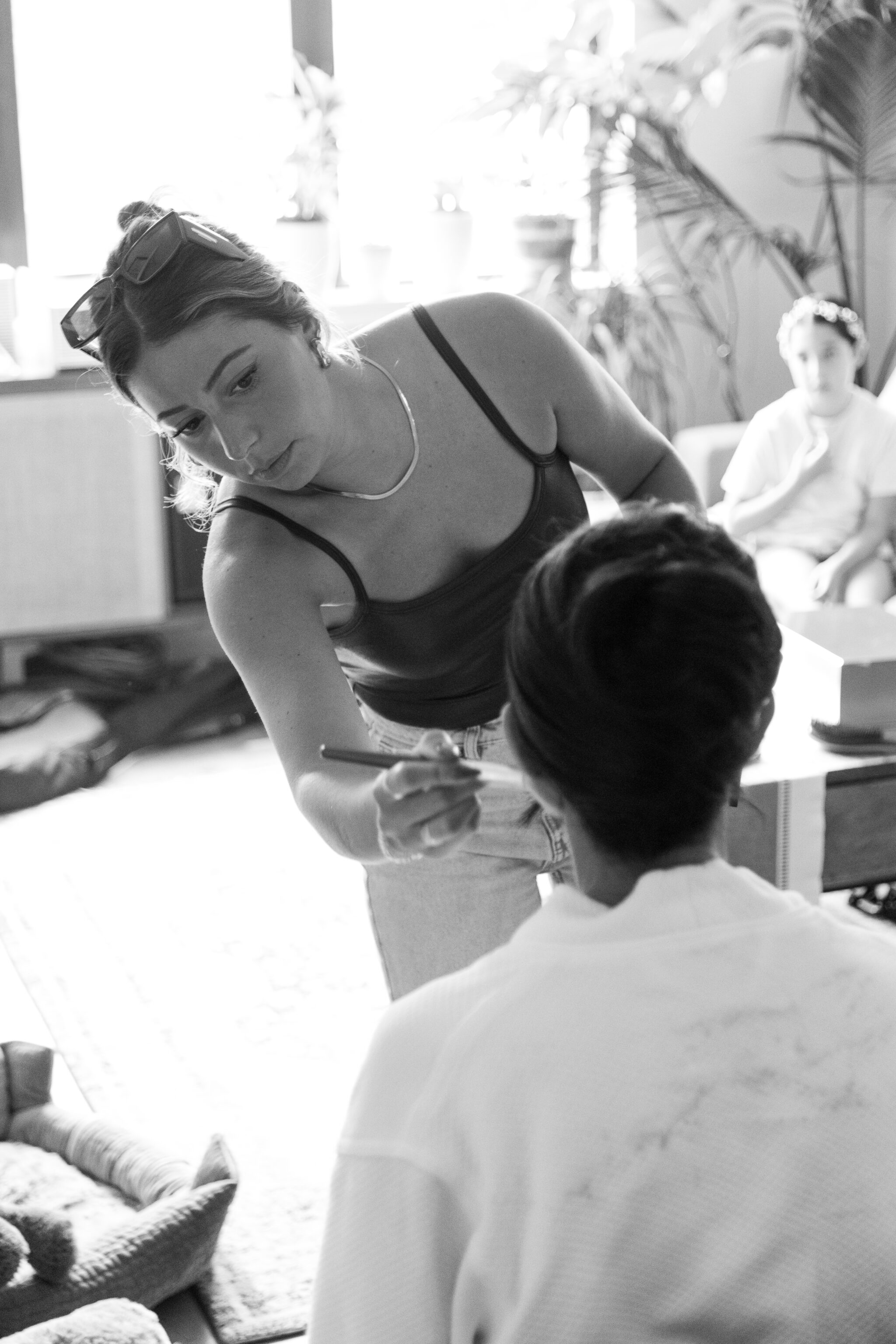 Dance Lessons
Tony and I are pretty comfortable dancing with each other, but we thought it would be fun to take some lessons and have a little choreo for our first dance. We got a package at Jersey City Ballroom and started going in the winter. We knew we would have fun, but we didn't realize it would enhance our relationship! Being close to your partner and learning something new with them is such a wonderful relationship building exercise. We really looked forward to our weekly classes.
Our first dance was perfect and everything we could ask for.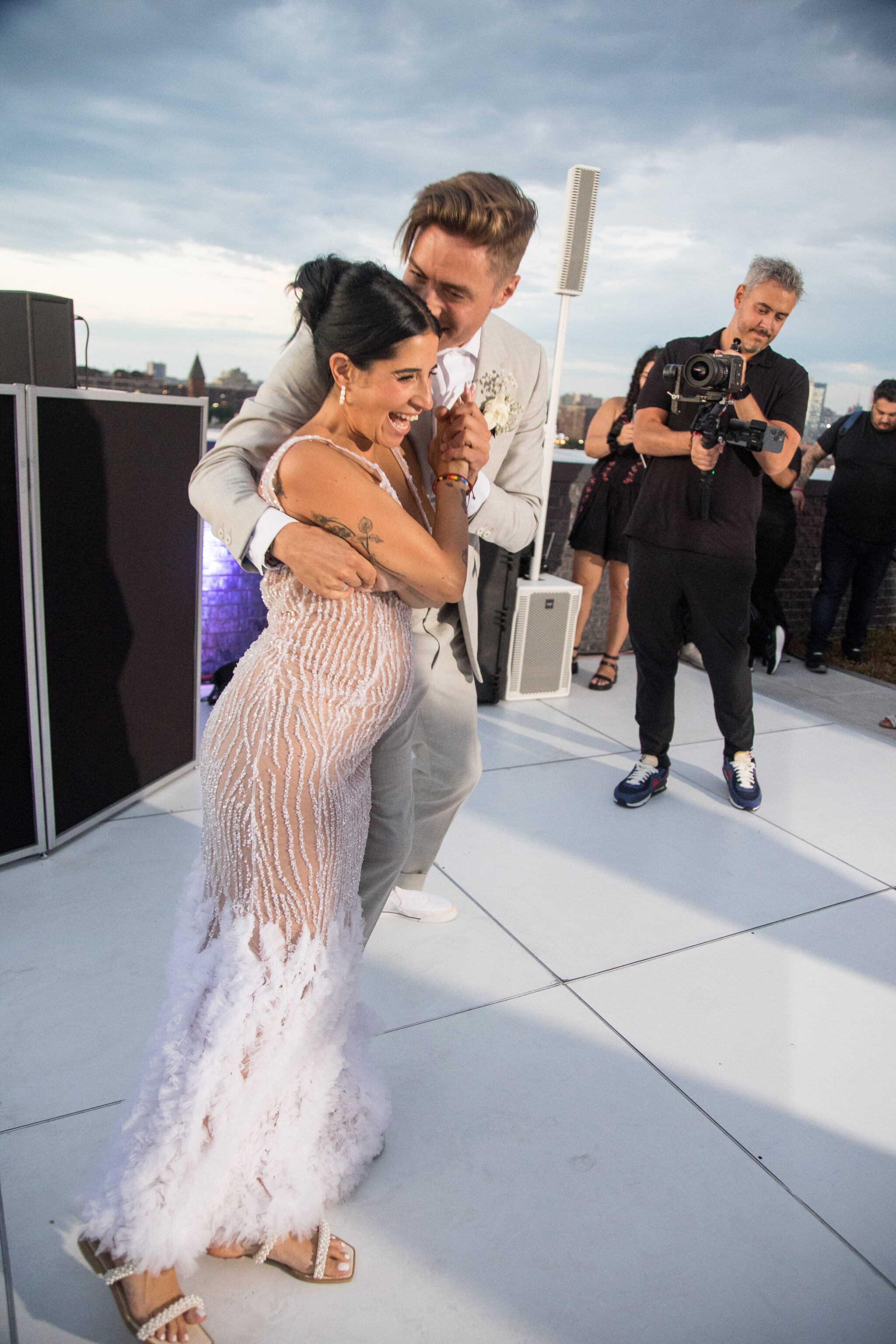 Rehearsal Dinner Location
Fun fact, one of Tony's favorite date night spot is at Lokal. The views, the food, the vibes are immaculate so it made sense for us to do our rehearsal dinner there. We knew our picky families would love it. Working with them was super easy, the food was outstanding and we had the best night with the people we love the most.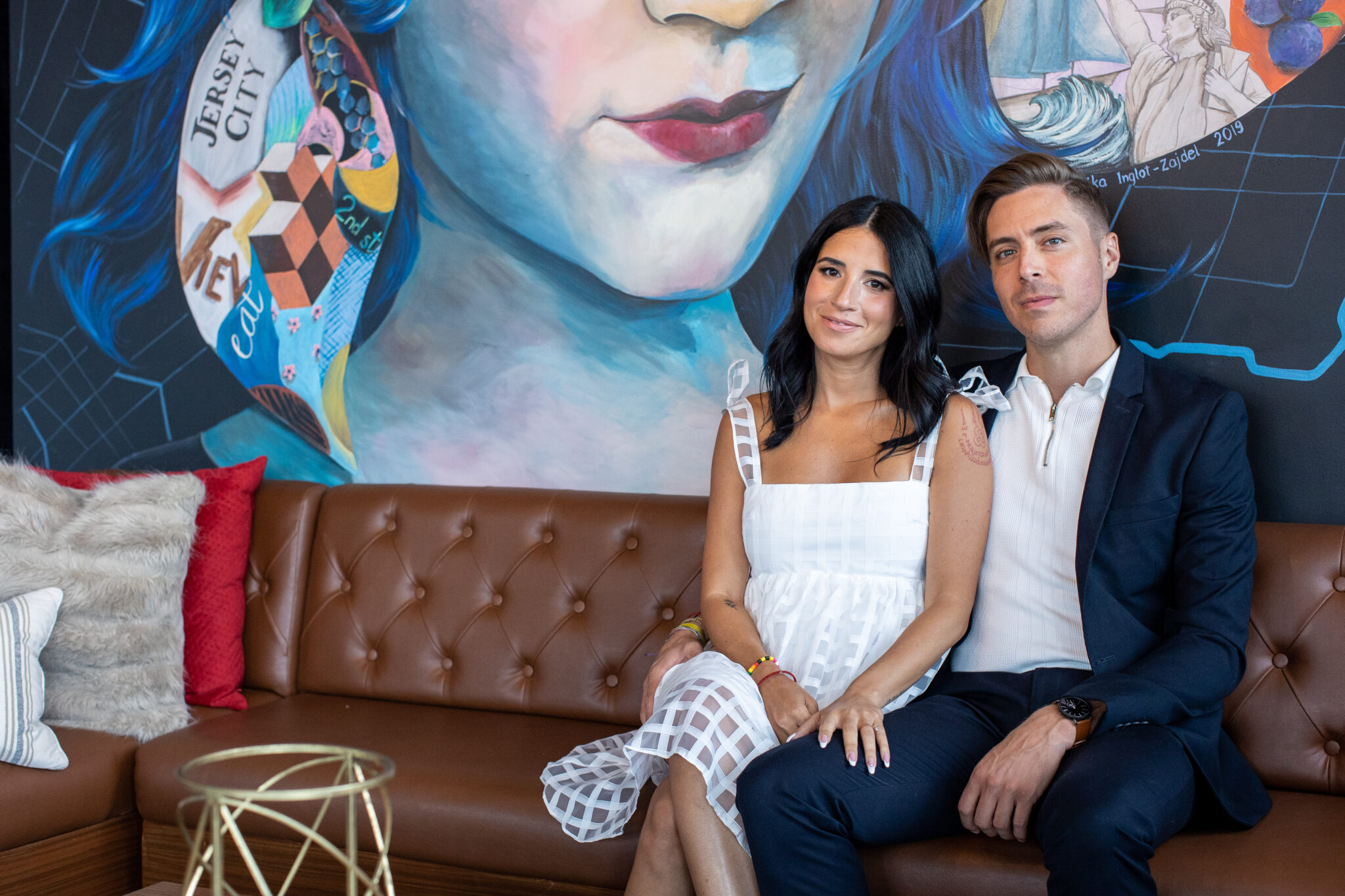 Signature Scented Candle
La Déité Officiel: La Deite recreates ancient perfumes used by goddesses for thousands of years and brings them to you. Each candle purchase = 30 period products.
Founder Eiko reached out after hearing we were getting engaged and offered to make us a signature scent for our wedding. She sent us a few samples and we got to choose what we liked. It was such a nice touch!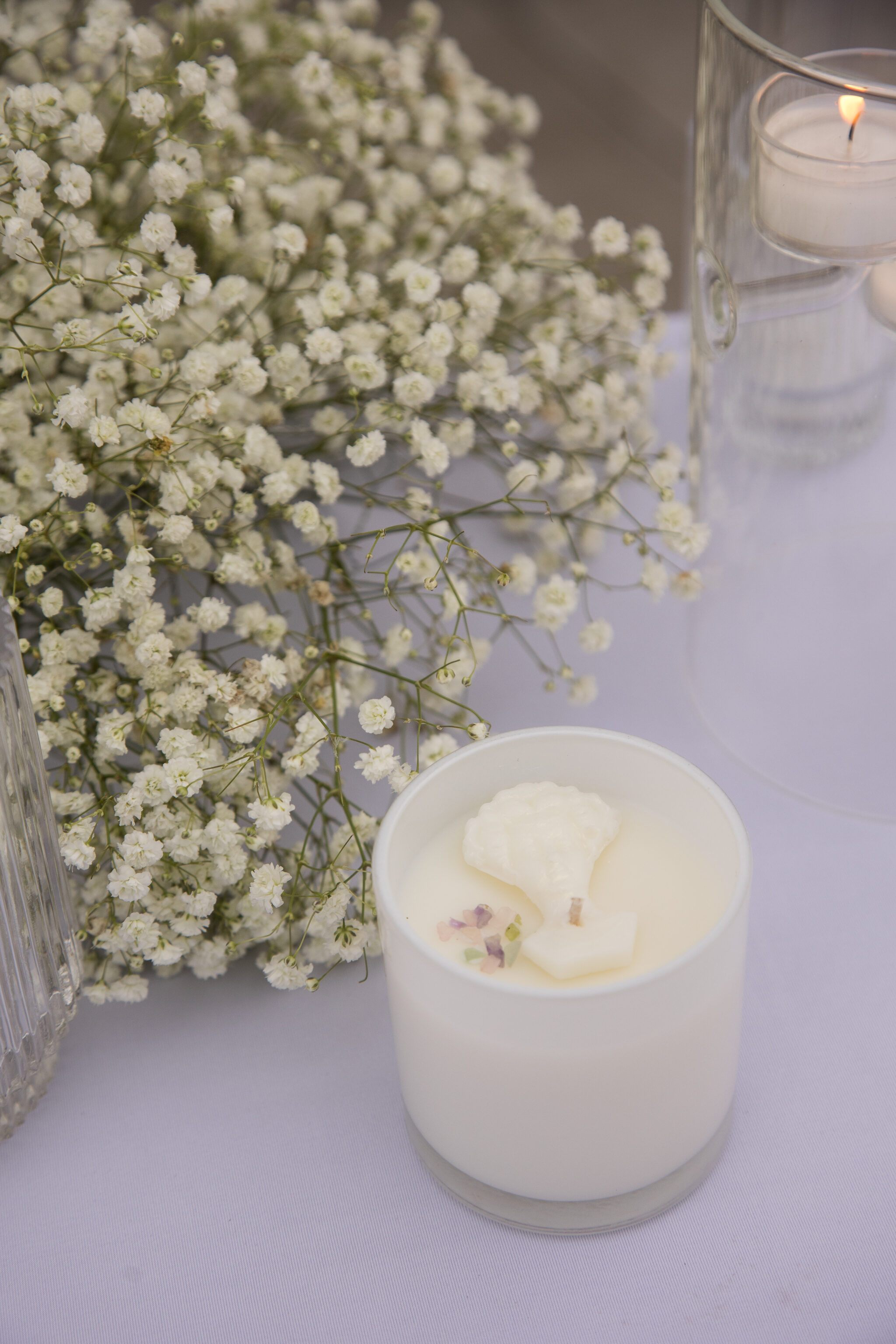 Bach Party recap written by Tony Bush
We're too old to do full wedding parties. And we had no interest in complicating an already complex planning process with more variables, so we went with a Maid of Honor and a Best man. With that being the case, we had no interest or reason to do separate bachelor/bachelorette parties. Also, Lynn said no strippers…for either of us. And since the Thunder from Down Under was fully booked, I agreed.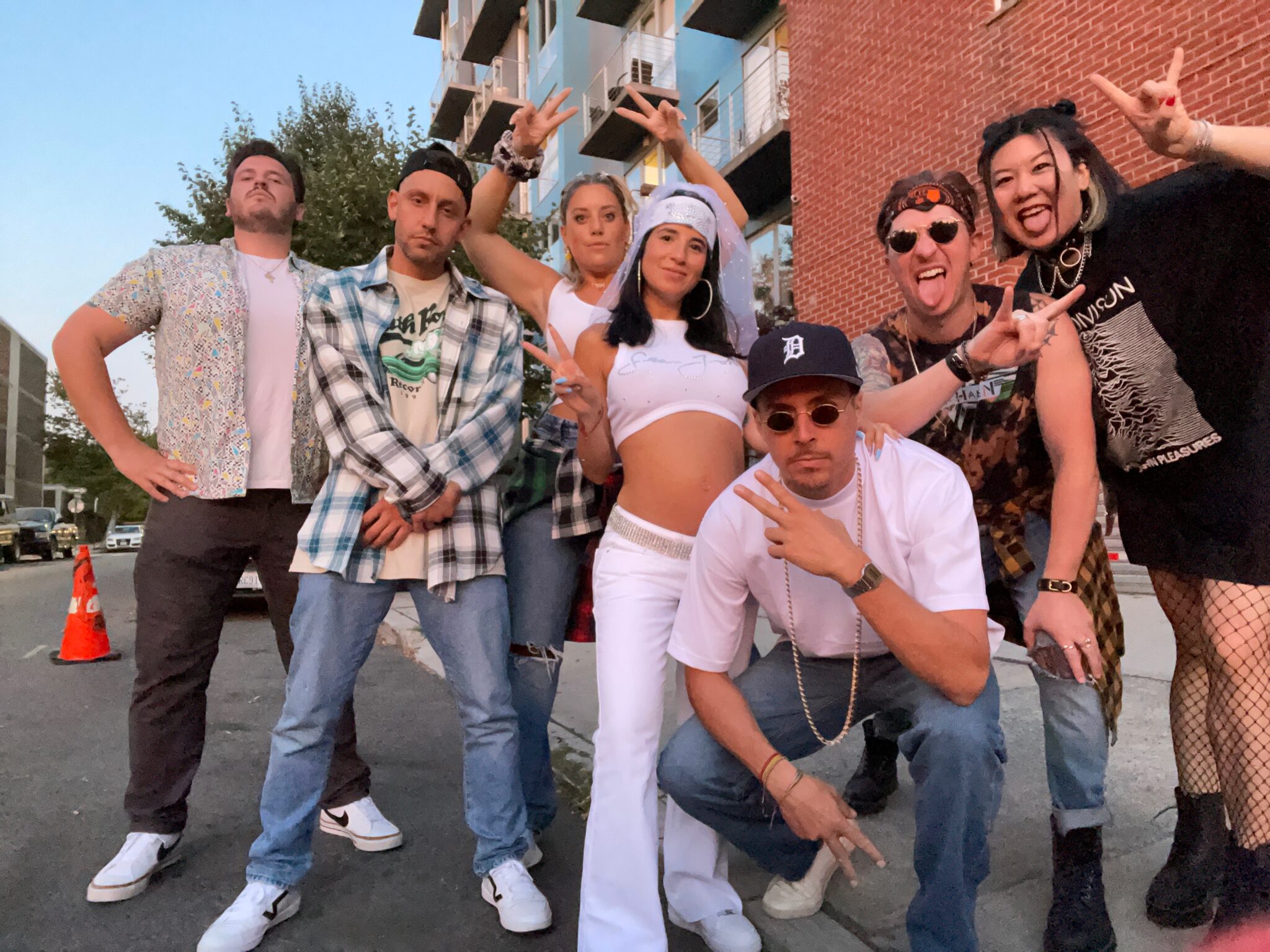 We literally do everything together and felt that this should be no different. So what would be appropriate for elder millennials looking to cut loose just a shade past midnight? Insert 90s dance party at House of Yes in Brooklyn. And we had such a great time at our Valentine's dinner at Fandi Mata, that we had to run it back with our nearest and dearest. It's the perfect mix of grandiose and vibe that suits just such occasions.
We handed the reins for the evening to Lynn's Maid of Honor, Olivia, and she absolutely crushed it. We were waiting for a ride to dinner outside of our apt, dressed as JLo and Diddy, when up rolls a stretch limo, filled with all of the classic "getting married" a coutre mon you could possibly want.
We met up with the rest of our friends in Brooklyn, ate the best dinner and danced the night away (till 12:30am) and headed home. It was perfect & the best way to kick off our wedding month. Shout out to all our amazing friends for making this night truly special!
Rehearsal Dinner
We knew from the beginning we wanted to have a small, intimate rehearsal dinner for our immediate family at Lokal on the waterfront in Jersey City. It is our favorite date night spot, the views are immaculate, the food is delicious and we just thought it would be perfect for the night before our wedding.
And It was! Our family loved it, we spent the night mingling with everyone and it was so nice seeing our families combine. It was the perfect way to begin the wedding festivities!
Everyone RAVED about how good the food and service was. I highly recommend doing any special event at Lokal. They knock it out of the park.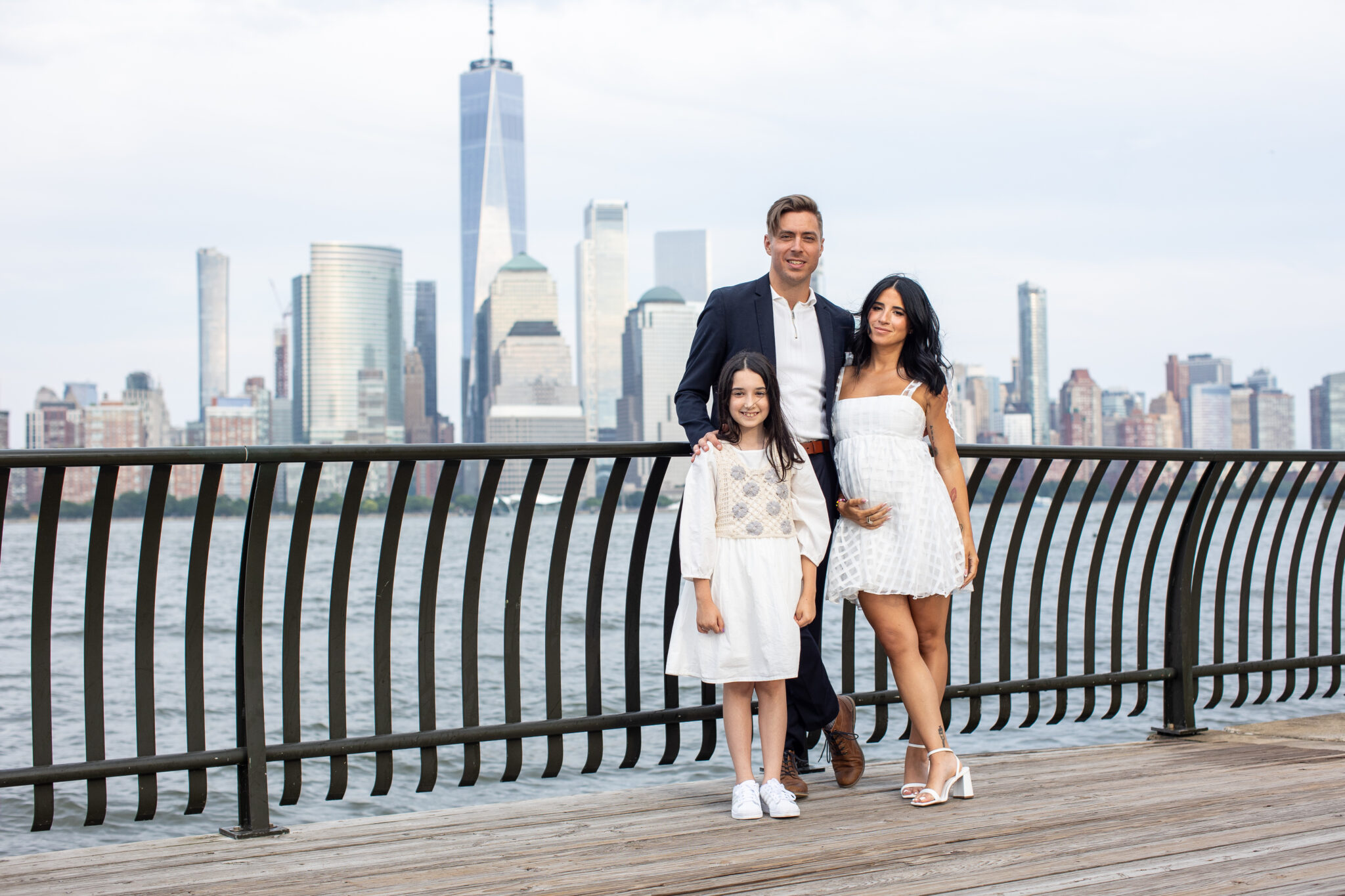 The Wedding
I will let the video recap below speak for itself, that being said, our wedding day was a fairy tale, an absolute dream come true. From the moment we woke up in the morning to the end of the night packing things up; We were present for every second of it and wouldn't have changed one thing.
It was so special, filled with so much love and happy energy I can still feel goosebumps. Marrying the love of my life around the people I care about the most on a rooftop in the city I call home was magic.
We couldn't have done it without all our wonderful vendors and the SILVERMAN team. I will forever be grateful for this day in our lives.
And they lived happily ever after….