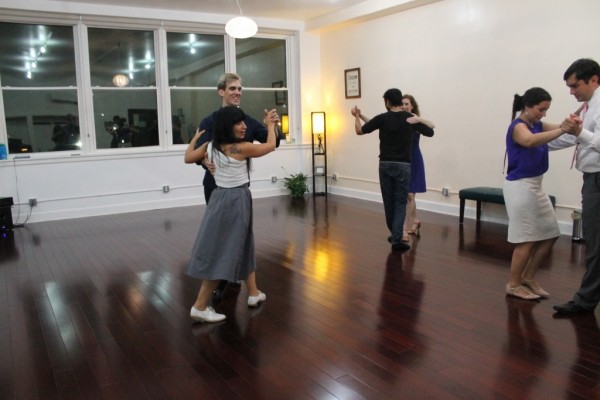 Before we got married, my hubby and I, decided to take ballroom dance classes so we can be prepared for our first dance which was to the Bob Marley song "Waiting in Vain". We took the classes in a studio in Manhattan and our experience there wasn't the greatest and we ended up messing up our first dance (I blame my hubby on that one).
A few weeks ago Shimkiri and Werner, owners and instructors of The Jersey City Ballroom invited me to a beginner latin dance class. I learned more in that hour I did in 6 weeks at the Manhattan dance studio I went to… Werner's instruction was so great, and he was really patient with me. I had such a good time!! The hour flew by. I had a moment where I felt like I was on Dancing with the Starts while dancing with Werner! Later I found out he was actually one of the instructors on the popular show in Austria! How cool?!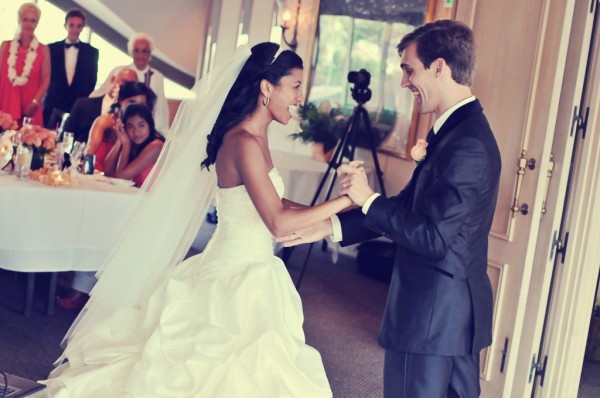 After class, I sat down with Shimkiri and Werner to get the scoop on the Jersey City Ballroom. I can't wait to go back and try some more classes! Who wants to learn the Waltz?!
What are your names? I'm Shimkiri Sawian-Figar. And I'm Werner Figar.
So what do you guys do?
Shimkiri: We're professional dancers and dancing champions and we co-founded The Jersey City Ballroom.
And you're married. How did you guys meet? 
Werner: That's an interesting story. We were both dancing basically our whole lives already. We both had previous dance partners, I was dancing with a different lady; she was dancing with a different guy. We were basically rehearsing in the same studio and we just saw each other, first eye contact.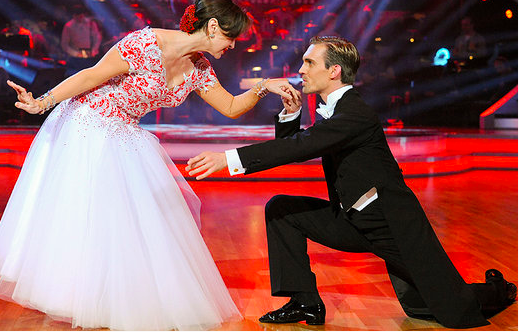 Shimkiri: He saw me first. Actually we saw each other.
Werner: We got to know each other, I asked her out and then we started dating and we were together. We were still with our previous partners, but then when you spend so much time with each other, when you practice every day for three hours and you go on trips [for] competitions, you travel every weekend. We just came back from California and Florida so it's quite time-consuming and you want to do that with the one that you like or love; it's not the point of "Oh, you stay home and I'll go away for a week."
And dance with some hot chick.
We were already in the same field and we decided then to dance together.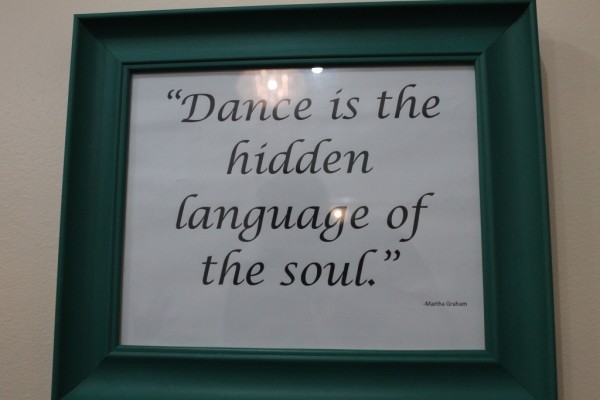 So it wasn't like a Dancing with The Stars—you know you're dancing, and the hours of practice, he sweeps you off your feet and then you make out—it wasn't one of those?
Werner: That's wishful thinking [but] that usually never happens.
Shimkiri: It was the complete opposite for us. I mean I know a lot of people kind of associate dancing with romance and sometimes it is very romantic of course if you're dancing with whoever you're in love with, but it was kind of our profession. It was what we did for a living, well sort of, not really me at that time because I used to be an engineer also. It was basically what our career was and then we decided might as well push our career and the romance together.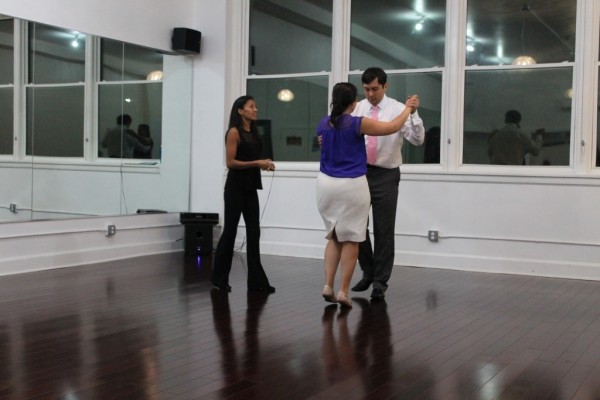 How did you start competing?
Shimkiri: When I started dancing because it was in college, with college dance teams they basically dance to compete. So you take classes and things like that and go to collegiate competitions. So it's a little bit different from dancing socially [or] for fun.
Yeah, I've watched dance competitions, the intense ones and it's serious.
They're actually really fun to go too even when you just start out, you just go, you have fun, they give you [a] good experience. You have a great time, it's really nice. It's a really great atmosphere actually.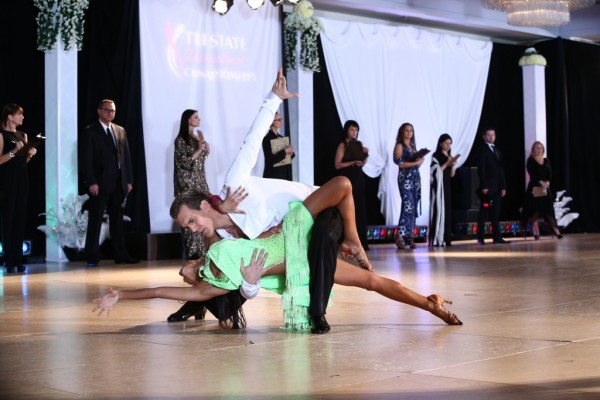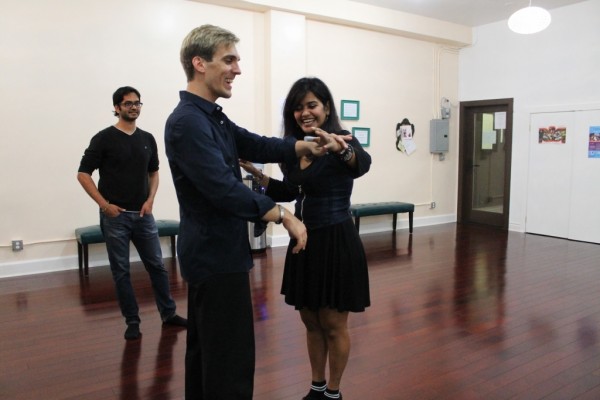 So what brought you guys to open Jersey City Ballroom?
Shimkiri: We've worked for different dance studios and we've danced at different places and I've taught for random people. We always wanted to open our own studio because we wanted a place where we could put forth what we believe in dancing which is basically, everybody can do it, it really enriches your life.
After we stopped competing because competing professionally is quite demanding. But it came to a point where he was teaching for himself and I was teaching at different studios and I didn't like the environments that I was in because sometimes the focus is in the wrong place.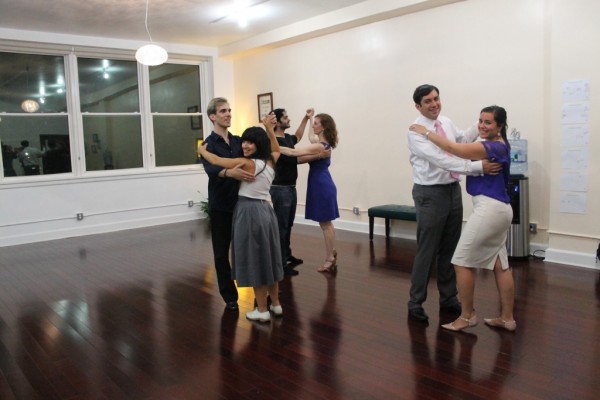 It's stressful.
Yes, it's stressful for the students that go there and it's stressful for the instructor sometimes.
So you wanted to open a relaxed environment.
Yes. Something with really good energy.
How do you guys balance competing and teaching?
Werner: I mean it's difficult, but we're trying to. We thought that we had a lot of work and we were busy before we had the studio, but now it's times ten. Our schedule is shifted because we teach so late. Actually now it's pretty early, but we usually don't come home before eleven o'clock at night, then we still have to cook and eat dinner, prepare for the next day so by the time we go to bed it's one or two.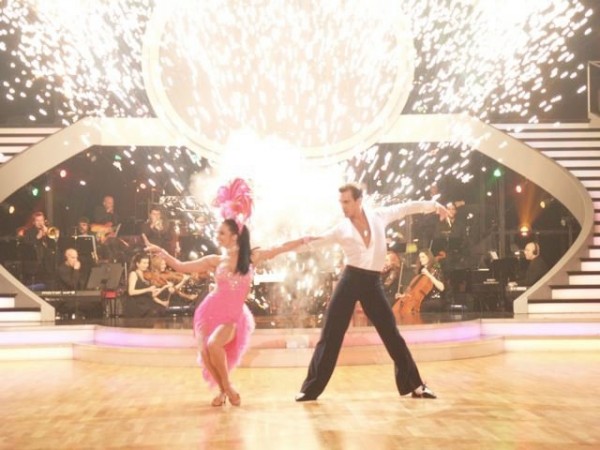 How many hours a day do you dance?
Werner: The whole day basically.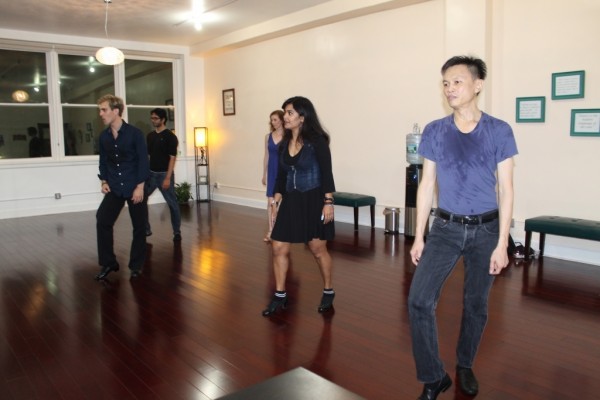 Can you tell me a little bit more about the classes you offer here?
Shimkiri: We offer classes in all styles. So ballroom meaning, Waltz, Tango, Foxtrot, and then our Latin classes are Cha-Cha, Samba, things like that, we offer a [wide] variety. Sometimes we combine that with Swing to just give it a lighter atmosphere and Salsa.
Do you have different levels of difficulties?
Yes. Because we're new and Jersey City doesn't really have that much of a dance community yet, which we're trying to build, the majority of our classes right now are beginner level. For those who already have some dance experience, we have a couple of intermediate level classes. So we have a Wednesday class at 7:45 PM that's New York style Salsa and that's intermediate level and then we have an intermediate Latin class on Saturday at 1 PM, so whatever we just did today, it steps up.
Werner: And we have one super intense class which is Tuesday at 7:30 PM.
Shimkiri: Yes, that's Latin Jazz.
So the schedule is on your website?
Yes. www.jerseycityballroom.com
So do you have to come with your significant other? So what if you're a single person and you just want to learn how to dance? You switch partners right?
Werner: So you don't have come with a partner, you can come by yourself, you can come with a friend, you can come with your significant other, boyfriend, girlfriend, whatever. We rotate so it's fine.
Shimkiri: We welcome everyone. For the group classes we rotate and if there's an uneven number then of course the instructor jumps in.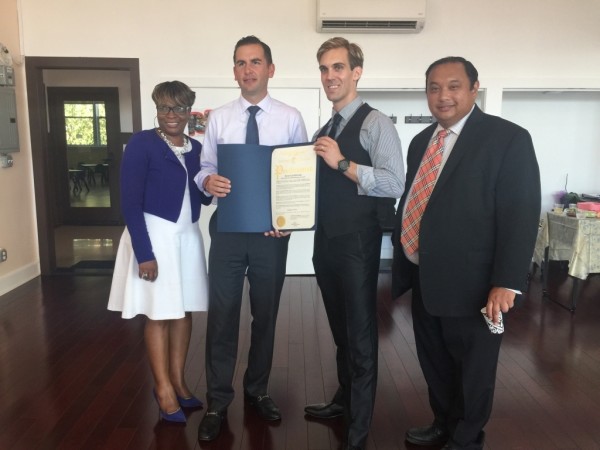 Do you guys feel that after Dancing with The Stars that ballroom dancing has become a trend?
Werner: I think it's good. There exists this whole ballroom scene called Pro-Am which is the professionals dance with the amateur partner. So it's basically like Dancing with the Stars where you teach the student and basically you're competing or showcasing with a student. There are all kinds of levels and categories. Sometimes the amateurs get so good that sometimes they almost have the level of the professionals because some of the people are practicing every day so they make up a lot of commitment.
We actually just came back from a competition in California and in Florida, where the national championships were and my student Lauren who is a very, very good student, she has been with me for a while and she's very talented. She's actually also a ballet and modern dancer. We danced the Gold World Championship and she actually became world champion.
Shimkiri: Yeah, so they're the Gold World Champions.
That's awesome!
What if someone feels intimidated?
Werner: That sometimes happens, but we really think that everybody connects, that's why we have beginner classes as well and we're trying to breakdown, trying to be patient, trying to make everybody feel comfortable. We always offer private lessons. Usually the group classes are here more to get more the step pattern or to get the feel of it, but then if you really want to pursue it on a higher level then you really have to go to private lessons to get the right footwork, the right technique, the right body action.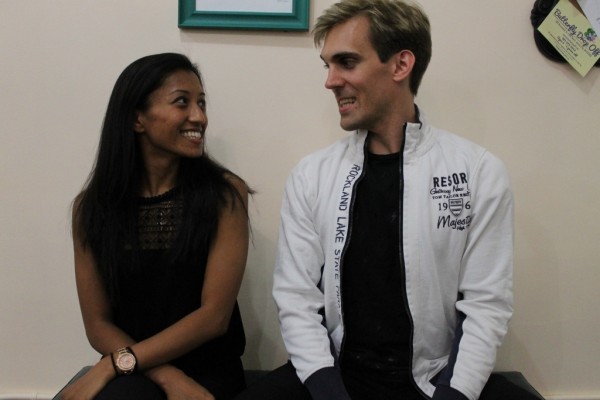 Why in Jersey City?
Shimkiri: We love Jersey City. We like the Jersey City area in general; it has that big city, neighborhood feel. We found this space almost by accident; we found it through one of Ironplate's flyers where they had a grand opening. So we checked it out and that was actually that little click that made us go, "Oh! Maybe we should open our studio now."
What are your favorite Jersey City hangout spots?
Shimkiri: We like Union Republic.
Are there any introductory classes?
Shimkiri: We have an introductory private lesson so if somebody feels self-conscious; we have an introductory private lesson which is $25 for half an hour. We want people to at least come and be able to try it and then after that we give them recommendations and they can also give us feedback. So we can help them kind of tailor their dance experience. We also offer for new students a buy-one-get-one-free group class so they can drop into a couple classes, see how they like it and go from there.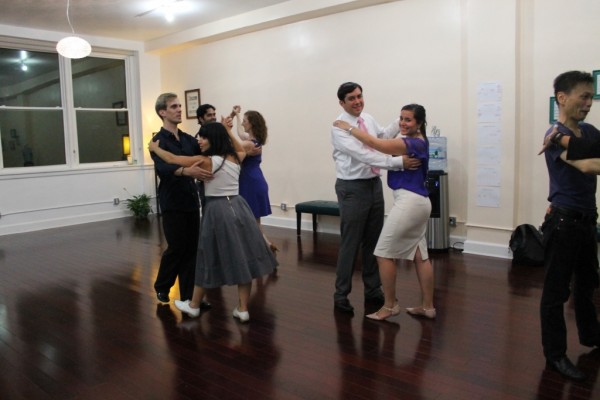 What feeling do you have when you're dancing?
Werner: It depends of course, we love dancing and that's what we decided to do, but when you—
Shimkiri: Work hard at it—
Werner: And when you do what you love, you also have bad days. You have bad days, you're injured, your sore, but because it's your job, you still have to go and do it. In the end, we still love doing it.
Shimkiri: But for us, the worst day dancing is better than the best day doing anything else.