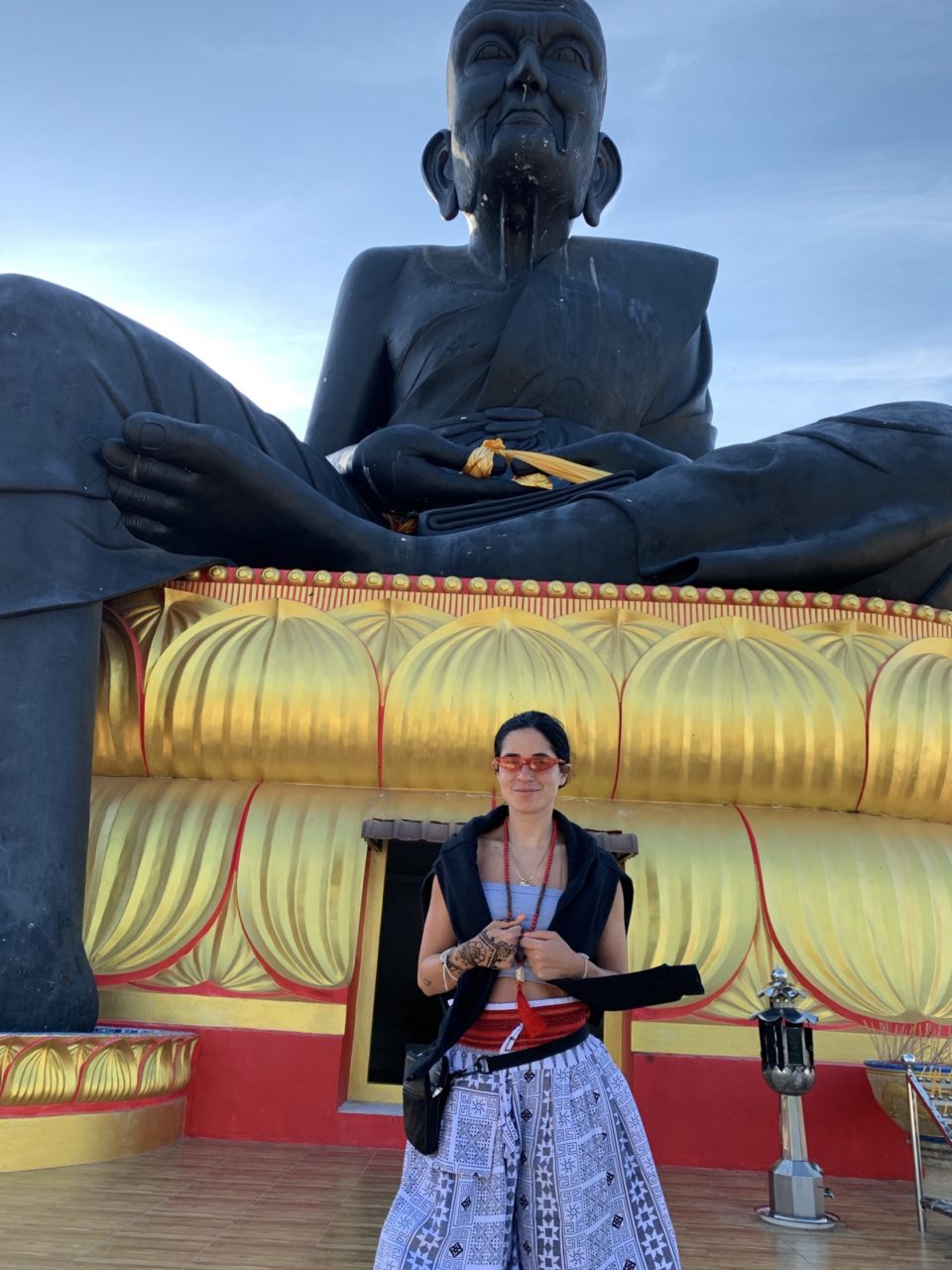 I am sitting on the first leg of my trip back home, I have about 24 hours more to go before I reach Jersey City. I am tired, but I feel like a changed person. How cliché – Western woman goes on a solo trip to Thailand and finds herself!
I want to tell you guys everything about this trip. What I did, tips, and things I learned. Everything I can possibly share, I will because if I can inspire one person out there reading this to get up and explore this world, then I've done my job. 
When people asked me if I was going to disconnect while on this trip and not blog, my answer was, "Why would I do that?" I love this, I enjoy sharing my life and experiences with people. It makes me happy. Even though I traveled alone, I felt like everyone was there with me, along for the ride. Cheering me on. Excited for the precious moments I had on this trip. 
I received countless of messages and encouragement from my readers, tons of questions about my travels that I am so beyond excited to share my knowledge with you all. 
But first, let's rewind a bit. 
Why Thailand? Why alone?
If you've been reading my posts recently, specifically "Letter from Chicpea," you know already that I had a tough year. After overcoming pain and change in my life, I made a decision to take life by the horns and do shit. Do shit I've always dreamed about, do shit that makes me uncomfortable. I had this yearning to travel, to see the world, to explore and reconnect with myself.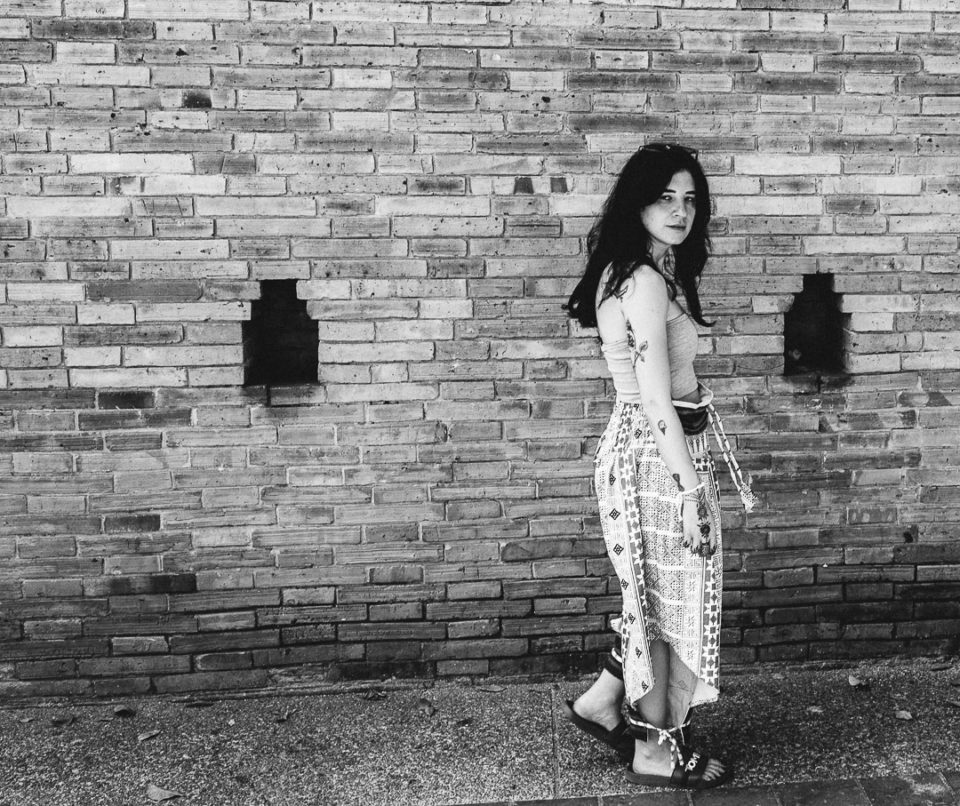 I chose Thailand. Why? Because I knew it would be the perfect combination of culture, great food, nice people, self discovery, and beaches. It's also far AF and would take me out of my comfort zone. 
Why alone? Because I'd been in a relationship for over 10 years, because I am a mom of a 6 year old and was never away from her for more than 5 days. Because I am Chicpea, and my life is centered around people. I feel suffocated at times.
I needed to get out, I needed alone time. I needed to be Lynn again. Not Chicpea, not Mia's mom, not someone's significant other. Just Lynn. I needed to re-connect with myself and boy, did I!!
Your Guide To Thailand
Before I dive into the nuts and bolts of this trip, I will be 100% honest with you. Planning this trip was a huge pain in the ass. It took me forever. Reason being, trying to see a whole country in 12 days and choosing the cities and activities you want to do was not easy. So take this guide with a grain of salt. Do some reading and research, what worked for me might not work for you. I bought books, spent hours online, asked people for recommendations, and honestly just figured it all out.
In this guide, I will include exactly what I did everyday. I will also include other recommendations and things that I should have done if I would have known. I also admittedly splurged on accommodations (because fuck it) so I will include more affordable options because you really can do this trip on the cheap. Like, cheap cheap. Like, I almost feel stupid for spending more than I should have. But I had a blast and I prefer spending money on memories than on shit I don't need. Thank god I have a penchant for buying vintage and not couture (ok, maybe a little couture). 
Are you ready?
How to get there
It's far haha. Hate to break it to you, but it's not an easy trip. I found round trip tickets to Thailand (with stopovers) for $700, which was really darn good if you ask me. Depending on when you go, you can find good deals, but you might have to rough it a little with the times. But it's worth it. If you plan well, this could be the only expensive aspect of your trip. Once you reach Thailand, things are so cheap because of the currency difference, it's mind boggling. Like you can stay in a hostel for $5 a night, and I am talking super decent accommodations. More on that later. 
There are no direct flights to Thailand so plan a full day of traveling to and from. Again, it was worth it. Once you're there, you're in paradise.
What to pack
To be honest, I sort of wish I only packed a few bathing suits and one or two outfits. Things can be so affordable there, you can get anything you need. You can also get your laundry done for a super inexpensive price. So pack light! Bring a suitcase with nothing in it and go crazy. I ended up having to buy another bag so I can bring back all the shit I bought. 
A few things you should bring:
Bathing suits (I didn't really like the selection they sold in the malls and markets, to be honest)

 

One or two outfits for the Temples. You have to dress modestly to see the temples, your shoulders and knees need to be covered. You can obviously buy stuff in Thailand for this but I kinda liked wearing my own pretty dresses for these magical visits.
Converters. You need to bring that shit if you want your electronics to work. Go on Amazon and type in "Thailand Converter"
Bring an external battery to charge your phone. I brought two and it came in super clutch. If you're out all day taking pics and videos, you don't want to worry about finding a spot to charge your phone.
Apps to download before you leave
Currency converter – This helped me at the night markets when I was a little drunk and couldn't do math.

 

Grab – This is the Uber of Thailand and came in very clutch when I needed to get back to my hotel and didn't know where the fuck I was. In Bangkok, I ordered a Scooter Taxi!! A dude came to pick me up on a scooter and it was lit af. But also scary cause we went on a highway and people drive a little crazy haha. But it was a fun experience.

 

Expedia – Good for booking accommodations or travel on the fly. I booked an airport hotel on the app knowing I have 7 hours between flights in Bangkok. Came in handy. I got to nap for 4 hours in a sleeping pod in the airport. New York airports really need to get their shit together IMO.

 
Thailand Bucket List
Top things you have to do in Thailand. Regardless of whether or not you decide to use my itinerary as a guideline, below are some things you should try and experience. You can do all of these pretty much anywhere you go. This is what I had in my notes and I tried to cross off as much as possible.
1. Thai massages
I had a total of 6 massages during my trip. Thai massage spots are everywhere and they are amazing. You can get them in the city centers, on the beach, literally anywhere. For a full hour, you can pay as little as 300 BAHT ($9) for a full hour. A Thai massage is honestly amazing, prob the best I had. I got a massage on one of the islands and she basically beat me up, it was painful but after I felt like I was putty. She told me that she took my stress out of my body. I felt like I smoked a whole bag of weed. It was fantastic.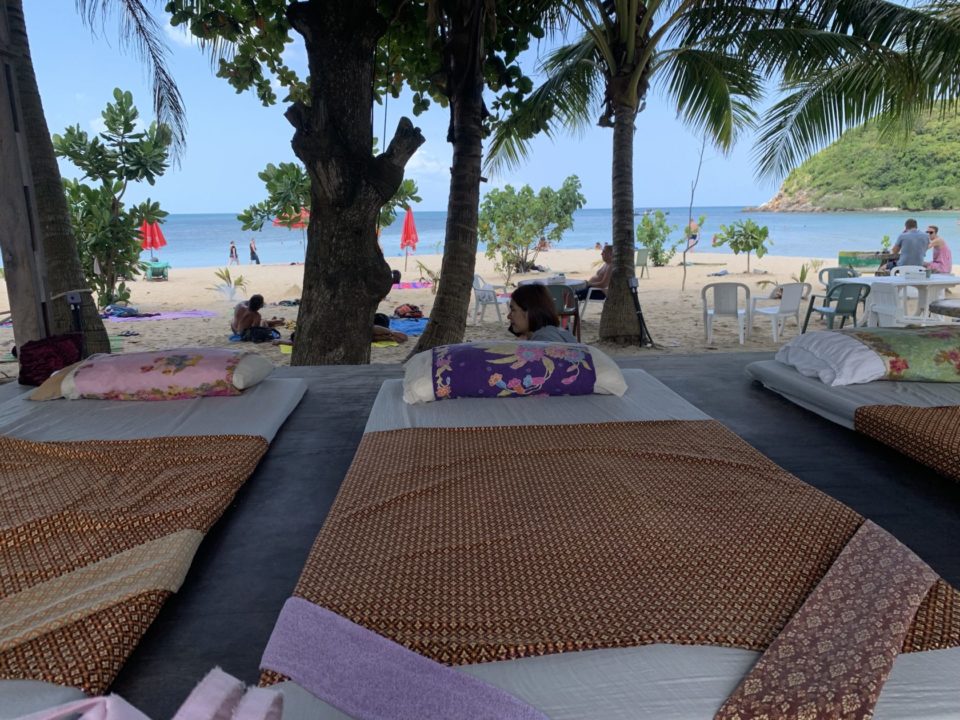 Funny story, though. In Chiang Mai on my way back to my hotel late at night, I saw a massage parlor was still open. It was completely normal, I saw tourists there getting foot massages, so I went in and asked for a full hour. It was awesome. Then the massage therapist flipped me over and massaged my boobs. I couldn't stop laughing. Did I just get a happy ending? I asked my followers on Instagram. 70% voted yes. 
So I guess I got a happy ending. 
Visit an elephant sanctuary
The most amazing experience, I can't even tell you the joy I felt meeting these amazing creatures. It's very important to make sure you visit an ethical elephant sanctuary, do not go somewhere and ride them! Those places treat the animals poorly. It's best to visit a farm where the elephants are living their normal lives. See my itinerary for recommendations.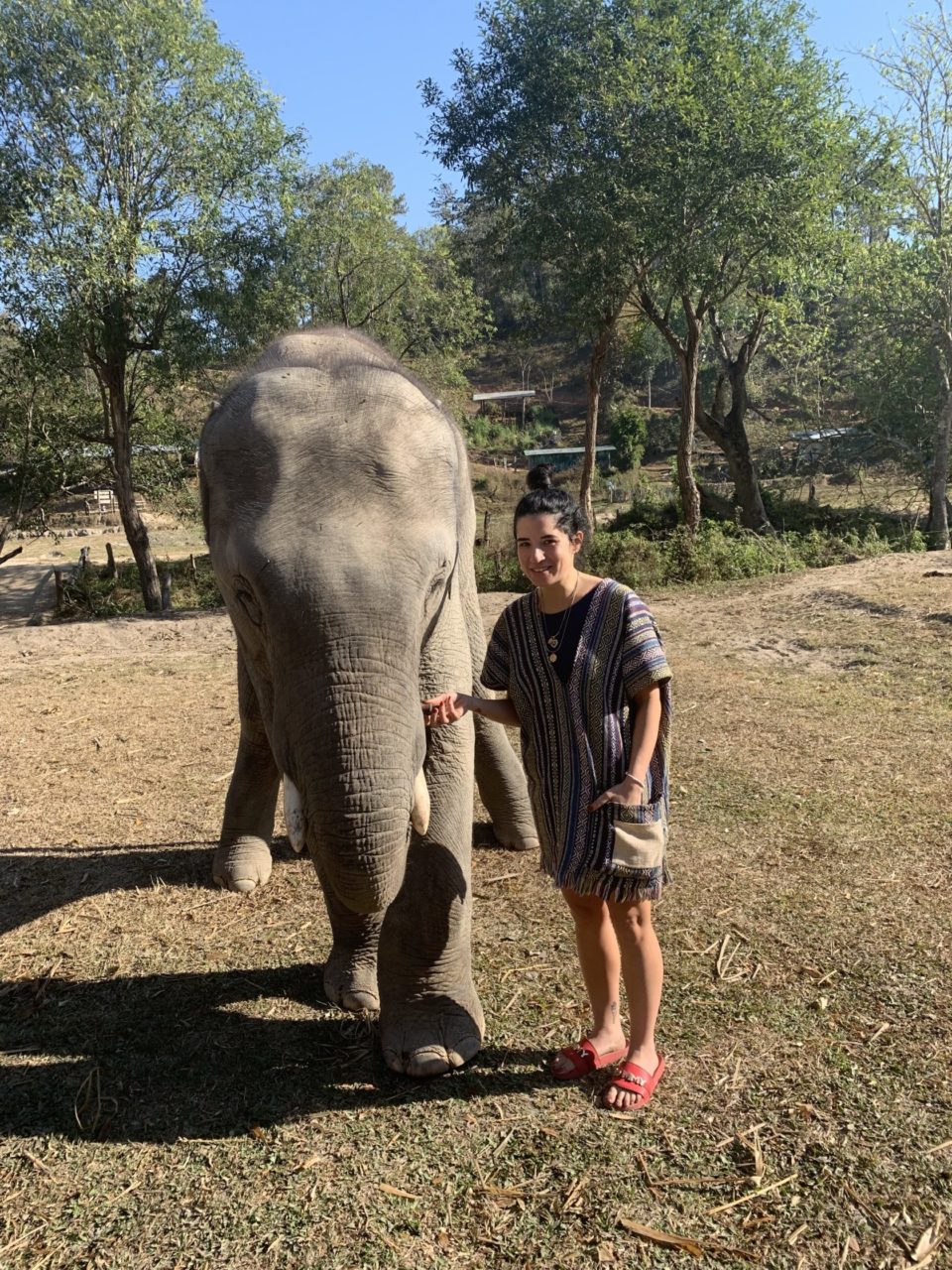 EAT ALL THE FOODS
Everything, try everything. Don't be afraid of street food, just fucking do it. Don't be a pussy. Eat all the foods. 
Visit temples
So many amazing, magical temples in Thailand. I think I saw about 15 in total, and they are each so different and the architecture is just astounding. When I visited the temples, I really felt a sense of peace. See more in my itinerary.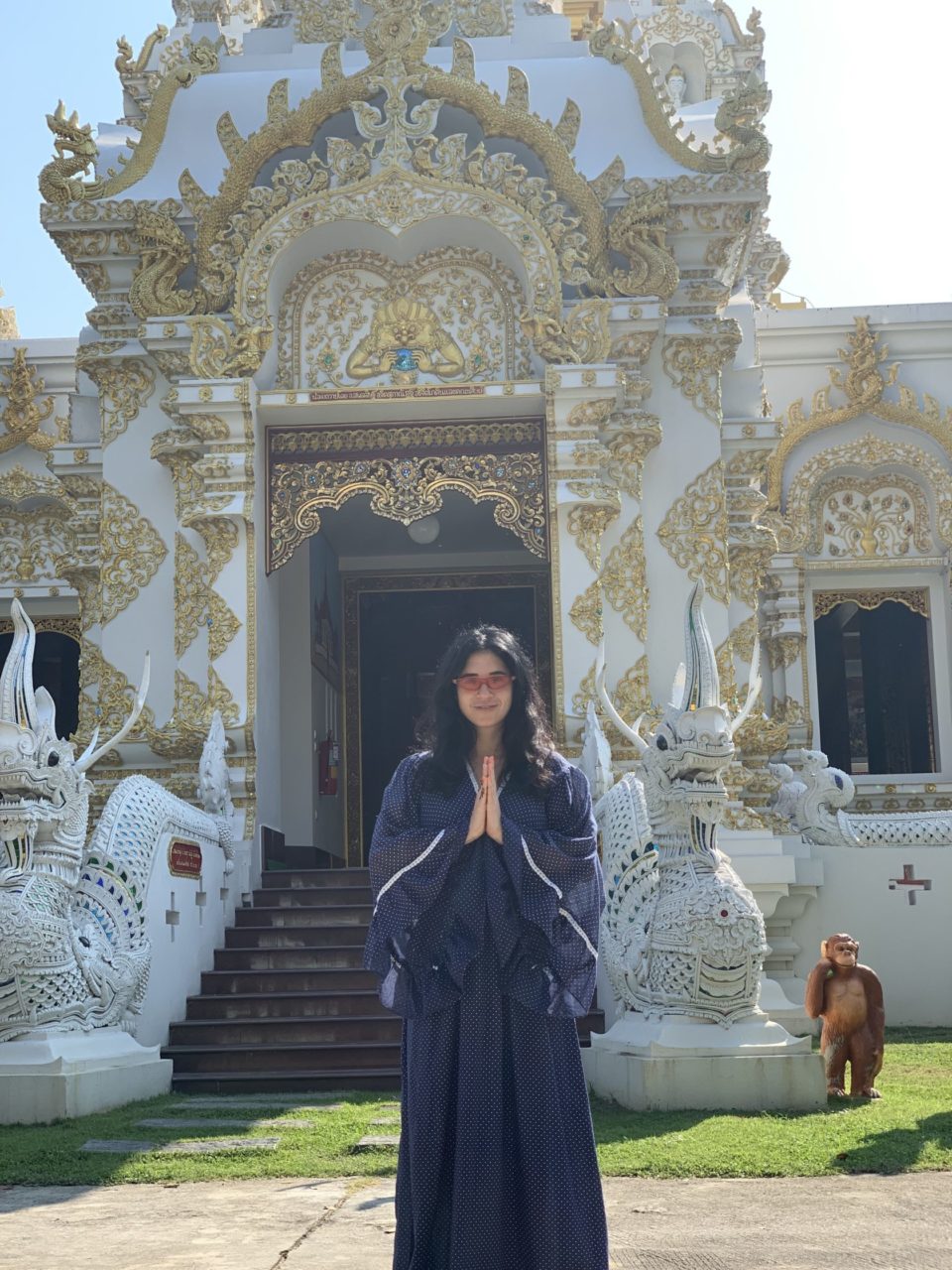 Visit the local night markets
This was one of my favorite night time activities, to just meander the night markets, look at local artisans and of course eat all the foods. The night markets are just magical. 
Take a Thai cooking class
So this, I didn't do, I've heard amazing things about taking a cooking class, but for some reason I just didn't feel like doing it. I think all my years of cooking in my previous relationship led me to say "thank you, next" on this activity. But highly recommend otherwise!
Muay Thai
Take a Muay Thai class, or go see one. When I was in Koh Samui, I decided to sign up for a two-hour intensive Muay Thai class. It was so hard. I'm in great shape and felt like I was struggling. That being said, after two hours of learning the moves, I think I did a pretty good job. It was an awesome workout and I'm hooked! (no pun intended).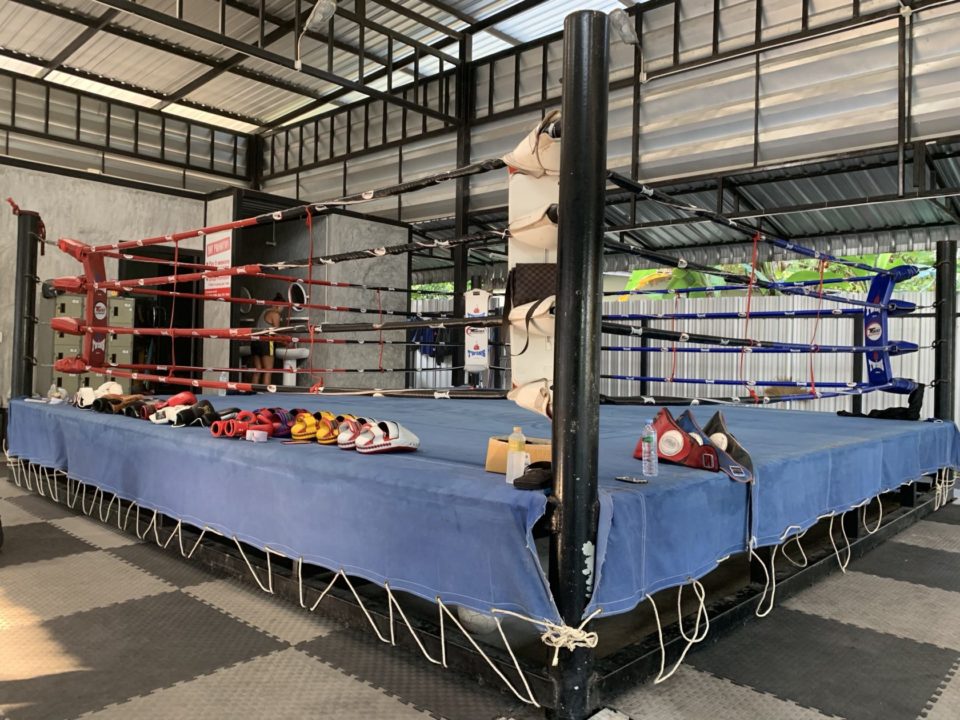 That same night, there was a fight at a local stadium so I bought ringside tickets to watch. This is a super fun activity and one you can do almost anywhere in Thailand. Highly recommend.
Full Moon Party
The Full Moon Party is a beach party that goes on the night of every full moon. This is the Mecca of parties in Thailand, and apparently it's pretty wild and attracts anywhere from 10-30,000 people. I didn't get to go to this because of the timing of my trip, but if you want to experience partying on a beach in paradise then def try and work it around your itinerary. For the schedule and more info: http://www.fullmoonparty-thailand.com
Rent a scooter on one of the islands
I wish I did this, but since I've never driven a scooter I was a little nervous of getting on one. But in hindsight, it's pretty easy especially if you're on an island and it's the easiest way to get around. It costs $8 per day to rent one! Like that's crazy.
Get a custom suit done by a local Tailor
Every where you go in Thailand there are tailors who will make you a custom suit. It's a weird thing but apparently people travel to Thailand to get suits made for cheap. I didn't do this and sort of regret it.
LadyBoy Cabaret
I'm sure you've heard about the Lady boy shows in Thailand. To be honest I didn't look into this at all, or had any interest in the adult entertainment aspect of Thailand just cause that's not the kind of trip I wanted. I have nothing against it whatsoever but I was looking for a zen like experience. Plenty of info about this online!
Traveling as a Single Woman Solo in Thailand.
Was it safe? Did I ever feel afraid? 
I am a little surprised at how many people asked about this, about how it was to travel alone. When I decided to do this trip on my own, people would shockingly say "Alone, why?" Why the fuck not? Women all over the world, especially European women, travel on their own a lot. Why don't men get asked this? I am almost dumbfounded at this, to be honest.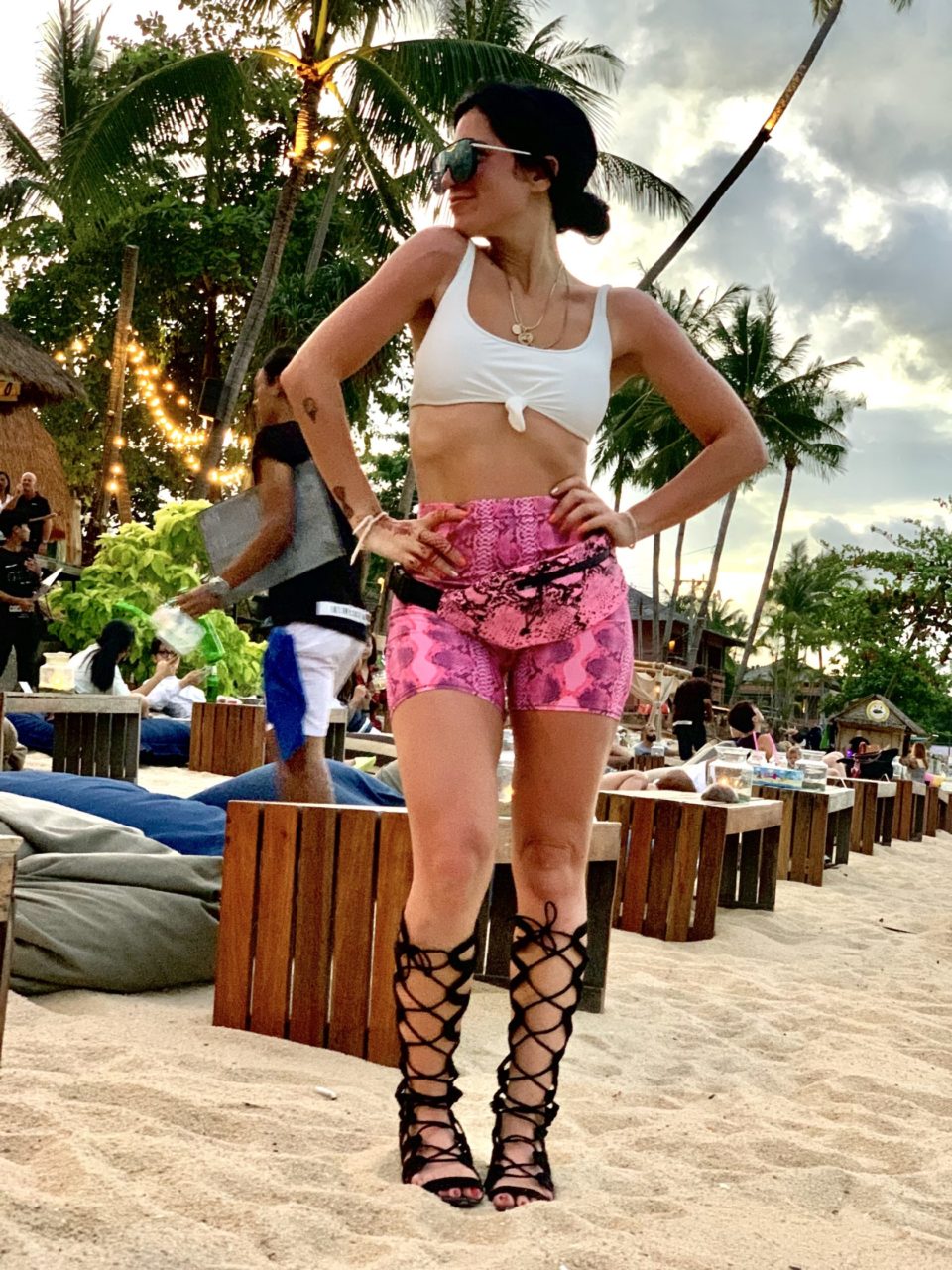 Thailand is considered to be one of the safest countries for women to travel alone. I felt more safe on this trip than I have walking on Newark Ave on a Saturday night. Thai people are extremely nice and friendly. The only time I felt some type of way was when I was in a "party" tourist trap area in Koh Samui. I think if you have an idea where you are, where you're going you'll be fine. I can't speak for other countries, but Thailand was really great for traveling alone.
Also not to mention, when you travel you meet SOOO many people. Travelers are extremely friendly and open-minded. I met so many awesome people and I was actually being anti-social haha. So if you're open to meeting people, it's easy.
If you really feel afraid doing a trip like this by yourself, you can for sure book group tours! There are tons online. People just like you who want to travel! But I found it to be very rewarding doing it myself.
Here's the thing and how I see things – Life is short. Don't be afraid to see the world. Yes, always be careful, attentive, know where you are and obviously don't go wonder the streets in the middle of the night (like you wouldn't do at home LOL). And you'll be fine.
Traveling alone is incredibly empowering, I think it's so necessary to do once in a while to reconnect with yourself. I loved the freedom of not having to entertain someone else, or accommodate another person. If I wanted to nap, I could. If I wanted to go and explore for hours, I could. It was great and I cannot wait to do it again.
MY 12 DAYS
It was really hard to decide where to go and how many days to stay in said places, but I made it work. Based on what I read online, I did two days in Bangkok, 3 days in Chiang Mai, and 4 days in Koh Samui. A little bit of city, a little bit of culture, and end it with beach time. 
Again, do some research, go based on things you like/enjoy, what kind of vibe you're looking for, etc. Do you want to explore? Do you want to just chill on beaches and island hop? Like any country you visit, there is always going to be so much to do and explore. I had major FOMO planning this trip, but I did the best I could and just tried to enjoy the path I chose. The toughest for me to decide was which island. More on that below. 
First Destination: Bangkok
Where to Stay in Bangkok
If you're on a budget/backpacker
Khao San Road is the center of the backpack universe, this is where all the travelers stay on the cheap. If you're also looking to meet other travelers, party, and do weird shit, this is the place to be. I was there walking around for a few hours and I felt like I was in the movie The Beach.
That being said, it's crowded. People will tell you to avoid this street like New Yorkers tell you to avoid Times Square. But if you like a lot of action and don't want to spend much money, this is a good place to stay. It's also near a lot of the temples and attractions.
Average cost for a guest house/hostel – $5-$35 per night. Some of these spots have AC, WiFi and private showers. So depending on how much you want to rough it, you can stay in Bangkok for super cheap.
If you want to be outside of the action and stay in a 5-star type hotel
The Riverside is absolutely stunning, you can wake up to the most amazing views from your nice hotel room. You are also close to the water ferries, which can take you to many of the most amazing temples Bangkok has to offer.
Also, when I say 5 star hotel, the average cost is between $130-300 per night. Which is pretty good for a 5 star bougie hotel!!
Where I stayed
I wanted to be in a central area where it would be easy for me to get around. I stayed in the Sukhumvit area. It's not very cute to be honest and I didn't really love my hotel, but it was easy to get around and the staff at my hotel were super helpful and friendly.
I stayed at the Dream hotel and paid $75 per night (mid-range).
"Sukhumvit is arguably the best area to stay in Bangkok for nightlife and has it all when it comes to dining and clubbing! Much of the action centers around Soi 11, Bangkok's famous party street, a favourite with both expats and visitors with its large selections of restaurants, clubs and bars" – Resource 
If you're on Business
Well this post is not for you. LOL. If you're on a business trip, Silom is considered the business district in Bangkok. So don't stay here if that's not what you're doing.
If you're a shop-a holic
The Siam area has all the fancy malls. I wish I had more time to go here but shopping was not my priority on this trip. That being said, you can find some really good shit in Thailand that no one has in the states for fraction of the price. They also have all the designer brands you can ask for. So if you're trying to get some fly shit and don't care about sightseeing, then stay in the Siam area.
How to get around in Bangkok
As mentioned earlier, I recommend downloading the "Grab" app which is the Uber of Thailand. It's super easy to use and you can also get someone on a scooter to pick you up, which is a super fun way to see the town.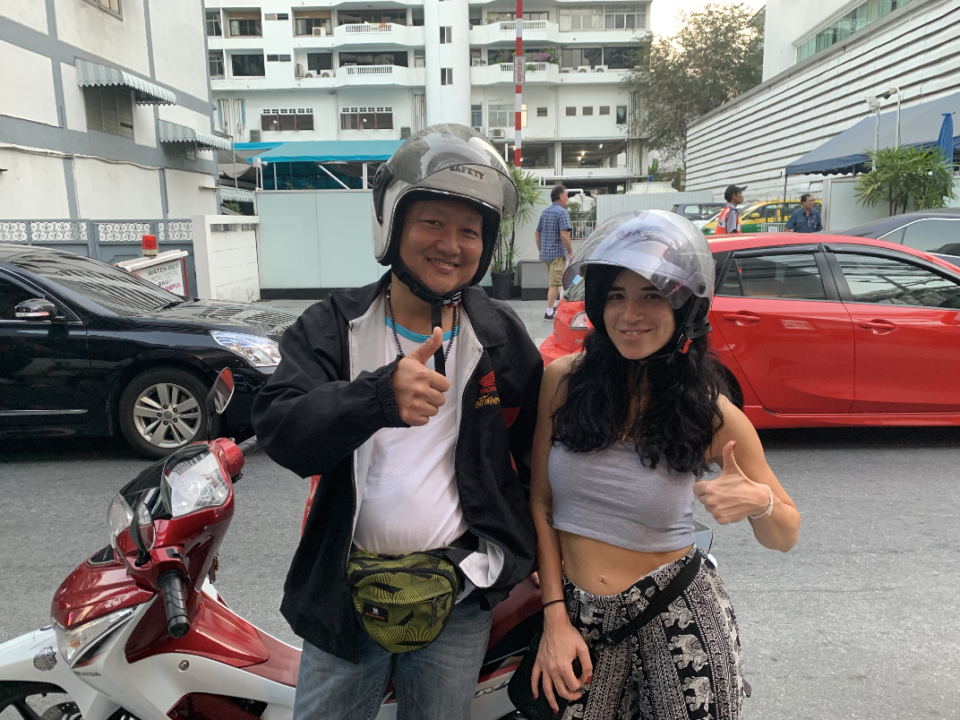 What's the deal with Tuk Tuk's?
Tuk Tuk's are three wheelers and they are everywhere. I read in books and online that I shouldn't use this, as they will scam you and it can be overpriced. That being said, this was my favorite way of getting around. You get to feel the open air, see more. So to me, it was worth paying a little more.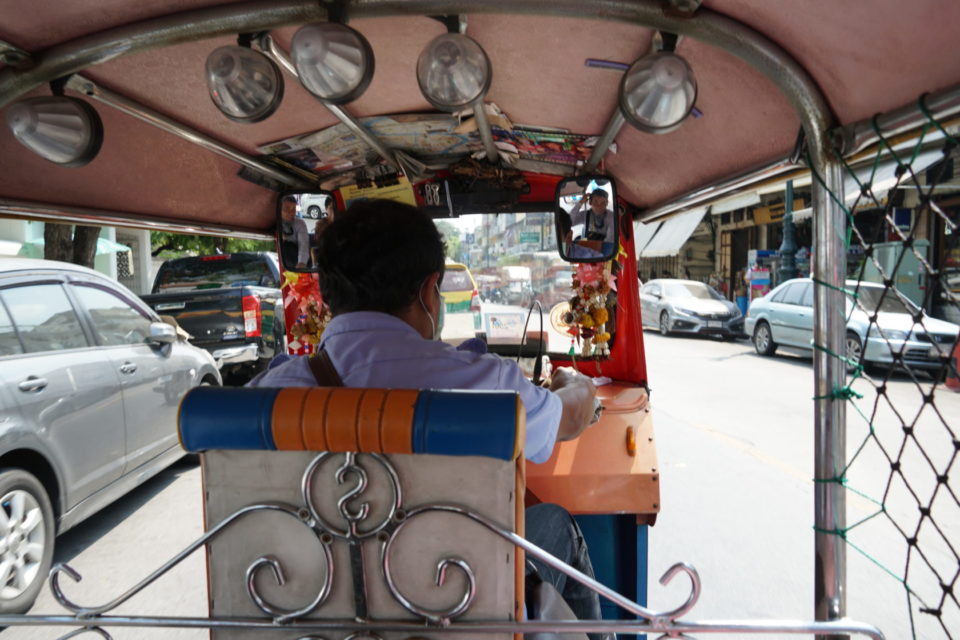 That being said, negotiate, negotiate, negotiate. Everything in Thailand requires you to haggle. So practice those skills now!
One night I got lost in an area I probably shouldn't have been in so I hailed a Tuk Tuk. They are everywhere, which is comforting!
The Sky Train 
Bangkok's Subway system is easy and efficient. You can get anywhere you need in Bangkok faster than taking a taxi or Tuk Tuk. It's also the cheapest option if you're on a budget. Fairs start at less than a dollar for one stop.
For more info on the stops and what you can see at each one: http://www.bangkok.com/bts/
DAY 1

Travel from Newark Airport to Bangkok
It pretty much took a full 24 hours. I had a stopover for 3 hours in Tokyo, ate some ramen, and literally walked the whole airport because this was my chance to sort of see Tokyo (not really but I wish). 
Landed in Bangkok at around midnight. The airport in Bangkok is kind of a shit show, I had reserved a taxi in advance to pick me up from the airport and bring me to my hotel. It took like 45 minutes to find the homie. Not sure what would be easiest but I'm thinking just getting a regular taxi. 
You'll find taxi queues right outside the airport. It's a good idea to print out a map of your destination with the name of your hotel and directions in Thai.
Taxi cost from the airport to my hotel – $25.
TIP: When taking taxi's in Thailand, they will try and scam you, so make sure they use the meter. So many people told me this one.
Cheaper option: You can also get to the city via the Airport Link, which operates trains to either the Phetchaburi MRT (subway) station or to the Phaya Thai BTS (Skytrain) station. They only run from 6am to midnight. There are also buses and public vans that will get you into Bangkok.
Train costs – $1.
The Dream Hotel
I chose the Dream Hotel in Bangkok and honestly, it was a shit hole haha. For the price, I was kind of disappointed. When looking online at Trip Advisor, take the reviews with a grain of salt. I have a feeling they are mostly fake. The reception and lounge area were stunning, but the room was not so great. It smelled like cigarettes and I never had hot water in my shower. 
Just so you guys know, I am so easy-going and never complain but I wasn't too happy with this hotel. That being said, I was barely in my room anyway so it didn't matter. 
DAY 2
Bangkok Sightseeing
This is where my trip actually started. I booked a personal travel guide for the day. The reason I did this was to see as much as possible with someone knowledgeable. I didn't feel like figuring out where to go and how to get to places since I was only spending two full days in Bangkok.
I paid $120 for a full day with a private tour guide. Personally, that's super reasonable to have the undivided attention of someone who knows everything about the area. After booking the day, they emailed me asking what I wanted to see. I told them as much as possible.
For more info: https://www.tripadvisor.com/AttractionProductReview-g293916-d11456468-Private_Tour_Guide_Services_in_and_around_Bangkok-Bangkok.html
My tour guide Jut met me in the lobby of my hotel at 9am sharp. We sat down to get to know each other and he asked me what I wanted to do. He told me he would take me to the best temples, we would ride the river boat, eat some street food, etc.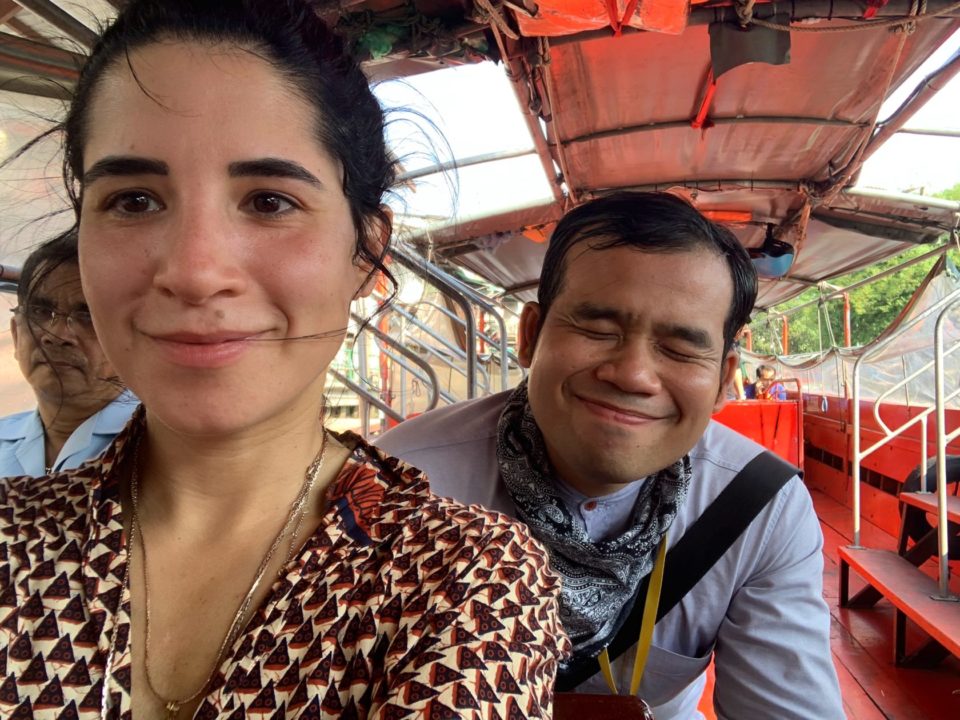 On our way to our first place, he told me he used to be a monk for 10 years and he became a tour guide a few years ago. I knew this was going to be a day I will never forget.
We took the Sky Train to the riverboat to see the first temple.
I can't even tell you the excited feeling I had riding the riverboat in Thailand. This is where the trip really began for me, where it hit me. I was here in Thailand alone. I felt free for the first time in a while. I was a stranger visiting from New Jersey. I wasn't ChicpeaJC, I wasn't Mia's mom. It was awesome, feeling the warm air and humidity on my skin. I was smiling ear to ear. Jut thought I was probably crazy haha.
Wat Arun (Temple of the Dawn)
We arrived to the temple at around 11AM. Since it was the first one we visited, it was the most memorable one for me. The architecture is absolutely astounding.
To visit the temples, you must make sure you cover your shoulders and knees. I brought an extra set of clothes to change into for the temples. It's also very hot and humid, so I suggest wearing something light.
There is an entrance fee of 50 BAHT ($1.50) to get in. WORTH IT.
Jut gave me the whole history and stories behind this temple, and him being a monk really gave me an inside look at Buddhism and the importance of this temple. I was in total awe. He sat me down a few times to tell me different tales about Buddhist scholars. I couldn't believe that within a few hours of my first day, I already felt enlightened. I knew this trip would change my life, but never did I think it would happen so quickly.
We entered one of the temples and I asked Jut if we could meditate. He guided me through a 5-minute meditation. Then we sat still for what felt like ages. It was beautiful.
Life Changing Moment
Jut said to me, that he felt like we had met in a previous life. He said that Buddhist strongly believe in reincarnation and that he felt like he knew me before, that I used to be Thai. It was really nice and fun to hear, I am not sure if I believe in it but I was open to learning more.
Those 10 minutes of silence in this beautiful temple in Thailand made me feel a sense of peace. Happiness in its truest and simplest form. There's so much I could say about this moment, but this is not the focus of this blog! So back to the itinerary before I start crying on my laptop.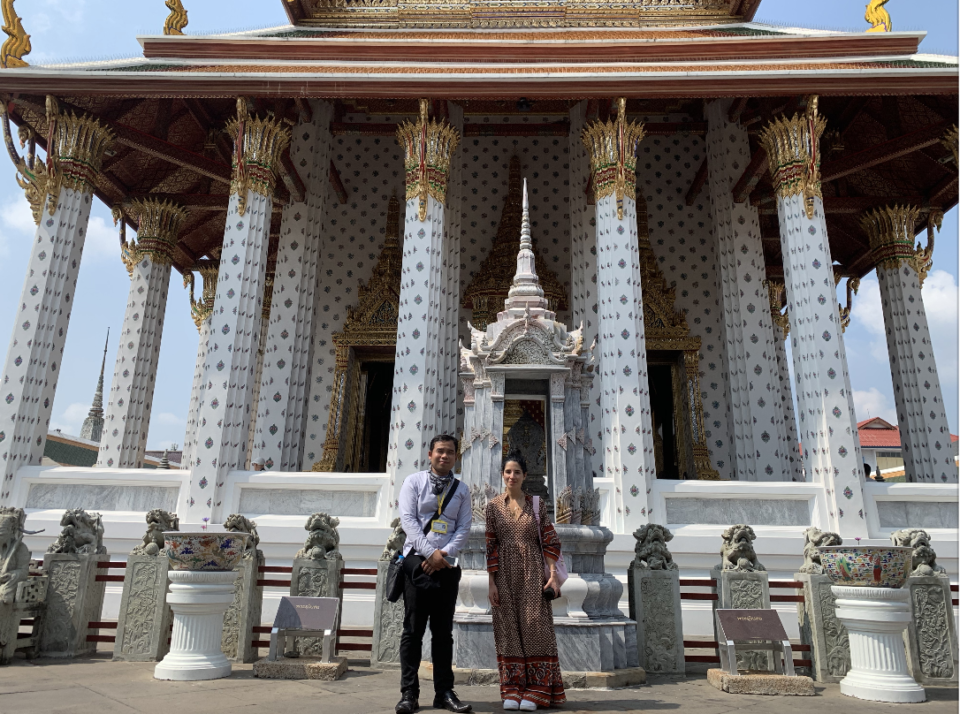 I read online that the best time to visit this temple is during the sunset or sunrise. We spent about an hour in here.
To read more about the temple, the history and architecture go here 
Second stop: Wat Pho (Temple of the Reclining Buddha)
The temple has the largest collection of Buddha images in Thailand, and the reclining buddha is 46 meters long and 15 meters tall.
This temple was MASSIVE. I mean, I can't even describe it to you because it was so insane. I felt like I was on drugs at this point (maybe it was the jet lag, maybe it was the Thai heat, who knows) but it was intense, exploring this temple.
There is a large statue of the reclining buddha, and by the statue are bowls where you can place coins in them for good luck. Jut, my tour guide, told me to think about what I wanted for myself and my future. I really focused on the moment and it was a really beautiful experience.
That being said, it's extremely crowded. And everyone is obsessively taking pictures which, coming from me, is very telling! I tried to enjoy the moment. I took a photo or two, but really tried to focus on how amazing and magical this place was.
Third spot: Food
I was hungry at this point, so I told Jut to take me somewhere good. We rode a Tuk Tuk to one of his favorite restaurants. Part of the deal in hiring a tour guide is you also have to pay for their food and travel expenses. So something tells me he wanted to eat a good meal and be in the AC as opposed to the street food I wouldn't shut up about. But I went with the flow, I figured I could use a break from walking and AC sounded nice.
We ordered a bunch of Thai dishes and Thai iced tea. I was in heaven. The food is so good in Thailand.
Fourth Spot: Khao San Road.
As mentioned earlier, Khao San road is backpacker central. We walked there from the restaurant as I was adamant in seeing this street. It was a little quiet, and Jut mentioned it comes to life later in the day. There is everything you need here though – souvenirs shops, travel essentials, currency exchange, tattoo shops, tailors, bars, restaurants, street food, Thai massages, everything. It's a hub for travelers and was cool to see.
Fifth spot: Grand Palace
To be honest at this point, the jet lag was kicking in. I was tired and sweaty. After seeing so many temples in a short span of time, I felt like I was going to pass out. But I heard the Grand Palace was a must, so I pulled myself together.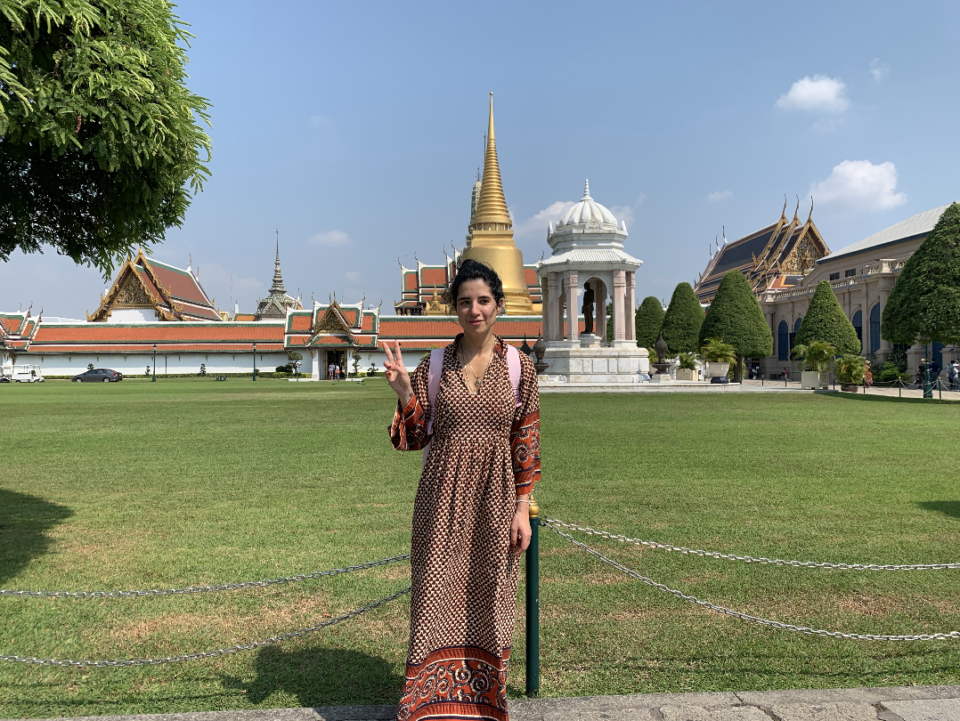 This temple is the city's most popular landmark. When we arrived, there were thousands upon thousands of visitors. The Grand Palace is MASSIVE, it's like its own city, it was crazy.
To read more, go here! 
Sixth Spot: Wat Saket (Golden Mount)
When I asked Jut where we were going next, he said another temple.
In DJ Khaled's voice, I said "Another one" and Jut looked at me like I was crazy, but I thought it was hilarious and I love laughing at my own jokes. But seriously, another temple? Alright, let's do this.
This was a memorable one. We had to climb around 300 magical steps to the temple. It is breathtaking. Climbing up those stairs, listening to the sounds of gongs and bells was unlike anything I've ever experienced. Once you reach the top, you get a 360 degree view of Bangkok.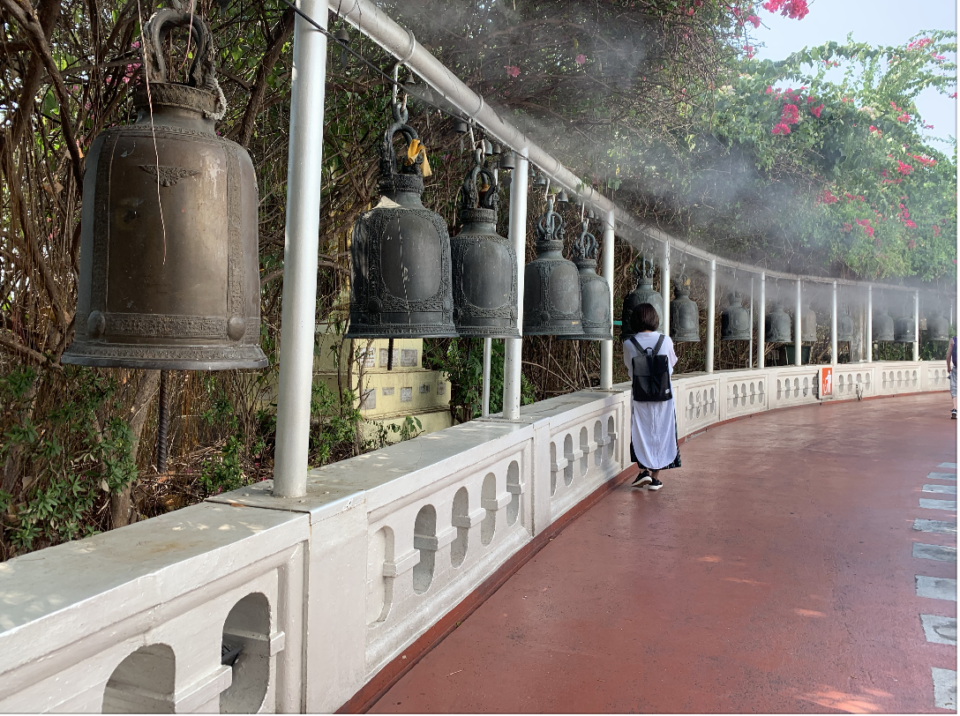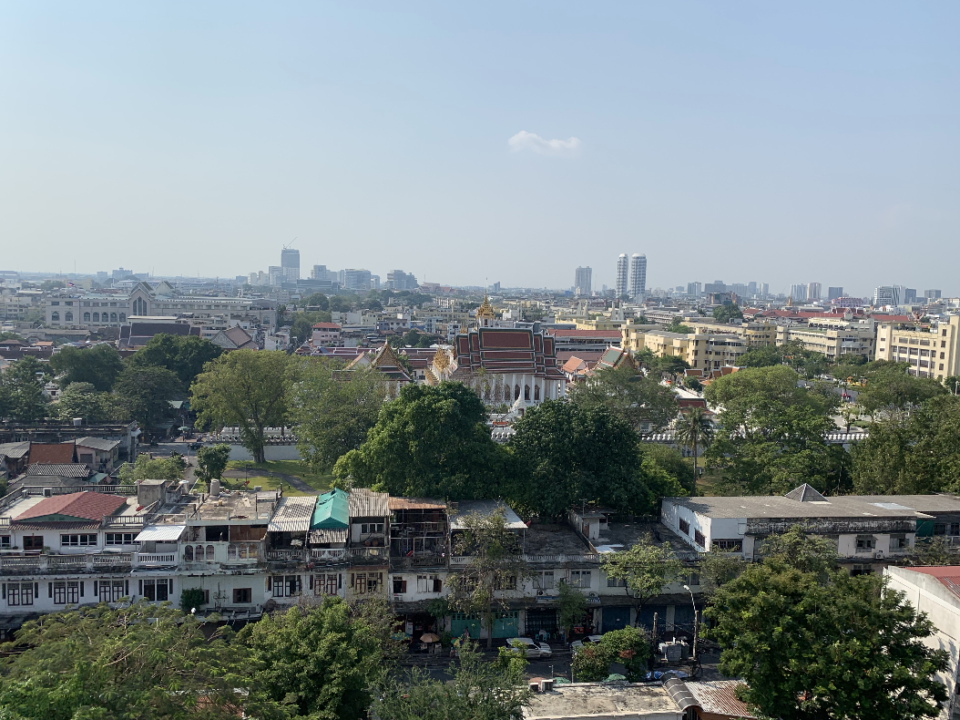 Truly incredible and a must visit.
Life changing moment
On the way back down from this temple, there was an area where you can buy this golden leaf and dedicate it to someone in your life. I bought one and wrote something in dedication of my daughter. I missed her so much, I was so caught up with the whirlwind of this trip that this is the first moment I felt an intense need to see her. This was the first time I would be away from her for this amount of time. I felt like a part of me was missing, that I so wanted to share this moment with her. But I knew that I needed to take this trip on my own, that this would be good for me and that she was having fun with her dad. I was overcome with emotion and longing for her, but at the same time was so grateful that I have such a wonderful human in my life to share this experience with. I vowed to take her back when she was a little older and hoped this temple could watch over her and make sure she was safe and happy.
Seventh spot
It was time to change things up. Jut and I walked to a river canal boat to take it to the shopping area in Thailand. I was ready for a change of pace. All this temple stuff was getting me in my feelings. "I'm too enlightened," I said to Jut, "Let's go shopping."
He took me to the "Fashion Mall," a massive 7-floor mall all for clothing and accessories. I was in heaven. Once I started, I couldn't stop. I got a few awesome pieces at such affordable prices and poor Jut had to help me carry all my bags. I called him my boyfriend for the day and he didn't seem to bothered by it.
I had a blast. I went from being all zen and shit to materialistic AF. It's called #Balance.
Eighth Spot
After all the touring and shopping, my body was aching. I asked Jut to take me to get my first real Thai Massage. Jut took me to his friend's spot, I paid for a full hour  for 250 BAHT, which is $8. Can't beat that shit.
It was exactly what the doctor ordered. Thai massages are no joke. Depending on who you get, it can be painful but it really feels amazing after. Because it's pretty cheap, you can literally just hang out all day and get massages. I did 8 of them on my trip.
Ninth spot:  Street food
Ok so at this point, I didn't do a good job documenting where I was. It was a little hard to keep track. There was a street food market by the area where I got my massage. I ordered a shrimp Pad Thai and a coconut, it all cost $5. I was in heaven. There are street food spots literally everywhere, just eat it!!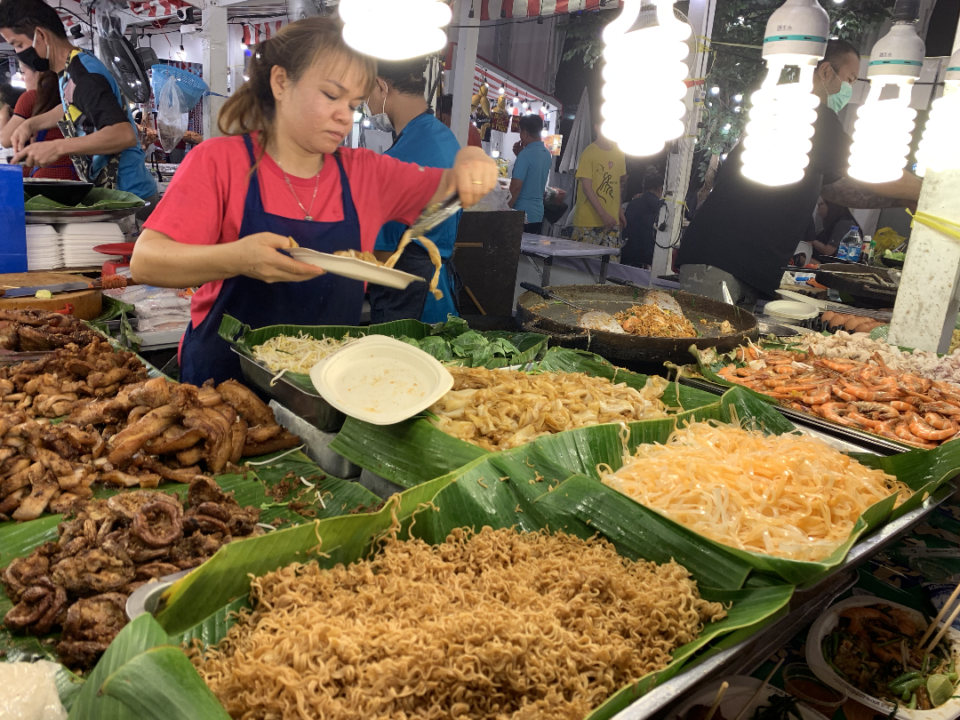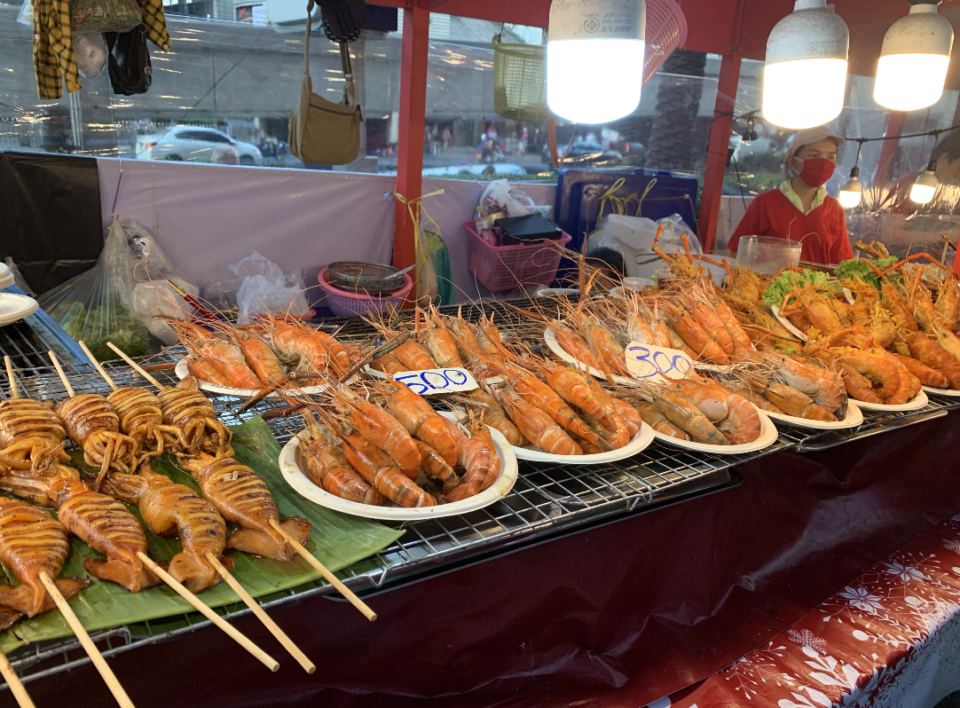 10th spot
Still with me? What a day, right? So at this point, Jut was working overtime and I told him I would obviously pay him if he stayed with me. We were both exhausted at this point, but we had one more spot to check out.
The Riverside Night Market
We took a boat ferry to this awesome night market where you can eat and shop, and there are rides for kids. This is a cool area if you want to go out but not really "party." Everything was a haze at this point, I told Jut to take my ass home.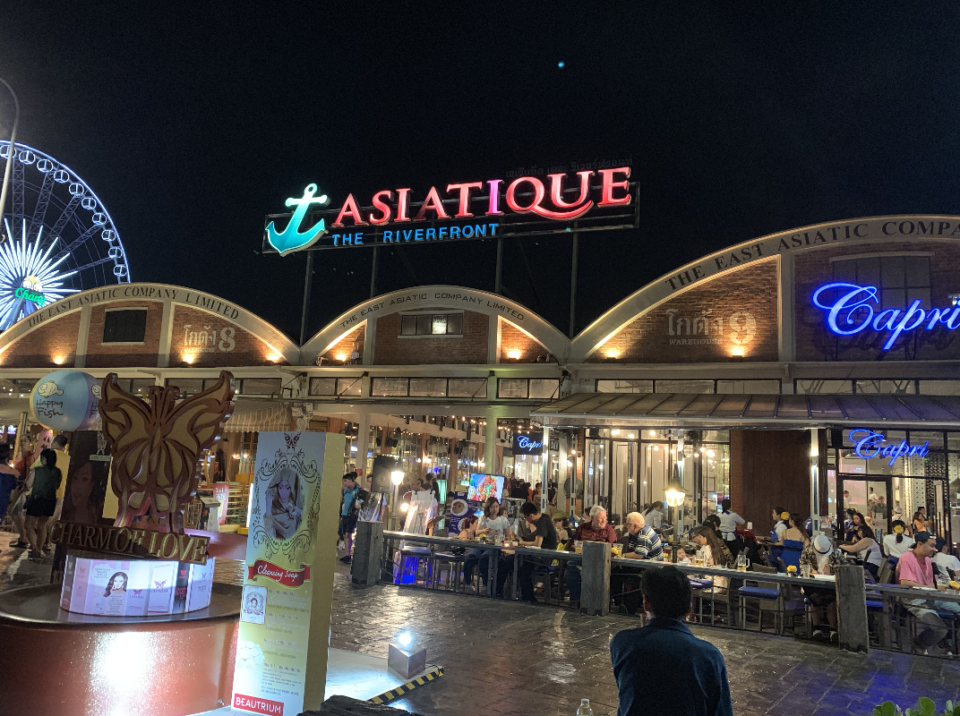 We hugged, parted ways, and became Facebook friends.
I had an epiphany when we said goodbye about how certain people come into your life for a purpose, and even though I only got to spend a full day with Jut, he managed to change how I see life. His happiness and general disposition rubbed off on me. I felt like after just one day with him, I learned to be like that. Just happy. Just fucking happy for no reason whatsoever. Thank you Jut, if you're reading this. You really made an impact.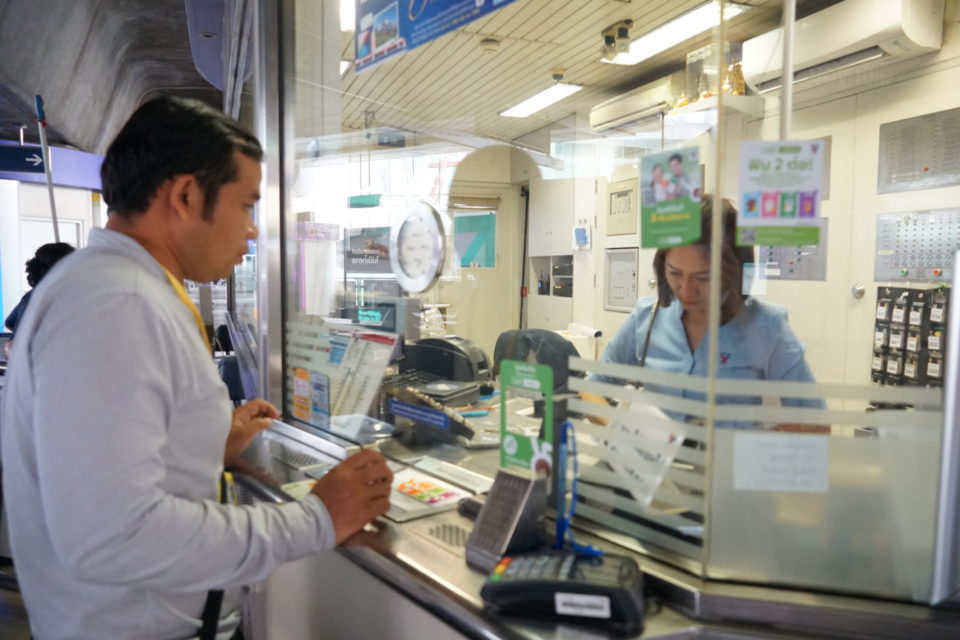 So that concludes Day 2. I went back to my room, took a shower and passed the fuck out.
Here is a recap video of my first day in Bangkok
Day 3
Floating Markets
I organized a taxi ride early in the morning to take me to the Floating Markets, located two hours outside of Bangkok. My ride to and from (he waited for me there) would cost me 2500 BAHT ($80 for 4 hours). The cheaper option if you want to visit the floating market is booking a tour online for only $30 here.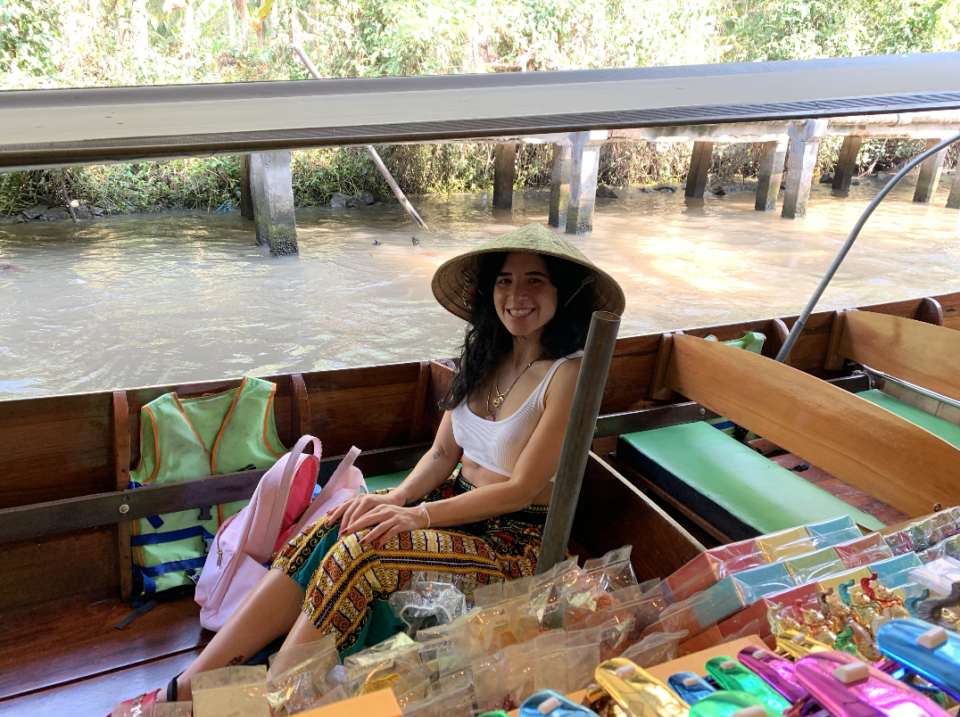 I didn't feel like being part of a group and wanted to be on my own watch. We left at around 7am and we stopped on the way for much needed coffee and Thai food on the side of the road, which was FANTASTIC.
At around 10AM, we arrived to the floating market. I paid another $40 for a private long tail boat. #YOLO.
The area with floating markets is called Damnoen Saduak and it's filled with vendors on wooden boats. I love this tour. First thing I did was get a local beer "Chang" to enjoy while boating through the market. You then stop at different vendors, do some shopping, I bought some souvenirs. Then I got hungry and ordered a pad Thai and ate if from my boat. It was kind of perfect, really relaxing and serene. Could be the beer talking, but I really enjoyed this.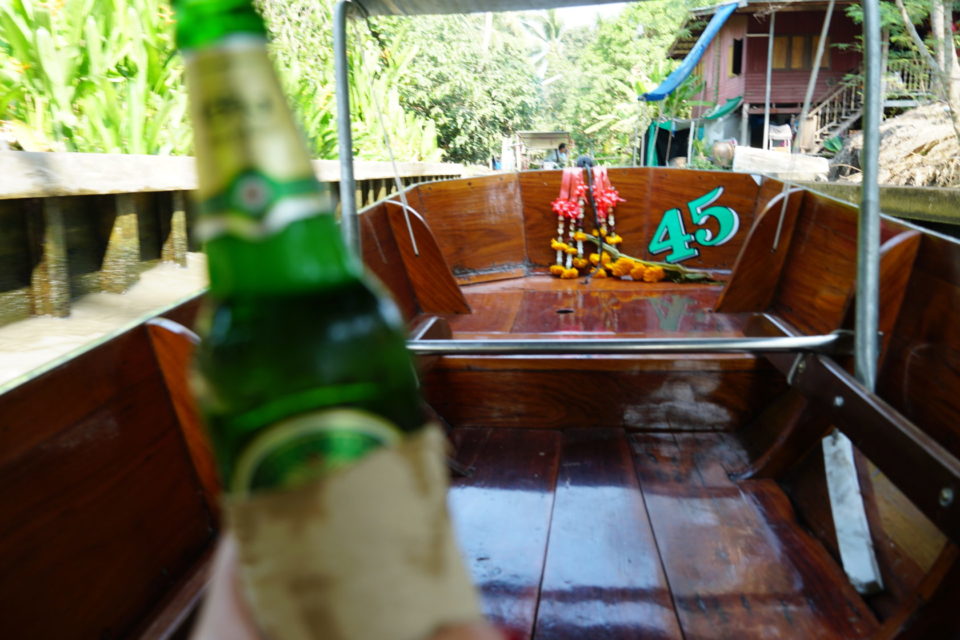 I was on the boat for about two hours and then it was time to drive back to Bangkok. On the way back, I asked my taxi driver to drop me off at the mall by my hotel.
Terminal 21
As mentioned, Bangkok has an array of shopping options. It kind of put New York City to shame, in my honest opinion. These shopping malls are experiences and Terminal 21 is built to look like an airport!! Every floor is a different city. I spent about an hour just roaming around and admiring the amazing concept of this mall.
Shop till you drop, right? I felt tired so I went back to the hoteI, relaxed a little, enjoyed a swim on the rooftop pool and took my first vacation nap. #YASS
Chinatown
I was ready to explore more of Bangkok, it was my last night after all! I ordered a Grab motorcycle taxi and asked him to take me to Chinatown.
This is a must on your list if you're a foodie. I ate so much, I don't even remember. It does reming me a lot of NYC's Chinatown but better. Food is second to none.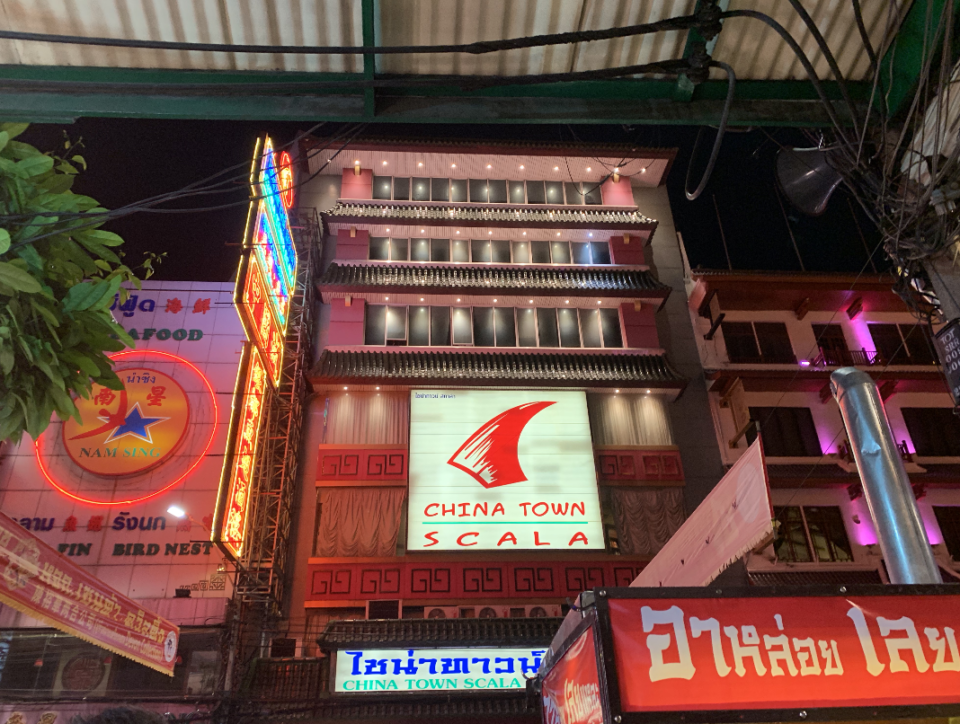 Here's a little more info: http://www.bangkok.com/chinatown/
After stuffing my face, I walked to Khao San Road. Since it was empty the first time we went, I knew I had to go back at night when things come alive. It was like a movie. People will advise you to stay away from this road, but I think it's a must. It's extremely entertaining. So much craziness going on. There is also a night market where you can buy everything and anything. There are bars and loud music!
It was time to head back to my hotel, as I had an early flight to catch to Chiang Mai.
TOP THINGS TO DO IN BANGKOK
EAT ALL THE FOOD
Visit the temples
Khao San Road
Ride the sky train
Ride the riverboats
Visit a night market
Take a trip around Chatuchak Market – This is only on the weekends, so I didn't get to catch it but highly recommend doing this. I heard amazing things about this market.)
Spend an Evening in Nana Plaza – This spot is described as the "Largest Adult Playground in the world". I didn't go here as I wasn't really interested in roaming around a sex play area alone. But it definitely is interesting to check out. I am sure it's safe but it wasn't that kind of trip for me.
Check out one of the rooftop bars. There is one specifically that was in the movie The Hangover. I didn't go. Not enough time and I've been to enough rooftop bars in NYC (this makes me feel less bad for missing out).
Shop at all the shopping malls
Here is a recap video of my second day in Bangkok
Second Destination: Chiang Mai
It was time for the next destination. When visiting Thailand, I think Chiang Mai is a must see. It is a magical city. Very hard to explain, but if you want to grasp Thai culture, this is the place to be. There's so much to do and so much to see, I could have easily stayed here for a longer time. What I loved about this city is how laid back it was, the perfect destination after the crazy hustle and bustle of Bangkok.
It's the type of city you can just be like, Let me just live here and never come back. Which many people do, apparently.
Where to stay in Chiang Mai
You can find accommodations for as low as $12 a night. I stayed in the most beautiful boutique hotel. It was the most stunning place. A place that, if it were in the US, it would be considered unaffordable.
Ping Nakara is located by the night Bazaar area and it's a beautiful serene hotel that was straight out of a movie. I paid $150 a night, which included breakfast, and this is considered expensive AF in Chiang Mai. My room had it's own jacuzzi, a balcony where I could watch the Thailand sunrise every morning, a king size bed… and the hotel had the most beautiful pool. I felt like I was a Kardashian. It was the perfect hotel after my shitty accommodations in Bangkok.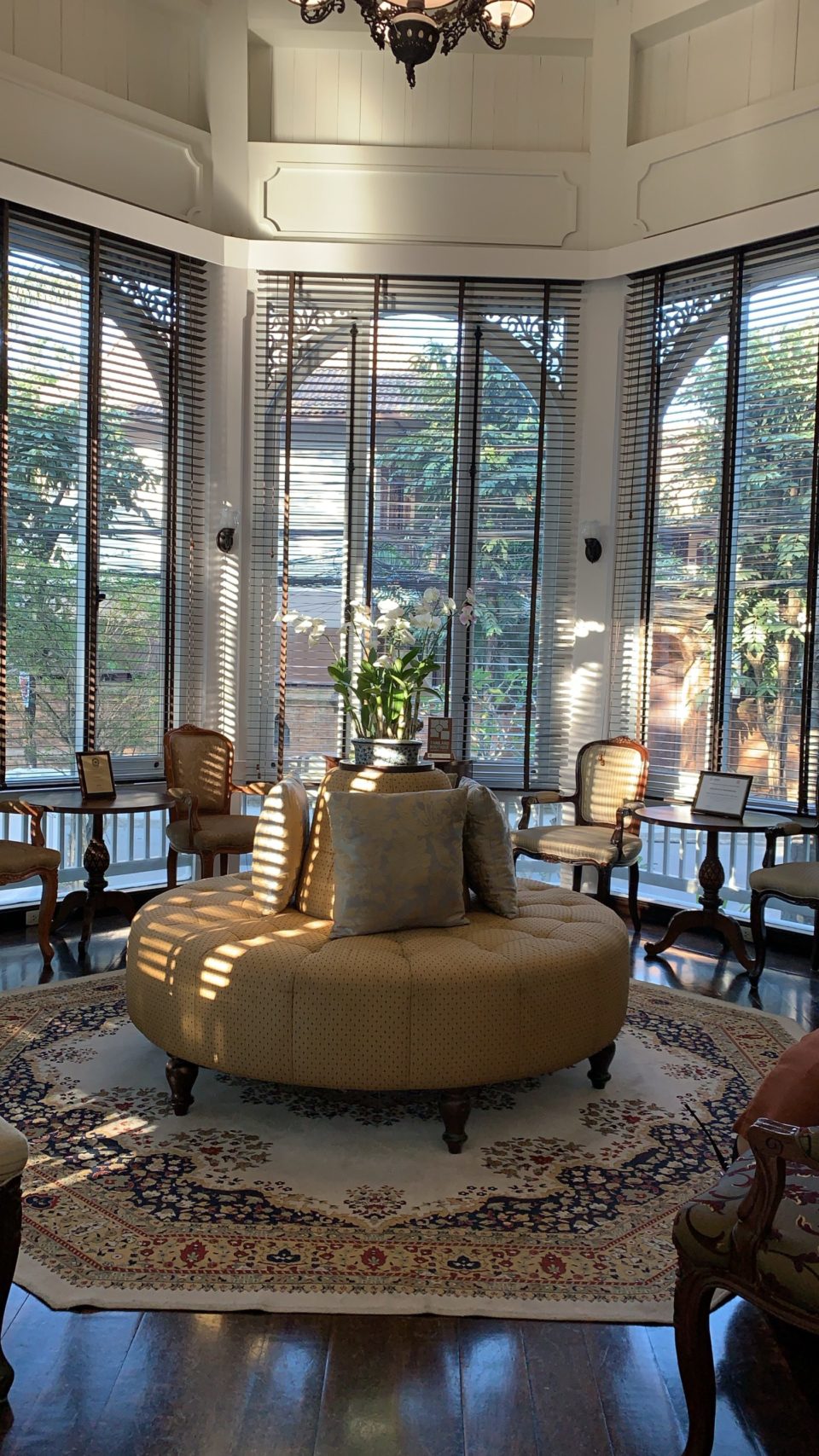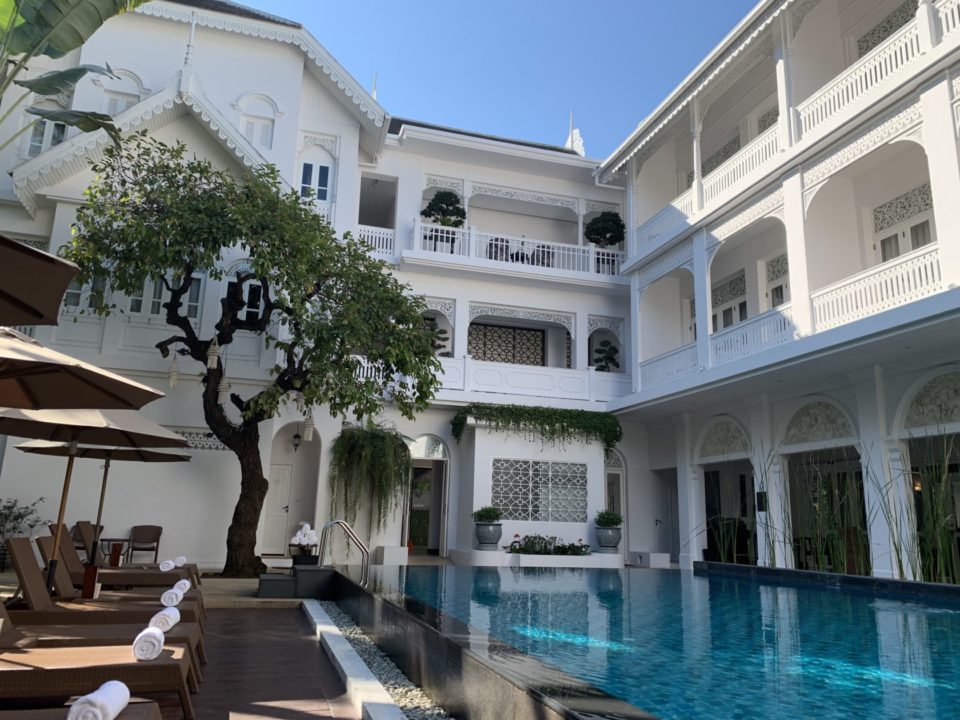 That being said, If I ever go back to Chiang Mai, I would probably stay near the old city this is where a lot of the fun stuff is happening. Where all the fun bars, restaurants, etc. More on that later.
This is a great guide on how to decide where to stay in Chiang Mai: http://www.chiangmai.bangkok.com/hotels/where-to-stay.htm
Day 4
Flight from Bangkok to Chiang Mai, and then a visit with Venture with Impact
A week before my trip, I posted a photo on my Instagram asking my followers for Thailand recommendations. I got a message from "Venture with Impact," an organization that enables professionals to work abroad while also volunteer for amazing organizations around the world. Jess – Jersey City local, social entrepreneur, and the marketing communications director for Venture with Impact – set me up for a visit to a local organization on my first day of arrival in Chiang Mai.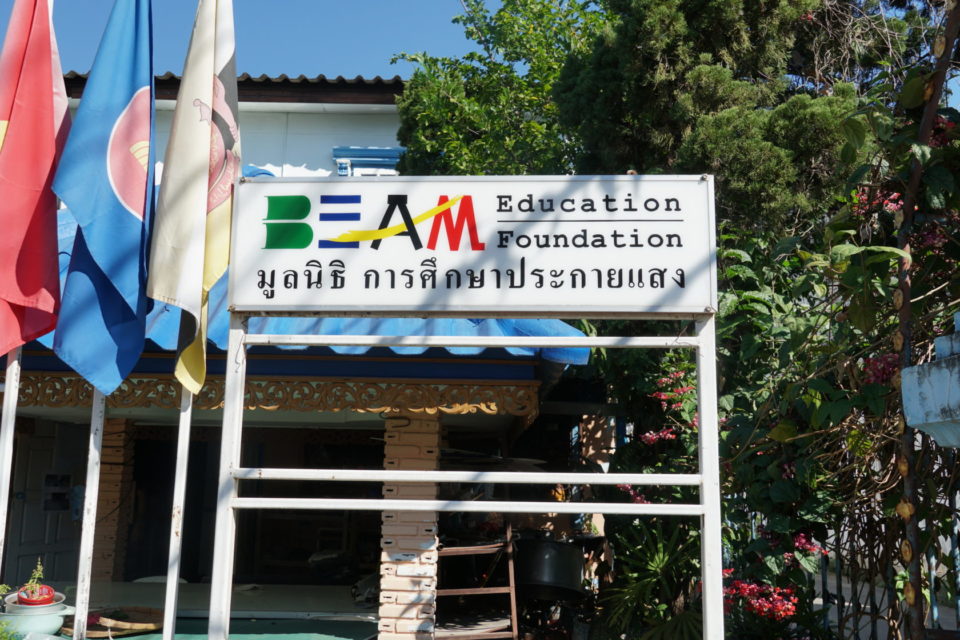 As soon as I landed, I dropped off my bags at my amazing hotel and local vlogger and Venture with Impact ambassador Plang came to pick me up at my hotel.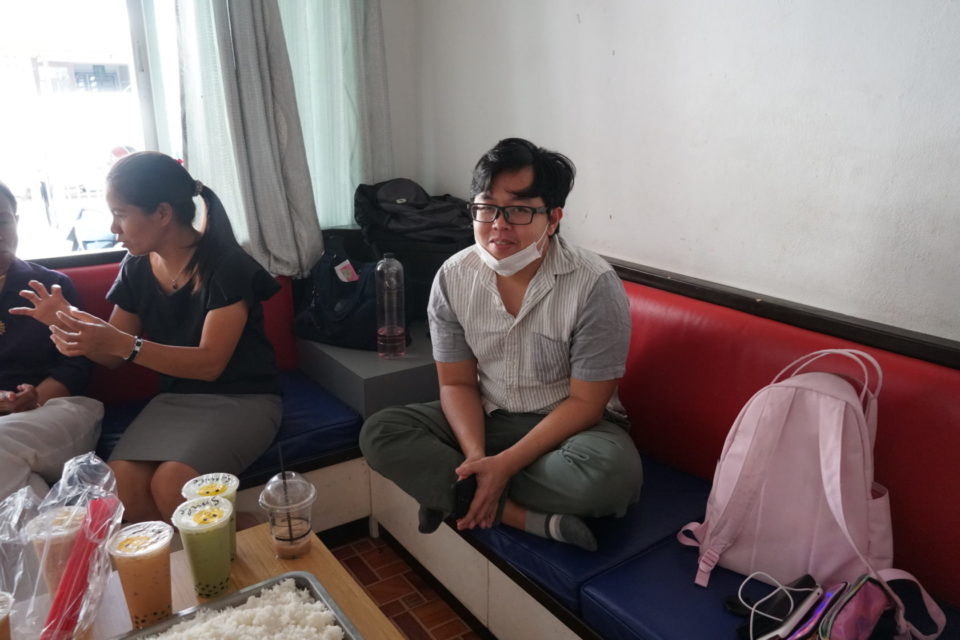 Plang took me to BEAM, an organization that helps underserved Thai youth and refugees from Myanmar with vocational training and continuing education.
I was able to get a tour of the school, and sit down with their volunteers to hear more about all the incredible work they do. Which you can watch in this quick video below.
After the tour, the students cooked a delicious homemade Thai lunch for us and it was incredible. Such an awesome way to start my Chiang Mai visit.
If you're looking to travel, work and also do something positive for the world, I highly recommend checking out Venture with Impact. Such an amazing organization.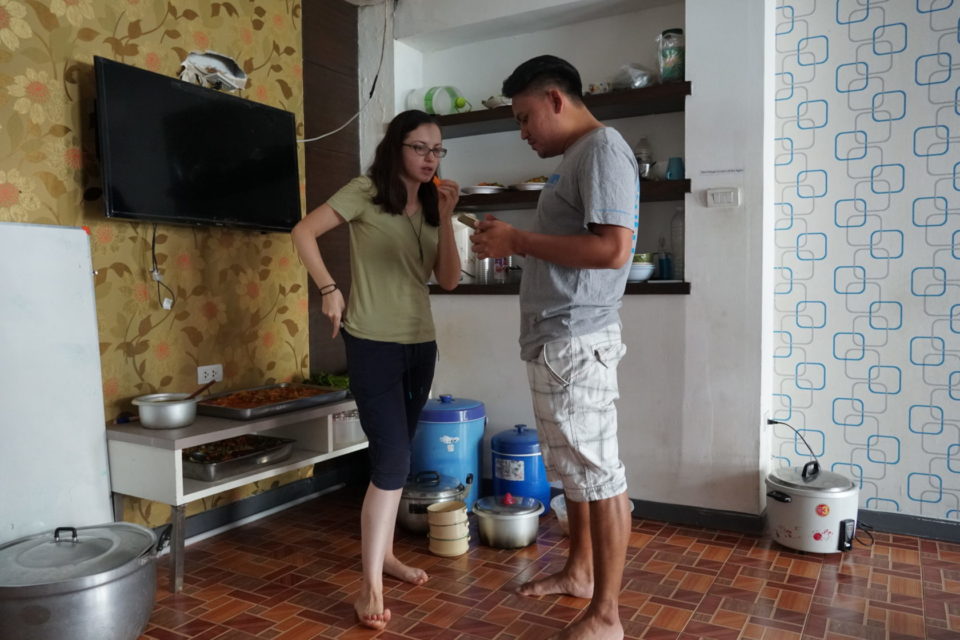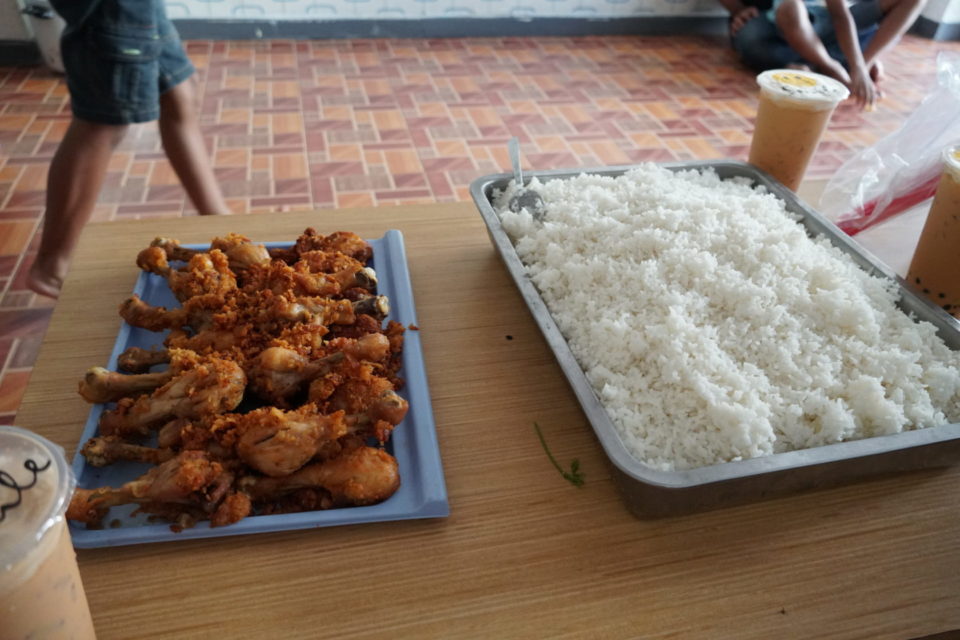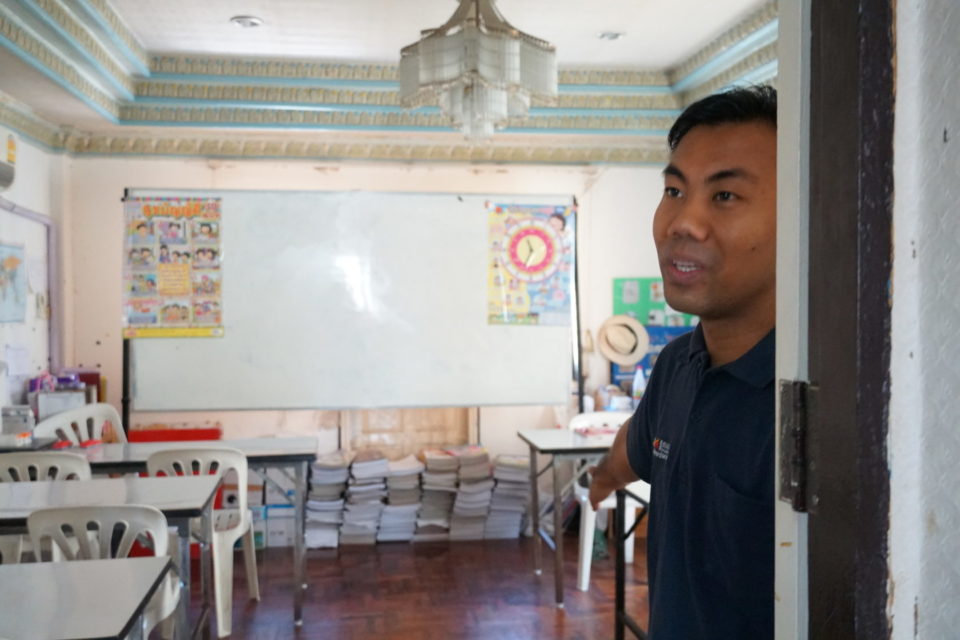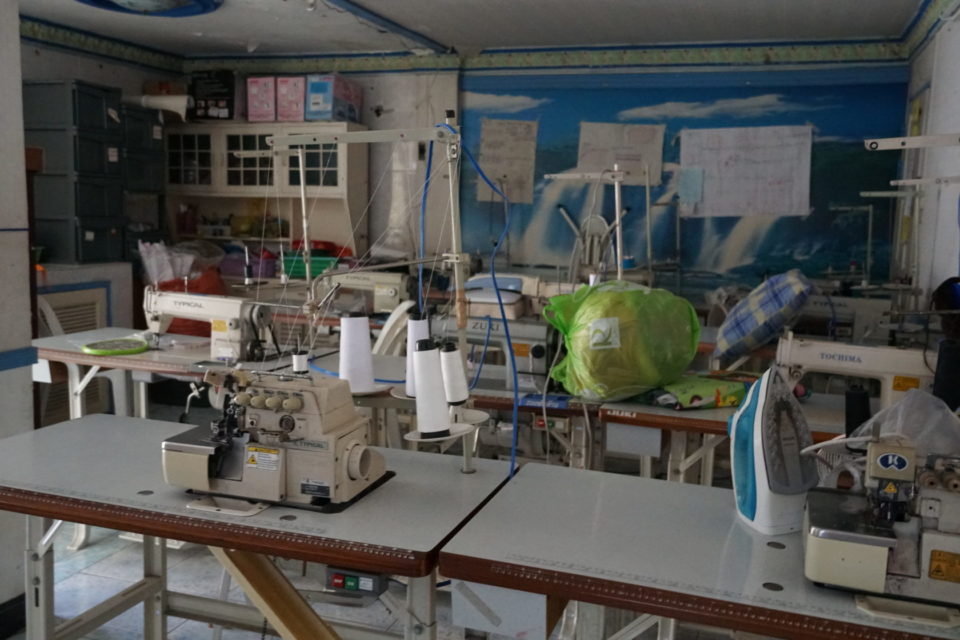 All this love made me tired and it was time for Plang to bring me back to my hotel.
I unpacked, took a much needed shower, changed, and got ready to go back out. While on my travels, I met a German Digital Nomad who was staying in Chiang Mai.
What the fuck is a digital nomad, though?
Trust me, I had no clue what they were until this trip and meeting my new German friend. But it's apparently a whole sub-culture, especially in Thailand. Digital Nomads' business is primarily online, which allows them to work from anywhere. So they basically make money doing their jobs and travel the world. What a genius concept. Technically, I can be a digital nomad but my business is very centered on where I live and work, so that dream is out the window. But it's nice to know it's possible. Amazing that there are thousands of people out there who have this way of life.
Living in Thailand can be very affordable. You can find a nice apartment with WiFi, AC, a pool and pay around $250 a month. It's pretty crazy if you think about it, in comparison to the cost of living here in the US.
Anyway, back to my German friend Dennis. I gave him a call and asked him to give me a tour of Chiang Mai. He picked me up at my hotel and we took a walk towards the old city. Dennis is actually a very spiritual person and practices meditation a few times a day. He knew a lot about the local temples and frequents them often. We walked into a small temple on the way to the old city and there I had another breakthrough.
We sat down and I asked him if we could meditate. Being there, in the moment in Chiang Mai with an enlightened new friend, was an incredible moment. I just remember being so in the present, I can still hear the sounds around me, feel the hot humid wind on my skin and that feeling of being so free. This sense of calm and happiness washed over me I almost started crying.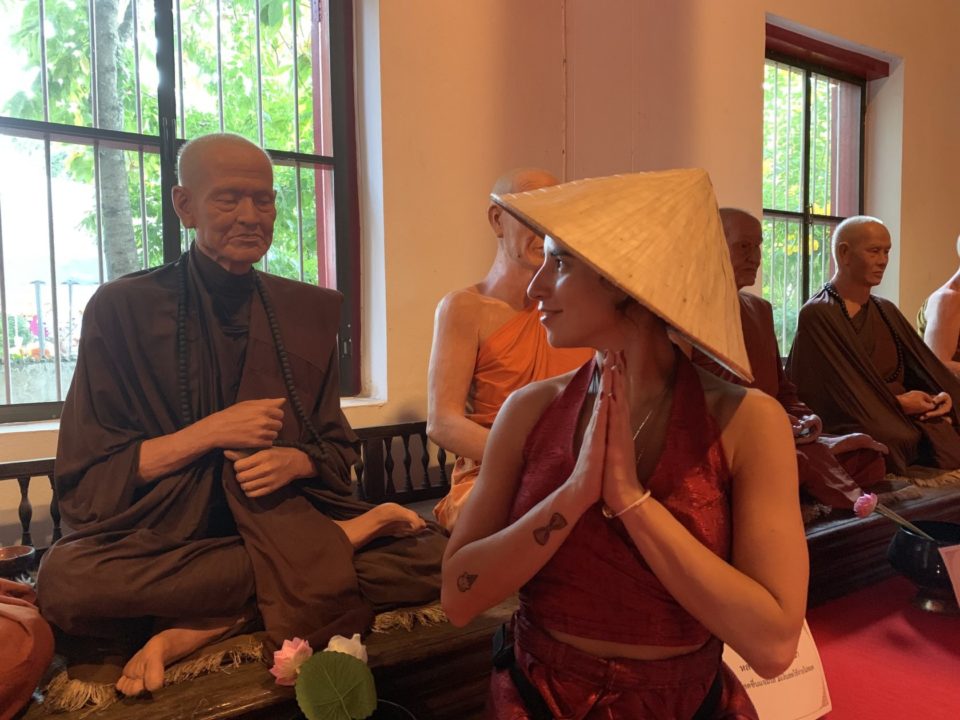 Here I was, Lynn Hazan, alone in Thailand, in a temple meditating. Who would have thought? Dennis and I started talking about life, and purpose, what being happy meant, and it was just such an eye-opening experience that I will forever take with me.
After this, I looked up at him and said, "Dennis, enough of this shit, I need a beer". He laughed. It was time to hit the town.
I told him I needed street food, so we went to one of the local food markets. There, we sampled a few amazing foods from the various vendors. I was in heaven (below will include a list of all the markets and things you should do in Chiang Mai).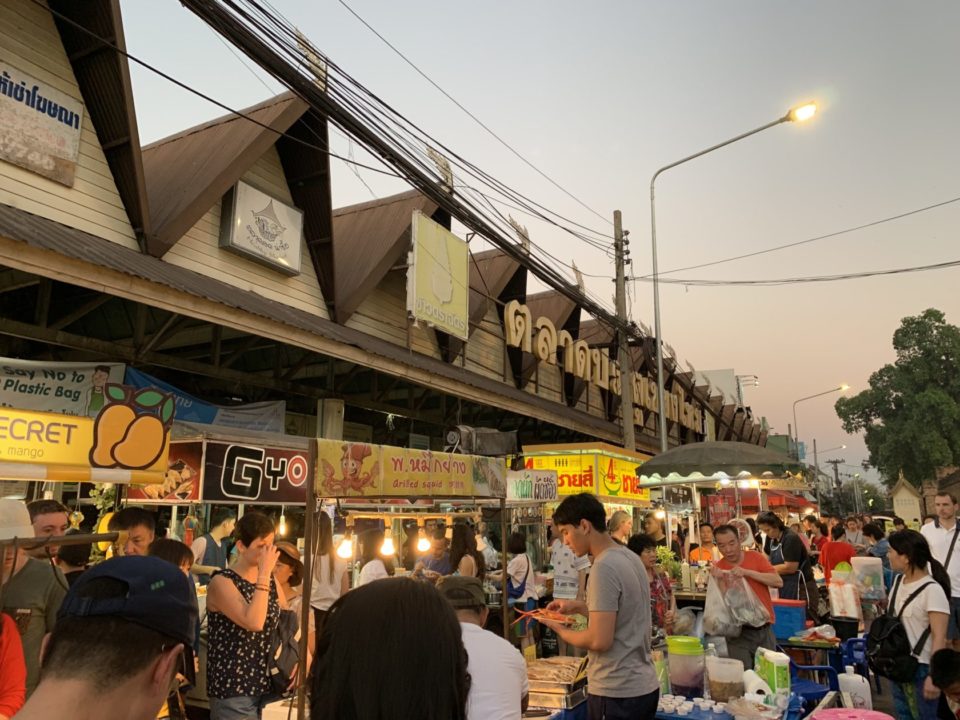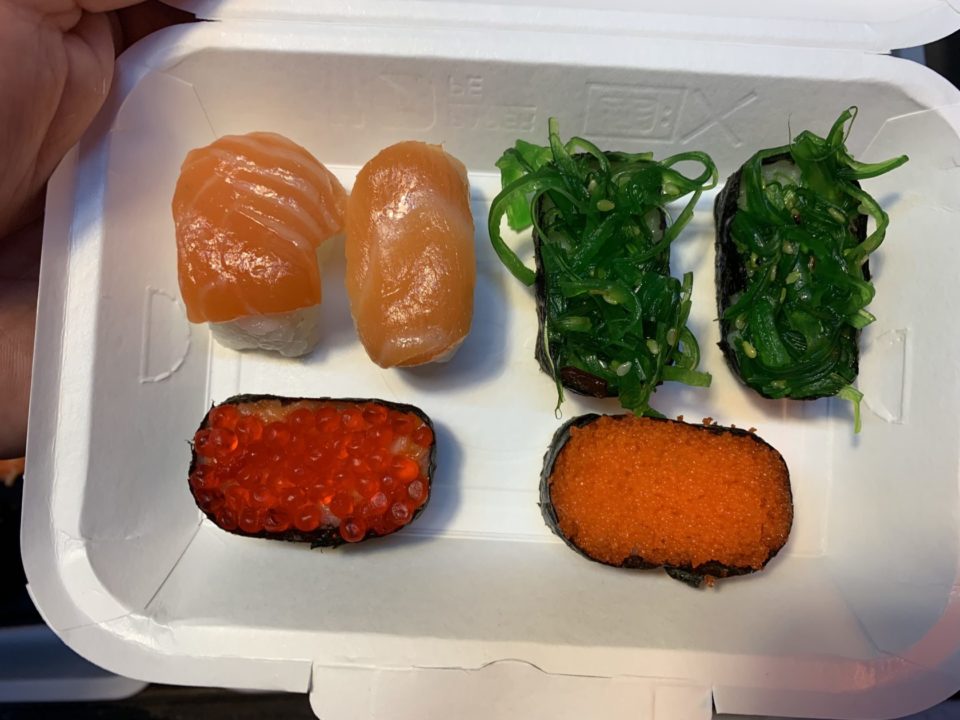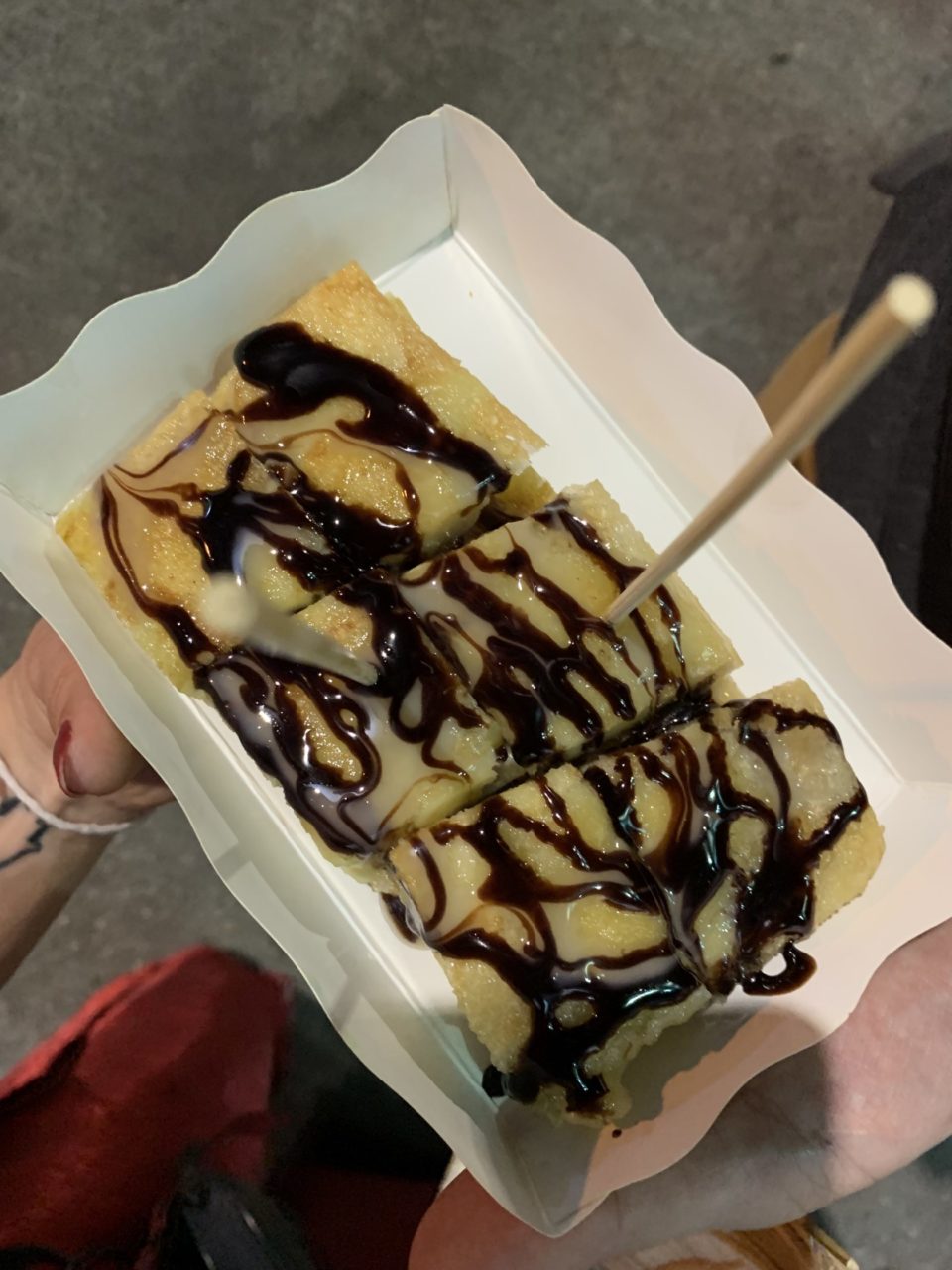 We ended up doing some bar hopping and at around 11pm, it was time to hit the sack as I had a big day ahead of me.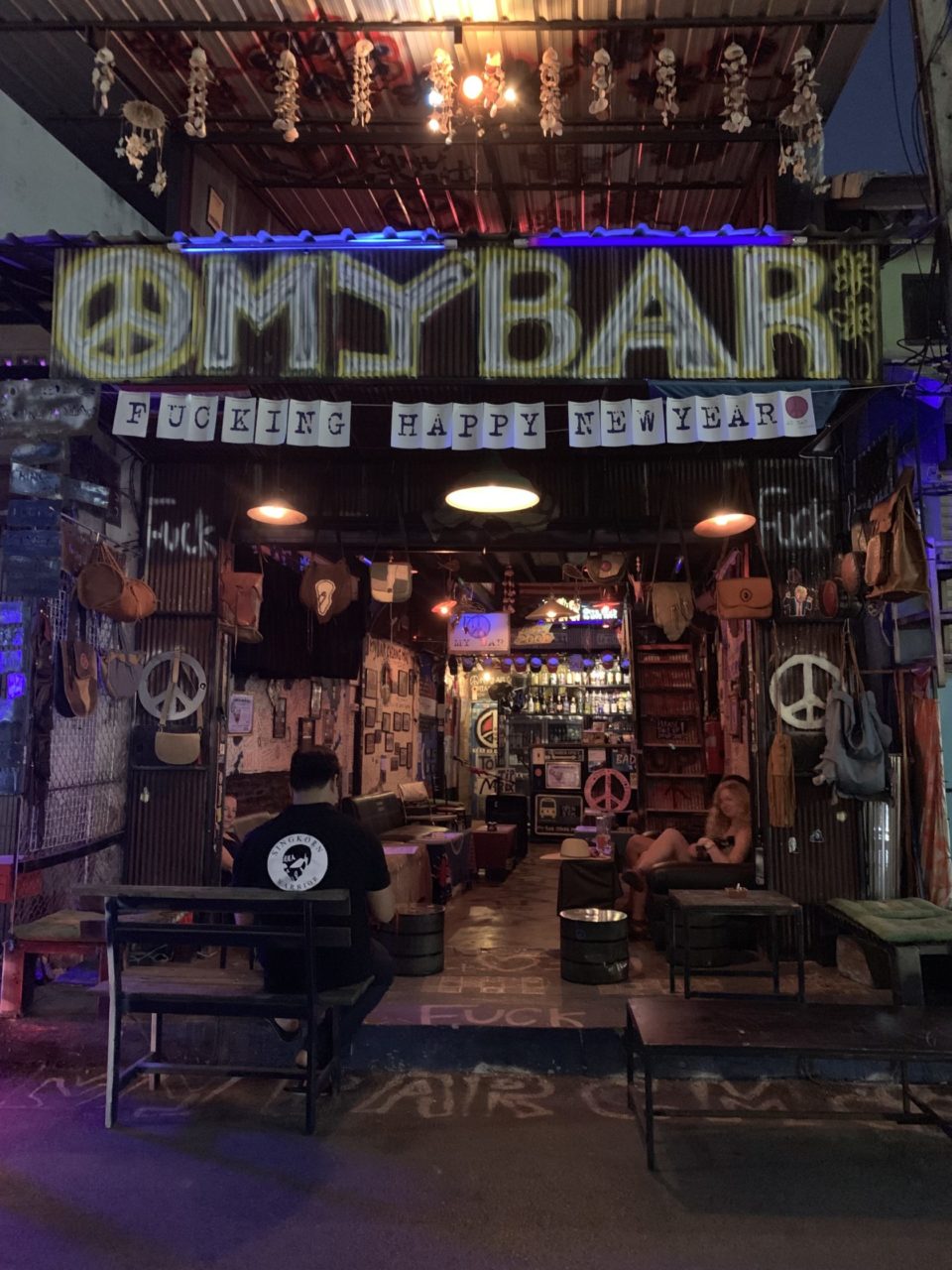 Day 5: Elephant Sanctuary
I did a lot of research before choosing the elephant sanctuary I would visit. I heard that there are many in Thailand that are unethical, meaning they do not treat the elephants well. DO NOT go to one where they let you ride them. Those are not ethical. I chose the Elephant Sanctuary as I heard good things about them and they treated the elephants with respect.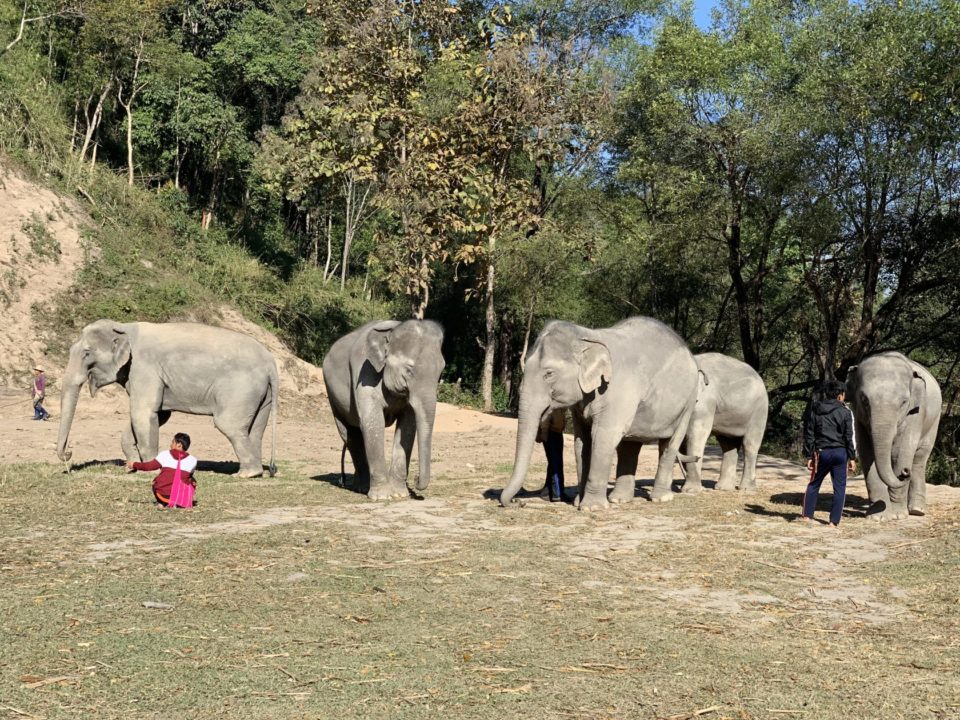 I got picked up in a van at around 7am. I recommend bringing a sweater cause it was a little chilly in the morning and I was definitely under-dressed.
I met a bunch of travelers from Europe that were part of my group. We drove for about an hour to the Elephant Sanctuary. I didn't really know what to expect.
We arrived to the camp and were greeted by the Thai guides. They told us to wash our hands from the chemicals before touching the elephants which I liked. They gave us food to give the elephants and it was time to meet them.
The whole experience was nothing short of amazing. I can't even tell you how it felt meeting these incredible creatures. I felt like I was a child again. It was amazing, I almost cried from how happy I was. I highly recommend doing this. I will never forget this, like ever.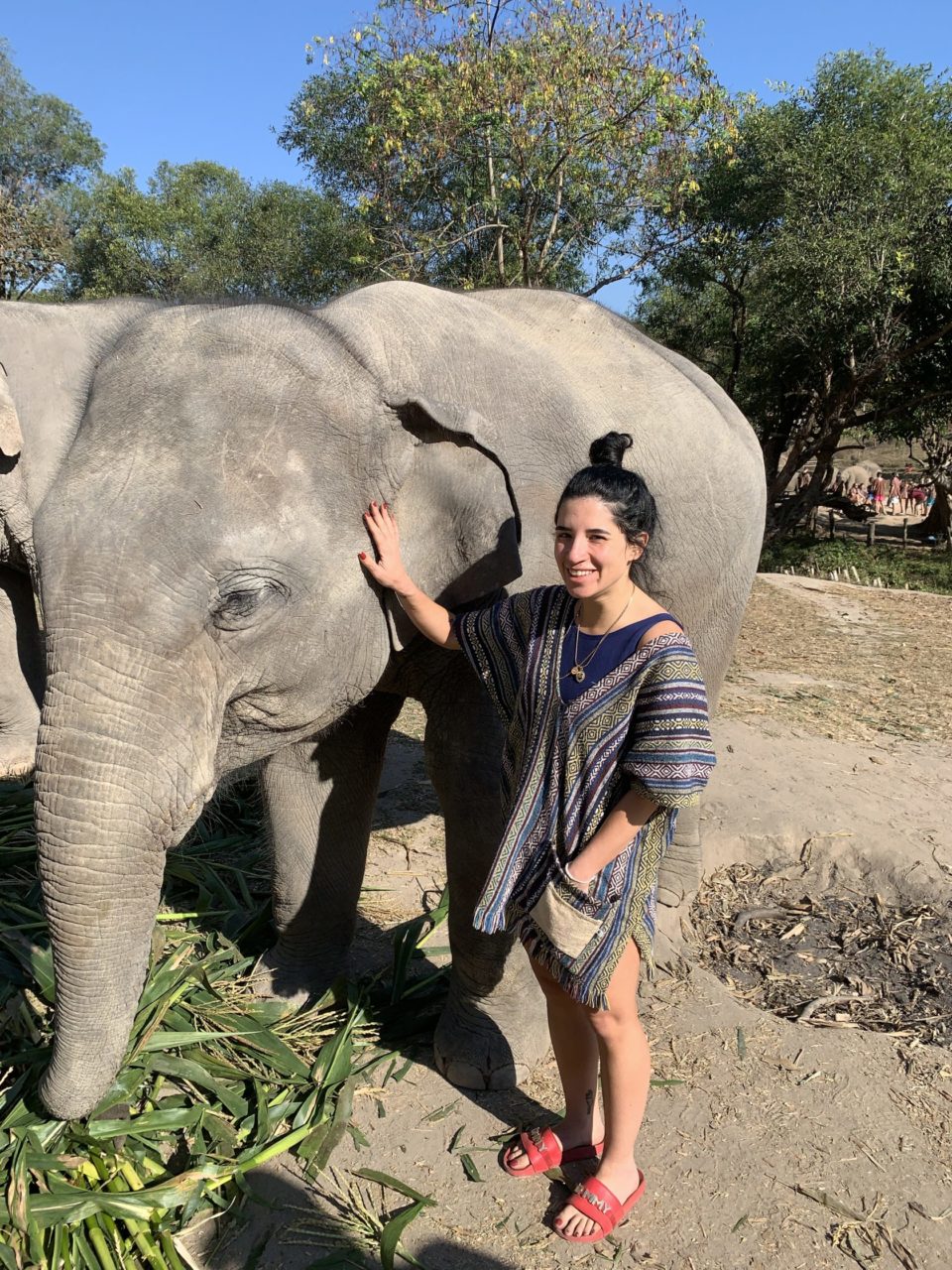 After it was over, they fed us a yummy Thai lunch and it was time to head back to the hotel. I was eager to see more of Chiang Mai but my body needed a little rest. So I took a nap, a dip in the pool, and then got ready and headed out to Chiang Mai's big night market.
I spent 4 hours here walking around, visiting small temples, buying little souvenirs, eating food from the street food vendors. There was nothing better than this. No plans, no one to tell me anything, I did what I wanted, just went with the flow. Total absolute freedom. I walked till my feet couldn't handle it anymore. It was time to go to sleep.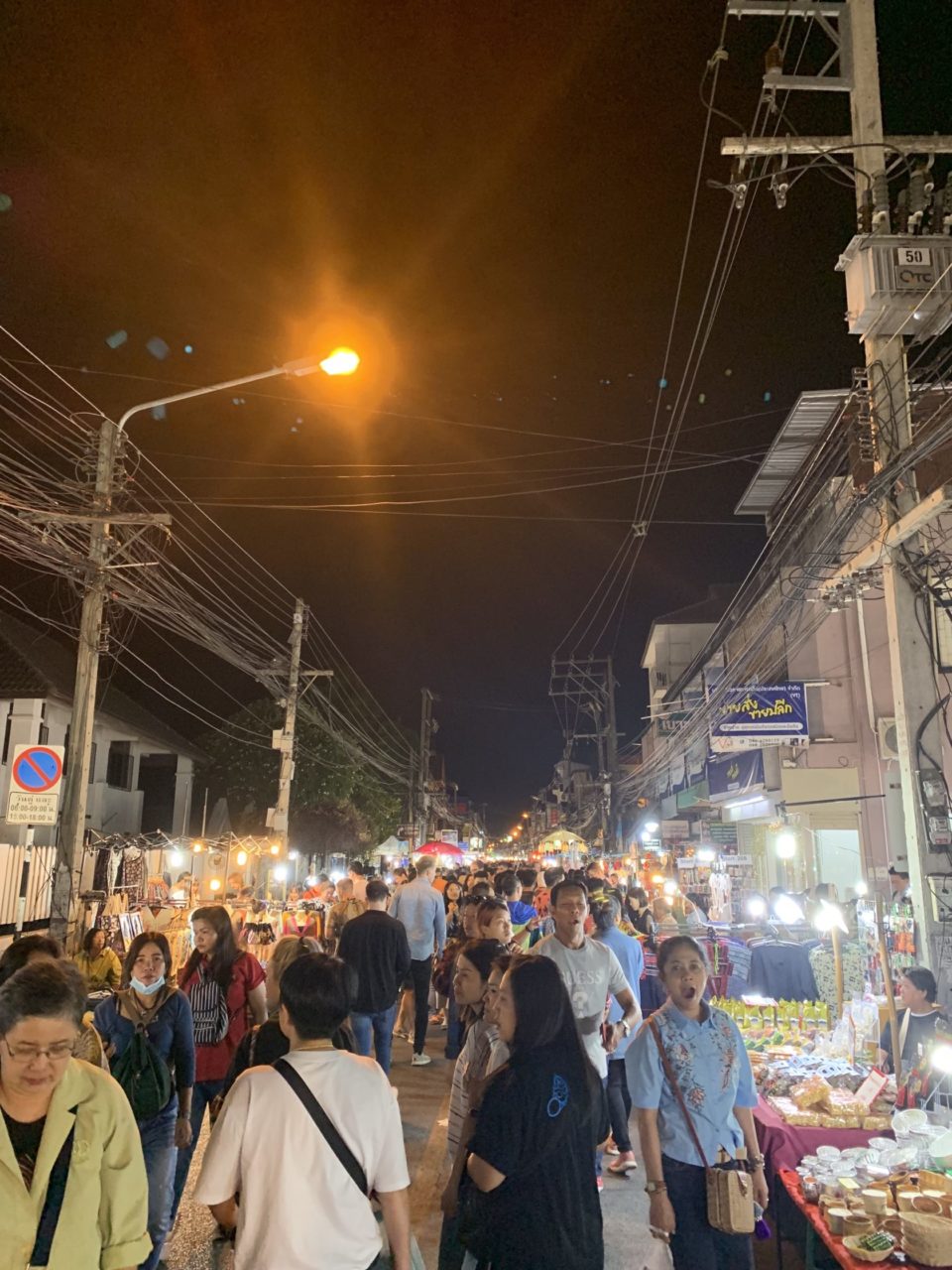 Video Recap Chiang Mai Day 2/3
Day 6: Sak Yant Tattoo
I love tattoos and every big trip I take, I try and get new work done. A follower on my Instagram mentioned I should look into getting a Sak Yant Tattoo. I was intrigued. I never heard of it before, so I scoured the world wide web and after reading about it decided I wanted to get one.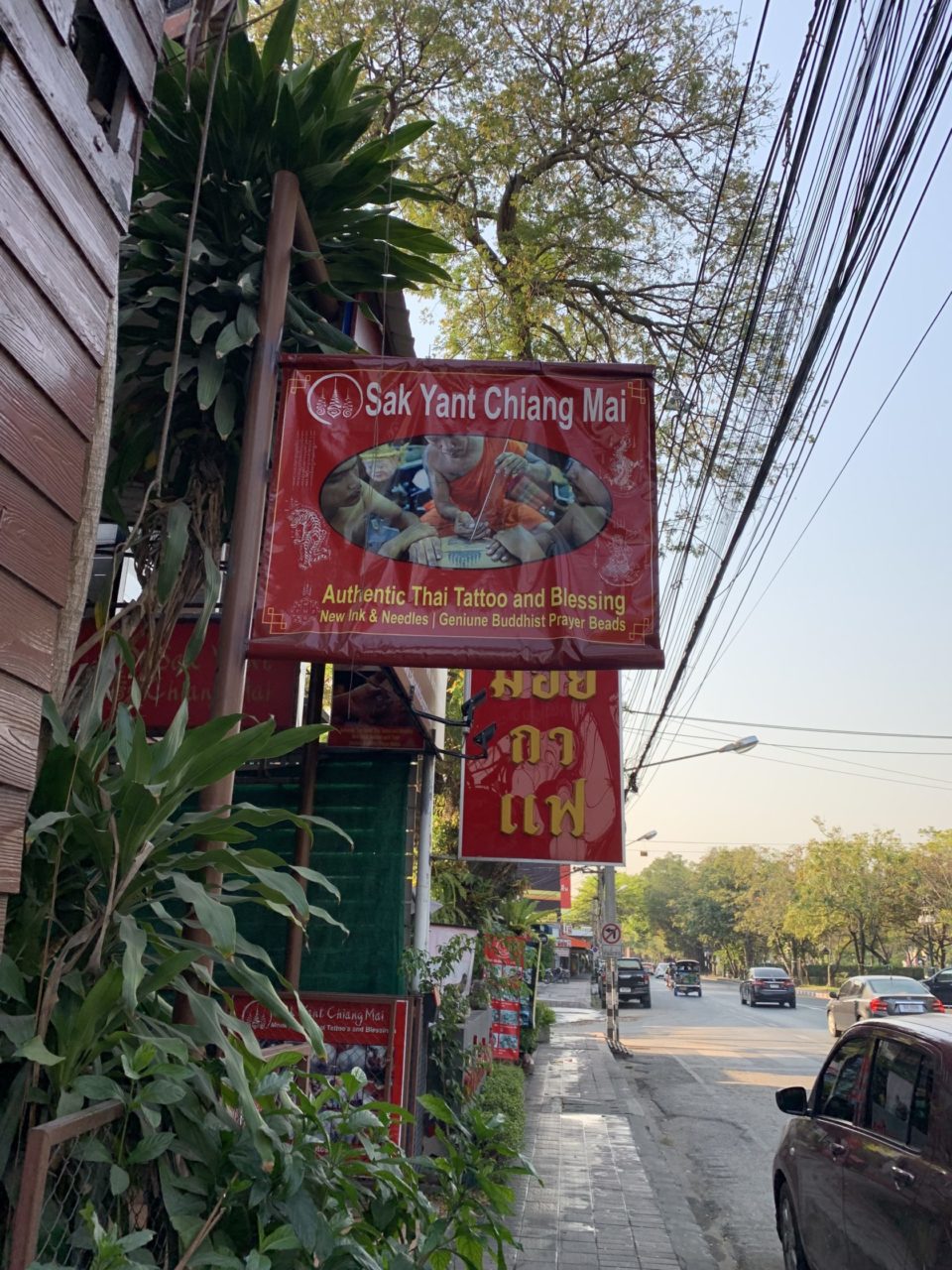 "Sak Yants, the Thai name for the Tattooing of Sacred geometrical designs on the skin. Yant (or Yantra, as they are call them in the west), are normally tattooed by Buddhist monks, or Brahmin Holy men . The Yant tattoos have developed over the centuries under the influence of several different religious philosophies. The Yantra designs that already existed in Hindu India were adapted by the Thais as Buddhism arrived from neighboring India" – Resource 
You can get a Sak Yant tattoo at various tattoo shops around Thailand but I wanted the real authentic experience. I wanted a monk to choose my tattoo and do it for me.
After doing some research online, I found a trusted place that would bring me to an experienced monks home to get the traditional Sak Yant tattoo.
I made my appointment in advance. I arrived at around 9am to the tour guide's office in Chiang Mai. I waited in the waiting room and was greeted by a tour guide. I forget her name, but her disposition made me at ease. She told me she would be taking me to the monk but first, we would be going to the food market to purchase offerings we would give to the monk, and we would also visit a temple before my appointment.
While in the car, we talked about life. She asked me why I wanted the tattoo and what I was hoping to get from it. I opened up to her about my life, about my hard year, my divorce, my business, and the stress if it all. She listened, no judgments. I felt like I was in therapy.
We drove about an hour away from Chiang Mai to a beautiful remote temple. She gave me a tour and even offered to take my pictures. It was a beautiful morning, and the perfect way to start this magical day.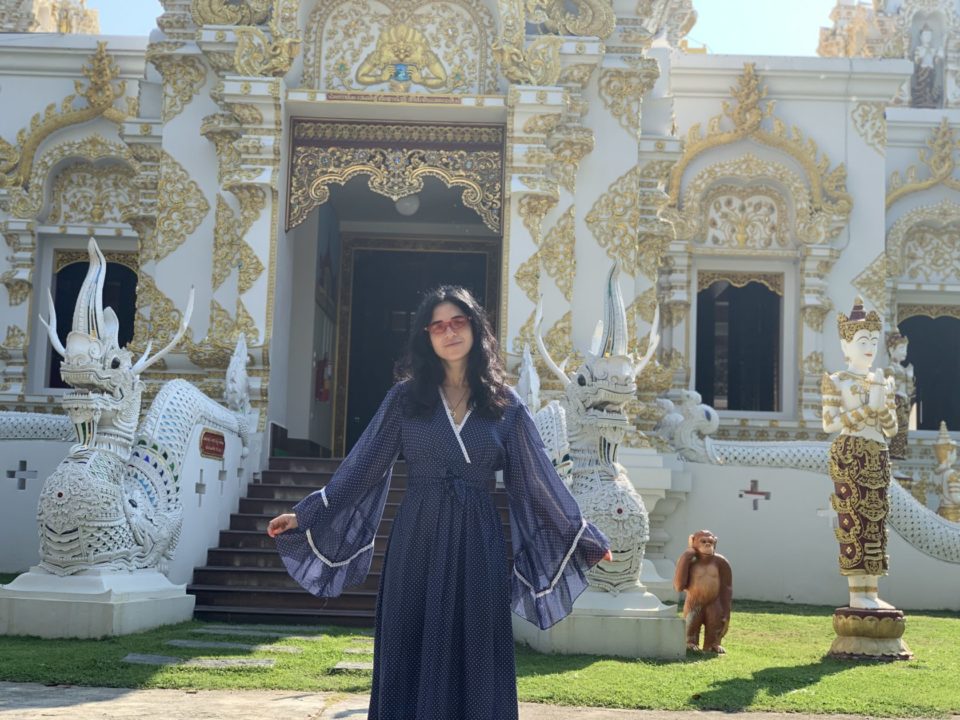 It was now time to head over to the monk's home.
Press play to watch my experience of the Sak Yant Tattoo.
Another life changing moment. Having a monk bless my life was pretty incredible. If you're a tattoo person and open-minded to do something like this, I highly recommend it.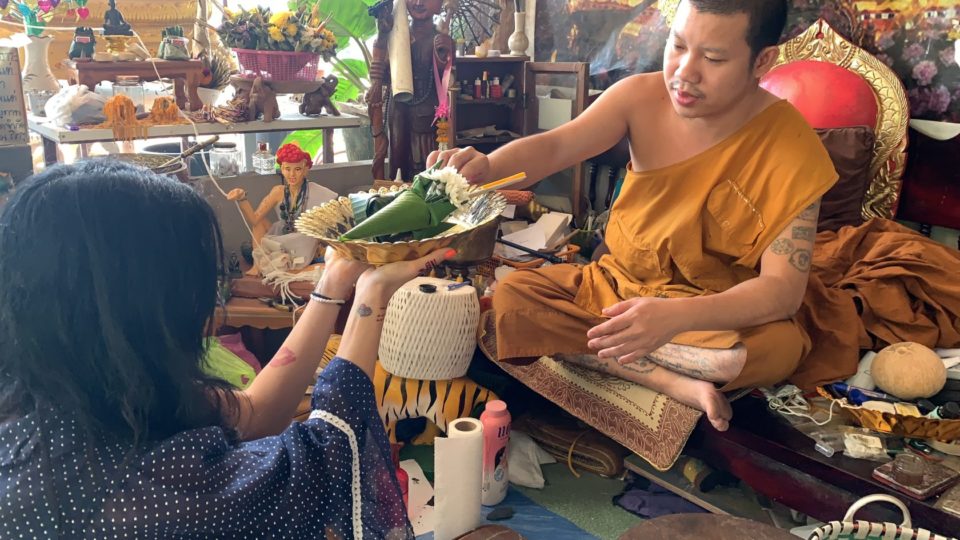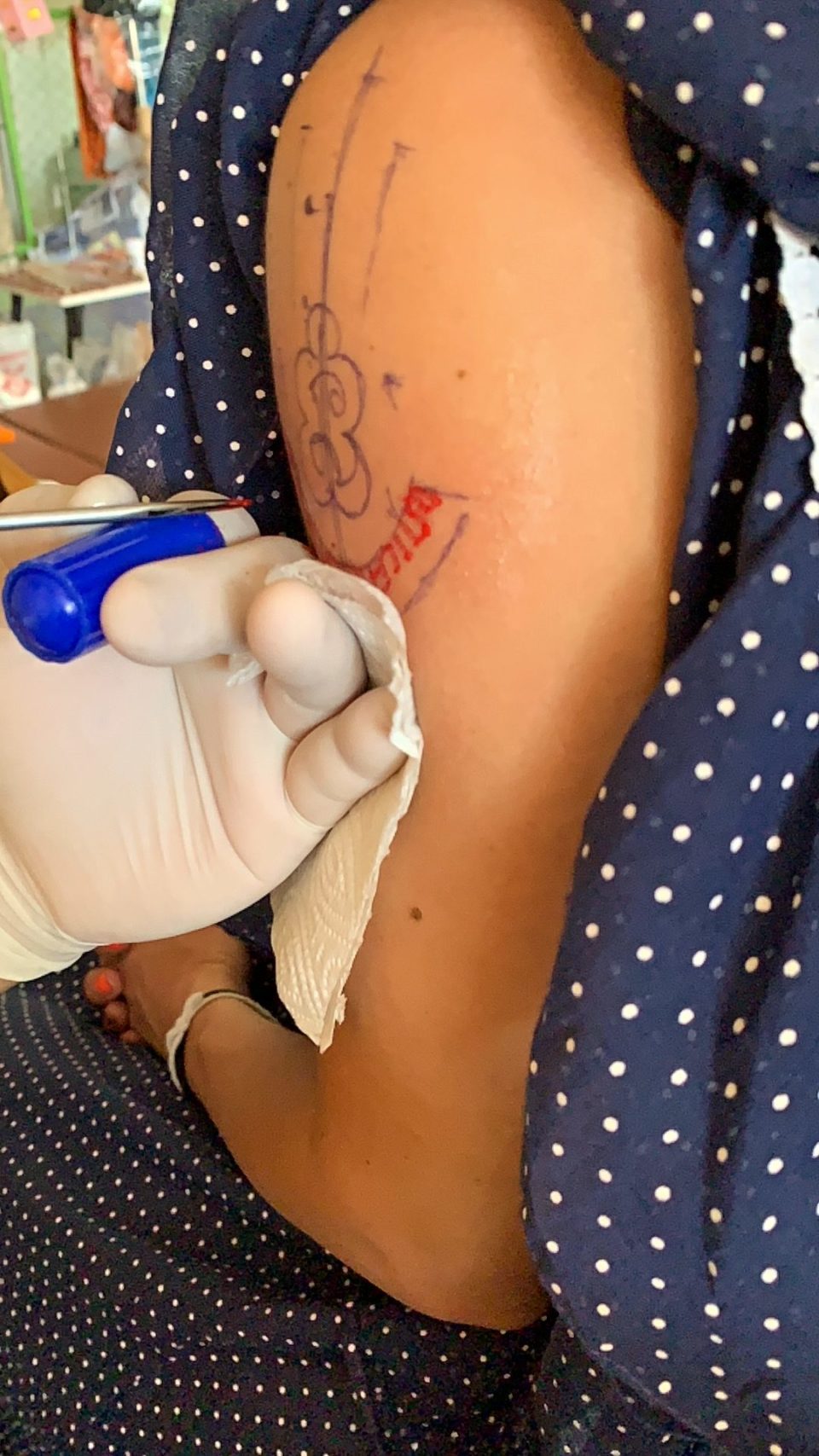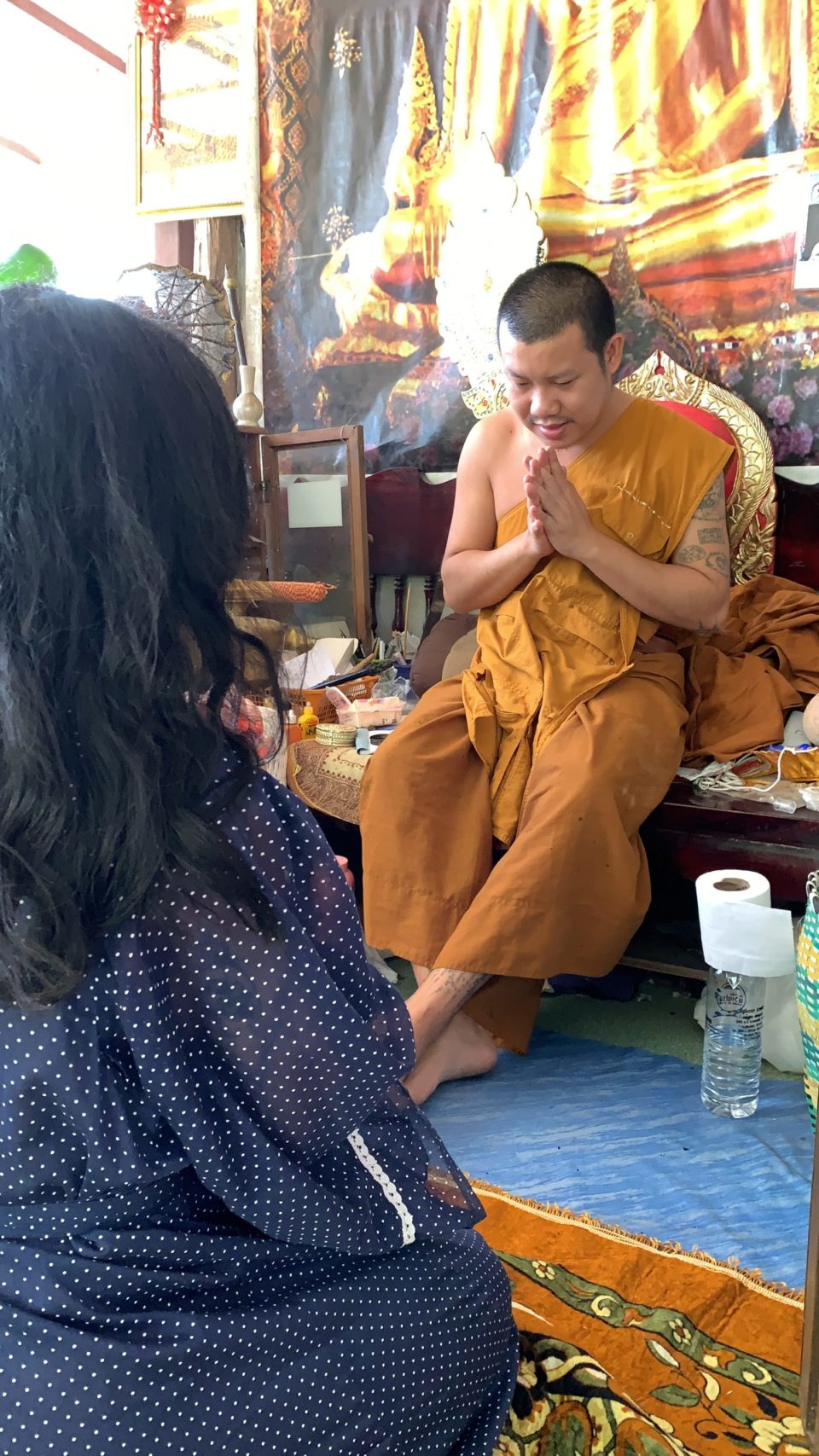 After the tattoo, we headed back to Chiang Mai. I thanked my trusted tour guide for sharing this experience with me.
Afterwards, I met up with James Wally, an Australian photographer who lives in Chiang Mai. We walked around the old town and took some great images. It was fun hearing about his nomadic life doing what he loves.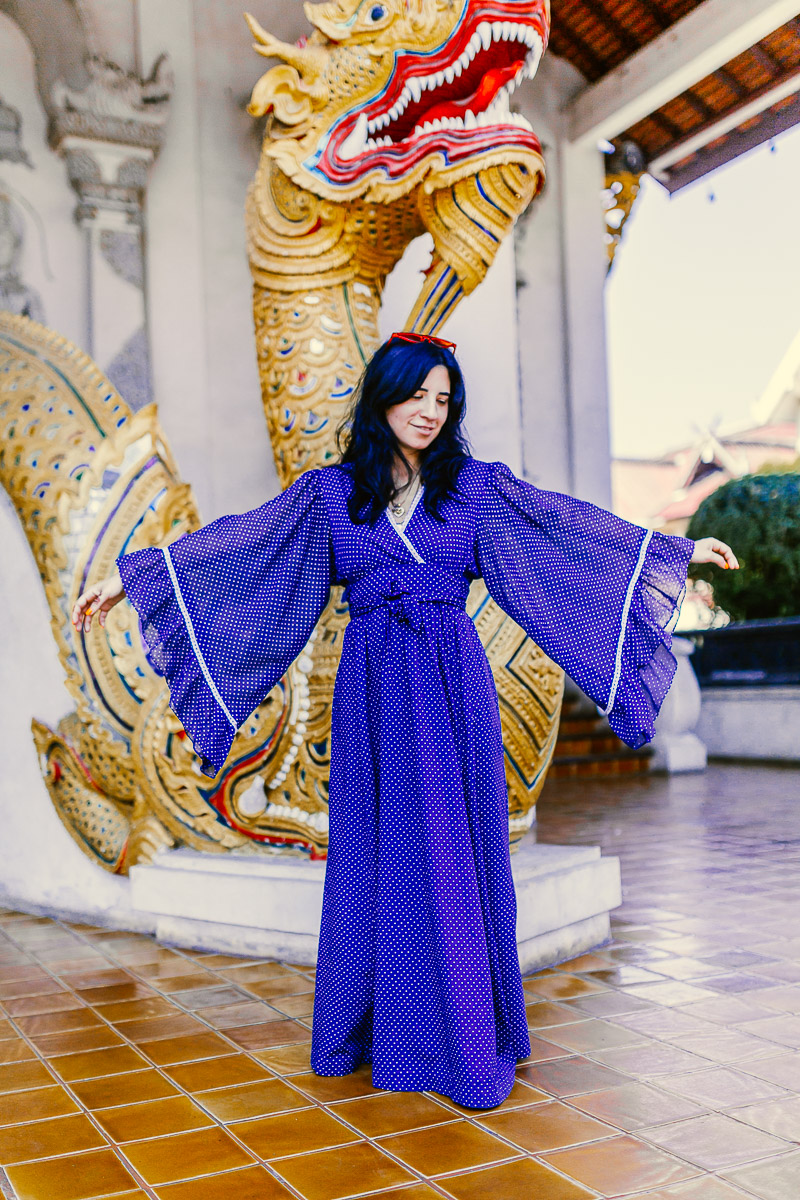 I had one last stop before heading to my hotel to pack.
Doi Suthep Temple
The Doi Suthep temple is a holy Buddhist site in Thailand and is often a popular spot for anyone visiting Chiang Mai.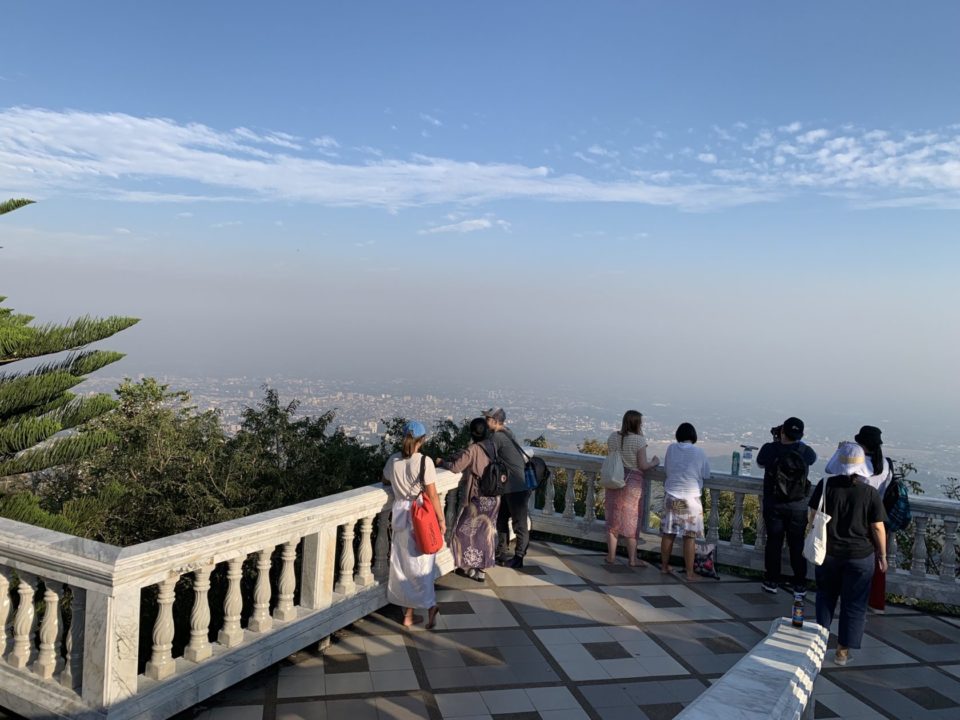 Read more about it on the Chiang Mai site.
It was time to go back to the hotel to pack and say goodbye to Chiang Mai before my flight to Koh Samui.
TOP THINGS TO DO IN CHIANG MAI
Elephant Sanctuary
Doi Suthep Temple
Old City Temples
Visit the Karen Long Neck Tribe
Eat Khao Soi- This is a must. I only tried this on my last day in Chiang Mai, and I highly regret it. I ended up eating 3 bowls at 3 different street vendors. "Khao soi, a northern Thai coconut curry soup, is an iconic part of the regions cuisine. It is made with a red curry, a splash of coconut milk, chicken and crunchy noodles on top"

 All of the markets- There is a big Saturday and Sunday market as well as a night Bazaar. Go to all of them

Go to the Sticky Waterfall- I didn't have a chance to go to this but heard amazing things. This is a recommendation from locals and I didn't really see it in any guide book. Here is a link with more info 

https://www.tielandtothailand.com/bua-tong-sticky-waterfalls-chiang-mai/
Check out the local coffee shops- Coffee culture is huge in Chiang Mai. They have many all over town. If you're a coffee drinker def check them out. I was impressed and very caffeinated throughout my whole trip.
Get a Sak Yant Tattoo
Visit the White Temple- Also did not get to do this as you need a full day but boy, do I wish I had enough time. Like wow. I have major FOMO but now I have a great reason to go back to Chiang Mai. Definetly a must if you want to take your IG game to another level. Or also experience this beauty of a temple.
Third Destination: Koh Samui
Ok so we did city, we did culture, it's time for paradise. So this is where it gets tricky and this is where I had the most difficulty. Which islands do I go to? How many days do I spend? Do I stay in one spot? Do I island hop? What the fuck do I do?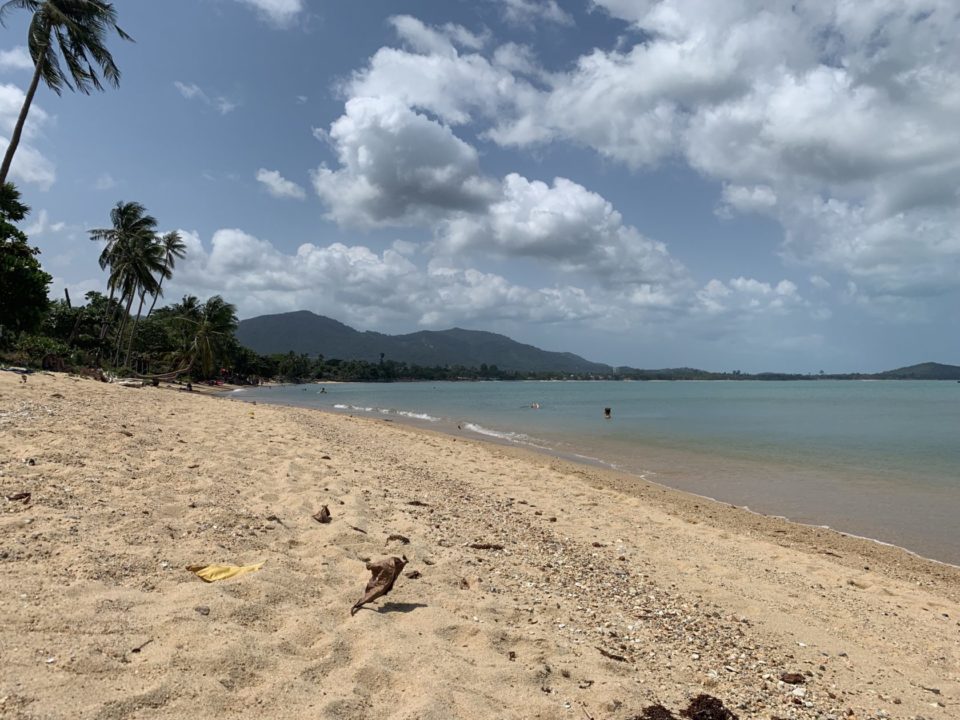 So yeah, let's just say it was stressful deciding. There are so many beautiful beaches in Thailand and islands, so it depends what you're looking for. A lot of people go to Phuket and the Phi Phi Islands. But I decided to stick to one place and go from there. I chose Koh Samui. I don't really know why but it seemed to have everything I wanted in a beach destination, a sick hotel, beautiful beaches, some partying if I wanted to, some activities and culture. A little of everything.
Which islands should I choose, though? 
This is a helpful blog article which breaks down the islands based on the type of person you are: https://www.cntraveller.com/gallery/thailand-islands-guide
Where to Stay in Koh Samui
I stayed at the Sensimar Resort. I figured for my last 4 days in Thailand, let's go all out. I wanted it all. I got a suite with it's own private pool at a resort right on the beach, with an infinity pool and top notch service.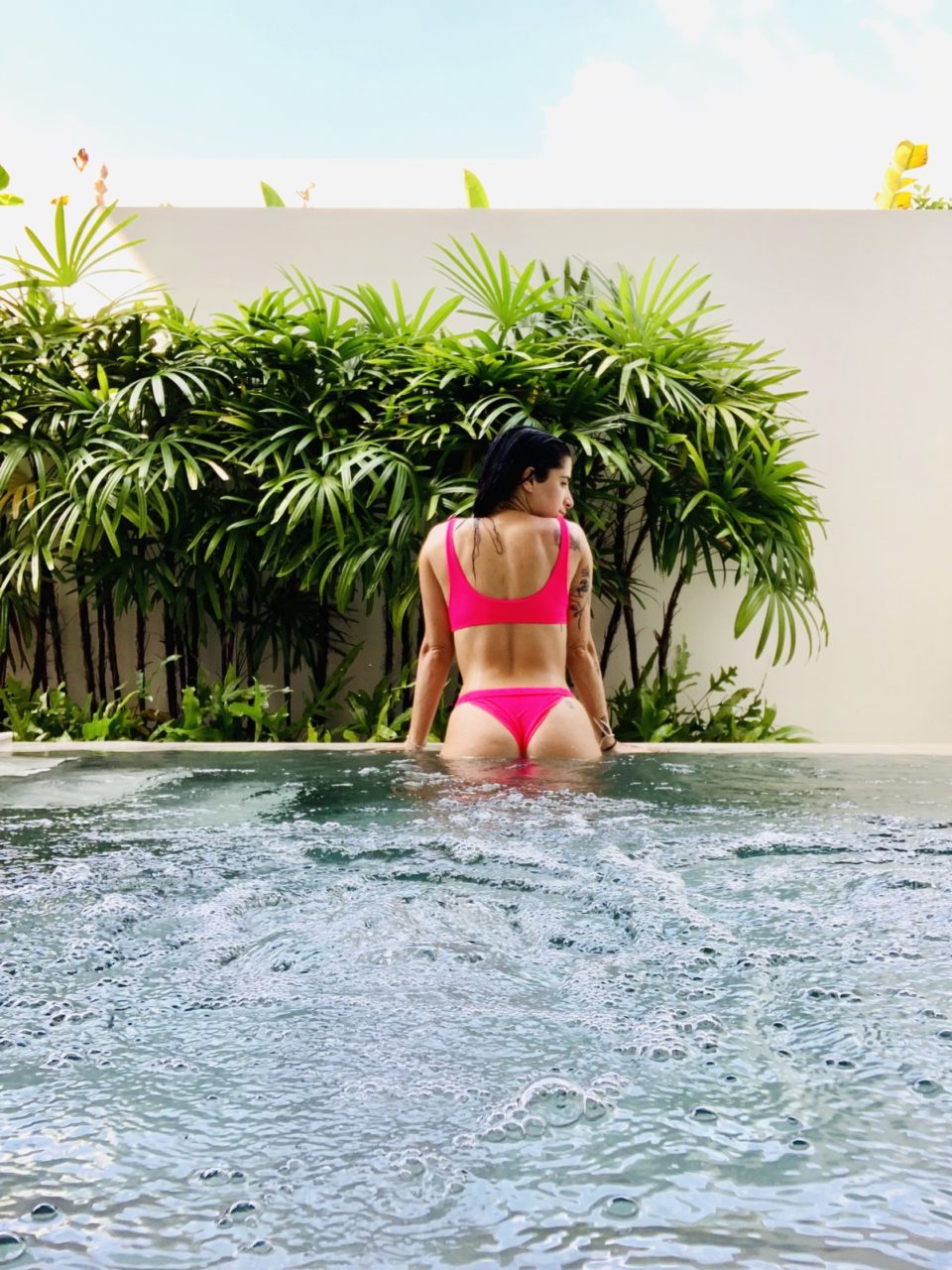 A hotel like this in the United States would be unaffordable but in Thailand, it was $150 per night and it included breakfast! Mind blown. I absolutely loved this hotel. But if you're on a budget, there are sooo many amazing resorts and Airbnb spots on the island for as low as $25 a night. Tree houses, huts on the beach, literally anything is amazing and cheap AF.
So for this part of the trip, I didn't really document what I did day by day because I was on vacation mode. I am not sure what my exact itinerary was but these are the things I did.
Train Muay Thai
I needed to try a Muay Thai class, this was on my Thailand Bucket list. Since I didn't get the chance to do it in Bangkok and Chiang Mai, Koh Samui was my last change. I asked the hotel for a recommended Muay Thai Gym on the island and they set me up with "Vwin Gym". I would be taking a two hour intense class at 8am sharp.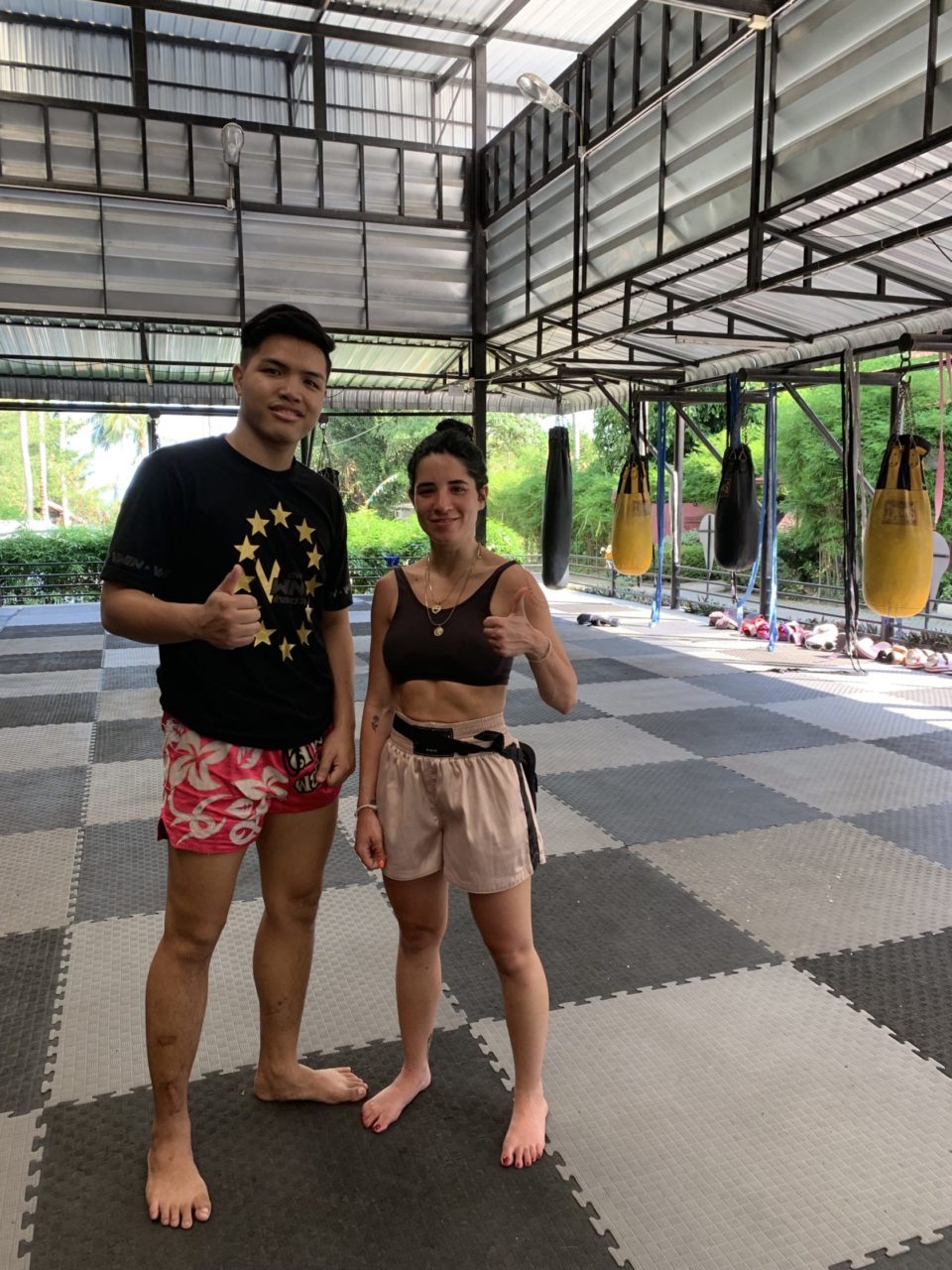 It was tough, not going to lie. But had a blast. The awesome part about this training is that anyone can do it. Whether you're a seasoned pro or its your first time working out they adapt to your level. I loved it.
Watch Muay Thai
That same day I saw a fight was being advertised at the Koh Samui stadium so I bought tickets and went to check it out. Funny enough I ran into my trainer from the morning who was there for a match!! What a small world. It was super cool to watch.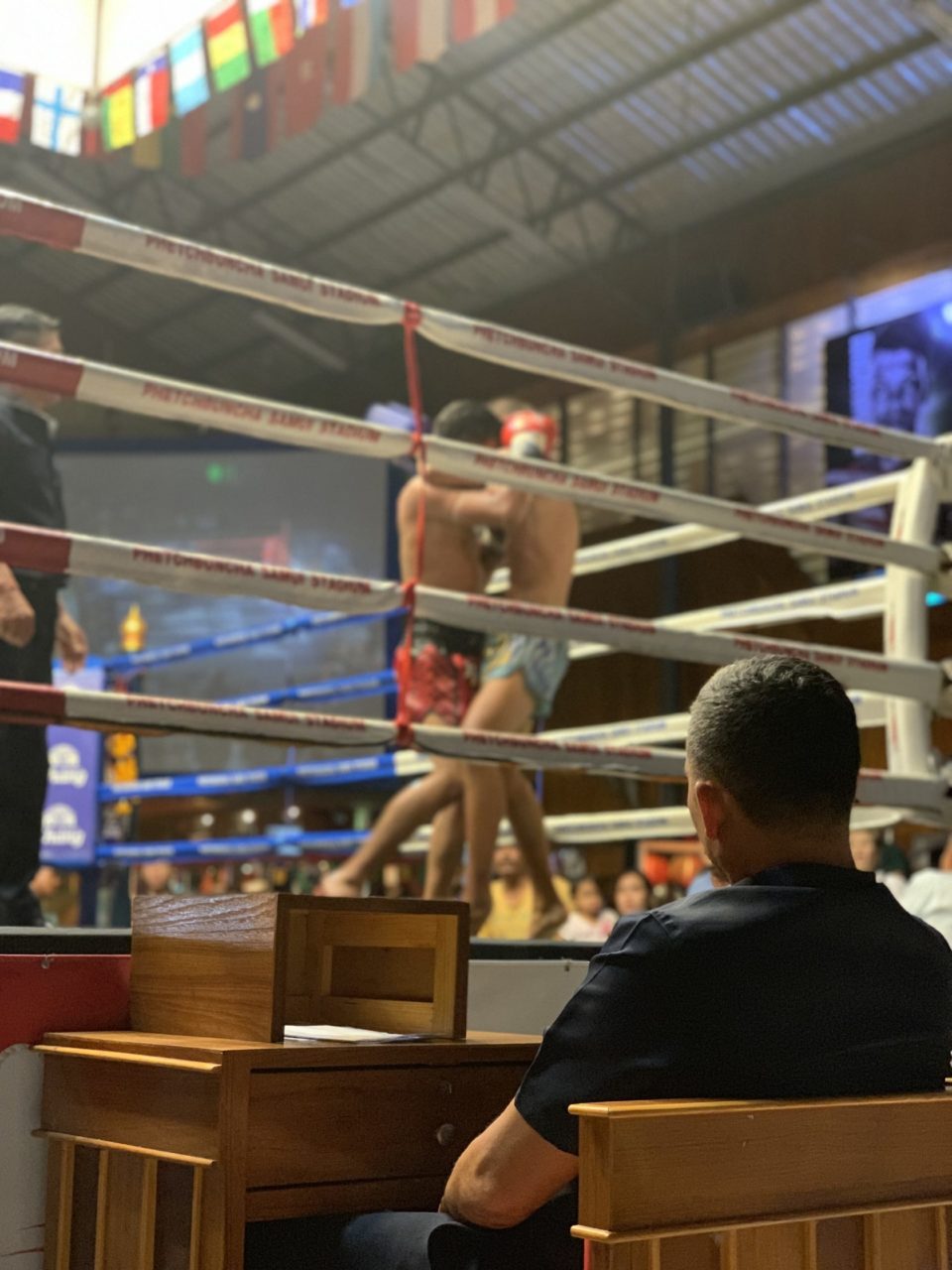 Chaweng Beach
This is the touristy area in Koh Samui, where you'll see all the Beach parties, and backpackers hang out. I went there for the evening to explore and checked out a party. If you're going for a spring break vibe this is the area you should stay in but it definitely wasn't the scene I was looking for… it was cool for a few hours to see and cross off the list. Otherwise there are other beaches that are much nicer (and quieter)
Island Hop
Any island you decide to go to, you can organize day trips to see other islands. It's surprisingly easy and I sort of wish I planned to see more. From Koh Samui you can take a ferry to Koh Pagnan and be there in 20 minutes. There are also other islands and national parks within a close distance. Which is pretty awesome.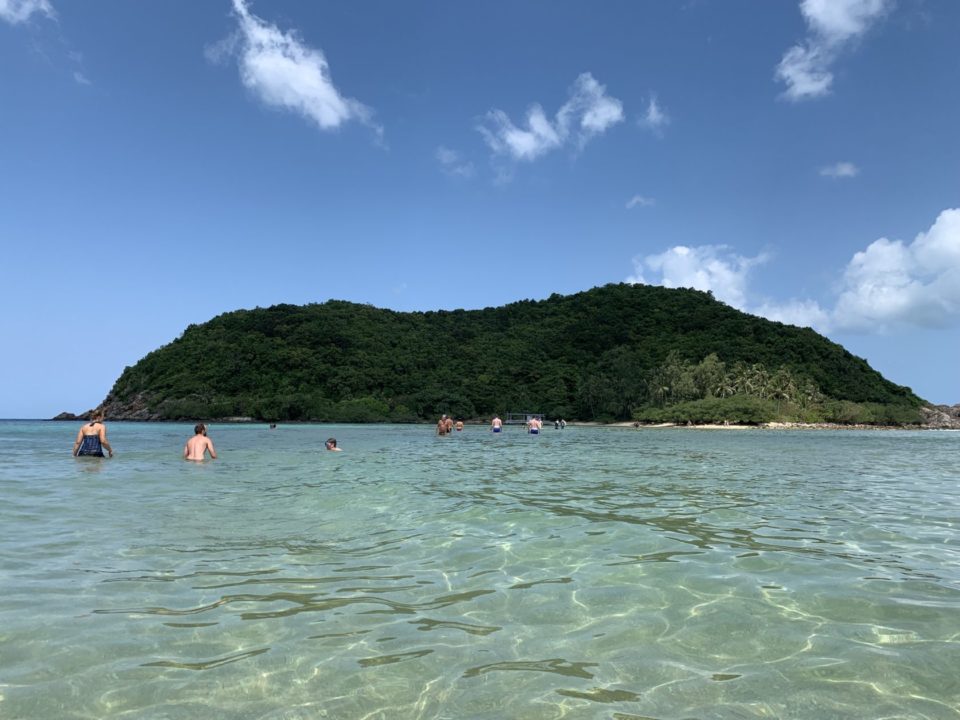 I decided to go to Koh Pagnan
I took a ferry from Koh Samui, to Koh Pagnan which costs $25 round trip. When I got to Kho Pagnan I hired a motorcycle taxi to take me around the island for the full day for $35. You can also rent your own scooter (which I highly recommend and wish I did) for $10 for the whole day.
I told my taxi driver to take me to the nicest beaches on the island. We rode around the motorcycle and I remember being in total awe. If I were to go back to Thailand I think I would stay on Koh Pagnan. The vibe is super mellow, much more low key then Koh Samui. So quiet and chill, and the beaches were incredible.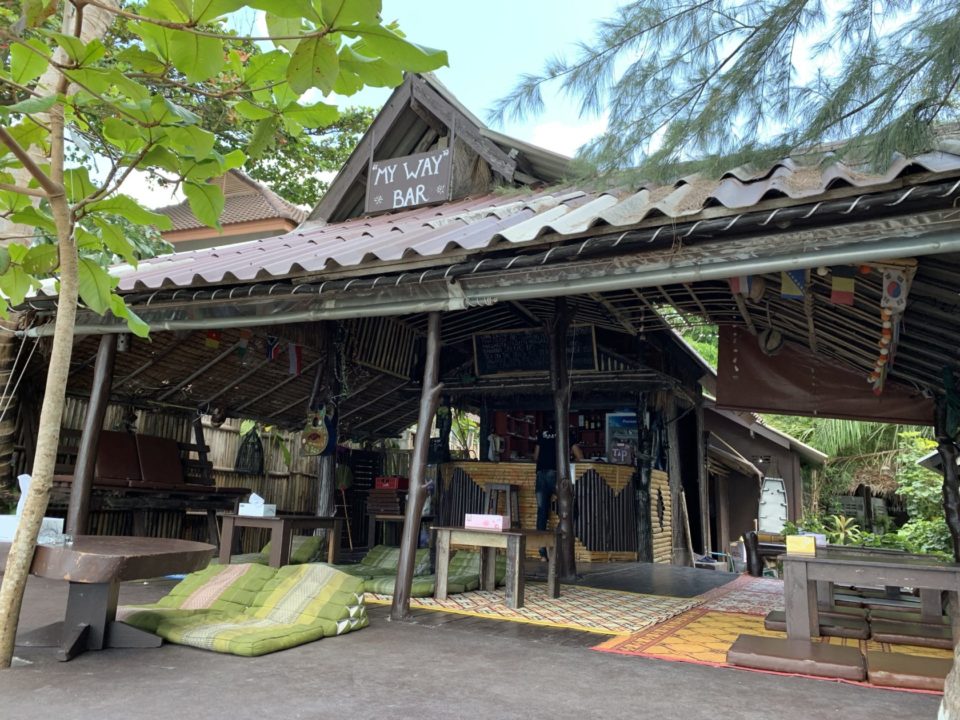 My taxi driver also took me to a waterfall, a small little temple on the island and to a few of his favorite instagram worthy spots. It was THE most perfect day.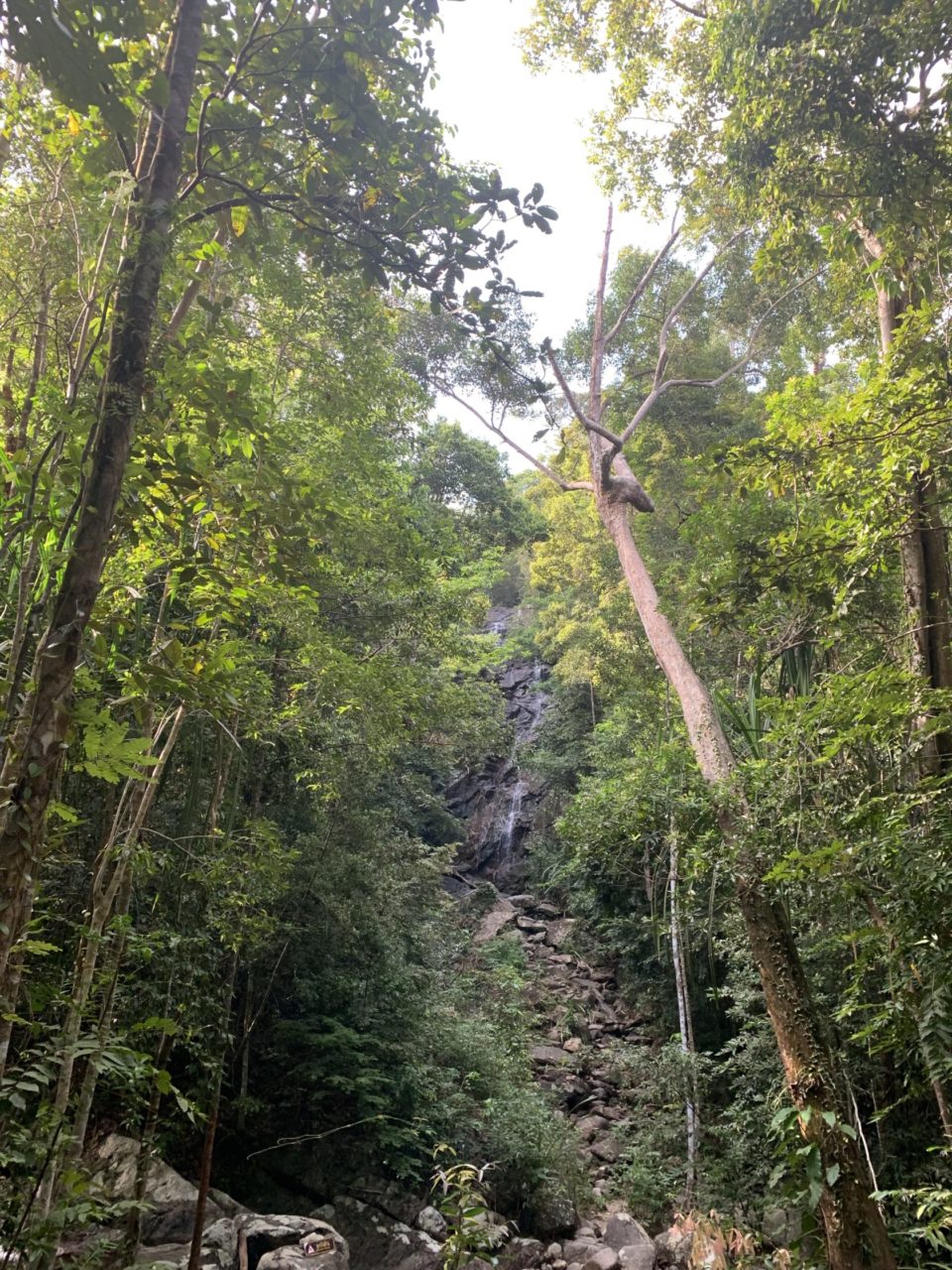 Her brought me back to my ferry ride which was an hour late (and I didn't care) and I headed back to Koh Samui.
Fisherman's Village
Every Friday night, the Fisherman's village is the place to be. A huge night market, entertainment and so much food!! AHH I am salivating just thinking about it. I stocked up on souvenirs for the crew. Ate some food, drank some drinks, meandered for hours. It wad awesome.
Vikasa Yoga Retreat
A lot of people recommended I check out this amazing Yoga retreat center that offers drop in classes on the island. You can also stay here if you want to really immerse yourself in the yoga experience. I took a two hour class and it was awesome. It flew by. Doing yoga in the Thailand heat right on the beach was so amazing. After class I went to eat at their "Life Cafe", which in itself is a must!!!! WOW. So fresh, healthy, tasty, tons of plant based options. I felt so fucking amazing after. Definitly a must if you're in Koh Samui.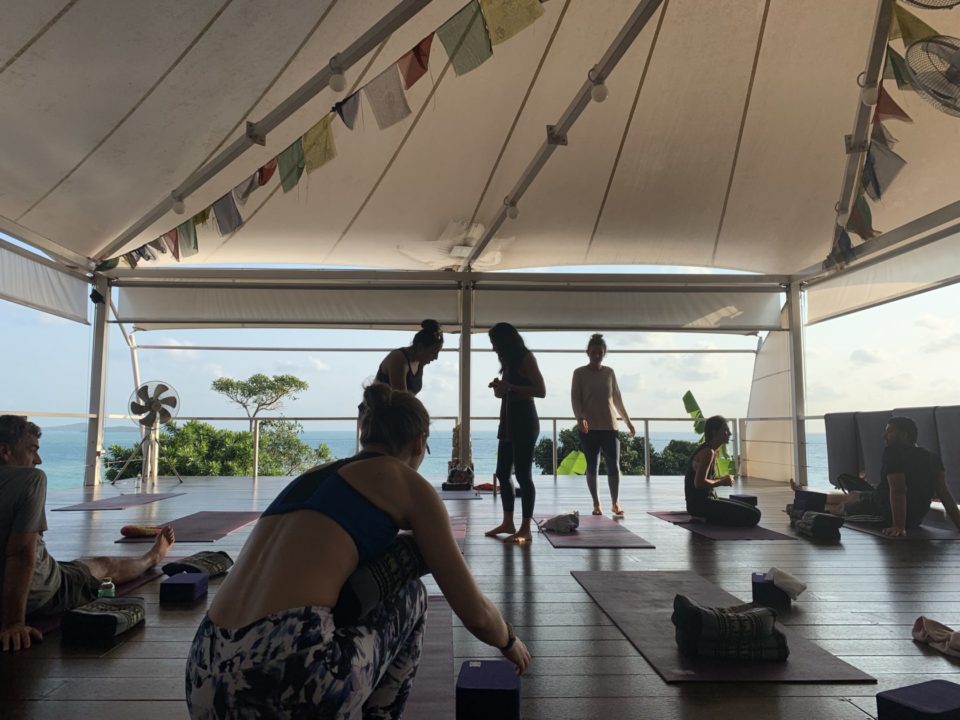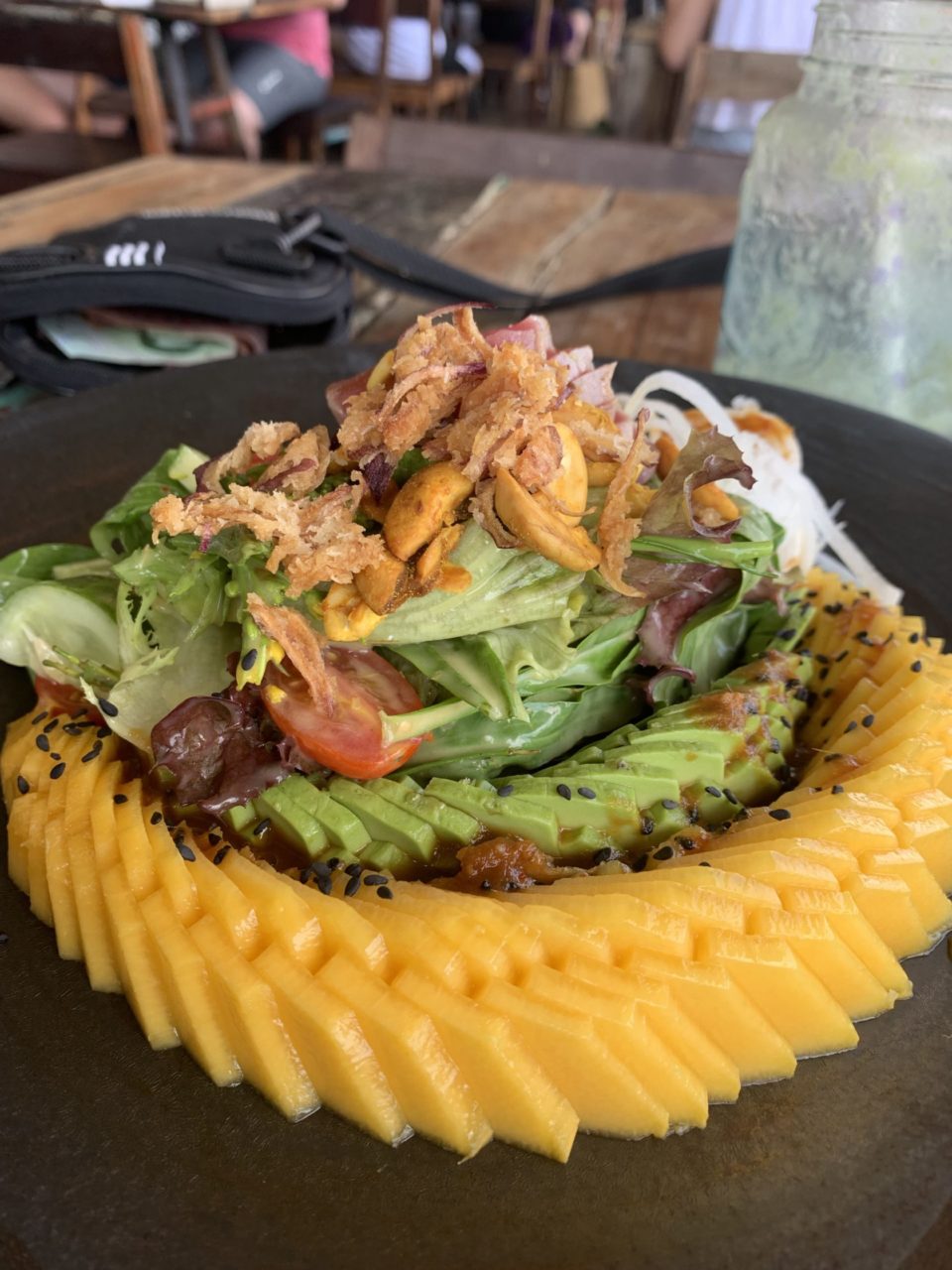 More Temples!
On my last day, right before my flight, my taxi driver took me to a few temples on the way to the airport. It was the perfect end to my amazing trip. I remember feeling so lucky and blessed to have had this experience that I will take with me for the rest of my life.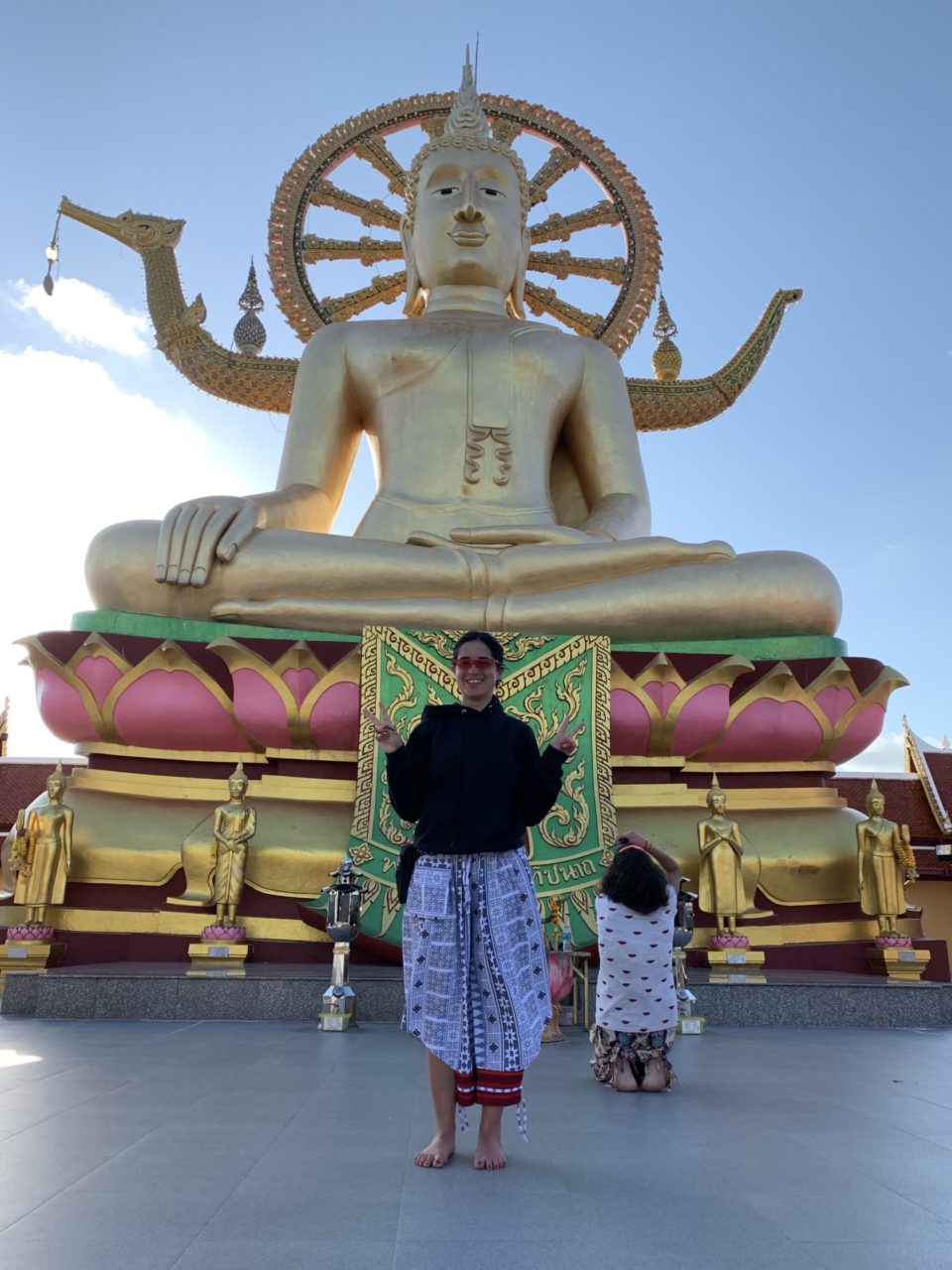 THAILAND Q&A 
I asked some of my social media followers if they had specific questions about my trip. Some of which I am sure I answered in this lengthy post!
What Can you Share about Thailand that you wounldnt see in a guide book?
Thailand is the type of trip you can't really grasp until you're there. The guide books don't really capture how truly magical this country is. Honestly, just fucking go. It will change your life.
How much did you spend?
I admittedly splurged, and as mentioned could have definetly spent less. That being said with flights, accommodation, food, excursions, shopping (did a lot of that, like had to buy a whole new suitcase) transportation etc. I spent a total of $5,000. And again, I went there like I was ballin. You can easily do this trip for $2500 or less depending on how you budget and plan.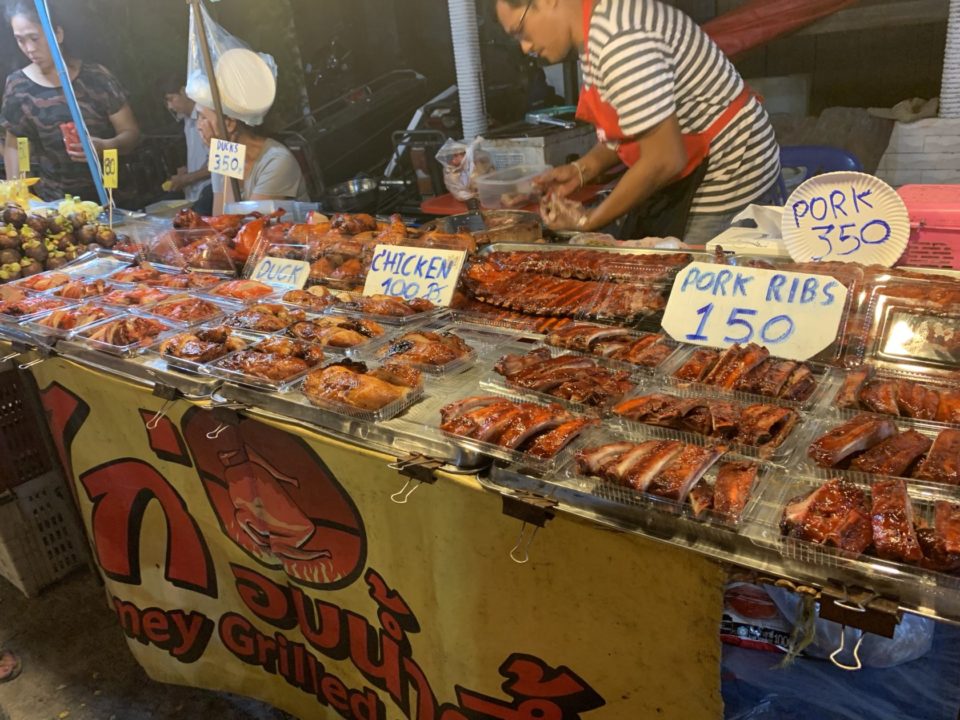 How long would you recommend staying in Thailand?
11 days was a decent amount, definetly could have stayed longer. Considering travel time sucks. I would recommend two weeks or more if you can swing it.
How to plan this trip? 
This was hard. Hopefully this guide will help you. I did do a lot of reading online, bought a Thailand Travel book, asked people for recommendations etc. That being said I recommend starting in Bangkok (since you have to fly there directly anyway), spend 2/3 tops there then head to Chiang Mai (a must). After that choose the islands that you think goes more with your vibe. If you can swing 2-3 islands on your trip you're all set. Or if you don't really give a fuck, choose one island and just chill out.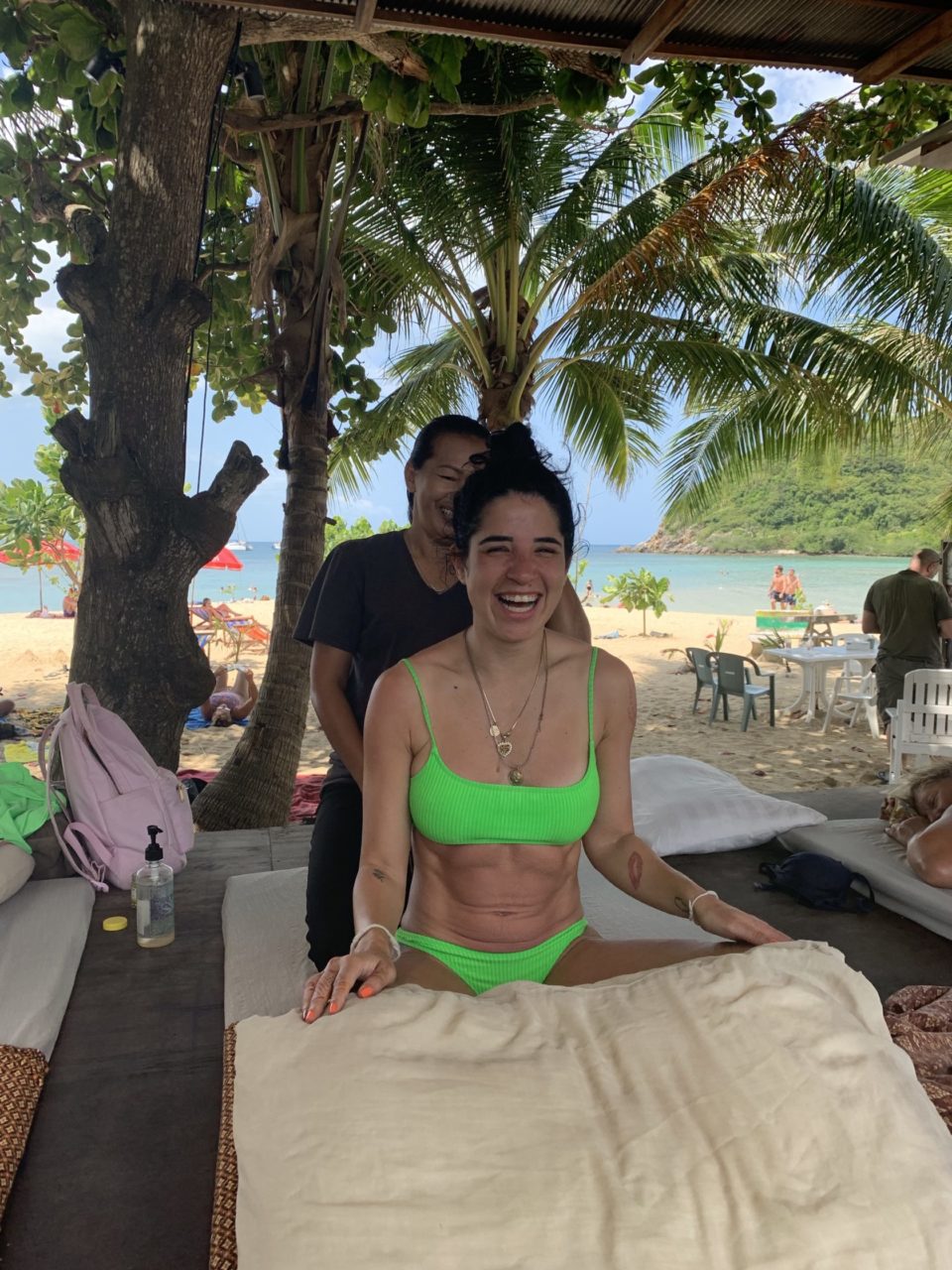 How/Why did you go without your daughter?
I was a little perturbed by this question from one of my followers, because I question whether or not a man would be asked the same question if he chose to travel alone. I think everyone, whether you're a mother or father or not, needs alone time. Everyone should try and take a solo trip in their life time. It's an experience like no other.
I've never been away from my daughter for more than a few days since she was born, so deciding to go on this trip wasn't an easy one but I knew was necessary. I truly believe that in order for me to be the best mom I can be, I need to be happy, and I need to take care of myself. Taking a trip to fill my cup will allow me to come back home rejuvenated and happy. A happy mom equals a happy kid.
We live in a society where once we become moms we are expected to give up everything for our children and I don't believe that should be the case. But this is for a whole other post.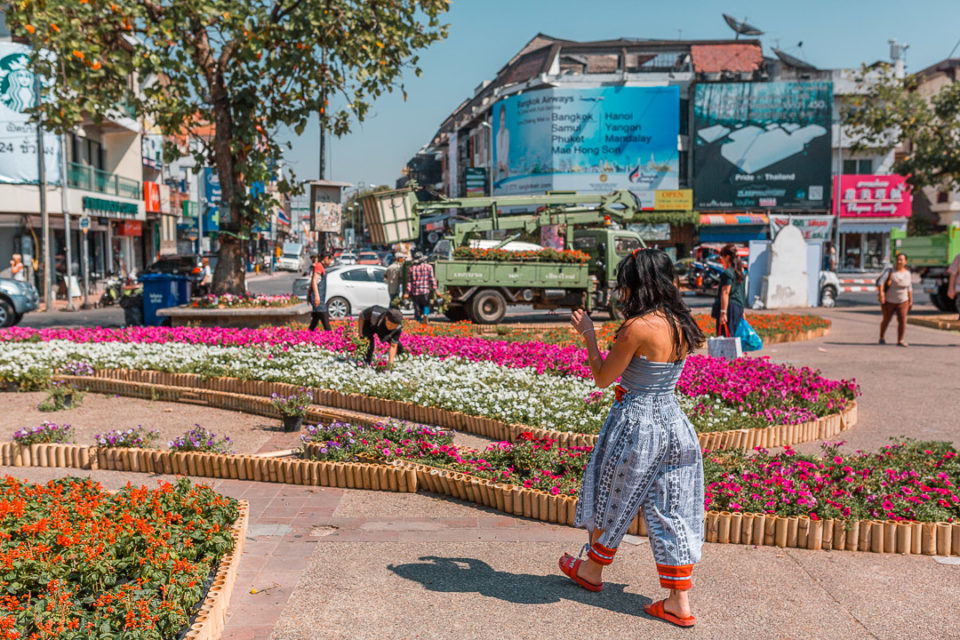 Do you recommend taking your child to Thailand?
Absolutely. I saw many kids, even young babes in Thailand with their parents. I am definetly going to take Mia here when she is a little older. That being said, the itinerary will probably change of course and planning it you would need to consider child friendly accommodations and activities. But I think this would be a super fun family trip.
What was the most liberating moment? 
Ah so many!! too many to list here. Simple being alone in Thailand was incredibly liberating.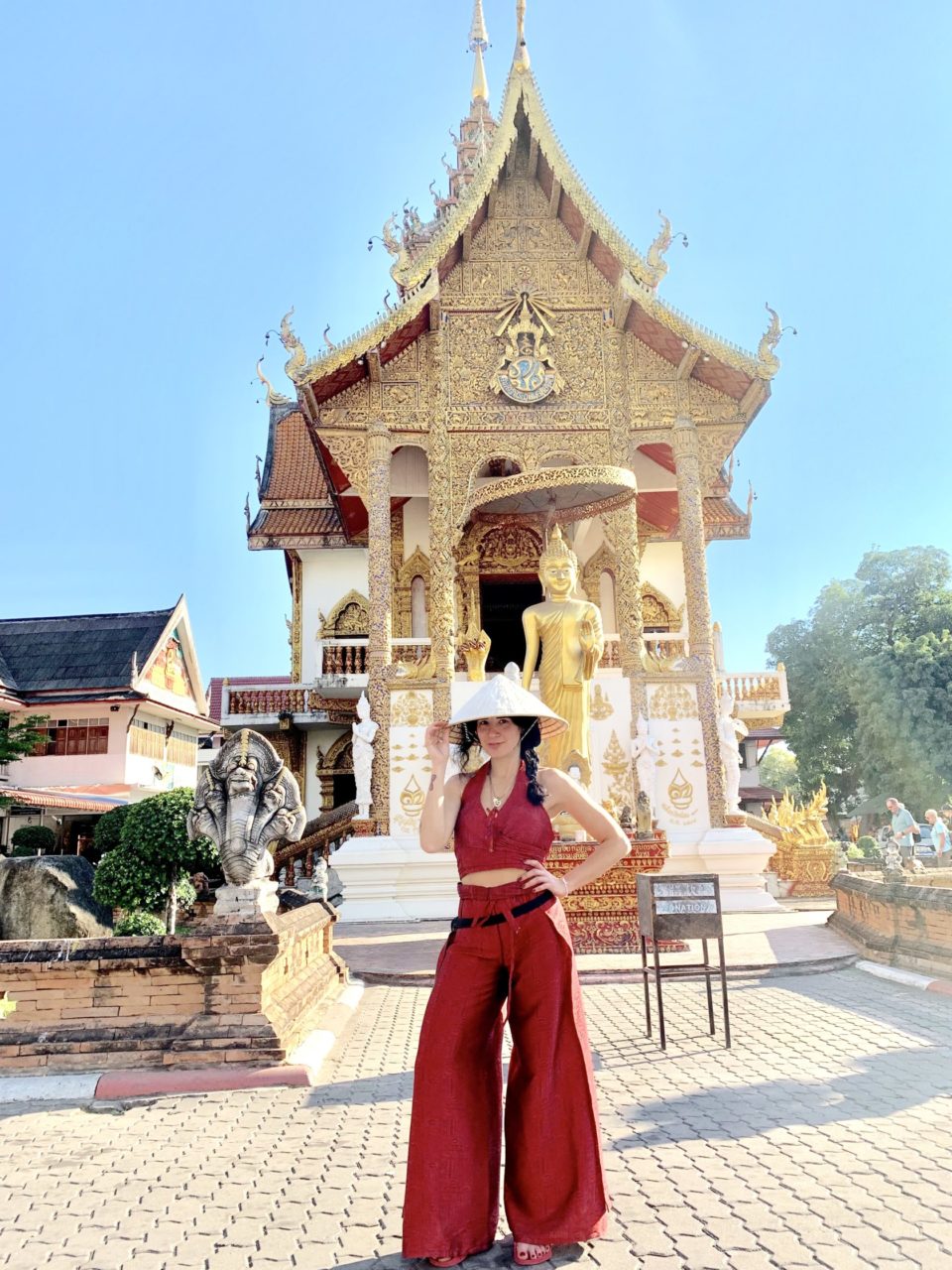 Anything to be careful about? Food? Water? Drinks?
I didn't drink water from the fountain, but drank the ice and regular drinks and I was fine. I didn't have any issues with food either. That being said you should still do your research and I recommend taking probiotics to keep your gut healthy pre and during your trip.
Itinerary or wing it? 
You can do both to be honest.  I met a lot of people who had no plans and just went with it. All they had was a plane ticket. Personally I needed an itinerary because there was so much I wanted to see and do that I had to plan it out. But if I was like 20 years old with no responsibilities I would buy a plane ticket and fucking wing that shit and come home when I was done. If you can do it, do it.
As Anthony Bourdain once said "I'm a big believer in winging it. I'm a big believer that you're never going to find perfect city travel experience or the perfect meal without a constant willingness to experience a bad one. Letting the happy accident happen is what a lot of vacation itineraries miss, I think, and I'm always trying to push people to allow those things to happen rather than stick to some rigid itinerary."
Final Words
Thank you all for joining me on this incredible journey. Seriously felt like you were all with me every step of the way. Traveling and seeing the world is so important, it really changes you.
"If I'm an advocate for anything, it's to move. As far as you can, as much as you can. Across the ocean, or simply across the river. The extent to which you can walk in someone else's shoes or at least eat their food, it's a plus for everybody. Open your mind, get up off the couch, move." Anthony Bourdain