As the blog's 6th year anniversary seemed to creep up on us, Lynn asked if I would be willing to share some words about my experience. I tend to lose track of time often, but I didn't realize I'd been a part of the ChicpeaJC team for nearly four years now. Most people still have no clue who I am (which is totally fine with me) while others have met me through my time at ChicpeaJC and have seen the work that goes into everything I do. 
I've seen this blog and the overall business grow and change throughout the years. Here's the story of how I got involved and what I've experienced.
Leading up to ChicpeaJC
I've always enjoyed working and learning new things. I started working in office environments during my last year of high school and by 19, I was working in a corporate office for a local health insurance company while pursuing a Communications and Media degree. I eventually realized that my corporate job, while providing an invaluable experience, was no longer serving its purpose to me and I resigned after a year. My focus went to school for the rest of that semester and I planned to have a free summer before finding another job. 
One day, I scrolled through Instagram and noticed a familiar face was featured on a blog – artist Ed Harbison. After reading the interview, I decided to peruse the website and follow ChicpeaJC on Twitter for local updates. I spent a lot of my time in Jersey City and had been living in the area for years, so it was a convenient resource for me. A few weeks later, Lynn tweeted about needing summer interns for admin, writing, social media, all of it.
ChicpeaJC is looking for summer interns. Whether you like to write, take photos, design, admin, social media. HMU!

— Lynn (@CHiCpeaJC) June 17, 2016
I remember sending it to my friends and they said I should go for it because it was right up my alley. I had experience in copywriting, technical writing, editing, and administrative assistance with some knowledge of UX/UI design. It seemed to fit and I had nothing to lose, so I threw my name in the hat. 
Fast forward a few days – I went in for an interview and was hired on the spot as an intern, and very quickly became a full-time employee.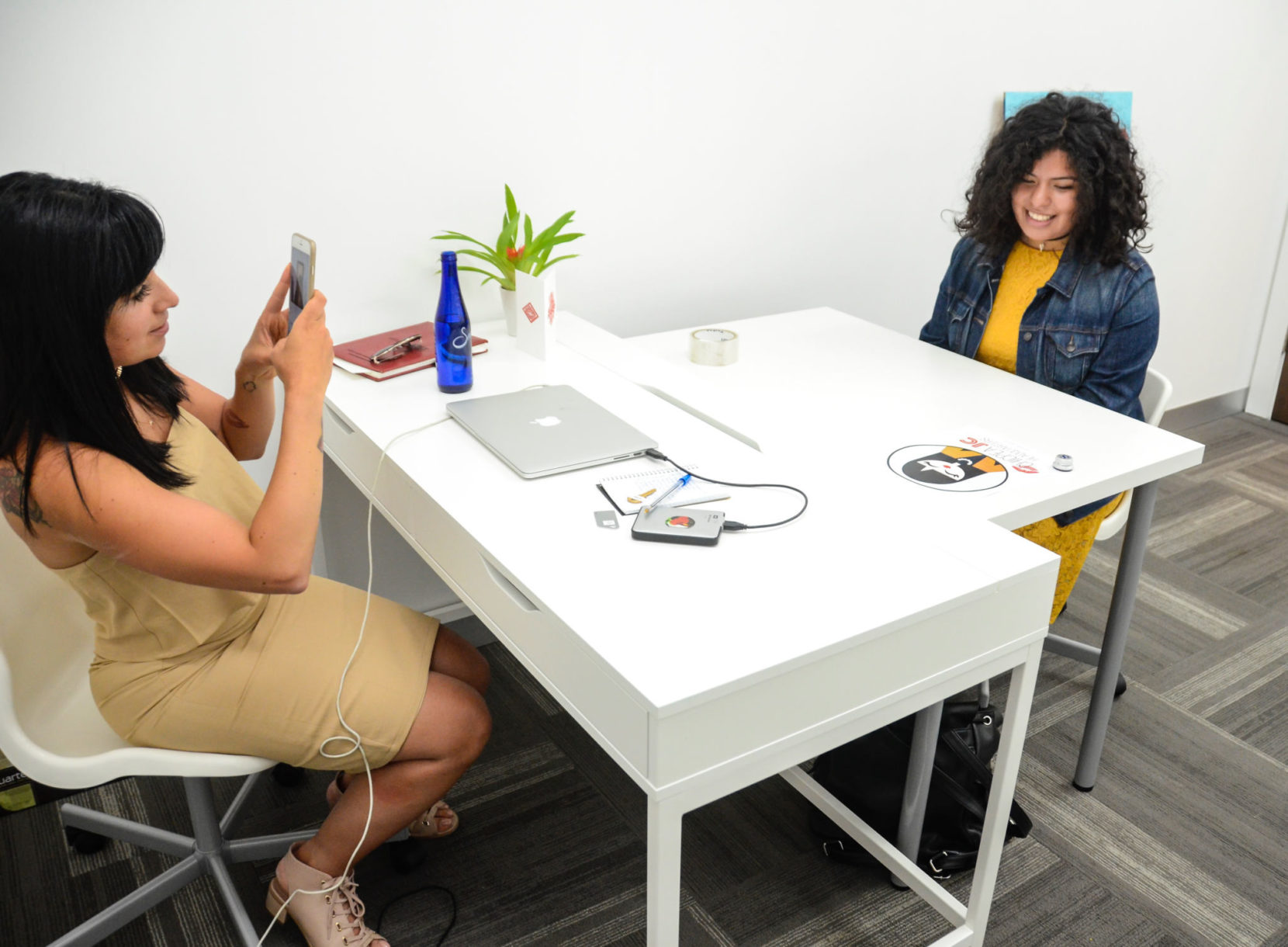 Growing in ChicpeaJC
I joined the team during the summer of 2016, right as Lynn was getting into organizing events. Right away, I helped organize silent events, the Forever Young Festival, LSC After Dark, and Terminal of Terror while managing the office Instagram account and writing. I guess I joined at the right time because I saw the early stages of such a large part of this business, and it was also the busiest time for ChicpeaJC. Silent events went on for months at a time, LSC After Dark was a great collaboration when adult events were new to Liberty Science Center, and Terminal of Terror went on for 3 years with a growing crowd each time. From my perspective, this was all interesting to learn; I was meeting local business owners, recruiting vendors and artists for events, managing volunteers. Even when we were overwhelmed, I just adapted because I figured it was always better to be busy with fun tasks than to be underutilized in a work environment.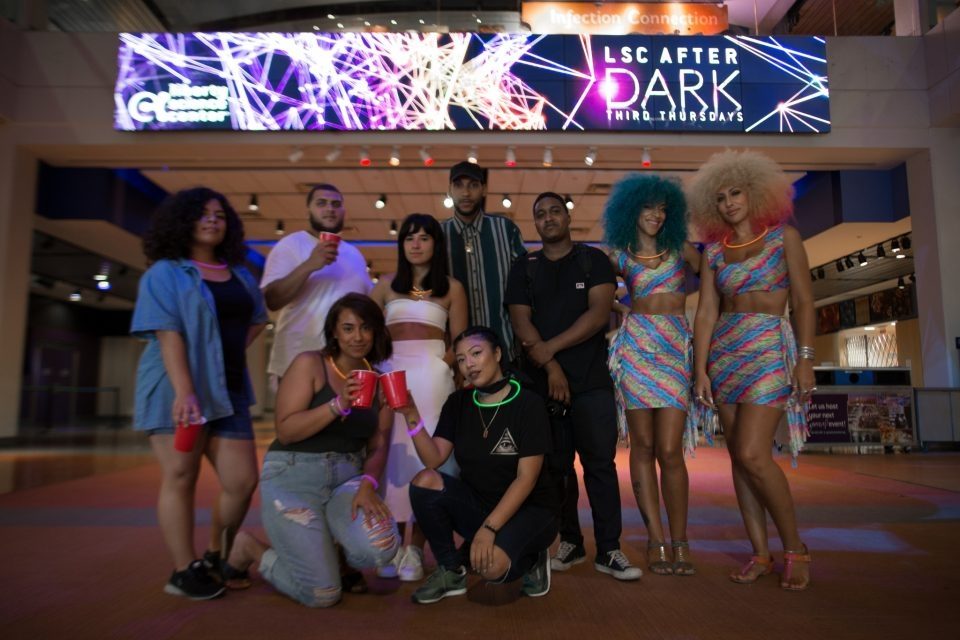 In time, I got involved with educational programs for local youth and worked with Hudson Montessori School for their events. As someone with a deep-rooted passion for education, this was exciting for me and one of the best parts of my job. I've been very lucky throughout my life to have bosses who care about my interests and growth, incorporating my personal passions with my career. As a result, I continued to write about sustainable efforts, STEAM programs, school fairs, job resources and local causes that I felt were important to highlight. I eventually became a full-time writer with social media and admin work hardly being a part of my job, and then eventually became the editor for the blog.
When I started working for ChicpeaJC, we were in a small office with no windows and could hardly fit more than 7 people. By the end of 2017, we were in a huge loft with a growing team and a photo studio. Lynn always had the dream of a big team and a fun office environment, and she really worked to make that happen. By this time, I was focusing on writing my own articles, transcribing interviews, and helping Lynn articulate her ideas. Despite losing the office a year later with a team that dwindled down to just a few of us, we still kept at it and worked from a coworking space. Would it have been nice to keep a big space? Sure, but the experience taught us that we don't need a massive office to get the job done. Since then, our team has gone down to just a handful of us with Lynn and me as the only regular writers on the team. It works! 
Common Questions I've Been Asked Over the Years
What do you do?
I'm a writer and editor. I've written more articles on the blog than I remember, if we're being honest. 
Outside of ChicpeaJC, I help people write bios for websites and I indulge in some poetry writing.
How do you like your job?
I genuinely enjoy it. I think people assume I don't like my job because I don't constantly talk about it, but I enjoy writing and having the freedom to write what I want while also working on assigned articles. I also spent half of my life living in Jersey City, so to be immersed in the place I called home growing up and seeing how much it continues to change interests me. My family also keeps up with the blog and it's always nice to hear that people care about what I write in any capacity. 
What are your favorite articles/projects you've worked on?
JC Locals is a fun project Laura and I started out of the passion for the community, and it continues to be the best thing I've worked on over the past four years. I like sitting down with people who've lived in Jersey City and are willing to openly address how they feel about changes, the city government, and their experiences in the city. JC Locals is about providing honest opinions from the community and sharing their voices, and I think that's what the ChicpeaJC platform is all about for me. We opened up submissions on the site to specifically provide a space where people can use our platform to uplift their own voices, their perspectives, their thoughts. When you have a platform where hundreds of people view your work, why not use it to benefit others?
In terms of articles, the profile on El Gordo is very near and dear to my heart. I grew up living with my Peruvian family, so this has a personal tie to my childhood and upbringing. Meeting Lizeth and sitting down in her restaurant after it opened made me so happy, I felt like I was having dinner with my own family. I even brought my mom for her birthday before this interview ever happened because we were so excited that a new Peruvian spot was opening in the area. Being able to hear Lizeth's family story, how this all started, and seeing what her family was able to accomplish was heartwarming, and hearing the frustration she went through as an immigrant seeking citizenship hit home for me because it reminded me of my family and the struggles they've experienced. I think about this interview often, now almost 3 years later.
What is like working for Lynn?
I get asked this by a lot of people, including Lynn herself. Her mind is often scattered when she's feeling stressed, she blurts out blog post ideas randomly throughout the day, and she has a big personality. I've grown accustomed to different characters throughout my life, whether it's through my family or my jobs, so I just learned how she works and adjusted to it. She's had a few breakdowns, as we all do when we're overwhelmingly stressed. I've definitely seen her cry and I've heard her give up and consider quitting. In these moments, I just keep working on my tasks and writing my articles because people deserve the space to feel their emotions without interruption. When she asks me for advice or my general opinion, I honestly provide it. 
As for my role and how I work with Lynn, I enjoy working independently and I know how to manage my time well enough to get my work done. If anything, it makes it easier on her when she doesn't need to be constantly on top of me. We catch up on ideas, she sends me topics she'd like us to cover, and we divide and conquer.
Overall, working for Lynn isn't any different than my experience with working for anyone else. The best way I can describe our work dynamic is "balanced."
Any big takeaways from your experience?
I've met some of the most interesting and talented people over the past 4 years – business owners, artists, readers, even people I now call friends. I wouldn't trade that for anything. I love getting to know people from different walks of life and learning what led each person to pursue their passions.