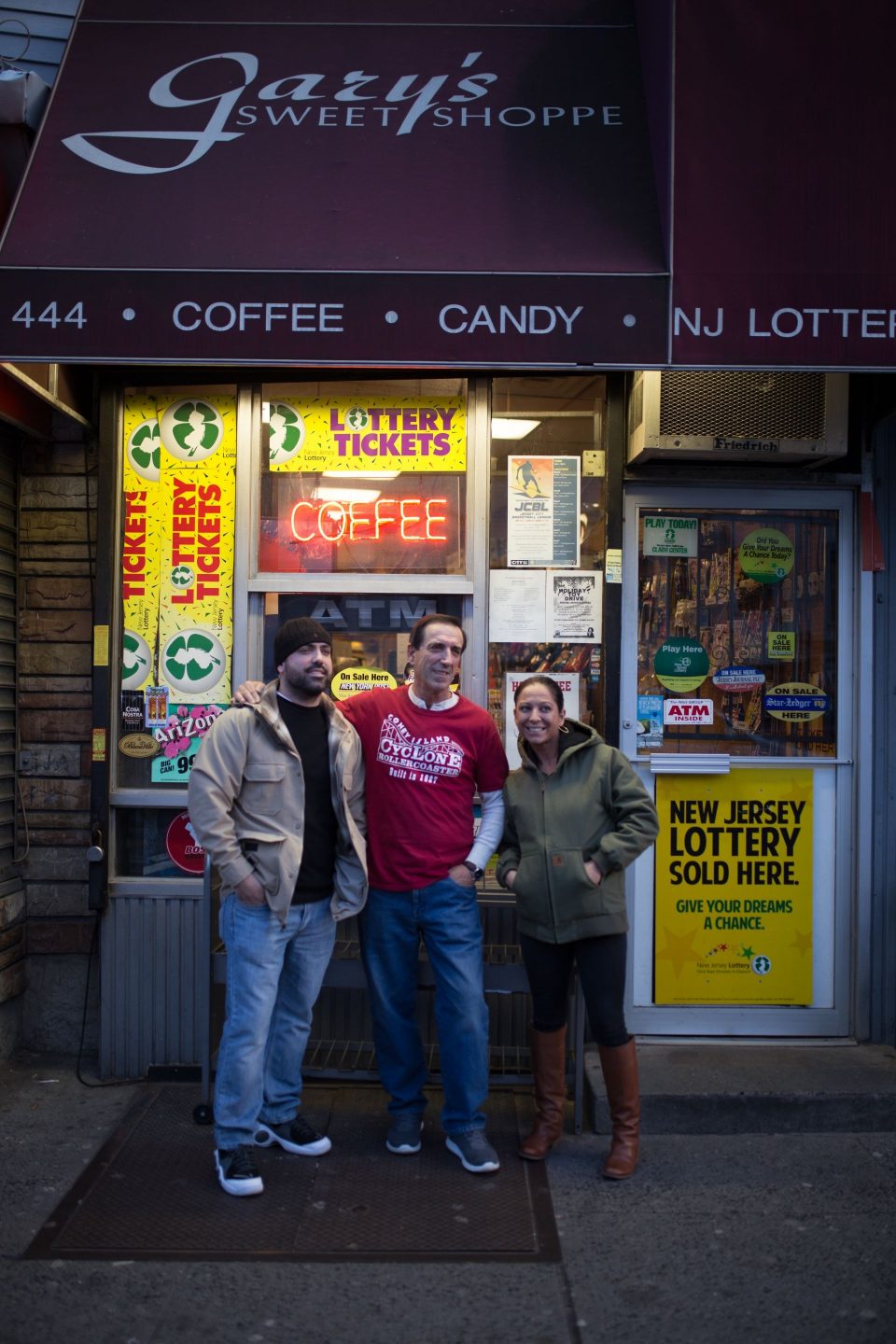 People always ask me what my favorite posts are. I really love the arts and culture – related articles, but to be honest, my favorite interviews have been with the people who've been in Jersey City all their lives.  One day, I got a direct message from someone named Tara to check out Gary's Sweet Shoppe. She said, "Gary has been in business 7 days a week for the last 52 years, opening at 3:30AM, never missing a day." Of course, I responded and was super excited. Then Tara told me Gary is her father!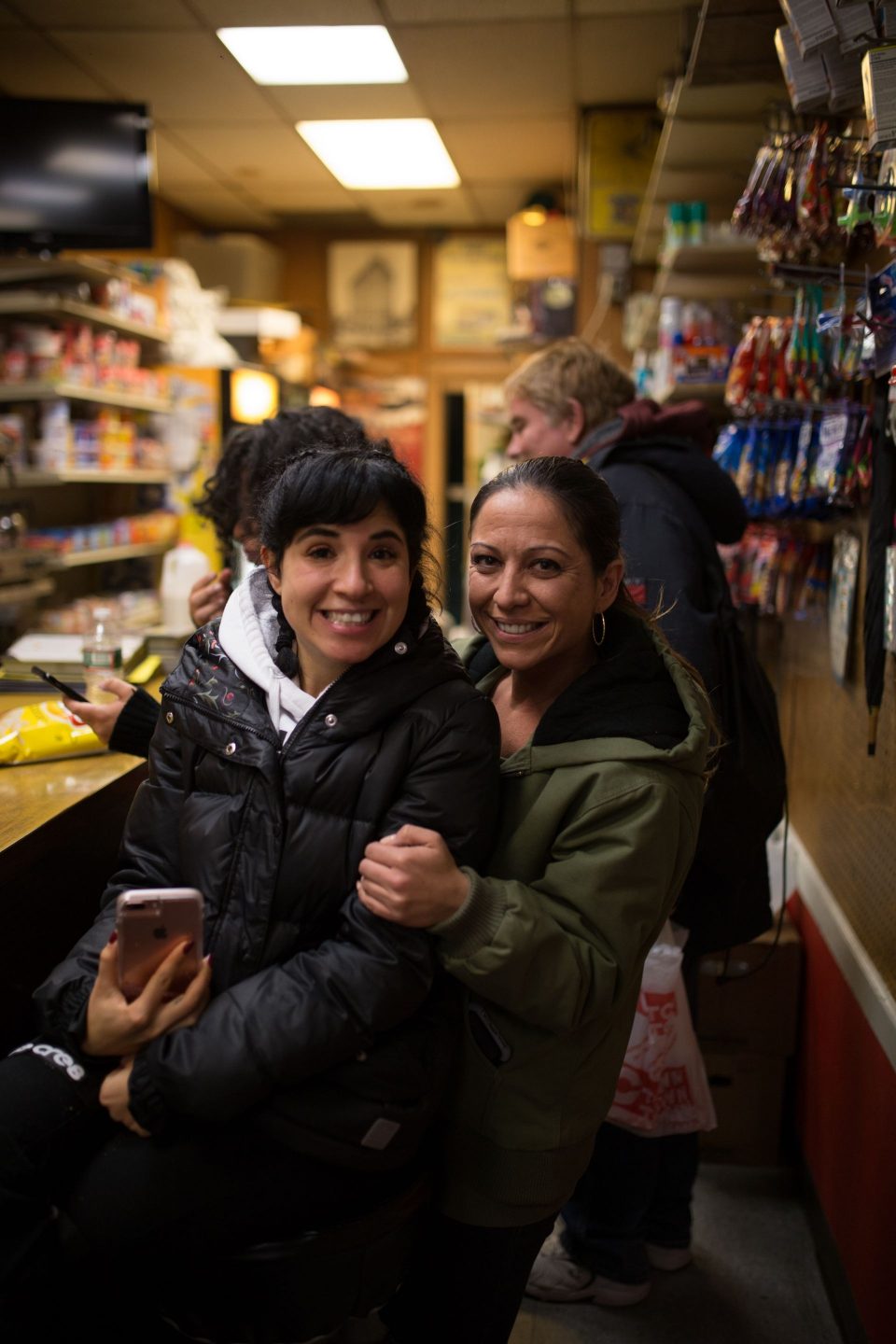 We set up the interview for the following week, and as soon as I walked in, I felt there was so much history in this store. I thought to myself, If only these walls could talk. We sat on the stools in the back of the shop, and I instantly envisioned moments in the past of people sharing stories, eating buttered rolls, and hanging out with Gary.
As soon as I started talking to him, I knew this guy was a JC legend. He's such a character and he has so many funny stories of the old Jersey City. Within 10 minutes of speaking to him, he broke out his photo albums and showed us photos of celebrities like James Gandolfini and Bill Murray, as well as local politicians. Gary mentioned that, during political events in JC, people would come into the shop to find out how the people felt and get the temper of the community. It's amazing to me how a small shop on West Side Ave has so much importance in the Jersey City community. Goes to show you that I only scratched the surface in everything that goes on in Jersey City and I'm really excited to learn more.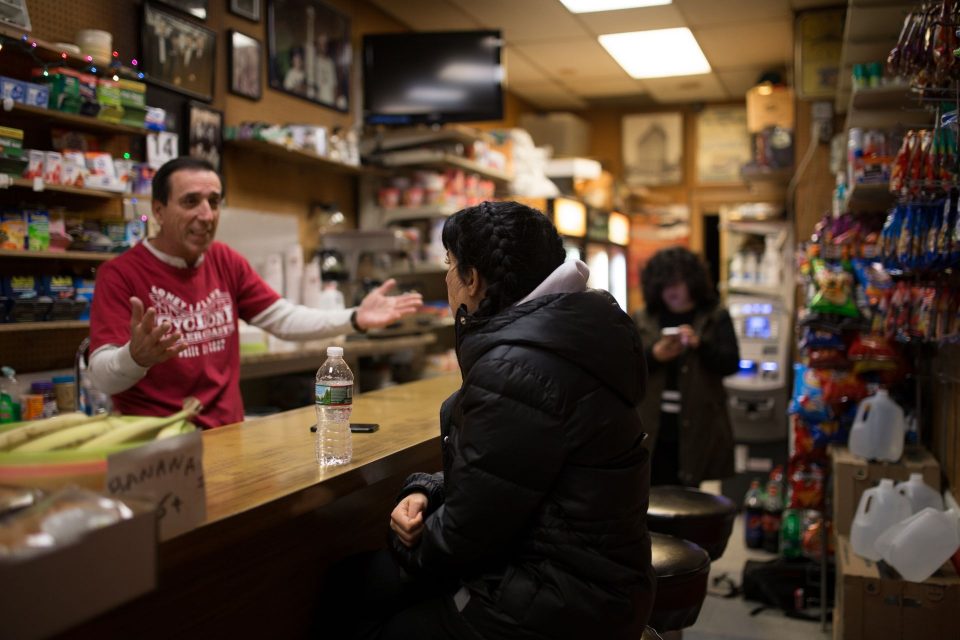 What's your name?
Gary DeFilippo.
What do you do?
I'm the CEO, Vice President, and President of Gary's Sweet Shoppe!
Haha! How long has Gary's Sweet Shoppe been around?
45 years, since 1971.
Wow! Who owned it before you?
It was my father's shop. He was a milkman for 37 years and had a massive heart attack after coming here for 3 months. At the time, I was working for Colgate Palmolive in the engineering department and I was going to Saint Peter's. I had to drop out of school and support the family, and I said I'd go back to school in six months. That was 45 years ago.
So you're born and bred Jersey City?
Born and bred. Born on Boyd Ave.
Can you tell me a little bit about working for Colgate?
I was in the engineering department, but I didn't really know what I was going to do. Before I was there, I went to Oklahoma University for a year and I was Pre-Med. I was going to be a pediatrician. Then I came here because Oklahoma is Oklahoma and I'm a city slicker, so I came back. Everything was going well until my father passed away and my whole life changed.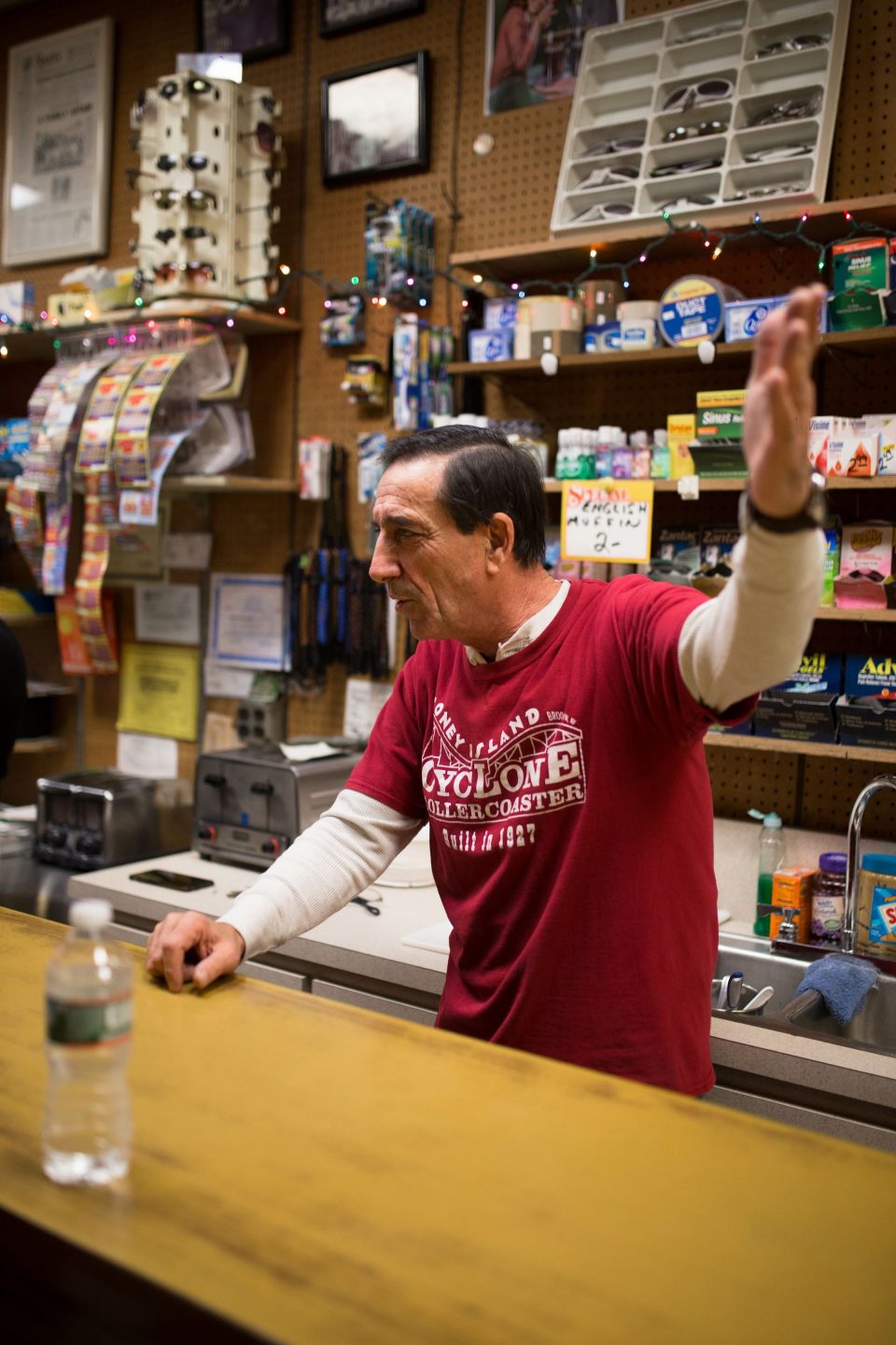 So you started working here?
I started working here, but Colgate was going to be a good future for me. I was going to school for free since Colgate paid for it. It just never worked out. I quit on a Monday, I was working here on Thursday.
Wow. How was that change?
It was something I wasn't ready for. I grew up really quick. When I first took over the shop, we had a fountain, scooped ice cream, we made malteds, we had pinball machines in the back, we had lemon ice, comic books… all these things. Things have changed, and you just don't see these things anymore.
When did the change happen?
It started in the 90s. When Nintendo came out, we went from pinball machines to video games. I had 5 video games here, and the place was packed with kids. I have people coming now that remember when they were kids. I used to throw everybody out.
Why would you throw people out?
Just for anything. Misbehavior. I didn't throw them out in a bad way. It was like a one-day sentence. I threw out Dr. Mcgee for 30 days and he still brings it up to me.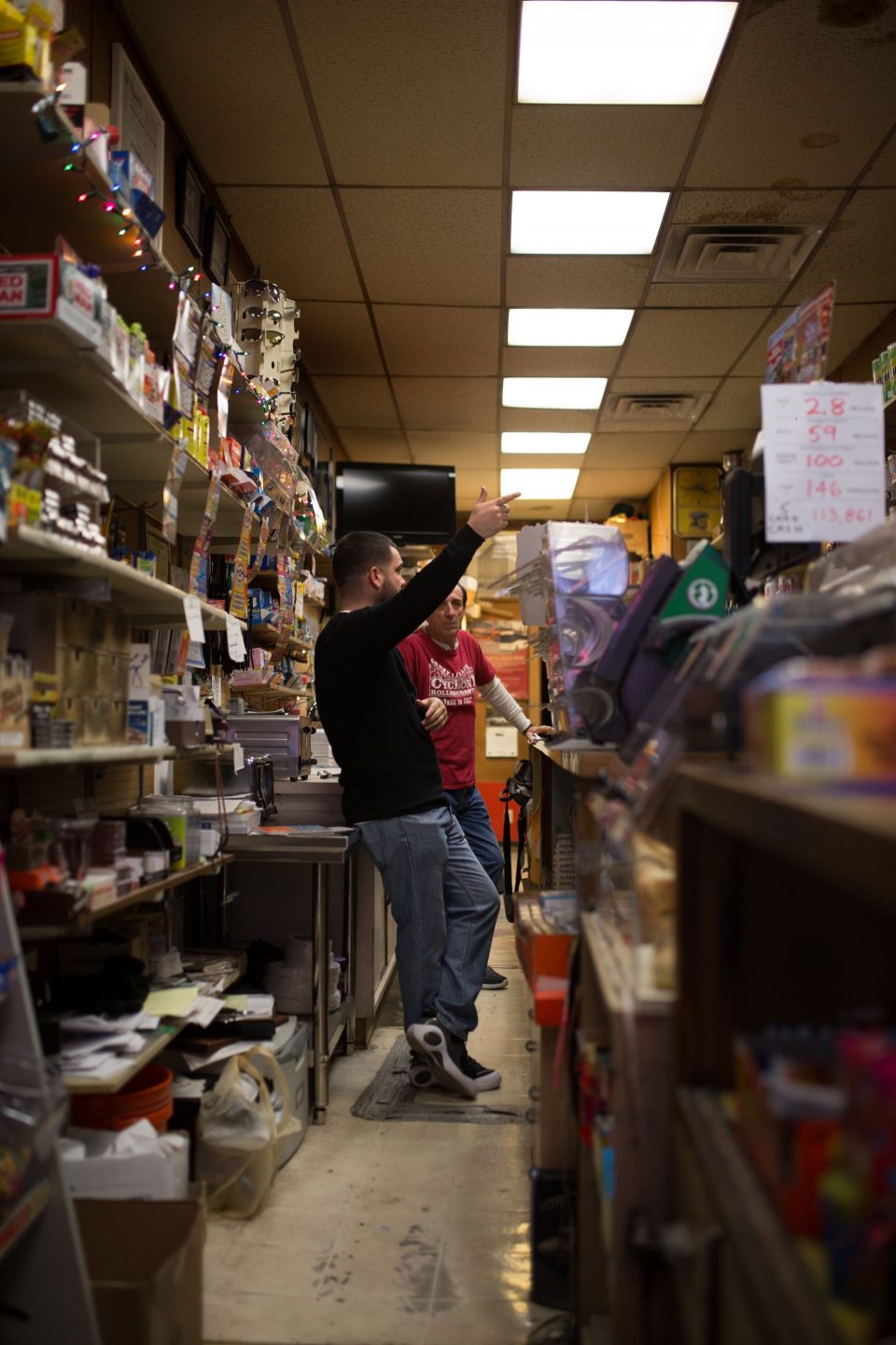 Tell me a little bit about growing up in Jersey City.
Jersey City was great. The difference between now and then… when we were kids, everybody played in the courtyard, everybody was out when it snowed. When it snows now, you look out and nobody's here, everybody's playing on the phone. It was different, everybody played ball. We played stickball, box ball, wiffle ball, everything. We went ice skating, we went to Roosevelt Stadium, we went roller skating, we made stilts. You don't see these things anymore. You don't see Slinkys, you don't see box cars – we used to go around and build them with milk boxes. You don't even see milk boxes anymore. We had bowling alleys, pool tables. Everybody shot pool.
Now I have my son, Andrew. He's my youngest boy. I have 5 children. Tara is my oldest girl, Michelle is my youngest, and then I have Andrew, my son Jonathan who works for the HCIA, and my son Gregory who just got his Series 7 for Wall Street.
How has it been, seeing Jersey City change so much throughout the years?
Andrew: It's good and bad, in a way. Downtown had a lot of original charm, a lot of it was Spanish. I remember a lot of bodegas down there, and a lot of people aren't there anymore. I'm a real estate agent, and from that perspective, it's great because prices went up and everything is as good as it can be as a real estate agent. At the same time, a lot of people down there can't afford to live down there anymore and it stinks.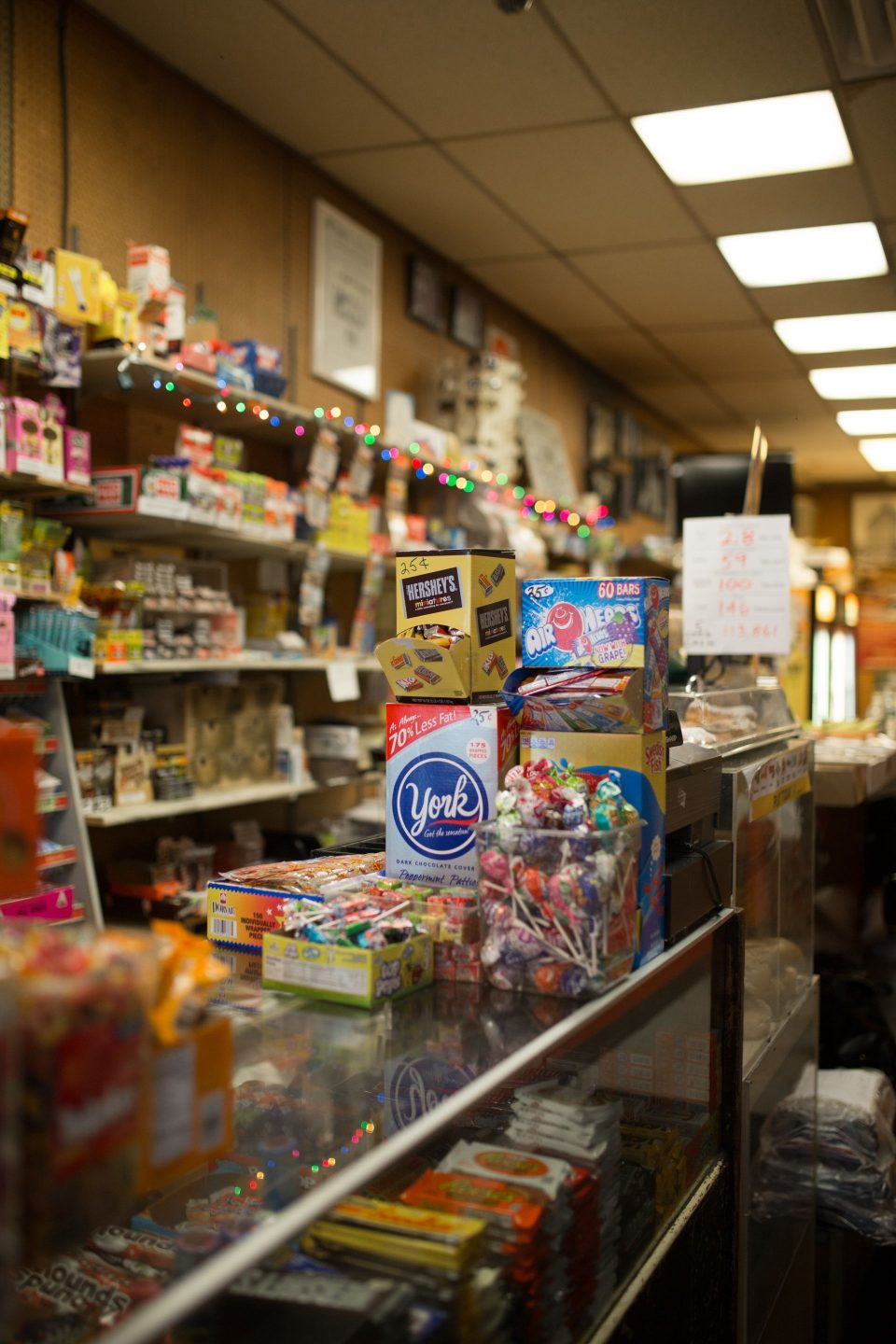 How was the change been on West Side Avenue?
Andrew: I think West Side Avenue is kind of the "Last of the Mohicans" as far as feeling that change. We'll probably feel it in the next 10 years, like with the Bayfront property that's in the works right now. But you see it. We have the light rail station, they're developing and putting lofts down here. We'll be second-to-last to feel the change, with Greenville being the last.
Gary: The thing I don't like about the change is that in the old days, you knew everyone. Now, you don't know anyone.
Andrew: I go Downtown and I don't know anybody. Like I said, it's good in a way because you don't see the same people all the time, but at the same time, you also don't know anyone.
I noticed how diverse the customers are. Can you tell us more about that?
Andrew: It's the most diverse area. It's like the waiting room in Beetlejuice. You've got characters from top to bottom, and it could definitely be a reality show. Especially the morning crew. We've been here for so long, we have the same people coming for the last 30 years.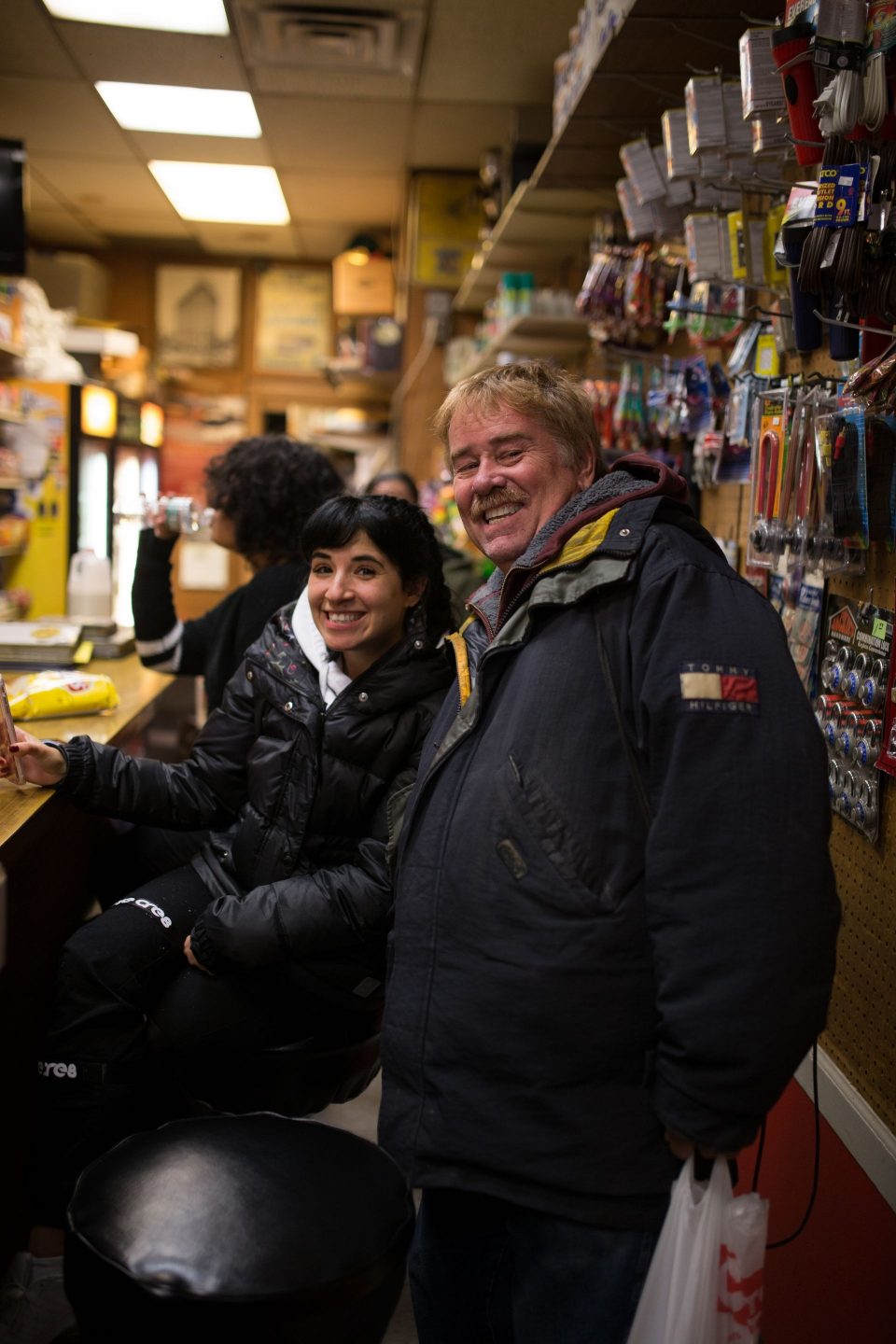 What do people usually come in here for?
Andrew: Anything – a newspaper, coffee, butter rolls. A lot of come in, sit at the counter, and just talk.
Do you guys make food?
Andrew: We're actually working on getting a grill in here to start doing breakfast sandwiches. We currently make butter rolls, toasted butter rolls. We're simple.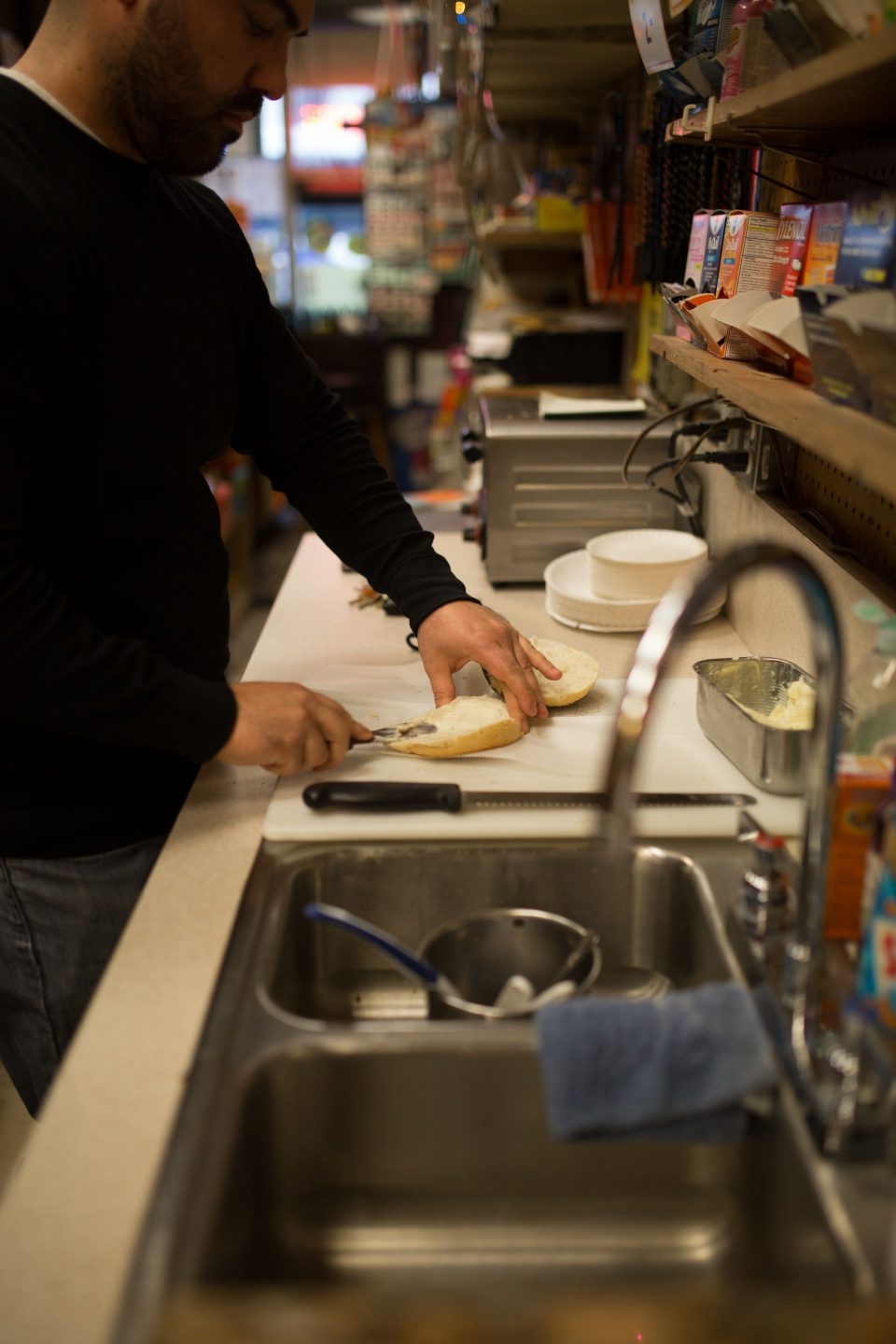 Bread and butter is the best. So do you help your dad out?
Andrew: Yeah. I'm also in real estate on the side. I've been working here since I was 5!
Gary: Let me show you some photos.
When the Devils won the Stanley Cup, they brought it to the sweet shop. 1995.
Andrew: You could also see the video games in the background.
Wow! That's awesome.
Andrew: We had Chazz Palminteri here about a year ago. He stopped in. My uncle gave him one of his first jobs in The Limelight club in New York. My uncle Tommy was the manager. Chazz Palminteri came in here and was hanging out for about 45 minutes.
Gary: He was here for a while. He married my friend's niece!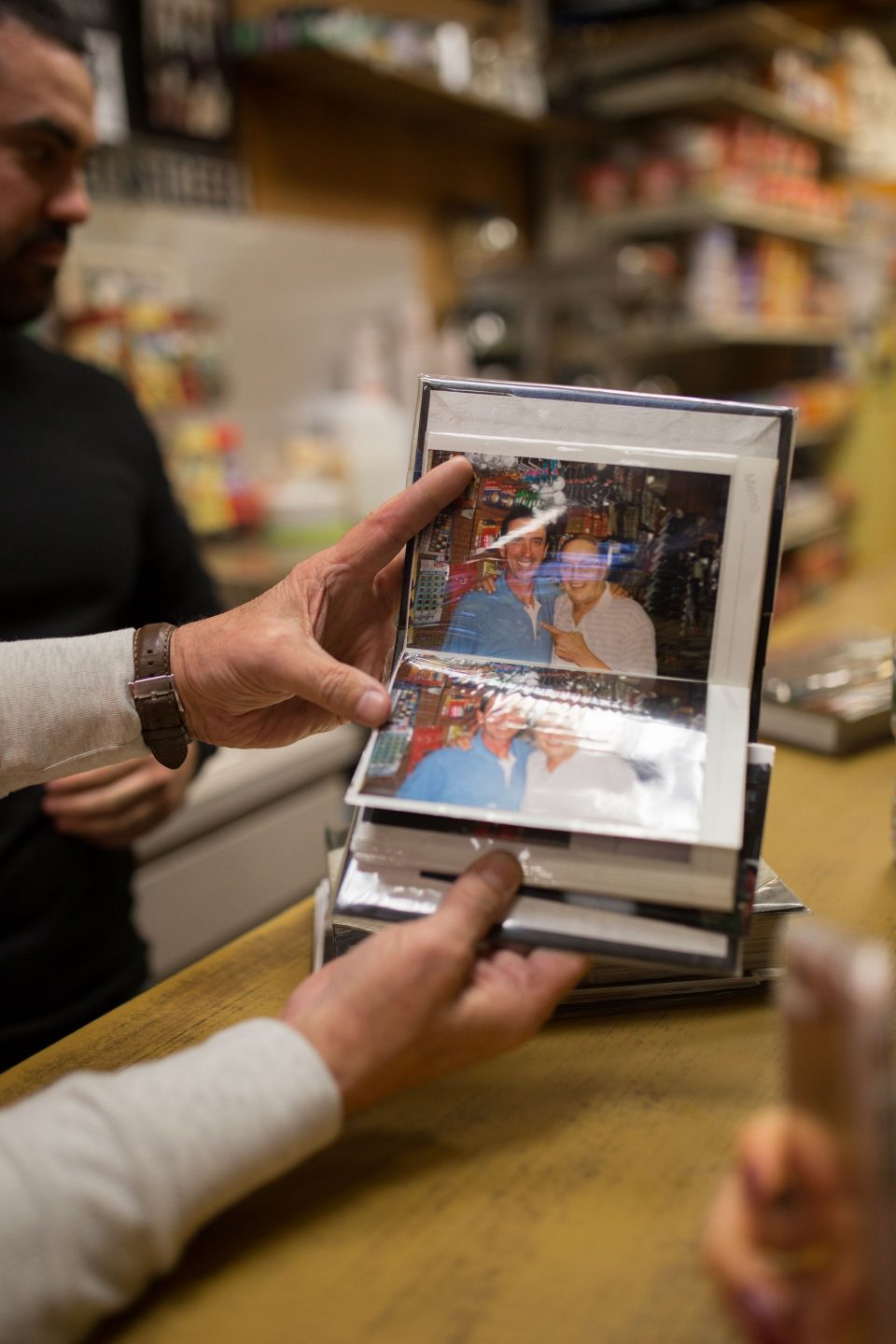 What's your background?
Andrew: Italian and Irish.
I know that there's a large Italian community in Jersey City.
Andrew: Marion was always where the Italians were, but not so much anymore. They were also Downtown, and they hold the Feast everywhere.
Where did you go to school?
Andrew: Hudson Catholic. I was there for two years and actually graduated from Bayonne High School because my mom lived over there. I moved back to Jersey City about 7 years ago.
How do you feel about the change?
Andrew: Like I said, it's a love/hate thing. I remember growing up a certain way, and everything changes. You have to just roll with the punches. You have to improvise. It is what it is. You miss some of the old stores, but there's also some good coming. There are a lot of new opportunities for people.
How often are you here?
Andrew: I'd say about 4 days a week. I grew up here and have stories for days.
Any celebrities we would know?
Gary: Oh yeah, Matt Snell from the NY Jets comes in here almost every day.
Andrew: He's a good guy, and as humble as they come.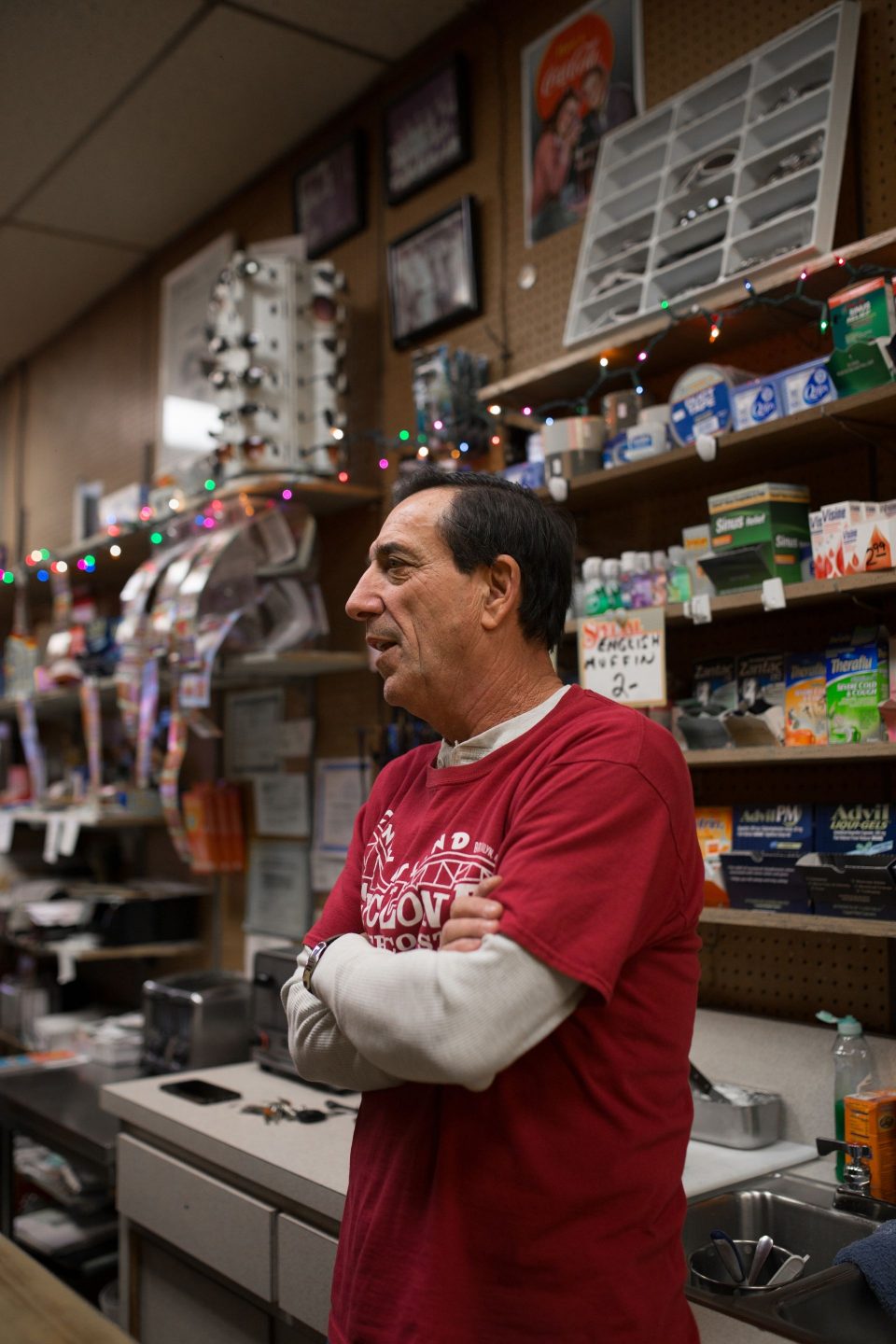 Oh, awesome! Who else? Any lottery winners?
Andrew: Yeah, we've had a Pick 5 winner in here once. We're waiting for the Mega Millions.
Gary: We've had other well-known people around here and I've met some great people. Jim McGreevey was here a couple of weeks ago. Arturo Gatti, Bill O'Dea, Gene Hackman, Bill Murray, Bobby Valentine, James Gandolfini, Dan Aykroyd.
You're like a local celebrity! So tell us more about old school Jersey City.
Gary: It was a neighborhood, everybody knew everybody. It's not a neighborhood anymore, it's just drifted. People are starting to not know who's who.
How has it been owning a business here?
Gary: It's getting a little rough. I'm here at 3:30AM every morning, 7 days a week. I've never missed a day in 45 years.
That's crazy! 
Gary: I've got Cal Ripken's and Lou Gehrig's streak beat.
You never take a day off?
Gary: I do! I do day stuff, not night things.
So what time do you leave, since you're here so early?
Gary: I'm in and out. The kids are here.
What time do you guys close?
Gary: We close at 7PM, and usually Andrew or Jonathan will close. If they have to do something, we'll cover for them or they'll cover for me. We do what we have to do.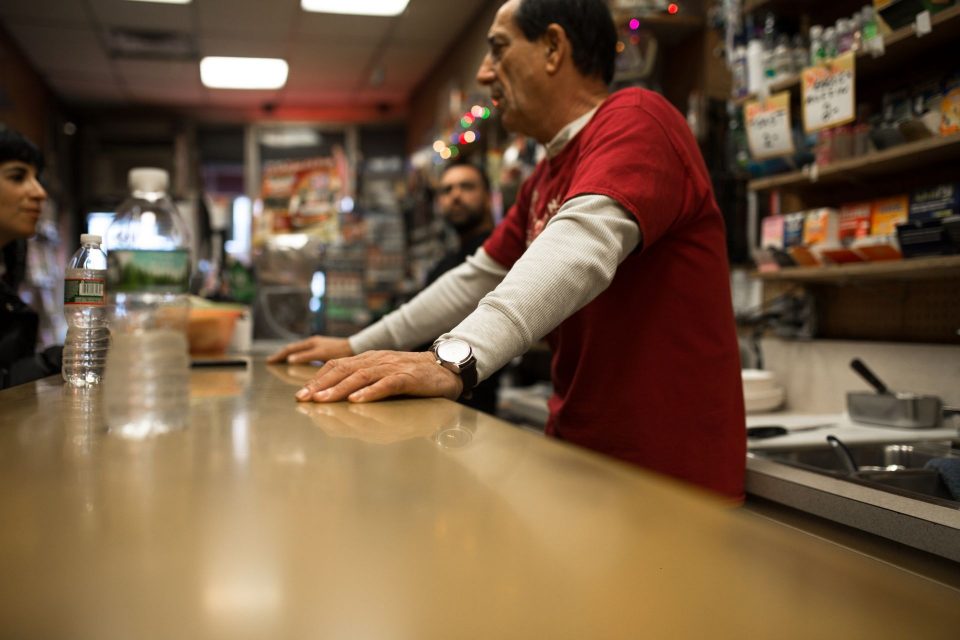 Do you have a favorite Jersey City hangout spot?
Gary: Park Tavern. Laico's. I also like Bella Sorrellas, it used to be Just Sonny's.
Andrew: Speaking of old school Jersey City, Billiard Time on Mallory Ave used to be the place everybody went to. It's not there anymore, but it was a pool hall.
Gary: I won a pool tournament there when I was 16.
Anything else you'd like people to know about you or Gary's Sweet Shoppe?
Gary: Just come. This is like a watering hole. People come from all over.
Andrew: We're like a bar with no alcohol.
Gary: It's packed in the morning. People come in for their coffee, sit down, read the paper, watch TV, we talk. We argue, we fight, we solve the world's problems.
Andrew: A lot of politicians come in here, too.
Gary: They get a feel for things in here. The mayor's been here.
I like that, it's like the unofficial headquarters for Jersey City. 
---
You can find Gary's Sweet Shoppe on 444 West Side Ave. in Jersey City.