After lunch with David the District Manager of Central Ave SID at Noodlefan we went next door to Jersey Cycles to talk to Luca, bossman of the shop. After eating so well, I was tempted to grab a bike and take it out for a ride. This shop has everything you need if you are looking to get started or are a season pro. The guys that work there are also super nice, not pushy and they definitely know what they are talking about. Now go eat those noodles and go for a fun bike ride around Jersey City!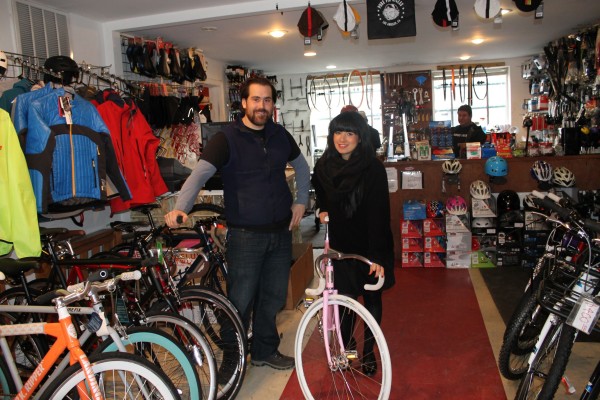 What's your name? Luca
What do you do? I am the manager at Jersey Cycles.
What's the story? We finally brought a bike shop to the heights. I noticed that there weren't that many opportunities for cyclist to get bikes repaired and buy new bikes here in the heights. We specialize in urban bikes, commuting bikes… we do a lot of custom work and a lot of repairs. We do custom fittings for road bikes, shoes, apparel….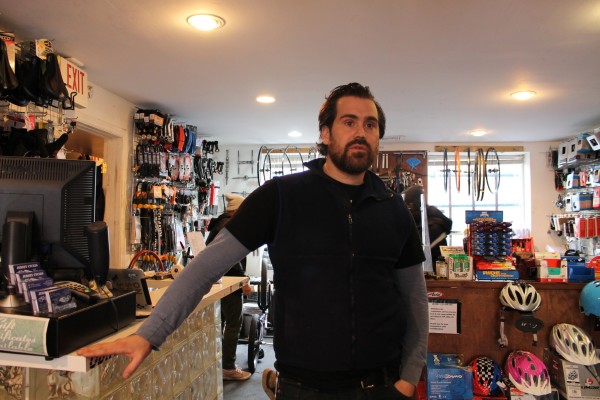 Everything basically! What is your price range? On most adult bikes about $200 and we go from there..
How do you feel about the cycling culture here in Jersey City? When we first moved here, I felt like it was pretty limited. Most of the cyclist around here didn't have a place to repair their bikes or buy anything… it's evolved over the years. We've been here 5 years, the culture has just exploded. We have a lot more commuters and a lot more people who are thinking about bicycles as a way of life. We just got our bike lanes which made a huge dramatic difference… it happened just a few months ago. It was a huge jump in terms of population that are finding safer ways to get to Hoboken, Downtown Jersey City without having to constantly be in traffic.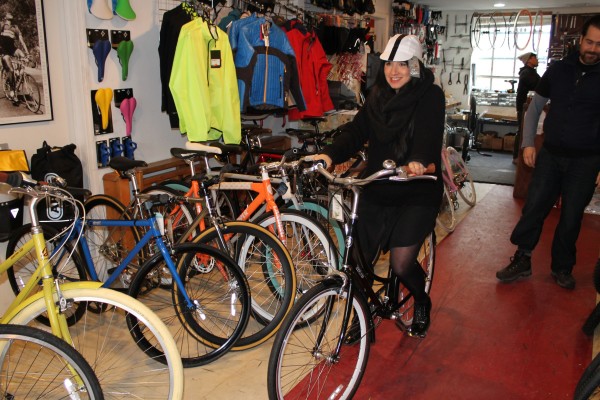 It's also better for the environment… health. After eating at Noodlefan I should be going for a bike ride! Are you from Jersey City? I moved here 14 years ago.
What is your favorite hangout spot? Probably Rumba's down the street!
Yes. $4.95 Breakfast! You can't go wrong with that.
Do you bike every where you go? Pretty much. I raced bicycles since I was in College, I've lived on bicycles for over 20 years.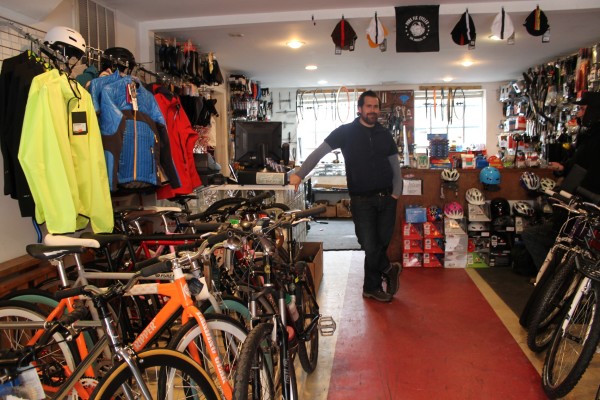 Do you remember your first bicycle? I bought one from Italy, a biancy city bike, But the first one I really bought was an older italian bike I put together myself.
What do you love about cycling? It runs the gamut, It opens a whole new world to people to realize that a commute that used to take them 45 minutes to an hour can take them 15/20 minutes. That is what I enjoy. I like to have the conversation with people and teach them how to lock their bikes properly, where to ride, go for the weekend with a mountain bike or having a nice road bike and telling them where to go….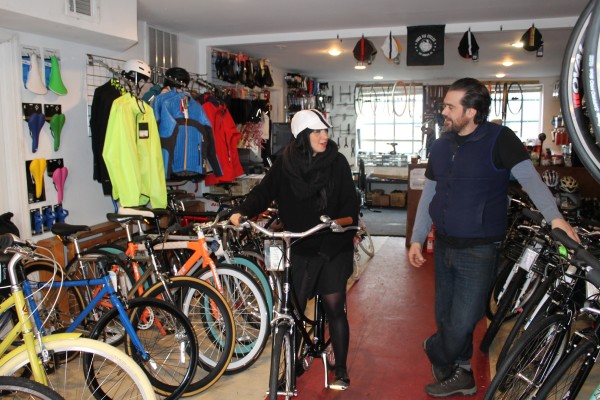 I have a bicycle… but can't ride in the winter. I think most people are like that. Many cyclists now are making that jump where… once you are used to commuting by bike, it's hard to think about not dressing appropriately and riding our bike. People ski, snowboard, ice skate… so you just have to dress appropriately.
5 Tips on buying a bike. Choose wisely, I think the first one I always so is come to a bike shop to get properly fitted for a bike that is huge. Know that you are going to spend a couple bucks more but you are going to get a better investment. Try and find a bike that suits your needs, I think a lot of people listen to what their friends recommend for them and it might not be the best bike for them… If you want a commuting bike get one, if you want a one speed cruiser get that… not everyone wants a racing bike. Stop by a bike shop and hang out, we will give you tips on how to survive the winter… Bike shops are a great place to find the newest innovation. Now there is a huge fat tire trend which is awesome… you have tires that are 4 inches wide and you can ride on sand.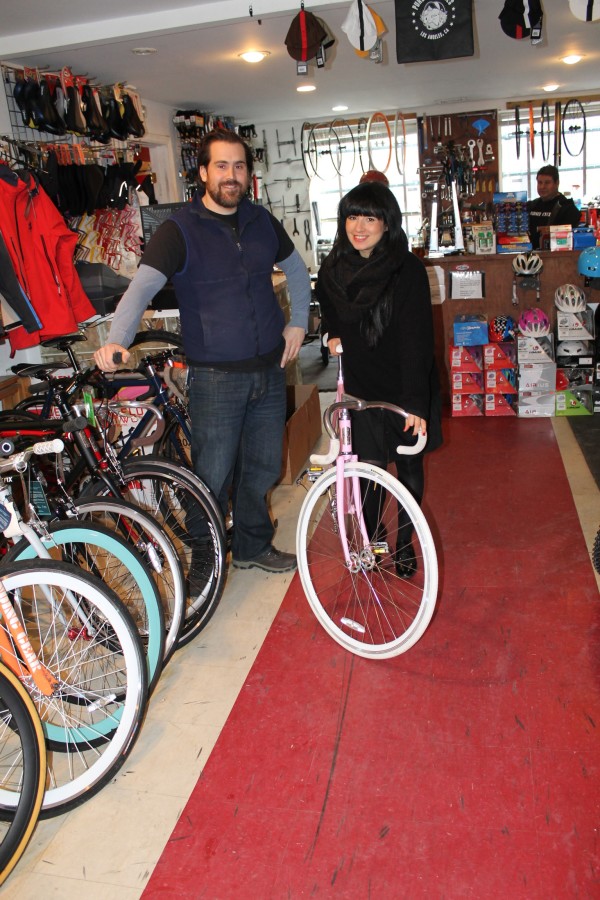 Other than selling bikes do you do anything else? We are a full on bike shop.
Anything you want people to know? We service not only the needs of the Heights, but Downtown, Hoboken and other parts of New Jersey. Once they are used to this kind of environment; we aren't pushy, we know a lot about bikes. Alejandro, my partner, we've both been in the industry for a long time. He's been a team mechanic… his hands touch most of the bikes here.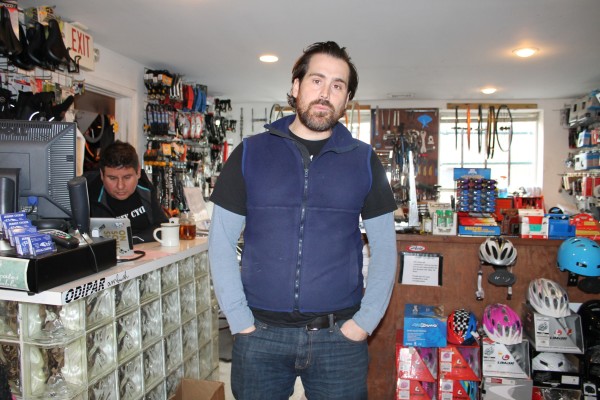 Any other locations? We are thinking about other locations. We really want to invest the time and effort and seeing the evolution of cyclists here…. which has improved alot.
[wc_googlemap title="Jersey Cycles" location="510 Central Ave, Jersey City, New Jersey 07307″ zoom="16″ height="250″ title_on_load="yes" class=""]