Although winter got a slow and mild start that spoiled us for a few weeks, January is here and showing us who is boss. While we tend to wallow in our own misery as our nose feels like it's going to fall off and the wind provides so much resistance we can skip the gym, we need not forget about our favorite pets of Jersey City's needs.
Recently I sat down with Dr. Julie Jones, our go-to source for all things veterinarian care, from Veterinaire Pet Care  in Journal Square. She had a lot to say about how to best take care of our favorite little family members when the weather turns brutal. Here are some easy tips to follow to help keep your pets safe and happy this winter season!
1. A Simple Rule
There's one simple rule of thumb to follow when caring for your pet in the winter according to Dr. Jones.
"If you are cold, your dog (and cat) is probably cold too," she states.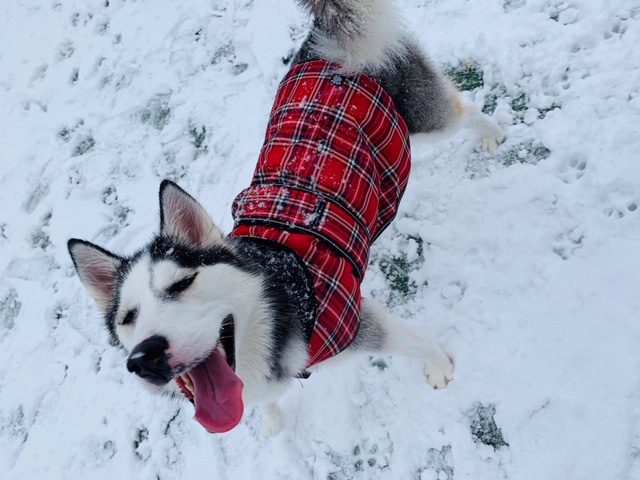 She cautions pet owners to not assume that just because a pet is covered in fur that they are protected from those harsher elements. Aside from a few breeds (we will discuss in a minute), if a human is uncomfortable outside because the temperature is so low, chances are your little Fido is also going to need some protection.
Remember, unlike humans, a lot of dogs' and cats' skin is very exposed to the colder temperatures, snow, and ice. Their entire stomach area, nose, ears, and paws are all susceptible to the weather.
2. Consider Your Breed
When planning how best to keep your pet comfortable throughout this season, Dr. Jones asks pet owners to really consider the breed of the dog. There are definitely dogs such as Siberian Huskies, Alaskan Malamutes, Bernese Mountain dogs, etc. which can tolerate the much more difficult conditions in the winter. These breeds can be outside without extra protection, often thrive playing in the snow, and can spend more time outside in the cold much longer than their other furry friends.
On the flip side, there are several breeds that are going to struggle even more than others because of their size, coat, and distance to the ground. Dachshunds, Chihuahuas, Corgis, and other smaller breeds are probably going to require protection much sooner in the season. Their bodies are much closer to the ground, leaving them exposed to snow and ice on the ground. For example, my dog Felicity, a Chiweenie (Dachshund/Chihuahua mix) will start to need a light shirt or sweater as early as late September.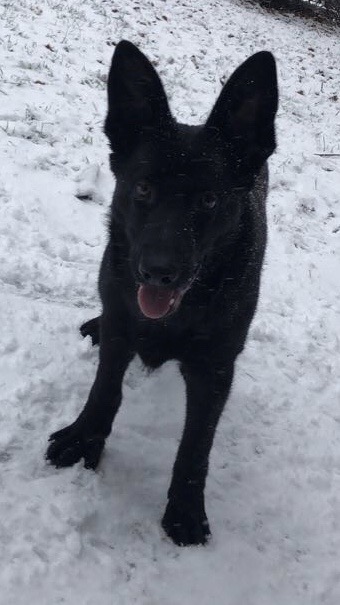 3. Protecting Them From the Elements
As pet owners, your biggest task is to make sure that your pet is protected from the cold, ice, snow, and other potentially harmful situations. When considering how to dress your pet, again refer back to yourself and how you dress yourself in cold weather. Just like humans layer up when hitting the slopes, if your pet risks getting wet in the snow or ice, make sure that their wet clothing isn't directly against their skin and give them multiple layers. Once your pet is wet, he/she will become cold much quicker.
One of the biggest dangers facing your pet in the winter months is the salt that is spread on our sidewalks and streets to help keep ice at bay.
"Pet owners need to be aware that a lot of people don't use pet safe salt and once the salt gets in the paw, it burns," says Dr. Jones.
Dr. Jones says that the best bet, if your dog will allow it, is the booties that are made for dogs in the winter. The booties come in a variety of ways: rubber booties that sort of resemble balloons or fleece lined booties that look more like human boots. They even make little Uggs for dogs, as well. While booties are Dr. Jones' top choice because they provide an actual physical barrier against the salt and ice, some dogs simply refuse to wear them.
If your dog is one of those who stands frozen, refusing to move whenever you try to slip on the weather booties, there are a few options for you to protect those little paws from the salt. One option you have is to apply Vaseline or another similar product like Musher's Secret (recommended by Dr. Jones) to their paws before going outside. This will provide a thin layer of protection against the salt and ice.
After coming back inside, you can also wipe their paws down or even rinse their feet in warm epsom salt water and also apply vitamin E capsules on their dry and cracked paw pads. Another common household product you can apply to rough paws is Aquaphor.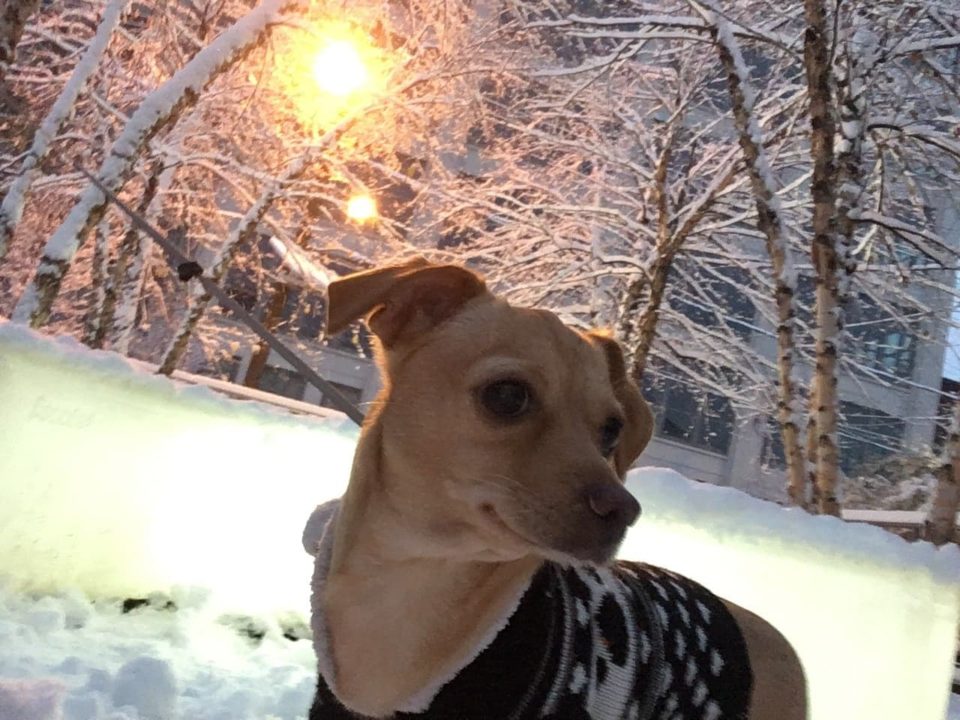 4. Maintain Your Pet's Health
One of the best things you can do is provide your pet with preventative care. Dr. Jones suggest keeping up with annual exams to understand what health issues are going on and to address any potential concerns. Dr. Jones says in particular you need to be aware of animals who suffer from or might be prone to arthritis. The cold and damp weather will aggravate the joints and even make the animal feel more cold. Consider supplements such as fish oil or glucosamine for joint health as well as acupuncture which yields great preventative and therapeutic results.
Another important thing pet owners need to stay on top of is the length of your pets' nails. Because your dog is spending less time playing outside/walking on the concrete, their nails are going to grow faster as they are missing out on this natural method of being filed down. Additionally, keep in mind that longer nails are going to be harder for dogs to manage while walking on ice as they are more likely to slip.
5. Be More Aware
Lastly, it's important that pet owners are overall more aware of their surroundings and their pet's needs and behaviors. If they're shivering, add more layers and shorten walks. Another thing to consider is the dry heat put off might cause dryness in your pets nose and paws. A lot of the same ointments listed above that help protect from the salt can help with this dryness.
It's also important to understand that your dog may gain some weight during the winter months. With shorter outside periods, your dog is simply not getting the same amount of exercise during this time. Dr. Jones says it's perfectly normal for dogs to gain weight when outside time is reduced. You can consider cutting back slightly on the amount of food you're serving your dog to help counter the weight gain.
Holding bowel movements is also common when weather drops significantly as dogs want to hurry back inside instead of scouring outside for the perfect place to go to the bathroom. Dr. Jones states it's important not to be alarmed if they don't go to the bathroom for a few days. If they need to go they'll go.
Finally, pet and non-pet owners alike need to be aware of pet behavior in the winter. Cats are notorious for climbing up under cars for warmth and shelter. It's important to check under your hood or bang on the car to encourage these little ones to scat off before you check your car.
Another thing to be mindful of is that we shouldn't let our pets lick the streets and sidewalks. Antifreeze, which we use in the colder months, oftentimes drips on the street or sidewalks. It's important that we keep dogs from licking these spots on the street as it is highly toxic to their systems.
It's so important that when the temps start dropping, we not only think about ourselves. Being extra mindful of our pets and their needs can keep them healthy and happy all winter long!