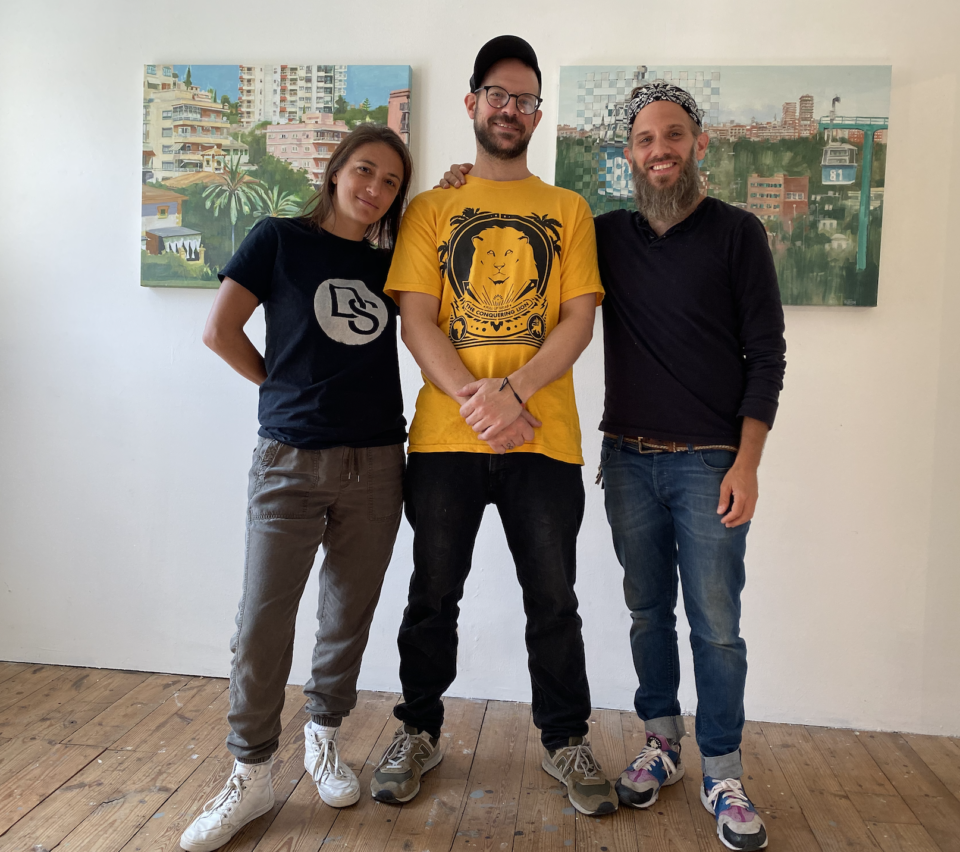 Deep Space Gallery is the most under-rated mini art Mecca located in the Bergen Lafayette neighborhood in Jersey City. They have the most thoughtfully curated art shows and bring in some of the best local and not so local artists into their space. The gallery is run by curator/boss lady Jenna Geiger and stained glass/street artist Keith VanPelt also known as "Dutchman". Whom I've had the pleasure of meeting many years ago at the start of this blog. They are both incredibly talented souls with a true passion for bringing affordable unique art to the community, while also providing a non-judgmental open space for anyone who enjoys art.
They recently invited me to come check out a new show they were preparing for, featuring artist Ru8icon1. When I walked into the gallery, they were all hard at work hanging all the pieces and getting ready for opening night. I had the chance to sit with Ru8icon1 to hear his story.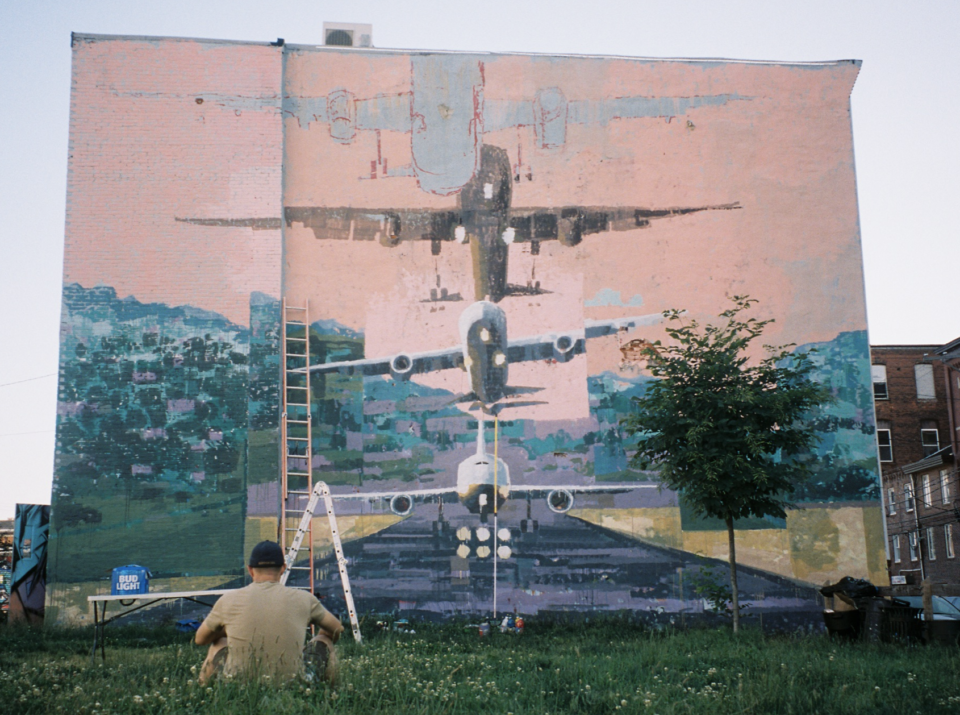 I really love my job. I know I say this alot, but the sheer fact that I get to meet these inspiring people and get to tell their stories keeps me going.
What's your name?
I sign RU8ICON1.
Why RU8ICON1?
It's a name I picked for myself years ago when I decided to get into this game. It's from the expression "crossing the Rubicon," which means "past the point of no return." That was a point in my life when I decided to dedicate myself to art. I was all in.
Where are you originally from?
I'm from Maine.
And you're visiting from Barcelona?
Yeah, I've been living in Spain for about 11 years.
What brought you to Barcelona?
Just crazy life things. I moved to Spain in 2008. I was in Madrid, lived there for 5 years. I had a kid and moved there when he was young, and then I ended up staying.
So how did you get started with art? What's your story?
I'm from an artistic family, so I've been doing this my whole life. I never really considered doing anything else. I went to art school, started making paintings after school and looked into that stuff. I got disillusioned with the gallery scene, just feeling isolated with working alone in a studio with the eventual hope of maybe someday being able to present my work to just a few people.
I can tell you're classically trained. I'm always intrigued by street artists that have a fine art background, like Distort. Tell me about that transition.
After art school, I had always thought about painting walls and things, but there was no graffiti scene in Maine so I was always watching the scene in New York and other places from afar. I remember going to New York in '83 with my parents and seeing the trains and trucks, and just being blown away by it all but not having the context. When I grew up and had more abilities, I would look for opportunities to paint walls around where I was from, like commissions from little restaurants or bars, but there really wasn't a graffiti scene. I didn't get into that until I moved to Spain in 2008. I met some street artists and made some wheat pastes, going all over Madrid and exploring that side of things. This was after sort of getting frustrated with painting canvases. It seemed like a way to express myself artistically, but in a way that was active and current. You could comment on things that were actually happening and collaborate with other artists, and be a part of something bigger. That got me re-inspired and then from there, I've come back to trying to make paintings again but the two things balance each other out. You've got paintings on canvas where you can focus on your ideas with all the time you want, and then the murals which give you a place to create a fanbase or get your name out there and collaborate with other people, and interact with the community on a larger scale. With murals, you have a limited timeframe to complete them so there's less back and forth with your ideas, you just have to pick something and execute it.
How would you define your style?
It's representational, I almost always draw people or things.
Are they people who you've met or are inspired by?
Yeah; if not met, at least seen. They're usually from experiences in my life or places I've been. All of the work I'm currently showing at Deep Space has been made over the course of a year, so there's a lot of different experiences and contexts in there, but they're all tied together through me. I'm the singular perspective that draws them all together.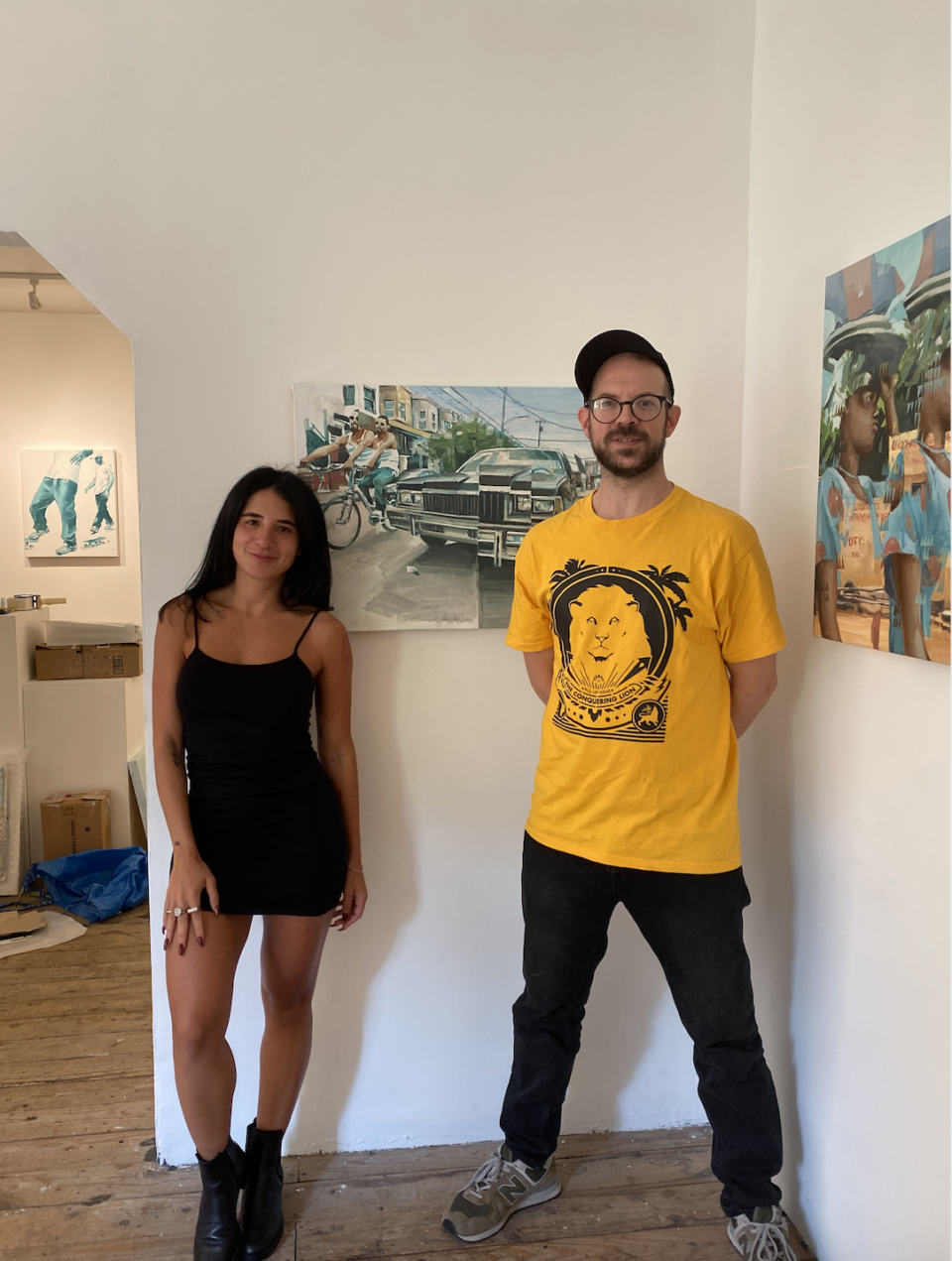 Tell me more about your show at Deep Space.
The show is called Jewel Box, and that's got a few meanings to it. First and foremost, when I try to make a painting – and this goes back to when I first started to make paintings – it's interesting to me when all of the colors, marks, and brush strokes all sort of balance together to make a really nice mosaic. A jewel-like, beautiful thing. It's all balanced and has some life that goes through it, and you can keep looking at it and see new things. That's what has always been interesting to me. It's sort of a metaphor within a metaphor in this show because the subject matter of the work is pretty much every day common people doing sort of boring things, traveling, passing through. By framing them correctly and putting the pieces together in such a way, they become precious in my eyes. Like jewels gathered together in a jewel box, shiny and precious, I want the imagery in my paintings to shine as well. Come check out my show at Deep Space — the Closing Reception is on Thursday, October 24th, from 6-10pm. I'll be giving an Artist Talk that evening at 9pm. It's free and open to all.
I totally see that. I walked in and was amazed. How did you end up in Jersey City?
A few years ago, I was in Philly thinking about coming back to the states from Europe. I settled in Philly for a while and had done a bunch of murals. Keith and Jenna from Deep Space Gallery saw my stuff and reached out to me, so I came and visited. We did a couple of little collaborations, I participated in some group shows, and then we organized a solo show two years ago. Now I'm back for my second solo show with them.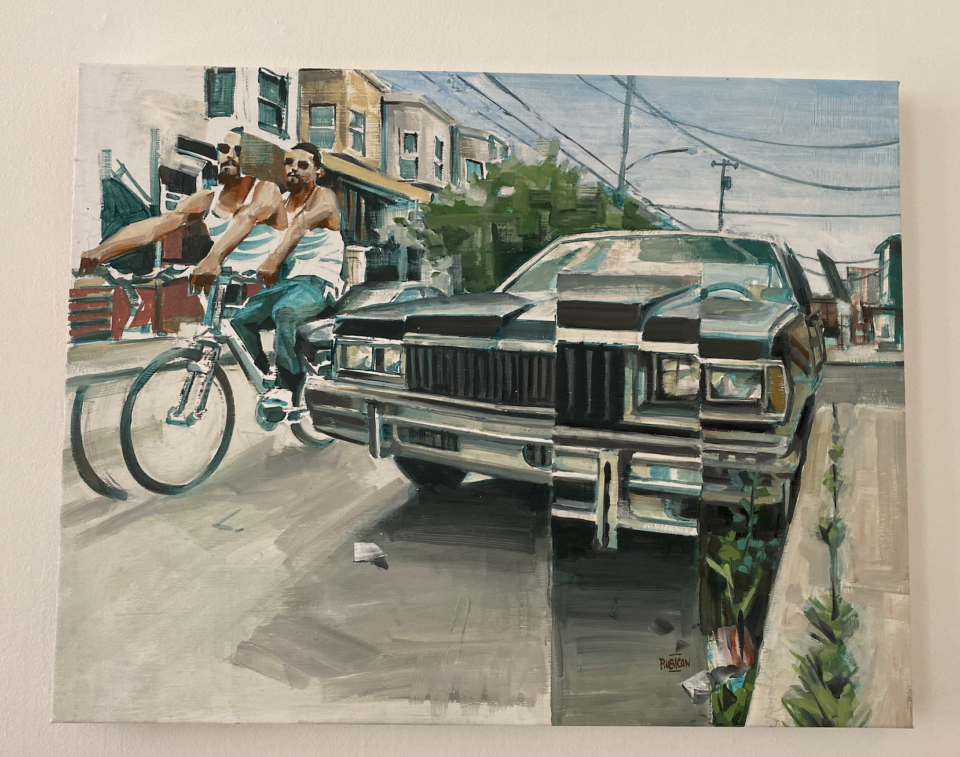 How do you like Jersey City?
I like it a lot.
And you're working on a mural.
I am! Right now, I'm painting a mural right by the Holland Tunnel, on a panel on the Buy- Rite building. Time permitting on this trip, I also have a chance to paint something in Bushwick towards the end of the month. I've painted 4 murals in Jersey City already, I don't think any of them are still up.
They come and go – that's street art. How does that feel, as an artist?
It's fine at first, but it gets a little frustrating. I don't mind people going over each other, that's part of it. It's just nice when things last, that's all.
From all your traveling and painting, what do you feel is the city that has the best murals and street art?
It's interesting to compare the US with Europe. Especially in the New York area, people are very proud of the street art, heritage and graffiti roots, all that. It's gotten very hard to paint in the area – well, New York mainly – because there's not a lot of space, a lot of competition, a lot of hustle, nobody's getting paid. Whereas in Spain, no one's getting paid either, but there's a lot more collaboration and openness. There's more space to paint, you can paint any day of the week, and the work there is at a higher caliber. People are a lot more careful with their work and there's a lot of experimentation, collaboration, and people come up with amazing things. But what it doesn't have is that grit that East Coast graffiti has.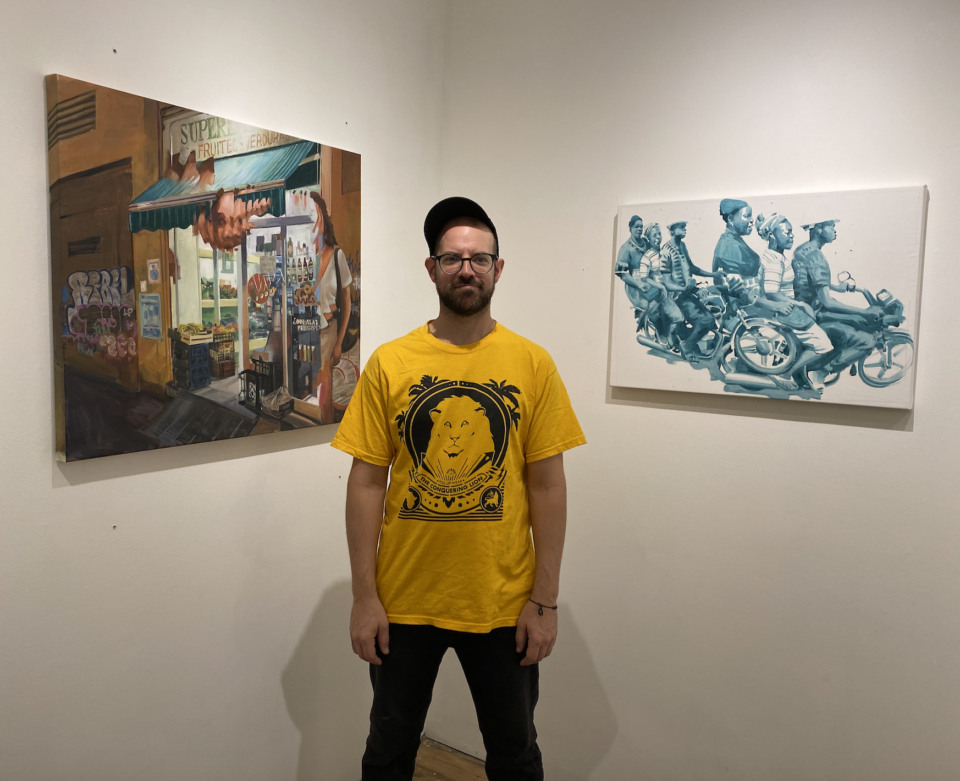 Have you been to Montreal and checked out those murals?
I have. These days, everything's different because there's a whole scene of traveling muralists and festivals.
I grew up in Montreal and that's where I started getting into street art. I would go to Under Pressure and fell in love with it. I remember being intrigued by street art, and I also come from a family that collected art. I always find it interesting to meet artists like yourself that have this fine art background and graffiti.
That's the most interesting thing going on. Contemporary art is so subjective and everybody's telling you what you're supposed to like and why. There's a million concepts and you've got to read 10 paragraphs to understand the art. Street art is immediate, people either like it or they don't. If they don't like it, it gets buffed. You have to be real about it. Painting in the street has made me a better and a more interesting painter, no doubt about it.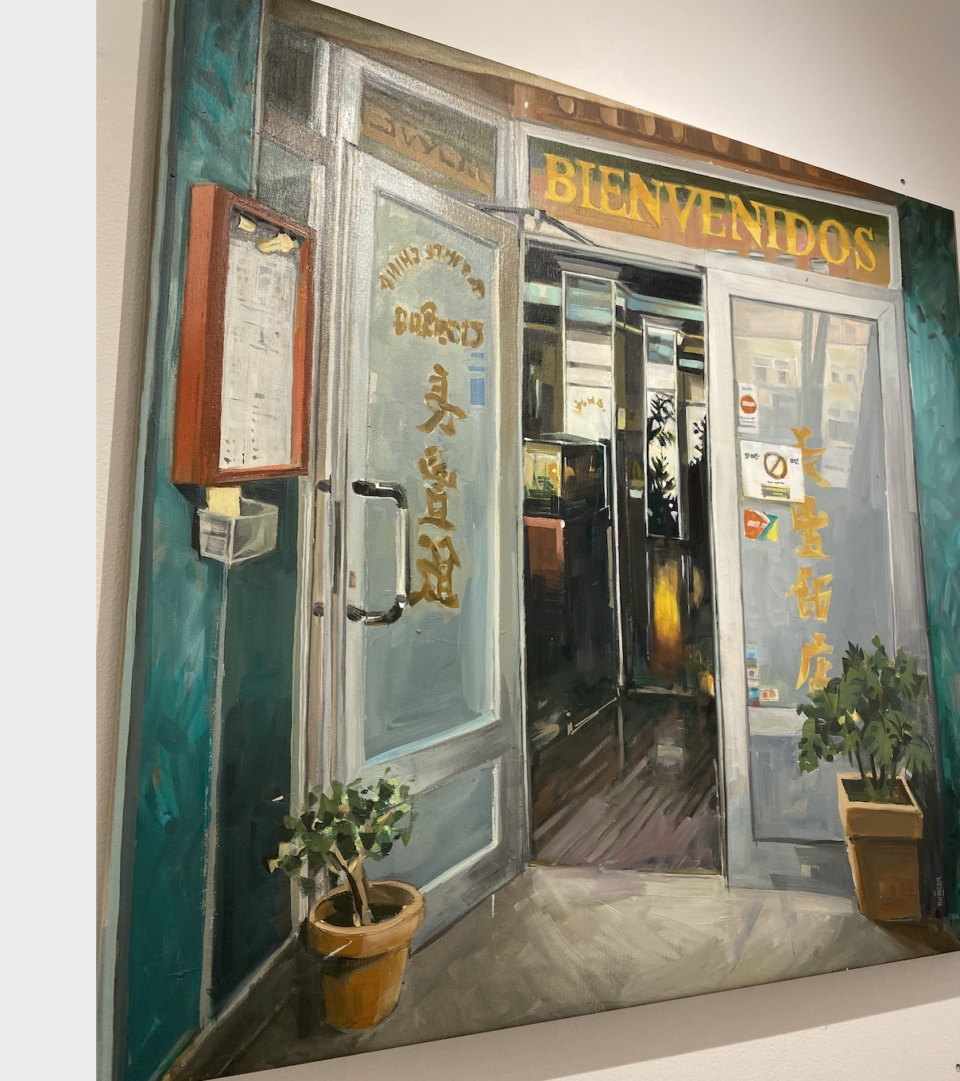 What do you do for fun?
Paint. I'm a one trick pony, I guess. I hang out with friends and paint, talk about painting, go out.
Does your kid paint?
Yeah, he draws and paints. He's a master with technology.
How long will you be in Jersey City?
About a month.
Where can people find you?
People can find me on Instagram – @ru8icon1. I also have a website – rubicon1.org