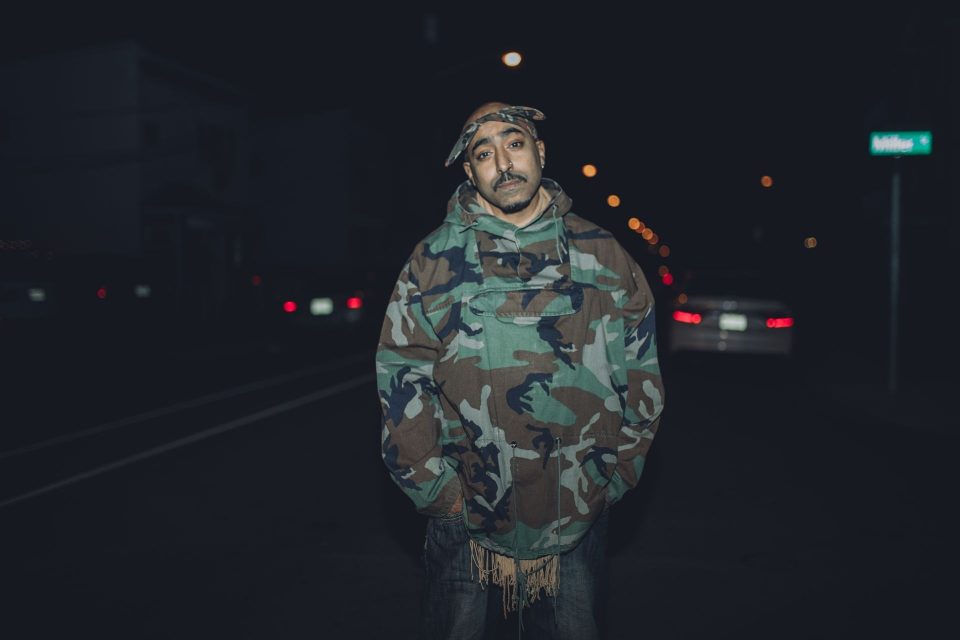 Richard Garcia aka Thug Angel aka Jersey City's Tupac is a local legend. Years before I started ChicpeaJC, I spotted him and thought I saw a ghost… I looked back and said to myself, "It's true, all those conspiracy theories are true, Tupac is alive and he lives in Jersey City." I went home and googled "Tupac and Jersey City" and soon found out that Richard Garcia, a Tupac impersonator, lives in JC. After reading about him, I had this feeling in my gut that I would meet him one day.
Fast forward to post-ChicpeaJC. I found him and started following his journey on social media. Early in my blogging career, I felt like I wasn't worthy yet to get a sit-down with him. A few months ago, I reached out and he invited me to his apartment.
It was almost eerie, sitting down with him. I've never met Tupac, but I'm a 90s kid and have watched countless interviews with Tupac and studied all his albums (I am a huge Biggie fan, so I would always get into arguments on who was the better lyricist). Richard talks like him, moves like him, sounds like him and looks exactly like him. It's wild.
Getting to know Richard Garcia was an experience I will never forget. He is definitely one of the most interesting people I've ever met.
---
What's your name?
Richard Garcia.
What do you do?
Numerous things. I'm a Jersey City Board of Ed substitute teacher and have been for 13 years, I spent 25 years with Pathmark and the past year with ACME, I'm a Tupac Shakur tribute artist, and I'm also an actor.
You look exactly like him! It's crazy.
It is crazy! I've been doing it since I was 14, 15 years old.
Did you meet Tupac?
No, unfortunately I never got the chance to meet him, but I did meet his mother and father.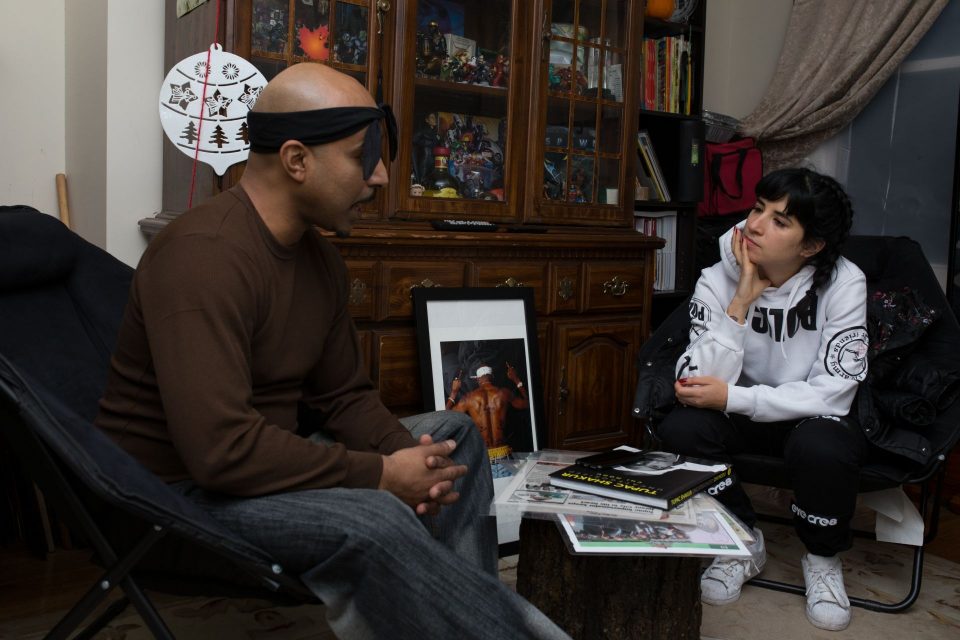 So you always looked like him?
Yeah.
When did you say, "I'm going to start impersonating him?"
I didn't really want to do anything like that. It just happened on its own. I would just listen to his music and found the lyrics captivating. It was spiritual to me, and it was almost mesmerizing. Once I started listening to his music, I started looking like him. When he passed, a lot of things started changing for me.
Can you tell me more about that?
When he was alive, I started "filling in spaces," I would like to say. When he passed, people were telling me to take up his mantra. I was like, "What do you mean?" They told me to keep doing what he was doing. He was a political person, and that's what he got out of his parents. Both his mother and father are original Black Panthers. I like to tell people that Tupac was a political activist and had he still been alive today, he would've been in politics.
Did you ever start rapping?
I have things on YouTube under Richard Garcia Tupac Shakur Tribute Artist with stuff that I've done way before. When you're in your 20s and 30s, everybody wants to hit the studio and be a rapper, everybody has dreams. So I was doing that, I was writing original music and doing tons of stuff with friends. We made a couple of songs, but I always kept doing the typical Tupac ad libs. We would make our own little YouTube videos to Pac's music for fun. Everything I did was just for fun, fan-made. I know I can't be Tupac. I'm not about that life. Pac wasn't even about that life. Me and my buddies were just having fun with it.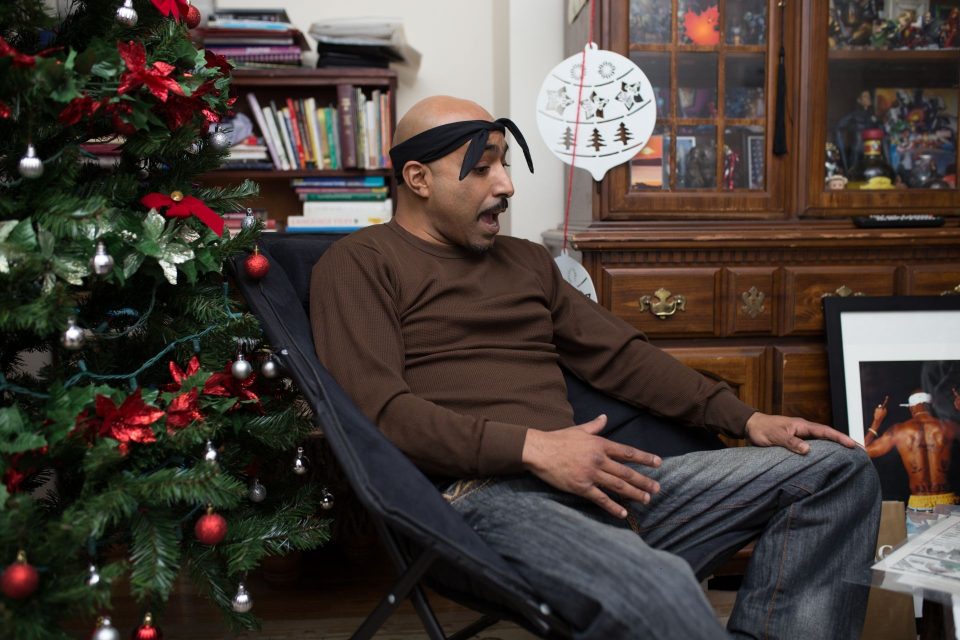 How did you turn it into a business, being a Tupac impersonator?
I was running with the Tupac thing since I was 15, and I was getting tons of girls with it. Then I started having kids and baby mothers. I have 3, and they're all cool. I was with one of them for 5 years, another one for 2 months, and another one for 6 years. They would get jealous and tell me I'm not Tupac.
There was one time we were at Six Flags and some girl was staring at me, and my ex called her out. I couldn't really do anything with it as I wanted to when I was with them because it was almost forbidden. When I met my wife, the reason why she's my wife is because she didn't know who Tupac was. My exes were based on Tupac. When I met her, she was like, "Who's Tupac?" She was at NJCU, I was a little older, I was going through a breakup, and then we got together. She didn't get with me because of Tupac, she was with me for Richard Garcia. A lot of people tell me to be myself, but I'm myself more than you think. I'm all into Marvel, I'm a big Marvel fan and I've got memorabilia up the kazoo.
I'm like a big kid, I like wrestling, I watch WWE. I'm political, and where I stand is very different from other people. There's always two sides to a story, so you have to listen to both sides before you judge. I truly believe I've evolved, and why it didn't happen before is because I was with people who did not want that in my life. Now, I'm much older and more mature, and I see so many things wrong with the industry. It opened my eyes, and now I'm taking it to the classrooms and teaching the students. I tell them what really happens on set. I do acting as an extra, but all this really started happening when my wife bought me a plane ticket to meet Afeni Shakur. Rappers and even managers of rappers even tell me, "How do you have the audacity to do what you do?" Well, his mother okayed it.
You went to speak to her?
Yeah, I have pictures with her. I met her on my birthday, which I found out was also Tupac's birthday. It's weird because I was just telling people I'd meet his mom one day. We went down to Stone Mountain, Georgia and I met her. I had this paper in an envelope and I'm handing it to her bodyguard, and she told the bodyguard to let me through. She already knew what I was there for. We hugged each other and started talking.
When she saw you, did she say anything?
She started crying. We got real emotional. I introduced my wife to Afeni and Afeni said, "You're living my son's dream because he wanted to marry an Egyptian woman." I wish I could've stayed more and talked to her more. Prior to me meeting Afeni, I met Tupac Shakur's biological father. His father, Billy Garland, works for the Jersey City Incinerator. He's a street sweeper in Jersey City. I met him way before.
How did you find him?
That's the funny thing – I'm walking into Pathmark on 440 in 2009 and, next thing you know, he looks at me and I look at him. Ever since, we've been buddies. He came inside my life and showed me a lot of stuff. He gave me letters from fans when he was locked up and cards written by Tupac. I also met Takerra Allen, Tupac's half-sister by her father, and she writes book. She wrote a book called Thicker Than Water. She still writes, and she's in Linden.
I was in all these different newspapers. It was weird, things just kept happening and happening.
It's like it was meant to be. How did you feel when he passed away?
When he passed away, I was living in Massachusetts and I was sleeping. My ex woke me up and told me Pac died. I didn't have the money to fly to Vegas, so I had my own little memorial at home. Again, things were only settling in at the time, it wasn't this far.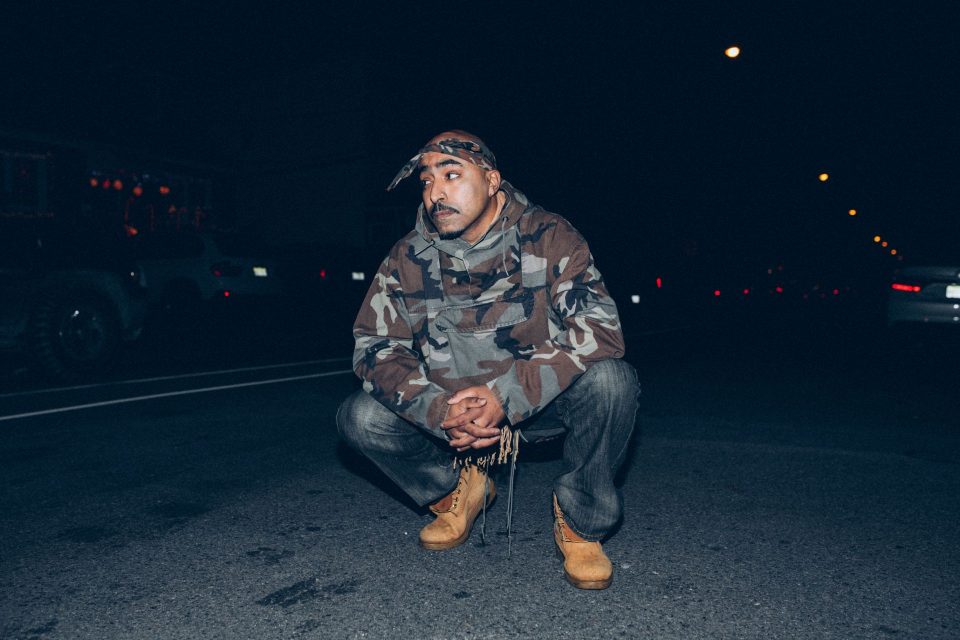 How do people react to you when they see you on the street?
A lot of people tell me I sound like Pac, act like him, and look like him. Some of them say that I have a different vibe in the classroom. In all schools that I work in, I was with troubled children. I have 7 kids; I raise 3 on my own. My wife and my exes help me, but with the 3 boys, you don't see them here because they're all independent. I'm military-minded, like Pac's mom. She instilled that in his brain. There's time when I'm on the highway and get pulled over by state troopers, and they'll say, "I'm sorry for pulling you over, I just need a picture." They're so surprised. I'll take photos with state troopers, lawyer, judges, whoever. Sometimes, I get pulled over and troopers will tell me, "You know, his mother's a cop killer." And we'll talk about it and I explain the truth to them.
Do you know everything about Tupac and his life?
Most of it, I do know because of the information that people give me. The people that have come into my life don't even last sometimes. Tupac's bodyguard Frank Alexander basically told me what to hold back, what to push out on the Internet, not to put too much out at one time, be patient. He was telling me how the hip hop industry has changed dramatically, and he was the one who made the movie saying Suge Knight had Pac killed, and Frank died 6 months later. They said he committed suicide, but I truly don't believe that because he was sending me stuff from the Bible, talking about God, and he was so happy to be a grandfather.
I feel like with the murder of Tupac and the murder of Biggie, there's a lot of conspiracy theories. I've actually interviewed local people, like Ernie P.
They were best friends.
So why was there beef between both of them?
The industry put them against each other. There's something that I was told – that Pac walked up to Big backstage at a concert and told him to keep it going. They were only doing it for a show, but when you have other people who are real life gangsters in your life… In the movie coming out, Maino plays one of the guys who shoots Tupac, and one thing he says rings bells in my head: "This ain't a rap video, this is real life shit." I know people who do it, and we all have friends or are related to people who do it. I may not look like him, but I have to keep his mentality. I don't respond to hate or certain individuals that I know I'd across to. I'm not trying to be somebody. If anything, I'm bringing it to a positive light like his mother told me. She said to just keep him in a positive light.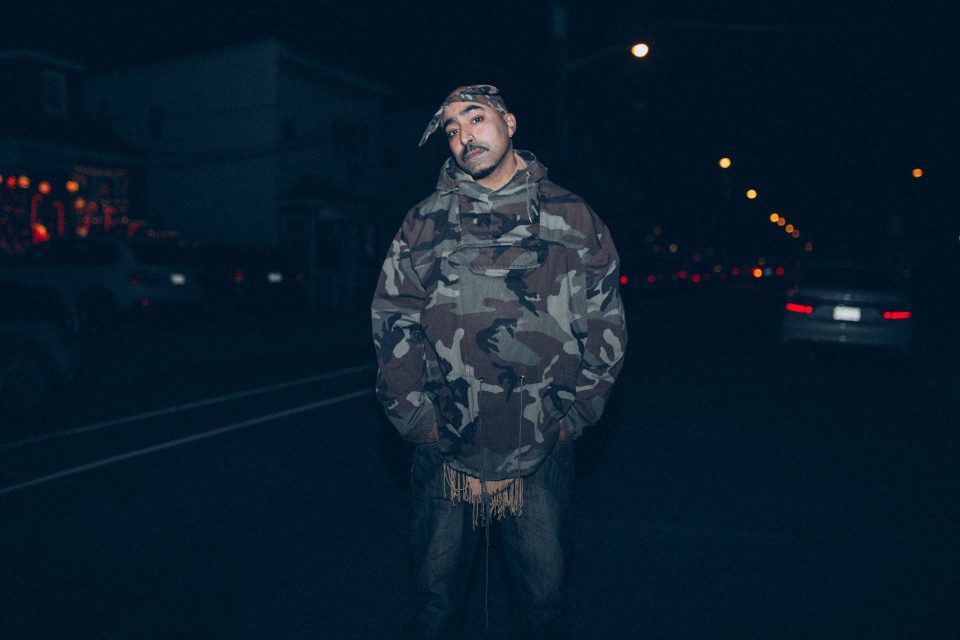 There's one thing everybody asks me, or the mom, or the father, and I'm just going to tell you – Tupac is dead. He is not alive, he's not in Cuba. His mother told me to tell people he lives through his music, his art, and others. Another thing I noticed about it is when I was in Summer Jam 2010, I started meeting rappers and I've seen people who really came close to Tupac, like Busta Rhymes. He turned white when he saw me and left. He couldn't deal with it. I have people in my life that would tell me to think about what I do to other people. I have a friend right now and every time I see him, I get choked up because he looks like a good friend of mine that died to gun violence. I know how I must make other people feel when they see me.
Another person I met was Leila Steinberg, who's a very cool person and she actually came to meet me. We talked and I rapped for her, and I sensed something spiritual there. I hang out with other Tupac guys, like Kevonne Wright is one of my friends and Damario Brown. There's a bunch of us. We all love one another and we have respect for it. We're not trying to be better than anybody. We've talked about the movie. I'm praying the movie does well and gives a good story, but I'm sure there'll be other movies. Pac's mother told me, "You might not get the first movie but you will be in a movie. I see it happening." My wife was there, she knows and she's my proof. She was even surprised. There's even a Dogg Pound for Life film. There's a Suge Knight movie.
Did you ever meet Snoop?
I've never meet Snoop. I hang with a Snoop Dogg look-alike. He's from Camden, and he asked me to come out to Camden to talk about Stop the Violence. Actual gang members came out and showed love. I played Tupac post-mortem in a Troy Ave video with Wyclef Jean and TMZ asked me about it, and I told them I did the video to stop gang violence, to stop the senseless killing. That's what Pac wanted, and I feel that. His father backs me up and his mother backed me up. Even with them, they couldn't secure me a role for the film. I'm going to keep it real – I'm an actor, I know what it is to never get called back. Don't give up. My publicist got me on MTV, and I originally didn't want to do the Wyclef Jean video but my publicist pushed me to do it. She used to work at Jive Records, and she worked with R Kelly.
Are there any interesting stories you can remember from the early days?
I went to Vegas, was there for 48 hours, and didn't sleep. I was once sitting in Caesar's Palace, in Vegas all by myself, and I met a Michael Jackson look-alike. I work with Michael Jackson impersonators out here, but this guy Santana Jackson…I was just walking in the Strip and people were handing me money. I was confused, and they were like, "Yo, spit something." So I spit it, there's $20. Santana had his speaker out there, we're on the Strip, and he's out there dancing and doing his Michael Jackson moves. He puts Tupac's music on the next thing you know, I'm out there doing Hail Mary. People started coming, throwing money in the basket, so I walked away with about $70 that night in less than an hour.  I didn't think dreams could come true, but when I went to Las Vegas, things started happening and Vegas found me.
I remember, I would be in Pathmark when I first started doing this stuff, and I would write my name Richie Garcia and all my information on a piece of paper, and give it to the customers. Then I eventually started to print them out and cut them into little cards. Sure enough, I started getting my own cards and giving my cards out. I always tell people, you must have a card. You must put yourself out there.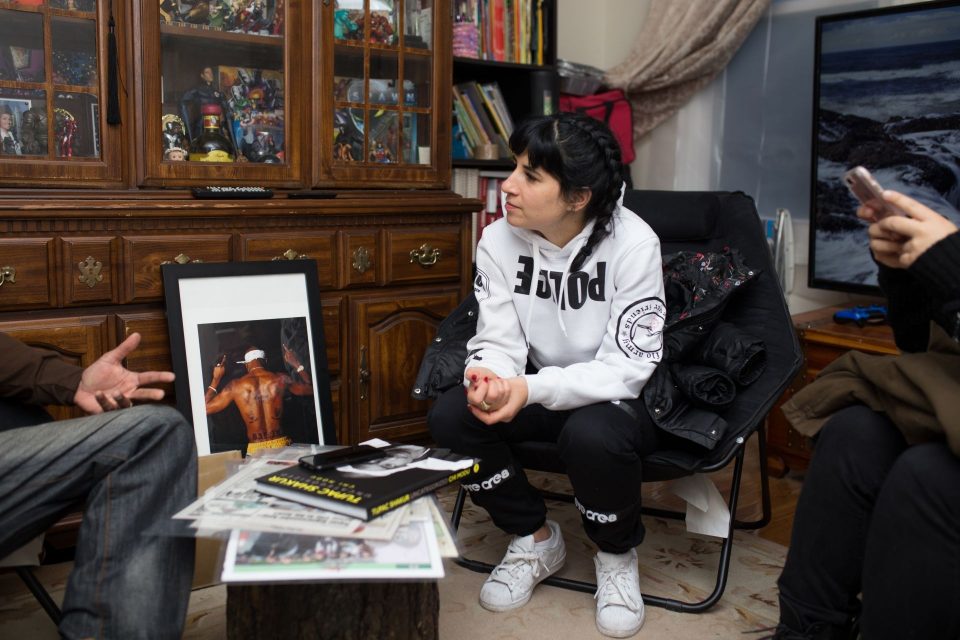 Now, let me tell you about the movie. The Tupac Shakur movie was given to the first person, Antoine Fuqua. Antoine Fuqua made Training Day and The Magnificent Seven. He was doing the Tupac movie and auditioned for that. They were supposed to get back to me. Then they had some mix up in the script, kicked out Antoine, and brought in John Singleton. John Singleton's team said I couldn't be Tupac because I'm not black and I'm not 25 years old. I found out other people who were auditioning were overage and they were black, and they were letting them do it. They got into a big beef about the movie and John Singleton was out. Then came Carl Franklin. They went through three directors for this. He left because everyone was arguing about the script, so they gave it to Benny Boom, who did documentaries and music videos. Now a lot of people think it might not be a good movie or it could be…they don't know. Then the licensing went belly flop, and I was told by close sources that after the movie was filmed, Afeni told the directors, "Good luck! You made the movie, good luck using the music in the movie because I'm not going to let the music be in it." Three days later, she's dead. That happened in 2016. My advice to new actors – I'm not trying to kill your shine or kill your vibe. I'm keeping it 100 with you. My advice is to keep doing what you're doing, but understand that in this business, it's all about who you know, who you're related to, and who you're willing blow. The guy who's currently playing Tupac, his father worked on "Toss It Up." He was already in, he already got his team. Now you have me – I'm against all odds, I'm Hispanic, I look black, and I don't know anyone. The only one I knew who could have helped was his father and his mother, but his father is cut out on all the things because Afeni made it that way. What I decided to do was that they could do their movie, and it could flop or it could not, but you only do the movie one time.
A lot of people ask me about the hate. I get the hate.
How long have you been in Jersey City?
I've been in Jersey City for a good 20 years.
Do you have a favorite Jersey City hangout spot?
Home. I'm a home person. I don't want to cause any trouble or see any of my friends drinking. We hangout here a lot.
I guess I shouldn't ask, but who do you prefer – Biggie or Tupac?
I love them both! It's more Pac, of course.
How do you feel hip hop is now compared to before?
Hip hop today is watered down. Hip hop was at its peak in the 80s and 90s, and after Biggie and Tupac died, it just went down. A lot of the main rappers either went underground or became producers. If you ask me, I would tell you Jay-Z is the President of Hip Hop. Kanye West is like the Vice President, and I think he's intelligent and trying to do a whole different thing. I'm just observing.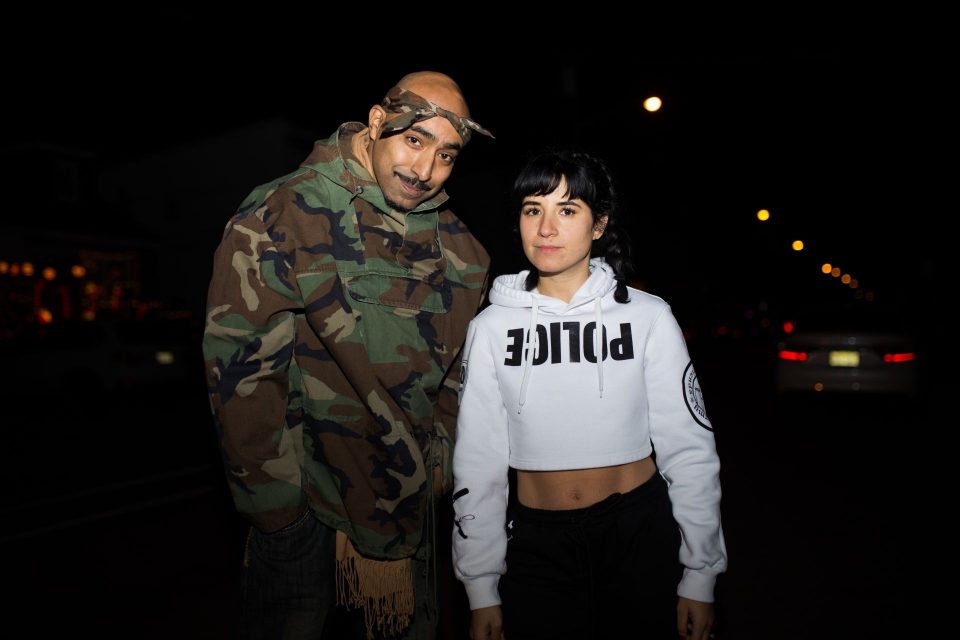 ---