Updated April 6, 2020
So incredibly sad. Jersey City Councilperson Michael Yun has passed away from COVID-19 related complications. He was a proud family man, business owner, and Jersey City advocate. He wore the cutest bowties. I had the honor of interviewing him a few years ago. Rest in peace, Councilman Yun.
It's w/a heavy heart that we share that Councilman Yun has passed away. He was a great co worker and a tireless advocate for the people of #JerseyCity – More than that he was a great father, husband, and grandfather. I can speak for the entire JC community that we are devastated

— Steven Fulop (@StevenFulop) April 6, 2020
Originally published November 17, 2015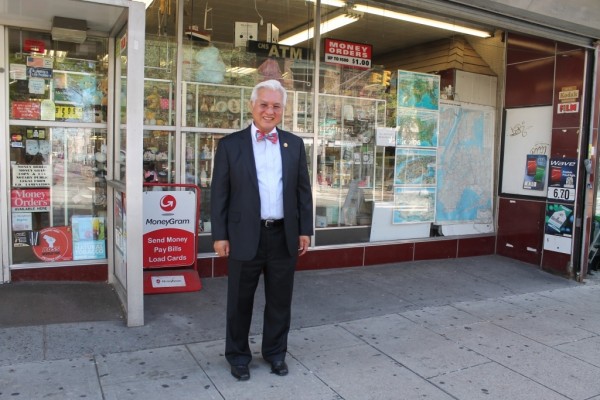 ChicpeaJC is a "fun" culture blog, I purposefully do not write about touchy subjects like religion or politics and I try to remain as neutral as possible. I don't really think we need another news outlet discussing the issues we face as an urban city! That being said, I think it's important to know about the people who do work for our city, that are an integral part of our community and thus our culture! What I learned throughout this year, ever since interviewing Mayor Steven Fulop, is that all the members of council come from different backgrounds and all have really amazing inspiring stories, they are all just like the rest of us. I hope I will be able to talk with each and everyone one them at some point… not about politics or policies but about their individual journeys and of course their favorite hangout spots….
I first met councilman Michael Yun a few months ago at an event on Central Ave. Michael was wearing a really funky bow tie, he shook my hand and said hello with a big smile and the cutest Korean accent. He seemed so genuine and positive, so naturally I wanted to hear more about him.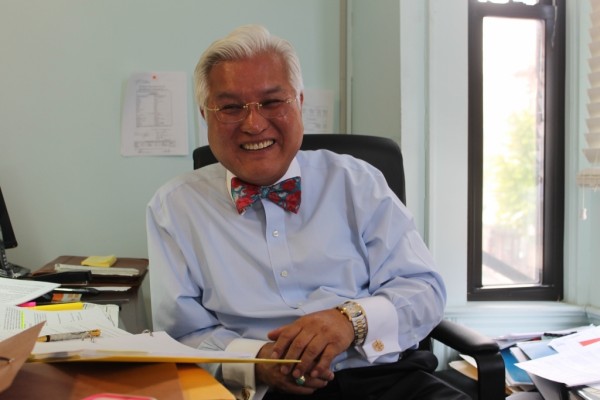 What's your name? Michael Yun.
What do you do? Now as a councilman in Ward D in Jersey City.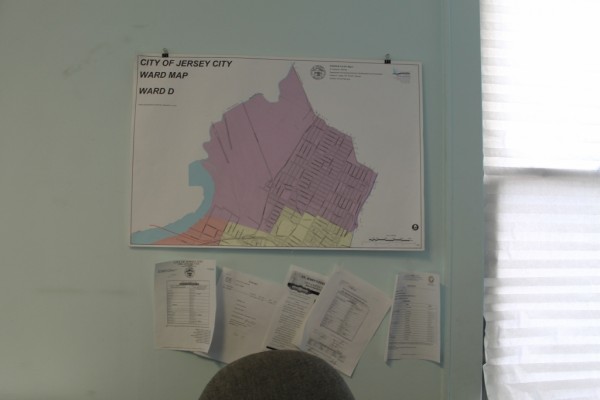 Do you do anything else? Before that I was president of Central Avenue S.I.D. (Special Improvement District) almost 20 years and before that I was president of Jersey City Merchant's Council before they organized it as citywide.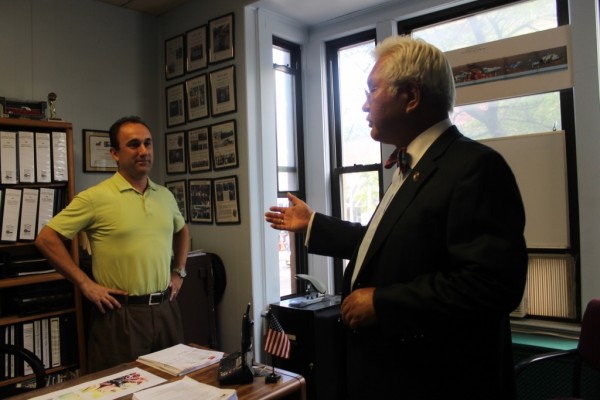 How long have you been a councilman? Two years only.
How do you like it? Well, I love it because[I don't see it] at it as a job; I look at it as a more like mission because before I get into city council as an elect officer I do community service. It's like community activities involved in a lot of different issues. Only difference—before we fight outside of the city hall, now I get inside city hall as an elected officer, I fight inside for the people.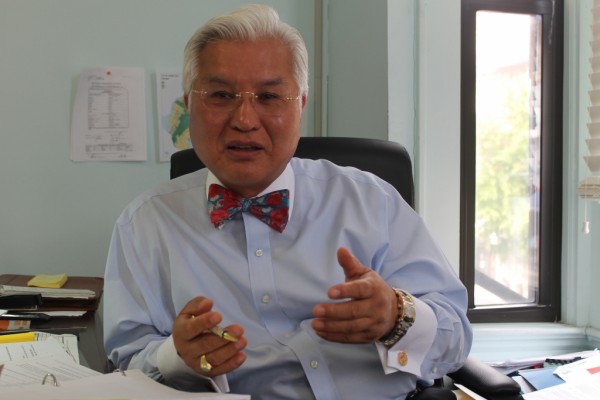 Did you always want to be a politician? No. When I was in Korea, when I was a young age college student, I was one of the movement leaders but politics; I liked fight more [in] those days for the human rights. So now, coming [to] this country, turned businessman, and involved with the community many, many years, thirty-something years and then one day I realized—listen, it's time to get into city hall, less fight for the people in the city hall. I did not accomplish [that] much, but at least I can provide the service what the people are looking for and the people deserve the municipal service. I'm proud of it,
That's awesome. What did you own before you became a councilman? I owned a gift shop, more like a convenience store.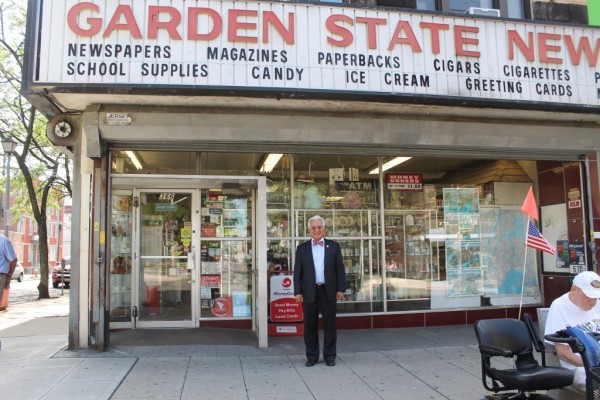 When did you move to Jersey City? I moved to Jersey City, I think, 1981. Before I moved to Jersey City I worked [with] somebody in Brooklyn, New York [it was] a small candy store under the subway train. One day I said, "Well, I think I get into my own business." I was only a few dollars in my pocket, but I was in Brooklyn only two years I helped a lot of people in the Korean community. If there was a language barrier I helped them, so and so. So when I looking for business, I got no money actually, so I asked the people [from] the Korean community to help that I borrowed money a little bit here and there so that [was] my seed money help start my business.
So you opened your business with little to nothing. Why in Jersey City? Actually I [was] looking for business in five boroughs [and] I probably [visited] a couple of hundred towns in this area. Then one day when I come in Jersey City, come in Kennedy Boulevard and Central Avenue and then [I] sat on the bench outside, I spoke with the people in the neighborhood, I feel like my hometown. You know, people just so nice it makes it feel like home now. And the store owner at the time, they offered a price below the market price so I'm glad I was lucky. So I started my own business 35 years ago.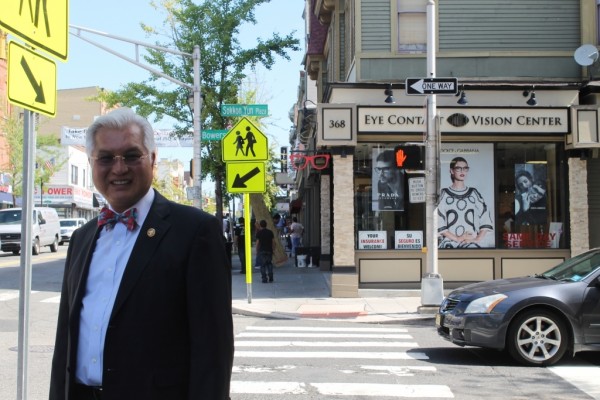 How do you feel Jersey City has changed in the past couple of years? Well see, what we say this way—it's not only Jersey City changed, it's [the] whole country [that's] changed now. I can say that when I moved to Jersey City the first time 35 years ago, yes they had some issue with the color because my color was different. So it [was] hard to rent [an] apartment so I had to rent [an] apartment in Union City, but I run the business in Jersey City. But I showed to the people who I could be a good part of the community. I sweep the street every day and I try to show my service to customers as much as I can and they realized that [and] they accepted me as one of the community members in the Heights. Those days, 30-something years ago, yes they had some issues and today Jersey City has probably 120 different ethnicities, yes Jersey City changed and especially Waterfront changed a lot. I [had] an opportunity to invest Downtown, but I said, "Come on, I'm not even going to put my pennies in Downtown." The Jersey City Heights at the time—30-something years ago, this is the priciest town in Jersey City.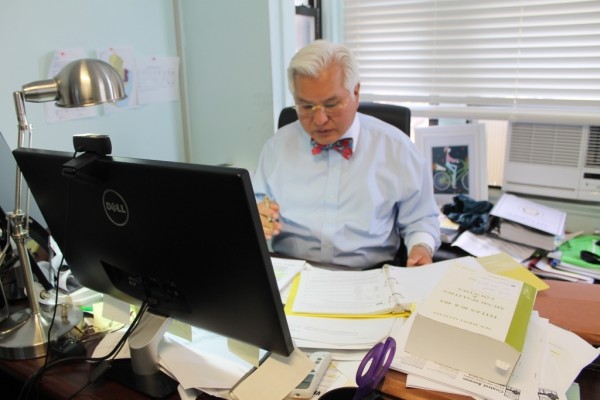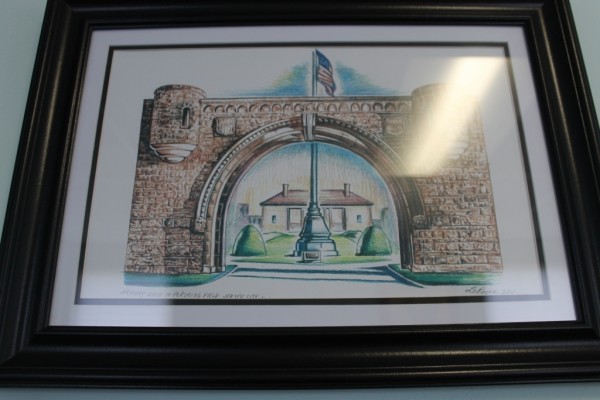 Things change again because when they say new change a lot that means we have newcomers, come from New York City, all of the parts that move to Jersey City. Actually all of those people give the new energy in Jersey City. When you see Jersey City as a whole you can see and feel the energy. Our city is moving it feels like the heat is here. I love it. We're moving in the right direction and people are going to feel it and the probability is getting higher and higher. The municipal service in the present mayor trying to provide the better municipal service and also the council people are different that than the council people [from] years ago. Years ago, most council members [were] controlled by politicians countywide or citywide. They have [more] independence than years ago.
It seems like all the councilmen are part of the Jersey City community, have a story, are invested in the community, many are business owners, and they have roots here. That's how it seems to me. Yes, so now we can see this way and if you want to be a councilman of Ward D, most cases, 99% cases you have to be born [here] and you have to be [part] of certain communities. Look at today, I am running for independent and the people willing to vote for me because they watch me thirty-something years ago, what I've done for the people. If we provide the service with the community, many, many years, people will recognize you and you can be elected without any political machine behind you.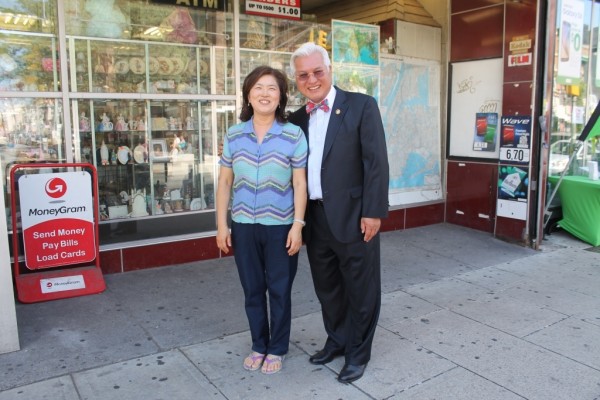 I hear some negativity about the changes of Jersey City. What can you say to the people are not happy about the changes in Jersey City? When they change we gotta think different way a little bit. Jersey City is a very complicated city—we just talked about those kinds of things—the rent is too high, people pushed out. But they have a problem, people is upset, not only rent is getting higher in Jersey City. Wherever you go because of real estate marketing getting higher [the] automatically the rent getting higher, not only Jersey City…
What is the process if a Jersey City resident opposes something that is going on in JC ? The City of Jersey City has a website, when you go to [the] City Clerk; they show all the schedules of council meetings. Mondays are [the] city caucus meetings and Wednesdays are the council meetings. They have all the agendas listed; you can print [it] out [and] look at the issues. The can show up to the City Council Caucus meetings, that's the time we discuss all the agendas so they can hear some ideas if they not happy with that—the first reading in the public comments they can express their concerns. The most important thing is the second reading, the second reading [the] City Council will make a vote.
They NEED to show up to the second council meeting and it will make a difference.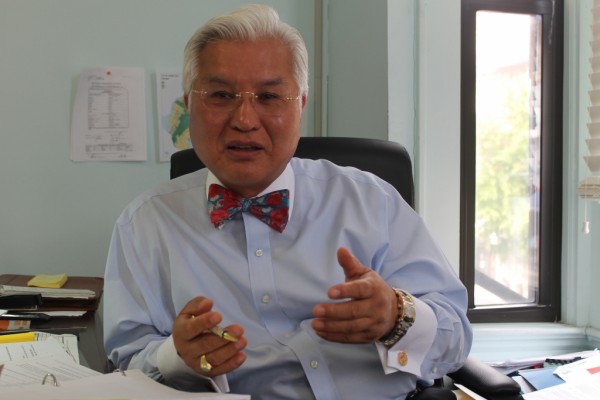 So the more people who show up the better the chances are that the council will vote in favor of the public? Yes! If you physically show up to City Council meetings it impacts [the vote by] 98%.
Do you have any future hopes for the Heights? If you see the Heights, it is the most desirable residential area with neighborhood shopping, that is the way it was thirty-something years ago and that will be back.
I always see you with a different bow tie. Where do you get your bow ties? My wife gets me my bow ties.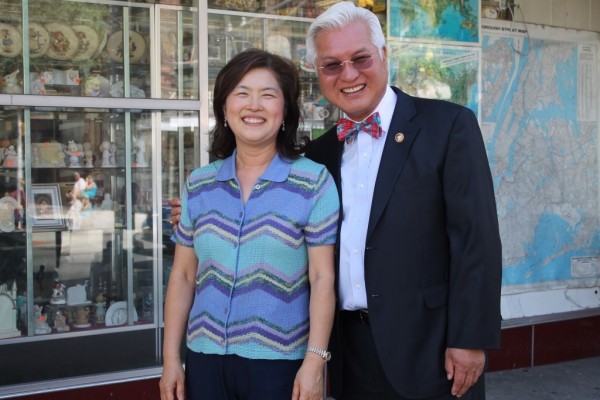 That's your signature look, the bow ties. Yes. You believe it or not, the way we elect the councilmen in the Jersey City Heights, they are the most well-dressed in city hall. If you're a councilman, you have to represent your district, you have to look respectable.
Even when I see you at your events, weekends, nighttime, you're always in a suit. If you look good, you feel good. Yeah, why not? Yes! Feel good.
So your wife gets you all the bow ties? Yes, she ties [them] on me twice a day.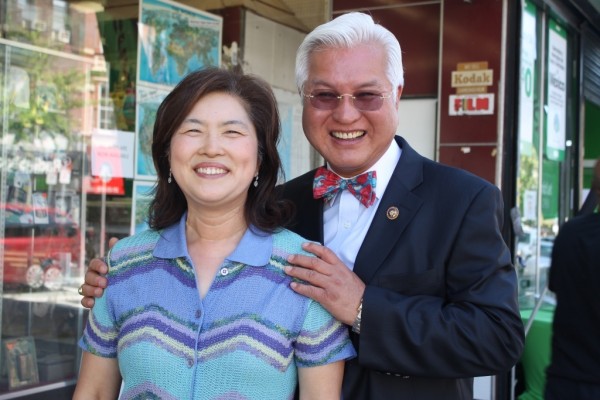 Do you have kids? Yes, two kids. I have two boys both born in Jersey City, and they went to high school at Saint Peter's Prep. So now one graduated [from] Tufts University and Tufts Medical School and he's a doctor with Massachusetts General Hospital and also he's a doctor for the ER at MASS General Hospital. Also, he's one of the chairpersons at the hospital.
[My] younger son, he liked the education field. He's teaching the teachers how to teach the kids. So they're all grown up and they all come from Jersey City.
Do they live in Jersey City? No.
Me and my wife have been married for thirty-five years, you believe it or not, you can say that we never fight each other in over thirty-five years, not even argue. People ask me—"What is the reason?" I say listen, "When you marry, what do you do? You say 'I do,' and if you say 'I do,' keep your word. [The] bottom line is respect. If you know how to respect your wife and your wife knows how to respect your husband they have no reason to argue.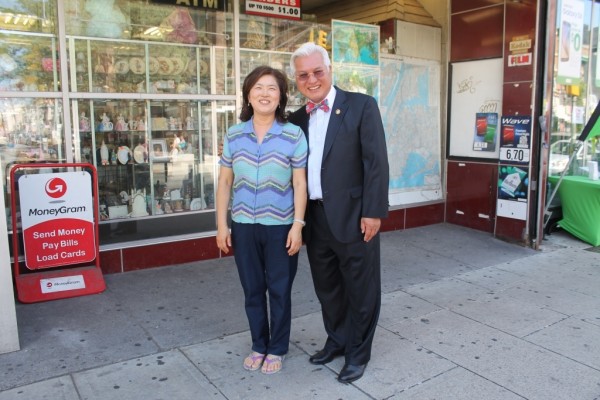 What is your favorite Jersey City hangout spot? I go to Gino's Pizzeria and Renato's Pizza Master's.
Do you have a talent? I like to read books and I have a dream [that] if I retire all my work I want to be a reporter for a newspaper.
Anything else you want people to know about you? I'd [like] to thank the people of Jersey City. What I have now is possible because they support my business, what I have now, my position is because they continue supporting me and they trust me.