Every month, we feature talented individuals who live and/or work in Jersey City. We aim to highlight artists of every medium – photography, videography, poetry, watercolor painting, sculptures, anything.
This month, meet artists Laurén, Courtney, and Chrys.
If you or anyone you know would like to be featured for our Artists of Jersey City articles, let us know – chicpeajchq@gmail.com.
---
Laurén Bienvenue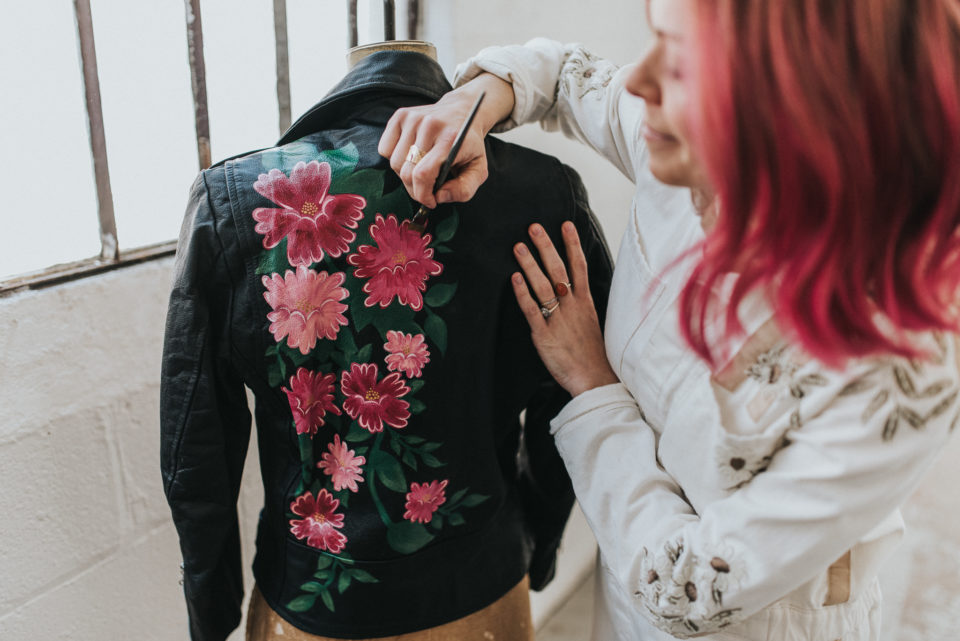 What is your preferred medium and why?
Leather is my favorite medium to work with because the transformation is so dramatic. Turning a standard, classic piece like a jacket into wearable art is so fun and unexpected.
Vintage leather is especially interesting to work with because it feels like you're resurrecting a garment from the dead, giving it a new identity and a second life. Whether its jackets or bags or shoes, hand-painting a piece gives you the opportunity to create something totally unique to you that you can use and show off to the world.
How did you get started?
Years ago, I saw a leather moto jacket in Paris with these beautiful hand-done roses down the sleeve but I couldn't afford it. I kept thinking about it when I got home and had this lightbulb moment of; 'I bet I could do something similar.' I researched leather paint, made my own version out of an old jacket that I wasn't using and I remember my husband being really impressed. I've always been crafty but never really did much painting before that.
I'd wear it around town and people would stop me on the subway to ask about it, friends started dropping hints that they wanted one and then Anatalie invited me to participate in a Galentines Day themed pop-up shop at The Hair Room JC in 2017. I came with seven jackets that day and sold two which felt like a huge success to me. After that I opened up an Etsy shop and signed myself up for a few more local festivals and in May of that year I walked away from my decade-long corporate career of being an entertainment publicist.
What inspires you?
When I'm searching for inspiration to paint, I spend a lot of time looking through retro fabrics, folklore prints, botanical charts and even vintage concert and movie posters. Sometimes all you need is a color combination to get you started down a road of inspiration and fresh ideas.
Also, I find that the jackets themselves can be very inspiring. Vintage leather tells a story and hand-painting it allows you to bring that out. Adding 70s style blossoms to a tired blazer or green palm leaves to a white leather dinner jacket or soft pink roses to a tough biker jacket are all ways to reinvent something that would otherwise sit in the back of your closet or end up in a landfill.
Finally, the opportunity to be a small business owner and artist after ten years of being stuck in a corporate job I hated is what really keeps me inspired day in and day out. More than being a painter, I find continual excitement and motivation in the simple fact that I get to work for myself.
How do you feel about the creative community in Jersey City?
It's RIPE! The community here is so open, encouraging and interested in something that is one of a kind and totally unique.
My second pop-up shop was ChicpeaJC's third anniversary party and it was a huge launching pad for me in terms of exposing the community to my work. To have people walk over to my booth just to tell me that what I was doing was great or invest their money in this little idea I had a few months before, was really affirming.
Jersey City is an exceptional place to have a small business and be an artist. There is an excitement and energy that I thought was lacking from my previous neighborhoods in Manhattan and Brooklyn, where envisioning myself as a business owner felt inaccessible and overwhelming. Jersey City is growing and developing but the creative community has been incredibly supportive.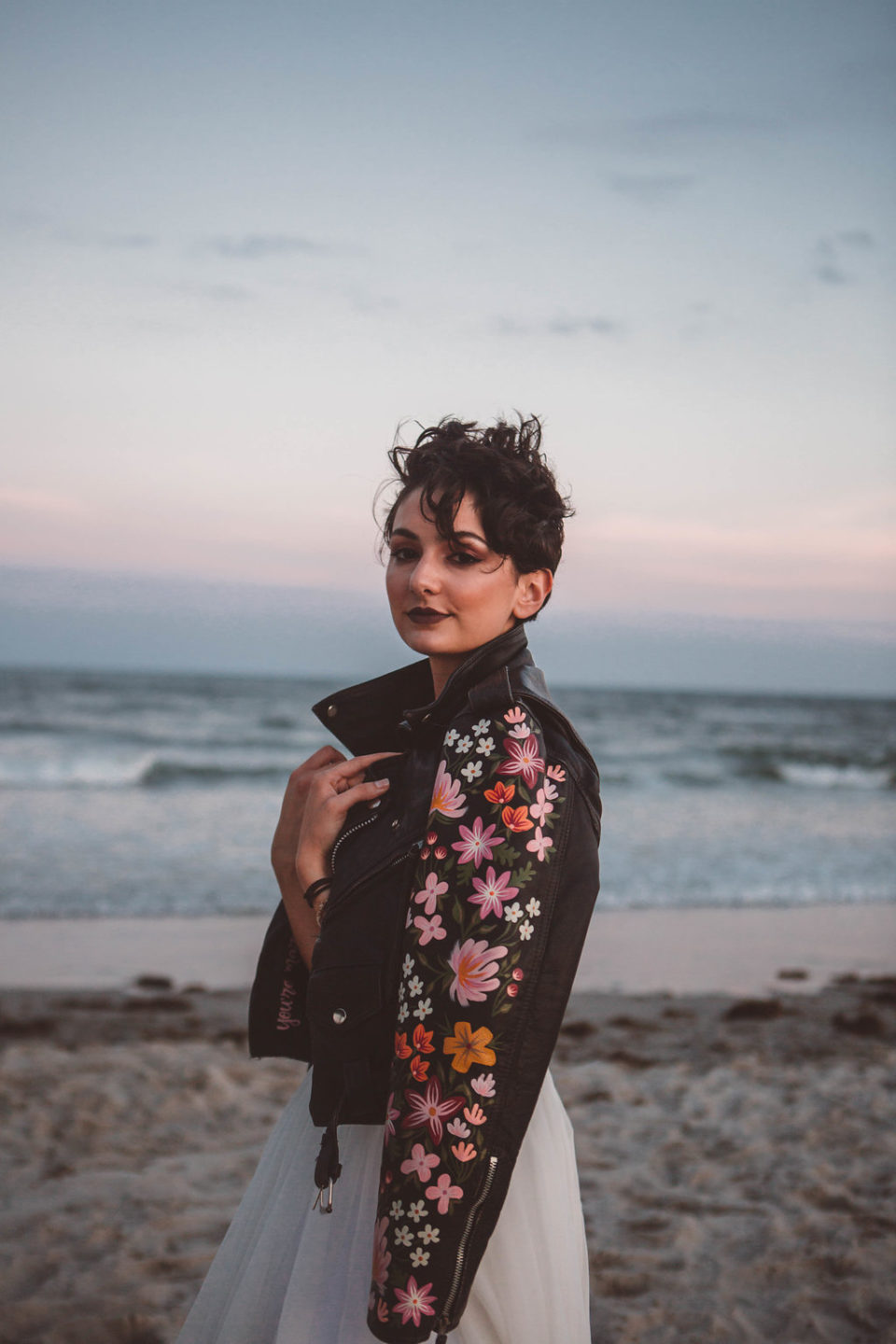 Where can people find your work?
You can find me in person with my jackets at Brooklyn Flea October 19 and 20 and at Kanibal & Co. for a special holiday pop-up shop and hand-painted leather ornament personalization station on December 8.
Online you can find me at www.onceuponalauren.com, on Etsy (www.onceuponalauren.etsy.com) and on Instagram (@onceuponalauren) where I'm always posting about what I'm currently working on and what events are coming up next.
What's your favorite Jersey City hangout spot?
I love the quirky atmosphere, drink list and vegetarian food at Pet Shop. It's my go-to meet up spot.
I also have a dog so I find myself at Morris Canal Park nearly twice a day (even in the dead of winter). There's not much to it, but the view of lower Manhattan, the Statue of Liberty, Ellis Island and the Central Railroad of New Jersey on the Hudson Bay is pretty spectacular.
Courtney Mason
What is your preferred medium and why?
I've worked in many mediums but my current favorite is watercolor.  The element of water used in various ways creates organic textures and strokes that are truly unique.  It allows me the flexibility to paint soft edges juxtaposed with vibrant color which contrast I enjoy.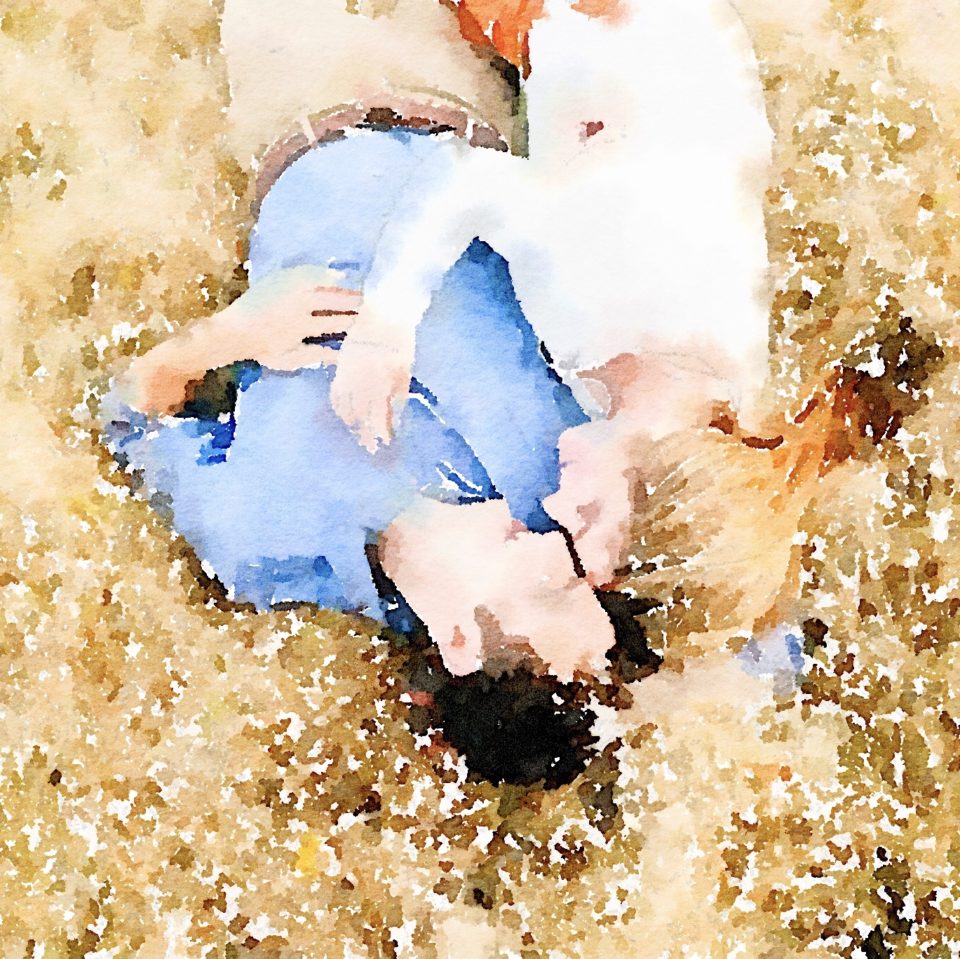 How did you get started?
Growing up I was very inspired by stories, in books, television, and film.  I'd spend hours sketching and narrating my own stories using characters I knew and loved.  Once I began school my artistic talent and entrepreneur spirit was something I became known for.  From as early as second grade I'd spend recess and after school creating and selling commissions of sculptures, jewelry, drawings, and paintings.  Once I started I simply never stopped.  I studied illustration at the Hartford Art School and have been working as a professional designer and illustrator in NYC for the past 7 years.
What inspires you?
Listening to music, traveling, and meeting extraordinary people who are passionate about what they do.  My family and husband are very supportive and hard working people and they inspire and encourage me to continue pushing myself to be better.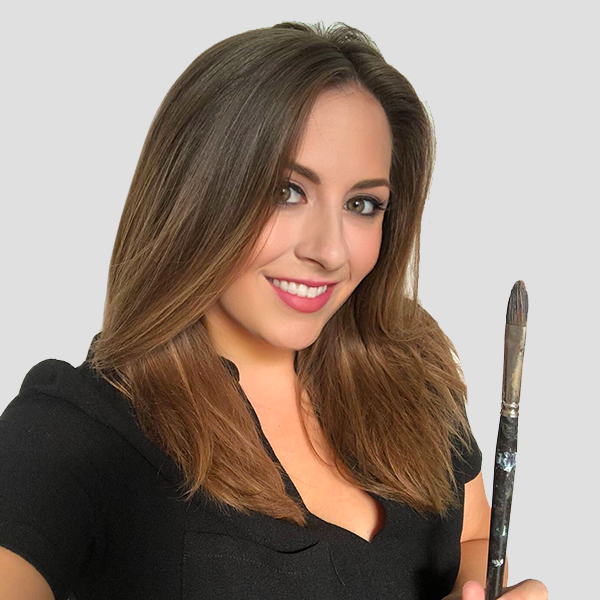 How do you feel about the creative community in Jersey City?
I love the creative energy of Jersey City.  Walking around a town covered in murals of all colors, genres, styles is inspiring.  I haven't met a ton of other artists in the area but I'd love to be more involved in the community and collaborate with others.
Where can people find your work?
Much of my work currently is commissioned based but I am working on a series of landscapes of my favorite places in Jersey City & Hoboken so be on the look out for that.
Feel free to DM & email me directly with inquiries or you can order through Etsy.
Instagram: coloryourlove.nyc
Etsy: https://www.etsy.com/shop/ColorYourLove
What's your favorite Jersey City hangout spot?
I like to sketch in cafes and find myself frequenting Cafe Madelaine on Coles St. lately but I also enjoy just walking around Grove St. & Newark Ave, especially at night.
Chrys Alva
What is your preferred medium and why?
I love digital art and photography.  I prefer digital because it allows me to capture every moment and being able to use my editing software gives me the ability to edit my shots in real time. Visual arts flows through my veins!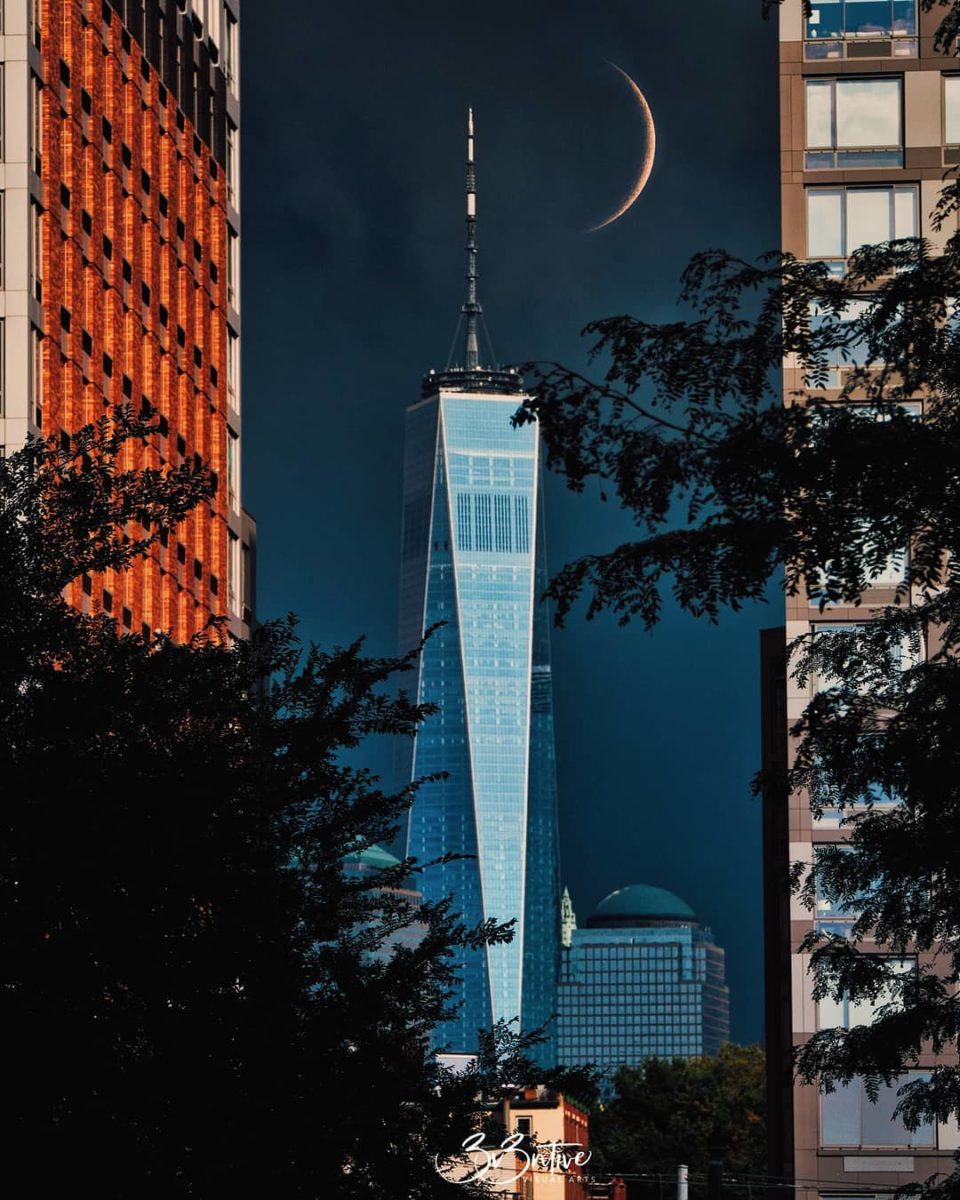 How did you get started?
I started back in 2006 with Adobe Photoshop mostly editing and manipulating other people's photography along with making T- Shirts and CD covers for local bands. I learned a lot by editing other people's work and enjoyed it, but I wanted to be completely authentic and start working on my own stuff. So fast forward to 2018 to when I decided to pick up a camera and devote countless hours into teaching myself the art of capturing light.
What inspires you?
Energy- Speaking as an empath I literally feel energy and emotions. I feed inspiration from different emotions such as joy, pain, struggle, and just life. I mold to the moment and push out a perspective for others to experience.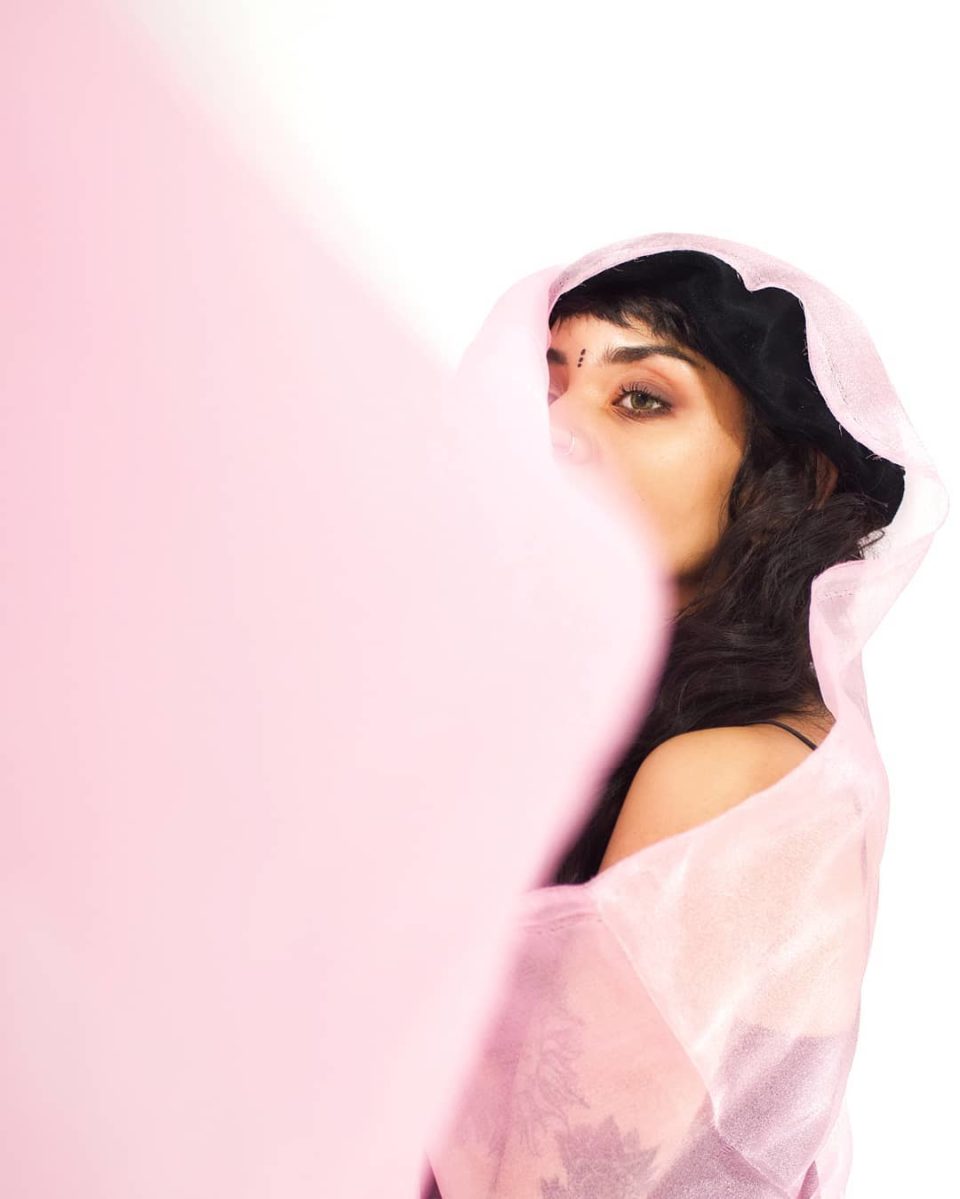 How do you feel about the creative community in Jersey City?
I feel Jersey City is filled with color and life. The creative community can be seen on every corner of this beautiful city, you see it in tasteful graffiti art and in its diversity, leaving inspiration everywhere you look. Jersey City and it's culture make a huge part of my work!
Where can people find you and your work?
I can be found all throughout Jersey City with my camera or dogs in hand. As for a display of my work, that you can find my on my Instagram under @3v3ntive .
What's your favorite Jersey City hangout spot?
I personally enjoy the entire waterfront, from Newport down to Morris Canal Park. The sunsets are always gorgeously reflected along the cityscape and water leaving a dreamy scenery.