Last month was Breast Cancer Awareness Month and we were a proud media sponsor supporting this amazing organization. It's now November, but it's still so important to keep the momentum going and conversation. I opened up about my personal experience and hope that it encouraged my readers to get checked and stay on top of their health.
I was happy to walk the event a few weeks ago which was incredibly successful and raised hundreds of thousands of dollars to the cause.
We caught up with Carolyn Lanza who spearheaded this initiative in Hudson County.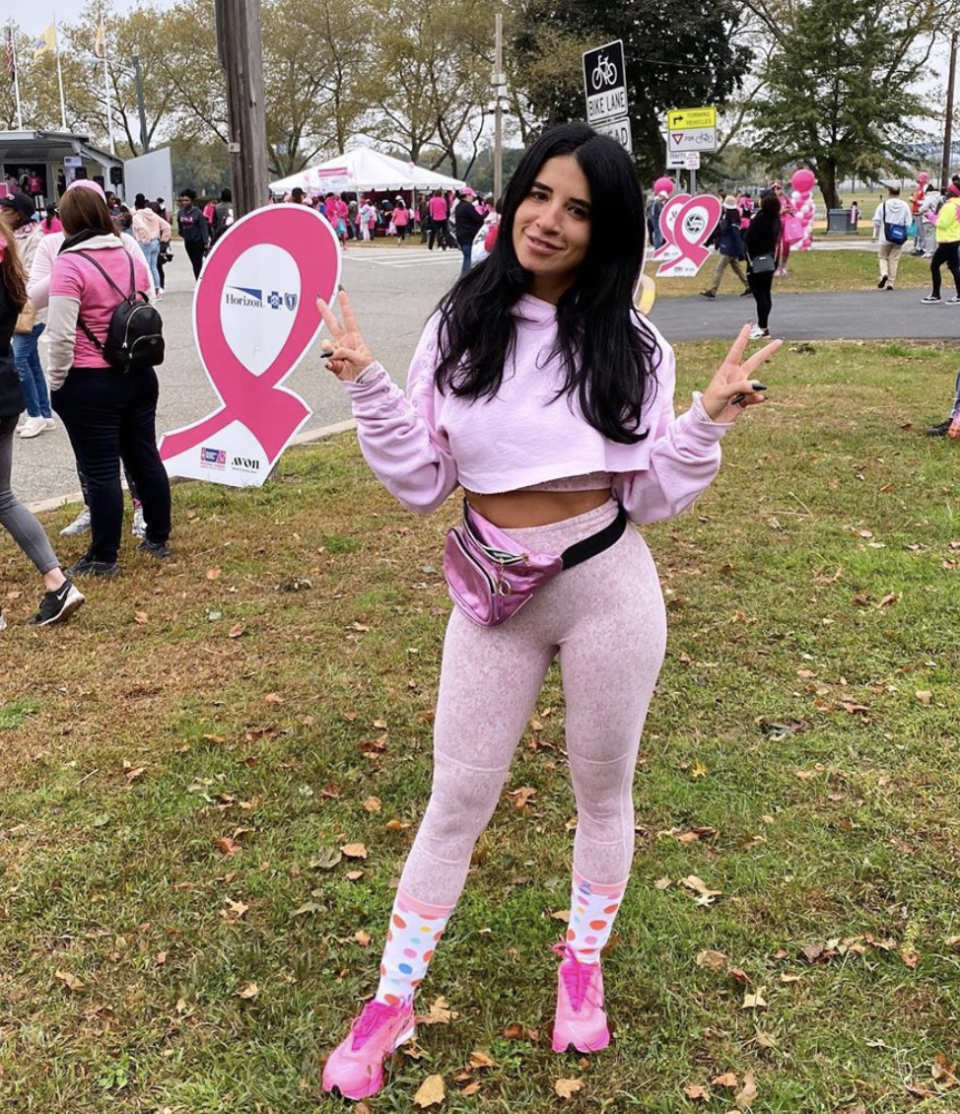 What is Making Strides Against Breast Cancer Jersey City? What's the mission behind the organization?
Celebrating more than 25 years of saving lives nationwide, American Cancer Society Making Strides Against Breast Cancer walks unite communities to honor those touched by the disease and raise awareness and funds for a world without breast cancer. Making Strides Against Breast Cancer is the largest network of breast cancer events in the nation, uniting more than 1.2 million passionate participants supporting the noncompetitive three- to five-mile walks each year. Dollars raised help the American Cancer Society fund innovative breast cancer research, provide education and guidance to help people reduce their risk, and offer comprehensive patient support to those who need it most. The American Cancer Society's mission is to save lives, celebrate lives, and lead the fight for a world without cancer.
How did you get involved with the initiative? Was it rooted in a personal story or passion?
Three of my best friends have lost a parent to cancer and it is absolutely heart breaking.  My parents have had such an important and positive impact on my life that I know I would not be the same without them here.  Now more than ever, as I maneuver my way through adulthood and all of the twists, turns and curve balls that come along with it, I realize how important it is to have support and love from friends and family.  It takes a village, it takes all of us working together.
Throughout my childhood and adult life, I had always been involved in philanthropy. I have had beloved family members pass away from cancer and always wanted to bring awareness to the important work that is being done so that one day, we can live in a world without cancer.  I wanted to do something everyday that I knew was contributing to the greater good-as cliché as it sounds, I wanted to make a difference in people's lives. I said to myself, "If I am going to be spending majority of my time, 5 out of the 7 days of the week working as hard as I can-I want my work to mean something to someone." This started me on my career journey with the American Cancer Society.
How can people get involved with the initiative?
There are many ways to get involved with Making Strides in Jersey City! For businesses large and small, we have sponsorship opportunities available.  We also have event day volunteer opportunities as well as a brand new Community Ambassador volunteer position.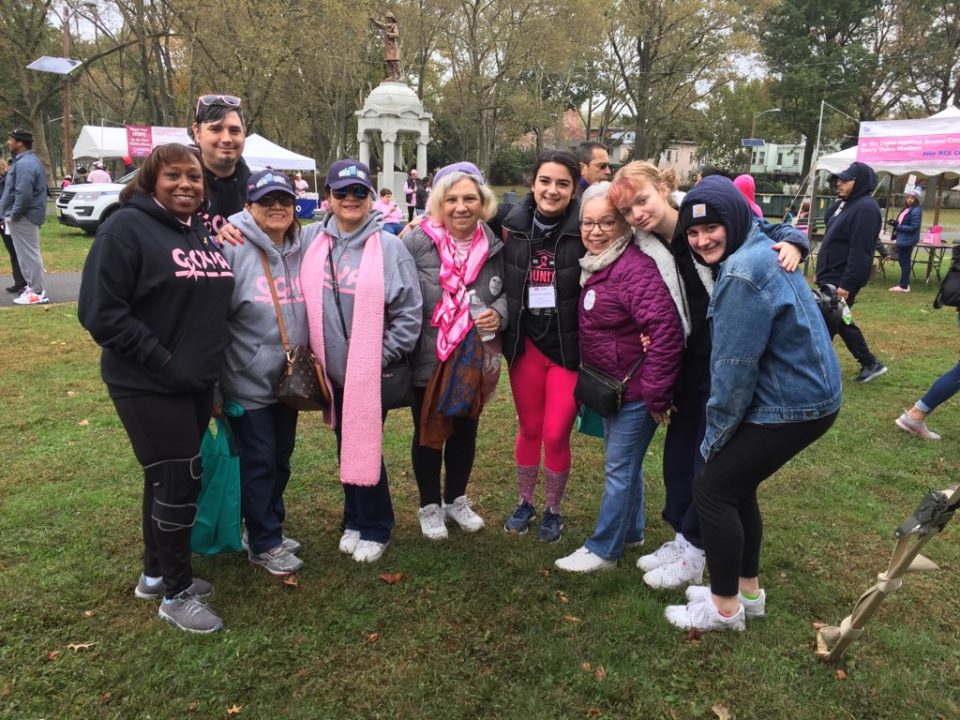 To register as a participant or team for Making Strides Against Breast Cancer Jersey City, you can visit our event website: www.makingstrideswalk.org/jerseycitynj 
If you are interested in learning more, you can contact me directly at JerseyCityNJStrides@cancer.org so that we can set up time to meet or discuss ways for you to get involved.
For anyone who may not have considered getting checked for breast cancer yet, what would you highlight as the benefits? When would you advise people to start getting checked?
Mammograms (breast x-rays) are the best screening tool we have to find breast cancer early, when it may be easier to treat. After you and your health care professional establish a screening schedule, it'll help to know what to expect so it can go as smoothly as possible. As per the American Cancer Society Recommendations for the early detection of breast cancer (this is a guideline for women at average risk for breast cancer), Women between age 40-44 should have the option to start screening with a mammogram every year.  From age 45-54, women should get a mammogram every year. For women age 55+, you can switch to a mammogram every other year, or choose to continue yearly mammograms.
For more information on Breast Cancer Facts or Getting a Mammogram, please reach out to the American Cancer Society National Cancer Information Center at 1-800-227-2345.  Specialists are available 24/7 to answer questions and guide you to the necessary resources right in your community!
The walk took place on October 20th. Can you tell us how it went?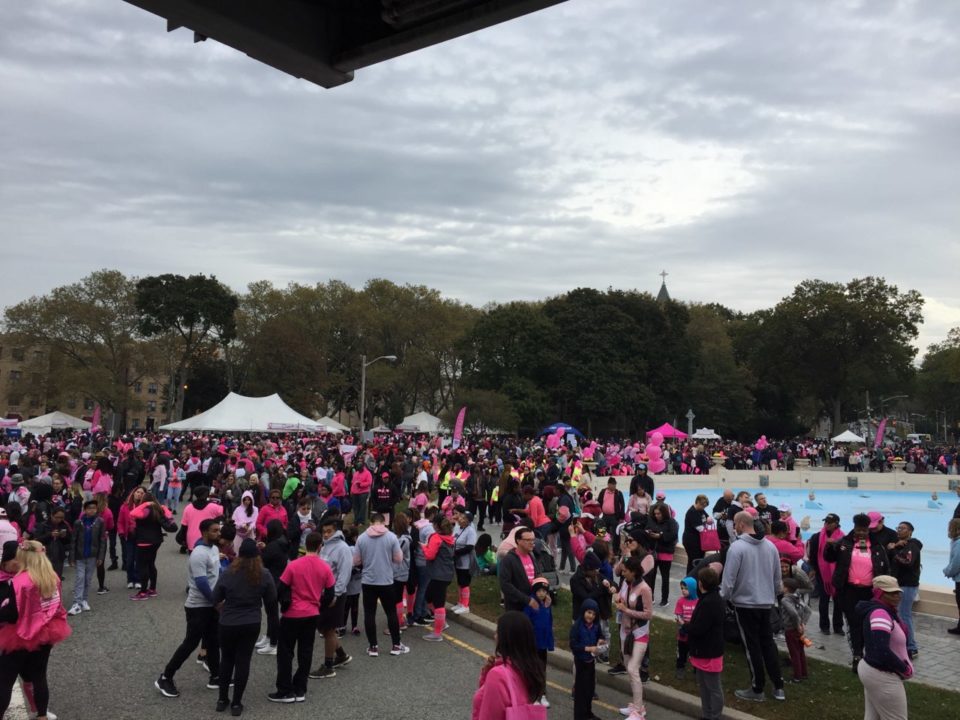 The walk this year was magical – I am still in awe of it! Making Strides Against Breast Cancer Jersey City took place at Lincoln Park in Jersey City on October 20th.  The crowd was passionate and lively, the park was one big sea of pink!  More than 3,000 participants were in attendance and Jersey City Strides is projected to raise $315,000 for the fight against breast cancer by the end of 2019!  It truly amazes me to see the Hudson county community united for such an important cause. We have many sponsors for this event, including: RWJBarnabas Health-Jersey City Medical Center, GOYA, Montclair Radiology, Marriot and Horizon Blue Cross Blue Shield New Jersey.  We also have many media sponsors who are so generous to get the word out about the important work that we are doing, these include: ChicPeaJC, LittleHoboken, LittleJerseyCity, HudsonCounty60 and iHeart media.
The Making Strides Against Breast Cancer Jersey City event was a celebration – a celebration of our breast cancer survivors, a time to remember loved ones lost and a reminder that we need to continue the fight against breast cancer.  The funds that we raise allow to American Cancer Society to attack cancer from every angle.
Where can people learn more about Making Strides?
To learn more about the Making Strides Against Breast Cancer initiative, please visit www.makingstrideswalk.org/jerseycitynj.