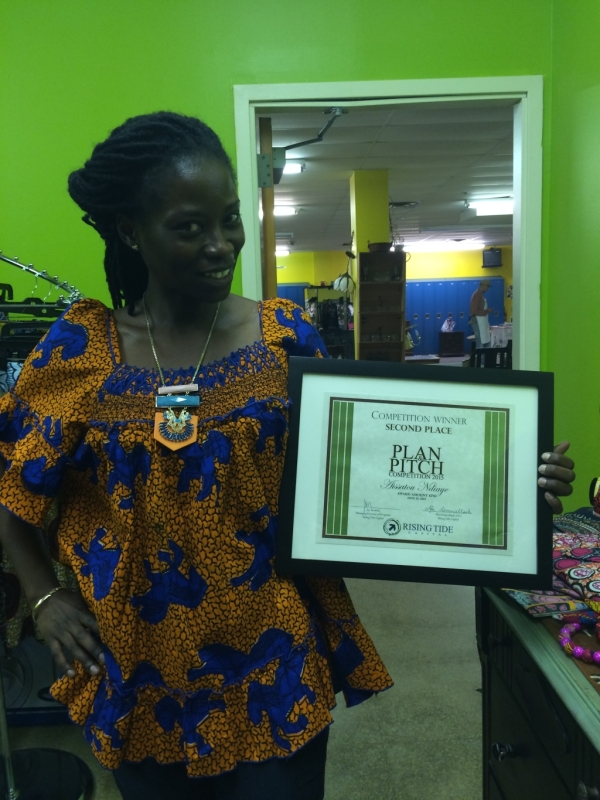 I stopped by the African-inspired fashion shop Tukulor by Naïssa this past weekend where I caught Aissatou, one of the owners, reupholstering her seat cushion in the middle of a dress alteration. "I was trying to fix this dress but I couldn't stop thinking about how I wanted to change the fabric on this chair!" she said.
It's tough work being surrounded by beautiful fabrics.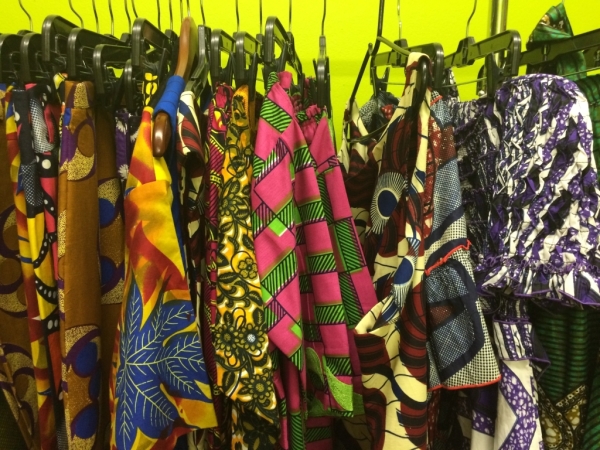 Her shop is inside the Artists & Designers Collective in Journal Square which just opened last weekend. You literally cannot miss her bright green room – "The color of Zen, not money!" she says.
I went in to say hello and left two hours later with an African print clutch and a hug from Aissatou. Her beautiful personality and culture are clearly depicted in the diverse, well-made clothes and accessories that fill the shop. I learned that the dashiki is making a big come back and that if you catch Aissatou wearing all black, you know to stay far away because she is in a bad mood.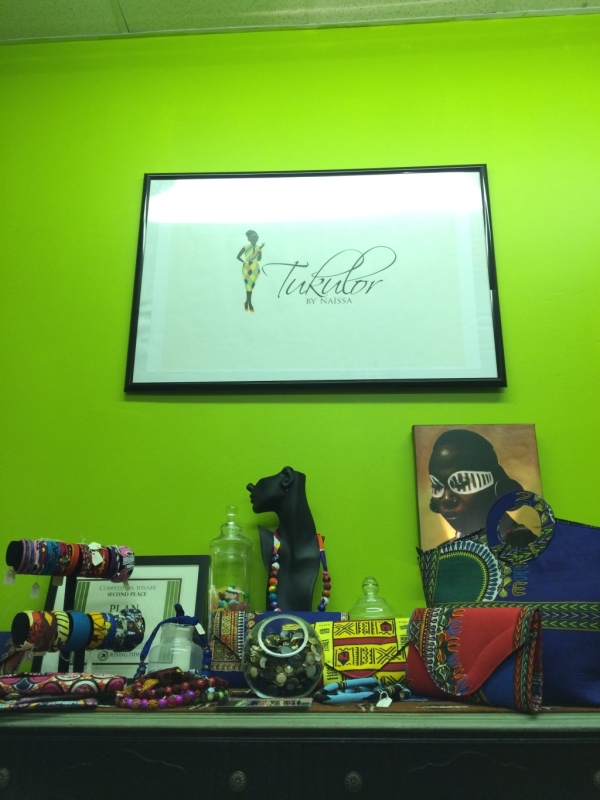 Tell me your name and where you're from:
My name is Aissatou (pronounced; EYE-SA-TWO) Ndiaye. Aissatou comes from the name 'Aiesha' but you know Africans like to put a twist on everything. I am originally from Senegal, West Africa. I moved to Jersey 16 years ago so I can't say that my English isn't good anymore.
What do you do?
I am an aspiring women's clothing designer. My partner Natalie and I started the business last year out our love for African fabric. I love the history of fabrics and she loves working with them. We figured we couldn't wear it all ourselves so we said, 'OK, let's go ahead and start a business!' We had to stop making it just for us and start sharing it with the world.
How did you meet your business partner Natalie?
I met Natalie six years ago at an African dance class. We sat down and started to talk about putting our passion together to come up with something. She was more skilled at making men's clothing at the time but I told her that we needed to make women's as well.
She is the more technical person of the business; she's been sewing for 30 years and went to the Fashion Institute of Technology (FIT). She's actually still at FIT; she's always finding new courses that she is interested in.
I only started playing with sewing around five years ago; making pillows for my house and playing with fabric from back home. My mother in law has been a seamstress for 80 years and she taught me most of my techniques. I don't call myself a designer yet because I have a long way to go, so I say 'aspiring designer.' My goal is to enroll at FIT as well and learn more.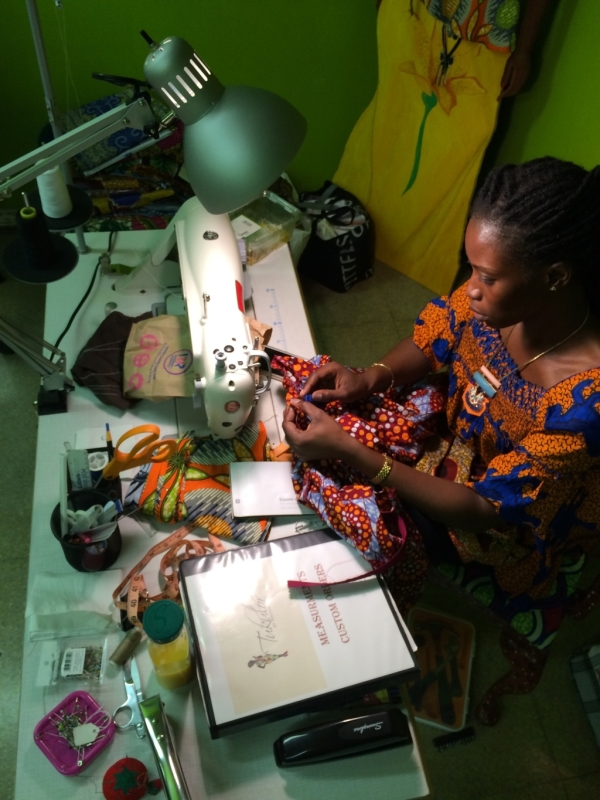 Tell me about the company name
Tukulor by Naïssa! Tukulor is an ethnic group found all over West Africa; Senegal, Burkina Faso, Mali, Mauritania, which is where our fabrics are from and is French for "all the colors." Naïssa is the combination of our first names; Natalie and Aissatou.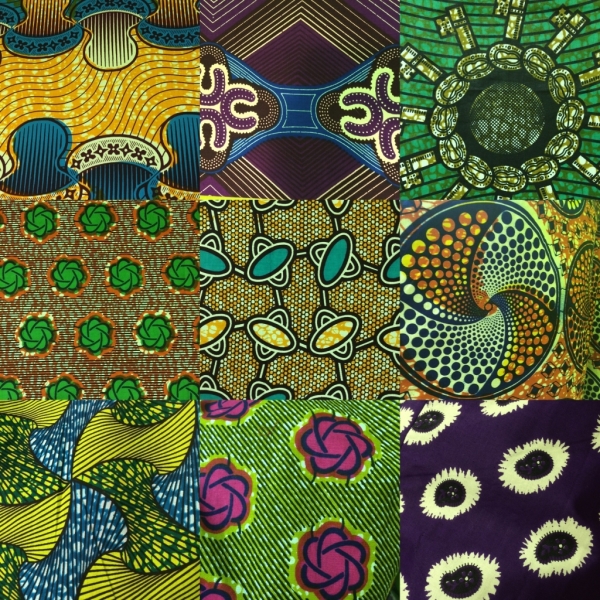 Where do you get the fabrics from?
I get the hand woven fabrics from Senegal, we call it 'rabal' – it's a very traditional fabric that we use for rites of passage. When babies are first born, we cover them with the rabal fabric for the naming ceremony and when you get married and your family hands you down to your husband's family, you wear that fabric.
We also have light cotton that is called 'malfa' from Mauritania which is a Muslim country where the women are always veiled and covered in that type of fabric. We get our tie dye fabric from Mali, which they are known for. The women in Mali are masters when it comes to tie dye.
I also get woven fabric from Burkina Faso which is where a lot of African fabric techniques originally came from. What people know now as African fabric actually began in Holland in the 1800s. It's a touchy subject because it basically started with the slave trade but that's how the colorful, light cotton fabric made its way to Africa.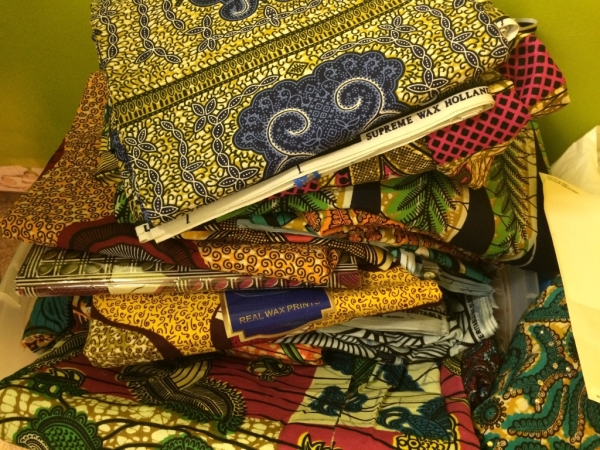 Does each family lineage have a fabric design? Like each Scottish family has a tartan?
Patterns depend more on the ethnic group and where you come from. There are some conservative patterns that we are not allowed to touch for design because there is mystic meaning behind it. So we try to respect that and not touch it.
Do you go back to Africa often to pick out fabrics?
I haven't been back in ten years but my mom is in Senegal. She had a haberdashery for many years which is closed down now but her shop was right next door to my aunt who is a seamstress. They are the ones who put the clothing together. Natalie is planning on going to Africa next month though!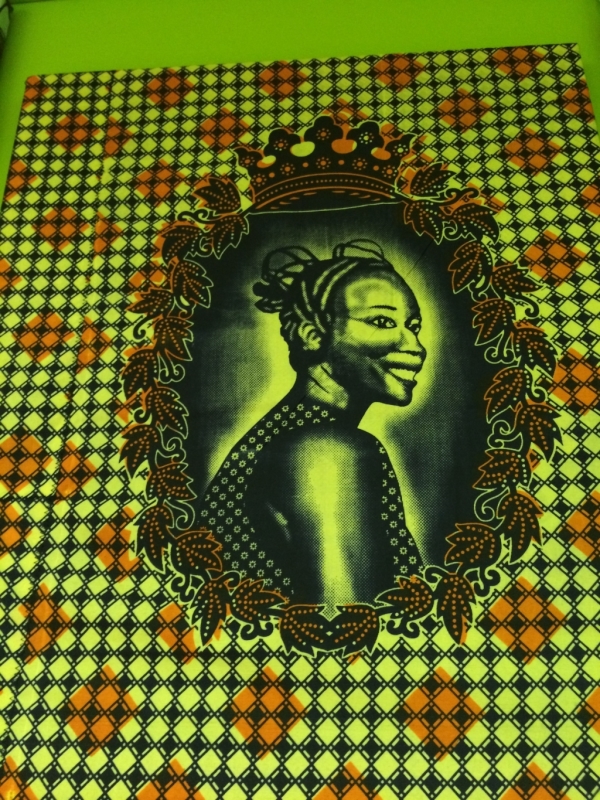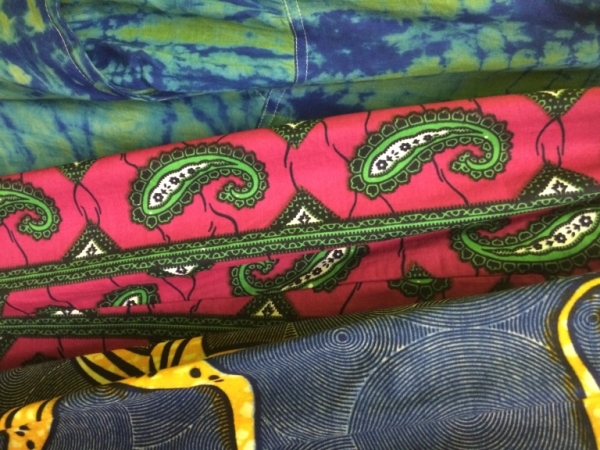 Tell me about your process…
I start by designing the pattern and clothing with Natalie and then we send it to my mom and aunt who put the garments together for our readymade collection. Even the readymade garments are customizable here in the shop but everything is made in Senegal.
We do a lot of fittings and alterations in the shop because we want it to be tailored specifically to you. We all come in different shapes though and readymade is not for everybody so we also do custom orders here. You come in and we'll sit down and discuss your style, what you're looking for, you can pick your fabric and we'll have your outfit made in about two weeks.
How do you come up with the designs?
The idea behind our designs is simplicity. Natalie and I love the fabric and wanted to find a way to incorporate it into our everyday life. We do basics like skirts, jumpsuits and dresses that are very simple so people feel comfortable wearing them on a daily basis. Let's be honest, the fabric is loud and if we made it too complicated of a design it might actually overwhelm people.
Do you have any plans to put your clothes online?
I like talking to people too much! I like when people come in the store, try things on and we can fit it to their needs. Online shopping is too impersonal.
Why Jersey City? What made you set up shop here?
To be honest, we started out in the Brooklyn market because that's where Natalie is from. But at some point we realized that Brooklyn is too saturated when it comes to African inspired clothing. I live in Jersey City and got involved in the Rising Tide Capital program (a local nonprofit that helps entrepreneurs start their businesses). They encouraged me to identify my target market I realized that there was so much competition in Brooklyn and nothing in Jersey City. So I started to convince Natalie little by little to get on the PATH train and come meet me down here.
There are several other ladies in the Artists and Designers Collective that also came from the Rising Tide program. It's a very open and supportive group. We love what we do and we are so passionate about our craft. We have the same vision and the same target market so we decided to become a collective.
What were the classes like at Rising Tide?
I wouldn't call them classes; I would call them eye openers. It's more like a group of entrepreneurs sitting together, helping each other, discussing our projects, our vision, our challenges and exchanging ideas. We had homework but it wasn't like your conventional classroom homework, it was them trying to get us to understand entrepreneurship, what a target market is, how to get funding, how to price your product and how to present yourself.
Where do you draw inspiration from?
Oh, wow. I always say, when you grow up in Africa, you don't see the beauty of what belongs to you. We wore our clothes for events and traditional gatherings… and that's about it. You'd get home and take it off. But when I came to America, I saw African Americans reaching out to Africa for their identity. It really made me open my eyes and I realized I had something very important in my hands. And as far as fashion, fashion is in every woman. So for me, it was the dream of combining both; how to bring my culture alive through fashion. I love to dress up so I am always working on a way to make an outfit from traditional fabric that is modern enough for me and other people to enjoy.
If you are interested in visiting Tukulor by Naïssa, inquiring about fittings or just want a view of what they have to offer–check out their Facebook, Instagram, Tumblr, Twitter, and YouTube pages!
Tukulor by Naïssa price list:
* Prices vary depending on style, customization, amount of fabric and type of fabric used.
Pants – $120
Peplum belt – $25
Skirts – $65-$200
Jackets – $80 for 100% cotton, $120 for hand woven & custom