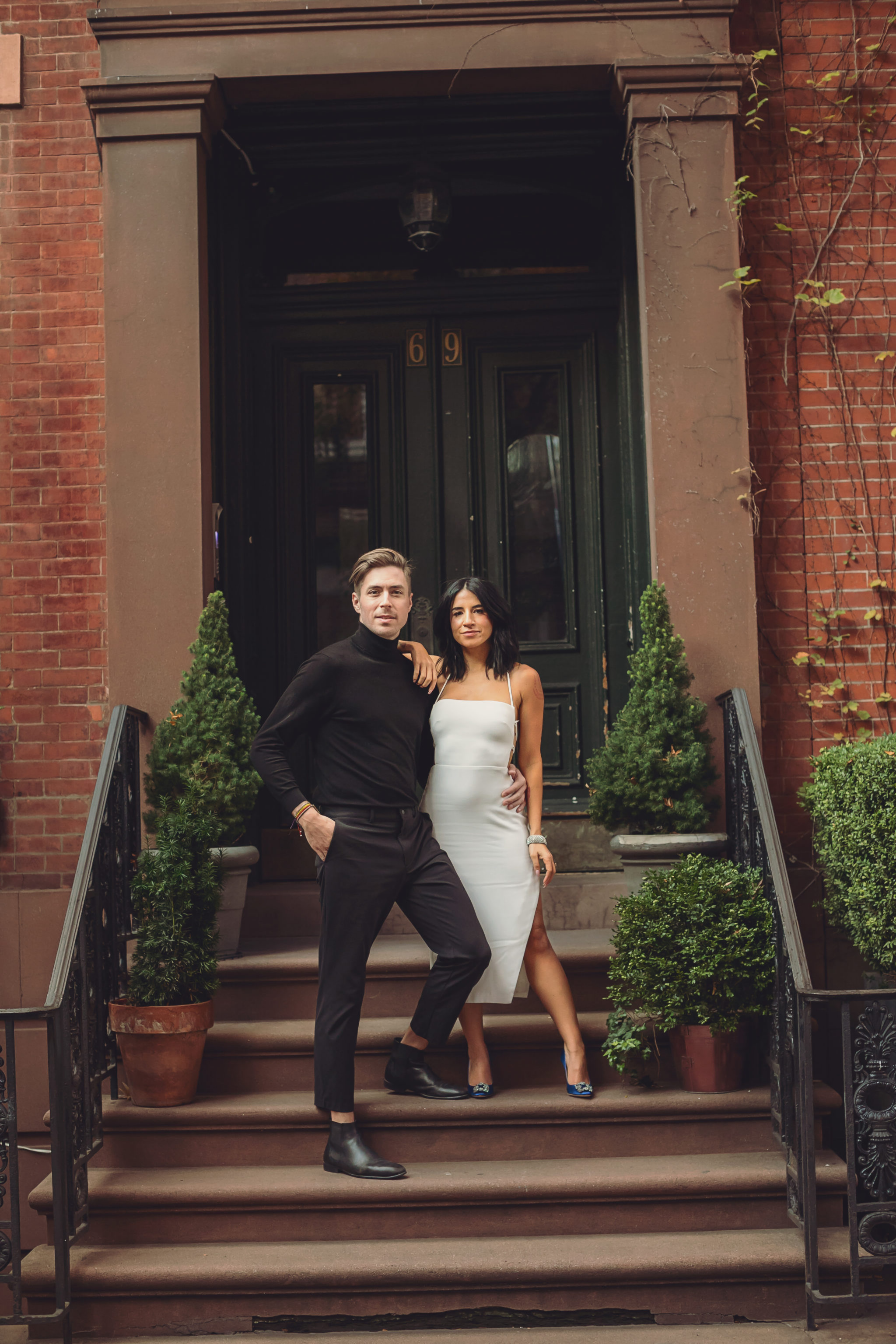 On October 21st, the love of my life asked me to marry him. You would think that we would take some time to enjoy this beautiful moment before diving into stressful wedding planning… The very next day while FaceTiming with my family at 6am, we set a date: July 28th, 2022. We would have 9 months to plan our wedding.
Why do this to ourselves, you ask? My whole family lives in Israel and they come visit during the summer for two weeks. We didn't want to wait a full two years before tying the knot because, well, my clock is ticking… so this summer, it is!
The next morning, we hit the ground running.
2022 is apparently going to be the busiest wedding year since pre-COVID. So many couples have had to change dates, and lots of couples just decided it was time to take the next step because the world is crazy and YOLO. Venues and vendors are fully booked and busy, so I knew we had to get started ASAP.
One of the first things we did was hire our wedding photographer. This was tough as there are SO many amazing local photographers that I absolutely adore and that I've worked with, but my gut went with Rebecca Ferrier Photography.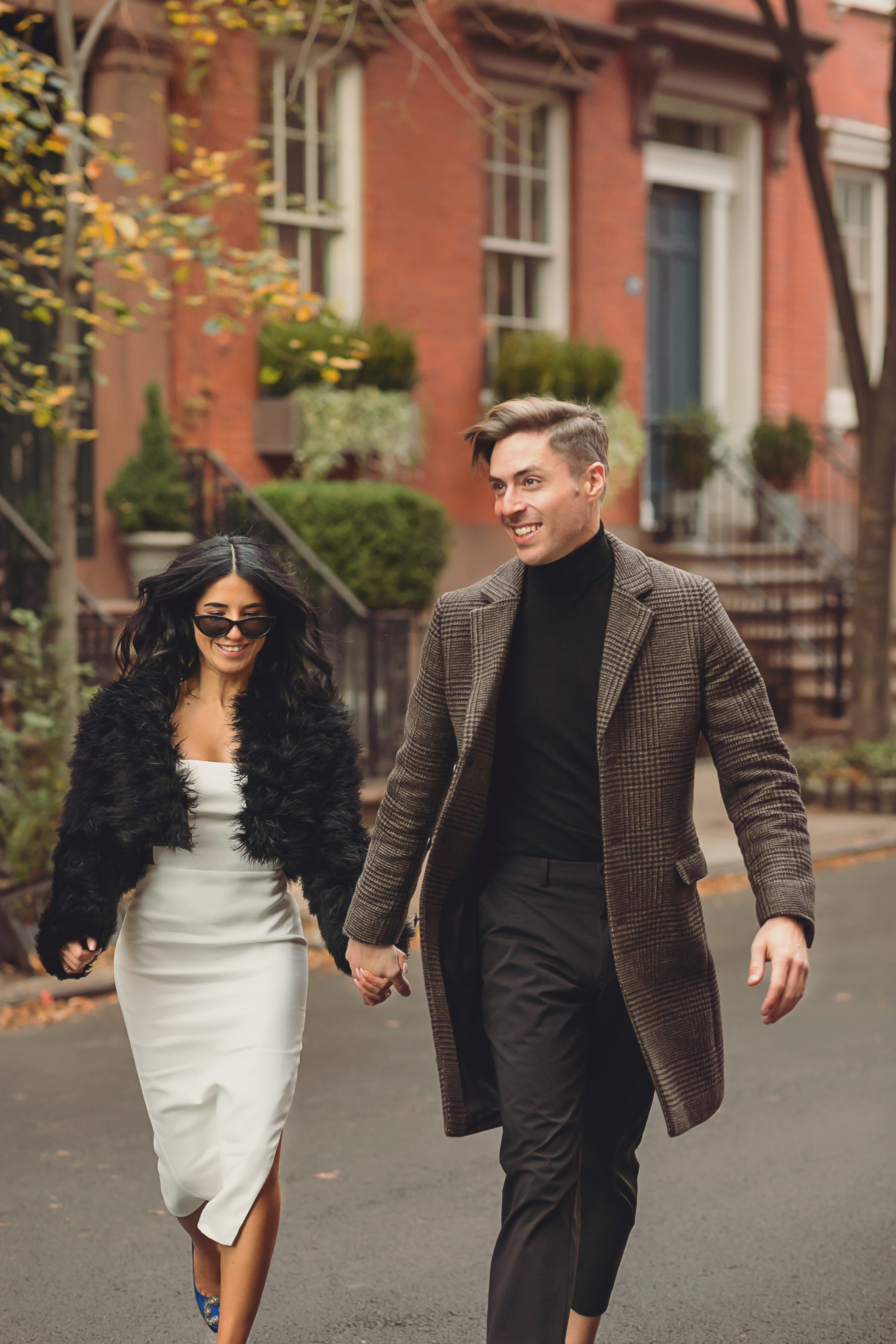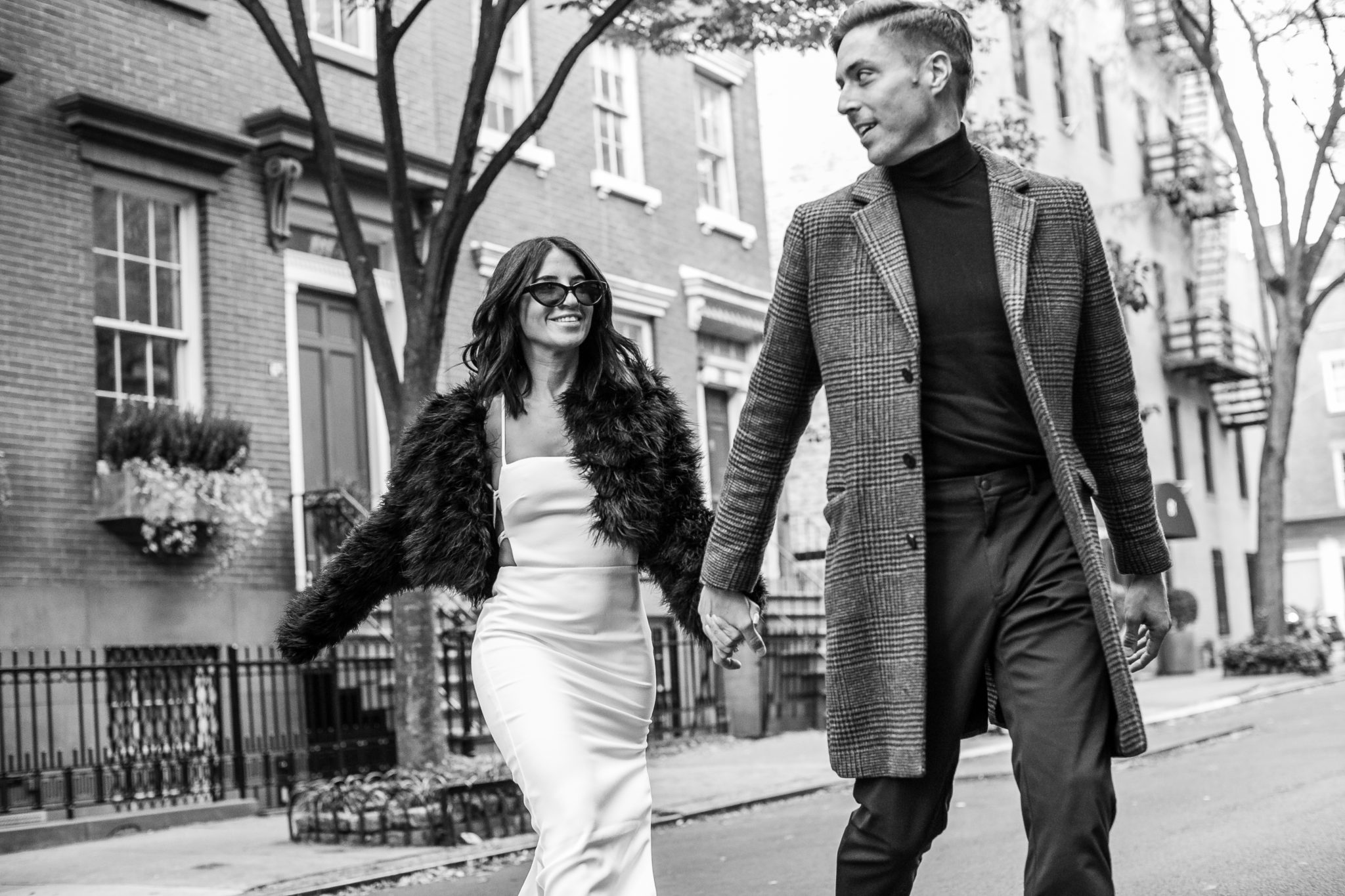 I worked with Rebecca and her partner Chris on a boudoir photo shoot last year and just had a blast with them. They are fun and work well together, and I just love their photos. They are also seasoned wedding photographers so I knew we would be taken care of.
Photographer check!
In the package we chose, engagement photos were included and we scheduled it right away because you know I love a good photoshoot. We would use the images for Save the Dates, invitations, and spamming our social media feeds with engagement content for days… and this post, of course.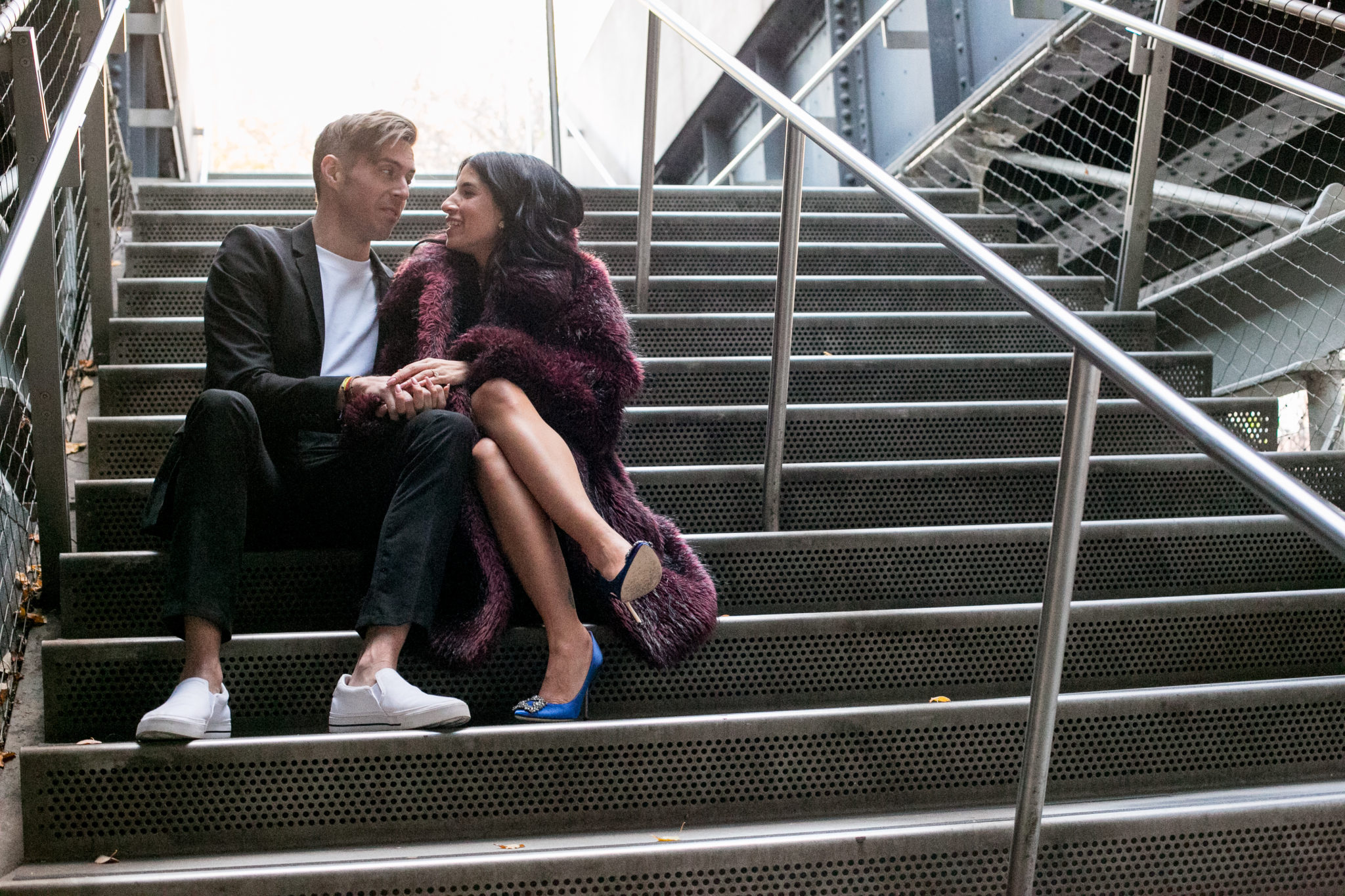 I knew I wanted a very Sex and The City vibe. I wanted to shoot in Manhattan and look fabulous. I wanted my own Carrie Bradshaw moment with the love of my life. Tony is more of an Aidan than Mr. Big (let's make that clear).
A day after our engagement, I went to an influencer event at Saks and got to try on the iconic Manolo Blahnik blue heels. I thought about getting them for the wedding festivities, but had a hard time justifying the price. Unlike Carrie, I am a little bit more frugal when it comes to splurging on designer goods, but I knew in my heart that they were worth it.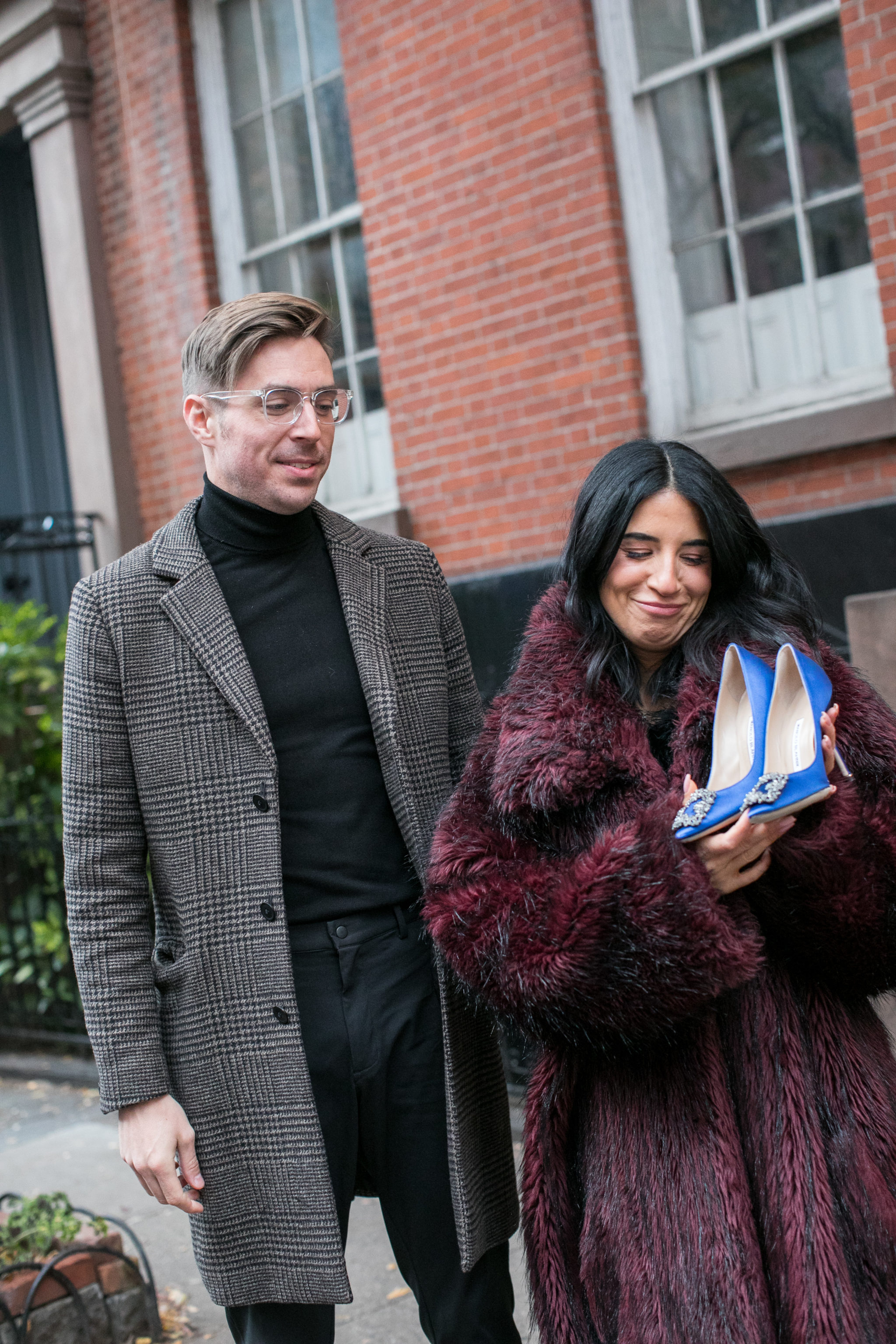 A few days before the shoot, on our way back from a romantic weekend in Cape May, Tony and I decided to stop by Saks at the American Dream mall to do some shopping. We went into Saks and I tried on the Manolos – they were perfect. The only issue was they couldn't find the other shoe!! I kid you not, a real Cinderella moment! The salesperson tried calling other locations and nothing. Nada. We left the store and I just thought to myself, I guess it wasn't meant to be.
We pulled out of the mall parking lot and my phone started to ring. I answered.
"Hello?"
"Hi! It's Saks. We found the other shoe!"
We parked, ran back in, and my love Tony bought me the Manolos. My husband-to-be. This was such a special moment for both of us.
Naturally, I had to wear them on our engagement shoot and any wedding-related event because I am going to get my money's worth.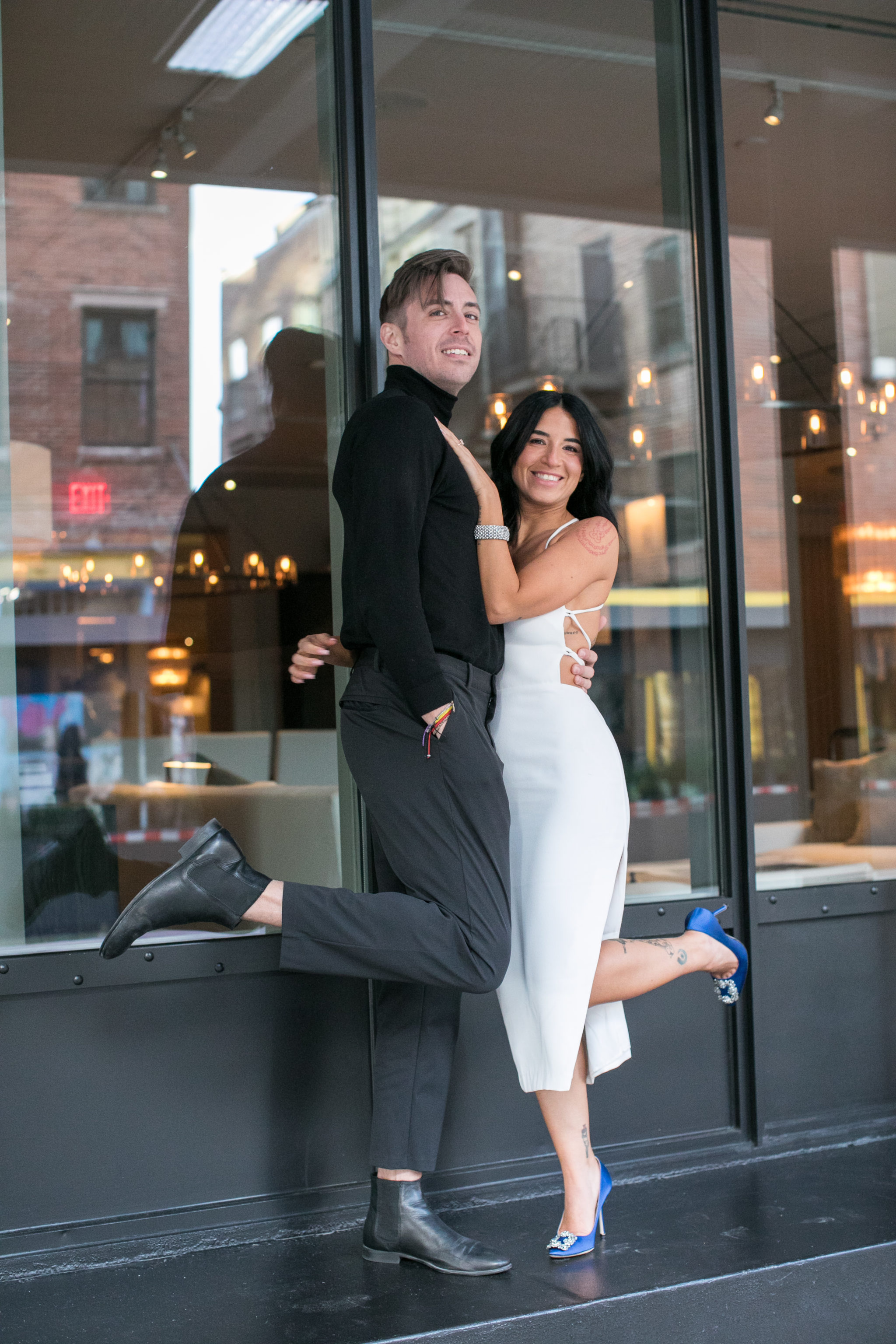 My bestie and Maid of Honor Olivia happens to be a celebrity hairstylist and she did my hair for the shoot. Laura, an incredibly talented makeup artist, did my makeup. My glam squad.
I am really thankful that because of this job, I have relationships with so many talented people that are excited to help me make my wedding day the most magical one ever.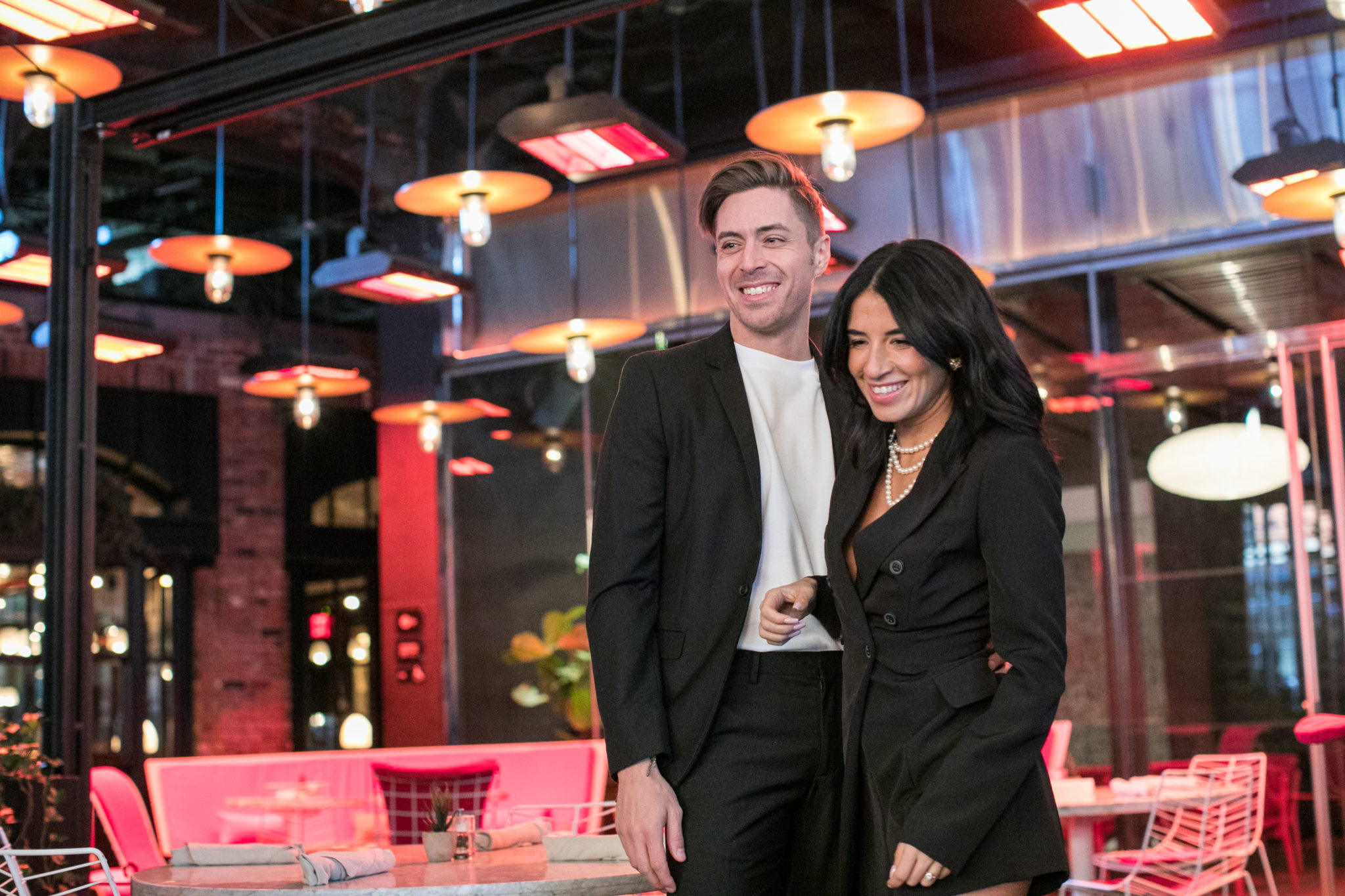 Anyway, back to the engagement photos! We met in the Meatpacking District in early November (it was cold AF), but we didn't feel the cold because of the excitement. I love shooting with Tony, it feels so easy and natural. We had a great time and it's only the beginning.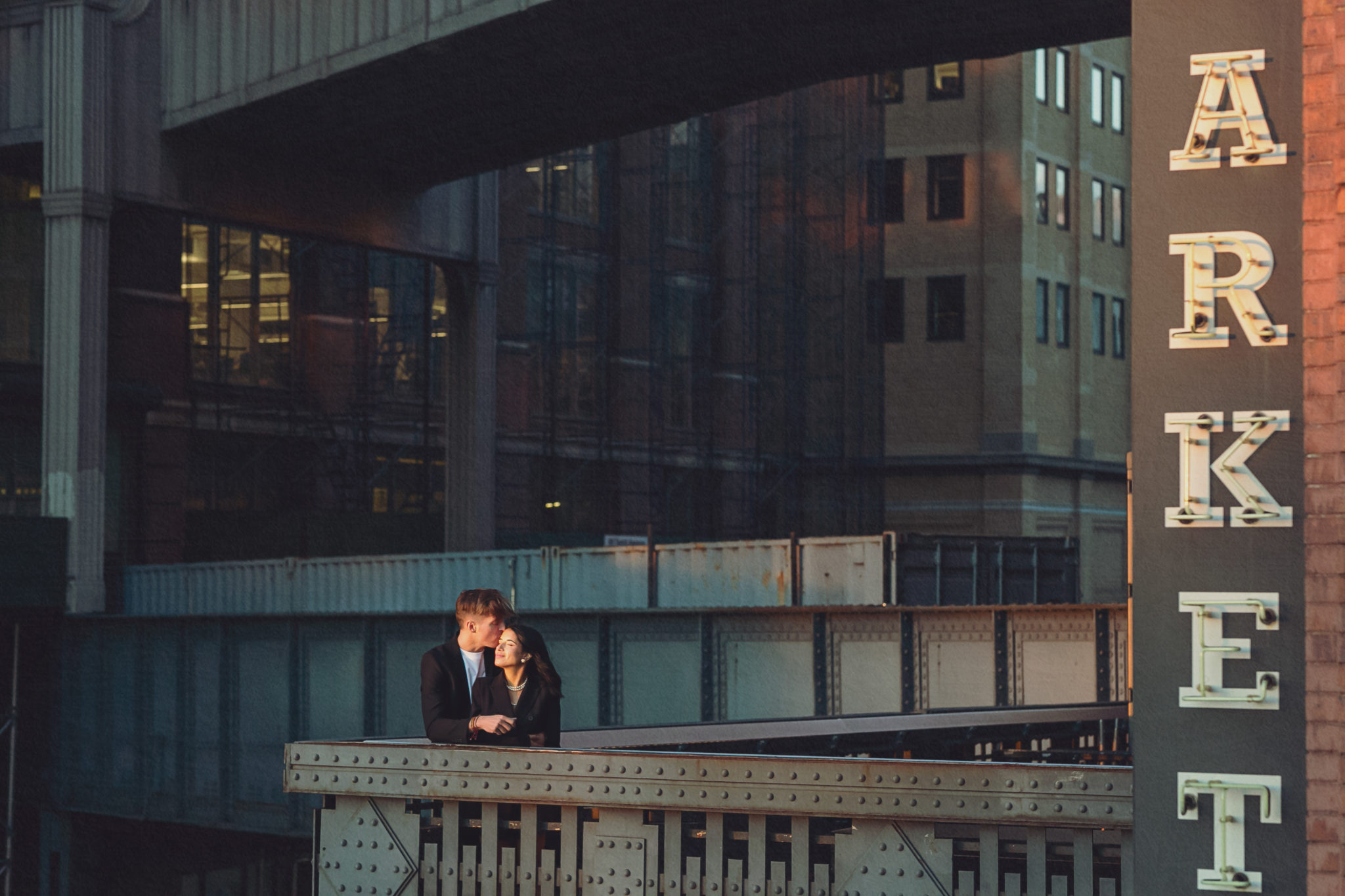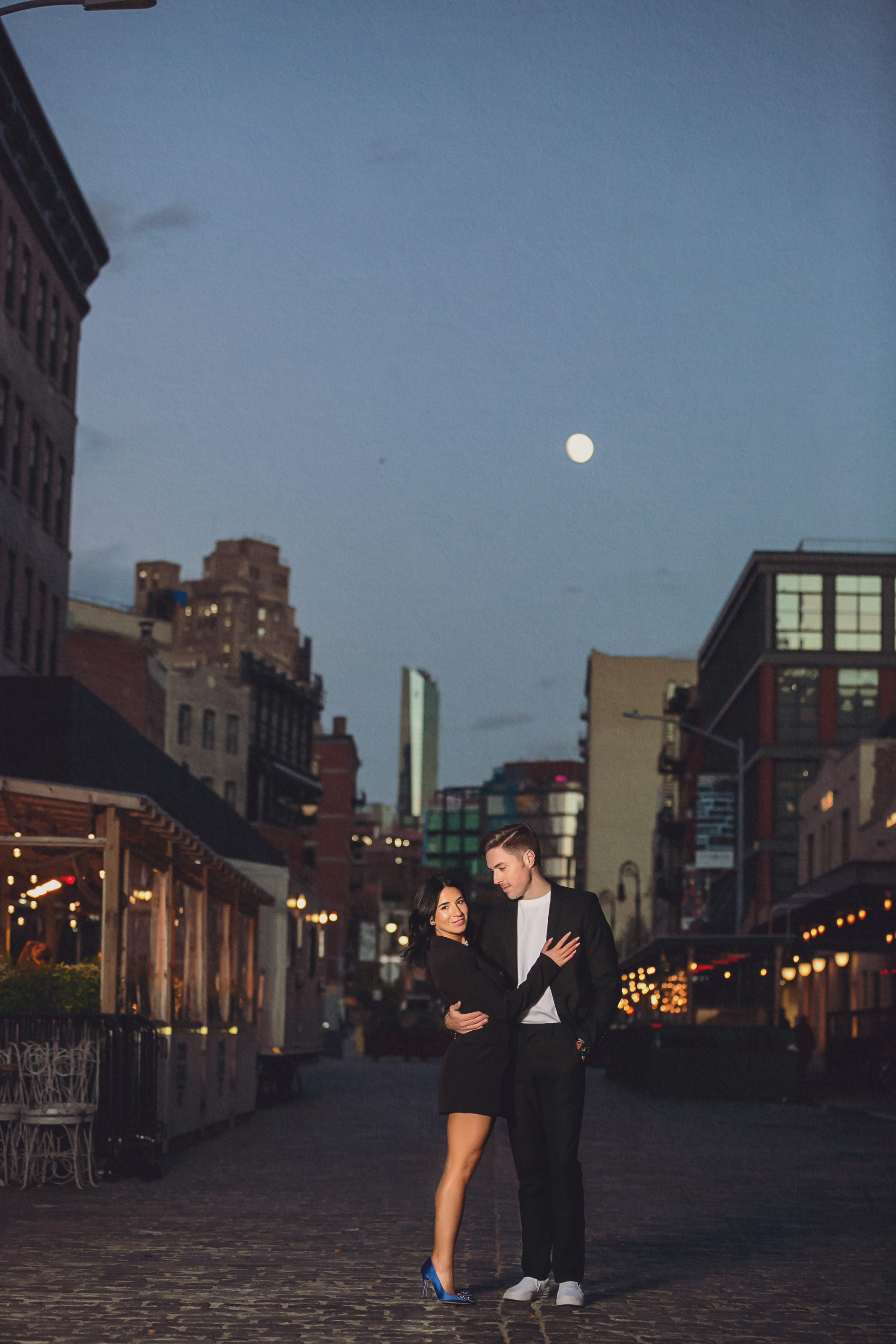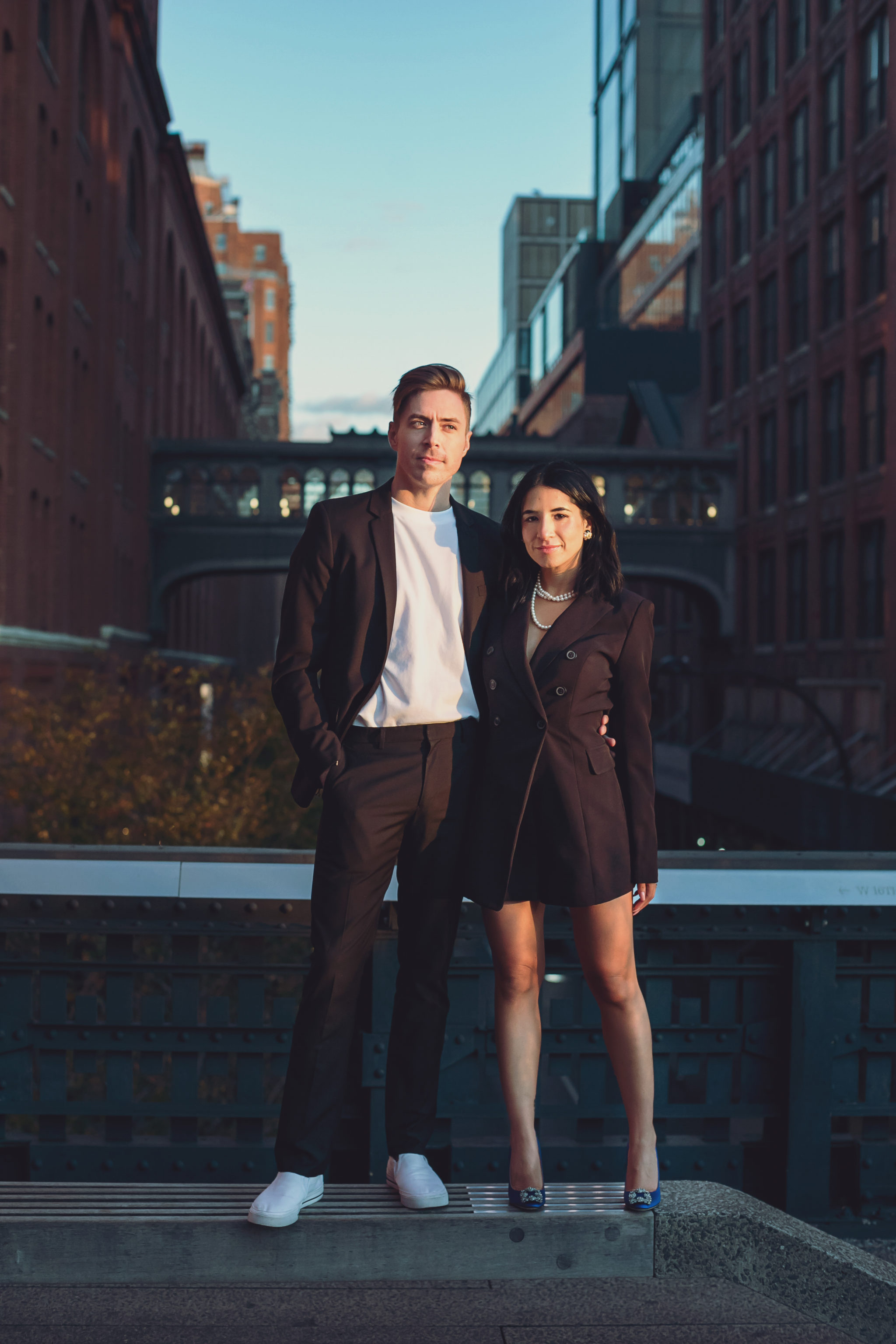 And just like that…