Meet Kelly and EJ! Want to share your wedding story? Email us at editor@chicpeajc.com.
What are your names?
Kelly (@salsaverdi) and EJ (@3jayen) Ayen
How did you and your partner meet?
We were set up by a mutual friend and met in a group setting at Porta in Jersey City in April 2016. The rest really is history – we talked every single day since the day we met.
Tell us your proposal story!
It's one for the books! In the beginning of March 2020, we took a trip to Europe with a big group of friends (about 10 of us). Our first stop was Paris and the second day into the trip, EJ popped the question at Place du Trocadéro in front of the Eiffel Tower. Our next stop was Madrid; unfortunately, our trip was cut short due to the onset of the pandemic. What started as a blissful, celebratory occasion quickly turned into panic as we struggled to find a flight home with the fear of international borders closing at any minute. For an entire day, our entire group was holed up in our Airbnb looking for flights, and a few of us got some of the last seats on a flight to New York the next day. Despite the circumstances, this was still a trip of a lifetime and made us both even more grateful for each other.
What was your wedding date and location?
September 5, 2021 at Hudson House in Jersey City
Did you have any issues planning or having the wedding because of COVID? How did you adapt?
If it weren't for Covid, we definitely would have planned to get married much sooner, but we didn't want to scale back on the wedding due to Covid protocols. So, we made the decision to stick it out and booked our venue over a year in advance so that things would get better and allow us to throw the big wedding we always wanted. We got married over Labor Day Weekend of this year and unfortunately, there was a big spike in the Delta Variant right before this which was really upsetting/scary, but we were pretty firm with our guests to get tested beforehand regardless of vaccination status. We were also confident that the vast majority of our guests were vaccinated which helped reassure things. Thankfully, we didn't have any guests unable to attend due to having Covid, especially our families and bridal party, which we are so grateful for.
Tell us about your dress/suit/outfit!
EJ and I both did outfit changes. For the ceremony and first half of the reception, I wore a lace long-sleeve gown by Yumi Katsura which I purchased from Designer Loft in NYC. My headpiece and earrings are from Bridal Styles Boutique and my shoes are Christian Louboutin. EJ's tuxedo is from Sayki. His shoes are also Christian Louboutin. For our second outfits, I changed into a sequin jumpsuit and cloak by Milla Nova which I purchased from L'Fay Bridal in NYC. I also changed into Jimmy Choo shoes. EJ changed into a traditional Filipino barong from Y2 Collection, as well Dior x Air Jordan high top sneakers.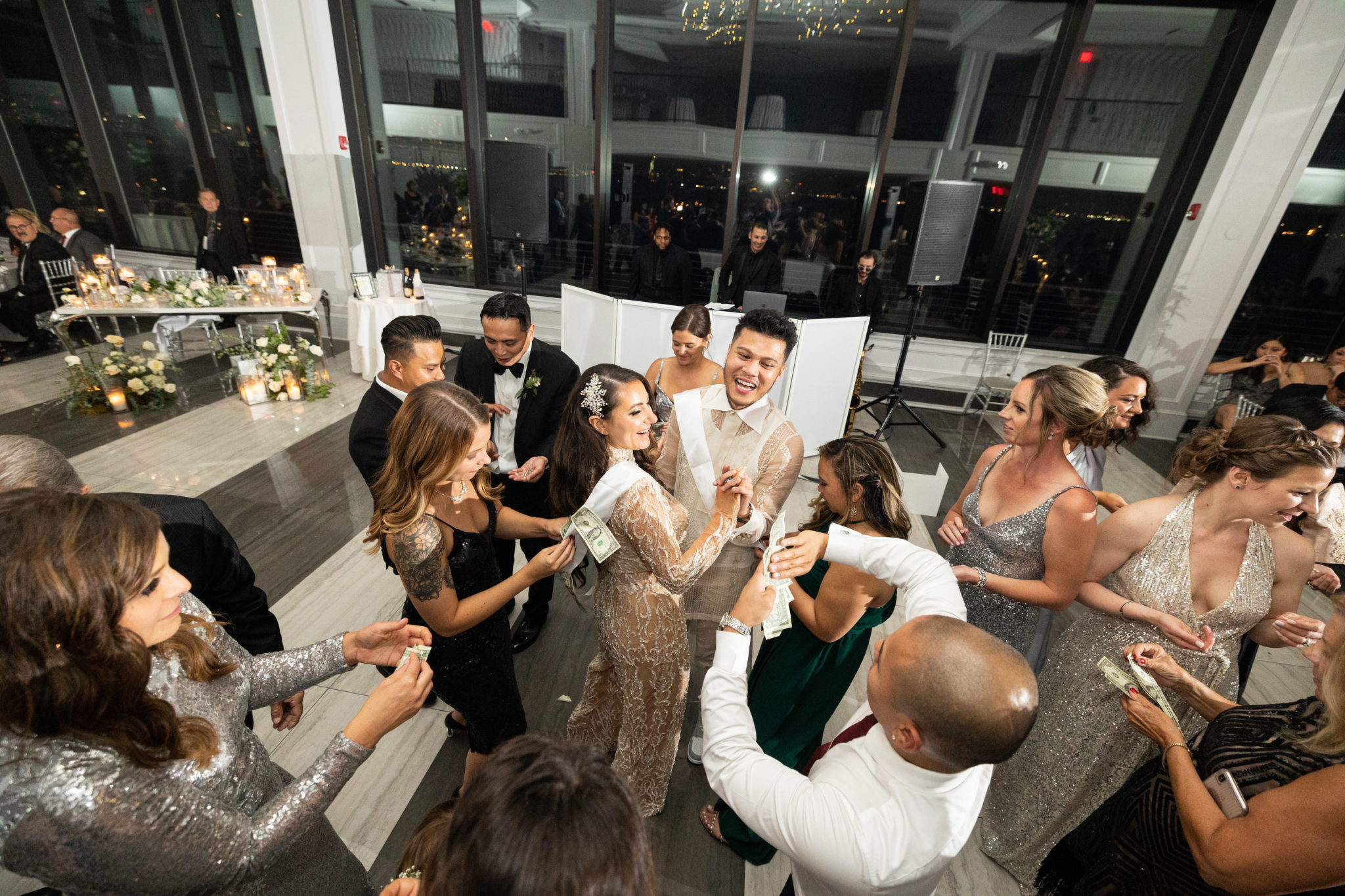 Tell us everything about your wedding! What made it unique?
We had an American/Filipino wedding as EJ is Filipino, so we wanted to make sure we incorporated cultural traditions you'd typically see at a Filipino wedding, including a veil and cord ceremony, Filipino line dancing, and the Filipino money dance after our cake cutting. In addition to EJ's barong, his mom and sister also wore Maria Clara gowns (traditional style of Filipino gowns). When it came to choosing a wedding officiant, we were also lucky enough that one of EJ's childhood friends is an ordained minister, which added another layer of personalization to our ceremony rather than having to outsource for an officiant. For photo purposes, we also rented an orange 2020 720S McLaren as our "getaway car" after the ceremony (with a customized license plate that we purchased on Etsy).
Tell us about all the wedding venue and all the vendors you worked with!
Hudson House is truly a dream wedding venue and so unique compared to other Jersey City venues. We loved the fact that it's still so new and that our wedding would be the first time all of our guests would have ever been there. Everyone was completely wowed from the breathtaking views to the amazing food. We also loved that we were able to have a different space for each moment of the day/night. Our ceremony took place outside on the lawn facing the Hudson River for a beautiful backdrop, followed by cocktail hour in the Hudson Room on the second floor and then the reception in the Grand Ballroom which is simply spectacular. This room truly speaks for itself and doesn't need anything extra. The cathedral ceilings were a major selling point and combined with the panoramic view of the NYC skyline and Statue of Liberty. You simply cannot get this at other venues in the area. Both the Hudson Room and Grand Ballroom also have wrap around outdoor balconies for guests to really take in and enjoy the views. After the reception, we also hosted an after-party in the mezzanine of the Grand Ballroom to end the perfect day. The aesthetic of Hudson House is contemporary chic/modern elegance, which is exactly the vibe we were going for. My bridesmaids each wore a silver gown of their own choosing which complemented the decor and overall theme. Florals were kept to neutral colored roses and seasonal flowers/greenery for an elegant, romantic feel.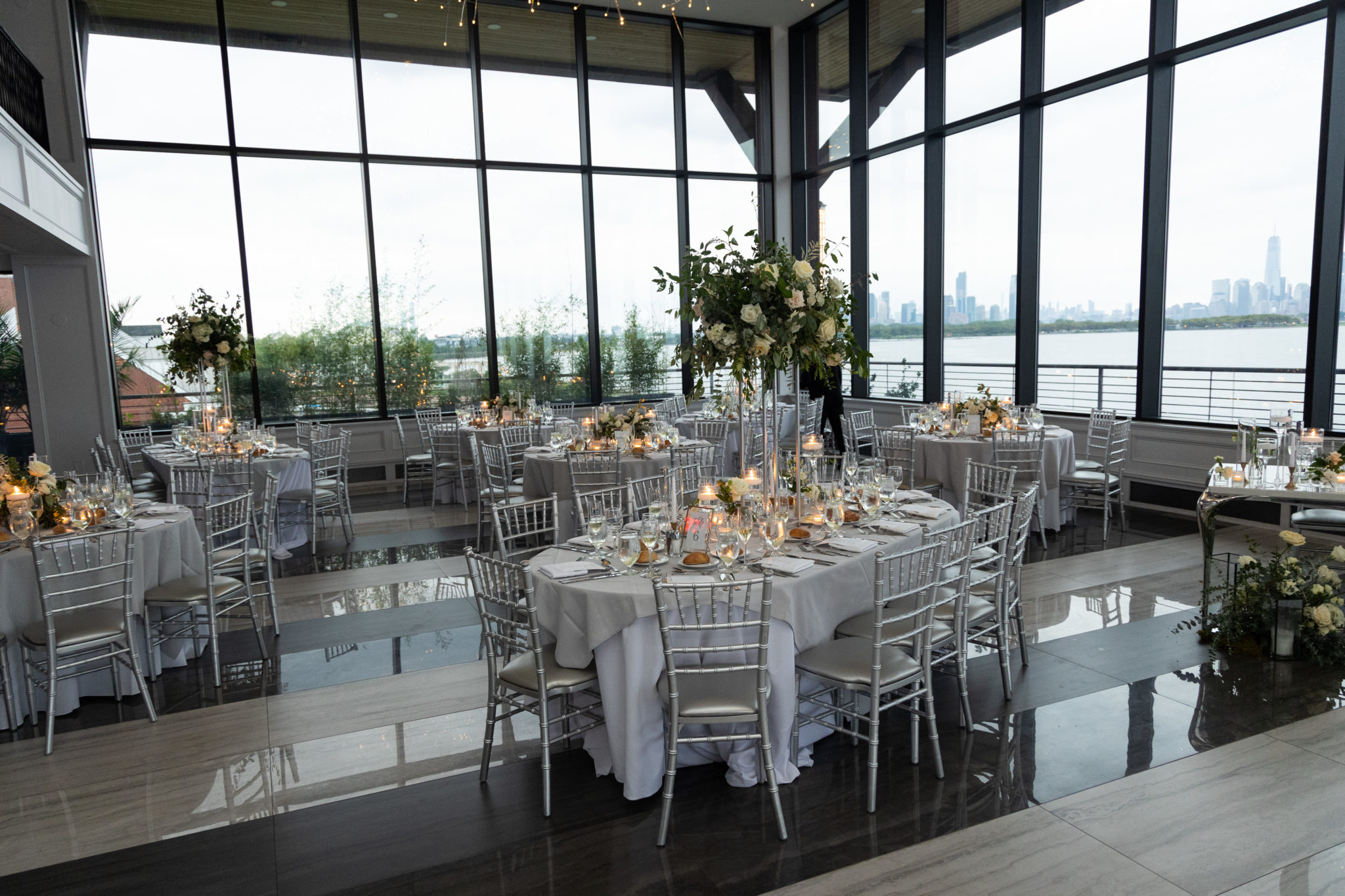 Vendors:
Venue: @hudsonhousenj
Photographer: @miltongilphotographers
Videographer: @birdandbeeweddingfilms
Flowers/Day of Coordinator: @karmaflowers
Calligraphy Artist for Seating Chart Mirrors: @vivianerodrigues.calligraphy
DJ/Live Saxophone Player: @elegantmusicgroup
Photo booth: @yourcharmingmoments
McLaren Rental: @firewheelsnyc
Customized License Plate: @papersopretty
Cake: @palermos.bakery
Shuttle Service: @limoride
Bridal Makeup: @beautybymariel @makeupbyjaysaunz
Bridal Hair: @nicoleliviabeauty
Bridal Spray Tan: @coco.glow.airbrush
Bridal Gown: @yumikatsuranyc @designerloft_bridal
Bridal Shoes: @louboutinworld @jimmychoo
Bridal Jumpsuit: @millanova @lfaybridal
Bridal headpiece/earrings: @bridalstylesboutique
Groom's Tux: @sayki1924
Groom's Shoes: @loutboutinworld @jumpman23
Groom's Barong: @y2_collection
Anything you regret doing or not doing at your wedding?
The night went by so fast that we didn't get to take any pictures in our photo booth, but happy that it was fully enjoyed by guests!
Any tips to share with Lynn or any bride to be?
After the ceremony, things really move fast! For the cocktail hour and reception specifically, make a list of your must-haves vs. nice to haves beforehand. Things like deciding how much time you both want to be present at your cocktail hour to having a reception shot list for the photographer are helpful in preventing any regrets. Also make sure you have a solid plan for tipping vendors at the end of the night. Have everything divvied up/enveloped ahead of time to make things as easy as possible as it's the last thing you'll want to deal with!
What was the most memorable moment of your day?
Definitely our vows. We initially went back and forth if we'd read vows during the ceremony, and we're so happy we made the decision to do it. There wasn't a dry eye in the house. Another really special moment for me was having a first dance with my 95 year-old grandfather. We danced to "That's Amore" by Dean Martin which is sentimental from my childhood. Again, not a dry eye in the house.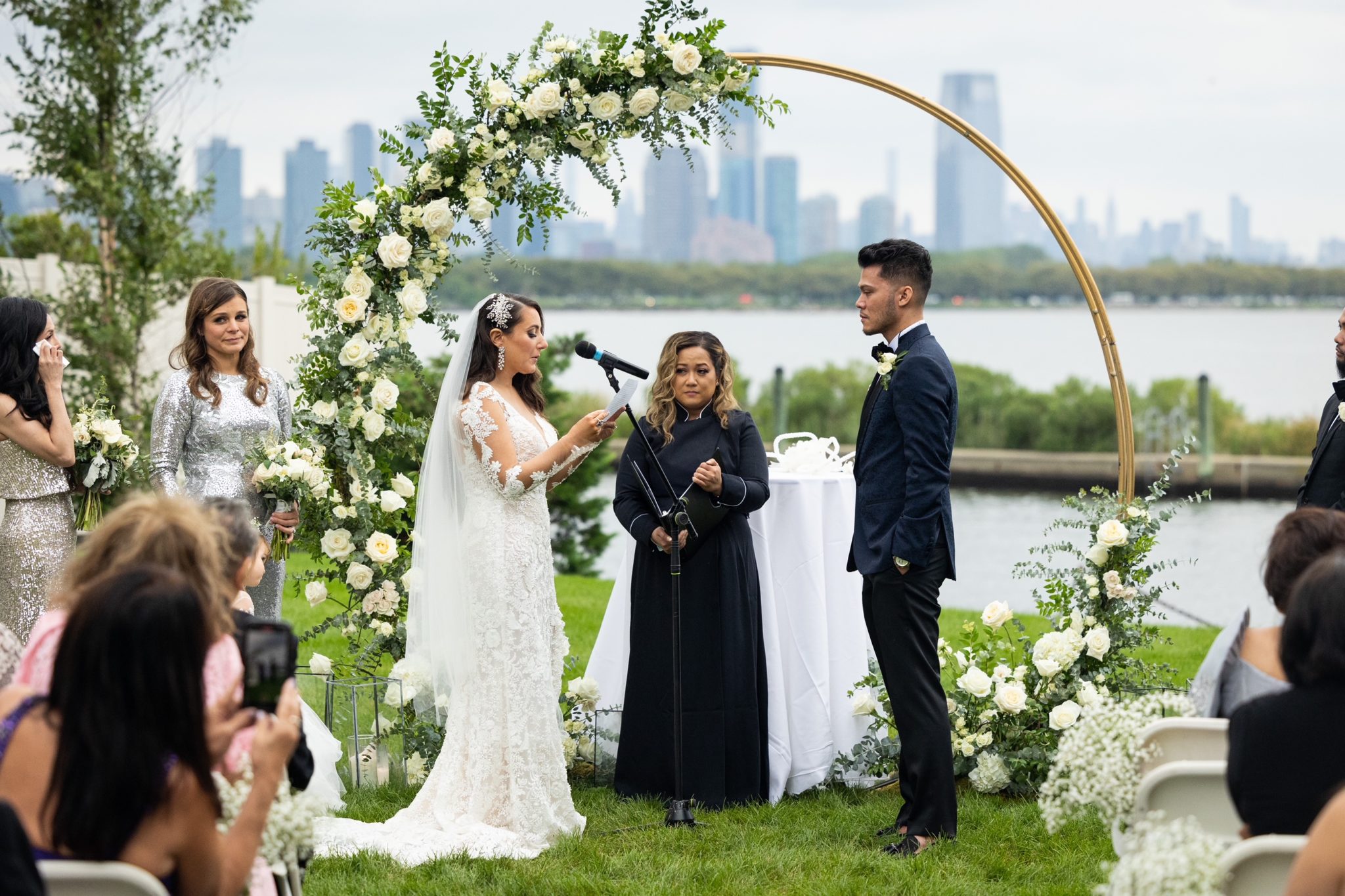 What was your first dance song?
"In Your Eyes" by The Weeknd (remix featuring Kenny G). We wanted to pick a song that our live sax player could play along to which was everything.
Where did you go on your honeymoon?
Dubai and Maldives!
Anything else you would like to show about your day?
Jersey City is and will always be a special place for us. EJ grew up here, we met here, and we live here. I'm so happy that we made the decision to tie the knot locally and wouldn't change it for the world.