If you're looking to get back into the workout groove and join some group classes, several local health and fitness businesses are taking their classes outside! Here are a few to check out this month.
Let us know which businesses we've missed and we'll include them in the next roundup!
---
Brazen Athletics Hoboken
Brazen Athletics is now offering a full schedule of outdoor workouts under the Viaduct! The first class is free – you can sign up on their website.
Link: https://brazenathletics.brandbot.io/forms/outdoor-class-0Gph6D.html
UFC Hoboken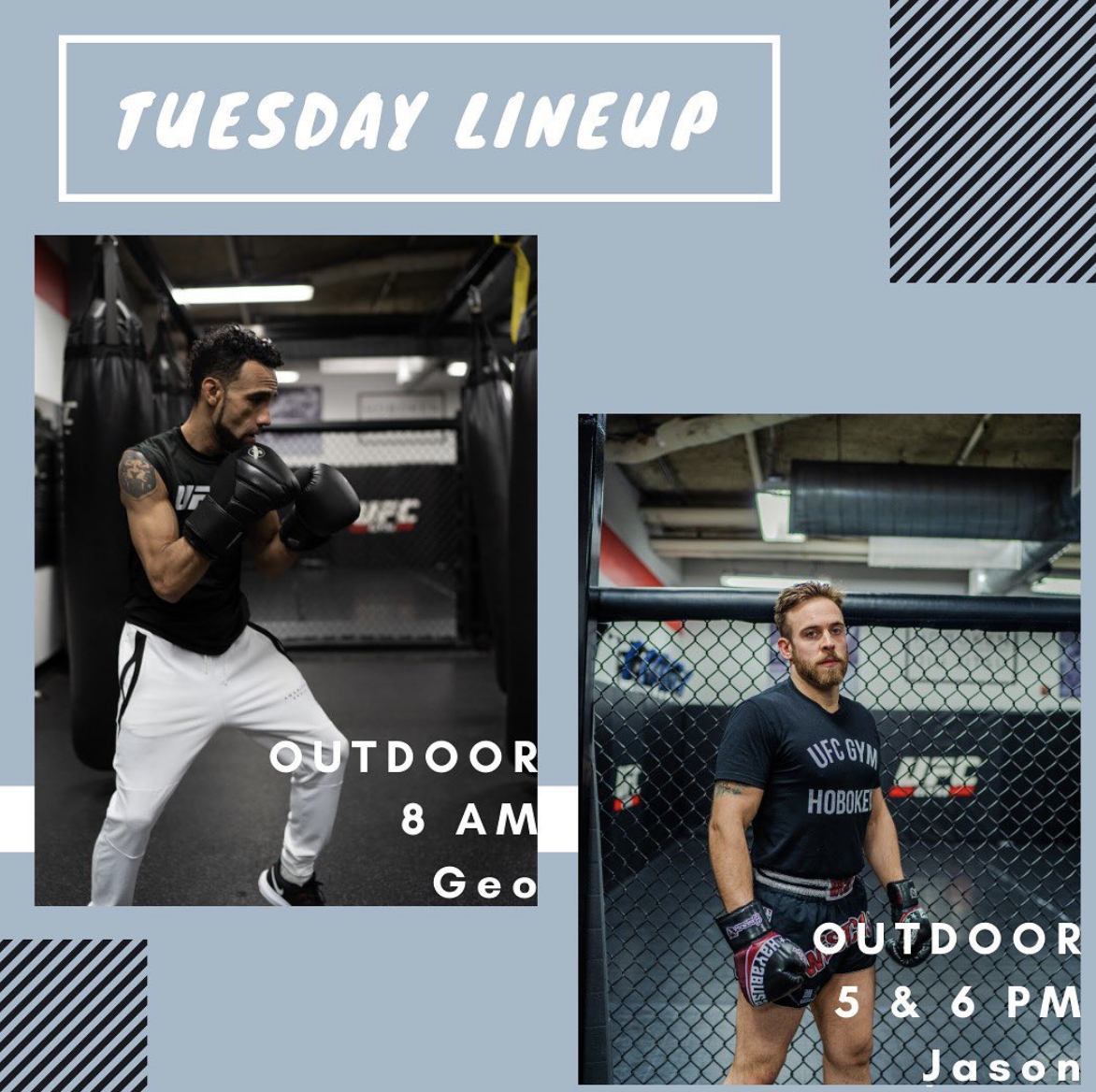 UFC Hoboken is offering outdoor sessions Monday through Friday at 8AM, 5PM , and 6PM.
Link: https://www.ufcgym.com/locations/hoboken/schedule/
F45 – Hoboken North
F45 is currently offering outdoor track sessions at Pier A and on 7th St and Jackson in Hoboken. Keep track of their schedule and any changes on their Instagram.
Link: https://f45training.com/hobokennorth/home
Asana Soul Practice
Asana Soul Practice is currently offering outdoor yoga classes in Jersey City and Hoboken. You can register for classes on their website and enjoy class at the Roberto Clemente field in Downtown Jersey City (124 1st St).
Link: https://www.asanasoulpractice.com/jersey-city-class-schedule
CycleBar Jersey City
https://www.instagram.com/p/CC813RGjG12/
CycleBar is offering outdoor cycling classes in the Harborside area. There are several classes listed on their website – register ahead of time or join the waitlist.
Link: https://www.cyclebar.com/location/jersey-city
JC Barre
Join a barre and core fitness class with JC Barre. You can sign up for their weekly Saturday outdoor bootcamp sessions on MindBody.
Link: https://www.jcbarrestudio.com/classes
Jane DO
Jane DO is offering their outdoor classes in Hoboken and Jersey City during the week. You can register for their Tuesday and Thursday classes taking place at the Roberto Clemente baseball field on 6th St in Jersey City.
Link: http://www.janedo.com/jersey-city
150 BayFit
Join 150 Bayfit for a Pop Up Park Workout in Hamilton Park. You can register on their website to join the pop up workout of your choice, often taking place at 9AM.
Link: http://www.150bay.fit/class-schedule
Ironbound Performance
Become a member with Ironbound Performance and enjoy outdoor classes outside of their studio and along Newark Ave.
Link: https://www.ironboundperformance.com/
JC Barbell
Jersey City Barbell hosts Outdoor Workouts of the Day twice daily. You can view their schedule online to register for your preferred class.
Link: https://jerseycitybarbell.com/more-info/#schedule
Intrepid Gym
Intrepid Gym in Hoboken recently started offering outdoor classes at Pier A. The classes are offered Monday through Saturday in the mornings and evenings. You can sign up via MindBody.
Link: https://mindbody.io/locations/intrepid-gym
Prime Cycle
Prime Cycle is offering classes 7 days a week at their outdoor studio at the Hoboken Little League Field. You can register directly on their website.
Link: https://www.primecycle.com/outdoor-classes
Project Sculpt
Project Sculpt in Hoboken offers offering outdoor fitness and yoga classes throughout the week. Browse their schedule for your preferred class type and times, and reserve your spot before they fill up.
Link: https://projectsculpt.zingfit.com/reserve/index.cfm?action=Reserve.chooseClass&site=1&wk=1
CKO Hoboken
CKO Hoboken now has outdoor classes with CKO Heavy Bags, all located in Columbus Square Park (by the ShopRite parking lot in Hoboken). Find a full schedule and register on their website.
Link: https://www.ckokickboxing.com/nj-hoboken/blog/specials/cko-hoboken-outdoor-classes/
CrossFit Hoboken
Become a Crossfit Hoboken member and you can sign up for their outdoor classes on MindBody. They offer several classes throughout the mornings and evenings daily.
Link: http://www.crossfithoboken.com/schedule/