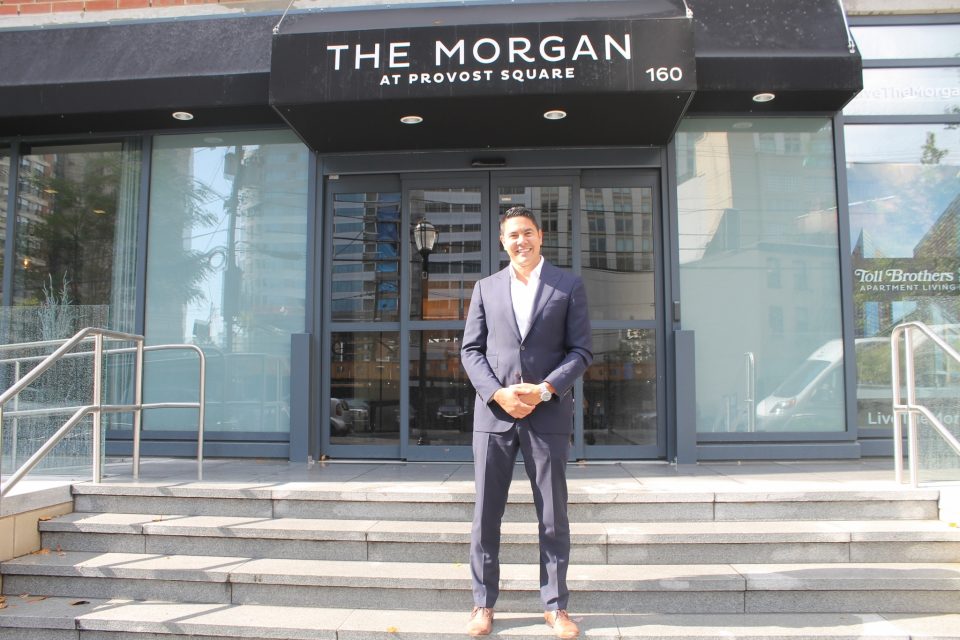 The Morgan is a brand new luxury condo building located in the Powerhouse Arts district in Downtown Jersey City. The Morgan has all the amenities you can dream of and it's conveniently located right by the Grove Street PATH train and all the downtown action. They recently invited me to tour the space and I brought along a few friends.
As Erik Galarza, The Morgan's Property Manager gave us the lay of the land, all we kept blurting out was "Wow" and "OMG". The building and apartments are beautiful and the amenities are #goals worthy. Erik and I even played a game of pool in the "Pub" lounge and I took a mini-nap in one of their stunning model homes with the most breathtaking views.
What I love about The Morgan is that they also do fun things for their community, like host a food truck rally, an outdoor movie and meet and greet events for their residents. Now where do I sign?
What is your name?
Erik Galarza.
What do you do?
I'm the Property Manager for The Morgan at Provost Square.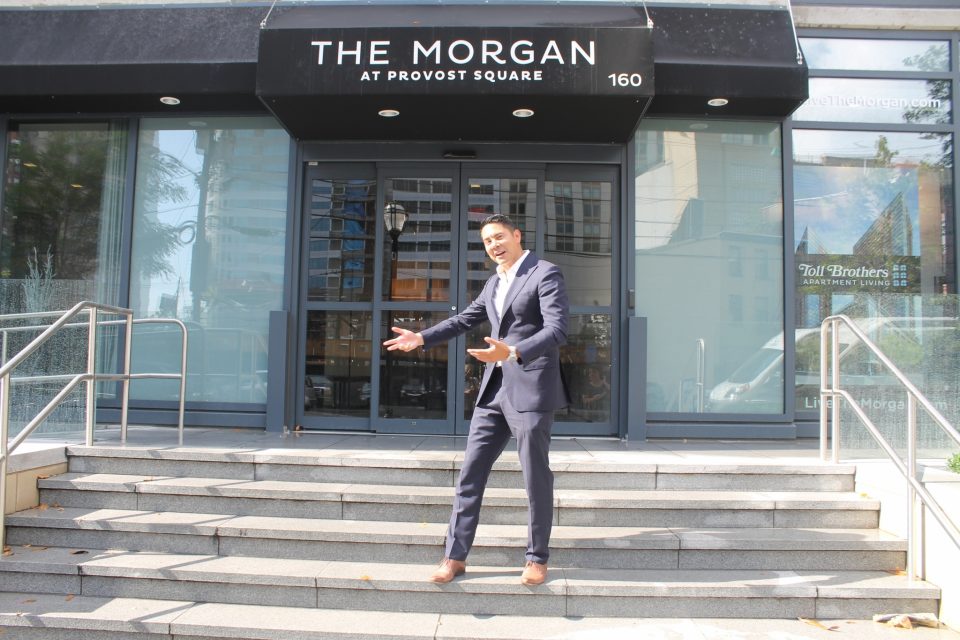 How long has The Morgan been around?
We started our first round of move-ins October 1st, 2015.
Are they rentals?
They're all rentals.
How many apartments?
417 residences.
How many of those are already rented?
We are currently at about 90% at this point.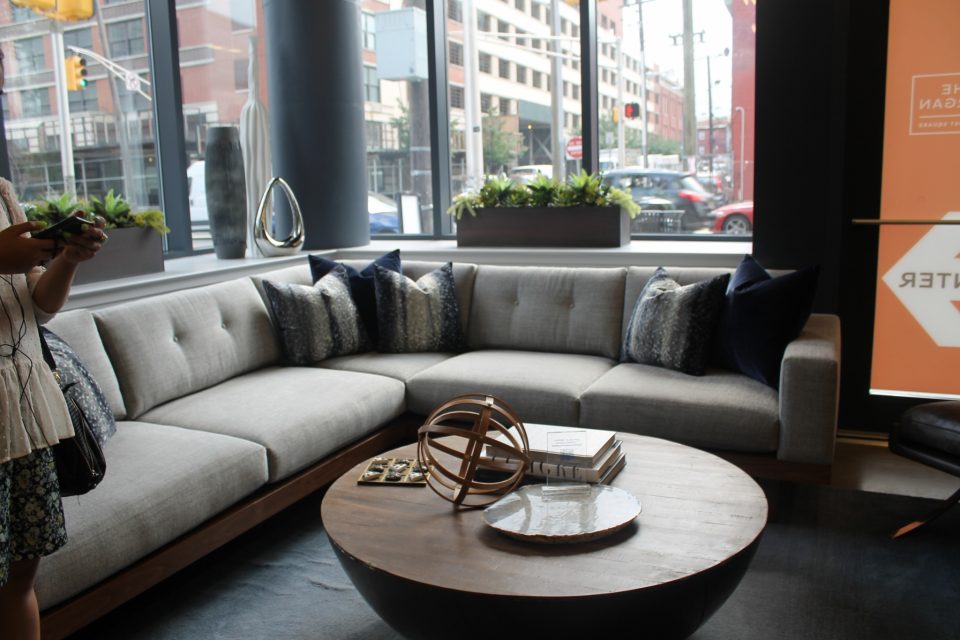 Amazing. Tell us a bit about this lobby.
We wanted to make a space that was comfortable for our residents. We wanted to utilize all of our spaces, this being one of them. They can come, do some work, hang out. We have coffee in here, as well.
It's super cozy. It feels like somebody's living room.
That was the intent – make it comfortable and let people enjoy the place they live in and not have it be a sterile lobby. We wanted something that was inviting.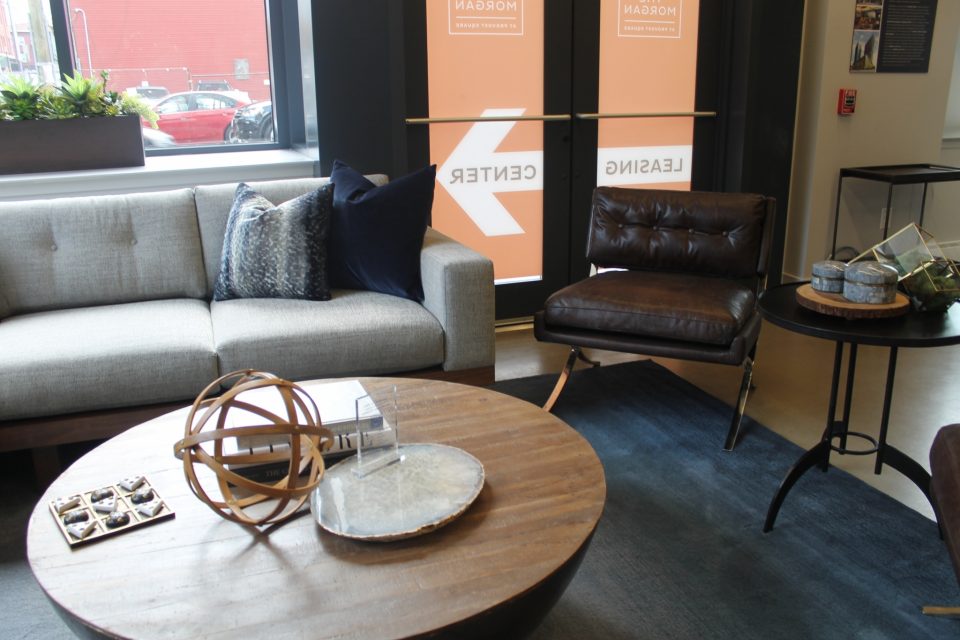 All that's missing is a fireplace! But the coffee machine is key.
The residents love it! Free coffee, and we have wi-fi, as well. Whenever they want to leave their home, they come down here.
So is there a designer?
We had CDC do the décor recently. We just changed things up a little bit. We also worked with our marketing team to pick out everything and get the look for the building.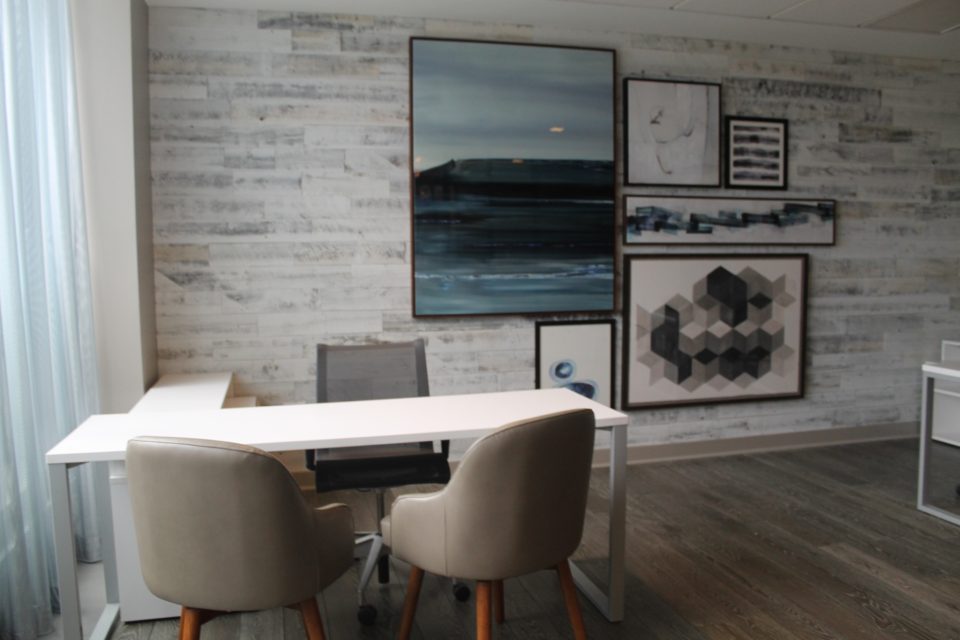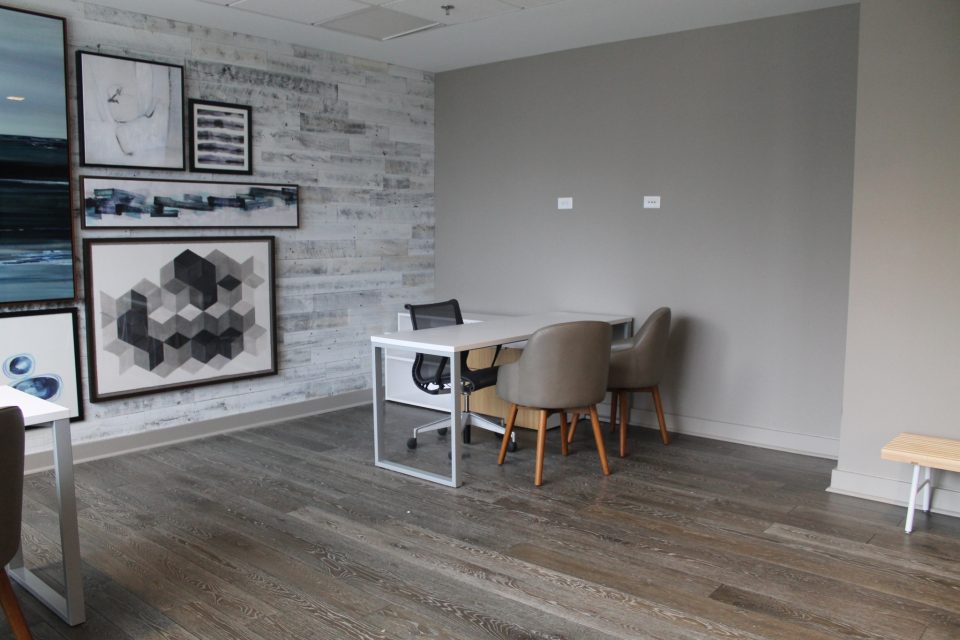 Tell me more about this space.
This will be the leasing center. Nearby, we have our amenity room. It's like our living room. Residents get to come, hang out, use the Wi-Fi, get out of their home, and see something different.
This is beautiful, very cozy.
They did a great job, we're very happy with it.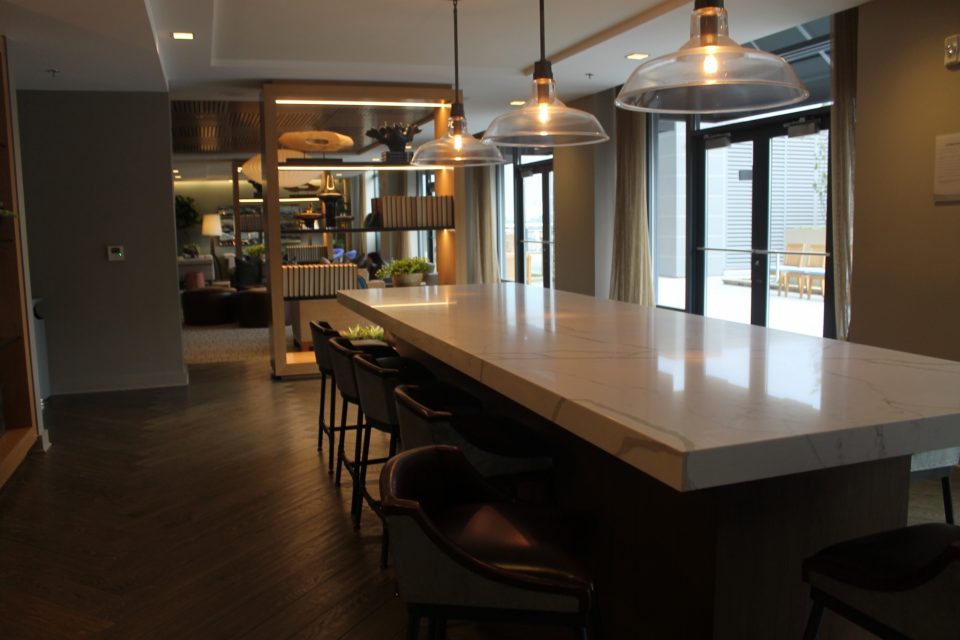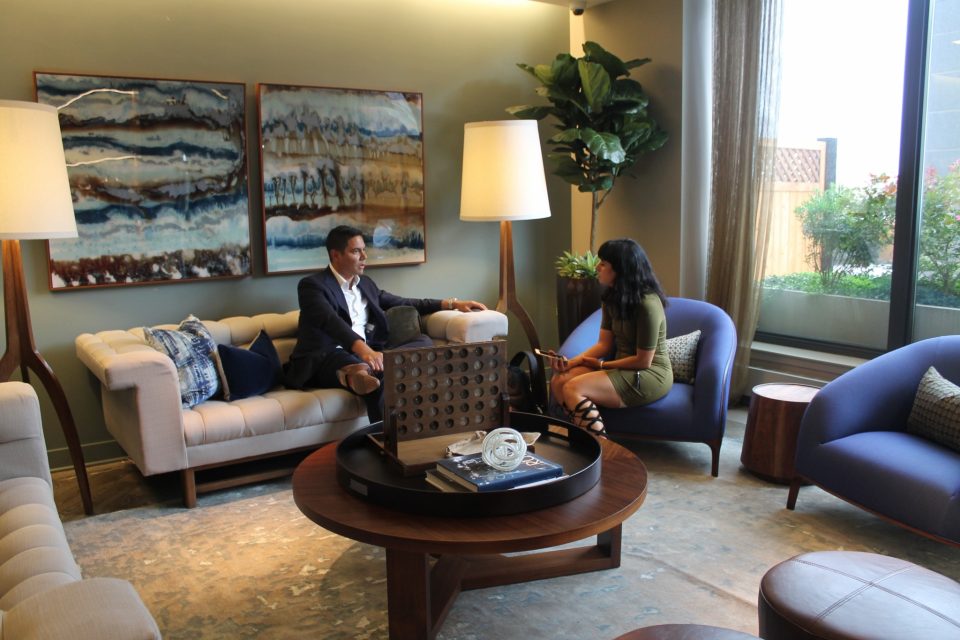 What else do you guys offer residents who sign a lease here?
Right now, we are offering certain concessions in certain residences. For the amenities package, we have our living room, which is a great space. We have a room called The Pub, which looks like an old-fashioned Irish pub, which gives it that character. We have our outdoor deck with our pool, wi-fi outside, two outdoor TVs, a fire pit, barbecue grills, and a dog play area. We also have a children's playroom, a fitness center, and a flex space, which has Fitness On Demand™. And we have 24-hour concierge service here. Our staff is great. I had prior experience working with two of them and was able to bring their experience and customer service to The Morgan.
For the most part, where are people living here coming from? Where would you say the bulk of people are from?
In the beginning, there were a lot of people coming from Jersey City and neighboring areas, looking for a change. Now we are seeing a combination of Jersey City, Brooklyn, Manhattan, and other parts of Jersey. It's been a good mix.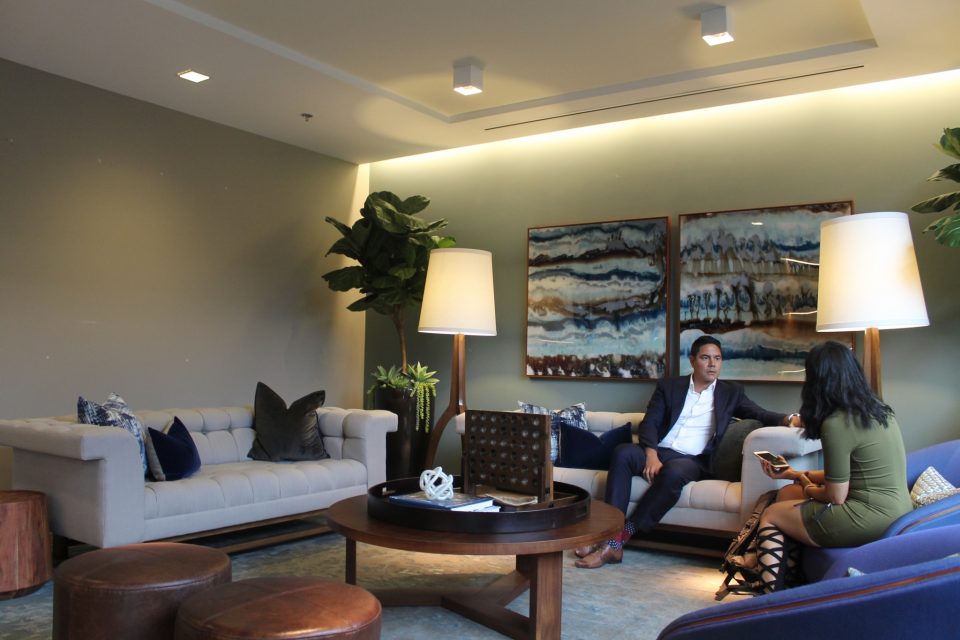 What is the rent like? Everyone wants to know.
We start off our studios at $2,050, and the 3-bedrooms go up to $5,000. They're competitively priced and comparable to surrounding buildings. So far we've had a great turnout while leasing.
You're right by the PATH, which is great. Right by Grove and the Downtown area.
That's one of the things that attracted me to this area. We're not even a block away from the PATH station. The Light Rail is two blocks away. We're right by Newark Ave, which has all the restaurants and bars. Everything's within walking distance.
I noticed you guys do a lot of events for the community, like the food truck rally.
The Food Truck Rally is a great event that my team and I developed. I had the pleasure of meeting with the Food Truck Association, including the owner of Me Casa JC, Eddie.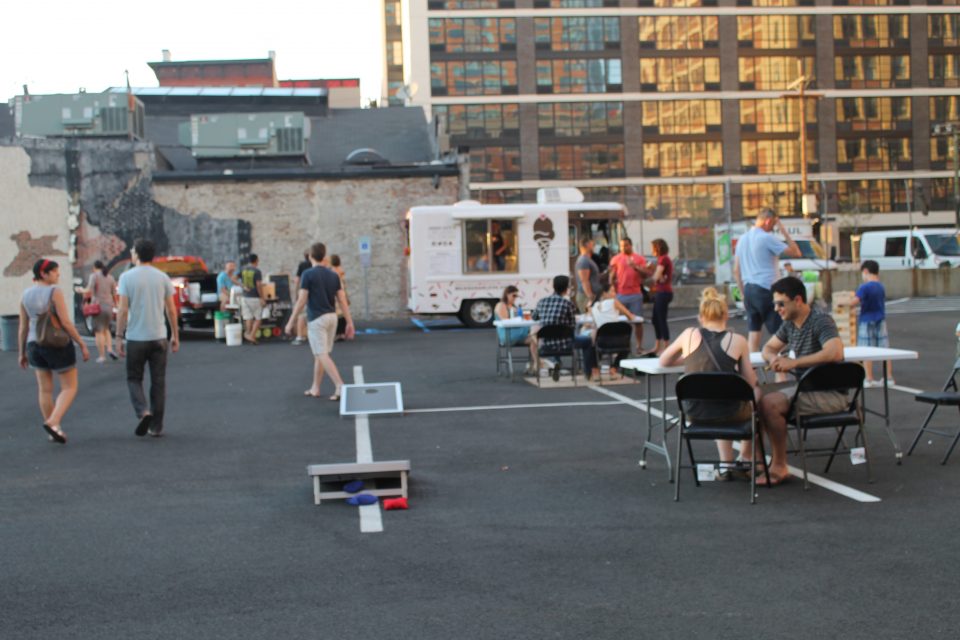 He's awesome, everyone loves him!
Yes, Eddie and I have a great relationship. I frequently go out to the food trucks and get lunch. I started sparking conversations with Eddie and we discussed The Morgan and how we have a great space – this parking lot – that we could use for an event with a couple of food trucks. Our idea was to bring Jersey City food trucks to the community for the residents to enjoy, while giving the public a feel for what we're all about. It's also a great opportunity for the residents, the public, and our team to interact. They loved it. We had a great turnout the first two times, and our latest was on July 15th. We usually start around 6, hang out for three hours, and begin the "Movie on the Lawn" resident event around 8 or 9.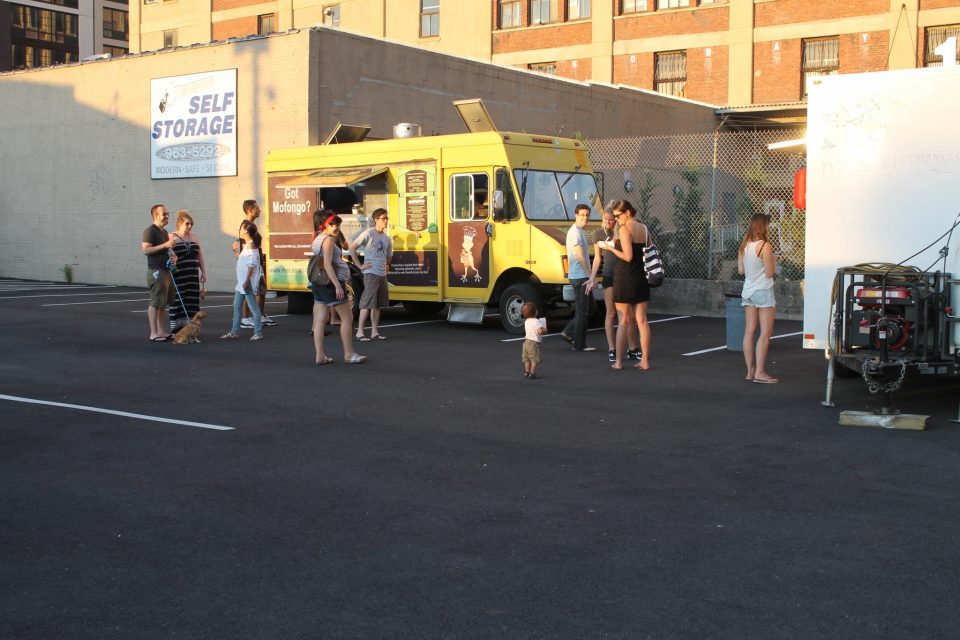 Where do you play the movie?
The movie is played in the green lawn space between our two buildings. We rent an inflatable movie screen. It's a fun event! When I saw that space for the first time, I knew it would be good for movies in the park. We had the space available, and it's the summertime, so why not do it?
It sounds like you're trying to build a nice residential community.
Our main focus when we took over and started this building was to be more than just a luxury building. The Morgan is meant to be a community – it's great because we have a lot of residents who walk by us and know us by name. They stop by just to say hello. We're at all of the resident events, interacting with residents and enjoying the event just as much as they are. They love that and feel more at home here. It's not just an office staff. We're their neighbors, as well. We will continue our focus on bringing the community together. It's been a huge success for us.
I love the furniture. It's really nice.
We just added some new pieces. It's warm and inviting.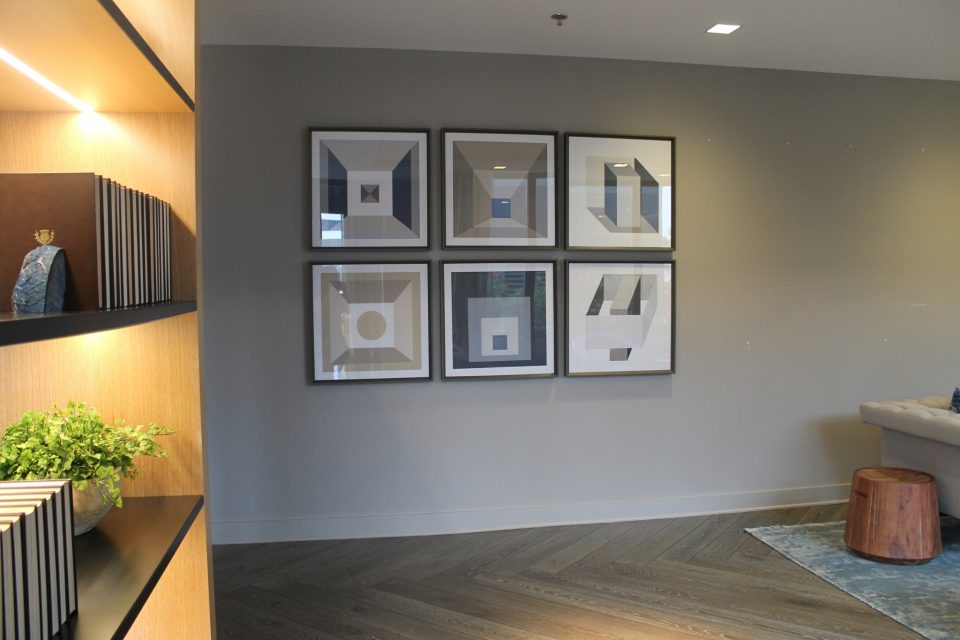 It's almost nautical.
Yes, we just took some blues and greys and they've blended in very well. We feel like this space is going to be used so much. During the holidays, residents can reserve this living room or The Pub, and we all have a great time with it. The residents are happy, and we get another opportunity to interact with everybody.
So are they mostly young professionals? Young families? Is it a combination?
It's a big combination of everything. That's what's great about The Morgan. It's just so diverse. We have people who just finished their internship and got a great job, and the empty nesters who are downsizing because their kids are out. We also have newlyweds and couples with newborns. This building has something for everyone.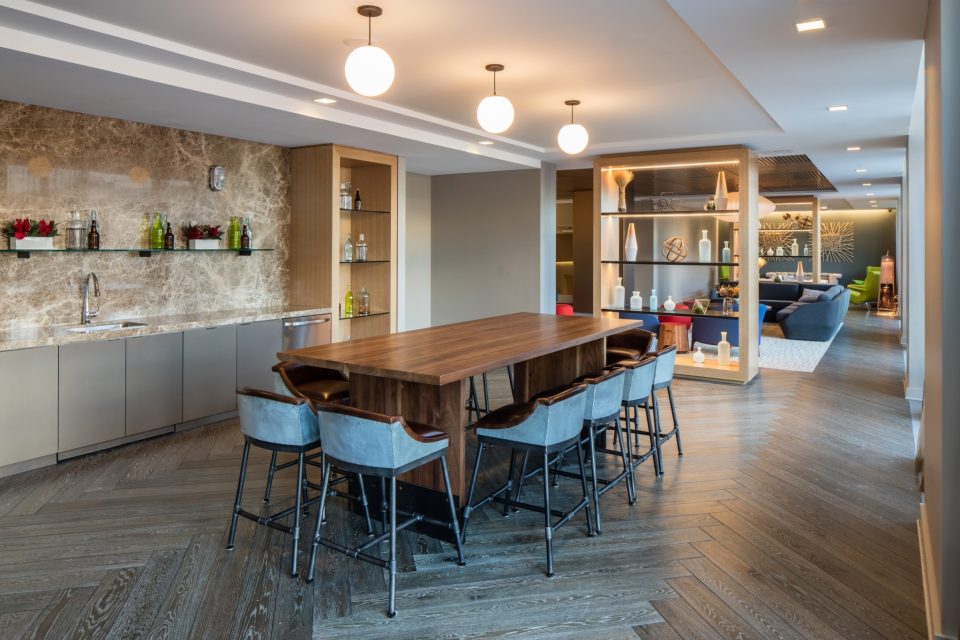 So about The Pub – there's a pool table!
One of the things we did to bring the community together and work with the local vendors was reach out to the local brewery across the street – Departed Soles. We have a great relationship with them, and they help us out on a lot of events. They were nice enough to make us a custom growler for all of our residents. It's part of the resident move-in gift, along with a picnic bag we give them.
Is it filled with beer?
No, we don't fill it with beer, but they can go fill it up across the street. Departed Soles helped sponsor our Super Bowl party. Porta also worked with us and provided the food. It was a great party – a nice time to hang out.
So you guys throw parties for your residents?
We throw parties for residents at least once a month. There's a different theme each month.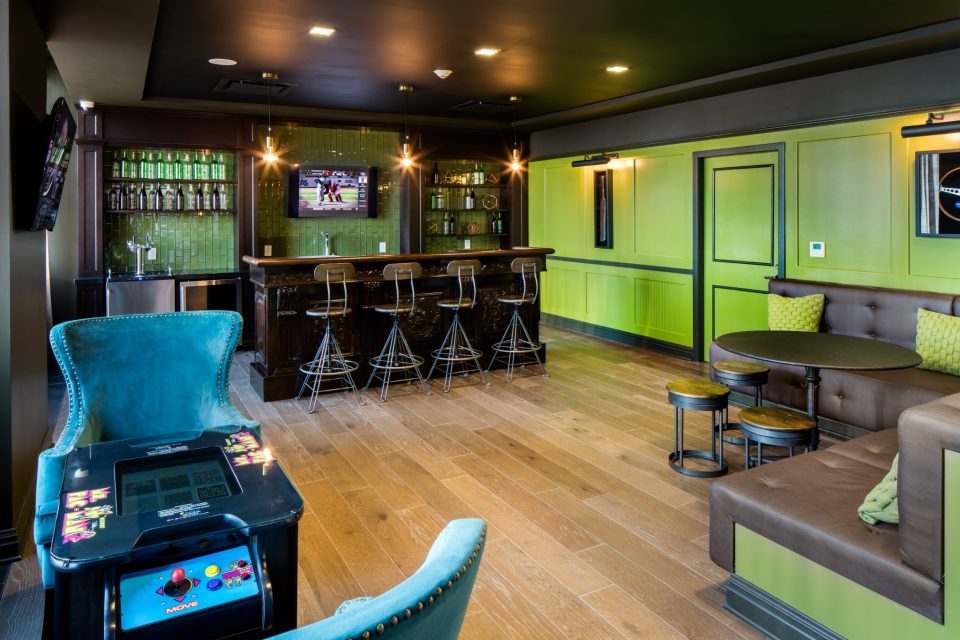 This bar is legit! I feel like I need to do a photo shoot in here. Do people come here and have their own get-togethers?
Residents come down here to hang out and also to start off their night.
Tell us about your outdoor amenities.
We have four barbecue grills here. We don't reserve them at the moment. It's first-come, first-served. The only time we've ever had to reserve them is during the holidays, like the Fourth of July, because we figured we'd get so much traffic. Residents just took to it and shared them. It was nice.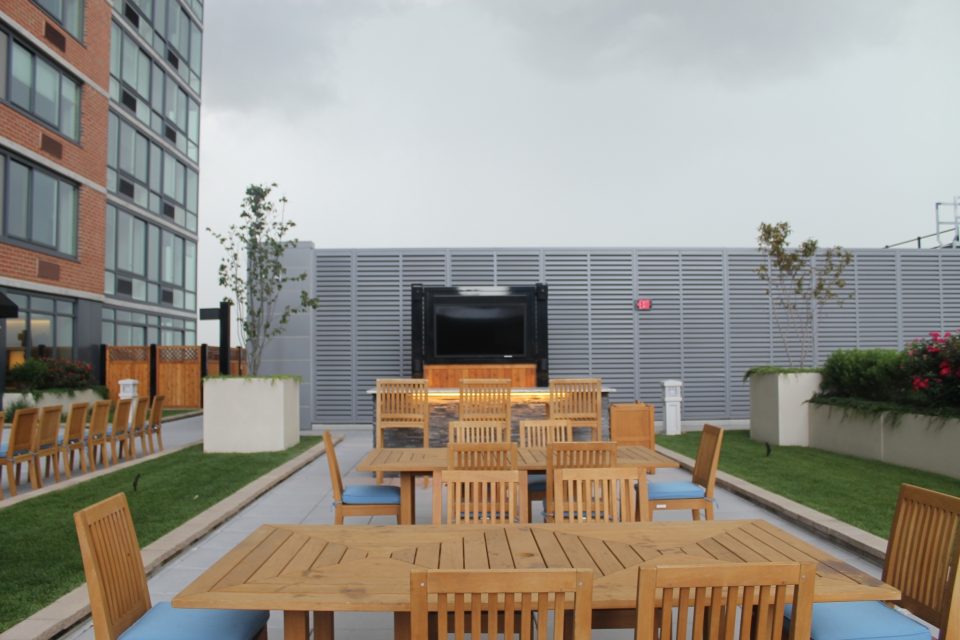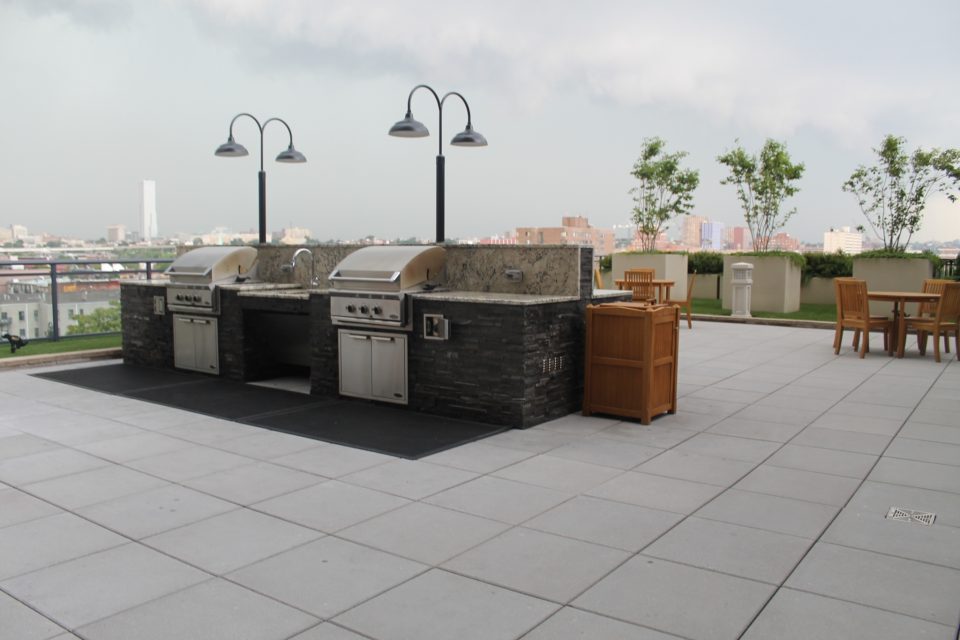 It's great. It doesn't feel like a communal space here, it feels cozy.
It is cozy; it feels like home. People can interact with residents and just hang out. We have two outdoor TVs with a bar. We've turned them on for the soccer games and other special events. They're even fine in the rain. We also have a pool and a 24-hour fitness center that is big enough to hold a variety of machines the residents can choose from. We also have a library, another quiet space for the residents.
This is great. Another area to work, and it's chic.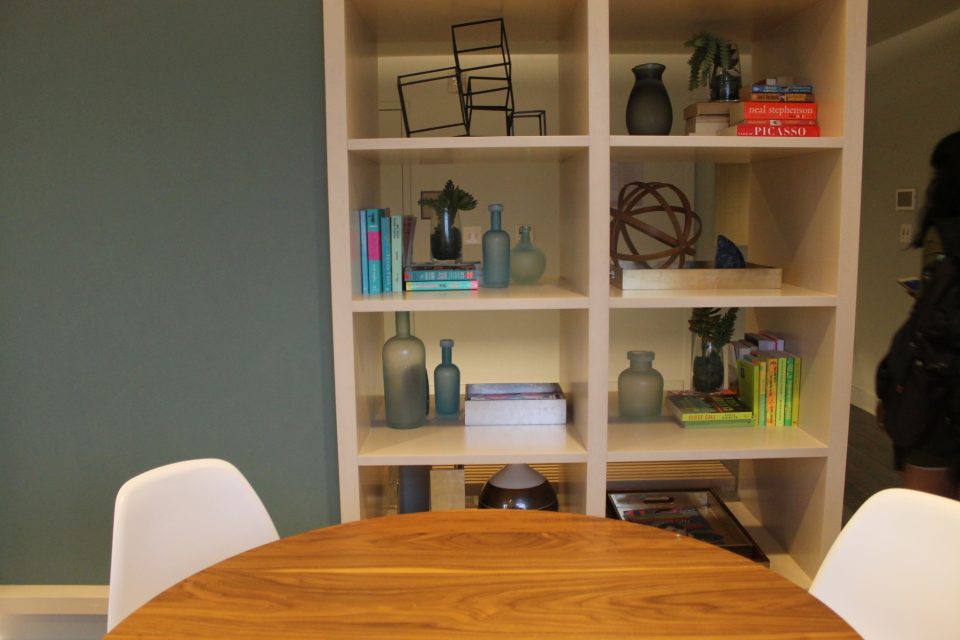 So how do you feel about all of these new buildings popping up?
I like it. It brings a lot of people – and even more variety – to the community.
Do you live in Jersey City?
I do not, I don't live here just yet.
So you're planning to move to Jersey City?
Eventually, yes. Right now, I have a house out on Long Island, so I'll probably put it on the market soon and find a place with an easier commute.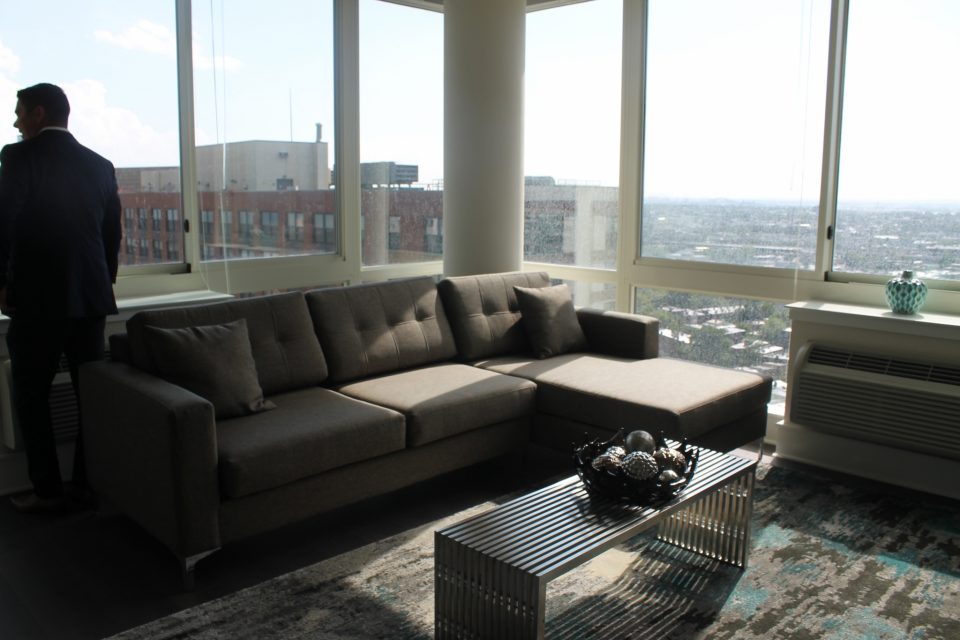 Are you going to move to The Morgan?
I might! I do love this building. It's a little different working and living in the same place, but it's a great community and the apartments are amazing. I would love to move out here. The timing would just have to make sense.
How do you like Jersey City so far?
I love Jersey City. I've been here working for Toll Brothers since this building was under construction. To really see how Jersey City has changed just in the past year and a half has been incredible.
You're ready to jump on the bandwagon?
I'm ready!
Get a glimpse of The Morgan at Provost Square's amenities and rooms below! For more information, visit their site.