Greenville is one of those neighborhoods in Jersey City that a lot of people don't know of off the bat. Its south of a lot of the action and development that JC is seeing and like a few other neighborhoods in the area, the 1970s hit it hard.
But the Hudson County History Advocates partnered with the South Greenville Neighborhood Association for a walking tour of the neighborhood a few weekends ago led by author, local historian, New Jersey City University librarian and Greenville native Patrick Shalhoub. He wants people to experience his neighborhood as he sees it; a beautiful, underappreciated area, rich in historical details and teeming with interesting tidbits. It was the perfect opportunity for me to explore this southern slice of JC.
Where is Greenville?
Taking up the southernmost section of Jersey City limits, Greenville encompasses the area south of the West Side Branch of the Light Rail, north of Bayonne's city limits and between the Upper New York Bay and Newark Bay.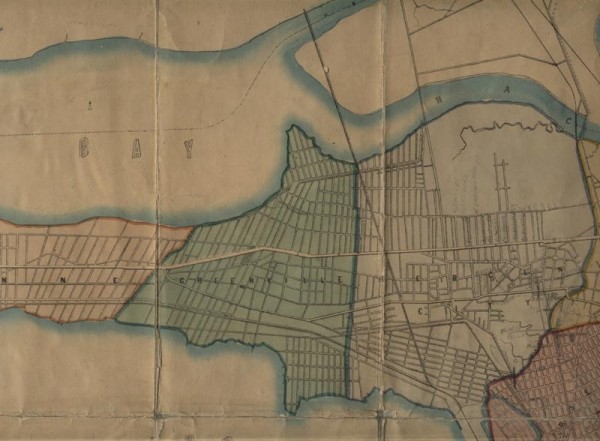 A Brief History:
The Hackensack and Raritan Indian tribes occupied the Greenville area before the Europeans made landfall in the 17th century. They called the area "Minkakwa" (alternatively spelled Minelque or Minackqua) meaning a 'place of good crossing.' Archaeological excavations along the New York Bay shoreline have revealed that the Indians used the water front to gather and preserve shellfish.
The area was settled by the New Netherlanders in 1647 but was sparsely populated with one or two farmsteads along the shoreline because the Europeans preferred to live closer to Journal Square at the time.
One of those farmsteads was Retirement Hall, the mansion of Captain Thomas Brown, a West-Indian tradesman, ship owner and slave dealer. Built in the 1760s at the foot of Linden Avenue on the waterfront, not only did Brown reside in this home but he also stowed the slaves he traded in his own basement. When the house was demolished in the early 1900s to make way for the railroad expansion, shackles and chains were found imbedded in the walls, used for securing the human cargo he obtained on his trades.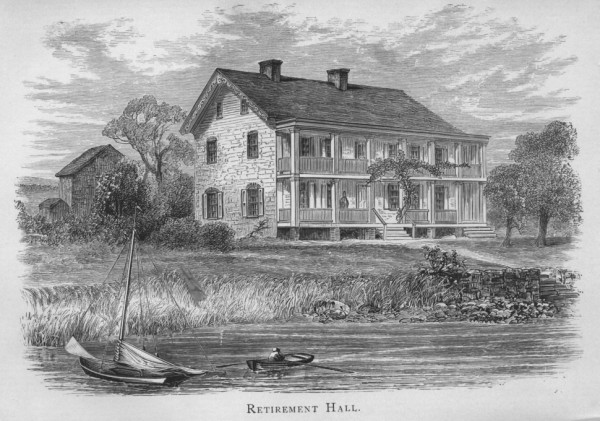 By the 1830s, steam-powered ferries were transporting people between Manhattan and Jersey City, making the area more accessible, though to reach the "country" village of Greenville, travelers still needed a stage coach.
In the 1840s the population continued to grow and the first church, a Methodist church, was built on Linden Avenue between Old Bergen Road and Ocean Avenue. Today this is the Calvary Baptist Church.
The 1850s began saw well-to-do New Yorkers discover Greenville. Bergen Point Plank Road (what is now Garfield Avenue), named for the actual cedar planks foraged from the Meadowlands that covered the road so stage coaches and carriages could ride smoothly over its surface, connected downtown Jersey City to Greenville. Wealthy businessmen who could afford the horse and carriage transportation from Greenville to Paulus Hook's ferry landing began to take advantage of Greenville's large land holdings and erect mansions.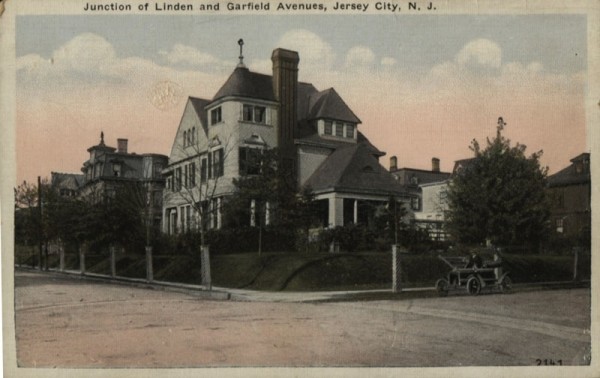 At the time, new residents were attracted to Greenville because of Bergen Point Plank Road's slight elevation, which offered panoramic views of New York Bay, as well as its close proximity to Bayview Cemetery. Founded in 1849, this singular cemetery represented a change in the way people lived; before then the deceased would be buried in a church yard or on their own farm land. Designated cemeteries with landscaping meant to gather with loved ones and visit, was a new concept.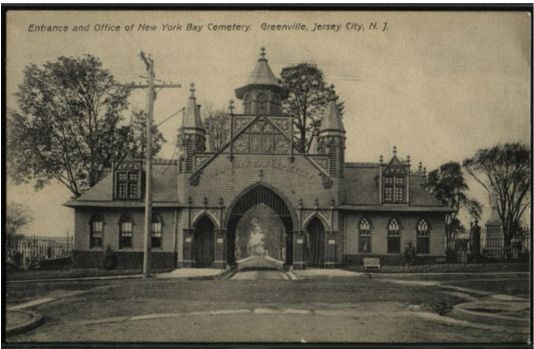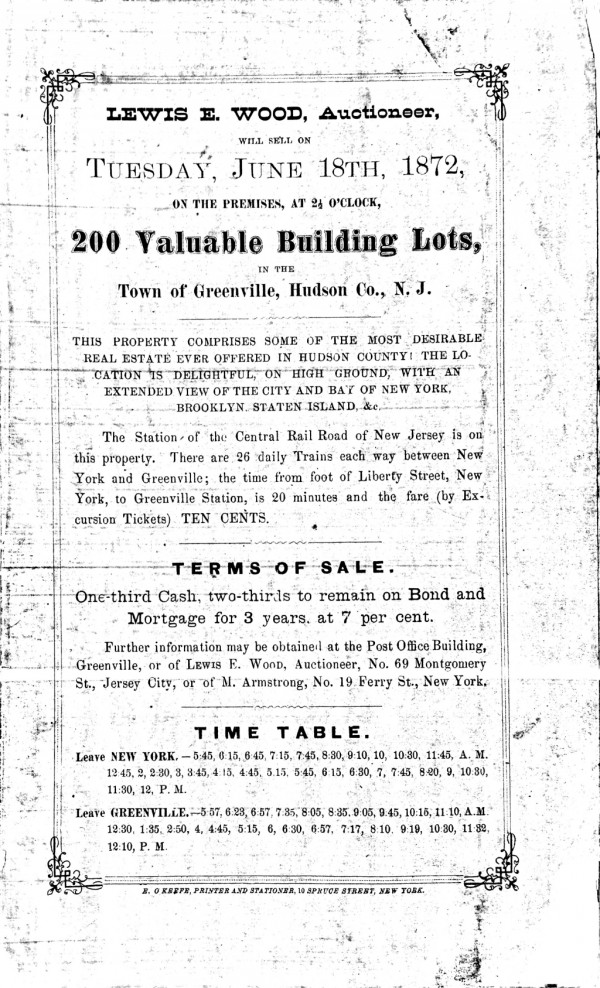 By the 1860s there was a regular horse-drawn railway going between Paulus Hook and Bergen Point. Then the Greenville Station on the Central Railroad of New Jersey line opened followed buy the opening and expansion of electrified trolley lines servicing the neighborhood.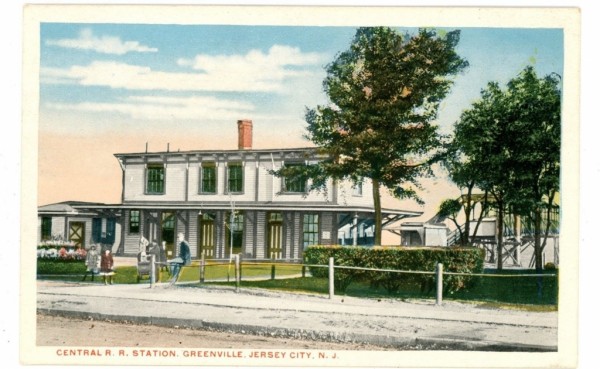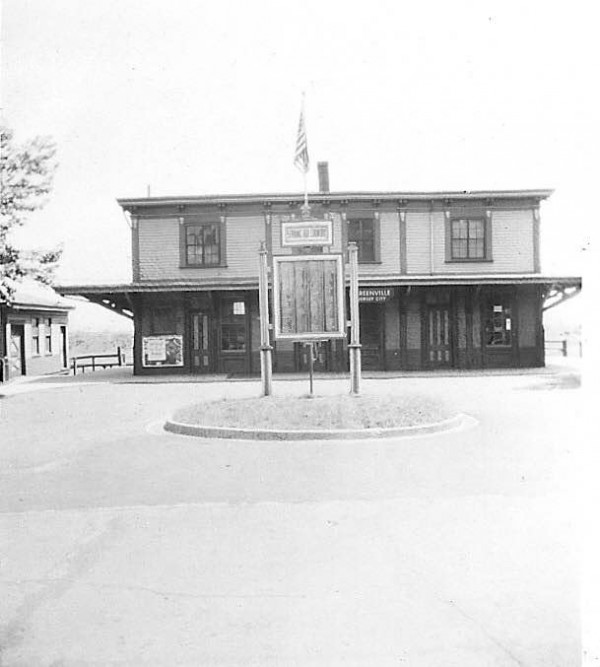 While the town was booming, residents still found their reprieve in Currie's Woods, the southernmost part of Greenville. Named for James Curie, an admired local who served on the first Township Committee of Greenville in 1860s and known for its bucolic woodlands, rocky shore and sand dunes, this locale was a popular picnicking, swimming and ice skating destination for residents at the time.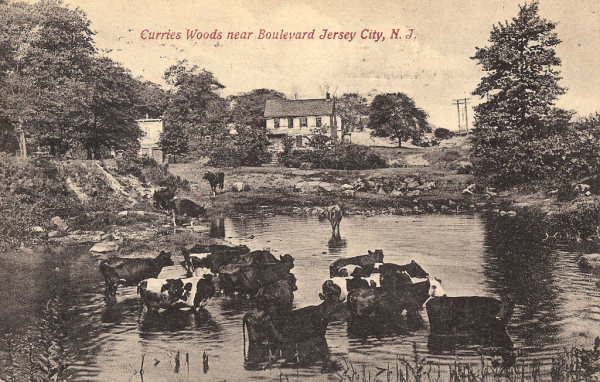 Greenville became an independent municipality in 1863… but it didn't last very long without a mayor. All civic issues; street paving, schools, town utilities, etc. were handled by a conflicted committee and all resources were being directed towards The Civil War efforts.  Consequently, Greenville joined Jersey City in 1873.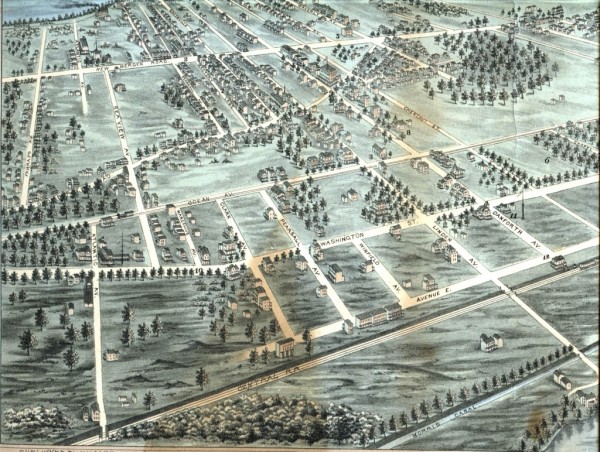 On the morning of July 30, 1916, Greenville residents were suddenly awakened by a huge explosion that came from Black Tom Island – a nickname for the pier on the town's waterfront. The area was a munitions warehouse in WWI and when Germany was blocked from US's list of allies, the depot could no longer supply them with weapons. In retaliation, the Germans sabotaged the stockpile and lit a fire to what was estimated to be 2 million pounds of small arms, artillery and TNT. The explosion was the equivalent of an 5 – 5.5 magnitude earthquake and was felt as far away as Philadelphia.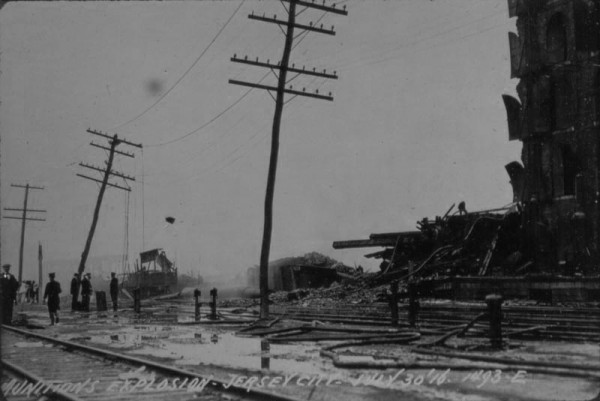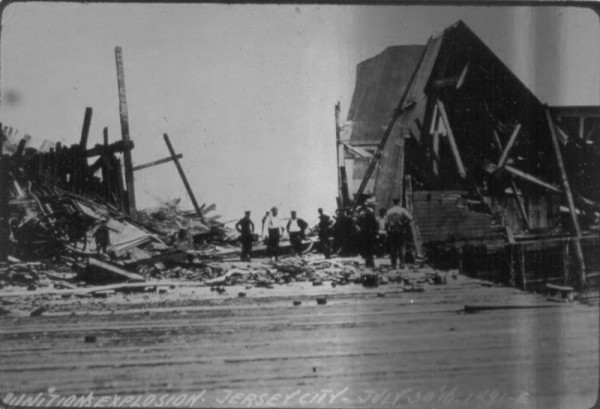 INTERESTING ANECDOTE:
Feel like you're always lost in Greenville? When the area was converted from farms to streets it kept the orientation of the original land grants which were often narrow, angled strips of property extending from the New York Bay shoreline up the hill and over to the Newark Bay. When the street grid was laid, it was within the boundaries of the old farms, preserving the earlier property boundaries.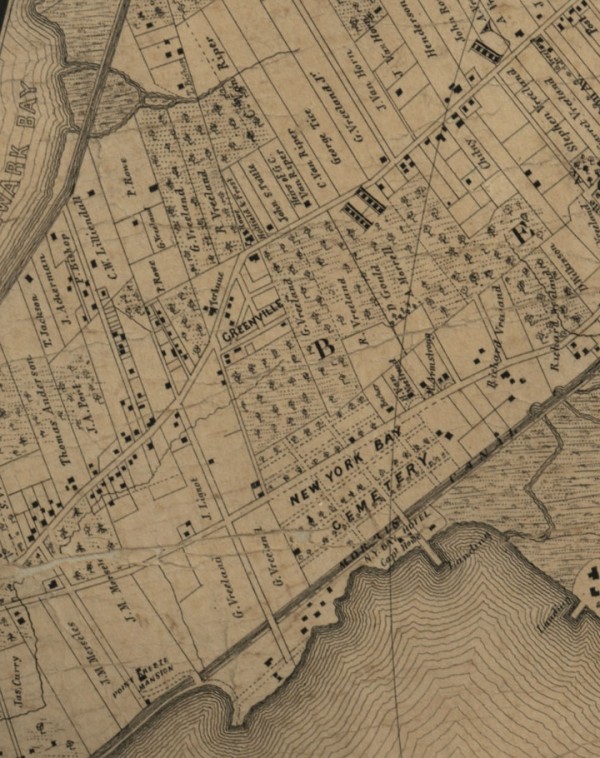 Also, Greenville's street names have gotten an overhaul since the 1800s:
Cater Avenue used to be named Chestnut Avenue.
Danforth Avenue used to be named Maple Avenue.
Linden Avenue is the only street in Greenville that has preserved its original tree-centric name.

LANDMARKS
St. Patricks Church and School
Corner of Bramhall and Grand Streets
St. Patrick's is the largest church in Jersey City. This Victorian-Gothic structure was built between 1870 and 1877 and was designed by Patrick C. Keely, an architect of over 600 churches and cathedrals spanning his 50 year career. Named for St. Patrick, the patron saint of Ireland, this church was home to a large number of Irish immigrants in the area at the time.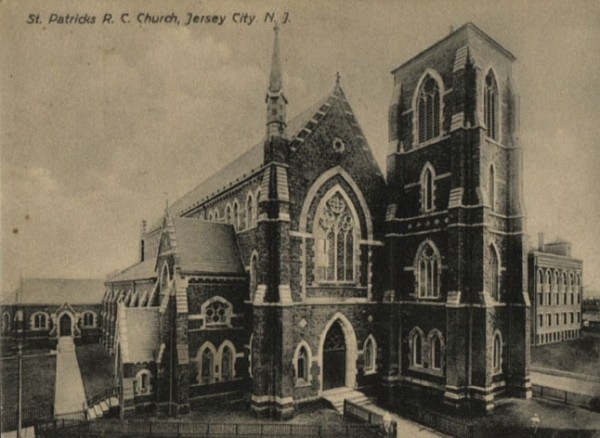 St. Paul's Roman Catholic Church
Corner of Greenville Avenue and Old Bergen Road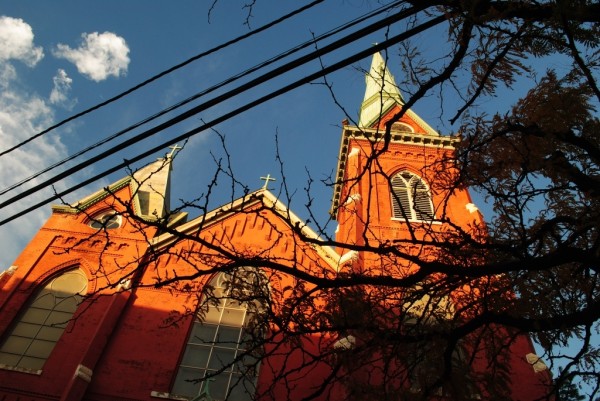 Once a modest structure built in the 1860s, what stands today was built in 1888 to serve Greenville's growing German and Irish immigrant population. Set on the highest point of Southern Greenville and built in Gothic Revival style, the interior of the church features a number of handmade inset dioramas illustrating the Stations of the Cross. These sculptures were imported from Paris during the building's construction but that didn't stop the dismal design trends of the 1970s which inspired someone to paint over them in grey. They had to be painstakingly restored to original color at the Metropolitan Museum of Art in the 1990s.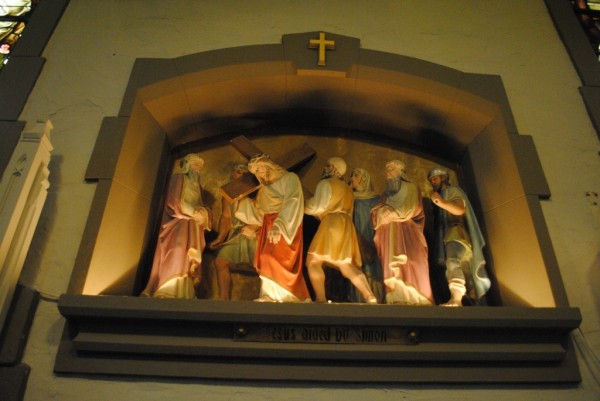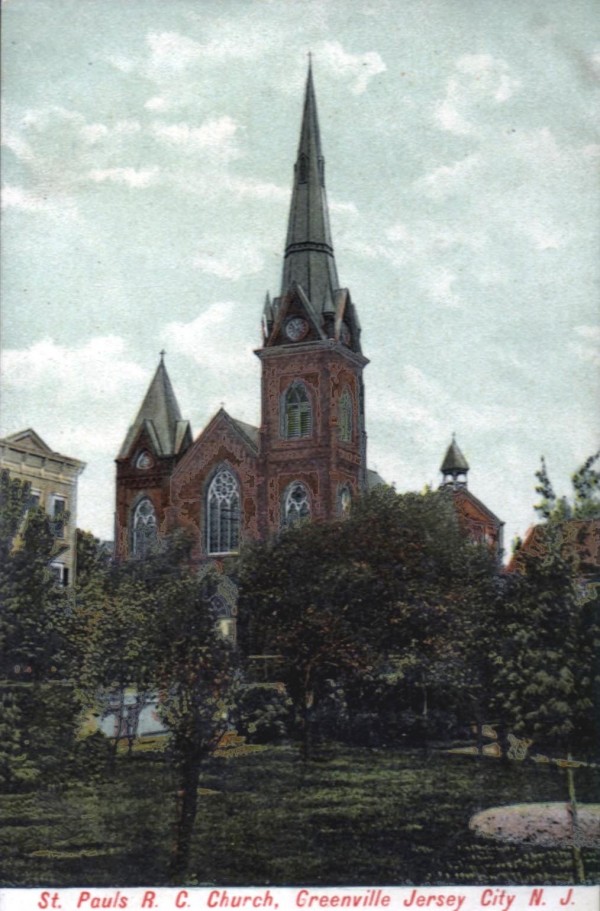 Lembeck Mansion
Lembeck Avenue between Ocean Avenue and Old Bergen Road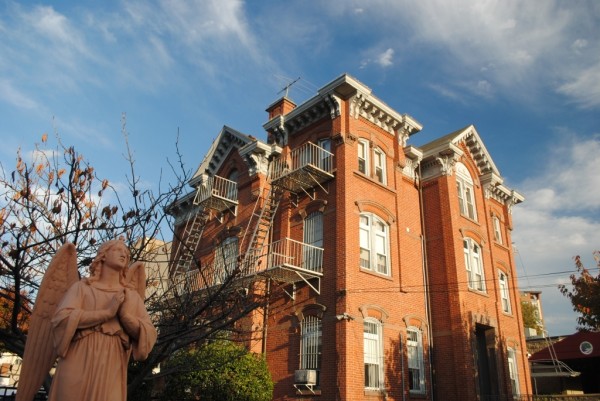 Henry Lembeck was one half of Lembeck and Betz Brewery, one of the most famous and financially successful breweries on the East Coast. By 1889, it manufactured 300,000 barrels of brew a in a state of the art facility and was worth three million dollars. The brewery was located in Downtown Jersey City but Lembeck resided in Greenville.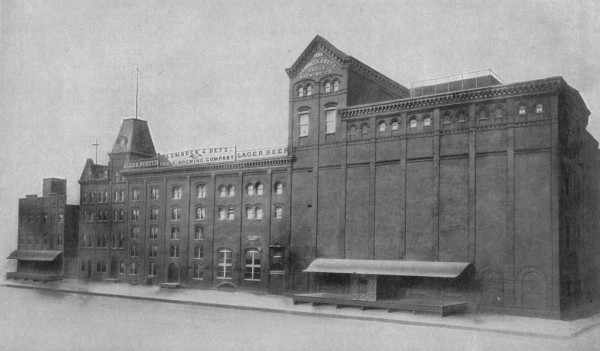 Born in Germany in 1826 and drafted into the army at age 20, a year before the revolution, Lembeck was documented as frequenting insurgent rallies dressed as a civilian and he deserted his post in 1849 when he never returned from military furlough. After immigrating to New York City, Lembeck found work as a carpenter, grocery clerk and sales agent to local brewer John F. Betz, whom in 1869 Lembeck moved to Jersey City to start a new brewery with. Business savvy Lembeck became president of the company, focused on lagers when the country was growing weary of ales and the business quickly took off.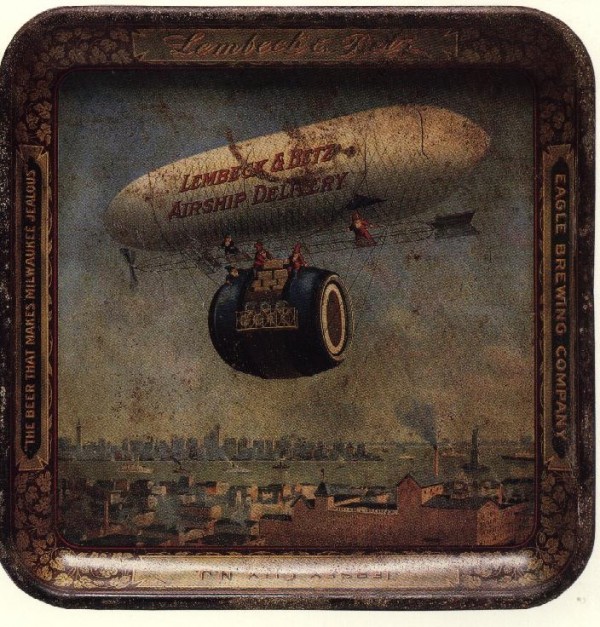 Lembeck went on to become a revered resident and community advocate for many local businesses and organizations around Greenville. He died in his home in 1904. He is buried in Bayview Cemetery and his mansion now serves as Saint Anne's Home for the Aged.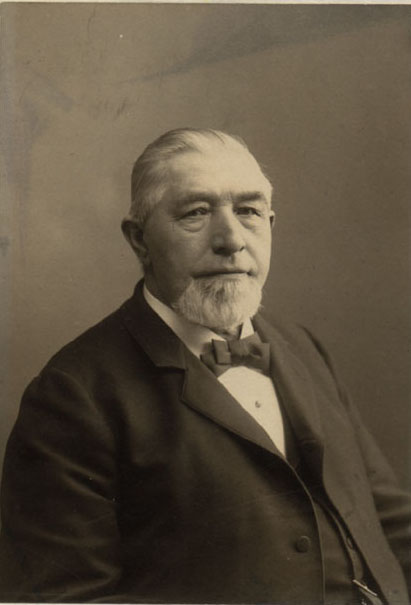 Hudson & Lembeck Buildings
Corner of Ocean and Lembeck Avenues
The Hudson Building was constructed in 1898 featuring Romanesque Revival style and Corinthian columns.
In addition to beer, Henry Lembeck served as a director of the Hudson Real Estate Company which was housed in the Hudson Building while also serving as one of the founders of the Greenville Banking and Trust Company which was housed in the Lembeck building across the street.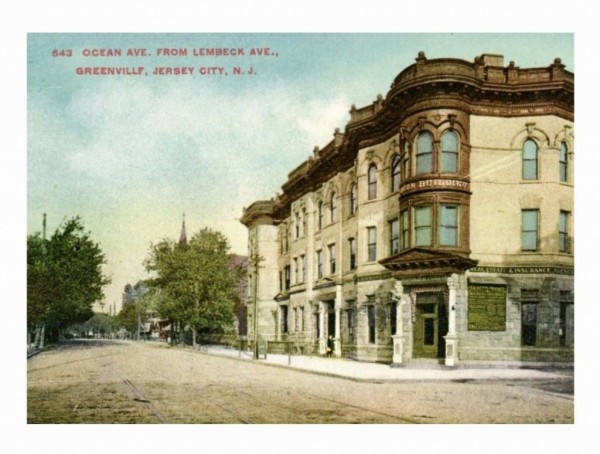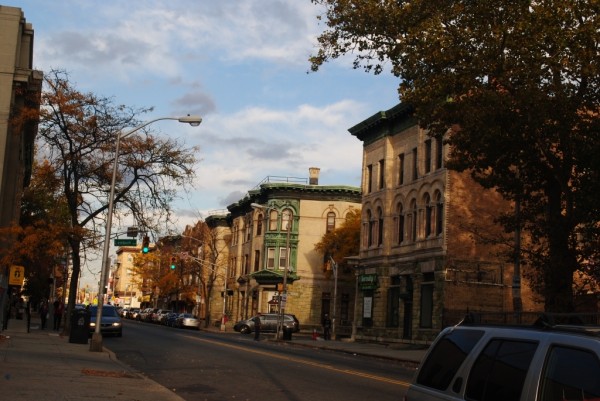 ARCHITECTURAL DETAILS OF THE NEIGHBORHOOD:
Like a lot of neighborhoods around Jersey City, Greenville has no shortage of brick row houses. These were built sometime between 1898 – 1908 and because they all feature similar façades, roof cornice, brackets and unified sandstone lintels, we can assume they were built together.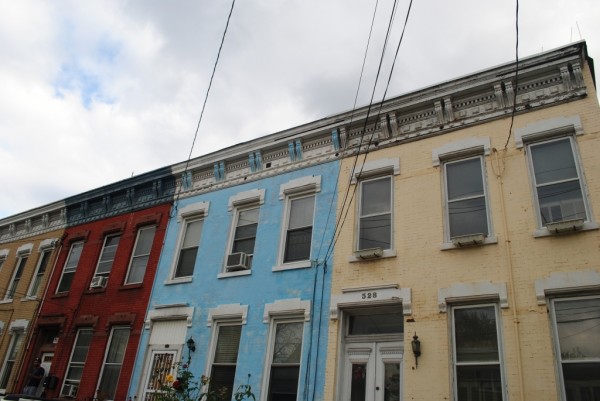 I figured a lot of these details were so intricate that they had to have been handmade, but Patrick clarified that by the early 20th century, machines had advanced enough to mass produce many of these details featured in homes of that era. It was sort of like ordering crown molding from a big box hardware store today. Builders selected these decorative details from a catalog and simply worked them into their design as facades were built.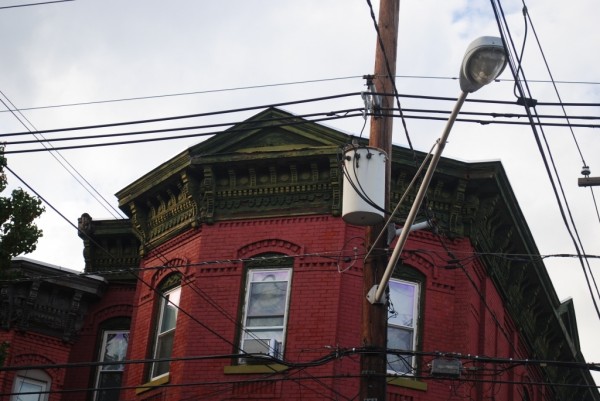 Similarly, brick patterns were also laid out in builder's catalogs and how-to books of that time. It wasn't an architect's signature design, it was simply a prefab blueprint.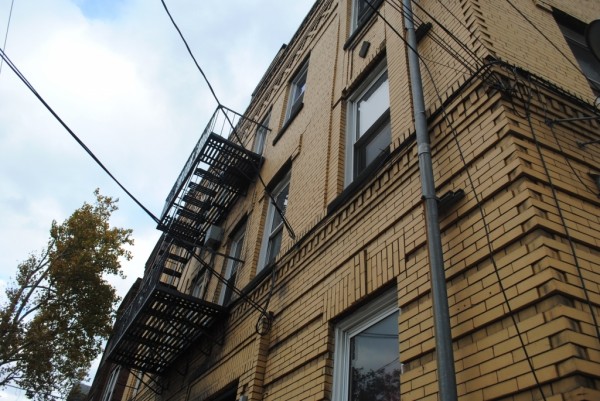 This blue home was built around 1860 and features a gable end roof (a roof that faces away from the street) which signifies it's older age. Stand alone homes of this era were wider than row houses but long in the back to fit within the urban grid system.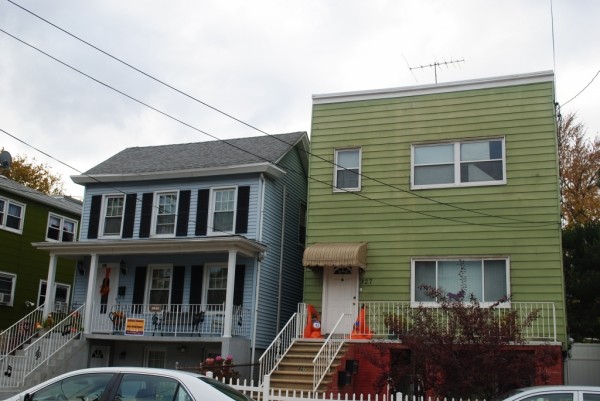 Many of the homes in Greenville feature an Italianate aesthetic, marked by recessed windows, elaborate, repetitive molding and transom lights (that long window set atop of the main entrance door).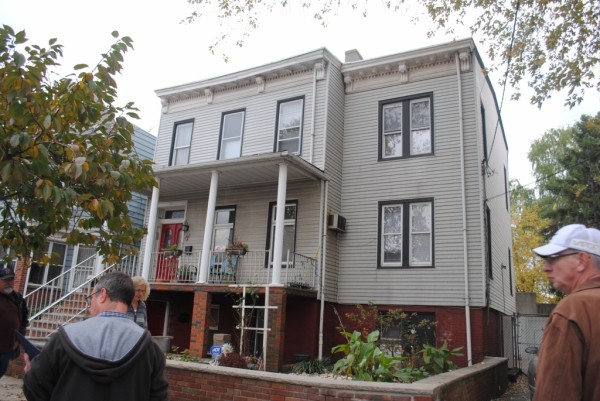 The Anglo-Italianate style that became popular around the same time (1840-1860) features the arched windows seen in this blue row house.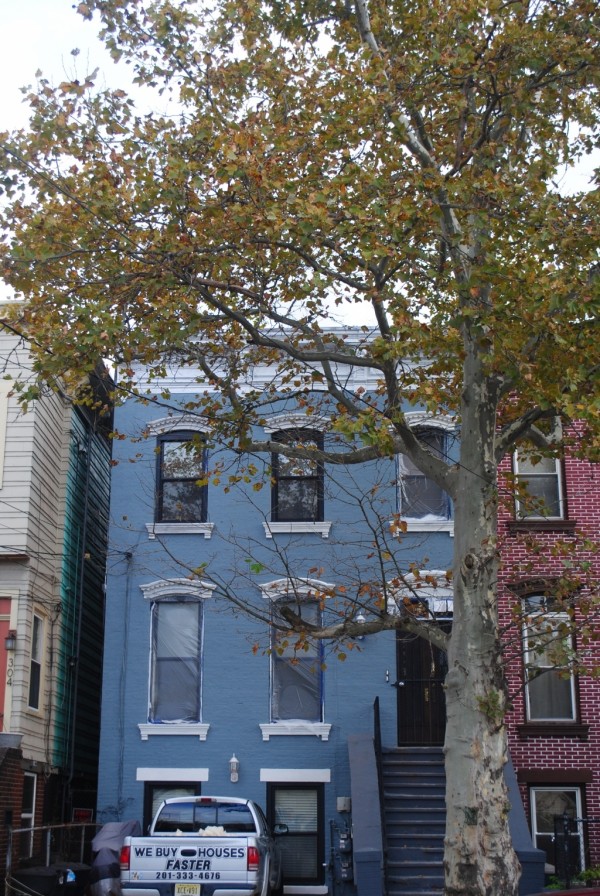 The standard urban lot was 25×100 feet but builders often liked to purchase several lots at a time so they could squeeze an extra house in.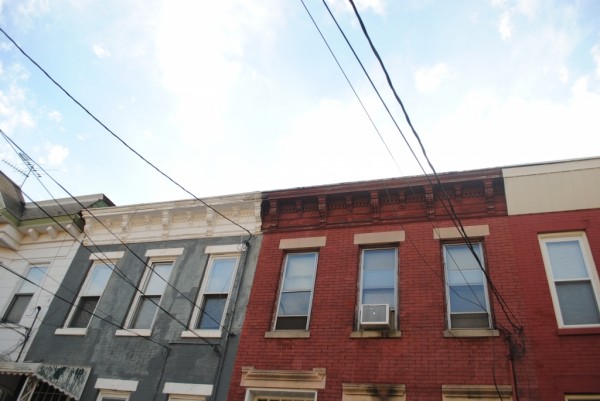 This freestanding Italianate home belonged to real estate magnate William Pearsall, for whom the avenue in Greenville is named after.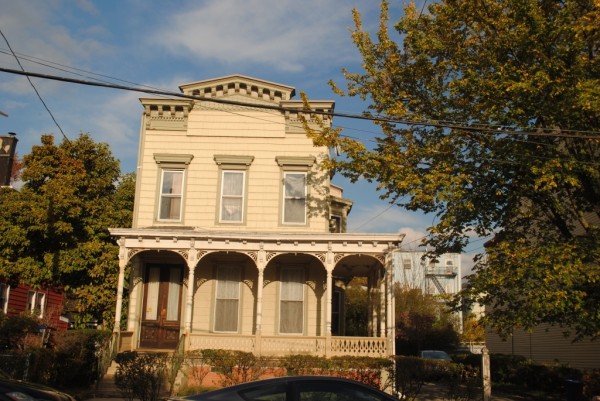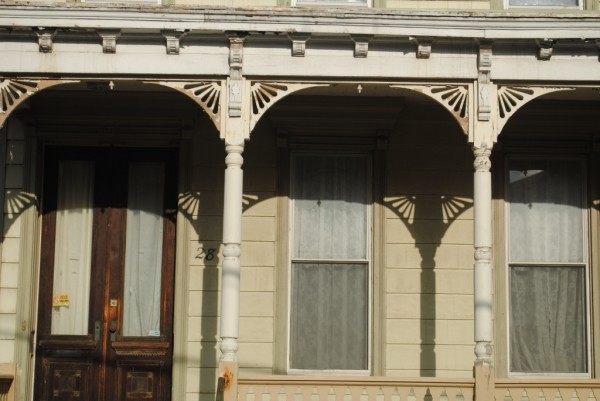 Also built around 1860 in French Second Empire style, this home features neither a flat nor gabled (pitched) roof but a crown with a gentle slope at four angles, dormer windows and decorative slate roof shingles.
The 1880s saw brick row houses begin to utilize bay windows in their design as well as more intricate brick work and turned or projecting design features.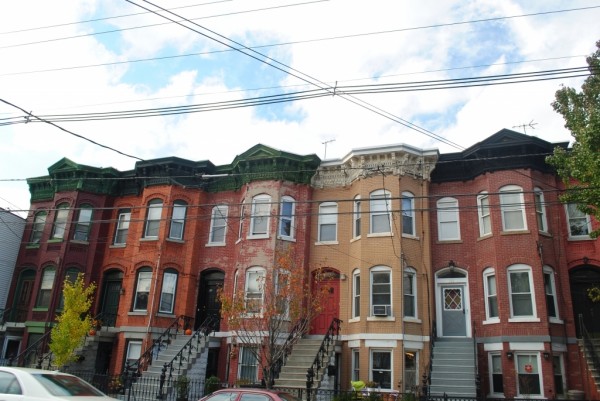 Local historian Patrick Shalhoub is a wealth of information on Jersey City. He is the kind of person who can walk by a building that looks like this: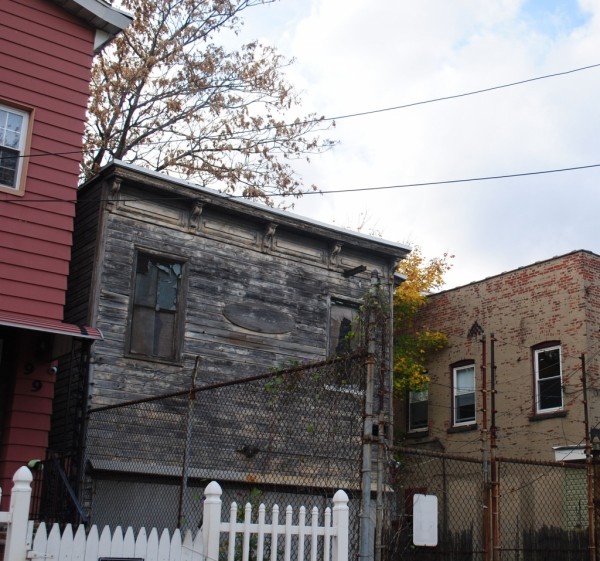 …and paint a vivid picture of what it looked like in its prime, who might have lived there and where they bought their groceries.
Check out his book Images of America: Jersey City, available at WORD bookstore in Downtown JC, on Amazon.com and at his father's drugstore, Midtown Pharmacy at 812 Kennedy Blvd, Bayonne, NJ.
He also has an on-going project with Carmela Karnoutsos Ph.D., called Jersey City Past and Present, an encyclopedic website of Jersey City history:  http://www.jerseycitypastandpresent.org
Below is a gallery of photos from and around Greenville: