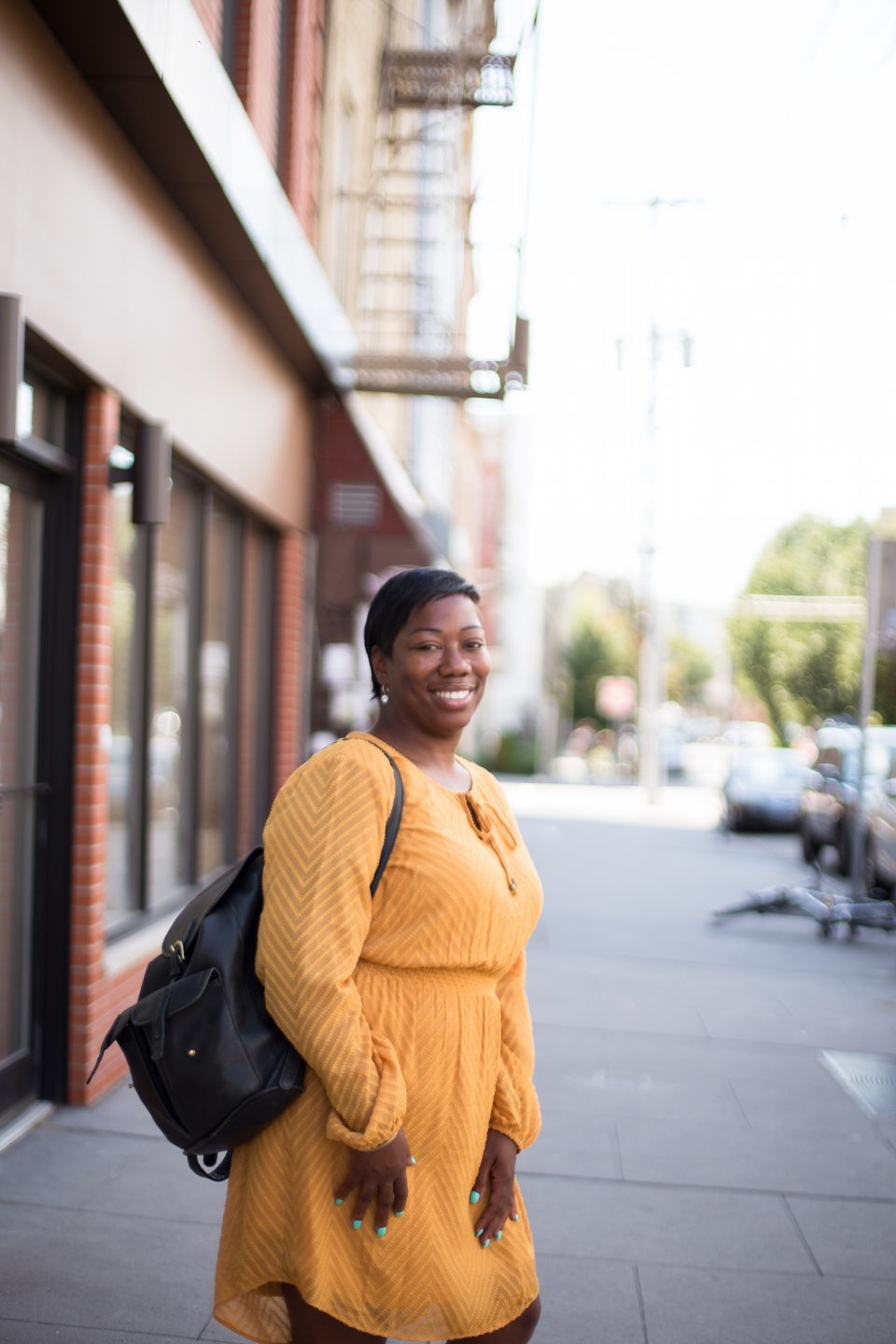 A few weeks ago, Chris, lead singer of punk band Crazy and The Brains, reached out to let me know about a fundraiser he was planning for the Jersey City Anti-Violence Coalition and asked if I was interested in being involved. I told him I would do anything he wanted, even go as far as hosting the event. I've never actually hosted an event before this one. Yes, I've thrown events and was part of them, but never really MC'd the whole thing because I'm awkward and dorky. Point is, I really wanted to be involved in any way possible to help raise awareness to this amazing and necessary organization.
A few months ago, when there was a wave of police shootings and injustice, there was an anti-violence #blacklivesmatter rally in front of City Hall in Jersey City. That is when I first saw Pamela Johnson, the Executive Director of the Jersey City Anti-Violence Coalition who led the rally that evening. I remember her words to this day, a cracked crying voice through the megaphone, "They are killing our sons, our fathers, our grandfathers…being taken, leaving us black women alone, by themselves… to raise children, broken children." It was heartbreaking, I still have goosebumps recalling this moment. I knew one day our paths would cross again.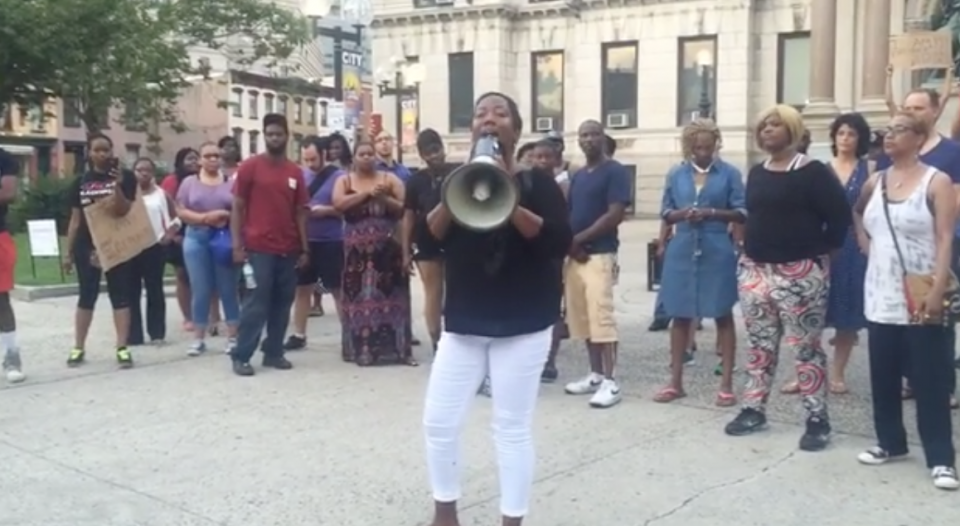 I invited Pamela Johnson to our office for an interview and to get her background story. When Pamela walked in, the first thing I did was give her a hug and she smelled like flowers. There was also an aura around her. I can't really explain it, but Pamela is a living, breathing angel. People like her give me hope for this messed up world we live in. Jersey City needs her and the people of the Anti-Violence Coalition.
What's your name?
Pamela Johnson.
And what do you do?
I am the executive director for the Jersey City Anti-Violence Coalition Movement.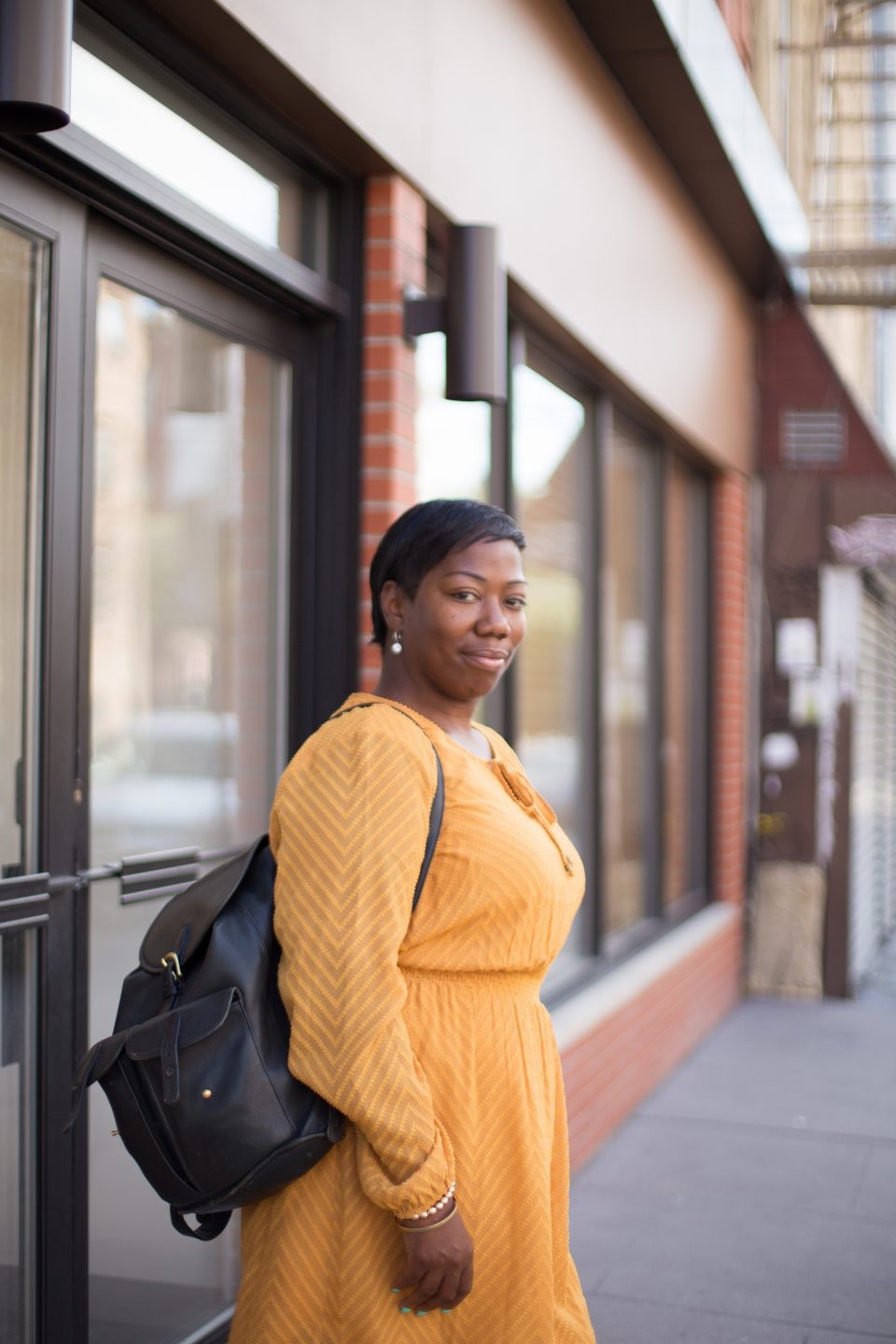 What is the Jersey City Anti-Violence Coalition Movement?
We're an organization whose mission is to create safer streets, to restore hope and pride to neighborhoods plagued by violence, and to help people live their best lives by empowering and educating them so they can excel.
How long has it been around?
We've been in existence for two years. We just had our second anniversary this summer, so we're happy to be able to continue to do the work in our city.
How did it start?
It started from a Facebook post. When Officer Santiago was unfortunately killed two years ago, concerned residents – one in particular – created a Facebook post and he was calling for action, asking people to join together and do something. From that post, people responded, and we met in my mom's dining room a couple of days later. We came up with a name and a mission. Then we just started working and moving after that.
So you started this coalition?
Well, it was started by the five of us. Everyone agreed that I should be the executive director, so that's how I got into that position. Some of the individuals are still with us to this day, and some are not. Of course, I hope they still support the mission and the movement because it's such a great thing that we need in our city.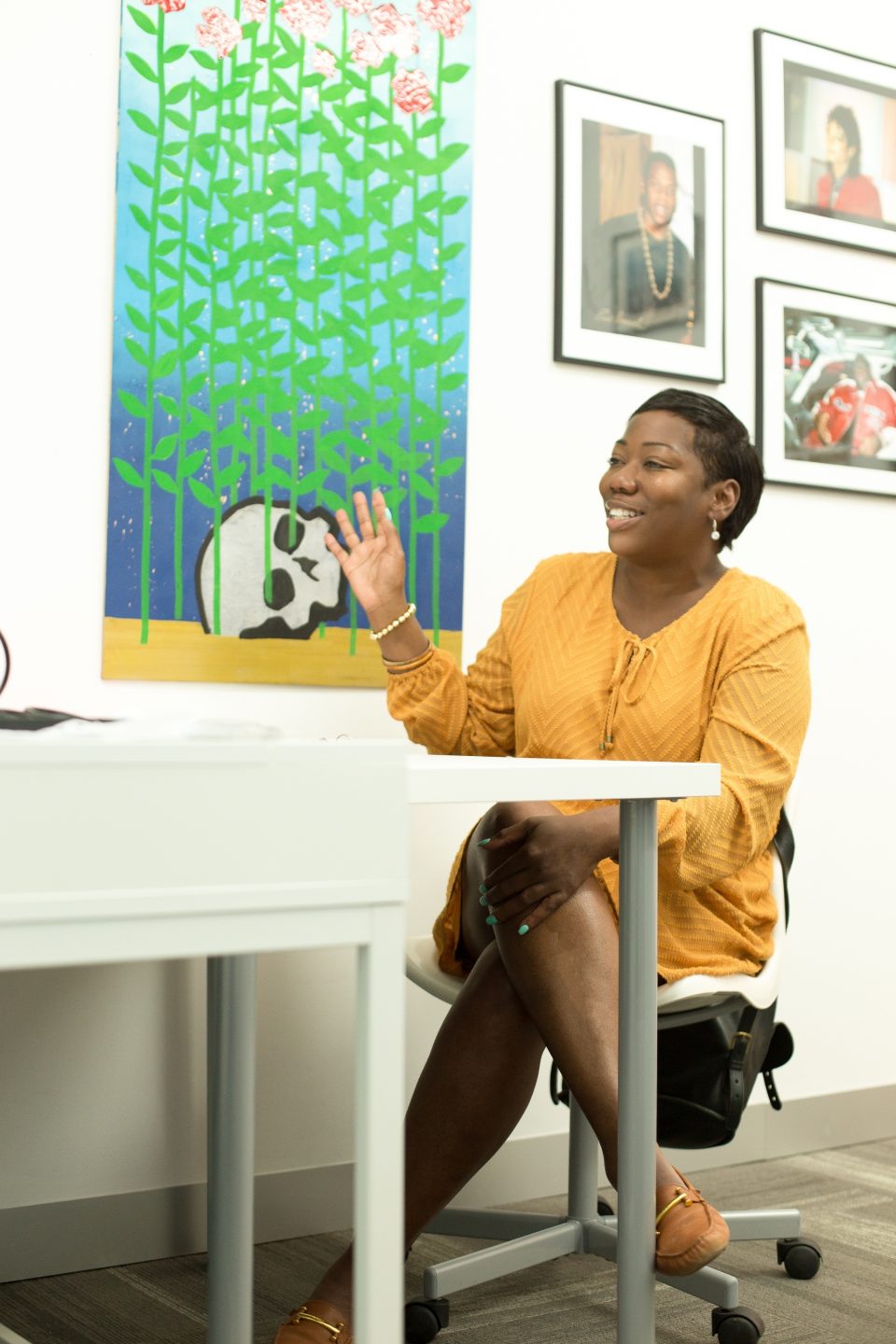 Tell me a bit more specifically on what you guys do on a daily basis?
Most of us work full-time. I'm working full-time from 7 AM to 4:30 PM in Secaucus. The Anti-Violence Coalition Movement is my passion, and I would love to be able to devote 100% of my time to that, and that will happen one day, I'm sure. Day-to-day, we have meetings, conference calls, and conversations on how to move forward. We had a unity walk on June 11th, and 450 people came out to stand together against violence, injustice, and inequality in Jersey City. After that, we created post-unity workshops as a part of our community empowerment program. We have workshops that run every Tuesday and Thursday, one in Ward A and one in Ward F. We did that purposely because that is the area that's plagued by violence. If you look at the data, that is the area that has had murders increase, crime in general increased in the last five years, so we currently target that area to empower the residents that live there.
Our workshops can make the community better and make people better, make their lives better. Our first was a kick-off of block associations, and we believe that block associations are very prevalent. When I was growing up, they kept the neighborhood together, in a sense. It beautified the neighborhood and people had pride in their neighborhoods, and it also decreased crime because we had residents who were actively in the movement. We have youth empowerment, men and women empowerment, college tours, credit repair – we believe that a lot of people financially need help. We have home ownership workshops because a lot of people don't know that they can own a home. They don't know this program is out here that can work with them and help them be that homeowner. We have workshops for entrepreneurship and for artistic expression. Our youth are so talented, and we often push college – I'm all for college and have my Master's degree – but a lot of talented youth don't want to go to college. I know a lot of singers, dancers, and poets, and kids who build things or work hands-on. Trade school is great, and certifications and licenses can help you have a career. We want to make sure we're pushing our youth to do things that they not only desire to do, but are talented enough to build up.
It seems that it's also about prevention of violence, like putting things in place for the community to avoid people acting out and seeking other ways of making money.
Our hope is to one day be in a position where we can offer jobs, classes, training courses, and certifications so we can be that catalyst to get people to move forward, but it's also very hard. We have an initiative along with the National Action Network where we occupy the corners on Fridays. It's hard to occupy a corner and talk to someone who has chosen the criminal aspect or take part in illegal activities. It's dangerous out there, and I believe that the young people don't really want to do that. Who wants to stand on the corner all day and night? Who wants to run from people who want to shoot them? Who wants to be out there, where they can lose their lives in a moment? We have to have that thought in the back of our minds that they're not bad people. Unless you're going out there offering them something, why should they follow you, trust you, think you're going to help them? They hear it all the time from politicians how they'll help the lower class, but it ends up never really getting done. So one day, we'll be in a position to actually do that.
While we're out there, it's great knowing why people are out there. It's not just young people, but it's a culture of areas and neighborhoods that lead to hopelessness.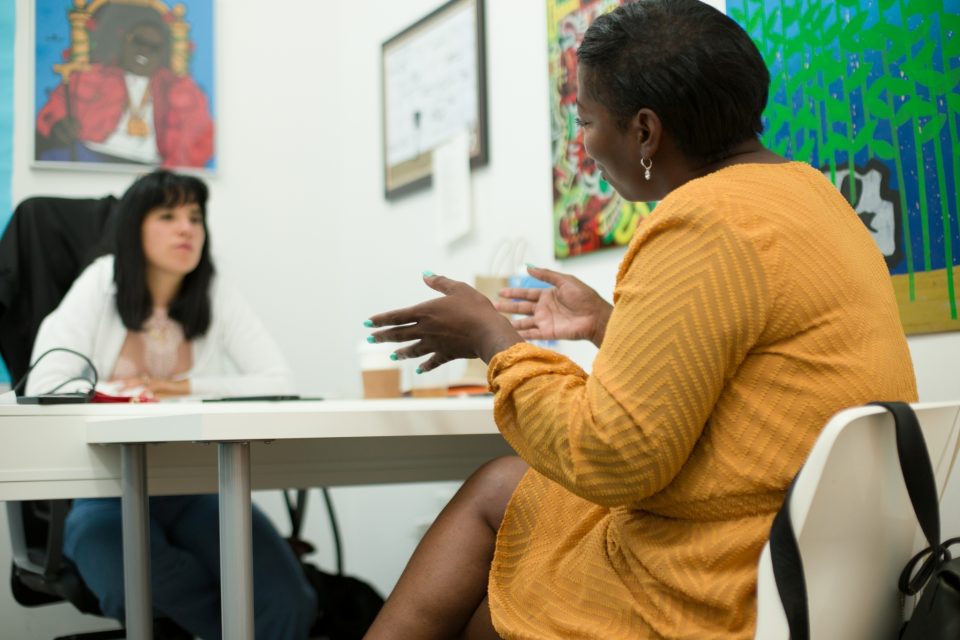 There have been many shootings in Jersey City. What do you guys do when something like that happens? 
When a shooting occurs, we like to find out within the first 10 minutes. We go to the scene, and not only to comfort family members and friends who show up, but also to let them know that there is another way. There is an organization fighting for you. We offer programs and services that can alleviate what's going on. There's a lot of gang violence, and though I'm not a specialist in law enforcement and don't know how gang violence is defined, I do know that some people have gang relations, but problems aren't necessarily gang-motivated. I'm learning more about that. I just believe that this is an area where there is a lack of resources, there's poor education, and there's a high unemployment rate. We have a high rate of people coming home from prison and coming into the same situation they went to prison for, so not too many things have changed within their families or their lives.
Incarceration is not rehabilitation. All of this is happening in one area, and that area has to be addressed. We need a lot of resources poured into that area. There's no limit to how many it could be. I wish there were twenty Jersey City Anti-Violence Coalition Movements because we can't solve it by ourselves. That's why we have JC Unity and, under that program, we work with various organizations to address the issues. It's not just us, although we're often highlighted.
This is a hard job. To see crimes and sit in households and hearing parents cry for their killed children, and it's not pretty work, it's gritty work. When we're on the corners, our lives are in jeopardy, as well. We don't know what corners are beefing with who. It's dangerous work, but it's necessary work. I love the work that I do, and my heart is always with the people.
You're an angel. Do you feel like the crime in Jersey City has gotten better or worse? What do you think?
I think it's gotten worse, and I say that because there's a lot of crime now committed in broad daylight. Kids may not be in school now, but they will be soon. Those crimes happen, and you have shooters who have no regard for whoever's around them. A young child, a 15-month-old baby, was hit in the face by a bullet. It hasn't gotten better because shooters are more brazen. When that happens, you really have a problem.
How do you feel Jersey City has changed in general?
I think Jersey City is changing a lot. Gentrification is real.
How do you feel about that?
I don't mind people moving in. The city doesn't belong to a certain group of people. I don't mind people moving into Jersey City, but if people are moving in and don't want to be a part of the community, that's a problem. What you will not do is come into our community and create your own community. We're one people, one community. It doesn't matter what nationality you are, where you live, or what your bank account says. Whether or not the crime is confined to the south, everyone is Jersey City should care about the crime. As long as people are coming and want to get involved, whether it's going to school board meetings or beautifying the neighborhood, they should come into the community and give to the community. Don't separate yourself.
What about issues going on in the world and the Black Lives Matter movement?
I am definitely a supporter of the movement. Any movement that is out to be beneficial and do good is a great one. I see nothing wrong with the movement. I do know that things have happened, and I don't support the killing of anyone. I am not for senseless acts of violence at all, whether it's someone killed by police officers or a police officer that, in turn, was killed. Black Lives Matter has always been against those acts of violence.
Yes! And just because people say "Black Lives Matter" doesn't mean that no other lives matter. Right now, black lives are being targeted, and we're addressing it. Unfortunately, it's the world we live in. It's not that other lives don't matter. It's just apparent that there is inequality in our society. 
I'm glad you said that! You can just look and see what's going on in America now, and it's terrible. I don't think every police officer involved in a shooting has said they want to kill a black person that day. I do believe that because of the culture and because of the way things get highlighted in the media – they don't highlight the good, only stay on the bad – people are fearful of black men. There's an automatic negative thought and hesitation. That stereotype is what has created what's going on right now. We have to address it. Police chiefs and captains need to go through their departments and weed out the bad. There are bad officers, bad teachers, bad nurses, bad activists. There are bad people in everything.
These are people who hold power and can use their power at any given moment. 
That's right, and that makes it worse. That's what makes it what it is right now.
So did you grow up in Jersey City?
Yes. I am born and raised in Jersey City! I have 3 brothers, my mom and dad were married for more than 30 years until he passed away in 1994.  My mom was blessed with my step dad and he's a great man. I grew up in the same neighborhood I'm living in right now.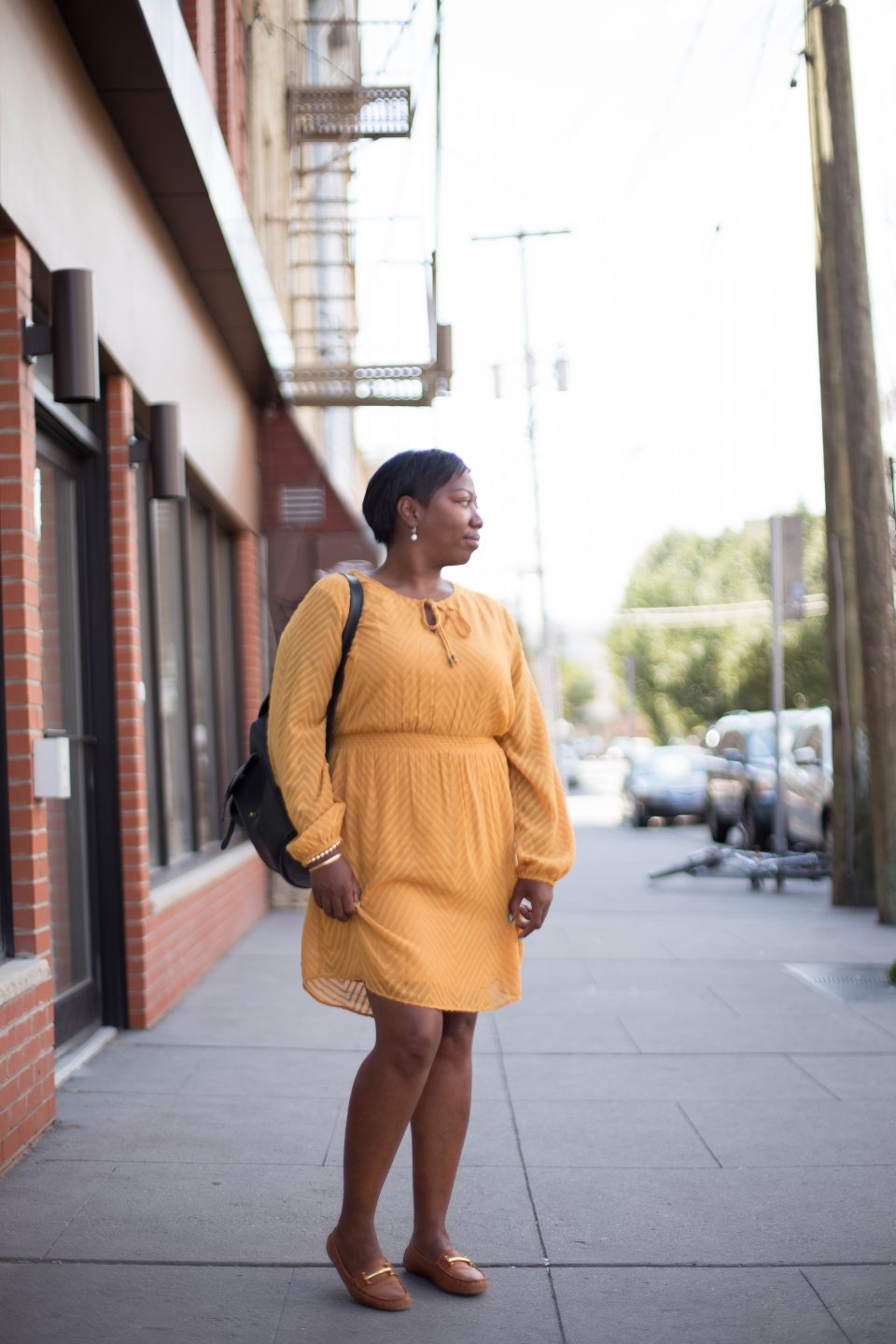 Do you have a favorite Jersey City hangout spot?
I do, it's Moore's Lounge on Monticello Ave. It used to be Bill & Ruth's. They have live jazz on Fridays and Sundays, and they have fried fish on Fridays. It's a great place to be! She and her husband (he's deceased now) own the restaurant together. Jazz artists from all over Jersey City and New York know that she does jazz on Fridays and Sundays, and they just come. You have teachers that come from Jersey City.
Awesome! I have to check it out. I'm adding it to the list!
It's great, you have to! And Ruth's a great woman.
So is there anything you'd like to say about the fundraiser happening on September 9th?
I am so excited about the fundraiser. When I got the message from Chris about Crazy and the Brains wanting to host a fundraiser, I thought it was wonderful. We've only had one fundraiser since we've been doing this, and it's not because we don't need the money. It's just that we don't have the time. When it's time to host an event, I go to my family members and I tell them what I need, and then I go to my friends and do the same. I'm so lucky to have a good support system where everyone helps out. It's always from within.
They reached out to me on the phone and wanted to meet me. We met at the Broadway diner. My director of Legal Advocacy and Public Policy met us there. I talked to these three brothers and they're great. They said they've been following us since we did the vigil for Eric Garner – that was a couple of years ago – and looking at the work that we do. They wanted to do something to help us, and thought, "What better way to do it than a fundraiser?" I appreciate what they're doing and I'm excited for the event. I've been pushing it and have all my family coming out.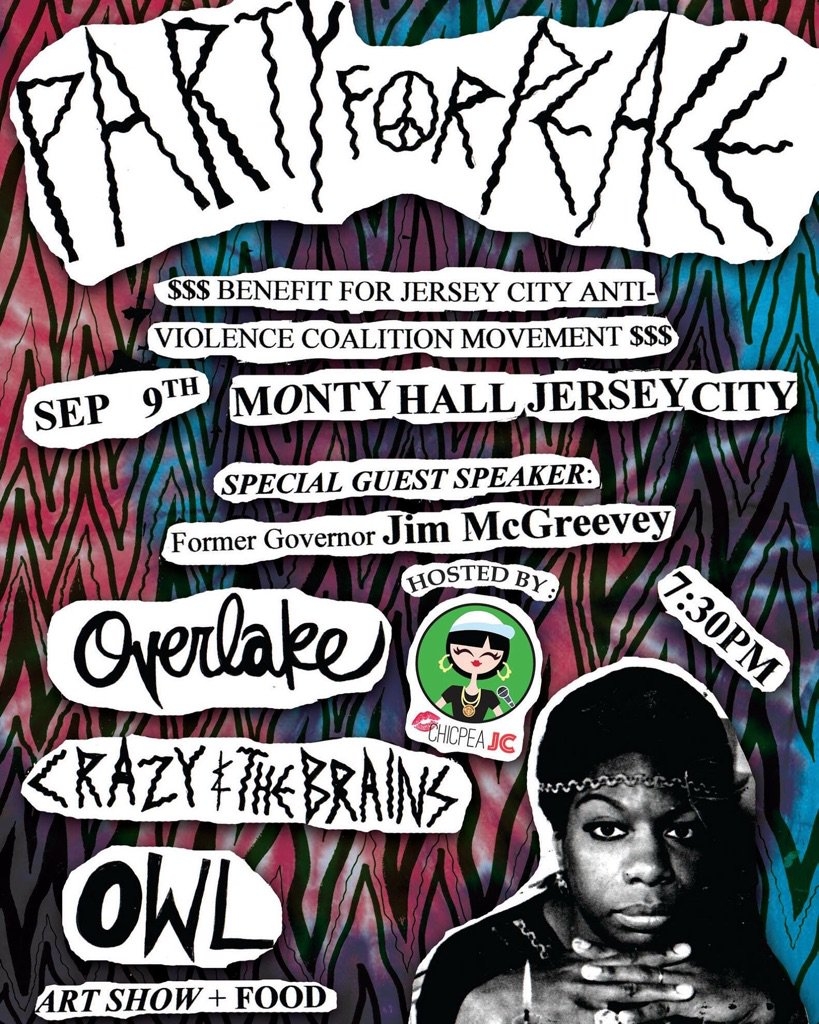 Have you ever been to a Crazy and the Brains show?
I haven't!
They're wild! I'm a 90s hip-hop head all the way, but these guys are awesome. Their energy is awesome, their music is super catchy, they're great.
I love it, I can't wait! I'm looking forward to hearing their music, and I'm looking forward to thanking them publicly.
We also have Stadium Status as our hip-hop DJ. 
Nice! Everything I do is about work, so I never really get the time to enjoy things like this. I'm looking forward to it.
And Jim McGreevey is going to be there, as well.
Yes, and I do know McGreevey. He's a nice man, so I'm happy about that. I don't see him too often. I think it's wonderful.
How do people find you if they want to volunteer?
You can go on our website: www.jcacm.org. We have a Facebook page. We also have an Instagram: @jcacm201. We have a Twitter: @jcacm201. And my number is all over the place! 201-589-8322. That's the best way to get to me. My number is on Facebook, it's everywhere. Just call me. With so much going on, people need help and need to know how to get to someone. If it's an emergency, an email or any inbox won't work. You need to call me. I suggest that for anyone who wants to reach out to me for anything, whether it's a complaint or to volunteer.
I always say my heart is with the people, and it really is. Even at the unity walk, our PR person kept telling me to come to the front of the march, but my place is in the middle. I felt the heartbeat of all the people around me. That's what keeps me going. I don't get much sleep, I leave work and go to work, but that's the extra battery – the people.
Keep up with the JC Anti-Violence Coalition Movement on their site and Facebook. 
For more information on Party for Peace 2016, check out the Facebook event page.