Written by: Via Rutkowski
While we were all stuck at home in 2020, many of us found ourselves experimenting with new things. Hobbies, recipes, Tik Tok dances, baking, the list goes on. In my own little lockdown bubble, I had the chance to uncover a long-lost love for cooking. When the restaurant experience was no longer an option, it was time to bring the outside in and try to turn every night into a fine dining experience. Dinner was something to look forward to each day when life felt repetitive and mundane. Ever since this discovery, my boyfriend and I couldn't wait to try a class at Hudson Table and sharpen up our cooking skills together. We talked about it for months and had this at the top of our date night bucket list. Finally, we signed up for Spanish Tapas night!
In the time leading up to our class, we conveniently binged "The Bear," which totally got us into character. We were freshly up to date on our kitchen lingo, and you better believe we only referred to each other as "Chef" throughout the entire class!
Taking a cooking class at Hudson Table is a chance to flex your culinary muscles no matter what level of experience you walk through the door with. This hands-on adventure is truly one-of-a-kind and led by renowned chefs who seamlessly guide you through the process. Not only do you create a beautiful meal, but you learn culinary techniques, kitchen safety, and plating styles too. Not to mention you get to enjoy your meal at the very end, which is arguably the best part!
Here's what to expect.
Upon our arrival, we were warmly greeted by Chef Sam and her two talented Sioux Chefs. If you're heading in for a class of your own, it's worth noting that Hudson Table is a BYOB establishment. Wine Dad is right next door and has an incredibly kind staff who are also familiar with Hudson Table's classes! They can even guide you in choosing the best wine to pair with your meal.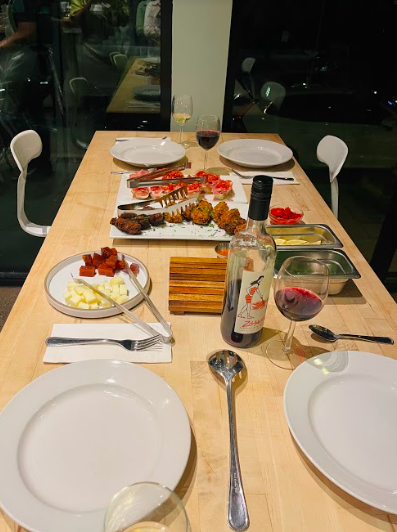 Our class ran from 7-10 pm and flew by! The first 2 hours are for cooking and instructions and the final hour is for eating. Once we were settled and suited up in our aprons, we all enjoyed a glass of wine over friendly introductions.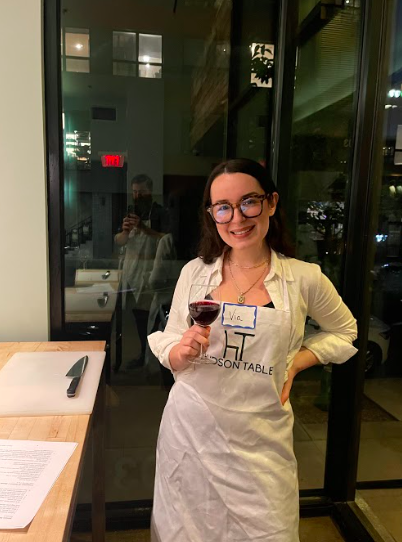 After we warmed up a bit, we were split into groups of 4-5 people. Having a social element thrown into this was special and an excellent opportunity to make new friends. Nothing brings people together quite like food does! Before you know it the teamwork kicks and then it's time to divide and conquer your booklet of 4 recipes! But not to worry, the chefs have you covered and even prep your station beforehand with everything you could possibly need.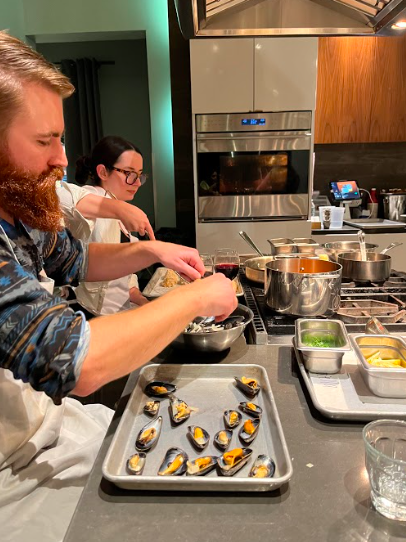 Our delicious Spanish Tapas menu included: Jamon Serrano with Tomato Bread (Spanish Style Bruschetta), Croquetas de Jamón y Queso (Ham and Cheese Croquettes), Mejillones con Béchamel with Allemande Sauce (Baked Muscles), and for the grand finale, Arroz a la Marinera (Seafood Paella). We completed each step one by one, from chopping and frying to baking and sauteing; the chefs never missed a beat and helped guide our time management. They really kept a great pulse on all of our needs. There were 14 people in our class and not one burnt meal!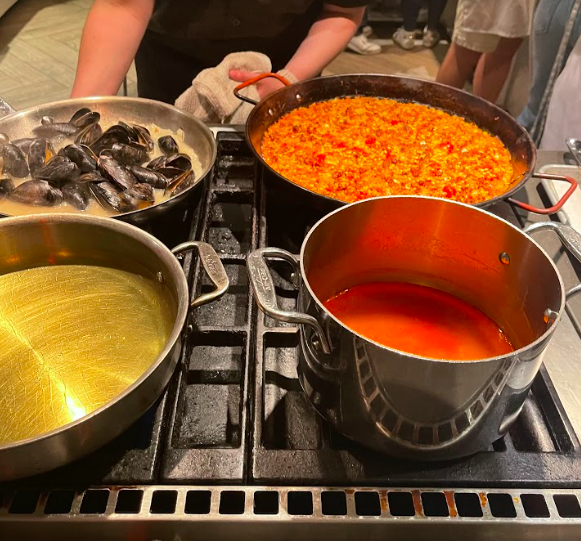 We all felt a sense of pride and accomplishment when we put the final touches on our last dish. We couldn't believe how well it all came out! We gathered our plates around the table and enjoyed a family-style dinner with our cooking partners to taste our achievements. It was not only the perfect date night but could function as a fantastic activity for friends, family, or even co-workers. It was a great team-building activity; we even walked away with new cooking confidence. The sweetest finishing touch was a personalized email from Chef Sam herself with the recipes attached so we could recreate them at home.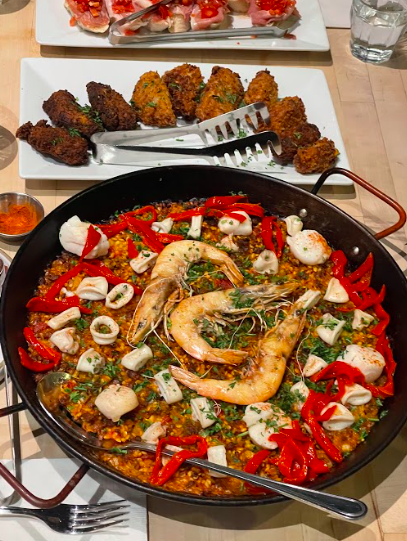 If you see a class you're interested in on the Hudson Table website, don't wait! These classes sell out fast, but they have many locations. You can experience everything Hudson Table has to offer at their Hoboken, Brooklyn, and Philadelphia locations (Stamford, CT coming soon). Kids classes are also available for your little ones!