If there's something NY and NJ are known for, it's having the best pizza. Thankfully, we have a bunch of spots in the area that have some interesting pizza pies that stray from the traditional cheese or pepperoni pies. Celebrate National Pizza Pie Day with one of these pies!
Porta
135 Newark Ave, Jersey City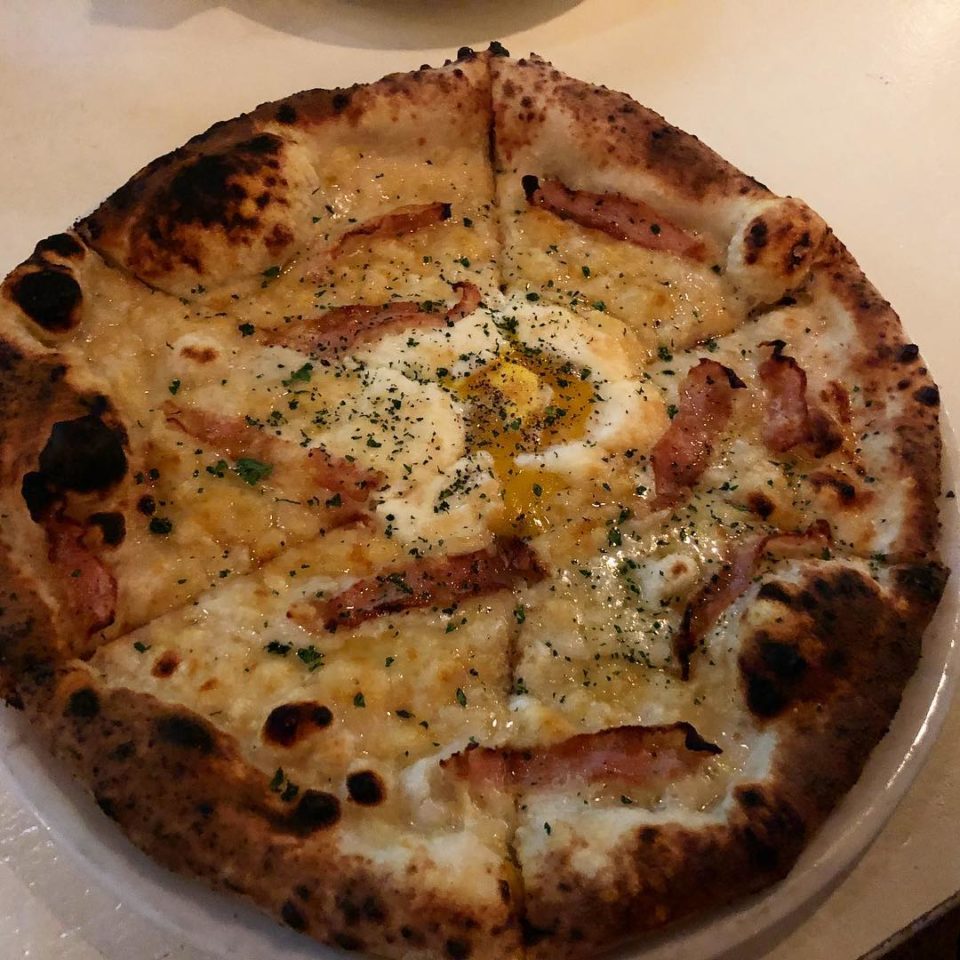 Porta has a menu with a bunch of unique pies. A crowd favorite is the Carbonara pie, which comes with guanciale, Parmigiano Reggiano, roasted egg, parsley, black pepper, and extra virgin olive oil. The egg is what makes this pizza stand out, and it adds a unique flavor to create a delicious pie. Make this your go-to for your brunch plans!
https://www.instagram.com/p/Bc0_mRXn3my/?taken-at=495126876
Looking for a vegan option while you're at Porta? Their Snawzeech pie is incredible! It includes San Marzano tomatoes, garlic, cashew ricotta, broccoli rabe, vegan sausage, crushed red pepper, and extra virgin olive oil. The cashew ricotta is nice and creamy, and the vegan sausage adds a nice touch to a vegan pizza pie in the city.
Tony Boloney's
263 1st St, Hoboken
Tony Boloney's made their mark for unique pies with a menu full of interesting combinations, especially with their famous Taco Pizza. Now, for National Pizza Day and National Bagel day, they have Tony's Jumb-o Bagel in collaboration with O'bagel! Available only on Fridays, this pie is literally a massive pizza bagel. It's an everything bagel with vodka sauce, smoked pepperoni, and fresh mozzarella (you can get it vegetarian, too).
Renato's Pizza Masters
278 Central Ave, Jersey City
We all know the perfection of Pizza Masters' pies, and their Buffalo Chicken pie is a clear favorite. The flavors are balanced and the buffalo sauce is mouth-watering. You cannot go wrong with this one!
Vinnie's Pizza III
431 Danforth Ave, Jersey City
Combine your love for chicken caesar salads with your love for pizza at Vinnie's with their Grilled Chicken Caesar pie. With lettuce, caesar dressing, and grilled chicken upon a delicious crust, this is perfect for any salad lover and pizza fanatic.
Delenio
357 7th St, Jersey City
Among the many pies offered by Delenio, their Chicken Parm pie stands out! Their pie is topped with chicken, cheese, and tomatoes to combine the incredible Chicken Parm with the deliciousness of a pizza pie.