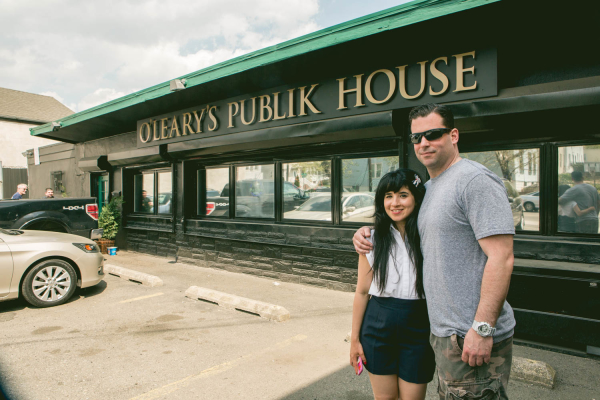 Anyone who asks me "What's your favorite interview?" I alway say "The Pride of the Fourth Battalion", a post about Jersey City firefighters that went up as a tribute on 9/11. Those few hours I spent with Battalion 4 at Engine 9 and hearing their stories changed my life. Ever since that post I realized that doing this blog was meant to be, that I was meant to meet these wonderful people who make our community so special and tell their story.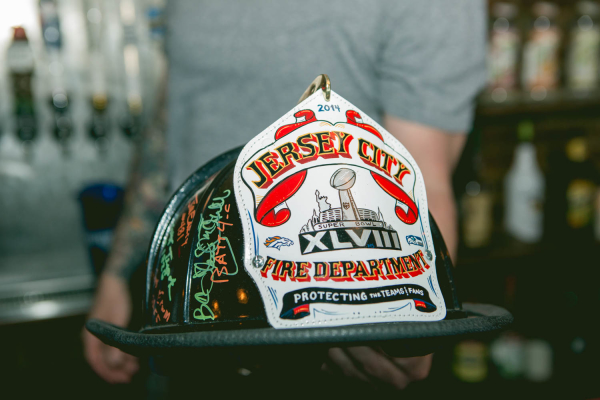 For months I've been wanting to go back to visit them but time just slipped by. Then recently I started following a new-ish bar in the Bergen-Lafayette area called "O'Leary's Publik House" on social media. When I found out that this bar/restaurant was owned by Kevin Hennessey, a local firefighter who also happens to be part of the same Battalion as my Engine 9 crew, I knew I needed to go for a visit. I told Kevin, that he needed to invite my friends from Engine 9 to join the fun! It was time for a reunion.
I came for lunch and some of the boys were already there hanging out; Greg, Mike and Captain Early even came by! It was so much fun catching up with everyone, I think I am part of this fire fighters club now! Kevin ordered a few dishes off the menu and to be honest, I was completely surprised and blown away at how good it was! LIKE SO GOOD. I ate a lot that day.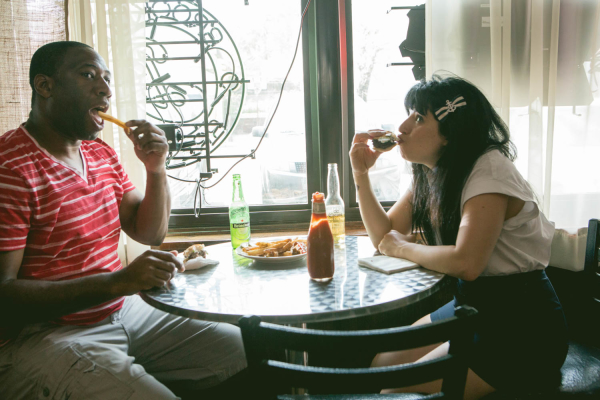 I really love O'Leary's, it's a no frills hangout spot for blue-collar workers and for anyone who just wants a cold drink and a satisfying meal. O'Leary's is a safe place. I am so thrilled I came for a visit and got to catch up with the Engine 9 crew, but most importantly I made a new friend that day; Hero and now business owner Kevin Hennesey.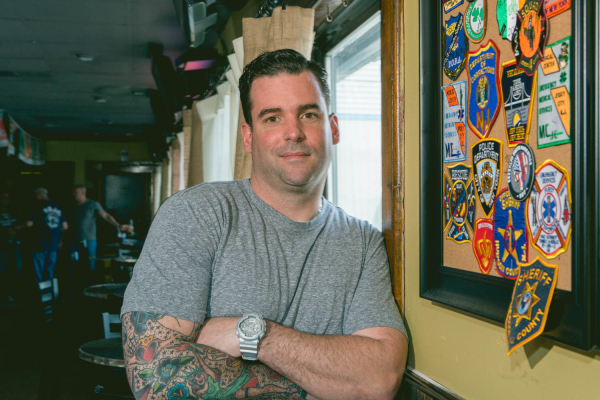 What's your name? Kevin Hennessey.
What do you do? I am a Jersey City Firefighter and owner of O'Leary's Publik House.
How do you do both? It's not easy… with a lot less sleep! First of all I also have a 9 month old son, that is the most important thing!
Wow. My wife and my son, they are my number one. After that, the Firehouse is number two.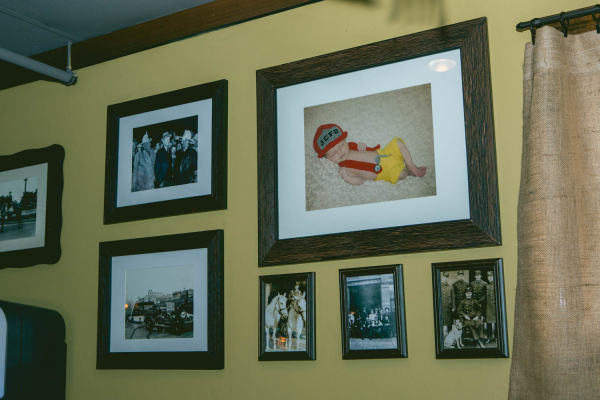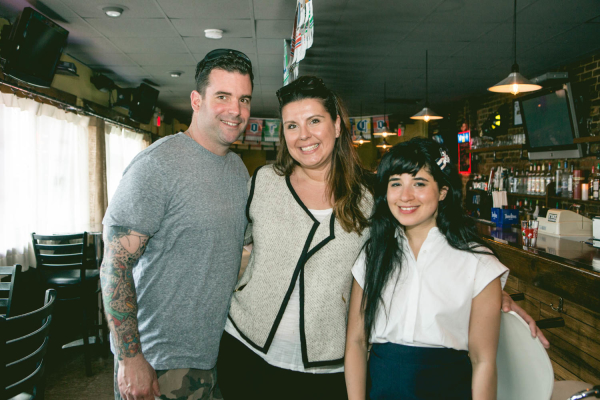 Are you guys all in the same firehouse? Same Battalion. I am at rescue, a little further away from Engine 9…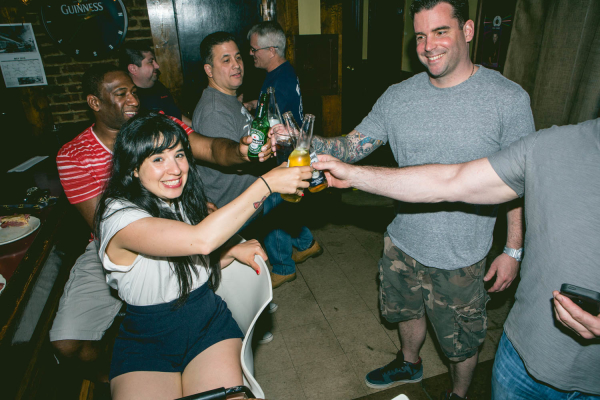 How long have you been open? A little over 6 months. I bought this place because I've always wanted to own my own place. I bartended for a long time, and decided I wasn't going to get anywhere without getting my own place and taking a chance.
Is this a firefighter hangout spot? It is starting to get there. That is why it is named "O'Leary's" and not "Hennessey's". It's named after the great Chicago fire, this woman, her name was Mrs. O'Leary… the story was a fire that started on her land that burnt down almost the whole city of Chicago and killed a lot of people. When they went back and found out it was just a made up story, that this poor woman took the blame for everything when it wasn't her fault. If you are a fireman you know this story.
(Steve) That was in 1871, around that time most fire departments were getting paid, before that most of them were volunteers. It's a great name for this place… they also have police, EMS, teachers that come here…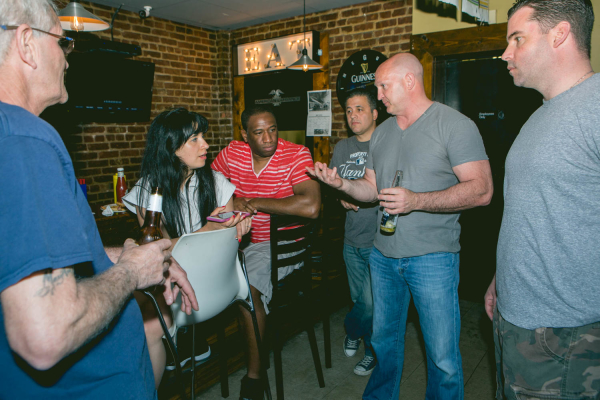 (Kevin) A lot of public workers. What I try to do here is make it a fun atmosphere, where you can relax and unwind. I even have kids come out here. You can come here, get a good meal, you can have a soda or couple of drinks and it won't break the bank. It isn't a downtown budget, it is a Greenville-Lafayette budget.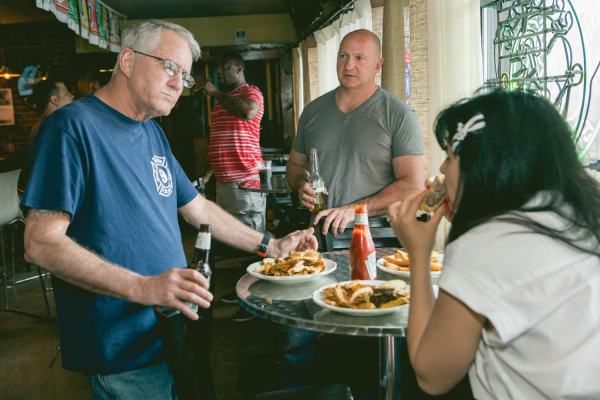 I can't wait to try the food! So How do you balance doing all this? I do the best that I can. I have a lot of support.
Any firefighters that work here? There is one right there! That's Jason. At night I have a retired State Trooper, I have a teacher that works here on the weekends.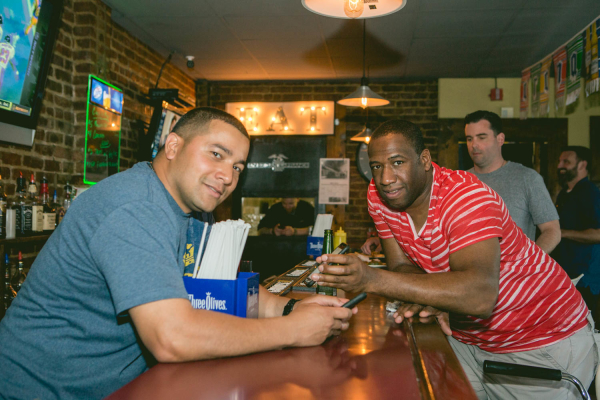 Tell me about the food? Our burger is delicious. The melt is really good… we plan on expanding the menu a little. The chef is great!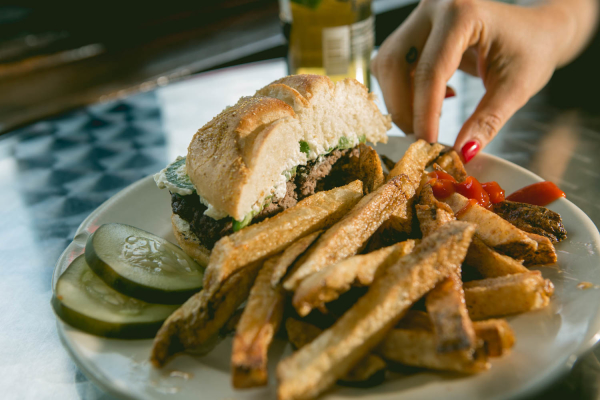 Can't wait to try! This is a great addition to the Bergen area… This neighborhood is coming back, the neighbors know that if something happens they can come here and there is help.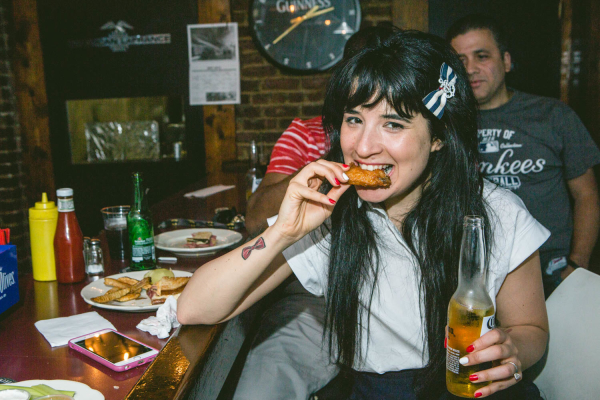 It's a safe place.
Do you ever have special events? Yeah, we are doing Cinco De Mayo tonight…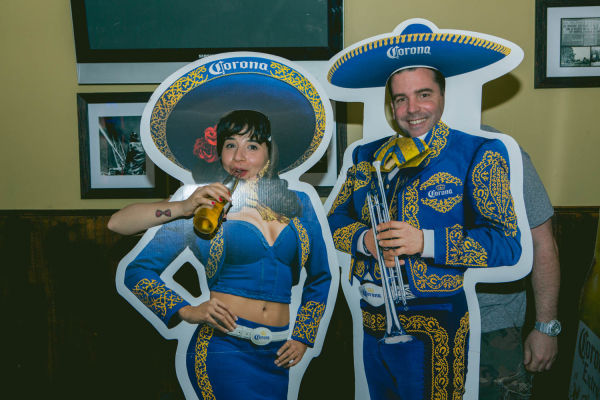 How long have you been a fire fighter? Today it's going to be 12 years!
Wow! Congrats!! That is so exciting.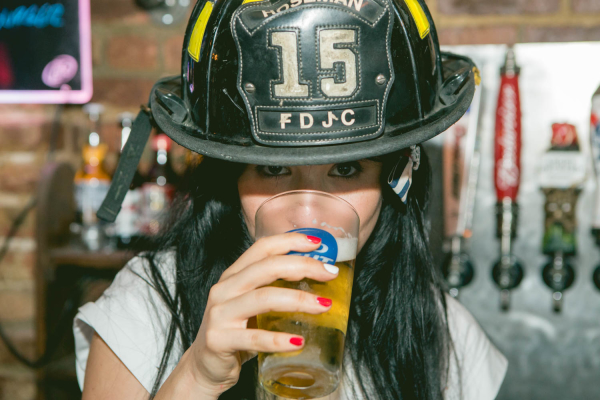 How long have you been in Jersey City? I was born and raised here. I grew up next to Lincoln Park. I love staying in Jersey City.
How do you feel it's changed in the past few years? Downtown is a lot bigger. It's changed a lot. I think it's great. What I did notice, people move away when they have a kid, but all these people are moving back… I get guys at work and I hear them say, "I want to stay here".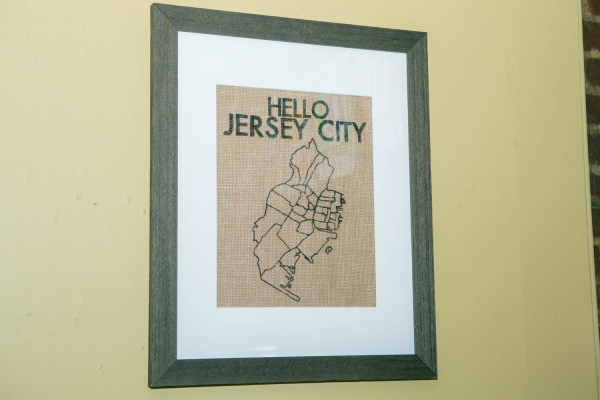 Other than here do you have a favorite hangout spot? Not anymore! I also have a 9 month old haha. I have a lot of help.
What do you love about being a firefighter? It's the best job in the world. No two days are the same.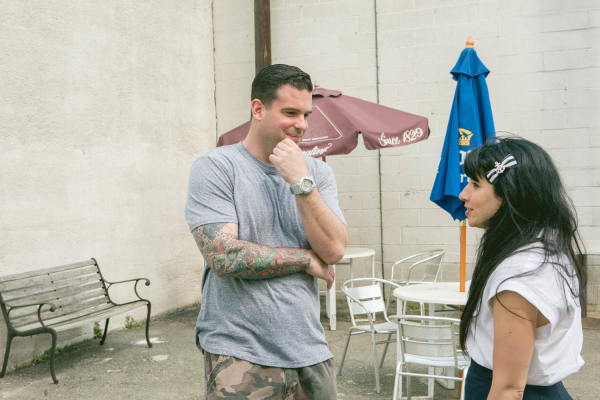 Do you ever get afraid? No.
(Captain Early) He is lying haha.
Why are you holding an ax? (Kevin) we are starting to put up memorabilia. This is an original wax from way back when. Want to feel how heavy that is?
That's what she said hahaha!!  Everyone [Laughts]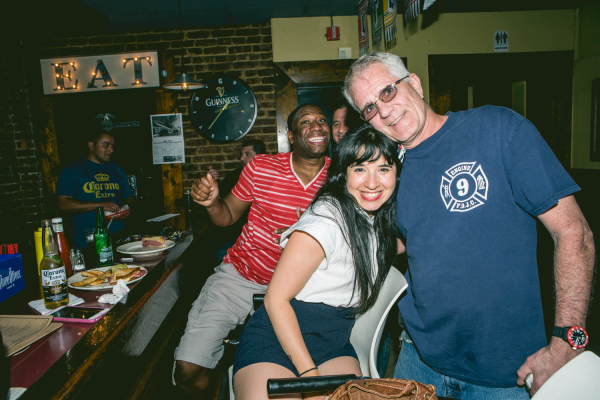 Hahaha. So funny. (Early) I will tell you a story…. Palisade ave and Congress Street. I came to work and I am on a roof with this guy Chris and he is chopping a whole with an ax (back in the day we actually used axes) [Laughs] he hits the hole and then says "Oh Shit" then I see the ax goes over the side of the roof, and there is this guys car parked there… I say to Chris "The ax is back there"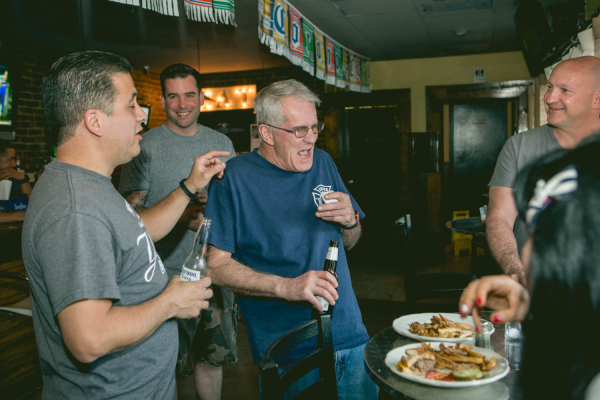 Haha. I love your stories. What have you been up to since I last saw you? Same old. Saving the world.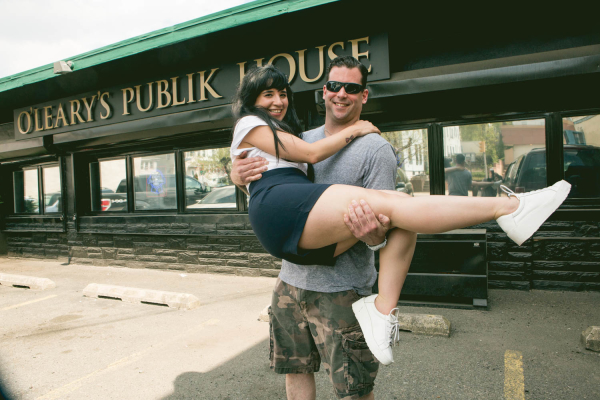 O'Leary's Publik House
788 Garfield Ave.