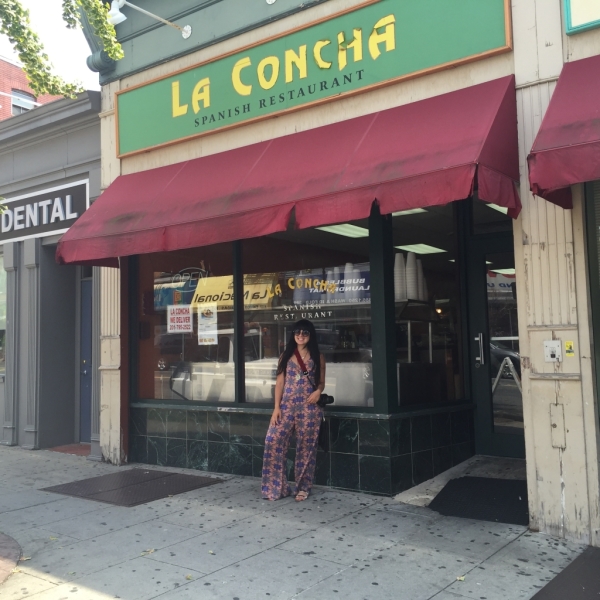 Last week I joined David Diaz the District Manager of the Central Avenue Special Improvement district for our monthly "lunch date". This time he took me to La Concha, a Spanish eatery located on Central Ave. a few blocks by Renato's Pizza Masters. We were greeted by Berta, the owner/cook/mom/matriarch of this delicious food spot and as soon as she smiled and said "Hola" the warmth she exuded told me this would be a meal I would never forget.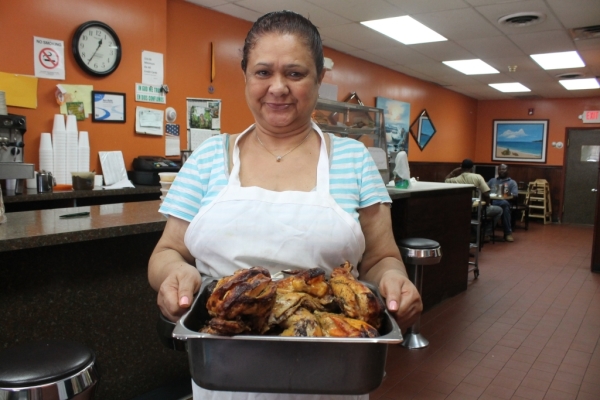 I am saying this on the record, this was THE best lunch I've had so far on Central Ave. This is a huge statement because all of the places I've eaten at on the avenue were incredible…. but La Concha was different. The food we ate was cooked by Berta herself and I felt like it was my mom who cooked for me (well maybe if my mom was Dominican).
I told Berta to "surprise me" and she gave us two dishes filled with food. We ate the following:
BBQ Chicken (apparently Berta changes this up every day). THIS WAS FINGER LICKING GOOD…. LIKE SO GOOD. Ask for extra napkins.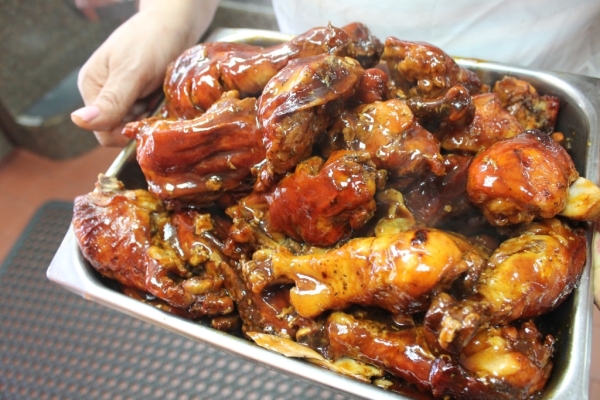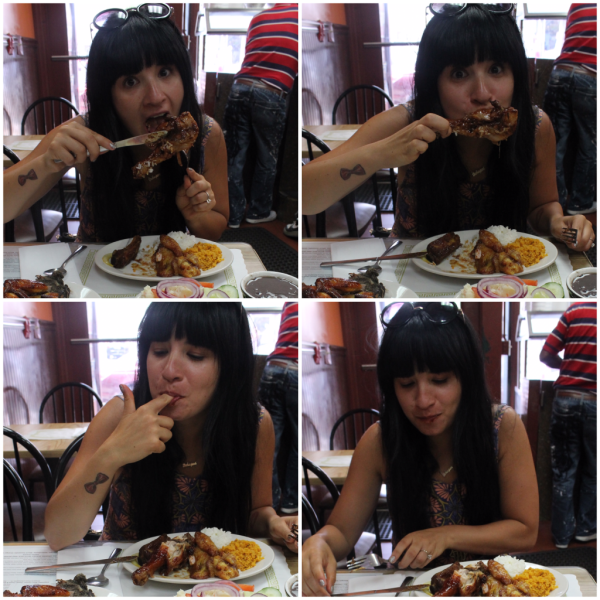 White and Yellow Rice (which was so fluffy)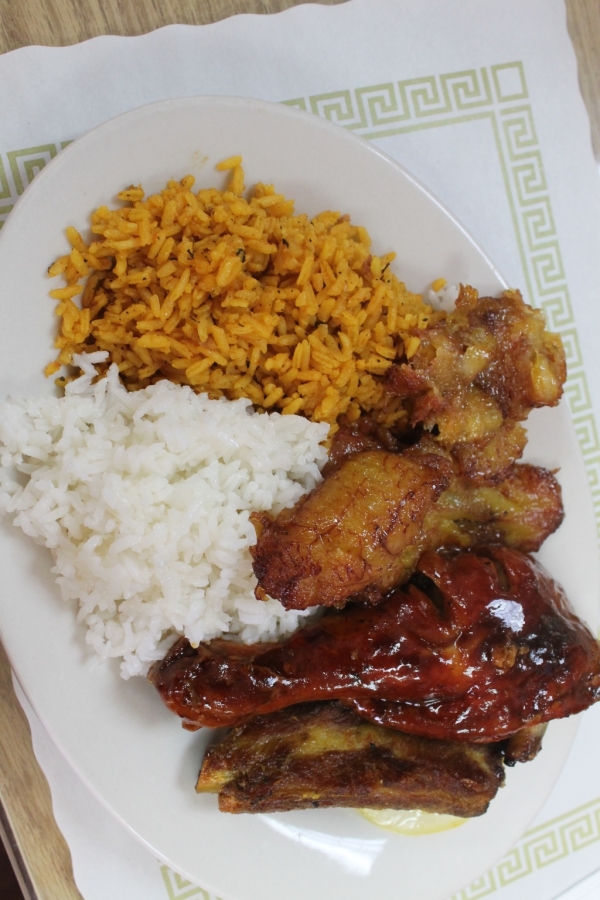 Pernil (Pulled Pork Shoulder)
Platano Maduros (Fried Plantains), beans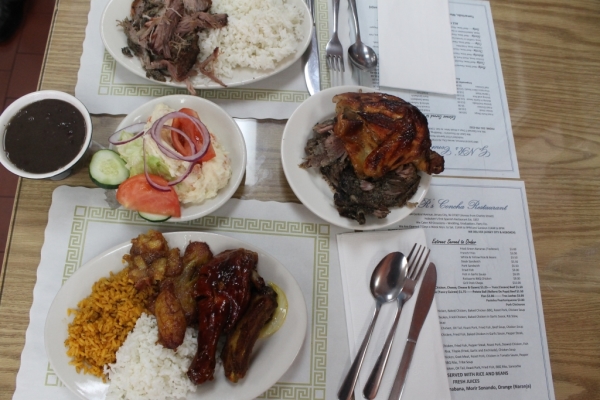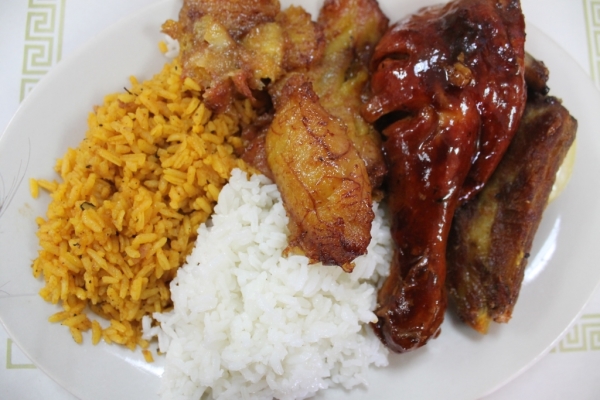 and for dessert a yummy flan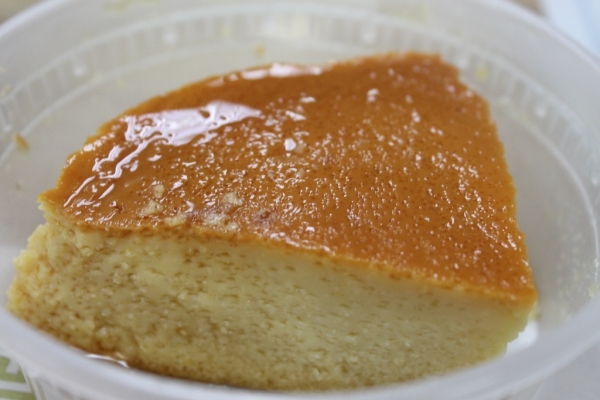 The best part is the day before this lunch I had started my
ChicpeaJC 30 Day Health Challenge
, so I was sort of trying to stay on the plan that Kristin my official "Health Coach" from IronPlate Studios prescribed me… let's just say this was my cheat meal. WORTH IT.
While eating, we invited Berta to join us. She is such a sweetheart, she is so warm and welcoming, it is clear she works her butt off from morning to night to keep her customer's bellies happy. What amazing family owned business and I urge everyone to go eat there, your belly will thank me… and THEY DELIVER ALL OVER JERSEY CITY!!! #mindblown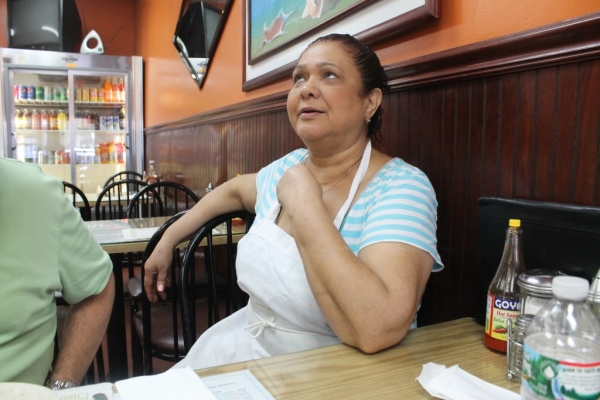 What's your name? Berta.
What do you do? Cooking.
Can you tell me about this restaurant? This is La Concha coming from Hoboken. The business was established in '57, but it's had only three owners, and I am the most recent owner. Twenty-years of being the last owner of La Concha.
Can you tell me about the food here? It's Dominican food I'm cooking fresh every day. It's family-style, everything fresh, nothing artificial, everything is natural. If you look at the rice you can tell it's fresh it's made daily. The pernil is the most popular item and the beans.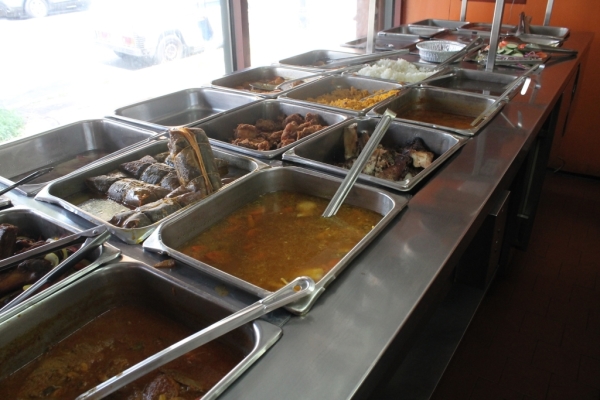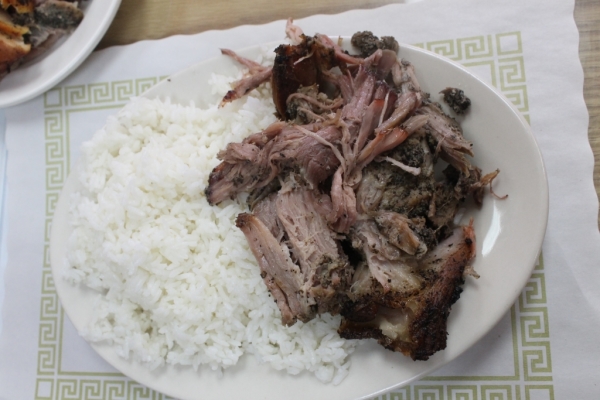 Do you live in Jersey City? Si. Very close, in the backyard. You walk out the backyard and the house it behind this place.
How long have you been in Jersey City? Twenty-three years.
What do you like about it? Good, I never have no complaints. Very nice people, very nice.
How do you feel Jersey City has changed? There has never been a real instance that has made me mad. I've been very happy living in Jersey City with everything [and] how receptive the community has been to me.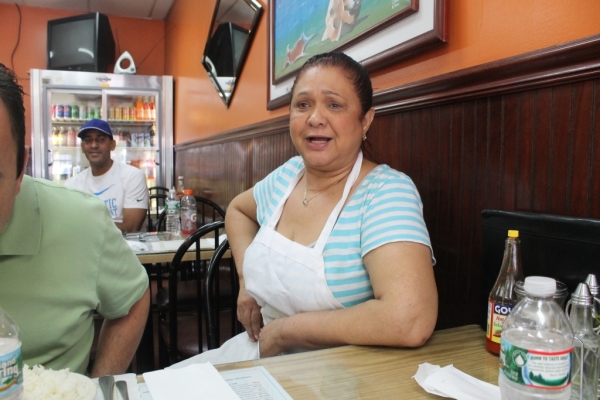 Are you open every day? Every day.
Is every day different? Every day it's different. You know the pork I make every day and that chicken too. Oh! I forgot give it to you, the beef stew, oh it's crazy. The beef stew is the best, the people here like the beef stew. For me, I don't like meat.
You don't like meat? But you make meat! I make it, but I don't like it.
What do you like to eat? Cheese, I love cheese.
And so you come here every day and you cook? Every day, every day.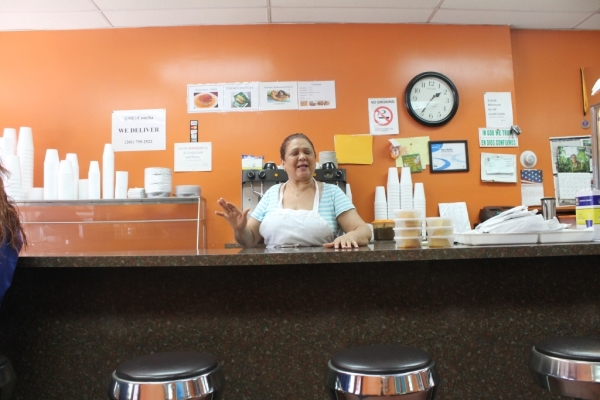 What time do you start your day?  9 o'clock in the morning  to 9 o'clock.
So your son helps you run it? Yes. Gilfredo, he helps me a lot, thank god.
It's a family business? Who else in the family works here? My daughter Nathalia and my grandson.
This place has provided a lot for me and my family. I've been able to provide education to my kids by running this place, but I'm ready to go. I'm ready to sail off into the sunset.
Who's going to cook though? I'll pass the cookbook along. My daughter helps me out a lot with the administration of the business, she's a realtor. She just helps me with the legality of running the business.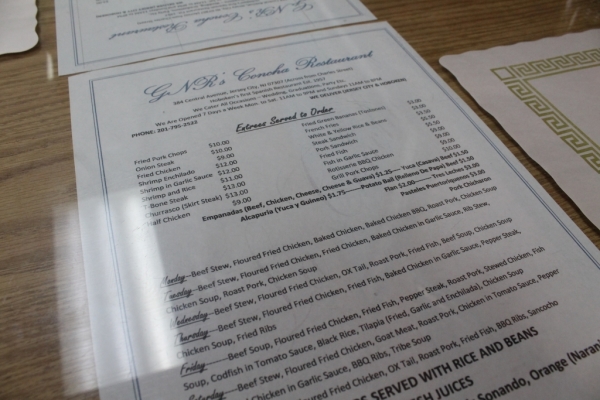 My other son Rogelio is working construction. I sent him to school to be educated and he decided to do something other than what he studied for so right now he is doing construction. So mainly here, my oldest son and daughter come and help me out to run the place.
Is it mostly lunchtime when it's busy? I don't have a set time. At any moment this place could get packed.
Do people take food home? Yes. Delivery and the catering, oh my god.
You do delivery? Do you only deliver in the Heights or do you Downtown?  In Downtown and Hoboken too and Christmas is a very busy time. It's so stressful, that right now, just the thought of Christmas getting ready to roll around with all the orders I get, I get stressed. Christmas Eve 400 orders of roast pork.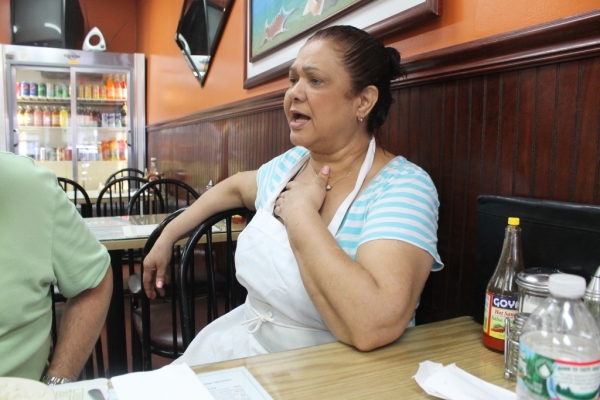 And you make it all yourself? Yeah, I have to take it three days in the oven. I prepare 24 of them in one shot.
Does anyone help you in the kitchen? Oh yeah, people in the back and Christmas more people coming to help.
You work hard. Do you ever take time off? I go away on occasion but I don't consider it a vacation. The last couple of times I've gone away, I've gone to Cuba. As far as laying on a beach, that's not something I do. I visit friends and family.
Anything else you'd like to let people know about La Concha? Maritza has been here for 22 years, she's not here today but she's a sweetheart. You walk in, she knows almost all the customers by name. She calls it to everyone, "Papito, papito, papito." She's very kind in that way and she's been a big part in building the customer base that I have here.
I've worked as hard as I can to make this place happen. I'm very dedicated to cooking and making sure the food upholds the standard my customers expect when they walk in here.
La Concha384 Central Ave, Jersey City, NJ 07307
(201) 795-2522
---
For more information about this business and the many others like it on Central Avenue and in the Jersey City Heights, please visit www.JCHeights.com.