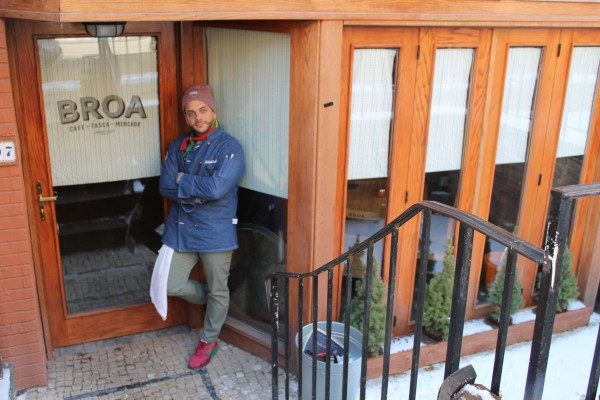 I've been waiting for this post to happen ever since I first interviewed Liz, girl boss and owner of Feena Boutique. I met Michael, owner and chef of Broa cafe that day while trying on the whole store… Broa cafe which is right underneath Feena was still under construction at that time…I became fast friends with Liz and Michael, they are such genuinely good people and what I love about them most is that they keep it real. Every time I walk by on Grove street and see these two we always stop to chat… before I know it an hour goes by and I am like "Stop being so friendly!". #ilovethem
Fast forward to Project Eats, where Broa and Michael made their big debut…. Broa's booth had the biggest line up in the whole market! I tried a few dishes which were so delicious!! I was transported to Portugal in one bite so I couldn't wait for him to finally open up shop.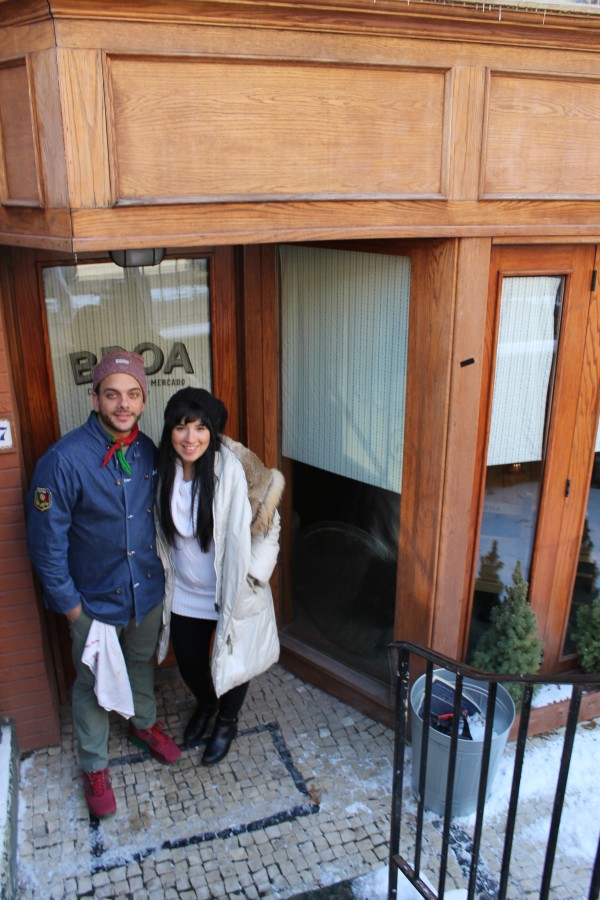 Broa recently opened its doors and since then it's become one of my favorite spots. We frequently grab food to go from there on our way home from work, but the experience is even better when eating inside this quaint cafe. Michael invited me for a private meal on a snowy winter day, I don't think I've eaten this much in a while! I was definitely ready for a nap right after.
How did Broa come about? Being in the business before, I was doing something a little different…and I felt like I had plateaued where I was –  I wanted to represent my culture elsewhere. I felt misrepresented… I thought, "Why is it that you can go to an authentic Indian food and feel like you're in India, you can go to an authentic Japanese place and eat authentic food, and be served the Japanese way by Japanese people and really experience it… Even French and Italian places you feel immersed in the culture at so many restaurants… I wanted the same thing, to bring  the Portuguese culture to Jersey City.
How did the idea come up to open Broa? You've been in the restaurant business for a while, when did you decide fuck it im gonna open up my own place?  I came to Jersey City, and my sister Liz had already been here a few years, I just fell in love. I've been hanging around here for a while, and something about the neighborhood just touched my heart and I saw the potential and the growth – I felt good here – I felt like this would be the perfect home to set Portugal into and within the community – it's such a diverse city, one of the most diverse in our country. Here, there's no real Portuguese representation so I thought it belonged here.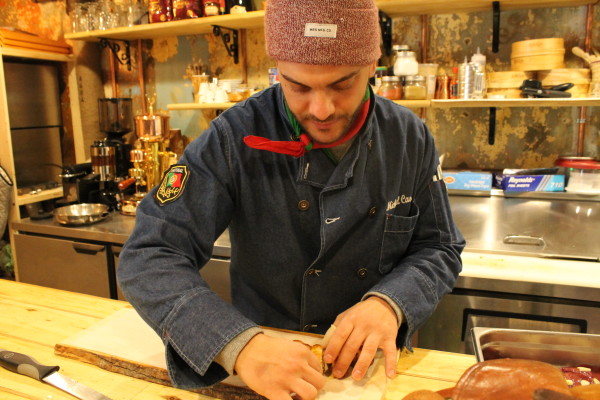 So why did you want to call it Broa? Broa means corn bread in Portuguese. It's really a peasant name, it goes along with our roots so, broa is the first thing you eat… you'd eat it with everything, you mix it with other things. Then I figured it was one of the coolest names I could use to represent Portugal, and an easy name to pronounce.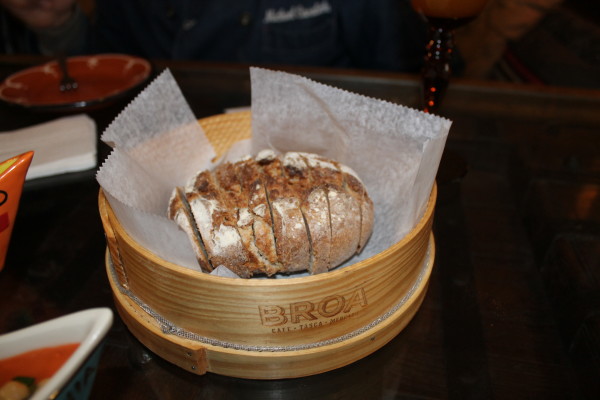 Tell me about the dining experience, how is it different coming here than somewhere else? More than anything I wanted this to be the place to come and feel the culture, and experience in every sense, from visually to listening to the music, to tasting the food, smelling the food. Really experiencing the culture is what it's all about….to teach people about our origins our food, why we eat what we eat, and how we eat it, how it started. Going back to how it started, my grandmother, my great-grandmother, what they grew up eating, and I think that's the only way to represent our culture.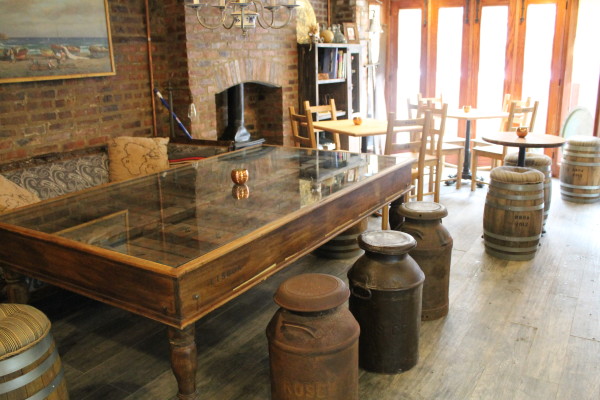 It's not about money, it's about spreading our culture and letting people get to know it, to feel and experience the vibes, and experience Portugal itself. For those less fortunate who can't travel there and maybe always wanted to, and I really feel like I can give you the Portuguese experience and make you feel like you're there, without having to use your passport.
So besides the restaurant set up, it's a Café Tasca, a Tasca is like a Bodega, you can sit, eat and buy goods. I am going to be selling my cornbread so people can walk in and buy it. I also serve high-end canned fish from Portugal…  Anything you eat here, the products and things I use are all from Portugal, or from the Portuguese butcher and fish market…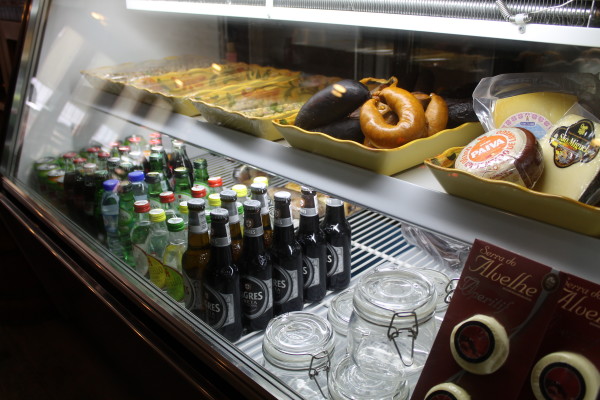 I have Portuguese water, I use Portuguese wine, high-end olive oil to cook, I will not use anything else. The companies I use aren't Portuguese companies in the US they're in Portugal and are directly from there. Even the hot sauce and salt…so the flavors are real!
Have you always been cooking Portuguese food? I've always been cooking a lot of different things but lately over the last few years ive been leaning more towards an authentic Portuguese kitchen. I even interviewed my grand-mother in-depth of what exactly she was eating as a little girl, and what her mom was serving her and her family. So, I could dig deep aside from what I know, of what the Portuguese cuisine was really like years ago, and a hundred years ago, so that I can implement those flavors. Maybe some other grandmas will come here, and actually eat food that they remember their mother cooking, or a taste that they remember as a connection from their childhood and life.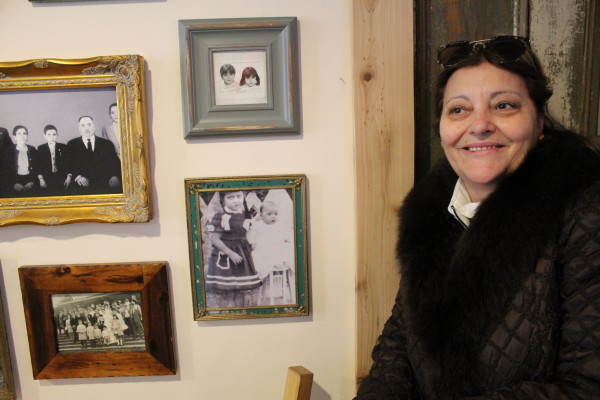 Your kitchen is very understated and simple, is that part of the cooking? We let the food speak for itself. Many people don't know but we (the portuguese) introduced many spices to the world, through our travels. But we don't use all the spices, we are very basic, little bit of salt, vinegar, maybe some onions. Very simple and clean, and let the flavor of the foods really come out. It's the only way to do it, the flavors in the food itself is very simple. We'll cook a whole fish in just boiling water, everything gets olive oil though everything is olive oil, so a little bit of that, just broil it, throw it on a plate with some lemon, it's the healthier way anyways.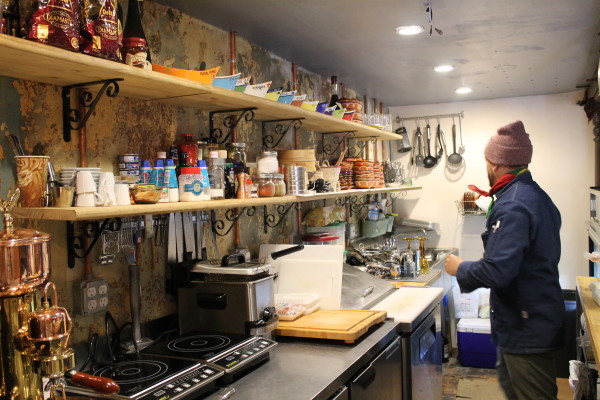 Ok so let's get all the food on the table, and you can tell me what well be eating.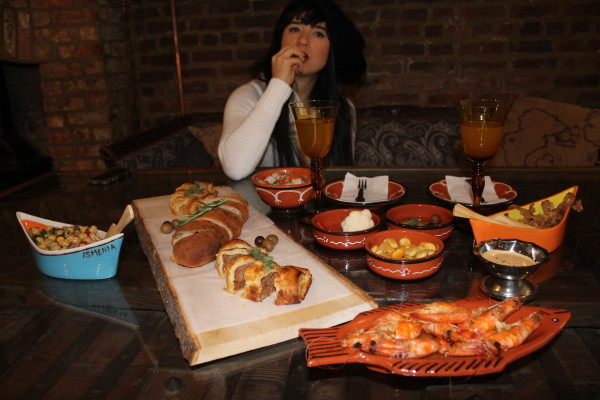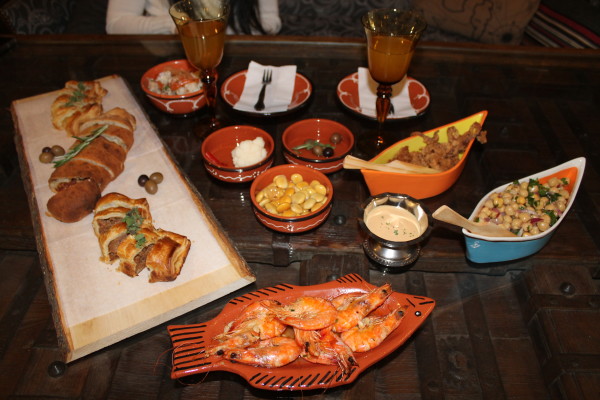 Whats this first one? House-seasoned ground beef in a pastry puff, this middle one is Portuguese chorizo stuffed into a bread, and this is pulled season chicken in a pastry puff.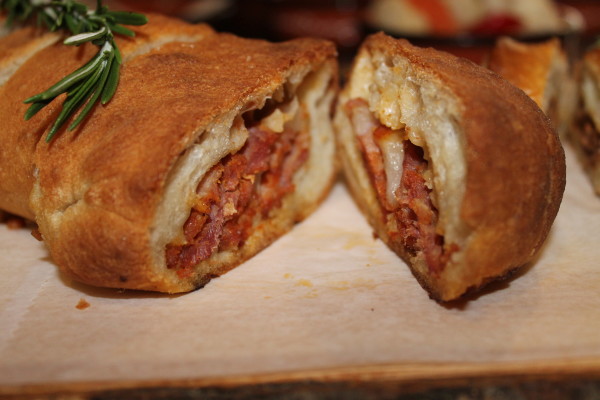 AMAZING. What else are you making? I'm gonna be making shrimp, Broa style. Broiled shrimp, in seasoned garlic, some spices with a little bit of wine, thrown into the oven.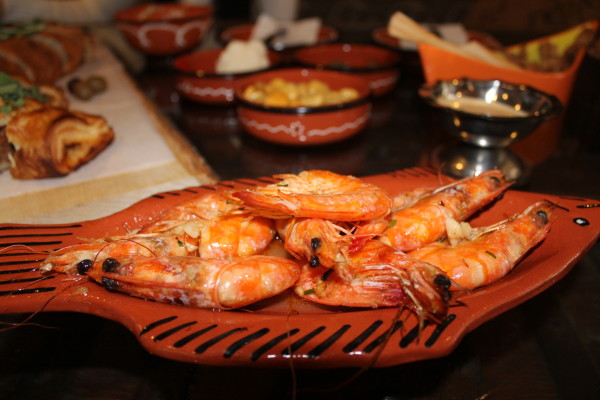 Do you change-up your menu every day? Every evening I will change it up.
How do you decide what you're going to make. It's how I feel when I wake up in the morning!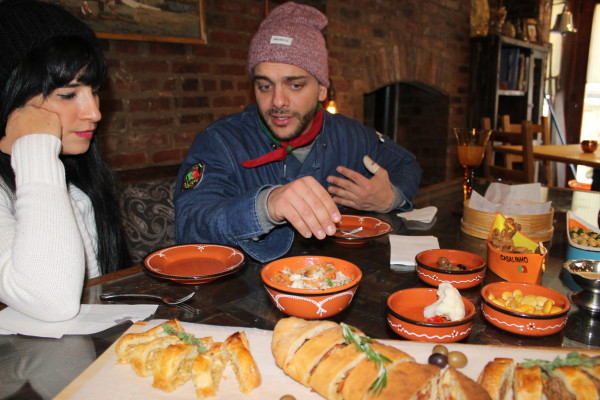 What about lunch? Lunch will be different as well, there will be staple items like some sandwiches but different Portuguese stuff.
So here we have fresh cod salad, de-salt it a little bit in water, then I leave it in the water for a few days to get out  the salt. Take it apart to make it like pulled cod, some tomatoes, onions, parsley, ground up some corn bread, Portuguese olive oil and vinegar, pepper, toss that up and served as is.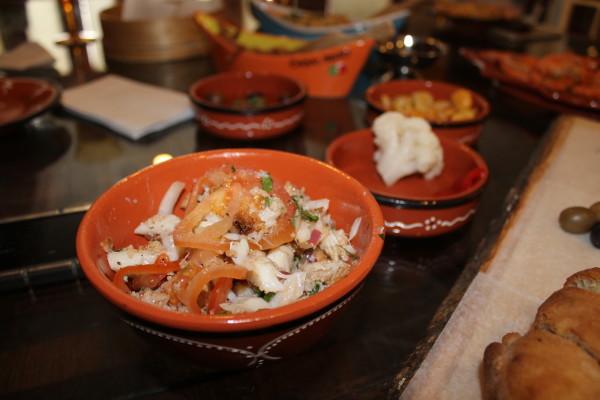 We also have picked veggies "gardinera"  which translation would be like 'gardener'. It's a very big Portuguese thing, when serving always on the side of plates, or with meat.
Cooked salted lupini beans, a big snack. Especially for men at the bars, with beer, it balances out the alcohol levels.
So addictive! The European olives.
The ChickPea Salad, red onions, parsley. Huge traditional meal for us, back in the days peasant life there wasn't a lot of money, everyone has beans so that was one of the quickest remedies to fill you up.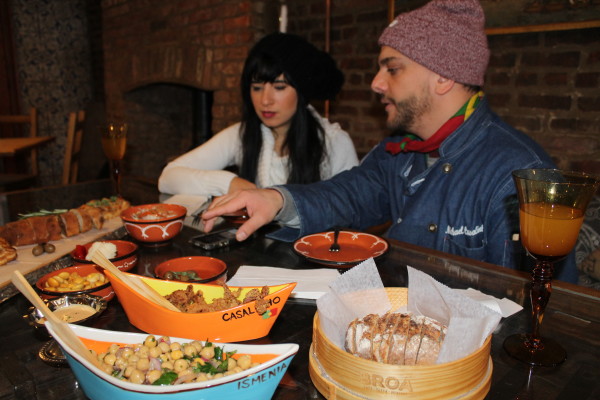 Very versatile too! Freshly cut, house battered calamari. Tentacles still in, I go to the fish market and have them cut off the heads and tentacles there, and then clean them, so I can have more time to prep everything else, I throw them in a bucket with some seasoning for extra flavoring, and then when someone orders them I batter them on spot.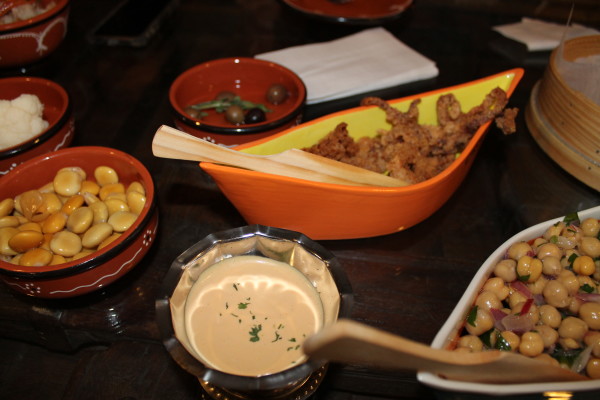 You come in here, and you order your dishes and sit wherever you want? I'm going to start experimenting with lunch/daytime hours, but my scheduling will be 11-3 café style, we will have wi-fi, you can come have Portuguese coffee, or latte or espresso. I will have a couple of staple sandwiches, I'll have a soup of the day… A meal of the day..it could be a pork stew, or a fish… You can come in, it will be one fixed price and you get a drink and coffee, and boom you're in and out fast lunch. That really is the Portuguese way to do things. This is a tasca, a Portuguese Bodega, mom and pop shop, there's one meal, one set price, so you know every day it's a different meal and you know what to expect.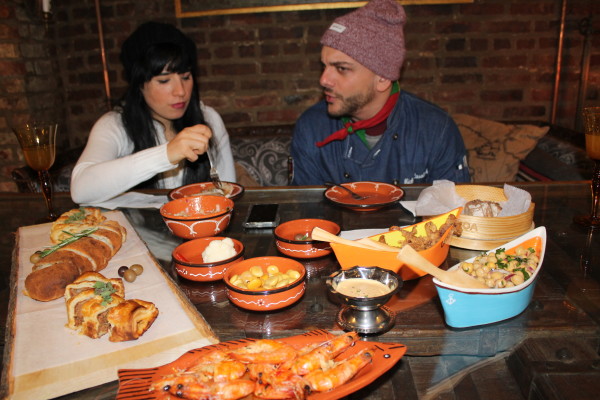 I love that – like when you go to lunch places there's so many options, and it becomes stressful! After that I plan on closing at 3pm. Aside from the whole café thing, I'm going to have a little Portuguese library where you can learn about the culture, by reading about it, books will be in Portuguese and English, cookbooks too.  I'm going to reopen with dinner and it is going to be tapas, small plates, with table service. No fixed menu, it'll be whatever I decide to make that day, different variations of shrimps, I'll have radical things pig ears… pig snout…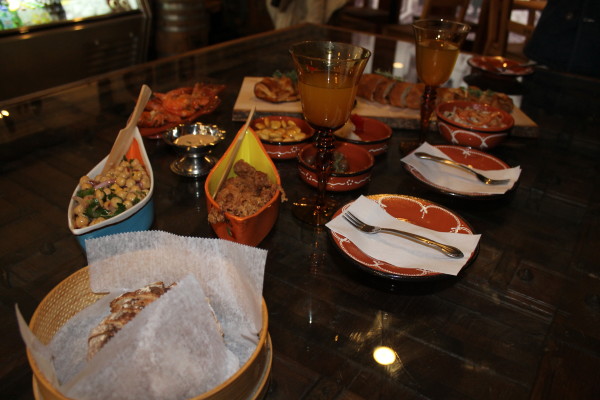 I always see you dressed so well…you are very stylish! Originally I wanted to be a fashion designer, that was my heart actually.
I totally see it! Yeah, I love art though, I just appreciated it so much and it's always been a part of my life…then I fell in love with the kitchen, cooking and restaurants. I realized, I love to eat, I love to cook, I love music, I love art, I love to go out and I can do EVERY single thing I love in one place. That's why, I designed the place, build it, curated everything myself, cook, the cleaning, everything. I did the art work in the bathroom. So I just fell In love with cooking and here I am 10 years later.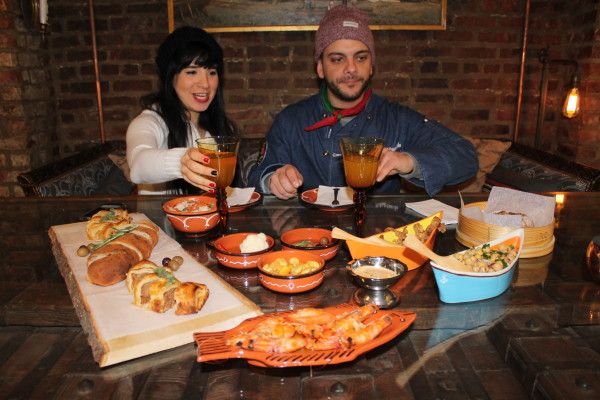 So you're BYOB right? Yes – I'm not even sure I'm going to get a liquor license. I'm really enjoying the fact of people bringing their own wine and I've had great feedback about that. Obviously the profit margins are higher with a liquor license. But at this point, I'm really more about the culture, I don't want to forget my goal here, not try to make it rich. I like that people can pick their wine of their choice, and have a wonderful glass, with a wonderful amazing meal.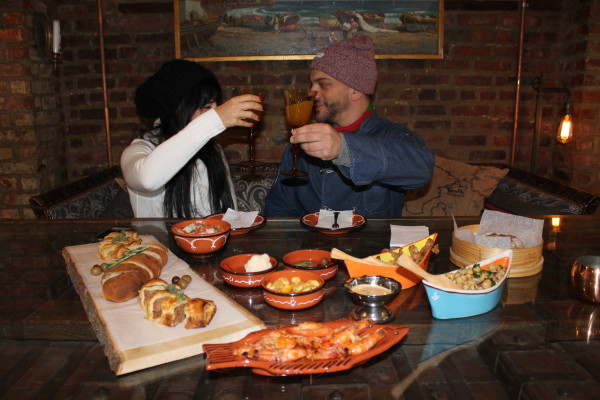 I'm going to eventually be working with Cool Vines down the street, and they've started to carry more Portuguese wines and even will get them to do wine pairing, all the wines there, will be paired in some shape or form here. And eventually we will have them carrying more portuguese wines and have them constantly rotating just like my menu.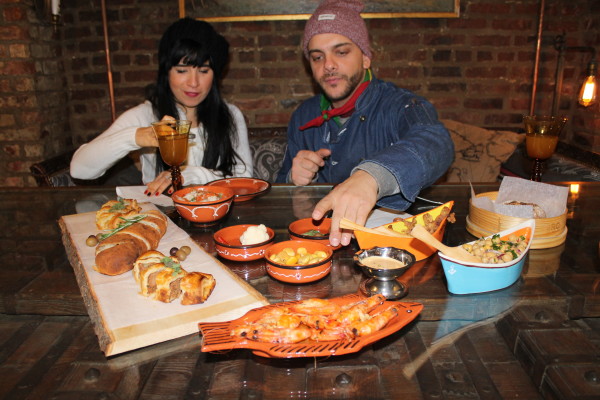 I will have the wine list here, it will be catered by Cool Vines, and basically you can sit here pick out a wine as you pick out your meal, then I'll call Cool Vines and they'll deliver it to our door. So the wait time will basically still be that of a restaurant bottle of wine.
Tell me more about Portugal. I love going, it really is so laid back, no stress levels whatsoever. Everyone is nice and peaceful. Maybe it is because they take those 2 hour breaks, everyone just enjoys life, and no matter what money they make, everyone is always happy and chilling, something I love about the culture. Like here in the US everything is  HURRY HURRY UP, OH THE KIDS, THE WIFE, WORK…HAHA youre running around, back and forth, like a chicken without a head…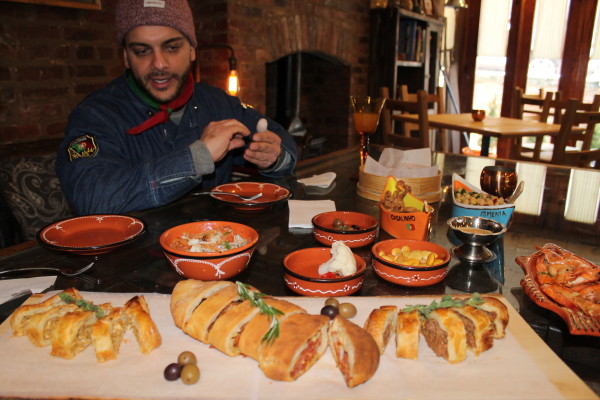 Then you get home exhausted, no time for the kids or the family… you age fast, die young, and it's all about making that money. Everything is a rush. In Portugal, it's like everyone is high. People are just so relaxed, no matter their situation.
Where did you learn to cook? Kind of self-taught, I've always been dabbling in the kitchen, I would watch my mom and grandmother cook, so I just picked things up. Both of them cook a lot, we lived in a very Portuguese-ee home, we still speak it together in our home…that's just how we grew up.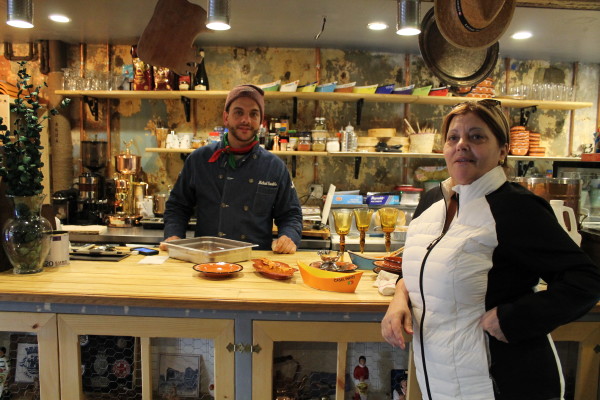 Between you and your sister it seems like the culture is very important to you guys. Very important, I was already born here, so I'm actually American.  I'm proud of where I come from and my culture and I think that a lot of the older stuff is dying out… the younger generation doesn't find the older stuff  'cool' whereas I love it, someone has to carry on the spirits of the old generation and the past. The country itself is about the size of New Jersey, it's small and very homey. So somebody has to put us back on the map, we have such a history of our travels you know, we taught the Asians tempura, thats a Portuguese technique.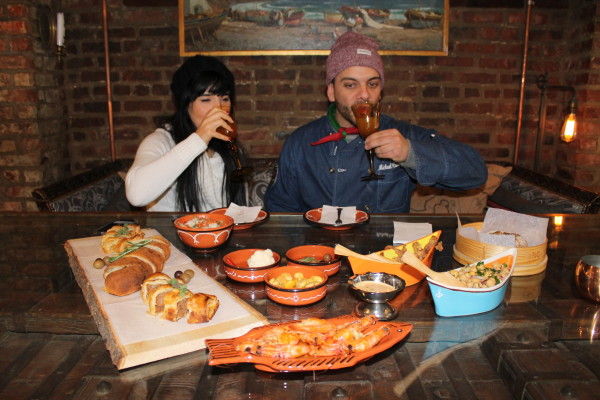 Now other than here obviously, do you have any favorite JC hangout spot? I'm a big explorer, I like to try new places all the time, I guess right now my favorite place is my own!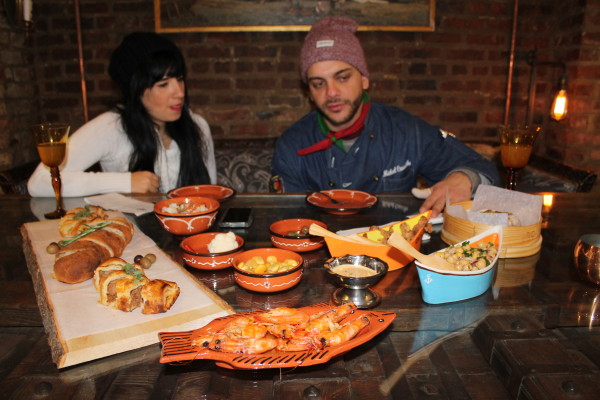 That was so delicious. I am so full right now.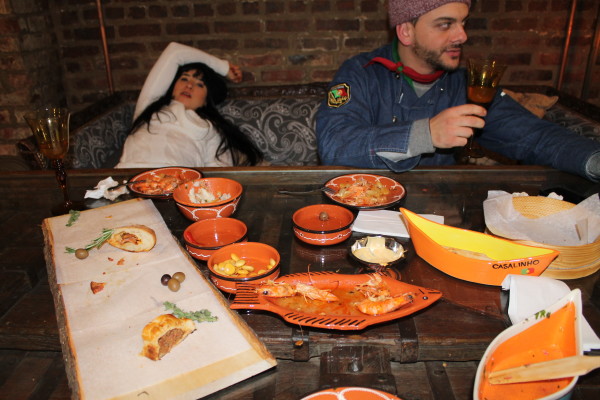 What're your future plans? Incorporate the patio which is being worked on, and that's going to be like grandmas backyard. I want you to come here and feel like you're in grandmas house hanging out in her garden.
297 Grove St
Jersey City, New Jersey