The weather is getting warmer and the days are longer – summer is in full effect. Although all the 4th of July festivities are over, there are still lots of ongoing events you can attend in the Big Apple.
---
Summerstage Festival
June 1 – September 24
Rumsey Playfield – East 72nd Street off Fifth Avenue
SummerStage is an outdoor festival of the arts held each year at Rumsey Playfield in Central Park. Performances are mostly free, with the exception of a few big-name benefit concerts that help fund the SummerStage programming.
Coney Island Friday Night Fireworks
Every Friday between June 21 to August 30
Coney Island Beach & Boardwalk – West 10th Street and West 15th Street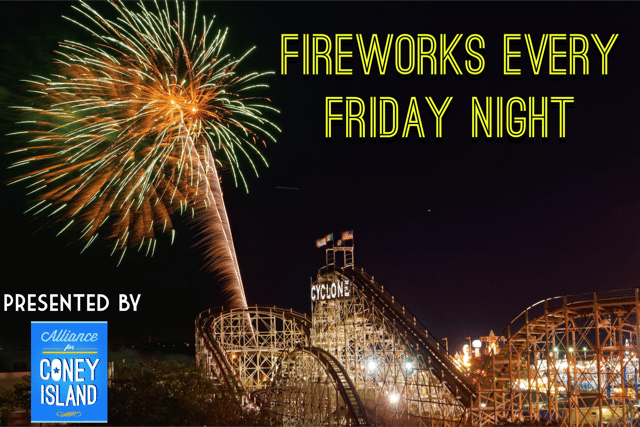 Light up your Friday nights with a FREE spectacular fireworks show.
Broadway in Bryant Park
Weekly on Thursday between July 11 & August 15
Bryant Park
The most popular shows on and off Broadway perform their biggest hits each summer in the park. Join hundreds of fans on the Lawn and enjoy favorite Broadway tunes. Arrive early and catch rehearsals!
Summer on the Hudson
July 12 Onward
Location varies (see event details below)
Summer on the Hudson is NYC Parks' annual outdoor arts and culture festival that takes place in Riverside Park from 59th Street to 153rd Street. With a mix of music concerts, dance performances, movies under the stars, DJ dance parties, kids shows, special events, wellness activities, and more there is something for everyone! All programs and events are free to the public and registration is not required unless specifically stated in event information.
Avenue of the Americas Expo
July 13 @ 10:00 am – 6:00 pm
6th Avenue from 42nd – 54th St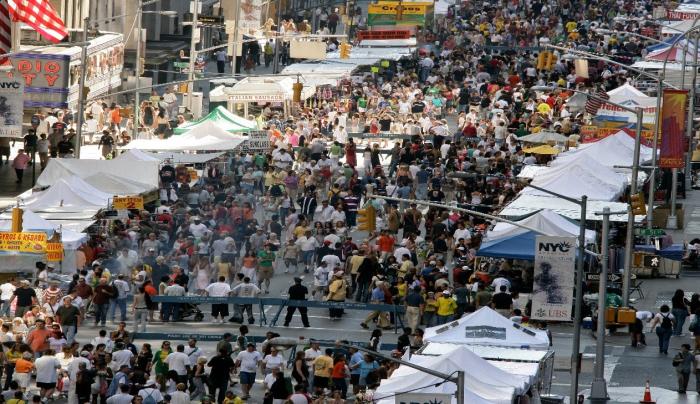 Enjoy food from 50+ vendors and browse through 500+ merchandise booths that sell a variety of goods that range from handmade metal statues to fashion accessories.
Broadway Movie Day Festival
July 14 @ 10:00 am – 6:00 pm
57th Street – 47th Street
The Broadway Movie Day Festival will be held on July 14, 2019. Come explore about 490 vendor booths featuring arts, crafts and unique merchandise. Also enjoy great food, rides, live music, and more.
Bastille Day
July 14 @ 10:00 pm – 5:00 pm
60th St. NYC
Celebrate Bastille Day at New York's liveliest summer fête presented by FIAF and Côte d'Azur France!
Shakespeare in the Park
July 16 – September 8
The Delacorte Theatre in Central Park
Shakespeare in the Park is an annual event held at the Delacorte Theater featuring large scale productions of famous works. Since its inception over 45 years ago, the Theater has hosted over five million people from across the globe.
Pinknic 2019: A Dazzling Rosé-Themed Festival in New York
July 19 – 20
Randall's Island Park New York
The gorgeous grounds of Randell's Island Park is completely transformed into a dreamlike pink and white rosé-drenched paradise as thousands of guests relax on pink picnic blankets listening to fresh beats by incredible live artists for two whole days. Take a dip in the incredible fairytale swimming pool, where you might even get to meet a mermaid.
Time Square Summer Fair
July 20 @ 10:00 am – 6:00 pm
Broadway from 47th – 57th st.
Browse through hundreds of vendors and food booths right in Times Square!
Harlem Week
July 28 – August 24 @ 12:00 pm – 8:00 pm
Location varies (see event details below)
Harlem Week promotes and celebrates the past, present, and future of Harlem! It's a series of Harlem events throughout the summer, that bring together all age groups and cultures to celebrate the unique and diverse essence of Harlem.
Sweet Spot Festival
August 3 @ 3:00 pm – 9:00 pm
West Harlem Piers West 125 Street, Manhattan NY
The Sweet Spot Festival features Reggae, Soulful House, Disco, and Afro-Beat spun by a rotating collection of North America's most renowned sound architects.