The long awaited Joker film finally arrived in theaters back in early October, and us New Jerseyans had an additional reason to scramble to the movies to see it. Several scenes in Joker were filmed in Jersey City and Newark, and seeing the streets of our cities on the silver screen evokes a sense of pride for where we come from.
Including Joker, here are six popular films (and a few spoilers!) that have been filmed in Jersey City:
Joker (2019 film)
Jersey City filming took place in front of the William J. Brennan Courthouse on Newark Avenue as well as at the iconic Loews Theatre on JFK. The Courthouse is transformed into Wayne Hall for the movie, with a large crowd of Gotham citizens rallying against Thomas Wayne. With people wearing face paint and clown masks to mock the wealth and authority Wayne represents, the Courthouse makes a perfect backdrop. Later on in the movie, you can see where the Loews Theatre becomes the Gotham movie theater where Batman's parents meet their untimely fate.
Sid and Nancy (1986 film)
A cult classic movie about the bassist of the Sex Pistols, Sid Vicious, and his girlfriend Nancy Spungen. The final scene in the movie was actually filmed in Jersey City! So many of us have walked along the waterfront near Washington Street, gazing at the New York City skyline, and here Sid does the same. Filmed over thirty years ago, the modern waterfront we know used to be a simple boardwalk on barren land.
Godzilla (1998 film)
A reimagining of the original Godzilla, this 23rd film in the Godzilla franchise is the first movie completely produced by a Hollywood studio, as well as the first with a scene set in Jersey City. As the creature destroys NYC and the military attempts to kill it, a military HQ is set up across the river in Jersey City. This HQ, dubbed the "Mobile Command Center" is located in Downtown Jersey City, near Essex Street and Hudson Street in the Paulus Hook area.
The Godfather (1972 film)
Another all time classic movie, The Godfather has a scene that takes place in what is now Liberty State Park. While Peter Clemenza, Rocco Lampone and Paulie Gatto are running random errands like picking up Clemenza's wife's favorite cannoli, they make a pit stop in the countryside so Clemenza could take a wizz. While doing so, Lampone shoots Gatto, after Gatto had betrayed the Mafia earlier  in the movie. At the time of filming, Liberty State Park was nothing more than abandoned marshland, until a few years later when the park opened in 1976.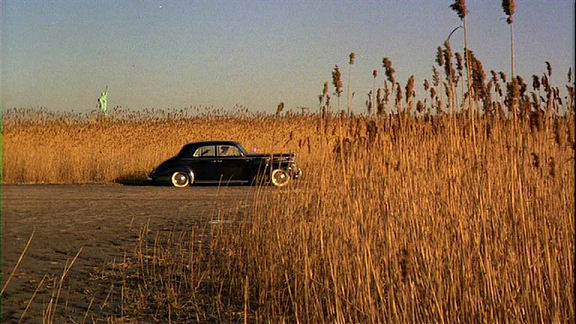 Men in Black (1997 film)
The first of the famous science fiction trilogy, Men in Black has a quick and humorous scene located in Liberty State Park. Agents K and J pull over a suspicious couple driving through the park. While Agent K speaks to the husband outside of the car, Agent J is supposed to help his pregnant wife give birth. In a matter of seconds, Agent J is being flung through the air by strange tentacles, screaming for help in the public park. Watch what happens next below!
Annie (2014 film)
A famous story based off of the original Little Orphan Annie comic strip, this second movie remake has a scene set in Liberty State Park. After Annie is kidnapped by imposters pretending to be her parents, a police chase leads them from NYC, across the George Washington Bridge and into Liberty State Park. Many NYC/NJ locals point out how GWB is nowhere near LSP, meaning this scene makes no geographical sense. Either way it's impressive to see Liberty State Park on the big screen once again.
There are hundreds of other movies that have been filmed in JC, which you can explore on IMDB here. To see our city in famous movies that have played in theaters across the world; movies that many of us have already seen when they debuted and have grown up with, only distinguishes Jersey City and what it means to live here.
Other movies/shows with scenes filmed in Jersey City:
The Plot Against America (2020)
Seven Seconds (2018)
Ghost Dog: The Way of the Samurai (1999)
Dream Team (1989)
The Enemy Within (2019)
Coneheads (1993)