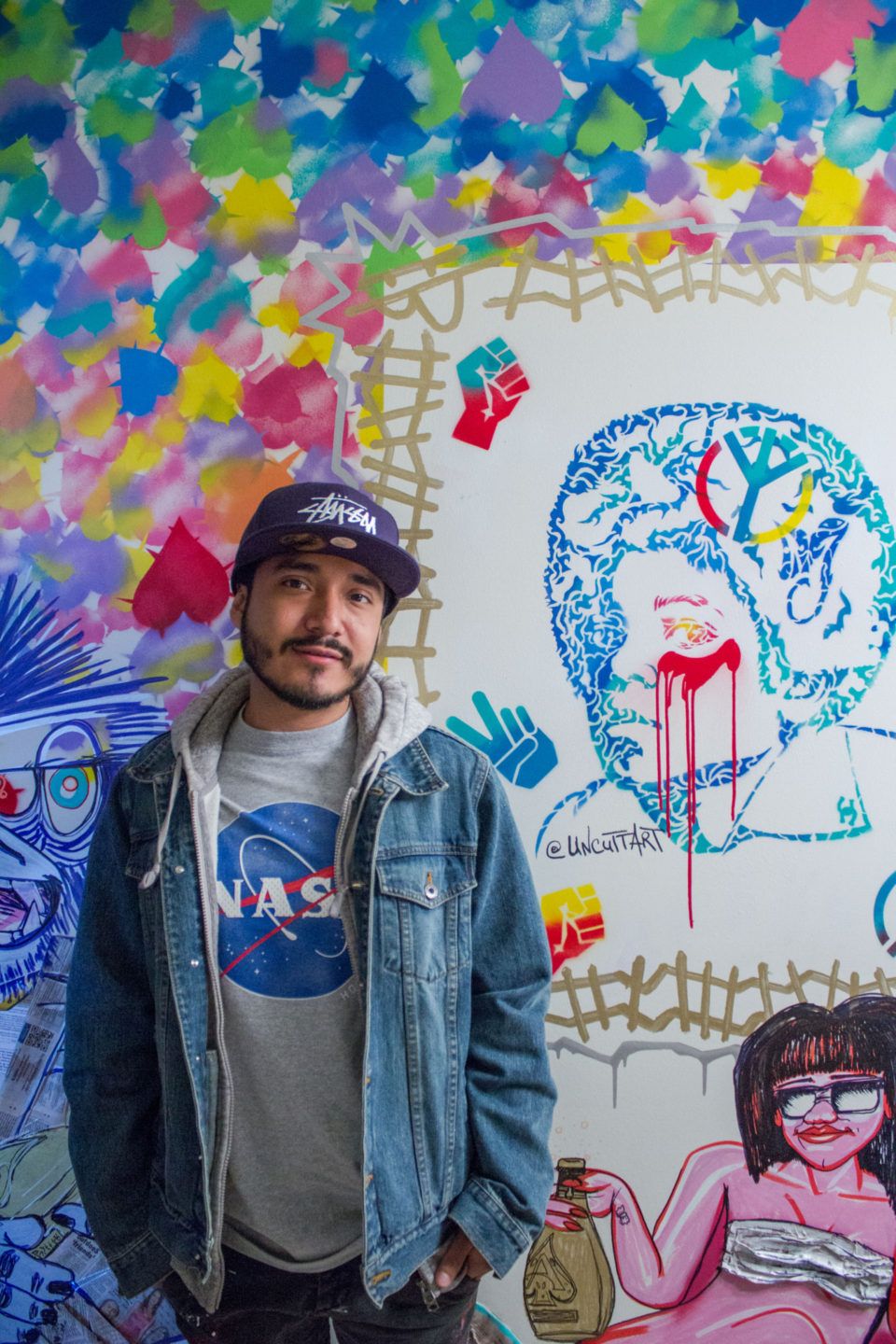 You know that feeling when you meet someone and you instantly form a connection? You feel like you've known that person for a long time even though you've barely exchanged words? James aka Hota Te, is an extremely talented artist, but also probably one of the most genuine and down to earth people I've ever met. Any time I run into him, I just want to give him a big hug.
When I moved to ChicpeaHQ I tweeted that I wanted someone to paint a mural in our bathroom. A few people mentioned Hota, as soon as they did I reached out and asked him if he would bless our space with his amazing work.
James said he was going to find another artist to collaborate with, and he showed up with Uncutt (post coming soon). Over the next few days they painted the bathroom and I had the chance to get to know both artists on a personal level. It was a magical experience. They are both extremely inspiring.
Hota even gifted me with a portrait of my muse, the late and great Notorious B.I.G  that is now hanging on my wall.
Press play or read on.
---
What's your name?
My name is James. but my artist name is Hota Te.
Why is it Hota?
It's JT in Spanish. You're pronouncing the name as the letters J and T in Spanish.
How did it come up?
When I was a kid, I was always around Hispanic kids, so it was always Hota Te from "JT."
Is that when you started to do art?
Yeah, it got serious with graffiti and stuff like that when I was a teenager. I was maybe 13, 14.
How did it start?
In Brooklyn. I grew up in Sunset Park, so it was always that culture with little gangs and this and that. We were always just messing around, being brats.
That's how you got into it?
Yeah. I respect the graffiti, got into graffiti, learned a lot from older people, but then grew up getting out of it.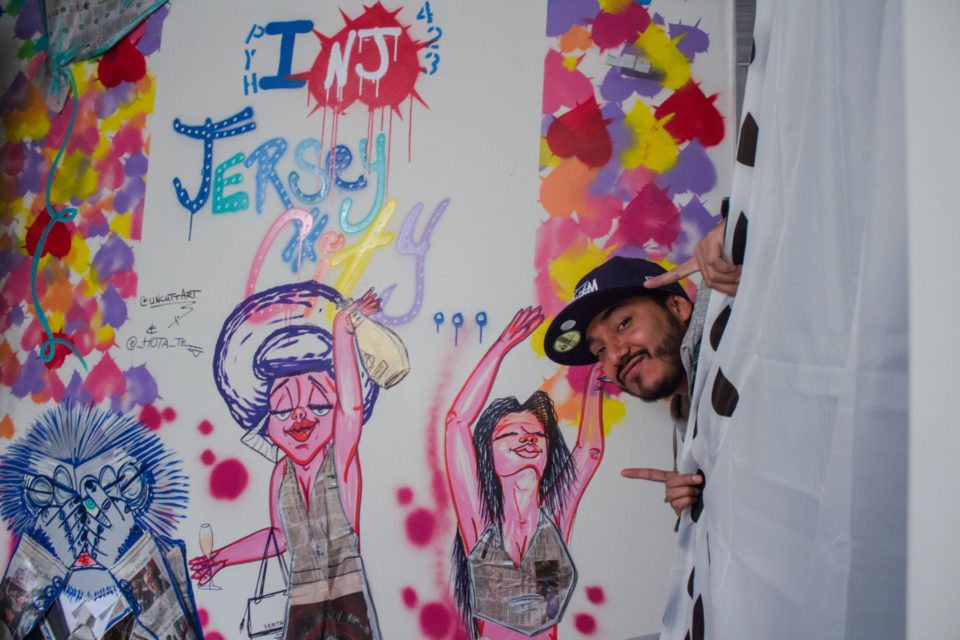 You're a full-time artist, right?
Yeah.
That's amazing! Most people I interview do it on the side. How were you able to get to that point?
Right! I had to learn hard lessons. I had a really good job working in hospitality and I was making over fifty grand a year. I would invest my money into my art, but wouldn't see any difference. It's like that saying: You keep doing the same thing and the same things will happen. I was doing the same thing that artists were doing, investigating galleries, trying to sell at a gallery, and I didn't like that. I would sell a piece and they would take 60% of my money. That pushed me to think, "What can I do now? How can I get my money directly and meet the consumer directly?"
And how did you do that?
In the gallery, we were at an event where I met some vendors and I met Jimmy Aponte. He sells photography on Prince Street, and that gallery was also on Prince Street. There's a whole culture with a lot of history there. We had Andy Warhol going out there, Basquiat… Even to this day, there's people you run into there that can tell you stories and they talk to you about what the culture is over there. I learned that he was selling photography and it was something very simple. He'd take a picture and paint all over it – funky colors, fluorescent colors for blacklight – and he sells it. He's been doing that for three and a half years. He opened my eyes and I had to do it. I kept telling myself for a year, "I'll do it on my days off," but it never happened. I was so up in management that they would call me in any time. I was not happy that I was devoting all my time to the hotel and not to my art.
And now you're basically living your dream.
I wake up like Picasso every day! I roll out of bed and all you see is art supplies everywhere. It's a mess on the wall and I work on, like, four or five pieces and I'll have a big piece there for month. It's a lot of fun.
So tell me a little bit about your art.
Right now, I'm selling portraits. Portraits are more like behaving to society, selling stuff that someone will want. I started off with these New York skylines and that's when I discovered the newspaper and how to manipulate it. I would cut out the buildings to look like the New York Skyline and make really nice backgrounds, and that's what I started selling at the gallery. Then it started going to learning about more street art, learning about more influences like Buff Monster, who told me I had to have a cartoon that'll catch kids and all platforms.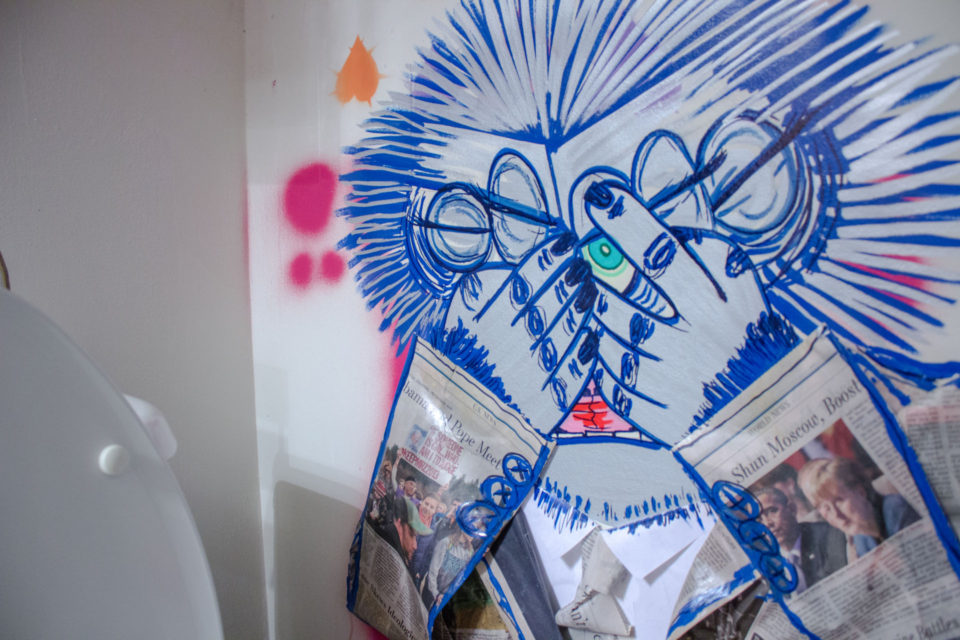 That'll represent you.
Exactly. That's when I came up with the gorillas in suits. They were very vicious at first, pretty scary at first, so I had to get them more colorful. It is a dark concept and is supposed to bash corporate cartels and the federal reserve, and how they have this fiat currency. We're just playing with an imaginary number, it's not backed up by gold or silver.
That's very deep, I had no idea!
Yeah, it's that. We never see these corporate people, so that's why it's that crazy cartoon with the crazy eyes and they're partying. It's going to get more animated.
Tell me more about this project.
On Twitter, people were watching me and my art movement. You shouted out that you needed artists to decorate the bathroom, so all these girls told me. Girls support me, I love the girls. I'm such a gentleman to them. Once I saw two responses, I was like, "I got it. This is my chance to meet up with Chicpea."
I mean, I've known you for a while now. I've been a fan of your work, and as soon as they tweeted at me, I was like, "Yes! This is exactly the person who can transform this fancy bathroom to something meaningful and positive." Tell me about the collaboration with Uncutt.
I met Uncutt a year and a half ago through Missy B. I met Uncutt at an event and he was really cool, and I started understanding the real meaning behind Protect Yo Heart. I look up to artists that have a deeper meaning to it, and it really hit me. This guy's really telling you to protect your heart. It's not just for fun, it's not just vandalizing. He's connecting with you through each spray you see on the floor. That's when I fell in love with that, and I kept seeing him at events or running into him. I connect it to the universe when I find people coming towards me or I end up with them. We're all experiencing life right now. We're all going to go back to the universe, it's all energy.
It's true, different energies attract people.
And frequencies.
So people always tell me we have an awesome bathroom here, and I always tell them I take really long shits now. It's TMI, but I come here sometimes when there's nobody in the office and I just sit here. It's like I meditate, it's amazing. I just look around and read the different things, look at the monkeys and the newspapers… What was the process like, creating this? Did you guys plan it?
No, and that's some other advice I give to every artist that wants to collaborate. You always have to come up with the execution. It's nice to talk about ideas and stuff, but if you're going to get shit done, you have to throw it on the table. What we're doing, this date, and that's how it went down.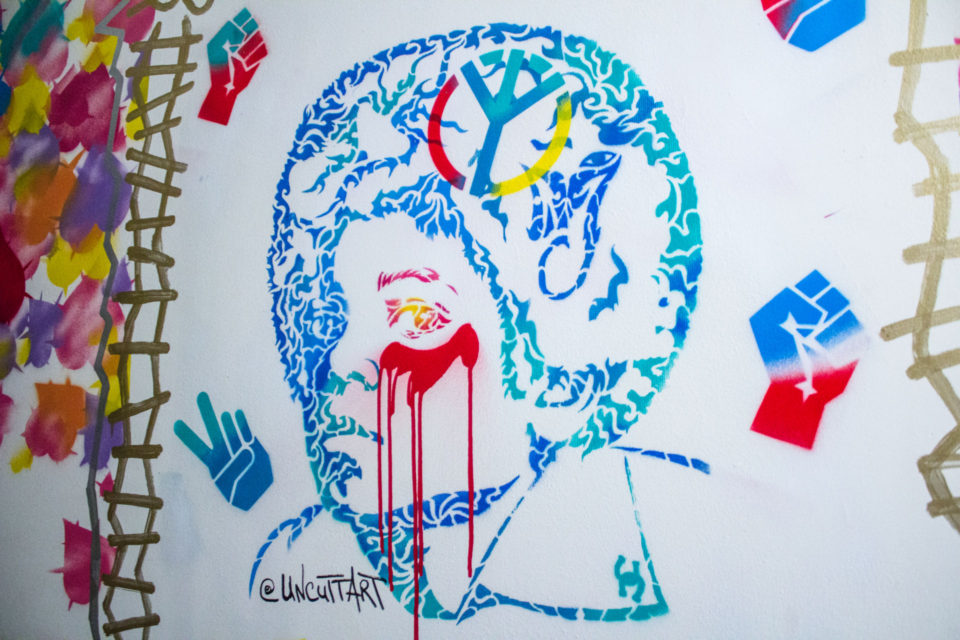 And you guys just showed up and started painting?
Yeah. Uncutt didn't even know who you were. We're all best friends now, because we're on the same frequency. You want to help the culture and I want to wake up the kids with my art.
Everyone who comes in here takes selfies, it's everywhere.
You have a piece of history in this bathroom.
It's great!
You mentioned you were born in Brooklyn. How did you end up in Hudson County?
We bought a house out here in North Bergen when I was around 13, 14. That was only because my stepfather at the time was having trouble with my mom, so that's why we moved out of Brooklyn. I was also going down the wrong path with the wrong kids. I was raised there, we had a grocery store for four years in Crown Heights… that was fun. I plan on going back there, I want to get a bigger space instead of staying here and going back and forth.
So you sell your artwork on Prince Street…
In Soho, yes.
How's that? You must meet people from all over the world. 
Oh yeah, people walk by and they're famous. They're walking down the block and someone will tell me, "Do you know who just saw your art?" The other day, I caught Cuba Gooding Jr. looking at one of my skylines. It's so quick that I looked at him looking at the art, I said, "Good afternoon," and he just looked up startled and walked away. But it's awesome, it's like a big blood vessel in the city.
That's great, it must be fun! Do you get cold out there?
Oh yeah, but I have my breaks. If it's below 40 degrees, I don't go out there.
What I love about your social media is that you take photos of everyone who buys your art. It's beautiful, I love that.
It's very interactive, and that's the thing – we're moving toward an era where social media is putting people into their own bubbles. We're having this transition where we have to stay human. With every sale that I do, I try to take a picture of people and that's what they love. A piece ends up in Israel, Dubai, Egypt… I saw it on that girl's Instagram story, she had a piece, and I told her to send me a pic of it.
That's awesome. How does it feel when you sell a piece of work?
I'm very thankful. I start thinking about how Picasso would sell his art, Basquiat, Warhol, and it's like, "This is the feeling that they had." You're giving a piece of yourself to them, and it's like giving a kid away.
That's amazing. You have such good energy, you deserve it. It must feel good to live off of your art.
Yeah! I mean, I've been getting luckier and luckier, so it's just about being consistent, working hard, and innovating.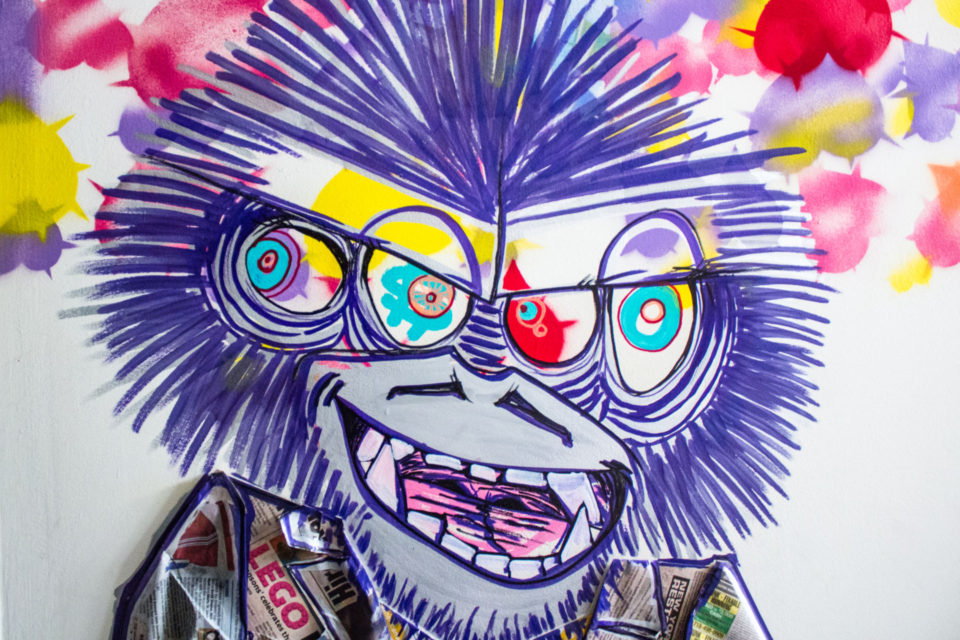 What do you think attitude has to do with it? You have a really good attitude.
It has everything to do with it. You wake up in the morning, some people have a bad habit of having the radio on so all you hear is the bad stuff. That's going to fuck up your day – you're not going to find parking, you're going to get a ticket, you're going to lose 20 dollars. Only shit like that happens to you if you wake up with a bad attitude. Wake up on a positive note. Tell yourself in the mirror after you brush your teeth, "I'm going to have a good day."
Set the tone for the day, I love that! So do you hang out in Jersey City?
Yeah. I've met Bizz Nice, Suaso, a bunch of other artists around here. I don't really hang out much around here because I'm just back and forth.
You're all over the place! I feel like all good artists are everywhere. Do you have a favorite hangout spot in Jersey City?
I like Dullboy, Miss Wong's, Taqueria. You take me on a Taqueria date, I'm marrying you.
Ladies!! That's where you take him on a first date.
Taqueria's my favorite.
What's your favorite thing to paint? Even though you do art to sell, what do you paint when you get inspired?
The gorillas in suits and the skylines. That's what brings me back to my childhood, being in the backseat of my parents' car and speeding past buildings. Even as a kid, I learned that I was an artist in kindergarten/first grade. In high school, my teachers didn't know what to do with me, so now I just set the tone where I know I want to be an art teacher.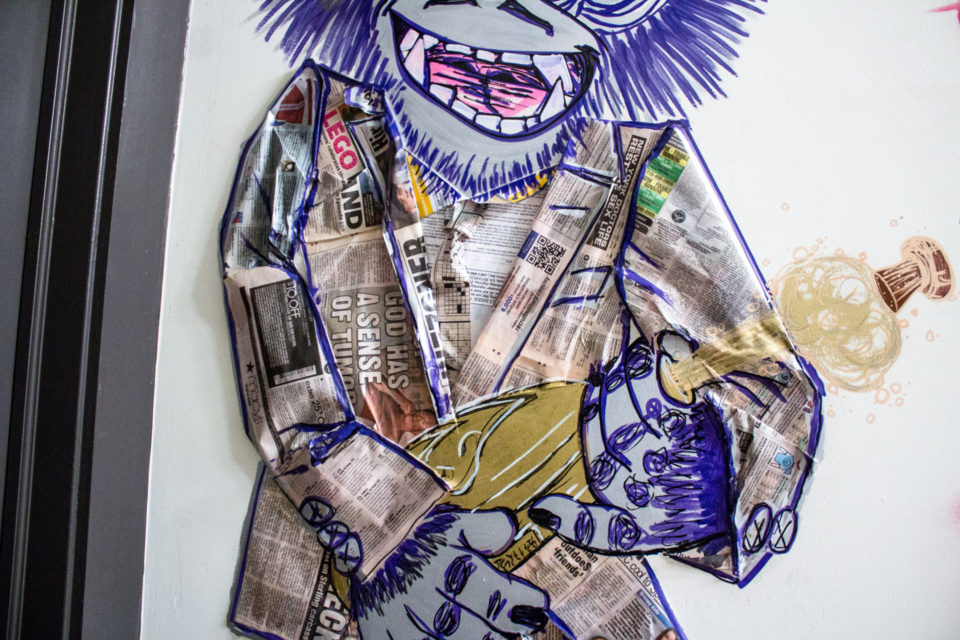 That's great! Do you have any other future plans?
Yeah, I want to just travel with the art but still not associate so much with galleries. I want to stay independent. A big inspiration is Chance the Rapper – look at him! He didn't sell an album, but he won Grammys. That's crazy, and we can do that in this era!
If you're talented and you're a hustler, you don't need to be represented by anybody.
Exactly. If you believe in yourself, that's all it takes.
So do you believe in yourself?
Oh yeah.
Were you always like this?
No, when I was a kid, I was a big crybaby. When I was a little kid, I was very emotional and got picked on because I was always short. I had to toughen up because my mom didn't want to hear any sad stories. She was tough on me.
But you're still a sweet and emotional person.
Oh yeah, I am. I could be drunk and you'd want to start a fight with me at the bar, and I would hug you and we'll talk about it.
Let's say people watching are trying to pursue their passion – what advice would you give them?
Do not give up. No matter what the criticism is, have thick skin. Believe in yourself. Like Warhol would say, you always have to create what you want to create. Someone's going to love it and someone's going to hate it. Just do you.
Are you living your dream?
Yes, I am. I'm selling my art pieces around the world, that's planting seeds for me to go around the world. As far as goals and dreams, I have many. I'm just getting started.