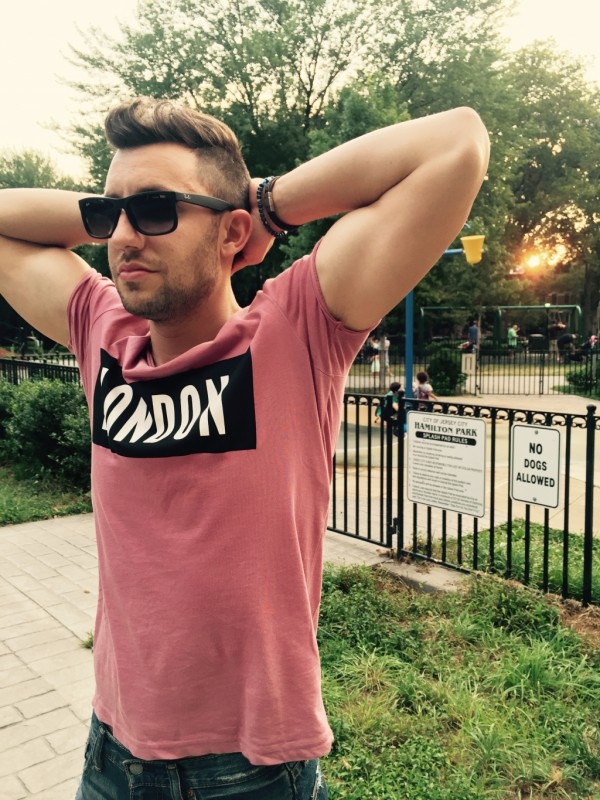 When you first see Astin, you wouldn't think he could rap. I know I am not supposed to judge a book by it's cover but Astin has this whole model/actor vibe to him… We found each other on Instagram and after checking out his funky website (you really have to check it out) and seeing a few music videos, I needed to meet him in person.
We emailed to set up a time and location and Astin asked me if I liked Margaritas, "Yeah sure" I said. We met in the Gazebo in Hamilton Park, he was standing there with a cooler filled with ingredients to make Margaritas! They were amazing! Astin is quite the character.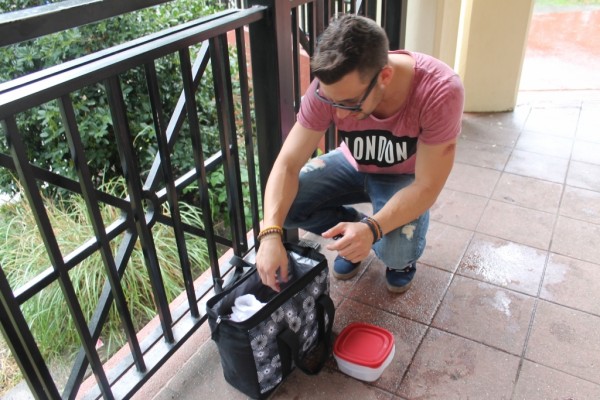 What's your name? Astin Erikson.
What do you do? I do everything, but specifically, rapper, producer, filmmaker, model…
So you're an entertainer. Exactly.
Can you define your style of rapping? I think nowadays you have a lot of conceptual rap and I would not put myself in that category. I would say I'm more of a throwback and my sound is modern. Some people like to turn Hip-Hop into a concept, I just like to go hard—crush bars.
What do you rap about? My music's very diverse so I speak from the heart and my experience, which is all over the place. So you have some very fun stuff, you have some very serious stuff, and you have some stuff that's kind of in between, bittersweet, you name it.
I looked at your one video and I saw it's all Instagram pictures, can you tell me about that? Since I've been on Instagram I got a lot of very good feedback. A lot of the people who were following me were like, "We need a video! We need a video!" I'm like, "Argh, what can I do quick?" and also just being a part of Instagram I was like, "Wow, there's so much cool shit on here," and I just took inspiration and went with it. Stayed up one night, coffee, hammered it out.
https://www.youtube.com/watch?v=A9TX_W2-RGU
That's nice and you live in Jersey City? Yeah, I live Downtown.
How long have you been here? I've been here for a little while transitioned from Manhattan, but I love it out here, it's awesome.
What's your favorite Jersey City hangout spot? It depends. When I feel like dancing, I go to Porta.
So what are your musical influences? I draw influence from a lot it's not just Hip-Hop. I don't care, I'll admit it, I love Taylor Swift, I like Coldplay, I like Paramore. Like I listen to all that and it helps me being diverse and it helps me in what I do. For Hip-Hop I grew up on 50 Cent, Eminem, Dre, Kanye, I love early 2000s Hip-Hop, that's my shit.
The era I was growing up, you had to search for that. I don't really stick to the script and I think that makes me entertaining and it makes people interested.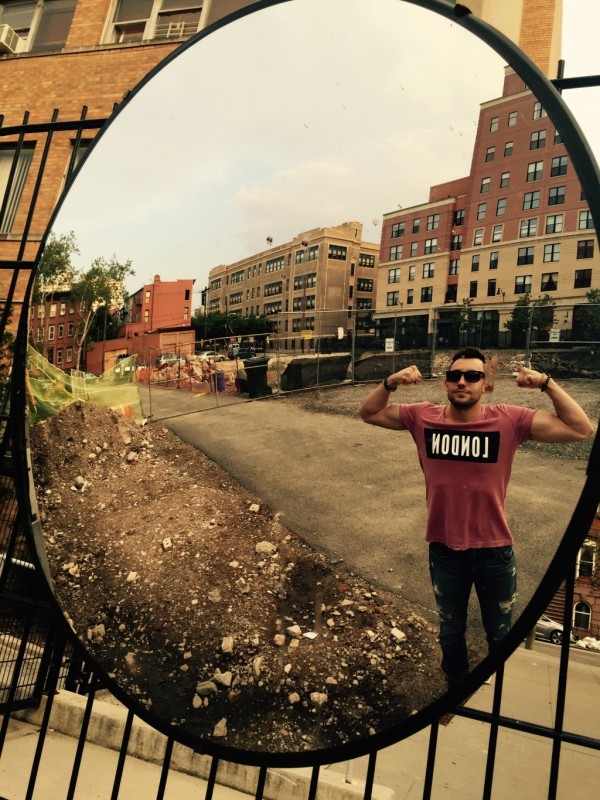 So you were saying you like to dance at Porta, what else do you like to go to? If I just want to have a drink I'll just go to Lucky's. I went to South House, that place is awesome and Doughboy has really good drinks too. Yeah, I do stuff at my apartment too, little parties here and there. For food Rustiq Pizza all the way.
Who do you model for? I model for a lot of different shit, mostly with my shirt off because I work out quite a bit.
Are you single? I know for a fact that there's someone out there.
How does she feel about that? We're operating on the theory of "IF," if I have found this person and she's out there I think she would say—"Hey, you're supposed to shout me from the mountaintops."
And what would you say? "Baby, I love you. Who cares what these people think."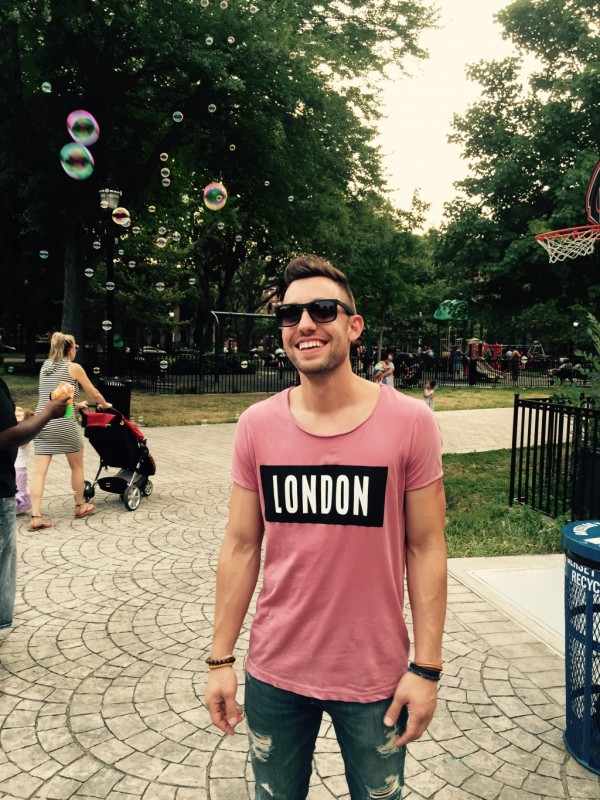 Where are you originally from? I am from somewhere in the state of New York.
How old are you? I am old enough.
I just think nowadays everything is too accessible and me personally, I don't like to know everything about musicians, actors, things like that, it almost takes away from the experience.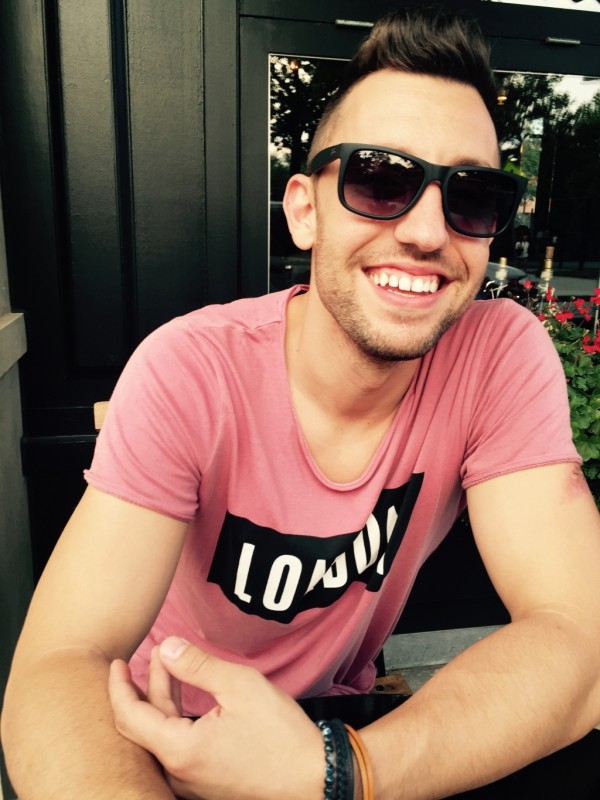 You want a little mystery. If you want to know me, it's all there for you. My EP is called Self Portrait and that's not a gimmick or a joke, it really is there. So if you want to learn about me just listen, it's only five songs, I know that you guys can do it.
Do you perform anywhere? I haven't performed this music yet, but I am excited to. I want to perform in Jersey because the vibe here is awesome.
 You remind me of somebody. Who do I remind you of?
I see some Macklemore a little bit but like a more attractive model version of him. Okay. I can see why you would say that. I'll take it, he's a talented guy.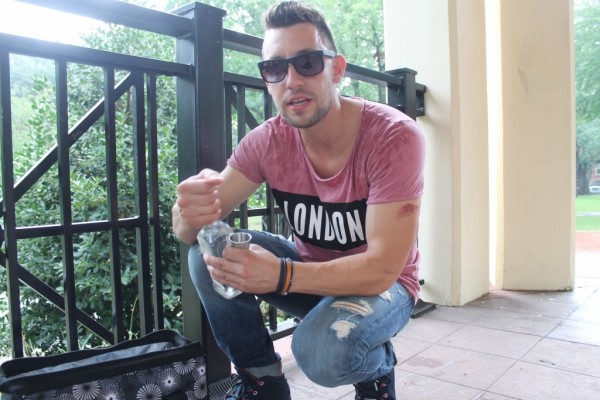 How would you define your style? Like I said, I like to go hard. If I have a concept it's slay bars.
When did you start rapping? I got a late start, it's something that I stumbled into and fell in love with six years ago. Six years ago just randomly and [I'm] just killing it.
What are your future plans? I don't know things are happening very fast right now. It's gonna sound crazy but I hear G-Unit is reforming [and] I just want to be in the new G-Unit.
Really? Why? People always ask me, "What label would you sign?" G-Unit because I grew up on G-Unit. Although if you look at me, you're like, "Eh, maybe he don't fit in." A lot of like what you just said with the Macklemore thing, I'm kind of like pretty boy, the way I look but when it's game time—
It's the way you act. –It's like G-Unit, we're made for each other. I would love that, I want to do it all.
Any last words? People should check out my website, it's really cool it's unlike any website you've ever seen.
I know it's very cool, it's a whole experience. Yeah, it's zany, I made it myself. I had a lot of fun with it.
Oh yeah? You made it yourself? Yeah. I'm like a one-man-show.
Do you have a tech background? No not at all, I just get into things and creativity just flows. My music video, I directed it, wrote the script, shot by shot. Shout out to Anabox Studios, awesome filmmaker if you need a cinematographer, director, photographer. I produced all my own music.
Oh, you made all your own beats too? I did everything; I wrote, produced, composed and recorded it. I built a studip in my apartment, it sounded sick and I just did it.
That's awesome, you're a creative entrepreneur. I like that.