As New Jersey continues to see the flattening of the curve in COVID-19 cases, each week has seen a new lift in measures. Here are all the updates we've seen in the past couple of months!
---
Stay-at-home order has been lifted
BREAKING: Today I'm signing an Executive Order LIFTING OUR STAY-AT-HOME ORDER.

Please continue to be responsible and safe. Wear face coverings and keep a social distance from others when out in public.

— Governor Phil Murphy (@GovMurphy) June 9, 2020
As of June 9th, Governor Murphy has lifted the stay-at-home order in New Jersey. However, residents are still advised to socially distance from others and wear face coverings to stay safe.
The limit on indoor and outdoor gatherings have been raised
Indoor gatherings are permitted for 50 people or 25% of a building's capacity, whichever is lower. Outdoor gatherings of up to 100 people are permitted.
Outdoor dining and limited in-person retail can resume as of June 15
Restaurants will be able to offer outdoor seating and ensure that groups have at least 6 feet of space between them to maintain social distancing measures.
In-person retail will also be able to resume on June 15. The number of customers must be limited to 50% and everyone must continue wearing face coverings.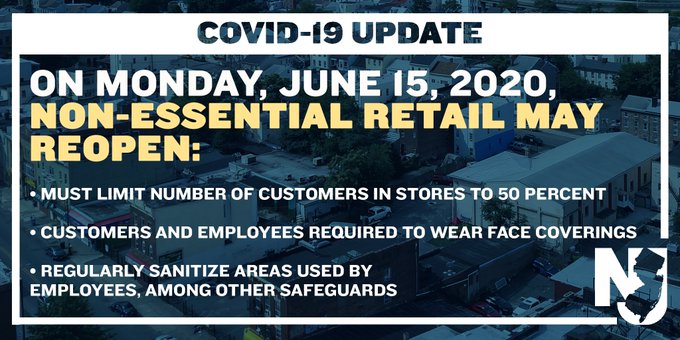 Hair and nail salons can open starting June 22nd
Hair salons, barber shops, and nail salons can resume service while continuing to follow the already enforced safety guidelines.
Pools can open starting June 22nd
Municipal and private-club swimming pools are allowed to reopen starting June 22. Social distancing is expected to be practiced.
Sports and recreational activities are opening this month
DOH has issued COVID-19 guidelines for summer youth camps following @GovMurphy executive order allowing operations beginning July 6.

🔸Cloth face coverings for staff and campers
🔸Daily health screenings for COVID-19 will be put in place at entry

More https://t.co/7EMvvl4Zht pic.twitter.com/9sLpocpeet

— NJDOH (@NJDeptofHealth) June 9, 2020
As of June 15, child care centers will be able to reopen. Health and safety standards currently in effect for child care centers will remain in place.
Non-contact organized sports are allowed in outdoor settings starting June 22 as long as participants are interacting within six feet of one another.
Youth day camps will be reopening starting July 6. Cloth face coverings must be worn by staff and campers, especially when social distancing cannot be maintained. Daily health screenings will also be put in place for staff and campers.