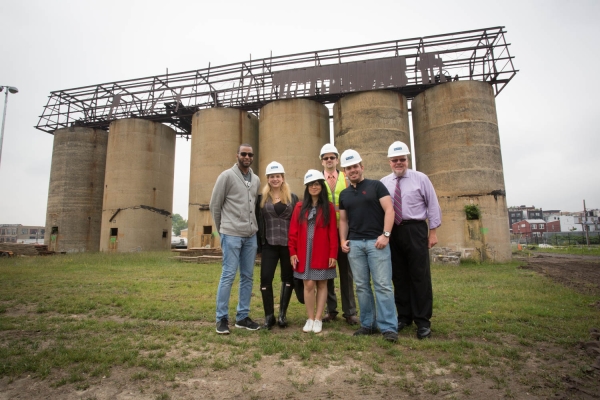 When asked what my favorite hangout spots are in Jersey City my answer is always one of the many beautiful parks.  When mini-chicpea and I want a quiet afternoon, we go to Van Vorst (post coming soon), when we want more action and play options we go to Hamilton Park, when we want to go for a long walk with nice views we go to Liberty State Park, when we want to get out of the downtown area we go to Lincoln Park or Washington park…..Well you get the gist!
So a few weeks ago, when Heather Kumer a sustainability coordinator from the Jersey City Redevelopment Agency and former skater chick, invited me to visit Berry Lane Park, I was so excited! This 17-acre park is currently under construction in Bergen-Lafayette and set to be ready later this year.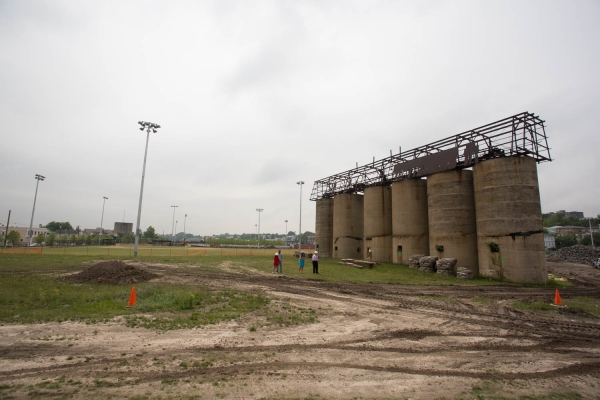 Friend and photog., Greg Pallante, joined me and Jennifer Morrill, the Mayor's secretary, for the tour and we had a blast! I am so lucky to have the opportunity to get a private tour by the people behind this amazing project.
So what does Mayor Steven Fulop have to say about Berry Lane?! "Berry Lane will be a recreational jewel for our residents and it is exciting to see how quickly construction is moving so residents of Bergen-Lafayette and the entire city can begin enjoying the park later this year"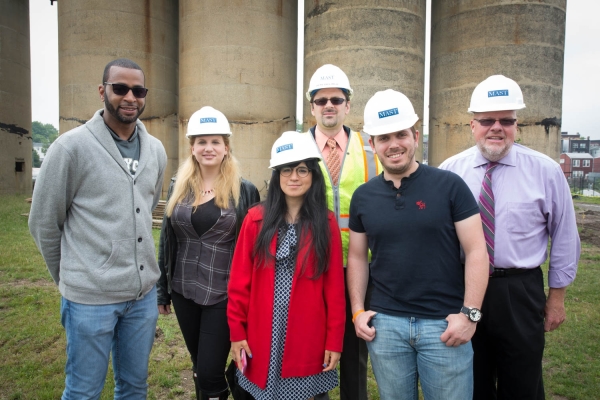 What are all your names and what do you do? 
I'm Heather Kumer from the Jersey City Redevelopment Agency. I'm the sustainability coordinator and an attorney for them.
I'm Mark Redfield. I'm the director of the Department of Public Works for the City of Jersey City.
I'm Dave Smetaniuk, I'm with Mast Construction and I'm the assistant project manager.
Paul Skabich with Mast Construction, project manager.
Robert Napiorski, assistant project manager at the Jersey City Redevelopment Agency
Ben Delisle, director of development at the Jersey City Redevelopment Agency.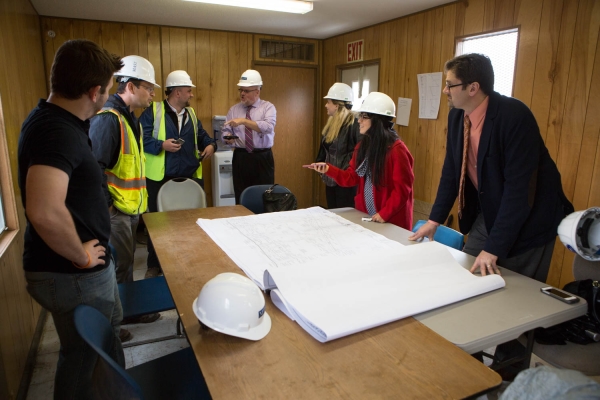 What are we doing today? 
Ben: We're doing a site tour of the Berry Lane Park project.
Can you give me a little background on Berry Lane Park and what the project is? 
Ben: Berry Lane Park is a public project is in the Morris Canal redevelopment area. The plan was first envisioned in 1999 with the community. In 2008 we had a number of community charettes for the design of the park. From that time until now we've been spending a lot of time acquiring land, doing demolition, environmental remediation, and amassing all the funds to build the park.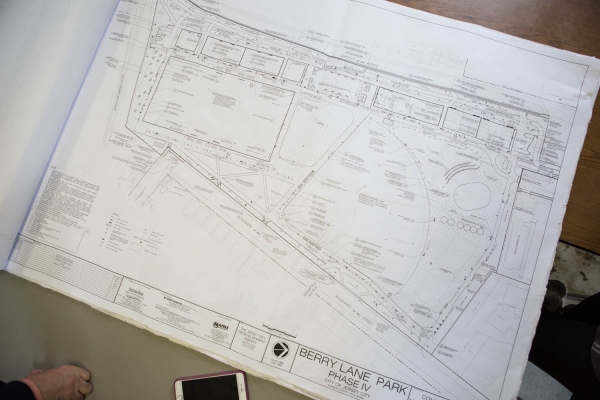 This is phase four that we're currently in, and it's expected to be completed in November of this year. It really builds up the majority of this park. This phase of the park is a little over fourteen acres, it will be the largest park in Jersey City when it's complete. It has a whole bunch of different recreational opportunities. It has basketball, tennis, playgrounds, [a] fitness center, [a] dog run; synthetic turf for football and soccer, lacrosse and cricket and a full-sized baseball field. Future phases will also have a pavilion building (concession and bathrooms) and a skate park.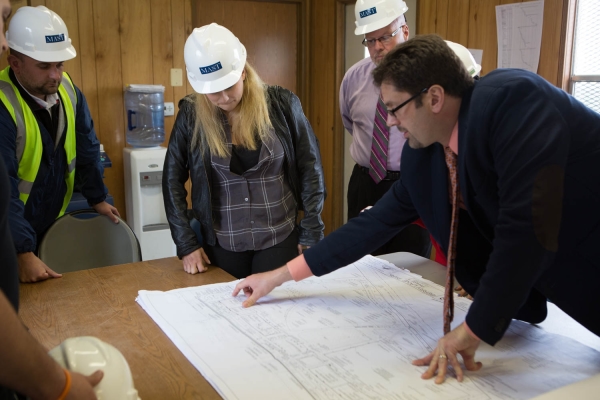 Can you give me a little more details about the skate park? 
Ben: It's a concrete skate park, it will be one of a kind in Hudson County, one of just a few in New Jersey when it's complete. It was designed by Site Design from California.
I saw something about Tony Hawk, how was he related? 
Yes. We received a Tony Hawk Foundation grant. They recognized all the hard work from all the community groups, the local skaters to get this project together and [to] design the park.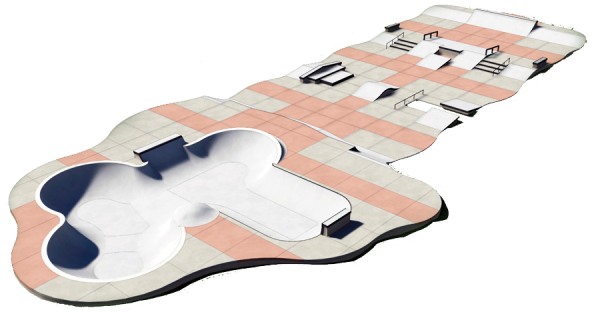 Does that mean we have to all start learning how to skateboard? 
Ben: I certainly will have to learn, I don't know about you.
Heather: I'll just have to take out my old skateboard.
Robert: I used to be a skater.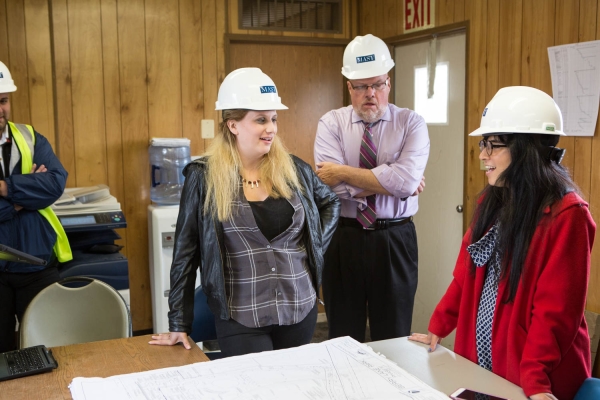 Really? Are you excited? 
Heather: When I was working with the local skateboarders, I joked about dropping into the bowl.  Oh I'll drop!" If  I  did, I will probably  die…
About four years [ago] when I started with the agency, Ben took me on the tour of this area and it was all junkyards. Little kids, during that time, were playing in the junkyard. So to see this  become a park is  just absolutely amazing. These were all former brown field sites that were cleaned up. This is a great example of a brown to green project where you're taking polluted vacant land and turning it into a community resource.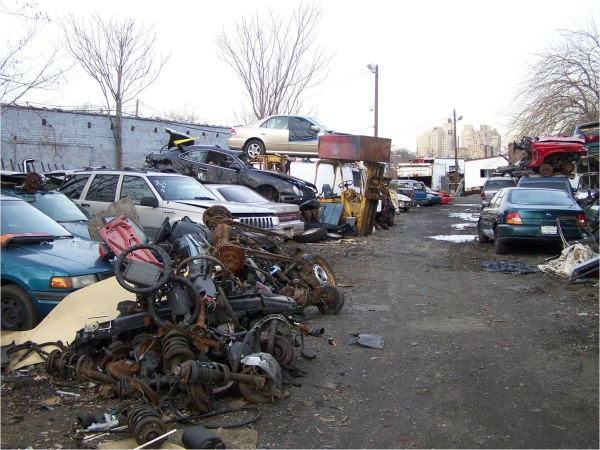 Amazing, lets walk around! 
This is the basketball court? 
Ben: This is the basketball courts, there's two. So here are the two basketball courts and the next feature over is the playground.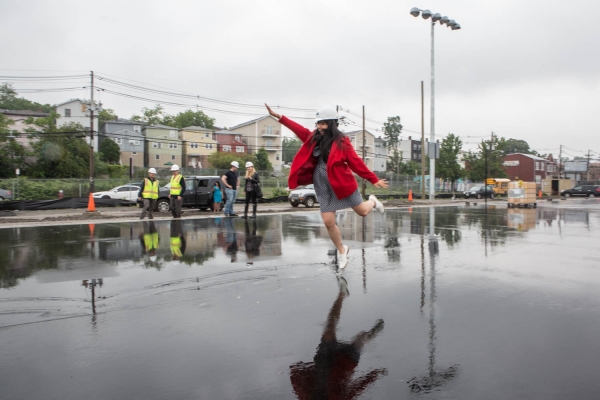 A kid's playground?
Ben: It's our very expansive playground with all sorts of apparatus' for kids, they'll be able to play for hours.
Heather: This was all part of the original Morris canal, where we  are walking on right now.
Ben: Here's there playground equipment that's going to be installed on this location. So here it is, all, you know, in pieces; [it's] a giant puzzle to put it all together.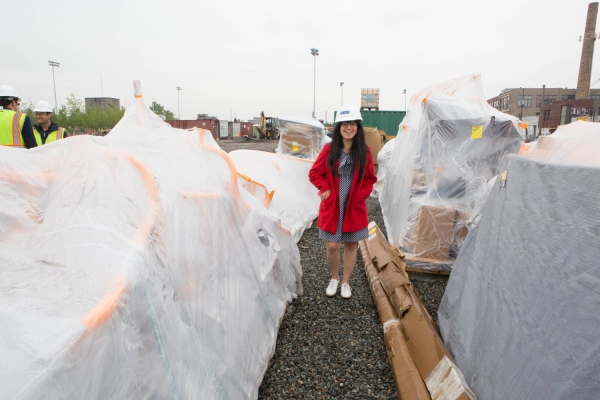 We're coming here at the end of the playground and the next one, this is a really exciting one. This is going  to be the spray park, with  jets coming out of the ground.
Spray park?
Ben: This spray park will be big enough for 300 kids. And then in the cooler months when the jets aren't working, it's concrete so it will be a great plaza to hangout or to have farmers markets or events; different activities.
Is that the plan? Are you guys going to have farmers market here? 
Ben: Farmers markets, community gatherings, events, cultural events. Absolutely.
Mark: The silos are going to be kept, they're going to have murals on them, which is interesting. We're also partnering with the neighboring warehouses and asking them to allow mural agreements so we can put some sporty murals on their properties outside of here, like we've been doing. So that's going to tie the whole community in.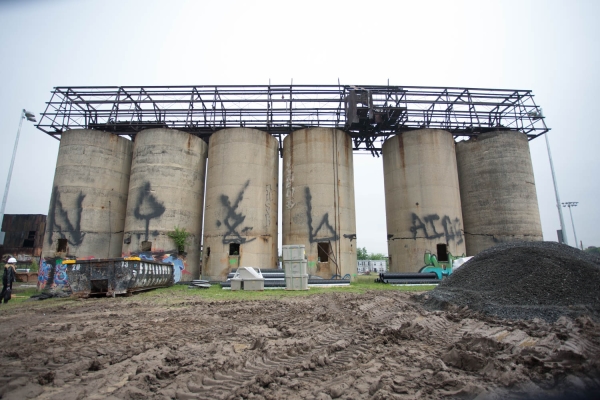 Ben: And here we have a nursery. So those trees, that's not their final placement. The contractor brought them to stage them for planting. We have just shy of 700 trees that are going to be planted in the park.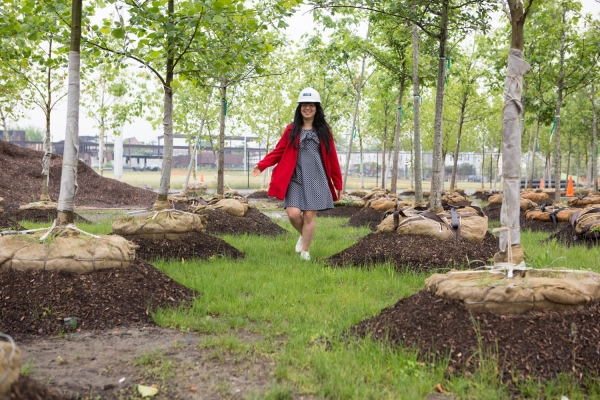 Ben: The next feature here is the adult fitness course. So this is outdoor fitness equipment for adults, so pushups, sit-ups, leg extensions. And then the next concrete is the tennis courts, there's two tennis courts there and just beyond that will be a dog run. At the very end and actually on both ends, are going to be little plaza seating areas with replica canal boats.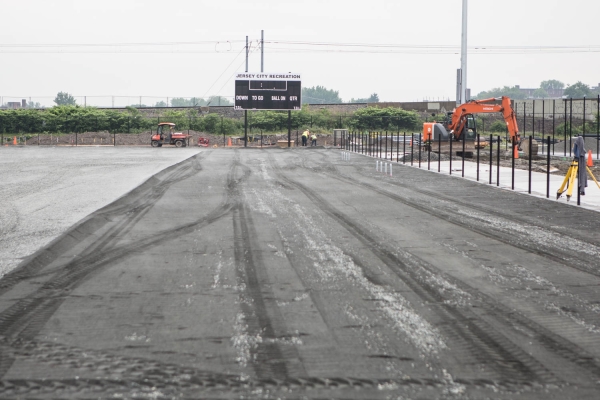 The Morris canal came through here which was a major transportation hub that really made Jersey City thrive with bringing coal to the factories. So we lined up all these activities on top of the old canal and it's our activity canal and we're going to have little replica canal boats, there'll be history markers, and some other neat features here.
And then over here, you see the soccer field, their doing final grading right now, in preparation for the artificial turf that'll come in later. But you can see the football uprights are in place, a lot of the fencepost are in, so it's moving along. I think towards the end of this month that turf will start being installed. And right now the contractor's installing electrical conduit and waterlines for the park. We've got drinking fountains and hose bibs and all sorts of things, a lot of utilities are being installed in the park.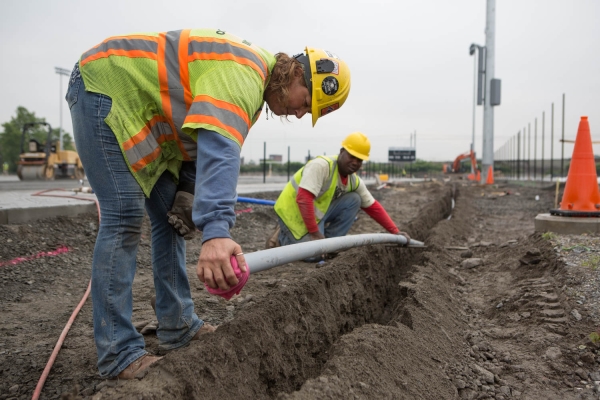 You see the lights? We have athletic lights here that were installed for all the features so you can play 'till later hours of the night. So we get multiple playing times.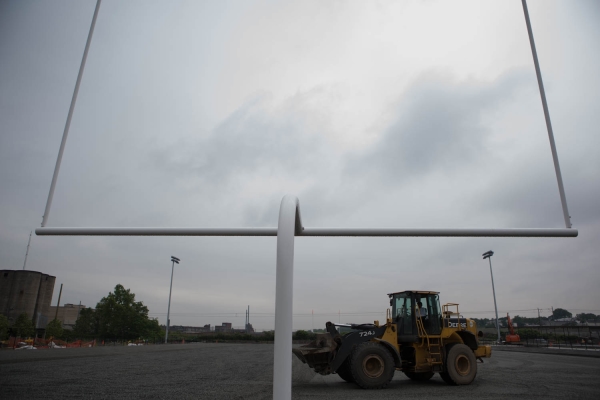 How would people commute here? 
Ben: The Garfield Avenue light rail stop is right there, there's a bus on Garfield and Union, and then the Junction is not too far. Communipaw and Garfield are two major roads here in Jersey City, so it's really accessible.
We're going to have some plantings, some rain gardens, and storm water management. We have like I said earlier, 700 or-so trees that will be planted, numerous landscape areas. And then we have a huge storm-water infiltration basin underneath the soccer field and under that activity canal. This park will retain 90% of a ten-year storm, 75% of a one-hundred-year storm. So a lot of the storm water is going to held on-site to help the local flooding in the streets.
We pulled out, I think, 1000 tires, 49,000 tons of hexavalent chromium, over a million gallons of contaminated ground water, 19 underground storage tanks.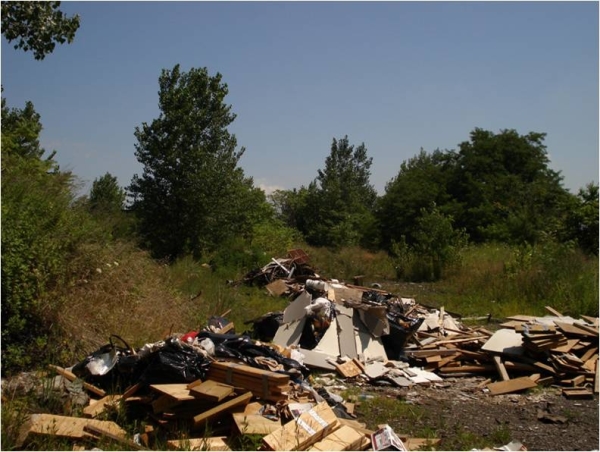 Robert, You mentioned you were born and raised in Jersey City?  
Robert: My dad grew up on Bramhall right around the corner from Woodward Street and my mother actually grew up on the other side of Bramhall near St. Patrick's Church. My family goes back about six or seven generations here. So they (my parents) were separated by this site and my dad used to play on this, believe it or not, when it was contaminated.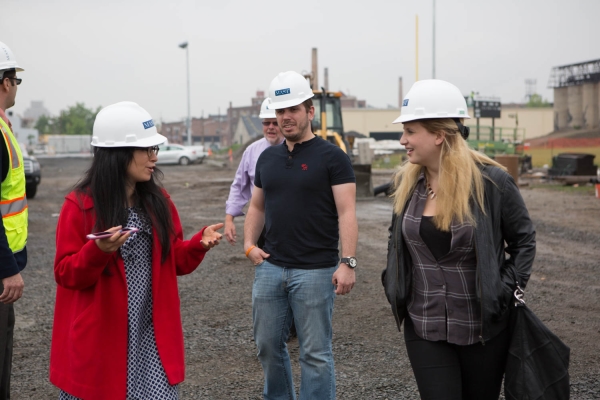 Since you were born and raised here, how do you feel Jersey City has changed in the past couple years? 
Robert: It's dramatic. I'm twenty eight years old. Even from high school to now, I feel like it's gotten a lot safer the quality of life, overall has gotten better, there's more opportunities and things to do. Growing up, it was similar to living in the outer boroughs. Some people  had the dream of moving to Manhattan or the suburbs   as their idea of "making it." Now everyone's coming here and people that are from here, they want to hang out here, they want to stay and continue to put down roots here. There's a lot that Jersey City has always had to offer before Jersey City really started to improve, and it's only going to get better.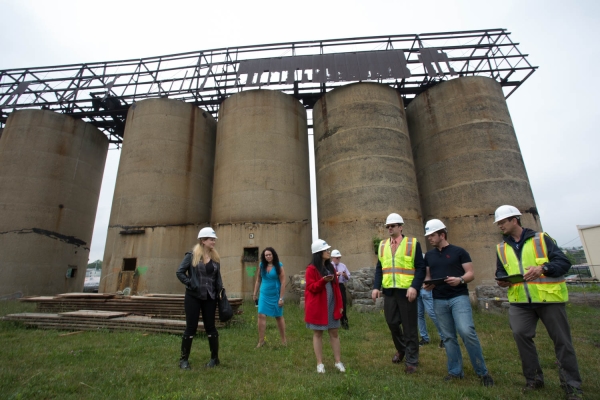 Amazing! So why Berry Lane? 
Ben: Berry Lane was named after former Mayor Berry in the '50s and I just, recently, came across an old document that he signed. So this is named after a former mayor of Jersey City. It's not Blueberries or Raspberries, it's a former mayor.
The city has a plan to put a greenway on the length of the old Morris canal throughout town as a bike path. So this is the first segment that's going to be built. So there will be a bicycle path, the length of the park that eventually will be part of a larger greenway that will connect the Hudson and the Hackensack  through the entire city.
Tell me more about the silos…
Mark: We're actually going to use the silos for storage for different things. Clay for the ball fields, rock salt, calcium chloride, equipment, things we need to maintain the park. We're going to use these as storage facilities.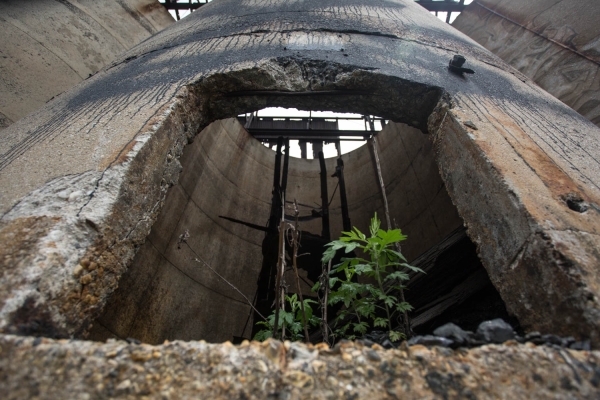 Robert: My dad told me that when the trains would come in they would dump the coal here. So much of it would overflow that the residents of the neighborhood would take it and then take it back to heat their homes. So they would come when the coal was dumped, anything that was left on the ground, pick it up and use it to heat their homes.
So what are all of your favorite hangout spots? 
Heather: The marsh area along the bike trail to Port Liberte.  That's probably one of  my favorite areas.  Also the peninsula near Liberty State Park. For a Bar, it would  be Ninth and Coles.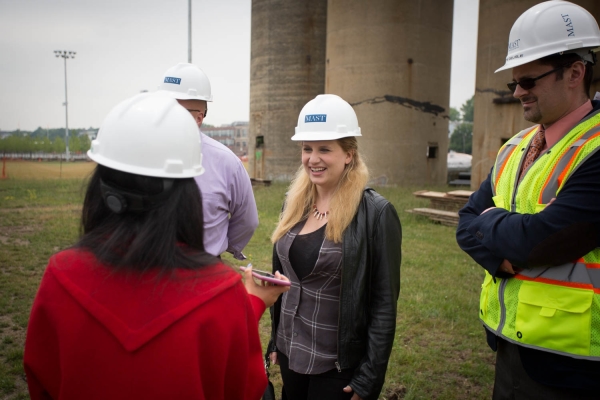 What about you? 
Mark: I was born and raised in Jersey City and my favorite place, I like to go to the Park Tavern on St. Patty's day. I love to go there. The difference I see in Jersey City from when I was a young man playing sports in these parks, our parks are amazing they're second to none.
There are no parks in the state that look like our parks. I'm amazed how beautiful our parks are and how well they're maintained. It's really a tribute to the administration and to the city.  The programs we have: from cricket, to soccer, to basketball, to volleyball, to baseball. When I was a kid, it was football, basketball that was it…we have parks being renovated, parks that were recently renovated and of course this great masterpiece right here.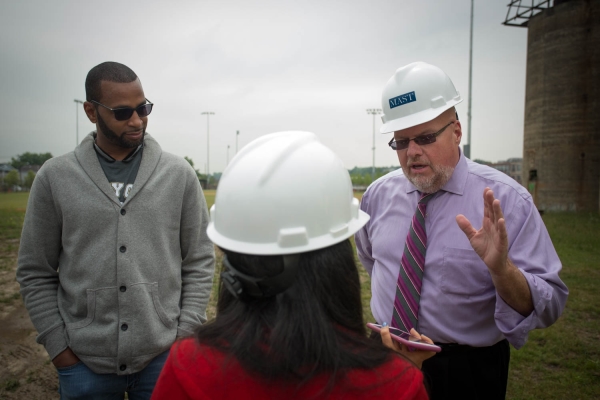 What's your name? 
Ryan Strother.
What do you do? 
Ryan: I'm the Director of Recreation for Jersey City.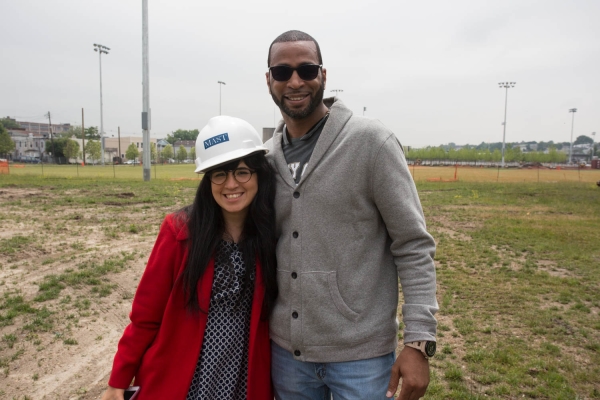 How long have you been doing it? 
Ryan: This is my second year.
What is your role? 
Ryan: I am in charge of recreational activities that the city provides for its residents the youth, adults, and seniors. I design the programs, I implement the programs, and I run them.
Do you have a background in sports? 
Ryan: I'm a high school and grade school basketball coach. I played basketball, of course, I played tennis, [and] I played golf. One thing, growing up in Jersey City, as a young African-American who plays golf and tennis, there weren't a lot of us playing golf and tennis in Jersey City at that time. So one of the things that I made sure as Rec. director was that we taught all of our residents, all of them, different kinds of sports other than just the normal city sports, basketball and football. We do golf and we do tennis and now I can have people to play golf and tennis with in Jersey City.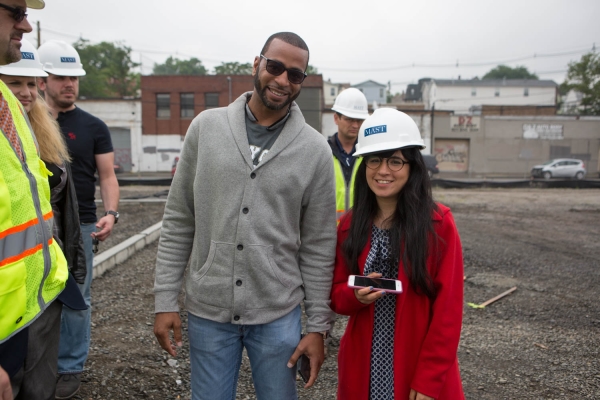 Can you tell me a little bit more about the programs associate with the park? 
Ryan: Since 2013, we introduced new programs to Jersey City, like I said golf, and cricket, and we have badminton; we're going to be starting archery soon and lacrosse is another one that we're very, very proud of. So this park is actually going to serve as a home to those recreation programs that we started and done for the past two years and we've grown sports here. So this is going to become like home-court for our lacrosse program, for our brand new, never done before, travel soccer program, for our national championship volleyball team. They won the national championship last year. So this is going to be a place for them to have their home-court.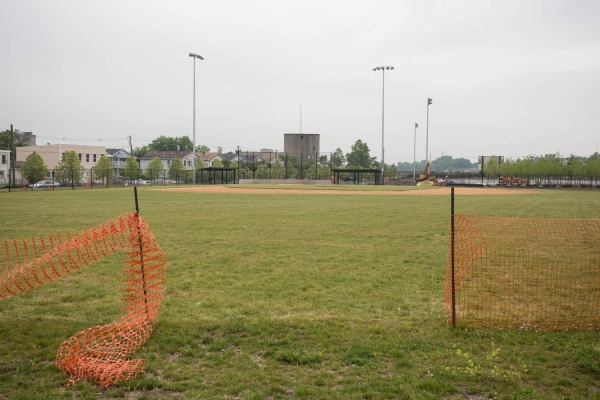 Do you live in Jersey City? 
Ryan: Absolutely. I live a few blocks here from Berry Lane Park.
How long have you been living here? 
Ryan: My entire life.
How do you feel about the change in Jersey City? 
Ryan: I love it. There's so much more to do in Jersey City than ever before. It's great to see that change and the benefit from that change, it's really special to be a part of that change. Mayor Fulop, he knew me as a mentor and as a basketball coach and as someone who is connected to Jersey City and he gave me the opportunity to be a part of his administration to be a part of the change.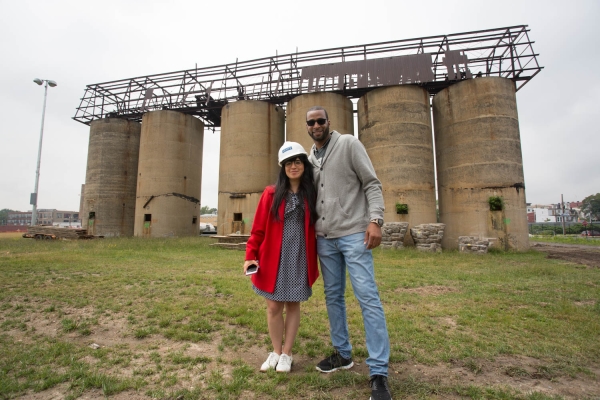 Do you have a favorite Jersey City hangout spot? 
Ryan: The Light Rail Café which is actually a block from here. The food is great.
Anything else that you would like people to know about Berry Lane Park or what you do? 
Ryan: So Berry Lane Park, like I said, is gonna be a home basketball leagues, for our soccer programs, for our tackle football programs, for our lacrosse programs, for our baseball programs. We're just starting some new baseball programs this year. So this is going to be the home for a lot of what we do.
You know the mayor is big on the special needs population. So we have special needs soccer program, we have autism Quiet Swim program, we have a special needs camp this year that we're upgrading tremendously. We do senior programs, we have Senior Power Fitness at NJCU, we have Senior Walk at Hudson Mall and these are weekly programs. We have adult programs, we have adult men's basketball, we have adult badminton league. We cover a lot of ground; we're not just serving kids, we're serving seniors and adults.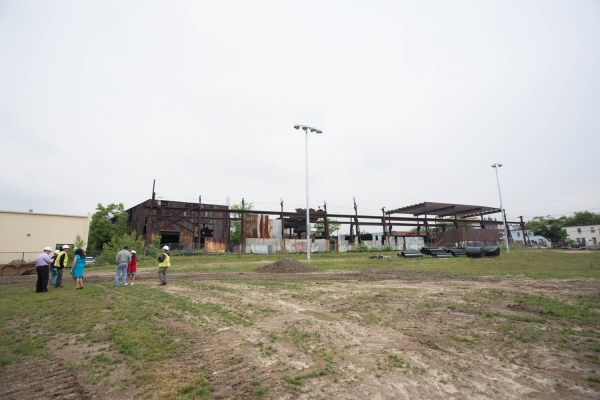 Where can people find more information about all these recreation activities and how they can participate? 
Ryan: They can definitely go to the city website, the city Facebook page, the city Twitter. They can also call my office for any information or any details that you don't find on those sites: (201) 547-5003.
To find out more, berrylanepark.com
To view a live feed from the park: http://berrylanepark.com/park-cam/