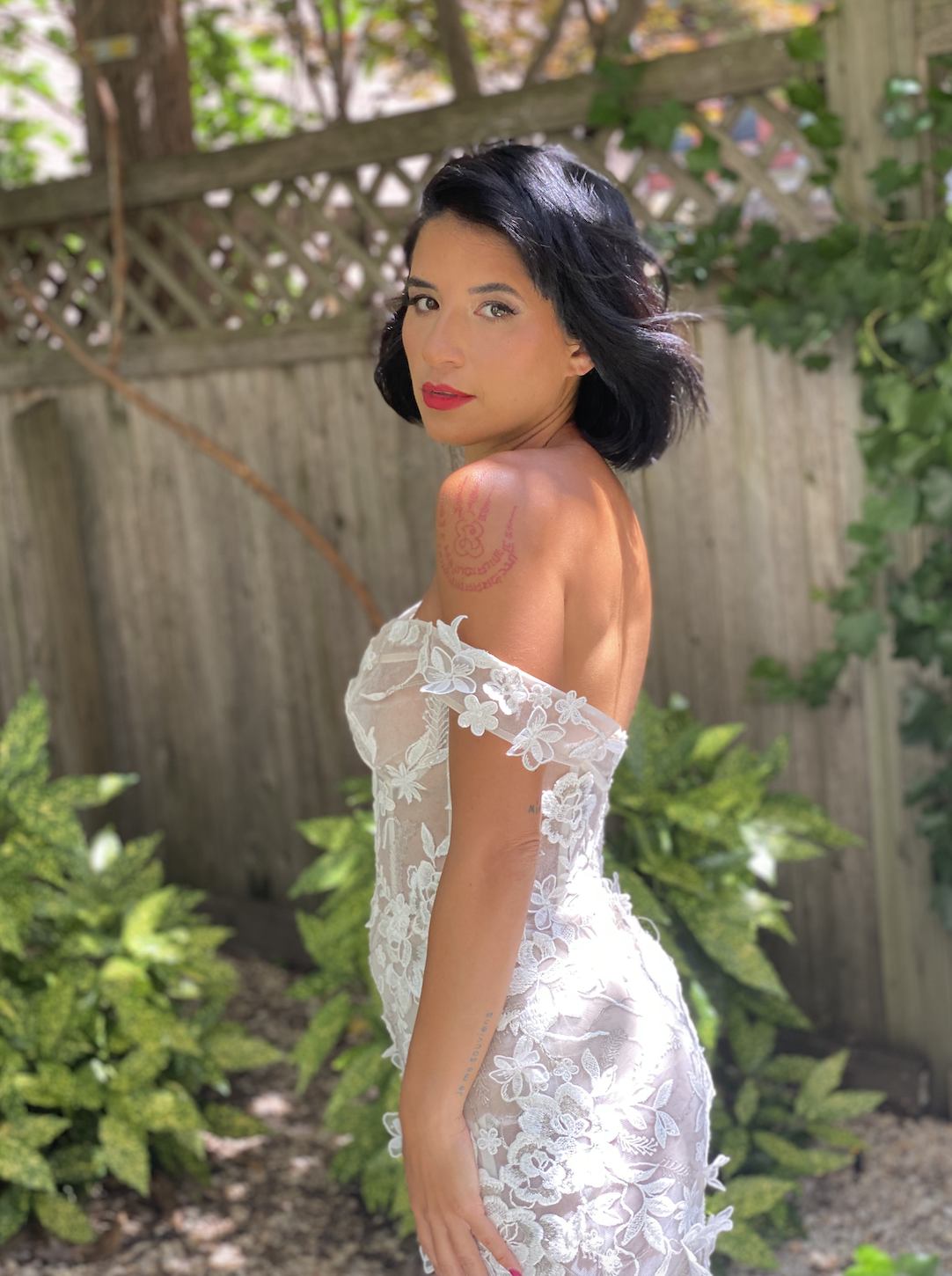 Yesterday was my 10-year wedding anniversary. It's weird to say this because I'm divorced.
I did a photoshoot recently and pretended to be a bride, which is probably even weirder.
Say yes to the dress
There's so much emphasis on the "wedding dress." There's an entire industry dedicated to that one special outfit you'll only wear once – TV shows dedicated to the day where the bride says "yes" to the dress, wedding gown magazines, blogs. The princess fairy tale gown we fantasize about as we grow up, that magical moment where our partner sees us in all our glory, our best day ever. We will never be this beautiful, elegant, radiant, belle of the ball again.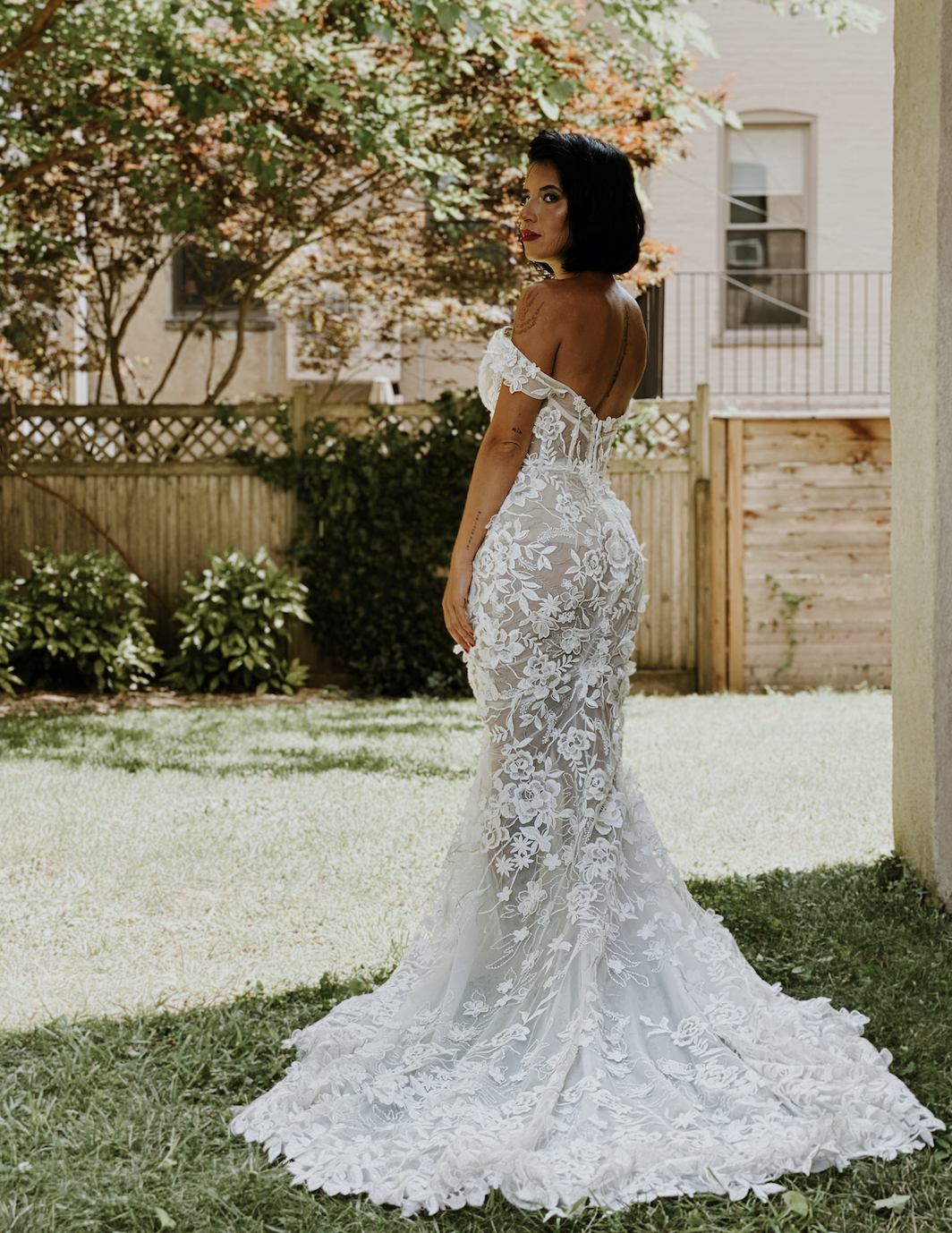 My girlfriends Olivia (a talented freelance hairstylist) and Laura (an amazing makeup artist who specializes in doing glam for celebrities and brides) were looking for models for a bridal dress company's content shoot. I volunteered. I don't really know why I did, given the fact that the mere thought of wearing a wedding dress would make me shudder, but maybe deep down, I wanted to turn this negative feeling I had about a fucking dress into something positive. Also, who doesn't like getting all dolled up and wearing the most stunning, chic wedding gowns?!
I said, "Fuck it."
Flashback 
Over 10 years ago, around 6 months after I got engaged, it was time to plan my wedding. At first, I was the ultimate anti-bride. I really just wanted a small wedding. I didn't want a whole big deal, a wedding party and all that. The thought of spending all this money and time on one day didn't make sense to me, but our families had certain wishes and we had to make some compromises, so I just went with it.
I would tell myself every morning, "I am getting married. This is exciting, I am excited." Don't get me wrong, I was in love with this man and excited to spend my life with him, but the whole wedding thing just wasn't for me for some reason. I pushed through it and ended up planning an amazing party (I'm good at this). When it was time to figure out the wedding dress and I was presented with all these options, my head started spinning. It was just all too much and too overwhelming. All I knew I wanted was a short, cute, non-traditional dress.
While at my office job, I googled "Short Chic Dress" – because that's what you do when you work in corporate, you fantasize about shit and you plan your wedding. I clicked through the images and found the dress. An Oscar De La Renta short cutie. I obviously couldn't afford the original, so I found a dressmaker in NYC on Craigslist to make something similar for me. I remember taking the subway a bunch of times to her apartment in Harlem for fittings. Not exactly reality show worthy, but it was perfect for me. Just me and my dressmaker.
Two days before I had to drive to Montreal to get married, I went to pick up the dress. It was like a scene out of a movie. I went into her basement and saw her in tears, flustered. My heart sank. She said the dress ripped. What surprised me here was my reaction. All I said was, "Ok, can you fix it before I leave?" Not only that, but a week prior, we also lost the headpiece that she made for me so she had to FedEx it to Montreal. It was a total disaster. Thinking back, knowing myself, it's wild to me that I didn't panic. I was just like, "It's ok, it's gonna work out. It's just a dress, I'm still getting married."
Well, it did work out. I picked up the dress and the headpiece arrived just in time. I was ready for the rest of my life, or so I thought.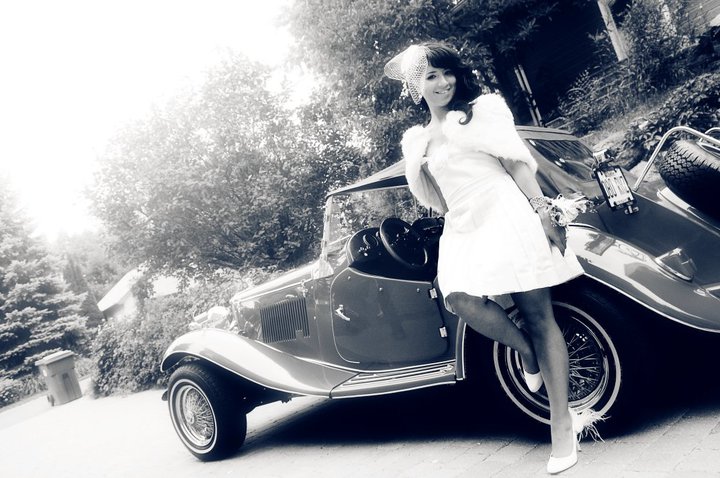 Happily ever after. Or not? I'm still figuring out what that even means.
After the divorce, I cleared all of my belongings from the home we shared. I can't really tell you what was going through my head when I was packing up all my shit because it was probably so traumatic, I was just completely numb from emotions. I was on autopilot putting all my belongings into a trash bag. 9 years of my life packed into trash bags. Poetic. Then I saw the dress, still in the dress garment bag with some wear and tear from too much dancing, and a few spots of red wine. I realized I never dry cleaned it. I smelled the dress, and it took me back to that day. It was sad, I felt knots in my stomach. I felt like I was going to be sick. I took a deep breath and shoved the dress into the back.
I stored the dress in my closet at my new place and didn't look at it again until last night.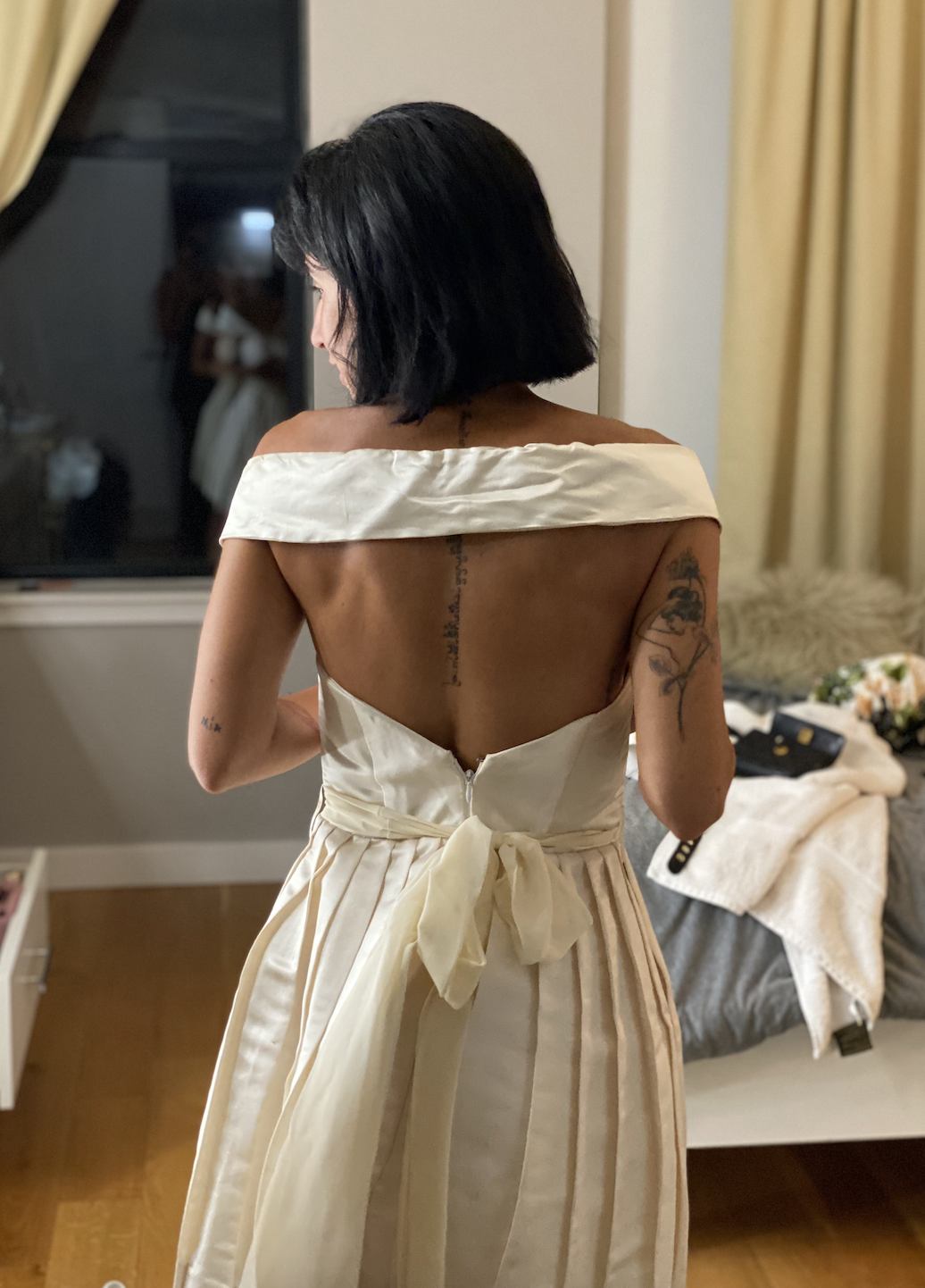 Lights, Camera, Action!
The day of our photo shoot, I was feeling really good about myself. I cut my hair short, releasing myself of years of dead weight off my shoulders. It was a poignant moment in my life that helped me heal some old wounds. I felt fabulous and ready to get my glam on with my girlfriends.
When Olivia showed me the wedding dress I was going to wear, I gasped in delight. These dresses were so chic, "grown up," and so fabulous – the total opposite of what I would have worn a decade ago. When I was finally dressed, I felt like a vintage Hollywood actress. I felt good. I felt happy. Born again.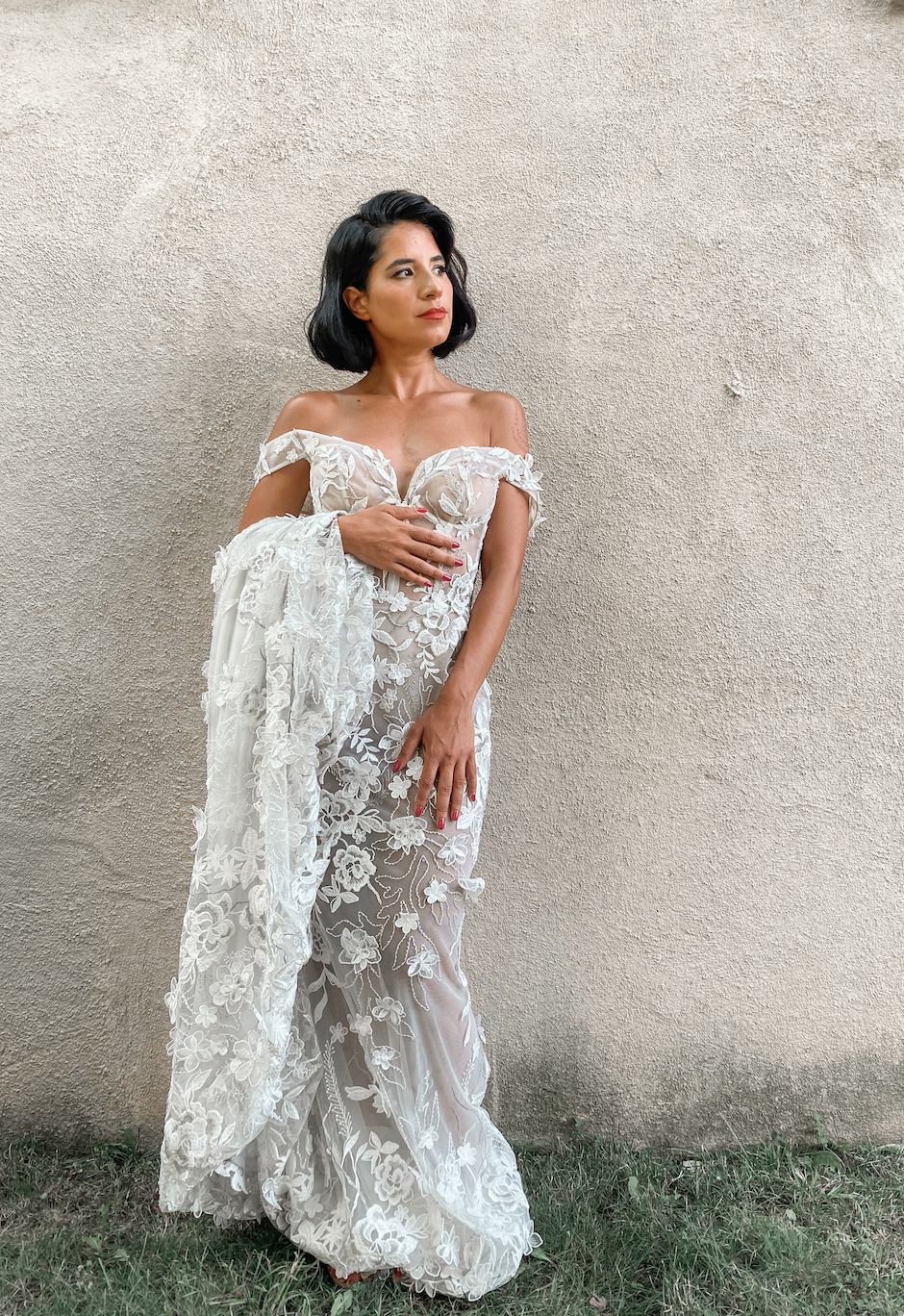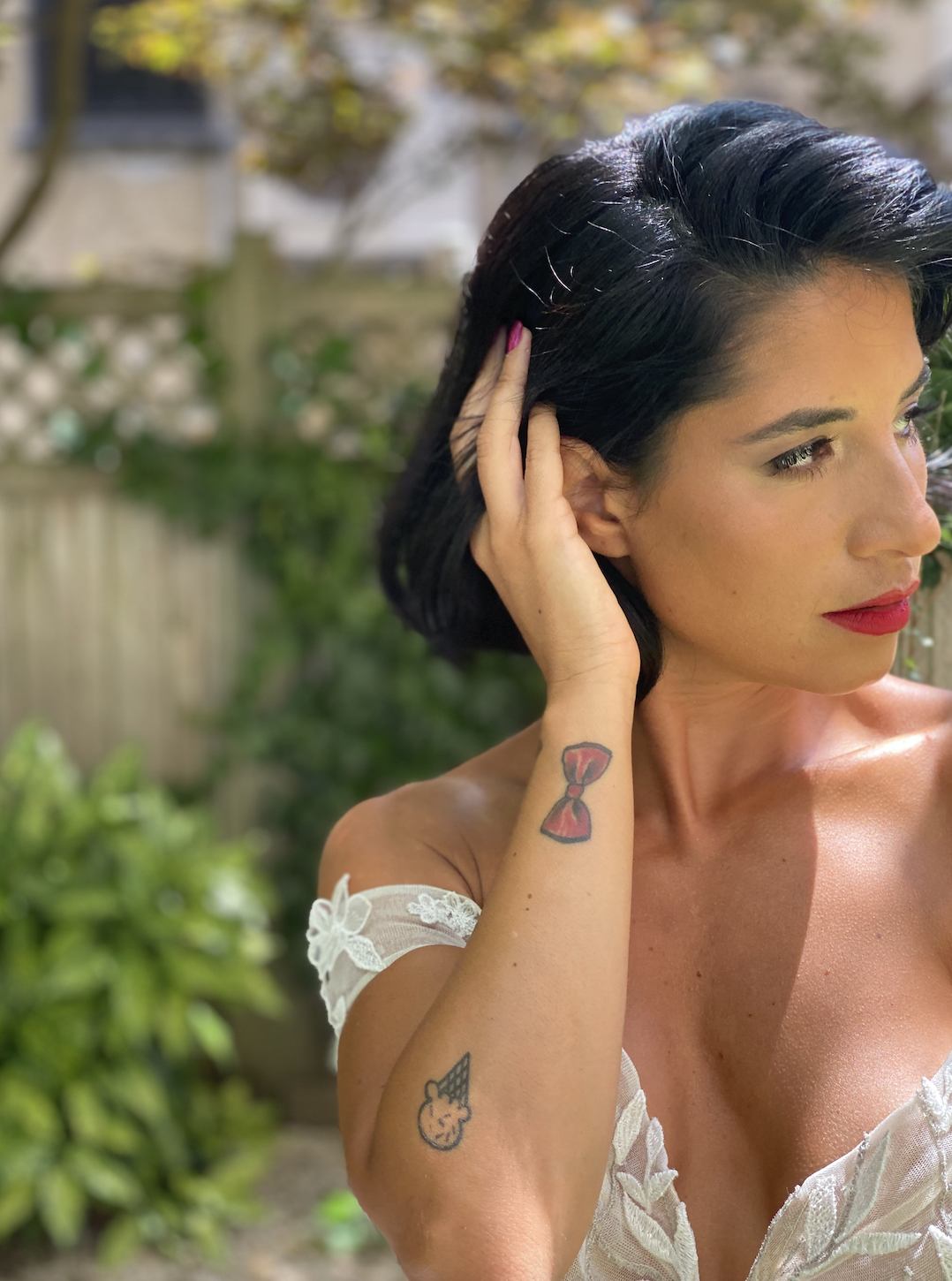 Out with the old, in with the new
A few nights ago, my girlfriend Christina came by for a visit, and I told her I was writing this post. After a few drinks, I looked at her and said "Should I try on my old wedding dress?"- I was in a happy mood, and had a friend there for support, I couldn't think of a better time to face the skeleton in my closet. The wedding dress.
I quickly stripped down and put the dress on. I felt fine. I was actually smiling and laughing and doing some old wedding dance moves. At that moment, when I looked at myself in the mirror wearing my old wedding dress, I felt proud. I thought to myself "wow, look how far you've come, look at how much you've changed and grown in the last few years".
It was cathartic.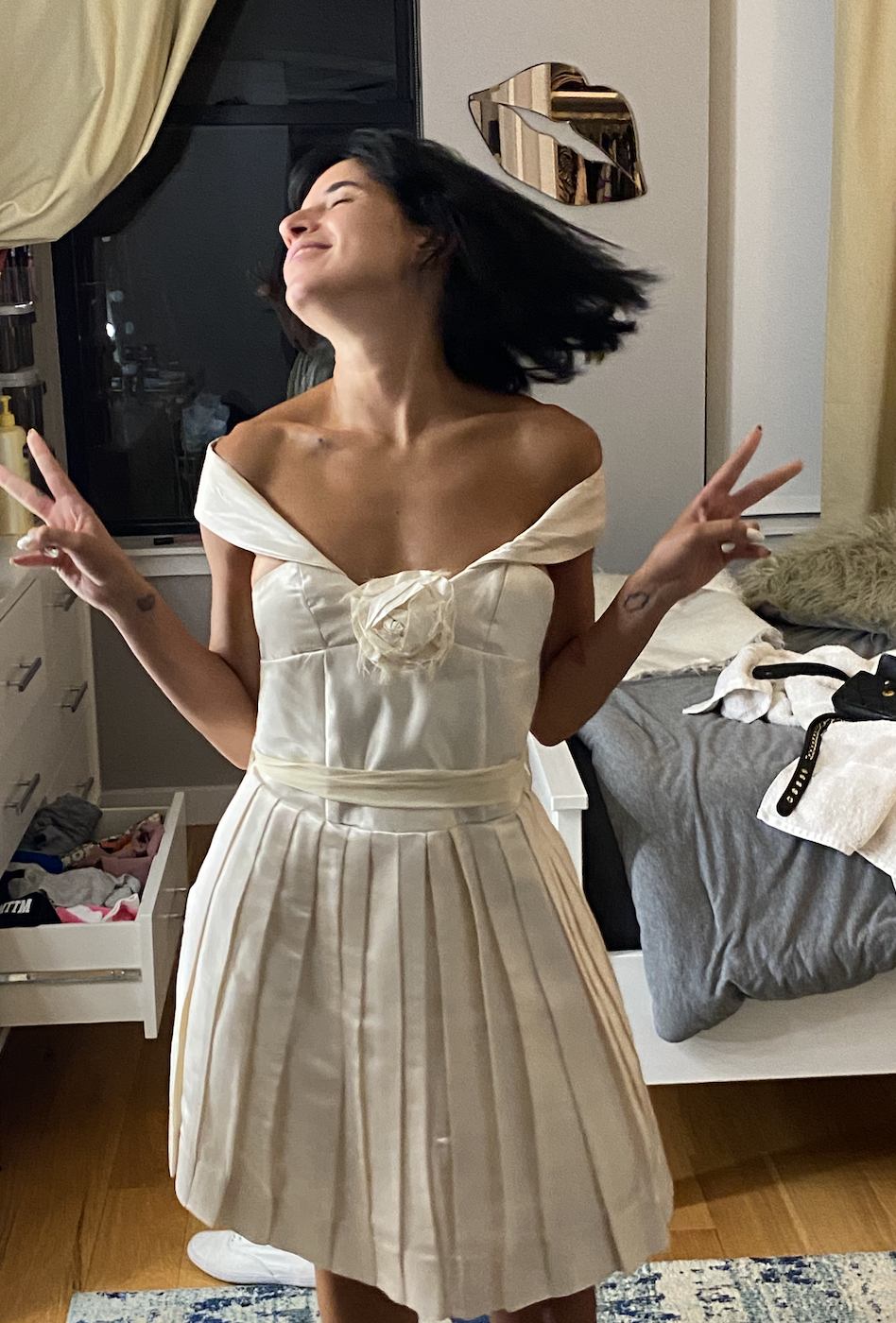 I felt free. This dress was now just an old dress with a happy memory attached to it. Not a sad one.
"I wanted to let you know, that I am getting married to myself and I'm registered at Manolo Blahnik"- Carrie Bradshaw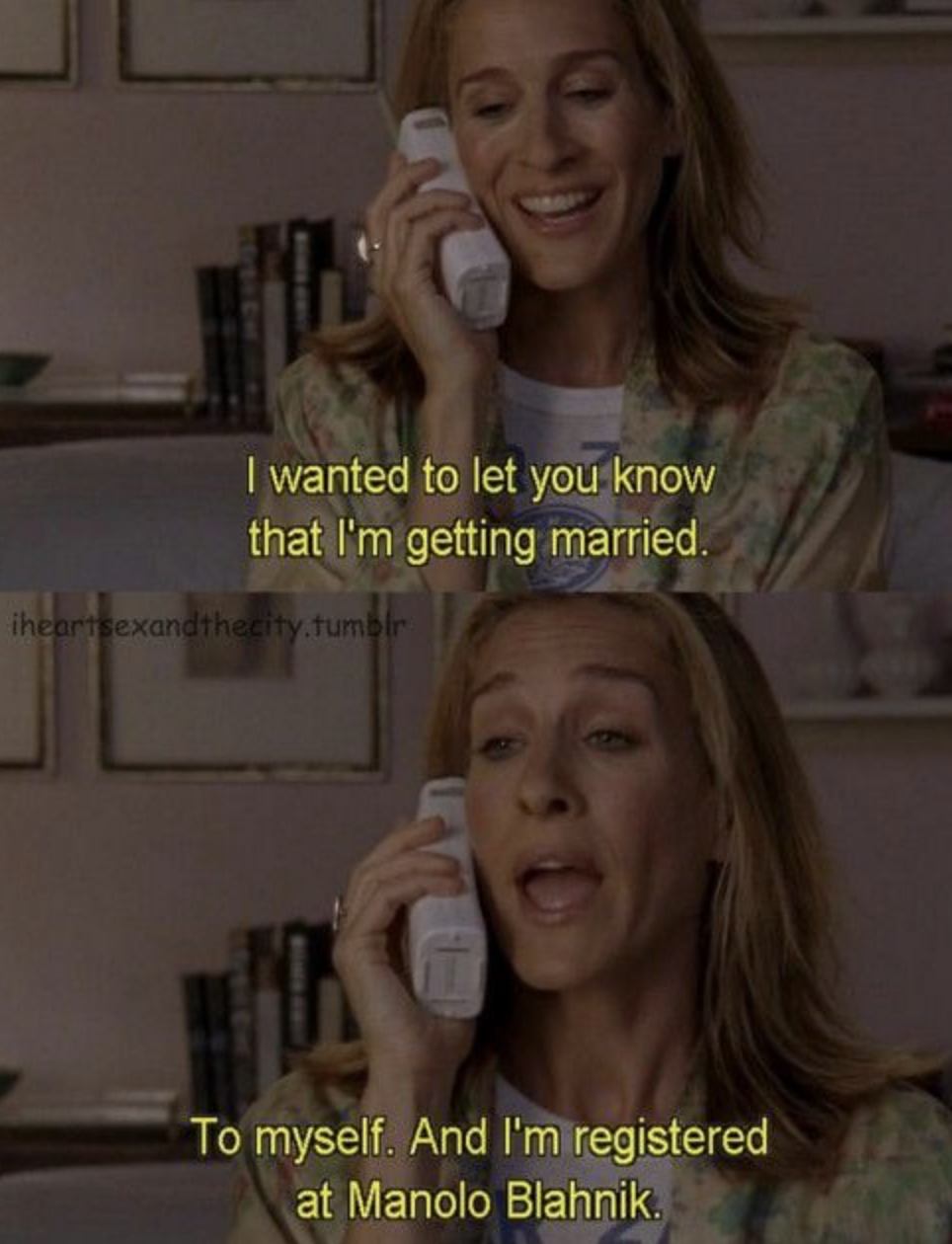 I am not going to lie, recovering from what I consider to be the biggest failure of my life, my divorce has been extremely painful. Although I am in such a good place in my life right now and have done so much healing in the last year (thank you pandemic 2020), there will always be this little space inside of me that is empty. They say going through a divorce is like experiencing a death of a loved one. My divorce was a death of an ideal, of a life that I had for so many years and thought I wanted so bad.
Side note: Being open and honest with yourself is the first step in healing. Writing this post and sharing it with the world is the equivalent of standing naked on Grove Street on a Saturday night. But here we are. How cool is it to be open and honest, though?
As I walked around Olivia's apartment in this stunning wedding gown, poised (with no groom in-sight) I felt reborn and empowered. I never felt more beautiful or confident in my life. I realized that 10 years ago, I didn't love myself like I do now. I realized that my happiness lies within me and that no person in the world can make me feel loved unless I love myself first.
I said "yes" to this dress, but more importantly, I said "yes" to myself.
And she lived happily ever after.