We've all been there. Heartbroken.
Love is hard, messy, gut wrenching, torturous but also beautiful, intoxicating, a fucking incredible feeling. There is nothing like being loved and loving someone. There is nothing like choosing and being chosen. Friendship, partnership, laughter, hugs, kisses, cuddles, sex…. I can go on and on till the break of dawn.
I am a hopeless romantic. A love addict. I listen to French music from the 50s and fantasize about that "can't get enough" love story. The late night talking, the hand-holding down a busy city street, the surprise kisses, the slow dancing in the rain.
Unfortunately for me, when I love, I love hard. So when I get my heart broken, it sometimes feels like the end of the world. I've talked about my divorce here and there, which was the greatest heartbreak of my life. But unfortunately, there's been a few smaller ones after.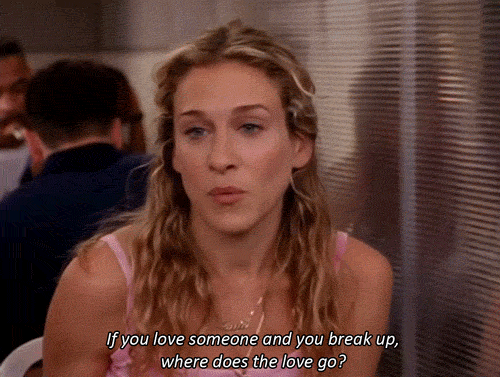 With time and experience, I've learned to bounce the fuck back and remember who tf I am. I also realize that what's meant to be will be and that with each heartbreak, there is a lesson behind it. Each heartbreak brings me closer to my life's purpose. I also don't let heartbreak stop me from being vulnerable and authentic. As with anything in life, we have to take risks; unless we are open to heartbreak, we will never find that great love (which could be with yourself, btw).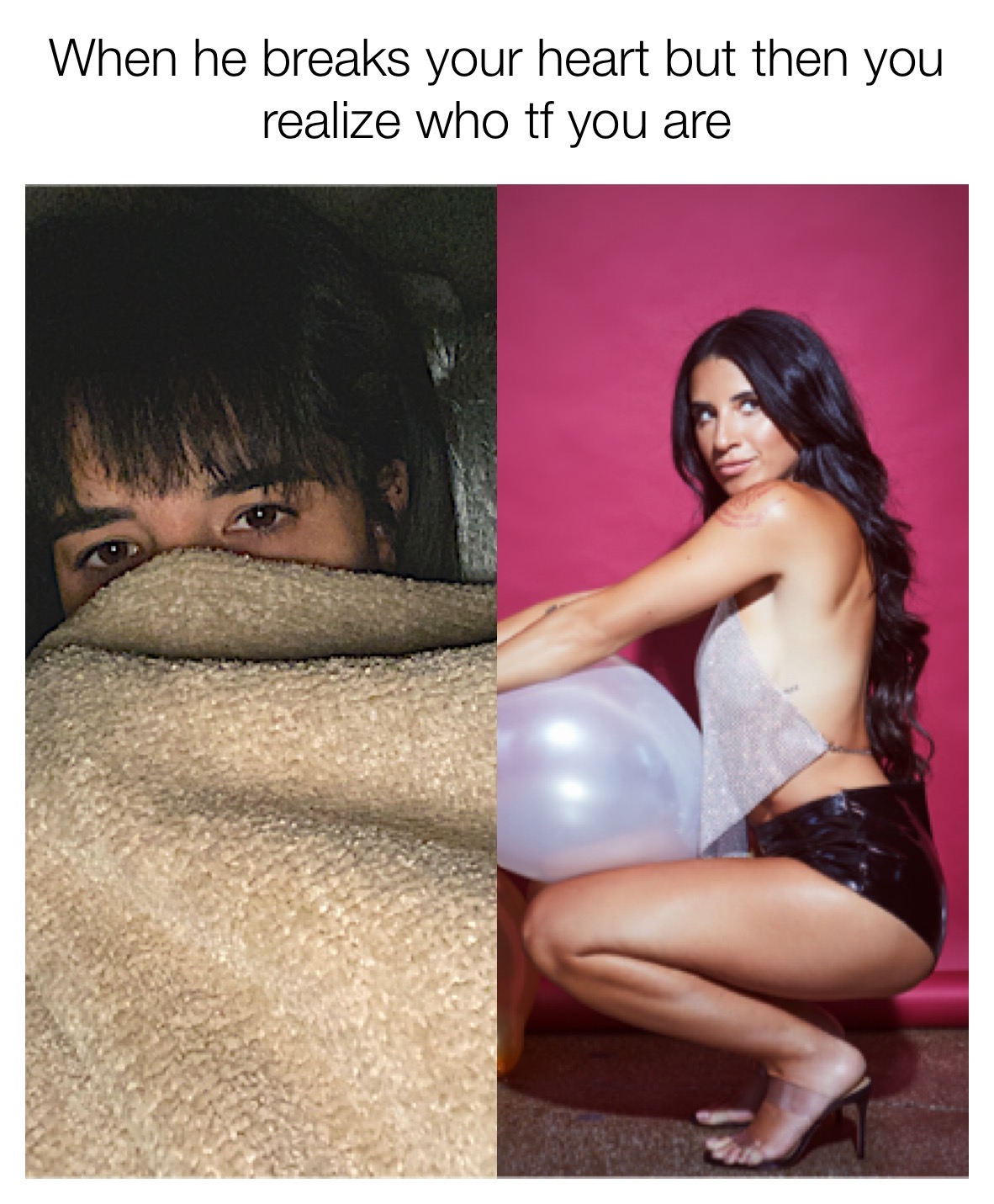 There is also a reason why things don't workout sometimes, the universe just has a bigger plan for you. All that being said, going through a breakup, no matter how you slice it, is hard. You go from being with this person, sharing your life with them, doing shit, being close, inside jokes, happy moments, and getting laid to nothing. They are gone. Some breakups end amicably… so I hear.
Never settle. Never ever. Don't stay in a relationship if you're unhappy because you're afraid to be alone. Life is way too short. Being alone is much better than being lonely in a relationship, remember that. Whether you did the breaking up or you were broken up with, it's hard. Even if the person you were with was a total jerk and not worth your energy, it is ok to still grieve the relationship.
Here are some tips to help you get through this shit. You got this! Whatever you do, DON'T TEXT THEM!
Feel all the feels
The first instinct we have is to mask the feelings, to turn to distractions in order to feel better. There's nothing wrong with this, everyone has their way of coping with things, but feelings are there for a reason. They need to be felt. Yes it hurts, yes it's uncomfortable, but it's absolutely part of the healing process. It took me YEARS to face the feelings from my divorce. I've been separated almost 3 years now and only during COVID did I finally have a breakdown. I cried. Boy, did I cry. I faced the pain head-on. The earlier you do this, the better you will feel.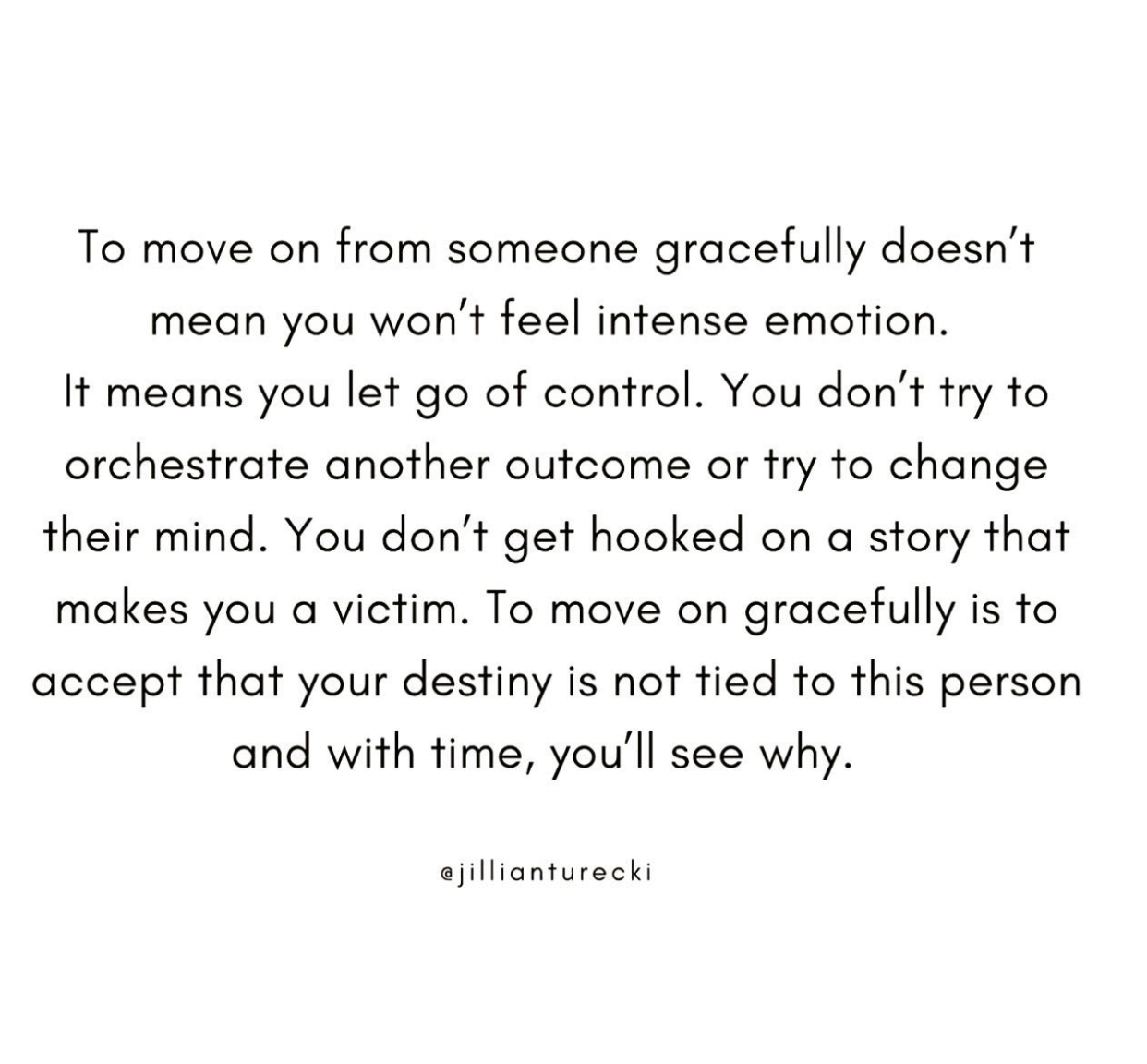 Time does heal all wounds. Sometimes I think about an ex who completely crushed me and how upset I was, and now I'm like, "Wow, I dodged a bullet." You will get there too, I promise.
So do what you need to do. Cry. Scream. Dance. Eat ice cream. Write about what you're feeling. Be patient with yourself.
Self Care Overload
The greatest thing you can do for yourself right now is love yourself. Do things that make you feel good whether it's getting a massage, take a yoga class, retail therapy, good food. Whatever you need to do, do it. Love on yourself so much and fill that empty tank.
Here is a list of things that I like to do for self care
Take a bubble bath
Dance in my apartment
Workout
Do my hair and get dressed up for no reason & take selfies
Call a friend
Watch Sex and The City
Masturbate
Shop
Make plans with friends
Plan a trip
Facial/Massage
Meditate
Write a blog post
Go to the park with my daughter and puppy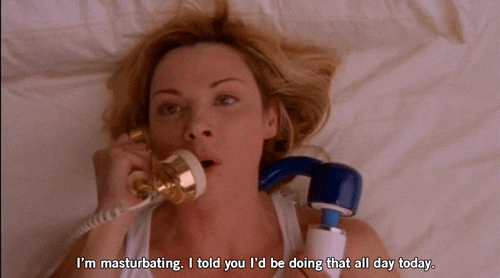 To date or not to date?
A lot of times after breakups, people will thrust themselves back into the dating world as a way to compensate for the loss. After a breakup, there is a little empty feeling inside, and it sucks and we want to fill that up, so we will do one of the following:
Get wasted
Overeat
Spend too much money on bullshit
Call a toxic ex
Mindlessly scroll on the internet
Drugs
Now there is nothing wrong with going back out there, there's no right or wrong way of getting over a break up, but be mindful of how it will make you feel. If you're just doing it for fun, to blow some steam and you're not going into it with any expectations or for this person to validate or make you feel better about yourself, then you're all good. But if it's the latter, just stay home and masturbate. Trust me on this one.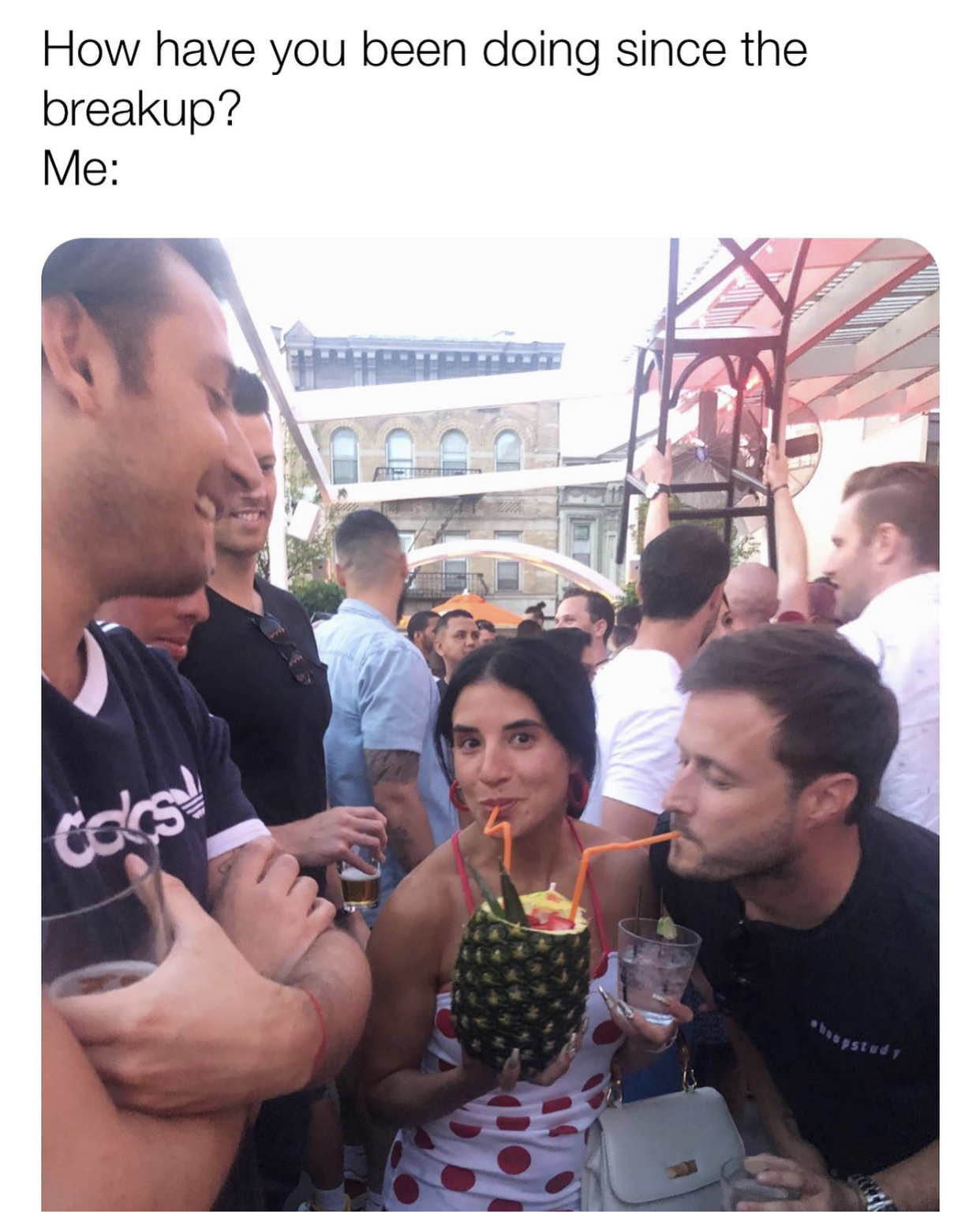 Talk to someone
Whether it's a therapist, a friend or a family member. Talk to someone, ask for help or a hug. Going through painful emotions is really hard and having someone to lean on is important. Don't be afraid to seek out the people in your life who are there for you. If you feel like you're going down a spiral and might be showing signs of depression, talk to a professional. That ex is definitely NOT worth it.
Friend/Family time
You absolutely need to surround yourself with your friends and family, people who love and care about you. I can't tell you how important that is, especially when you're going through shit. Plan a girls night, call your cousin that lives in another state, make time for the people who fill you up.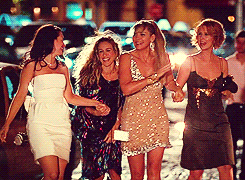 Exercise
I mention this under self care, but this deserves it's own category. Exercise is not only the healthiest thing you can do for yourself, it also releases endorphins, those feel good feelings. It will invigorate you and make you feel so much better about yourself. They don't call it the after break up glow up for no reason!
Block/Unfriend/Delete
The world we live in is so fucked in a way because we are all so connected to each other via social media; having to see an ex living their lives and moving on is so hard. Or you deal with the constant questioning of, "He watched my stories, does that mean he still likes me?" No Karen, he doesn't. He is probably on the toilet, bored flipping through peoples stories, and there you are with another sad break-up quote.
Karen is me, I am Karen.
I would even go as far as blocking and deleting the number so you don't have a weak moment to text him/her. Let it go. Let them go. There is a reason it didn't work out. If they really made a mistake and worked on themselves and want to pursue you, they can send flowers to your place. They can figure out a way. Don't make it easy for them… A text or a DM is too easy.
I know this is really hard because it's kind of like the last goodbye and leaves no room for a potential late night "I miss you" DM, but this will help you move on with your life. This is setting a boundary and will attract a bountiful amount of positivity in your life. DO IT. BLOCK & DELETE. BYE.
Now of course if you're still cool with them and it doesn't bother you to see what they're doing, that's fine. I think this depends on the situation. But in most cases, if you know it's going to be hard to see them, do what's best for YOU. Even if it's temporary until you fully heal.
Delete The Digital Memories
This is a tough one and not everyone agrees with me on this, but all those photos of you guys in your camera roll? The good times? Delete those, too. OR upload them into a Google Drive first and archive them so you don't have a constant reminder on your phone. When you're going through a break up, it's really hard flipping through old images and having a constant reminder of that person. If you know it will trigger you, remove it.
Start Something
Start a hobby or a business, or volunteer. Do something that motivates you and makes you feel good. On those nights were you're used to hanging out with old-bae, do something you enjoy. Passion breeds happiness, and you really never know where it's going to lead you. The key here is to focus on YOU. No one else, you. Because no one has got you like you do. Remember that.
Happiness is the greatest revenge
Don't post sad memes or angry quotes like "Men ain't shit" because putting negativity out there only draws that in. I am not saying to be fake and pretend like all is well in the world, but if you have nothing good to say, don't say it. And definitely don't say it all over your social media. Be happy. Like really. You're alive. You're healthy. People who care about you. Focus on the shit you're grateful for. Put it out there and if you're not feeling it, that's fine too. Take a break from social media. Don't give anyone the benefit of knowing you're heartbroken over some person who doesn't even love themselves. Remember who the fuck you are, ok?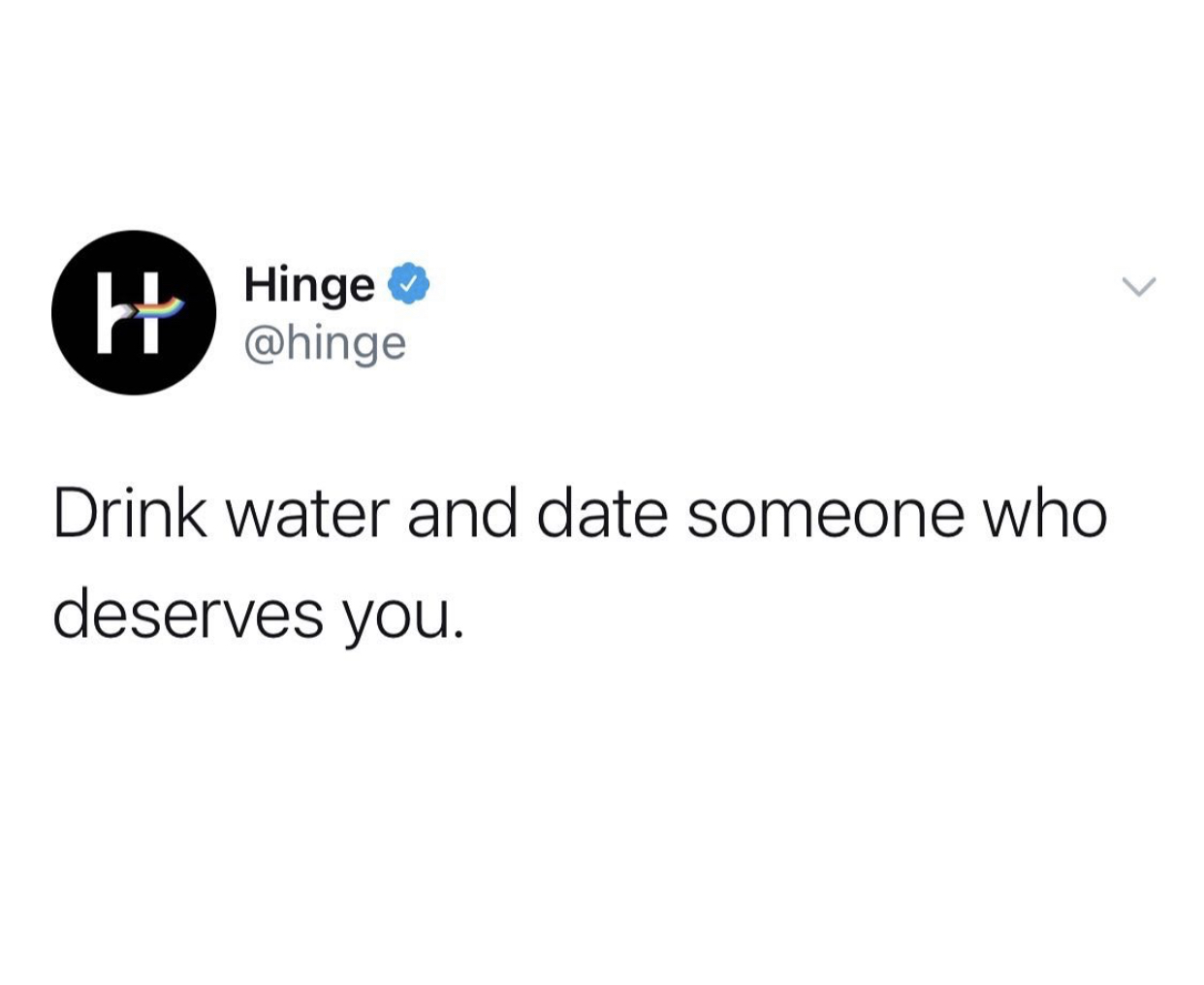 Get Away
A change of scenery is necessary, go for a road trip, the beach, go for a walk in Manhattan. Disconnect from the environment. Turn your phone off. Take a break you deserve it.
Work on yourself
A lot of times (actually most times) we blame break-ups on the other person. But what about us? How did we contribute to the end of the relationship? What are things or patterns we need to work on so we don't do the same shit over and over again?
Human beings are mirrors, we attract what is missing in us. If we are insecure, we will attract someone that will trigger our insecurities. If we are defensive, we will attract someone that will push our buttons. We all have traumas and baggage that make us who we are and there's nothing wrong with looking into the why or the how. Trying to put the pieces together, wondering "why am I like this," is a long life journey but is also essential in finding the right partner for us who, despite all our baggage, will make us feel safe.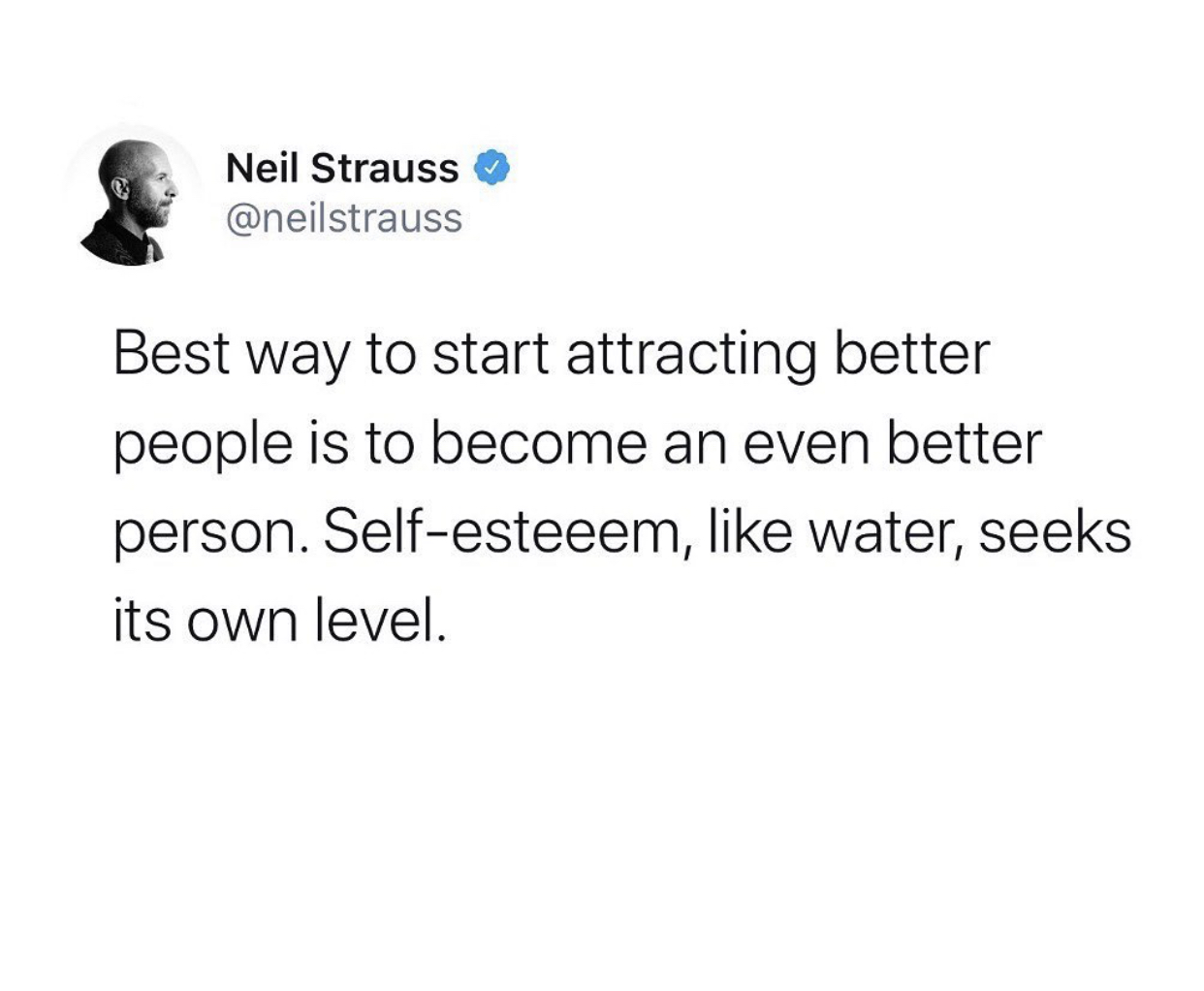 And remember, how they feel about you or how they treated you, has NOTHING to do with you. Their rejection doesn't negate your worthiness. You ARE worthy, you are lovable, and you deserve a partner who SEES you.
Take all the time you need
Time does heal. Know that day by day, things will get better, you will feel better, and you will also understand why things didn't work out in the first place. What's meant for you will be for you and the universe has a way of working itself out. Trust the process.
Practice Gratitude
Being grateful for the simple things can add joy and happiness to your life. Really think about what you have and focus on the positive. I know this can be hard when you're feeling down and grieving a relationship, but it's essential to changing your outlook and mindset. Your thoughts are so powerful and when you are filled with gratitude for the now you will start feeling better every day.
Wake up in the morning and write 5 things you're grateful for. While you're at it, write 5 things you love about yourself.
Lessons Learned
I don't regret any relationship I've been in because they all taught me something incredibly important – what I really want in a partner. They taught me what love is and what it isn't. I really feel like in every relationship I've had, I was able to fix things I needed to work on and recognize the things I need in a partnership along with the things I really don't need.
This is hard when going through a break up, but reflect on your past relationship and take away the good aspects of it. Practice gratitude and forgiveness towards that person and really wish them well (in your heart and mind, don't text them!!). This is really helpful for moving on.
Releasing the negative emotions and sending good energy towards your ex is fucking powerful and really the last step in the process. You'll get there.
Fall in love with yourself
In order to attract the right love for you, you need to be in love with yourself. I know it's cliche, but it's the truth.
On a piece of paper, write down all the qualities you look for in a partner. What is important to you? Now look at this list, do you embody all those qualities? If you don't, that is an indication of what you need to work on. How do you expect to attract those things if you aren't those things?
Here's the thing – if you love yourself and love your life fully without a partner, you will attract people. It's a classic law of attraction. Anyone coming into your space is just an added bonus to your already thriving life! So get on that shit because at the end of the day, you are WHOLE, you are WORTHY, you are DESERVING, and you are LOVABLE. You do not need anyone to make you feel that way.
Love,
Lynn