Ever since my 10 year old Mia was 3 months old I made it a mission to travel with her as much as possible. I didn't want having kids to stop me from seeing the world. That being said, traveling with kids has its own ups & downs. Literally. But if well prepared, it can be so much fun and a great way to bond as a family. We talk all about our recent trip on our latest podcast episode here
Here are my tips for traveling with a baby!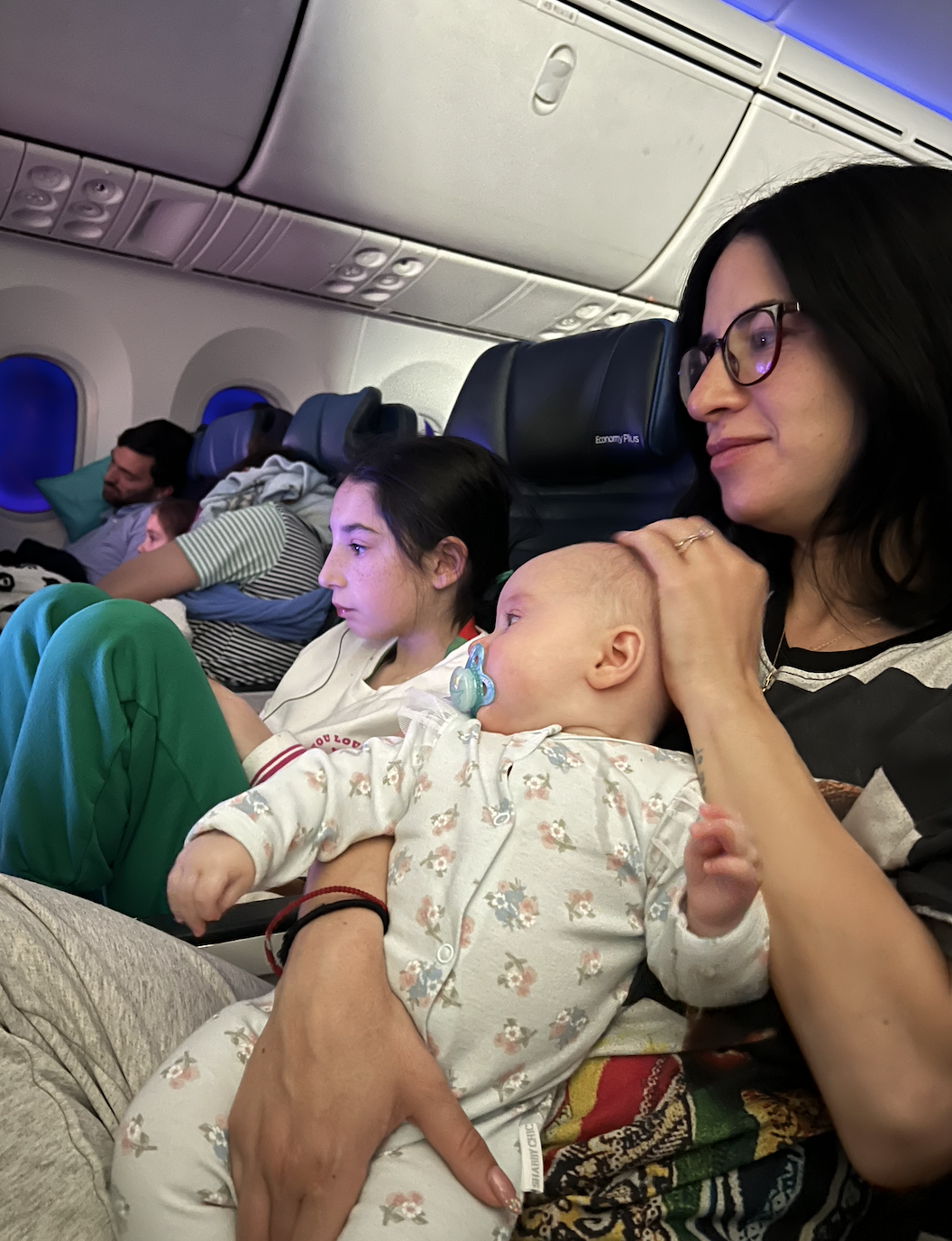 Tip 1: Pack Smart – Or Risk Looking Like a Pack Mule
Bring Only the Essentials – Yes, Diapers Are Essential, but 20 Pairs of Shoes? Not So Much When packing for a trip with a baby, keep it simple. You don't want to end up with more bags than a celebrity on a shopping spree. Stick to the essentials like diapers, wipes, formula or baby food, and a change of clothes. And let's be real, your baby doesn't need 20 pairs of shoes. Unless you're planning a baby fashion show, leave the shoe collection at home.
Tip 2: Plan Ahead – Or Get Stuck with a Room That Has No Cribs
Choose Baby-Friendly Destinations – You Want a Beach, Your Baby Wants a Playpen When planning your trip, choose destinations that are baby-friendly. Look for accommodations that offer amenities like cribs, high chairs, and baby-proofing supplies. And let's face it, your baby's idea of a perfect vacation might be different from yours. While you might want a beach, your baby might want a playpen. So be sure to consider their needs when choosing your destination.
Make Reservations in Advance or go EARLY
Because "Fully Booked" is Not What You Want to Hear on Vacation Don't be that person who shows up at a hotel or vacation rental without a reservation, only to be told they're fully booked. Make your reservations in advance, and ensure that you have a comfortable and safe place to stay. And if you want to avoid long lines and wait times, make reservations for any activities or attractions you plan to visit.
Tip 3: Be Flexible – Or Risk Becoming a Stress Monster
Adjust Your Schedule – Because Your Baby Is the Boss. When traveling with a baby, you have to be flexible. Your baby might not be on the same schedule as you, and that's okay. Take breaks more frequently for feedings, naps, or diaper changes. And if you need to alter your itinerary to allow for more downtime, go for it.
Allow for Extra Time – Because Poop Explosions Happen When traveling with a baby, it's always a good idea to allow for extra time. You never know when a poop explosion or unexpected delay might happen. So take a deep breath, and give yourself some extra time. Trust us, it's better to be safe than sorry.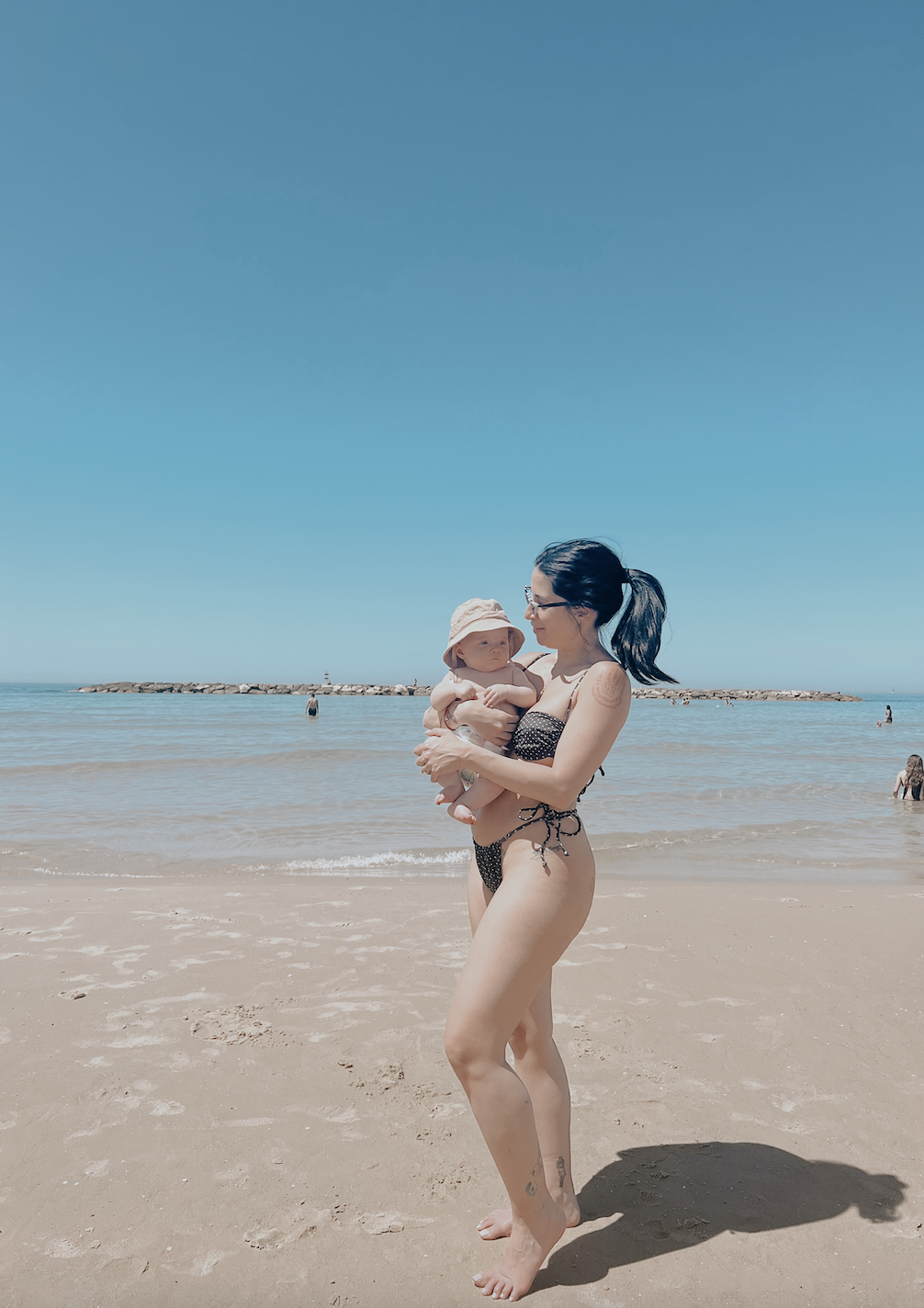 Tip 4: Keep Your Baby Comfortable – Or Risk a Meltdown
Dress in Layers – Because Your Baby's Style is Not Worth the Tears When it comes to dressing your baby for travel, comfort is key. Dress them in layers so you can adjust their clothing to accommodate changes in temperature. And while your baby might look adorable in that onesie with a bow tie, if it's uncomfortable, it's not worth the tears.
Use a Baby Carrier – Because Who Needs a Gym When You Have a Baby Carrier. A baby carrier can be a lifesaver when traveling with a baby. Not only does it keep your baby close and comfortable, but it also frees up your hands for carrying luggage or other items. And let's be real, who needs a gym when you have a baby carrier? It's the ultimate workout and bonding experience!
Tip 5: Book a Seat with a Bassinet – Or Risk Holding Your Baby for 12 Hours
If you're flying with a baby, booking a seat with a bassinet can be a game-changer. It provides a comfortable place for your baby to sleep during the flight, and can save you from holding your little one for 12 hours straight. Just be sure to check with your airline regarding any restrictions or fees for booking a seat with a bassinet.
Tip 6: Go with the Flow – Or Risk Being the Grumpy Traveler
Traveling with a baby can be unpredictable, so it's important to go with the flow. Be prepared for changes in your itinerary, unexpected delays, or a fussy baby. Remember, your baby's needs come first, so try to stay calm and relaxed. And who knows, maybe you'll even make a new friend while soothing your baby on a flight.
Tip 7: Pay Attention to Their Cues – Or Risk a Meltdown
When traveling with a baby, paying attention to their cues is key. Be aware of their hunger, tiredness, and general mood. If your baby needs a break, take one. If they're fussy, try to soothe them. And if you want to avoid a meltdown, keep some toys or books on hand to keep them entertained. Who knew peek-a-boo could be so entertaining on a plane?
In conclusion, traveling with a baby can be a wild adventure, but with these top tips, you'll be ready to tackle any challenge that comes your way. Remember to pack smart, plan ahead, be flexible, keep your baby comfortable and safe, and pay attention to their cues. And who knows, maybe your little one will even become a seasoned traveler before they can say "plane."
So don't let the thought of traveling with a baby hold you back from making memories and experiencing new adventures. With a bit of preparation and a positive attitude, you can embark on a trip that both you and your little one will cherish for years to come. And who knows, maybe you'll even inspire other parents to take the plunge and travel with their babies. After all, adventure awaits, even with a diaper bag!