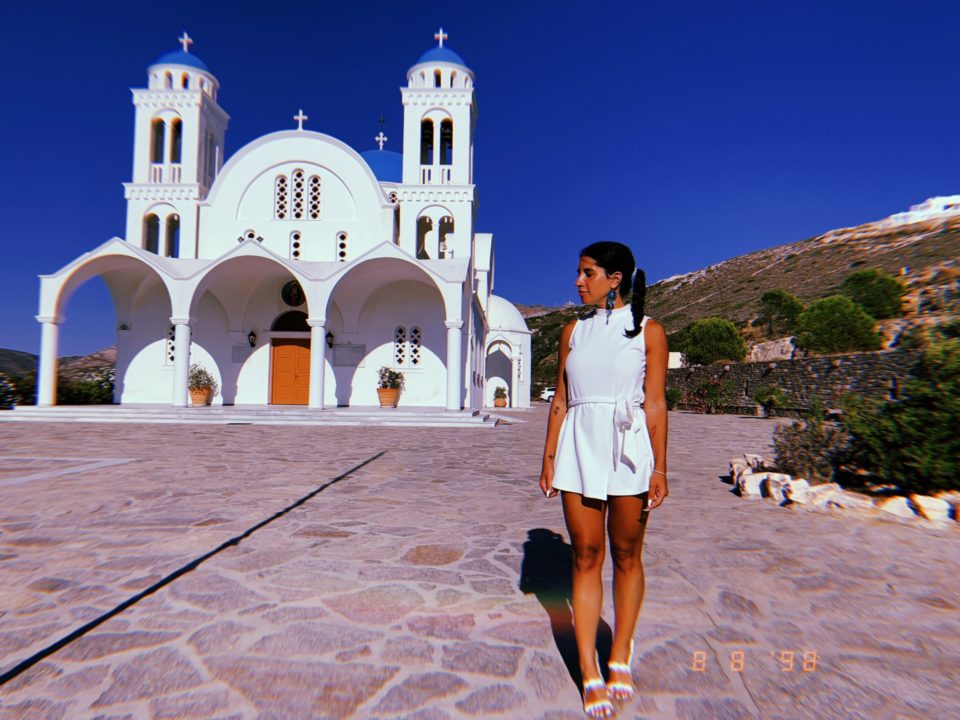 My name is Lynn, and I am officially a travel addict.
Ever since my first solo trip to Thailand in February, I've been seeking out travel every chance I get. I grew so much from that experience that it left me wanting more. I thought that going to Thailand would get things out of my "system," but it only reinforced the fact that there was a lot more for me to see and do and grow.
I would love to officially welcome you to ChicpeaTravels – a new section dedicated to adventures Chicpea style.
12 Days in Greece
My daughter had a beach week planned with her dad in August so instead of staying in Jersey City, I decided to take advantage and plan a trip. But where to? I wanted a sexy destination; beaches, parties, good food, sightseeing, activities, art, museums… all the shit I enjoy (as you might know based on this blog) in one country.
I looked on my bucket list and there it was: Greece!
I then pictured myself on a beach getting fed grapes by a sexy Greek man and bought my flight ticket right away. #TrueStory
Here comes the hard part, planning this trip. I had the same issue with Thailand. There are so many options, so many places you can visit, so how do you choose? I honestly procrastinated planning the details of this trip until the last few weeks because I just couldn't make up my mind. After hearing some recommendations from people I know and my trusted followers, I came up with a plan.
12 Days, 4 Stops: Athens, Mykonos, Paros, and Santorini.
I chose these four stops because I wanted to get a taste of the different vibes Greece offers. Athens for its rich history, culture, architecture. Mykonos for the insane parties and for my skimpy outfits. Paros for the more chill, relaxed vibes and landscape. Then finally Santorini, the romantic island known for its amazing sunsets and magical moments.
That being said, what works for me might not work for you! There are so many other islands that I hear are fantastic. So depending on what you're looking for, do a tiny bit of research. Or if you're lazy and trust me, then follow this post.
Some other islands I hear are great and why:
Crete
Crete is the largest island in Greece and apparently you can easily spend a whole week here exploring. There is something for everyone, beaches, nature, culture, cuisine, and apparently sexy sailor men (said one of our followers).
Naxos
Naxos is the low-key version of Mykonos. If you're trying to get away from the tourists and crowds I hear this is the island to go to. Naxos is the greenest island in the Cyclades with impressively high mountains and fertile valleys. There are beaches that are among the most beautiful in Greece.
Milos
Milos is apparently breathtaking in terms of landscape, the villages are absolutely stunning, beaches and it's super low-key.
How to get there and when to go
High season is during the summer months, so direct flights can be expensive. I found a direct flight for a little less than $1k from Newark to Athens. I heard the islands aren't that great during winter months so it is best to go during the warmer seasons. The best time to go is spring or late summer when the tourists go back to school/work.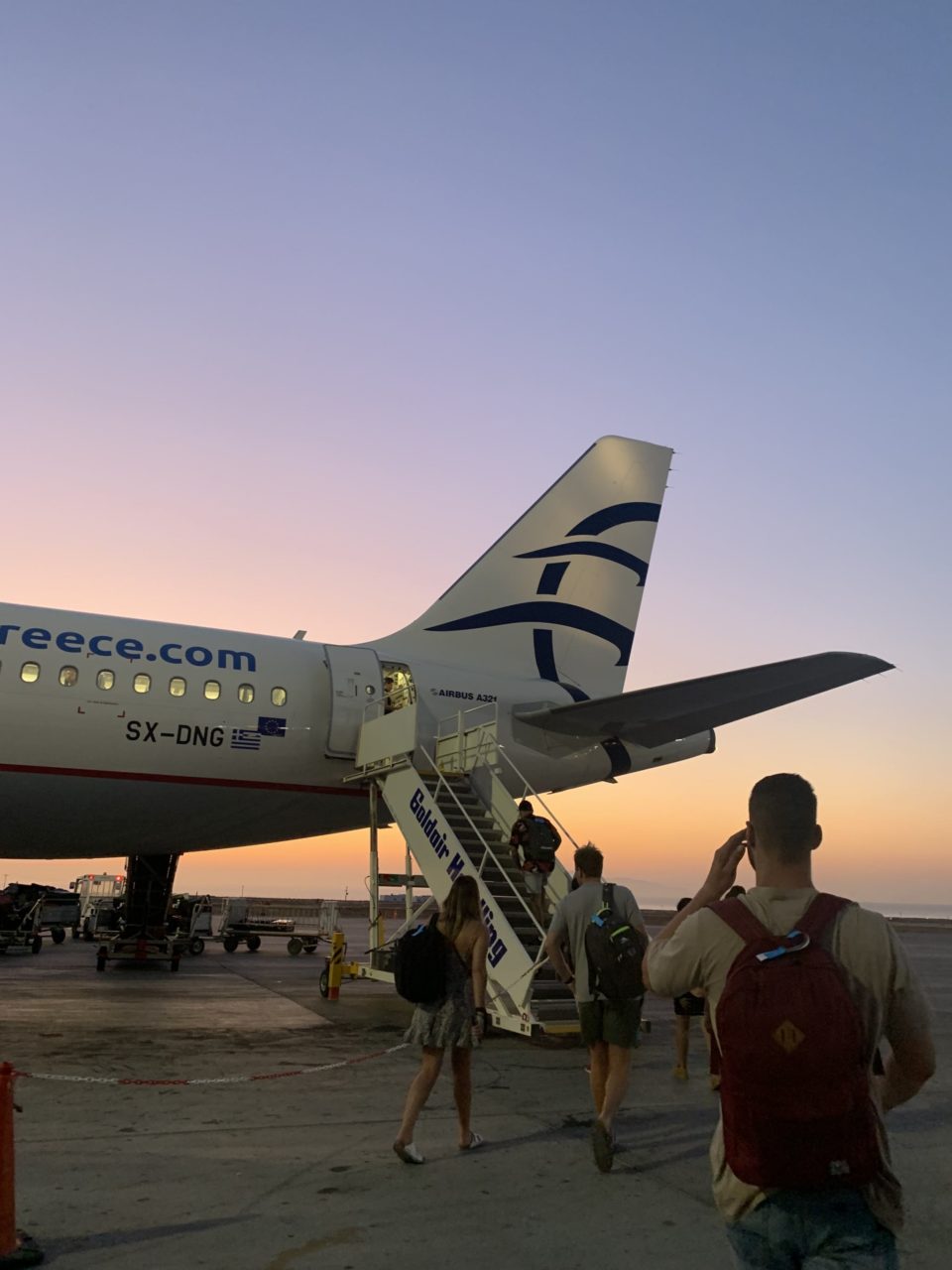 Traveling Alone to Greece
Is it safe?
I get this question all the time whenever I travel alone. I will be writing a piece on the blog dedicated to this, but in terms of this trip, I felt very safe. In Mykonos particularly, I was going to parties alone in pretty outlandish skimpy outfits (it's hot!) and yes I was getting hit on, but at no point did I feel unsafe.
In all honesty, I feel less safe walking on Grove Street in Jersey City at midnight than I did in Greece at 3am. Also there are tourists everywhere. That being said, I am always alert and aware of my surroundings, I don't take drinks from strangers, I make sure my phone is charged, and I know where I am. I exercise common sense.
Apparently, Greece isn't the typical solo-traveler destination. It's the type of place that would be really fun to go with a few friends or a lover, but I had an awesome time. Really, I would do it again and again and again.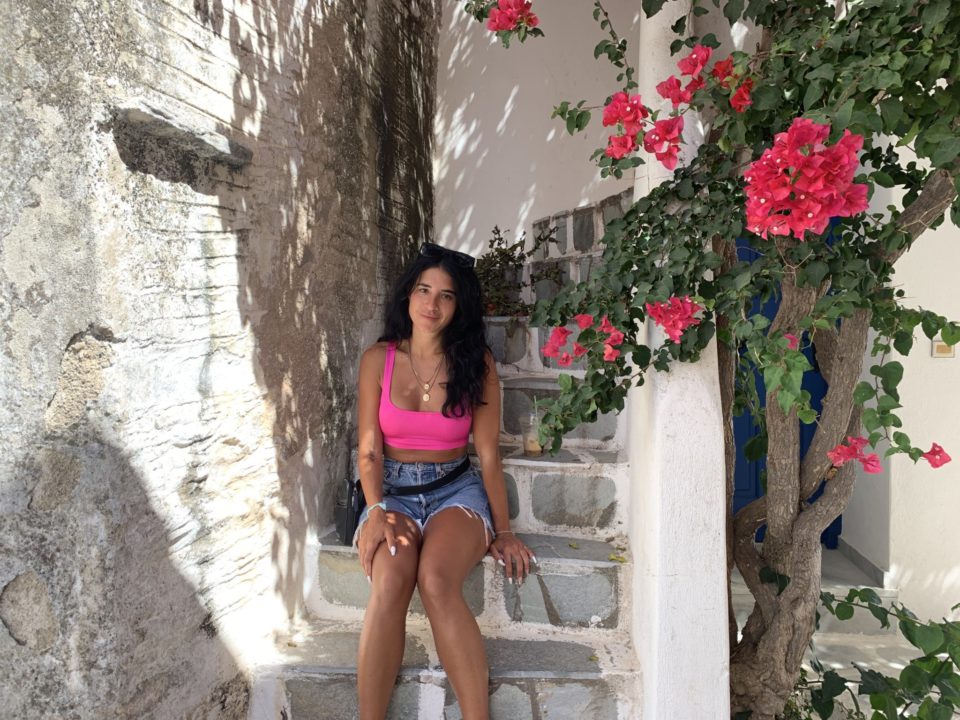 Getting around the islands
This was one of the hardest things for me to decide. In Greece, you can travel by ferry or by plane. I assumed the ferry would be cool because you're on the water and you get to see the sights, but I also heard it can be a nightmare. You have to take recommendations with a grain of salt. I decided that I would fly from Athens to Mykonos since it's only a 45 min plane ride as opposed to a 4+ hour ferry (which may be subject to delays) and took the ferry from Mykonos to Paros, then Paros to Santorini so that I could experience it as well. Maybe I was lucky, but I had no issues and the ferry ride was smooth sailing. I am providing links for you guys at the bottom of this post for all this shit. So keep reading or skip to the end.
I do recommend buying all your flight/ferry tickets in advance as they do sell out during high seasons.
Also, when you take the ferry (especially in Mykonos), it's kind of a shit show. Go early and make sure you're in the right line.
What to bring / What to wear
US/Euro travel adapter
External battery pack to charge your phone
Selfie timer and/or phone tripod (great if you're traveling alone)
Don't bother bringing heels, never used mine. Sandals/Sneakers/Espadrilles is the way to go.
When going in the hot seasons, it's best to wear flowy beach outfits. It's hot and less is definitely more!
Stock up on bathing suits/bikinis
Hats & sunglasses
You can honestly buy anything you really need in Greece so if you forget something, it's okay; just keep in mind, it's not cheap!
You will need cash (you can withdraw money from any ATM machine)
International drivers license (if you want to rent an ATV you will need this). Google it and you can get one before you go. It was super easy.
WiFi really sucked for me, so I would personally do things differently because getting on the internet was a huge pain in the ass even at my hotel. So if it's your livelihood, I would def look into renting one of those hot spots or getting a SIM card.
---
TRAVEL JOURNAL
Day 1: Athens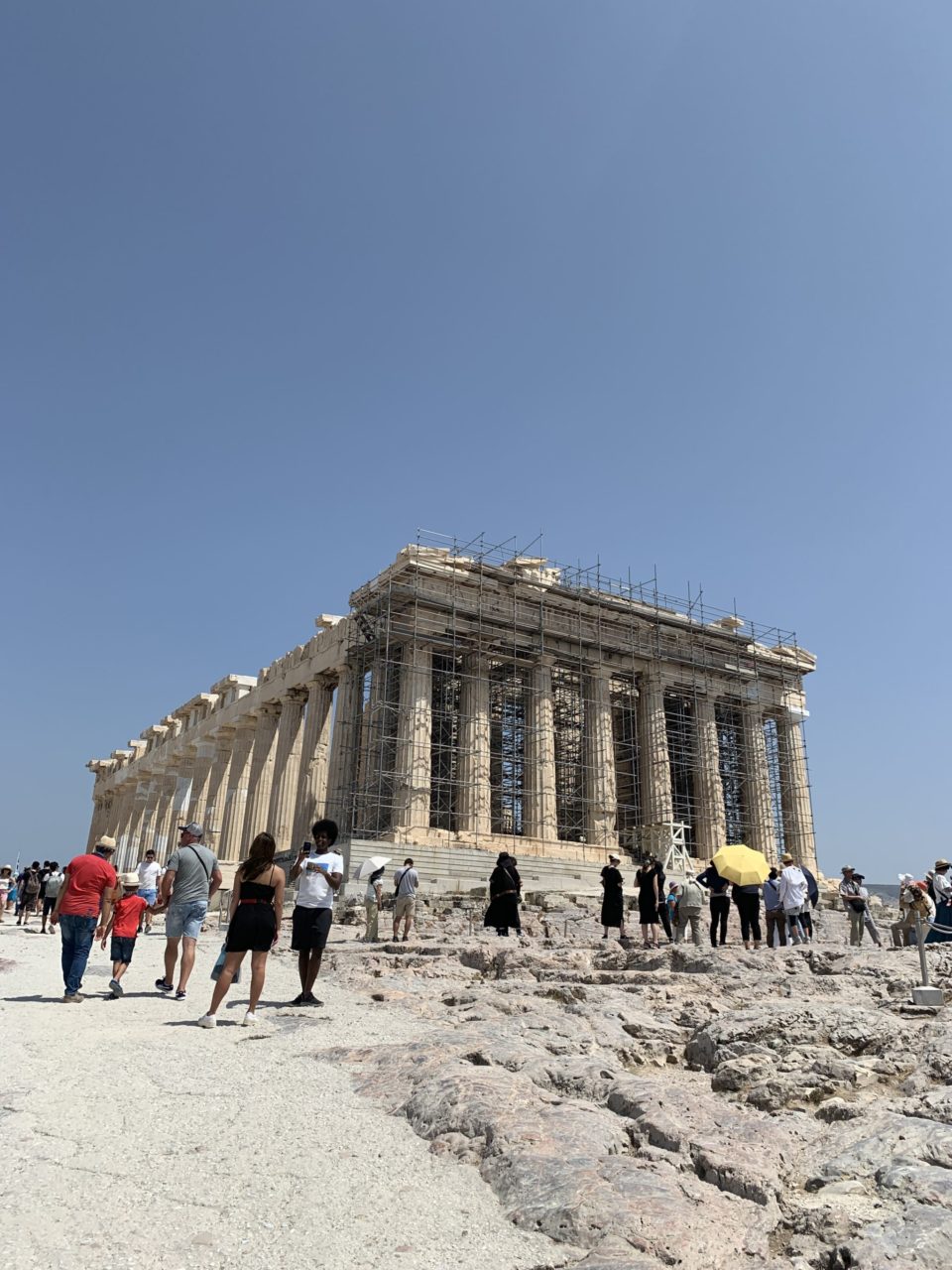 I wasn't sure how long to spend in Athens but a few people told me that, given my limited time, a day would suffice. I would recommend spending 1-2 days here. I also recommend doing it at the beginning of your trip as opposed to the end. Get the cultural and historical background out of the way before the partying or romance time because by the end of the trip, your brain will be putty. I don't even know how I am writing this right now on the plane. I guess I'm excited!
At the airport in Athens, I was picked up by Nikos, my driver who would soon become my friend. We chatted the whole way to the hotel and he gave me tips and insight as to what's going on. He's like the unofficial Chicpeajc of Athens, haha. He was so cool and it was the perfect beginning to my trip (link to use his services also at the end of this post!)
Where to stay
Definitely stay in the center of town close to all the historical landmarks. You can easily walk or take one of those LIME scooters and roam around the town (yes they have them there, too.) I stayed at the NICEST hotel, in the BEST location, with the MOST amazing mattress and I was almost sad that I didn't stay an extra night.
They have two locations. I stayed at the one closest to the Acropolis. It was $175 per night, which really isn't horrible considering the location. You also get free transfer to and from the hotel. There is a small rooftop pool with incredible views. OH AND THE MATTRESS.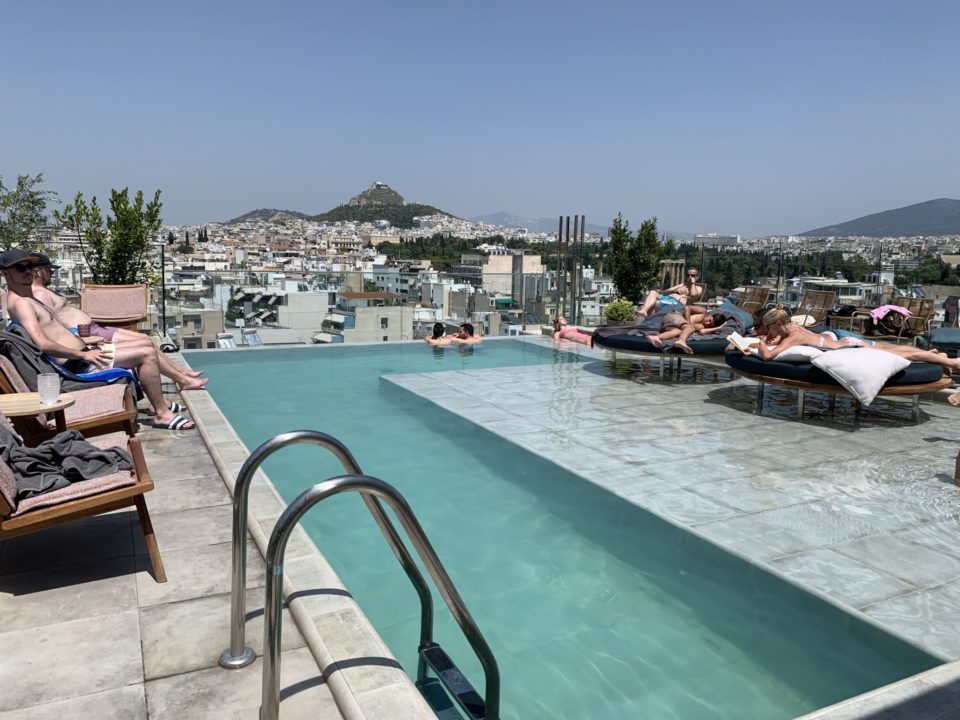 Coco Mat actually sells their mattresses to other hotels, and you can buy them at a store in Athens if you have $3k euro to drop. The room isn't huge, but you're probably not going to spend that much time in it either.
Top Things To Do in Athens
You can easily do Athens in one or two days, and I honestly wouldn't skip it either. Soaking up the architecture and history of this city is a must. Without going into detail on each hot spot, here is a quick list of what you should see in Athens! (It was all mind-blowing!)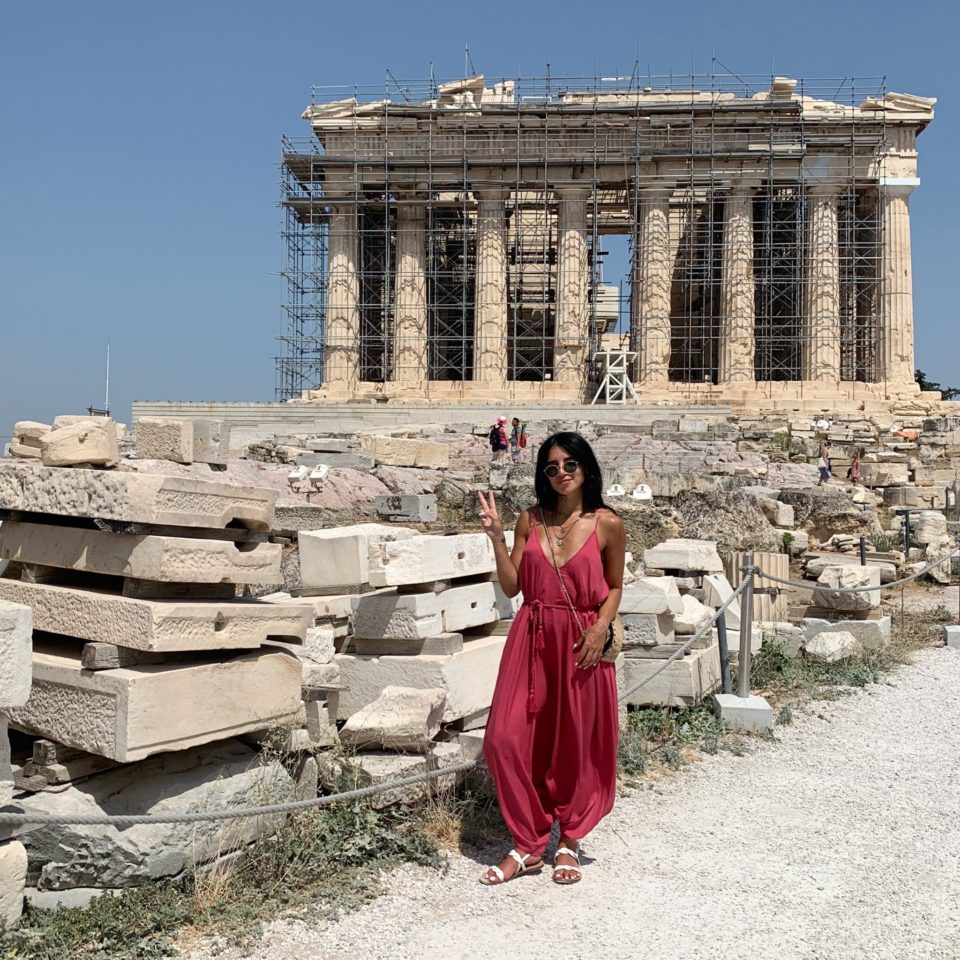 Daytime
Acropolis
National Gardens
Monastiraki Neighborhood
Temple of Poseidon
Plaka Neighborhood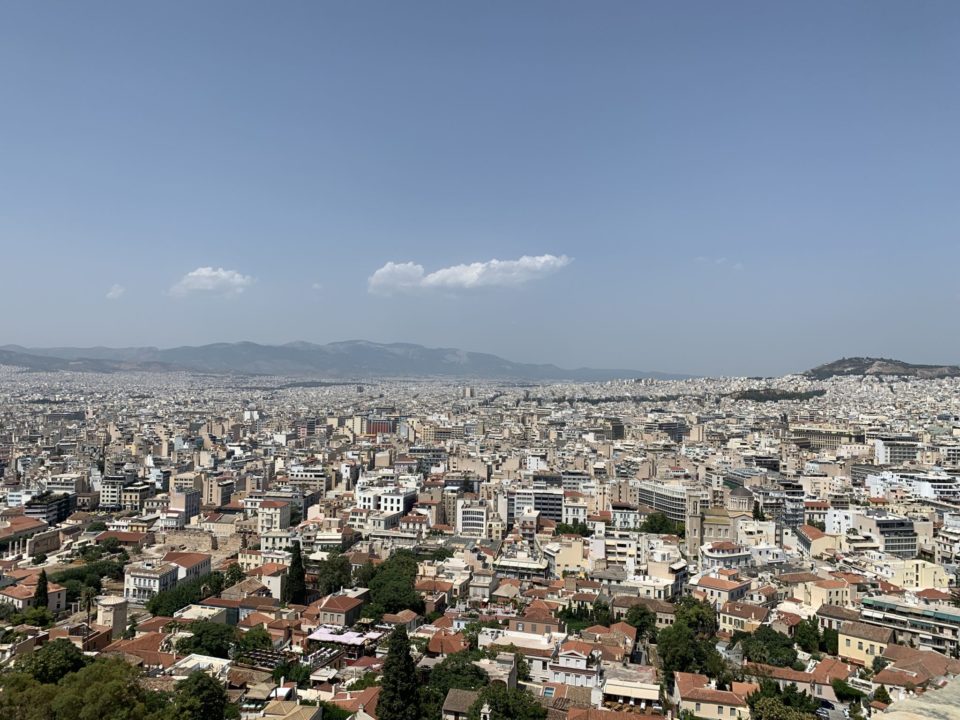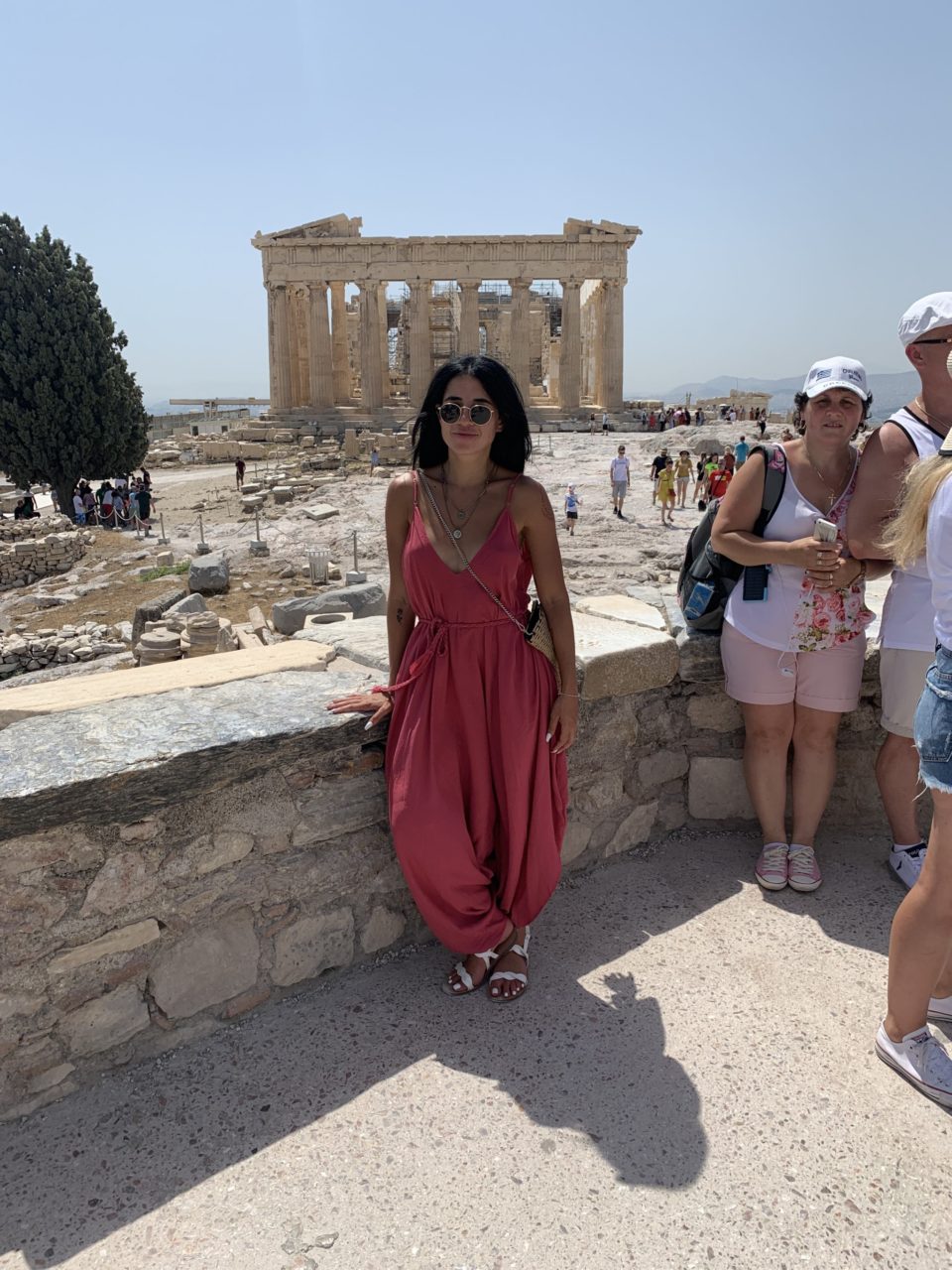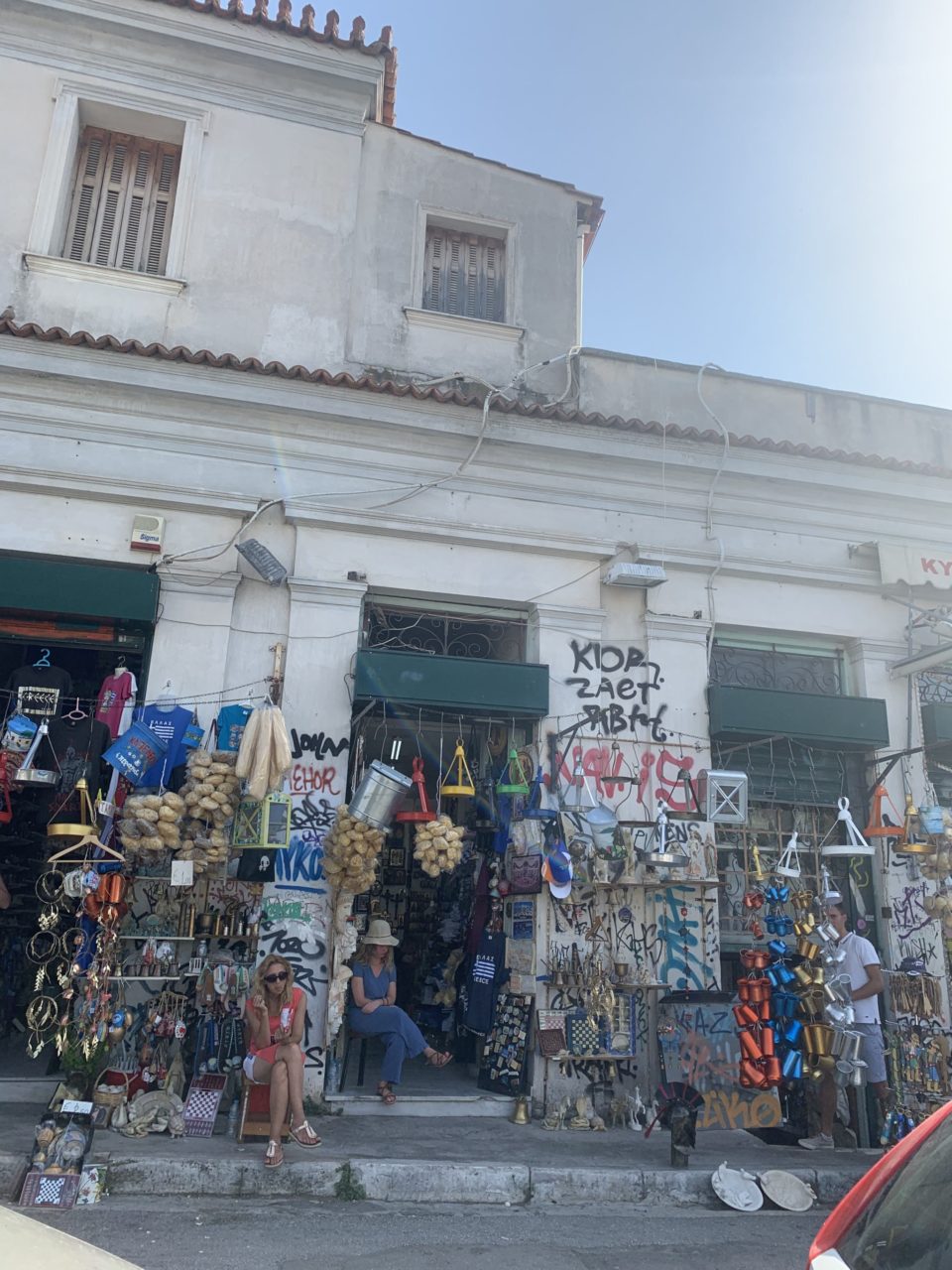 Restaurant and Bar Recommendations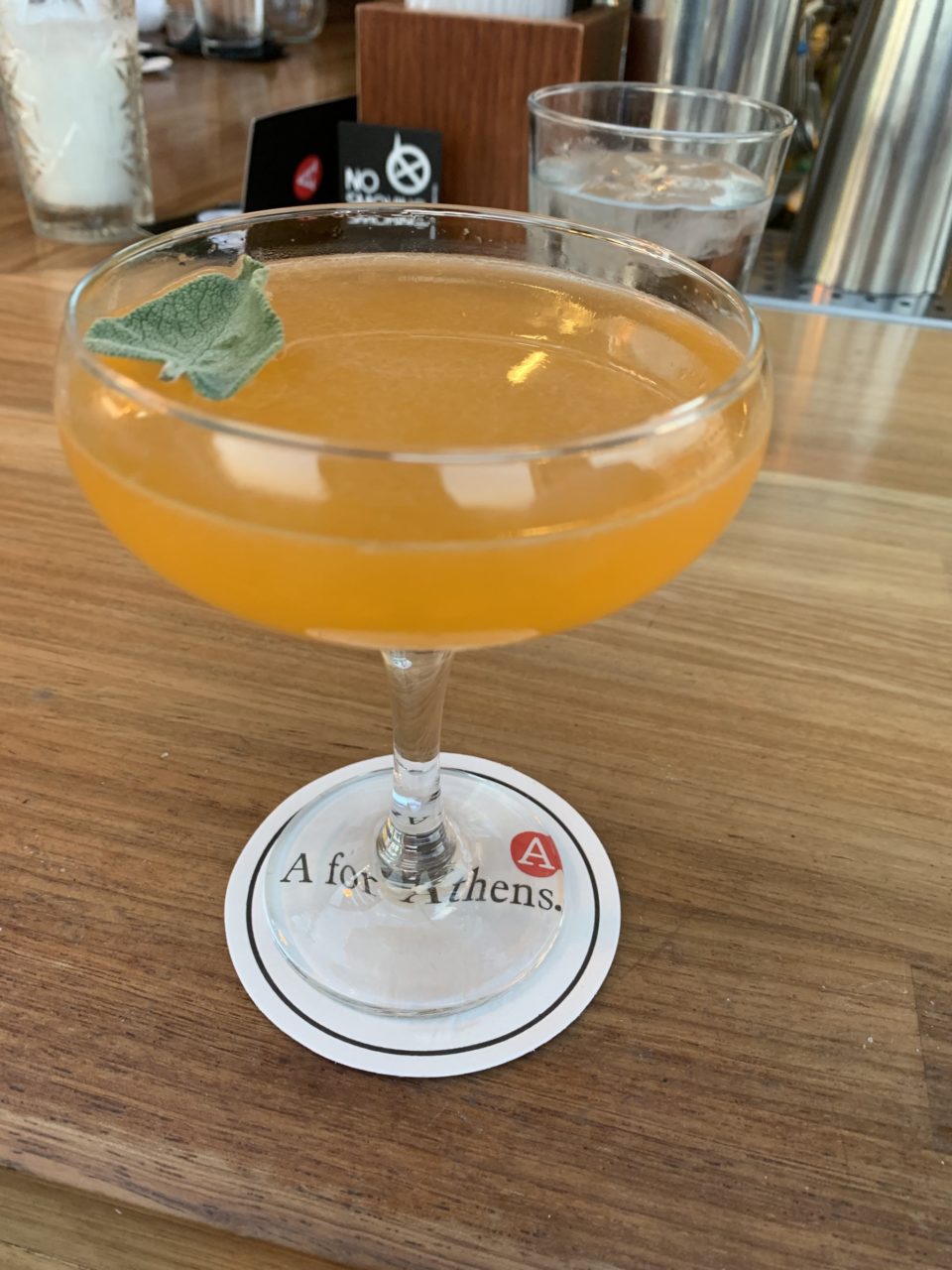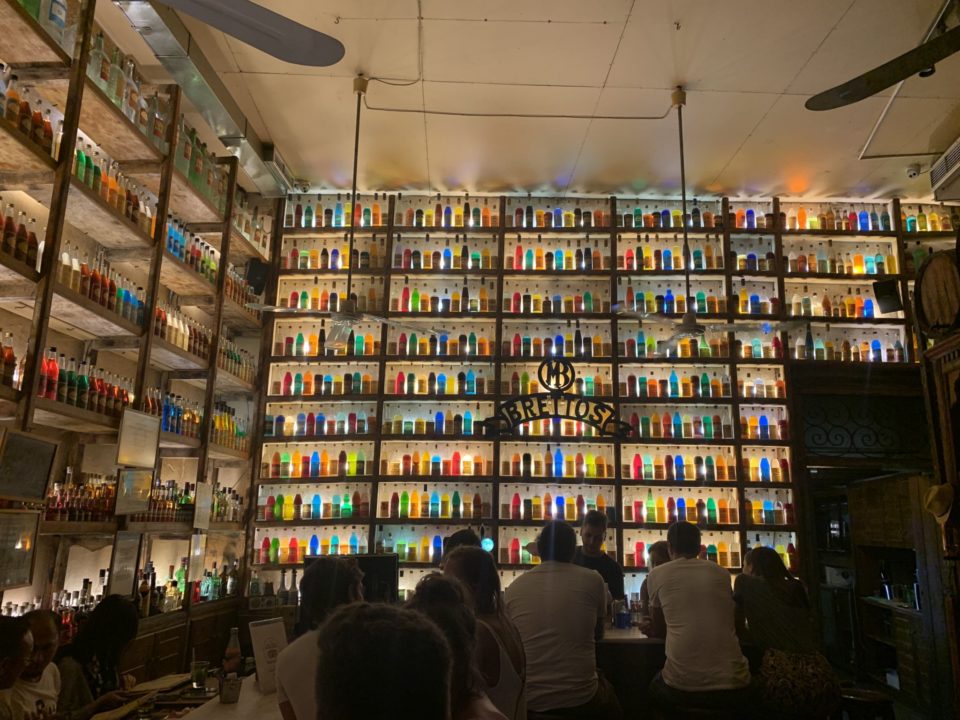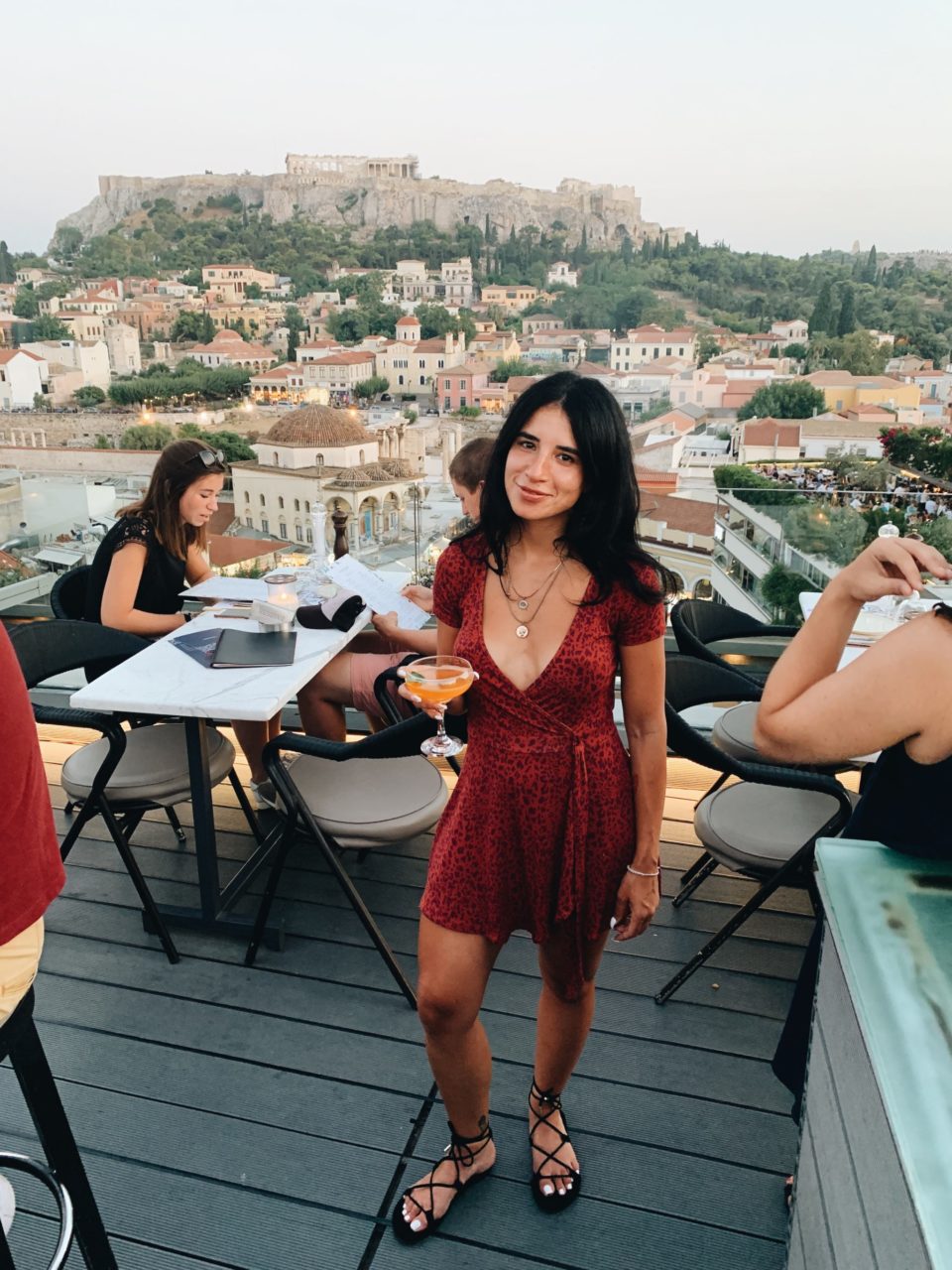 Athens Pro Tip: Definitely go online and purchase tickets in advance for the museums. This shaved off at least an hour of my time!
Day 2: Mykonos
Took an early morning flight to Mykonos, and Nikos was back to bring me to the airport. On the way, he gave me some tips for things to do in Mykonos which was super helpful. The flight was easy breezy and I was greeted by my hotel taxi at the exit. So far, so good!
Here is where I kind of fucked up in planning this trip…
Where to Stay in Mykonos
LOCATION. LOCATION. LOCATION.
Even though Mykonos is probably the most crowded island to go to (but also the most lit!), it is also the most pain in the ass island to get around. Like huge pain in the ass.
Why? No Uber, not many taxis, and the bus options are scattered at best. So where you stay is extremely important depending on what you're looking to do.
I came to Mykonos to party, and beach. That's it. But the choice of my hotel was a poor decision. Like, literally. I'm poor.
I went with a lavish hotel because it looked sick and I couldn't wait for the Instagram photos, but it was too expensive, too far from the action, and honestly, the service wasn't that great given how expensive it was. BUT, there is no denying that this hotel was insane! Equipped with an infinity pool, free all-you-can-eat breakfast, and my room included a sweet balcony overlooking the ocean. Now that I am thinking back, I don't regret my choice but next time I would stay in a different area and would probably save a ton of money.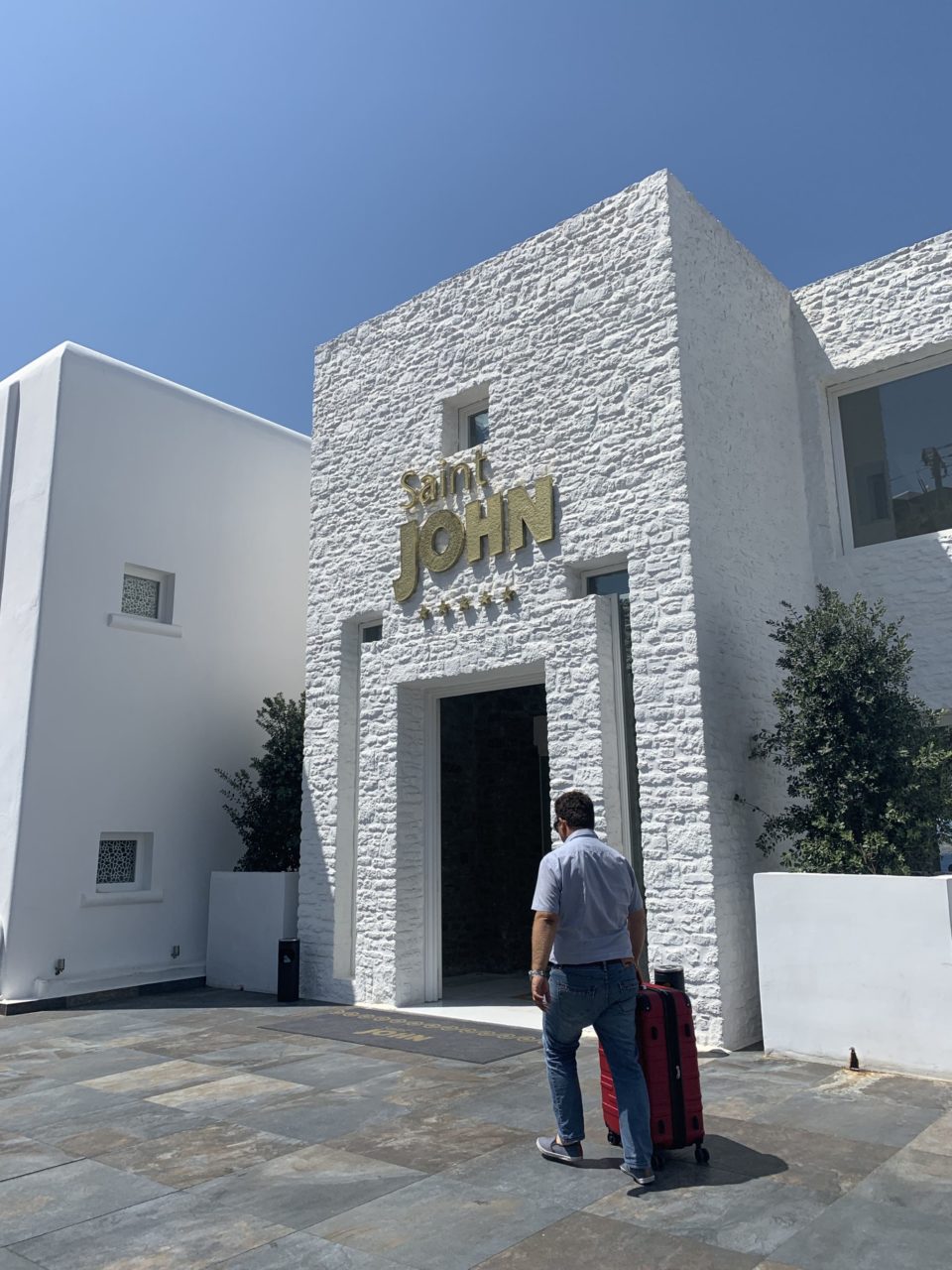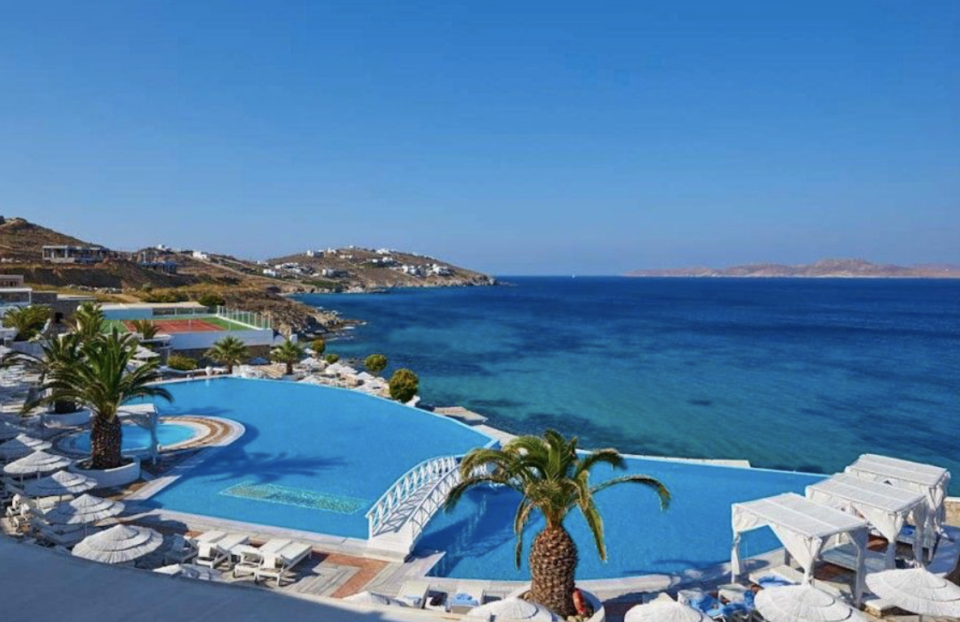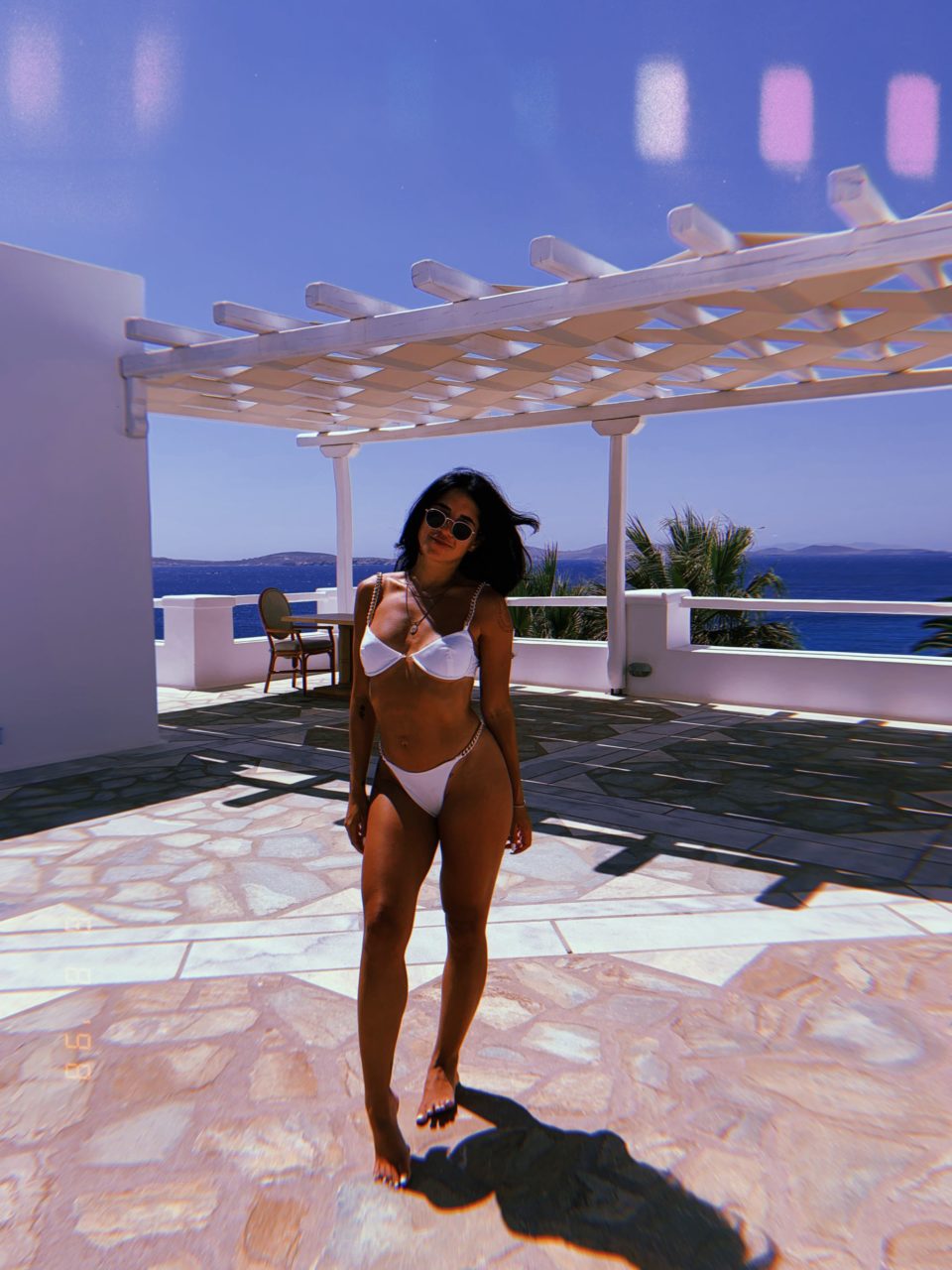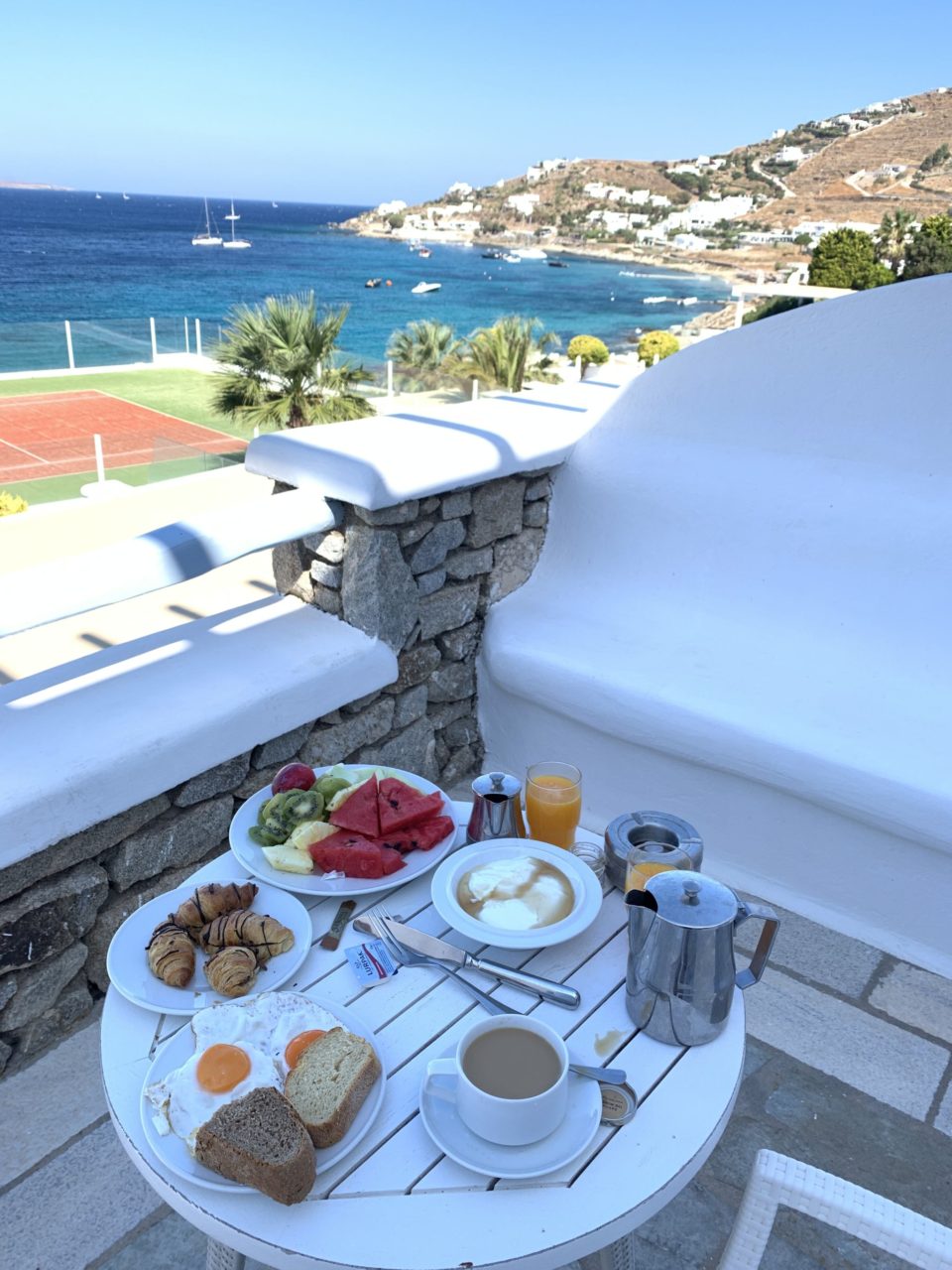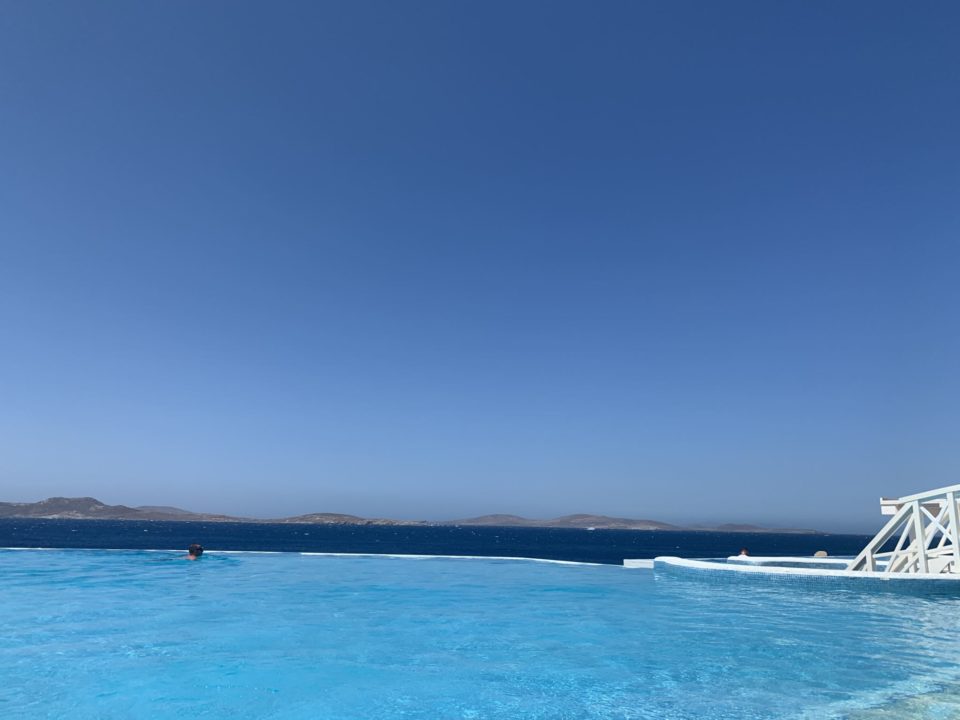 If you want to party and be in the center of Mykonos where you can also easily access transportation, stay in Mykonos Town. If you want a more quiet vibe, then there are tons of beach areas you can stay in. I stayed by Ornos Beach, which was super nice. My hotel would have been perfect if I was there with a partner, since it was super sexy/romantic.
Here are some other options that I hear are great:
Airbnb (most affordable, especially if you're a group, stay in Mykonos Town)
Cavo Tagoo is an Instagrammer's dream, expensive and they book out months in advance, but it's pretty sick
Paradise Beach is for the 20-somethings if you're into that kind of scene
For super budget-friendly spots, there are hostels all over the place
Mykonos Activities
Walk around Mykonos Town
Walk around Little Venice and The Windmills
Eat some street gyro
Rent an ATV
Beach beach beach
Party till the sunrise
Catch amazing sunsets
Mykonos Beach Clubs
Mykonos Restaurants
Any cute spot in Mykonos Town or any of the beach clubs are fantastic
Mykonos Night Clubs/Bars
Day 2: Continued…
Checked into my hotel and hung out by the pool for a little while to get my brain together and plan out what I was doing. It was Sunday and I heard that Scorpios Beach Club was the place to be on Sunday evenings. I also heard that it gets really crowded and can sometimes be difficult to get in. I recommend making reservations in advance if you want to ensure you'll get in, especially if you're with a group of people. OR go early, Scorpios is also open during the day is a beach spot and then you just stay there.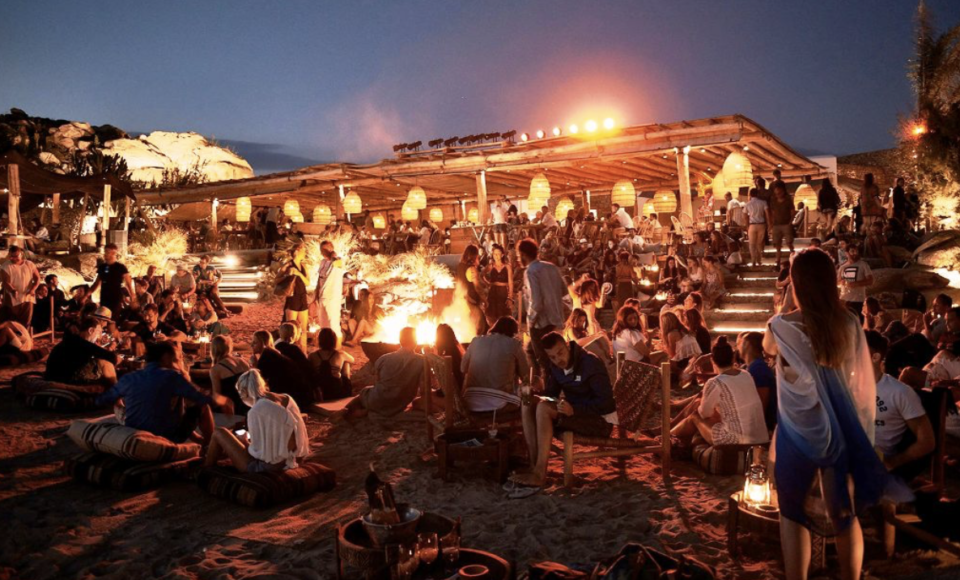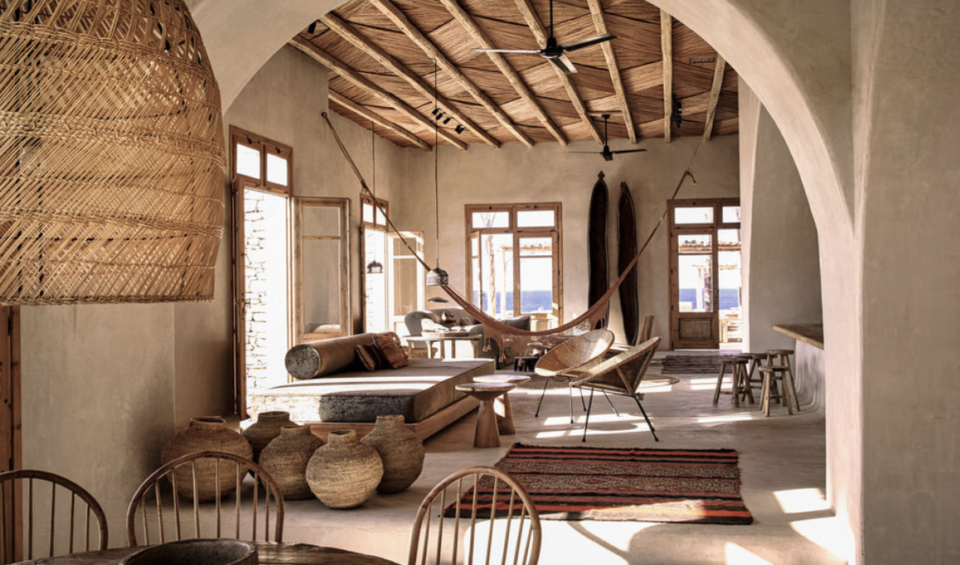 I arrived around 6pm. I was alone, dressed in a hot pink dress, and thought to myself, "I'm def not having an issue getting in." Well, the doorman asked me if I had a reservation. I said no. He said reservation only. Then I said, well I have friends and they are inside. He gave me a "I feel sorry for you" look and then let me in. It was a very humbling experience haha but I was like YASSSSS.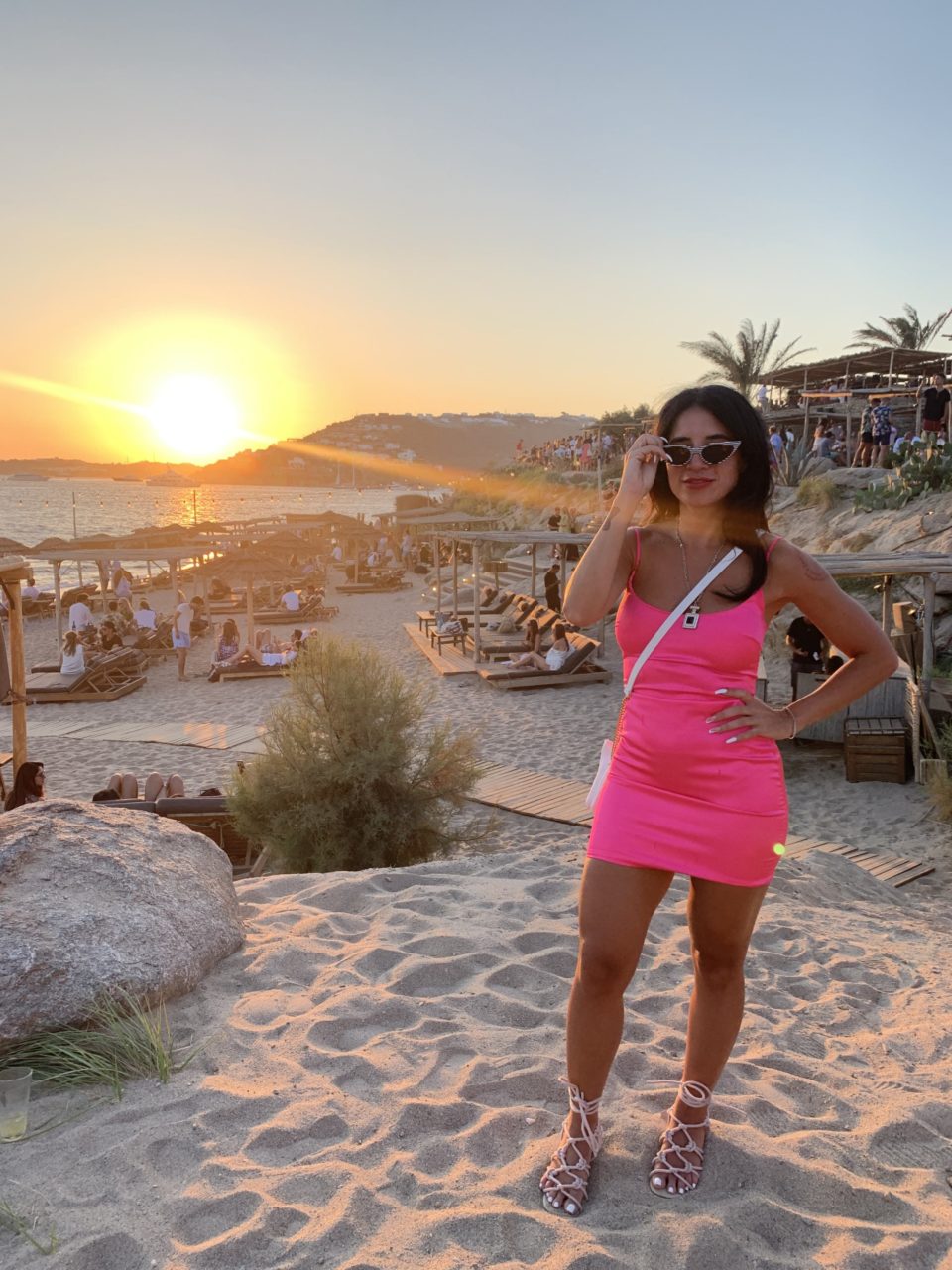 I honestly had no idea what to expect, but when I walked in I understood why the doorman didn't give a fuck about my hot pink dress because literally the most beautiful people everywhere… I dunno if it was the jet lag, or the Greece sun, or the fact that I forgot my eyeglasses in Jersey City, but man the eye candy was WILD.
I had no idea what to expect but this party was like no other party I've ever attended. It was what I imagine Burning Man is for the rich Europeans. Partying on the beach during sunset, listening to deep house music, drinking drinks, and looking at beautiful people.
That's Mykonos, baby!
I could get used to this…but my wallet? Not so much.
Yes, I came alone but I met people there. I ended up hanging out with a group of really nice and attractive Greek dudes who were very respectful. I did my thing, walked around, and danced with some random girls from Italy who didn't speak a word of English. I got lost in the evening and forgot what time it was. I felt safe, not for one second did I feel in danger. Everyone was there to have fun. Guys didn't try to grab me or anything like that. It was all love. The fear of being alone at a sick party was gone.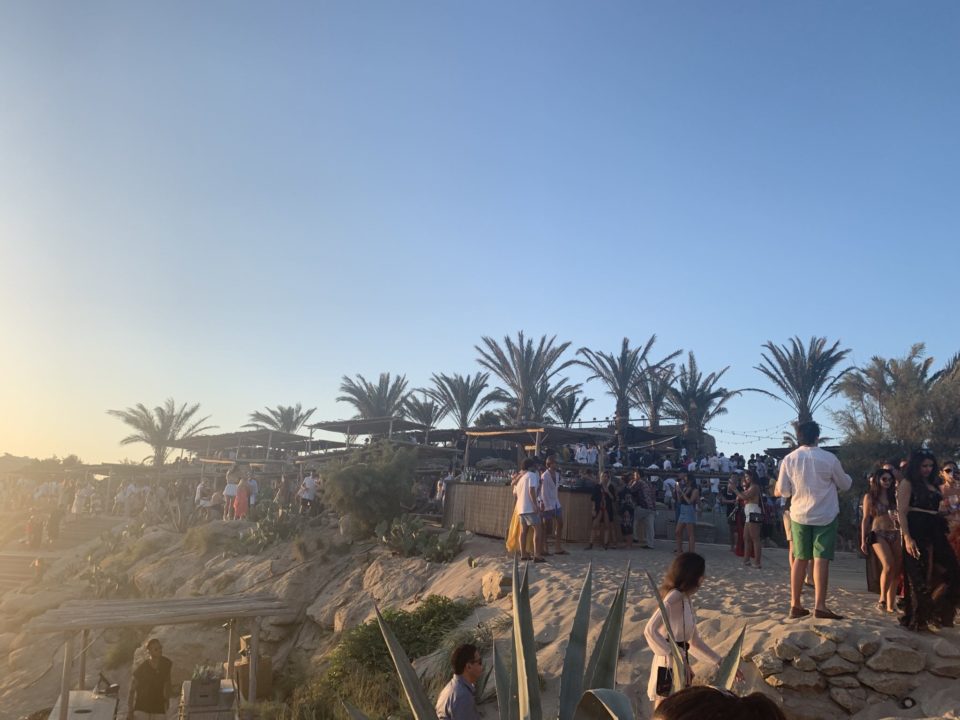 But the bathroom lines? Nuts! I waited for about 30 minutes to use the restroom. It was brutal. But made some friends so it was fine, and there are worst things in life.
I stayed till about 1am and then went back to my hotel. But this is when people just get started. Everyone I spoke to was going to Mykonos Town for after-parties (see list above). But yeah, I had enough for day 1.
Day 3: Mykonos
So, here is when things get a little fuzzy. While writing this, I literally had to go back to my iPhone pics to see what I did the next day. Mykonos is another dimension.
I wanted to spend the day at a sexy beach and live in denial that sexy = expensive AF, but I digress. Nammos is LUXE. I arrived there early as people told me it's hard to get a sun bed the later you go. The fee to rent a sun bed for the day is 100 euros. Gasping.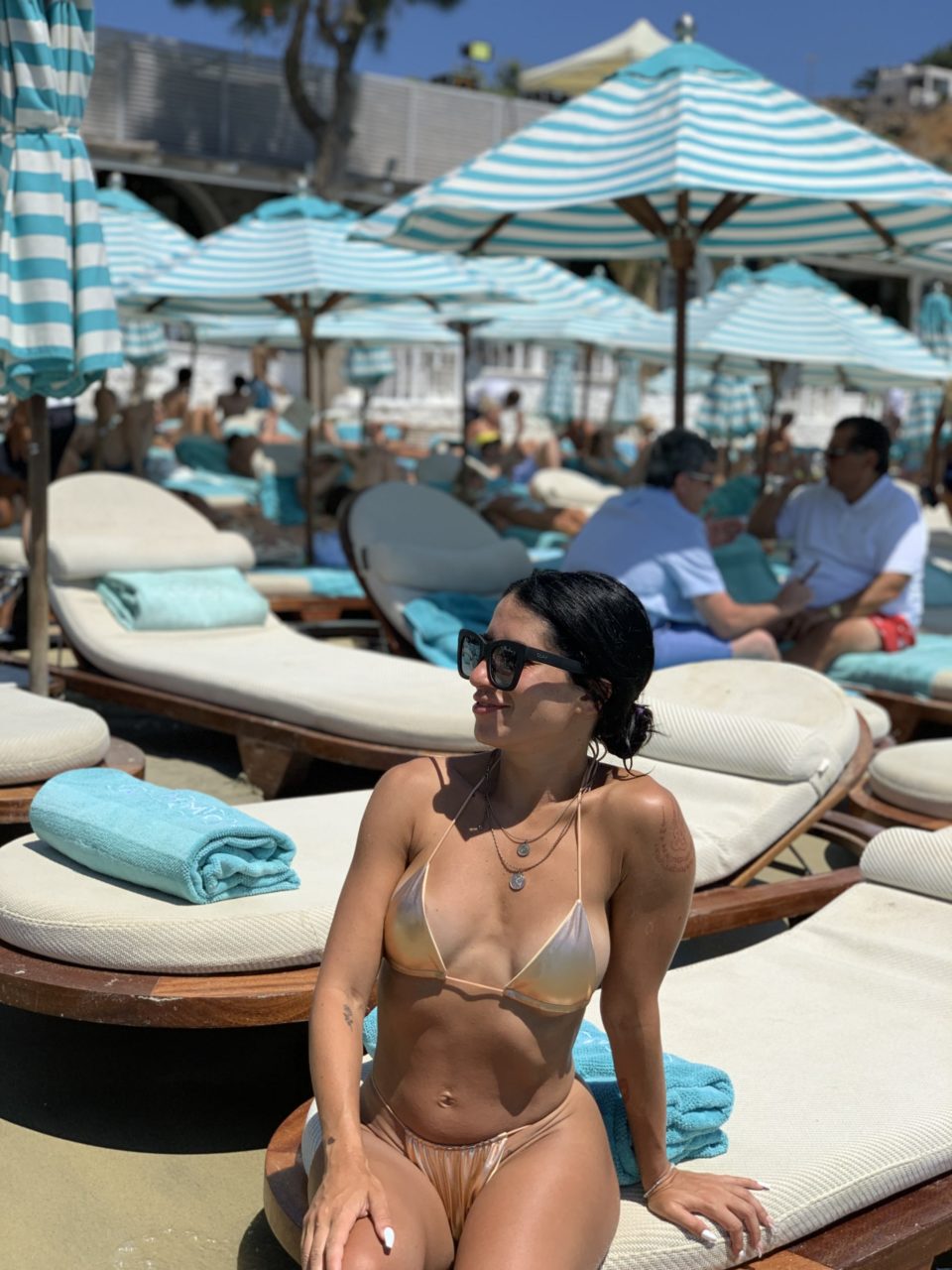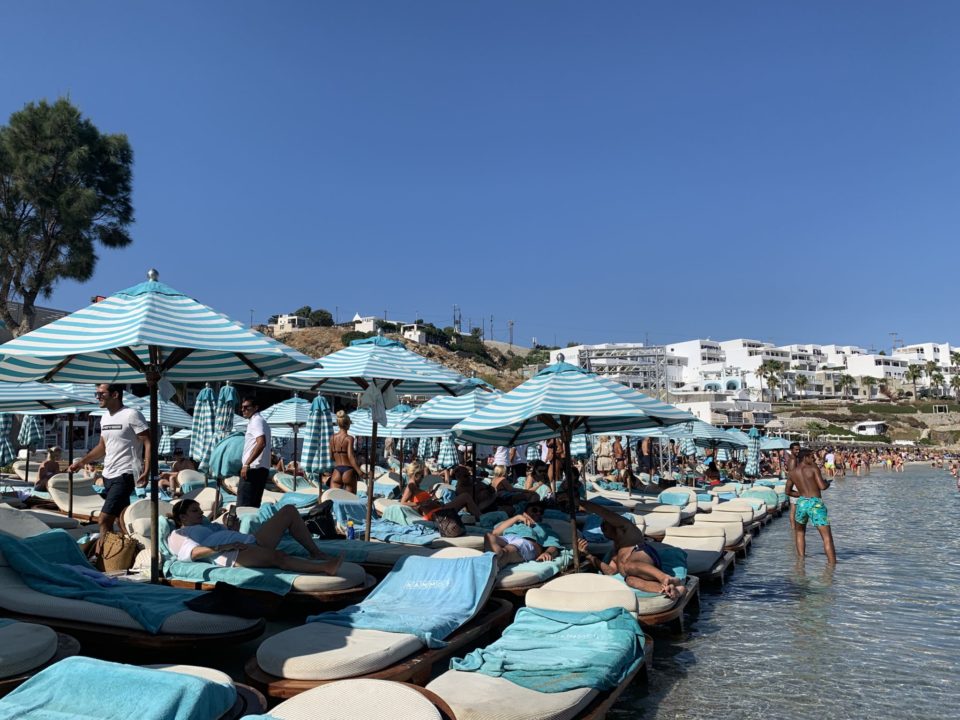 I said to myself, "I am a Hadid sister today."
Insta-famous artist Alec Monopoly had a big installation and art show there, so there was a lot of hype around this place. I hear there are always celebrity sightings at this beach club. But if this kind of shit isn't your thing, I provided a list of many other fun options for beach clubs.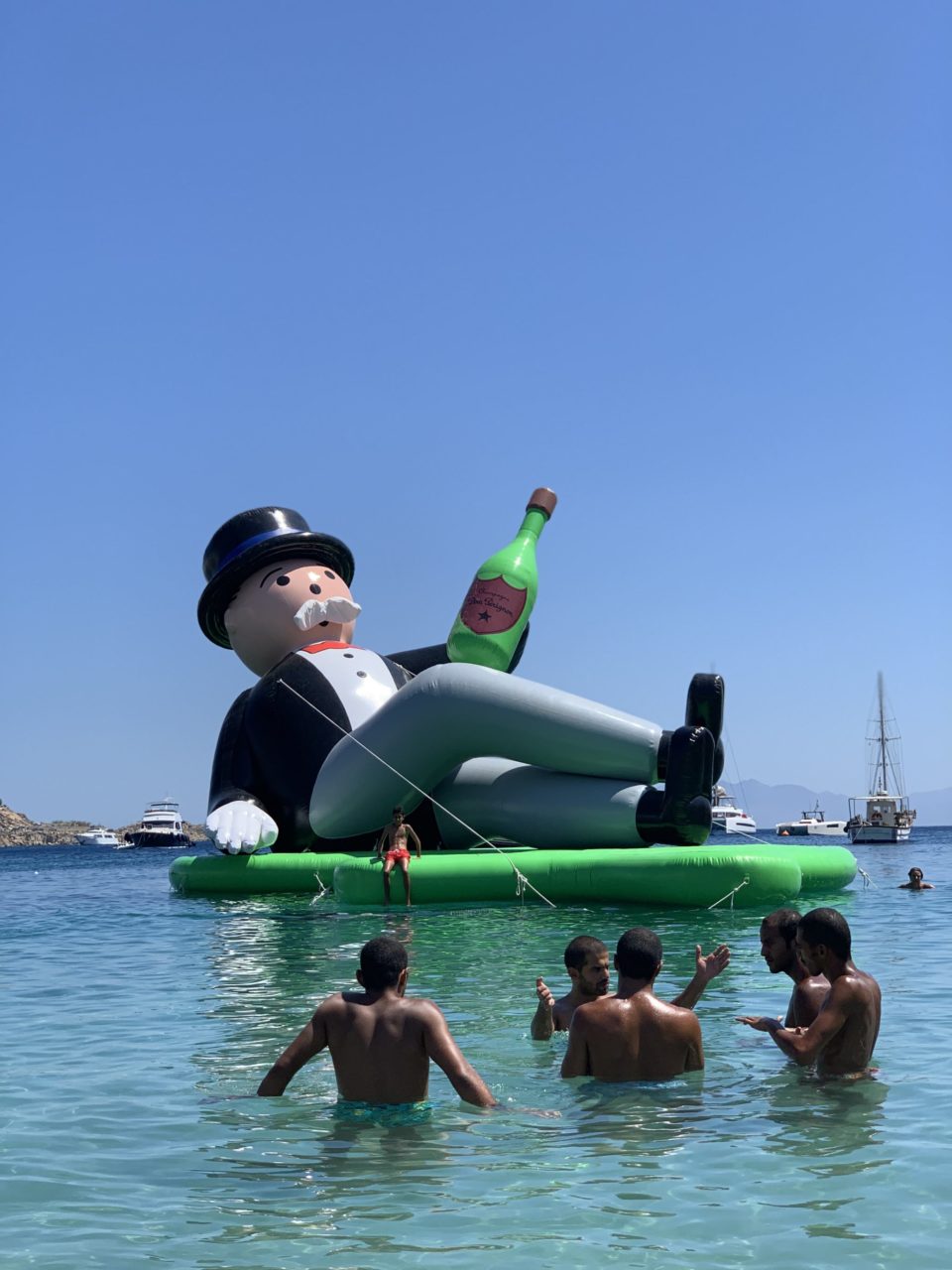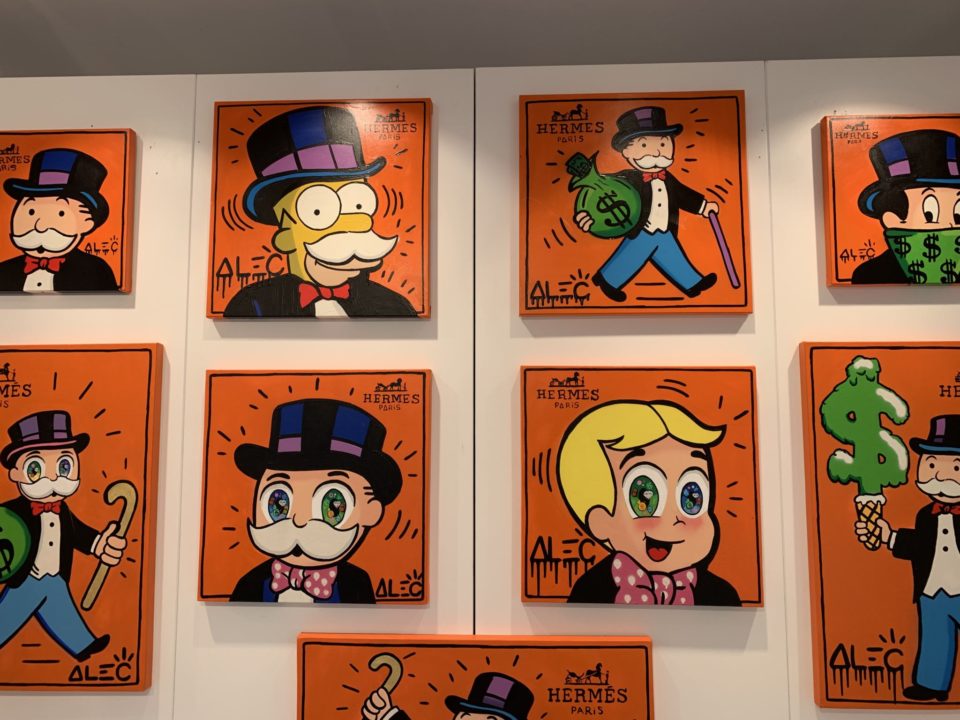 I did enjoy my day. I ordered bottle of white wine for the whole day, which was about 90 euros, and it came with a charcuterie board and a stunning waitress that took amazing care of me. Her assistant, a 22 year old cute Albanian guy, kept saying how beautiful I am and refilling my glass of wine. Dunno if that's part of their service or what, but I was pretty happy with my day TBH.
I didn't want to leave. It was pretty chill during the day and then at around 5pm, the DJ starts playing louder music and people start dancing and here we go again.
I had enough white wine and sun, so I decided to call it a day and head back to my hotel to shower and change.
Then what? I napped. To survive Mykonos you need to take power naps. It's a must.
I woke up, showered, got dressed, and headed into Mykonos Town to explore. I got lost in the tiny streets and little shops. I am not even sure how long I was walking around for. I stopped at a tavern and ate a yummy Greek salad.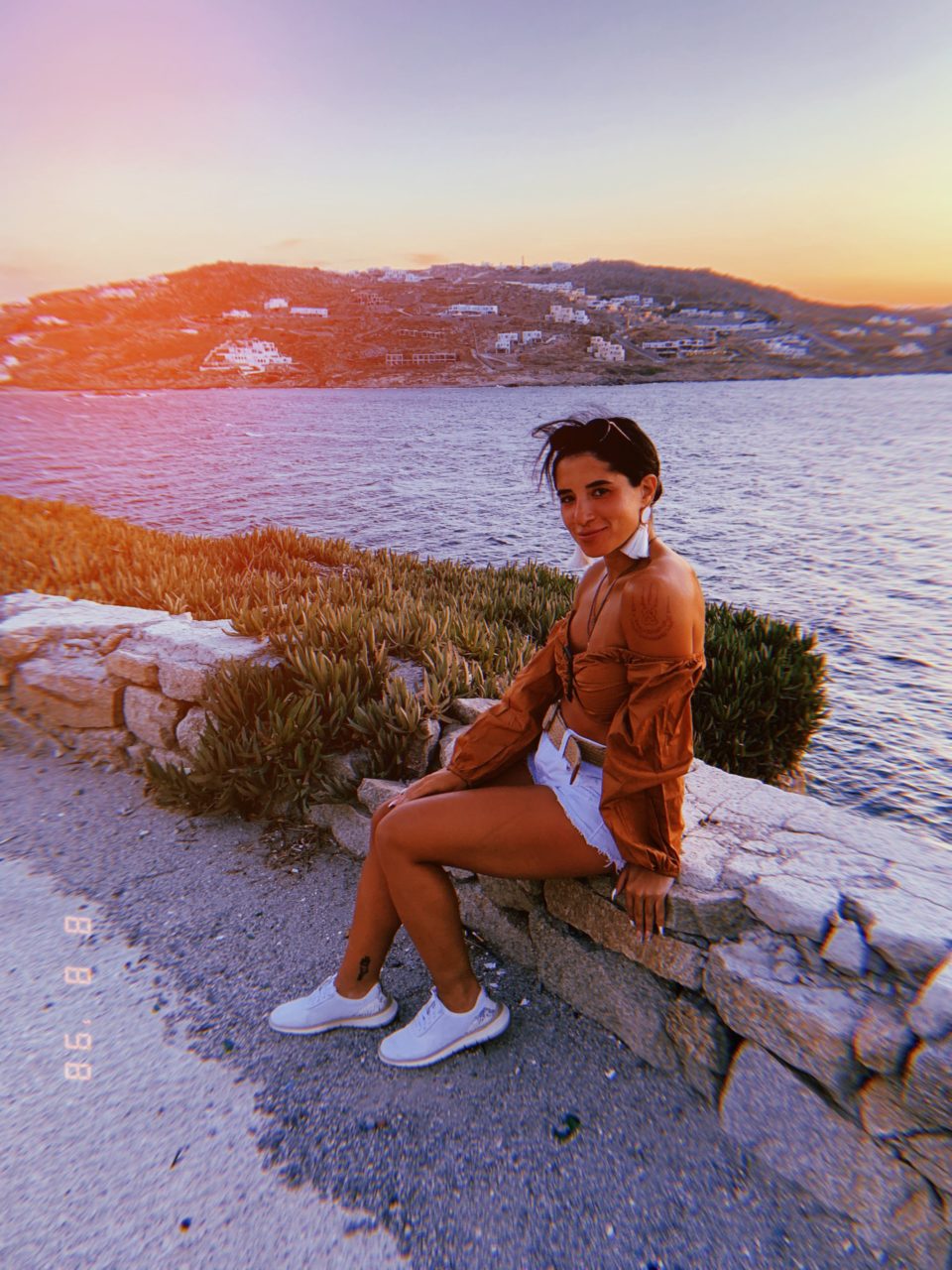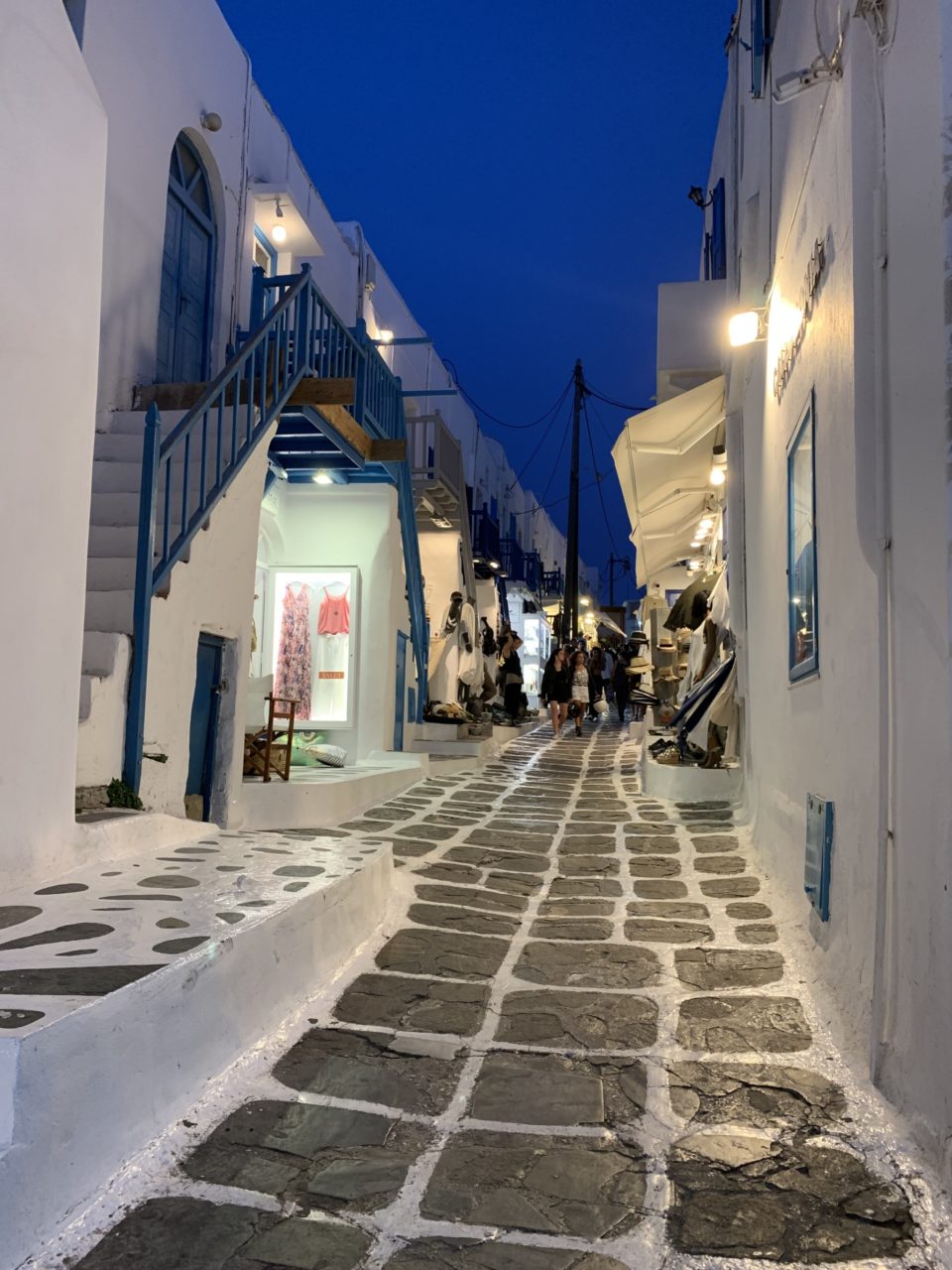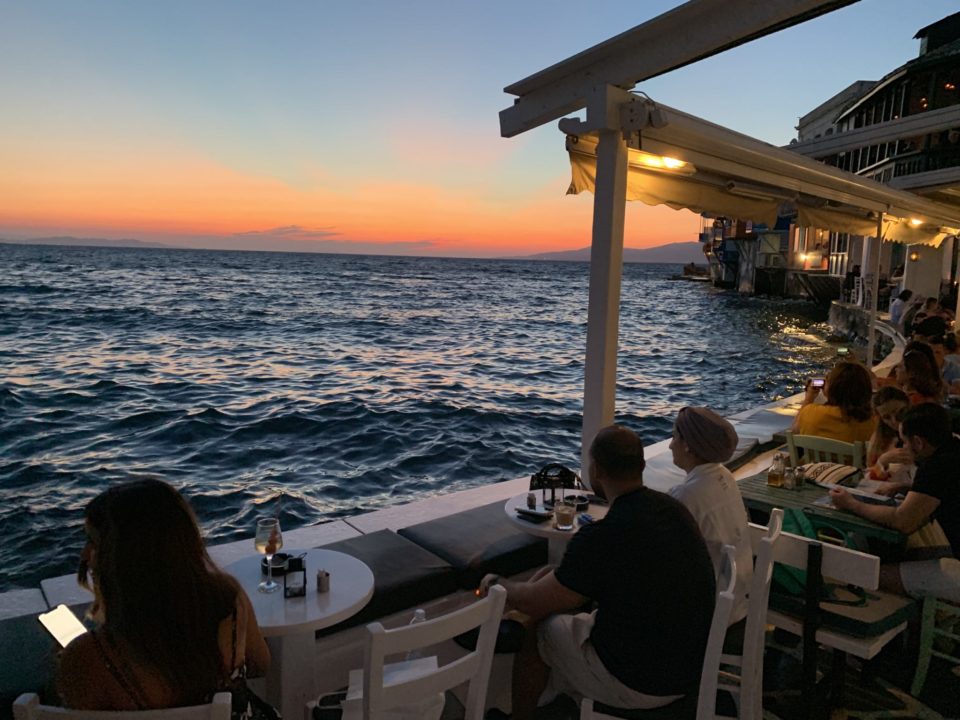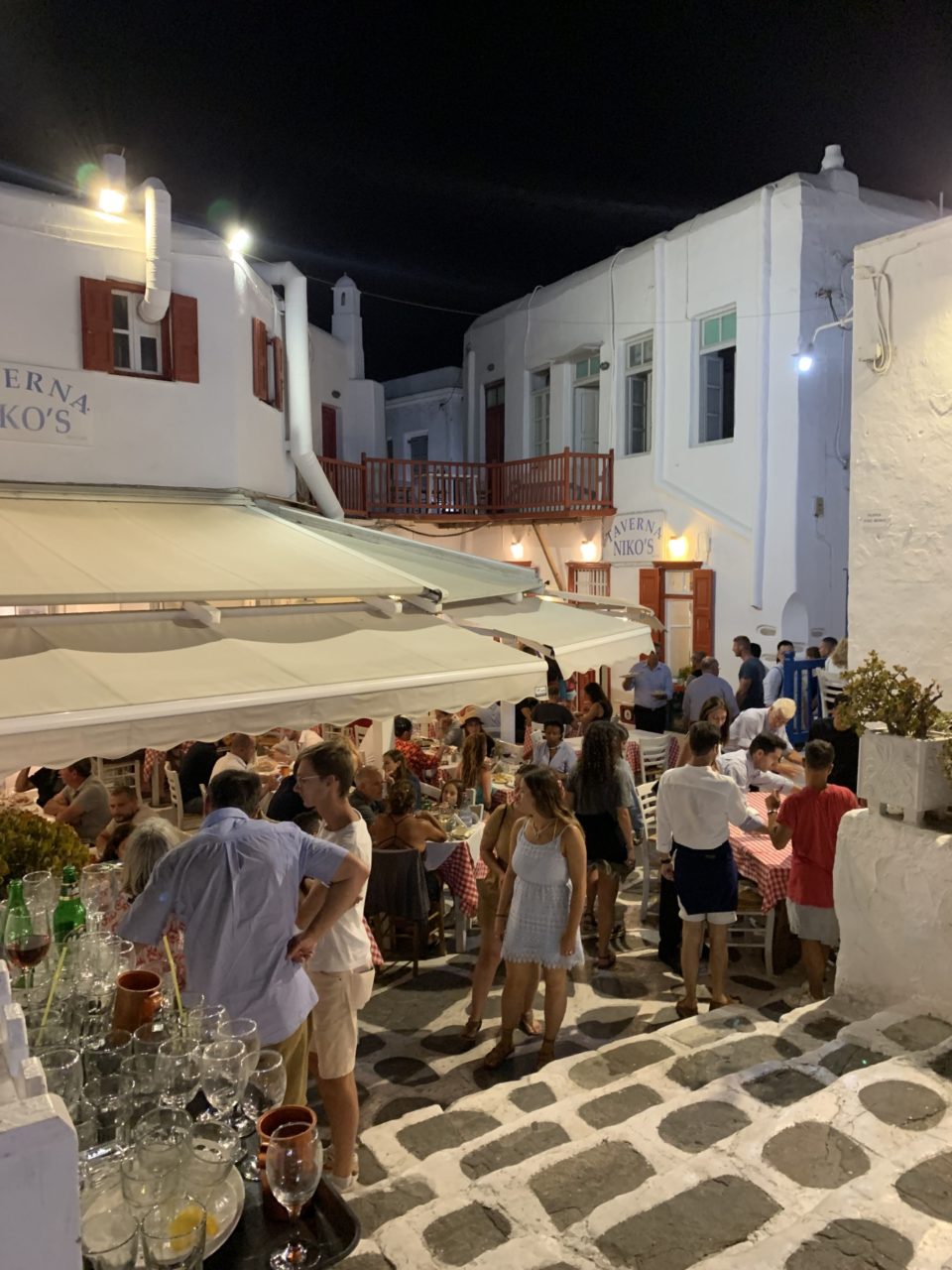 BFF Anatalie David (owner of The Hair Room) messaged me and told me she had friends in Mykonos as well, so I reached out and ended up meeting them for drinks. We meshed right away and quickly realized how crazy we all are… it was going to be a great night!
We ended up going to two bars in Mykonos Town, which were recommended to me by a few people: Bonbonniere and Astra.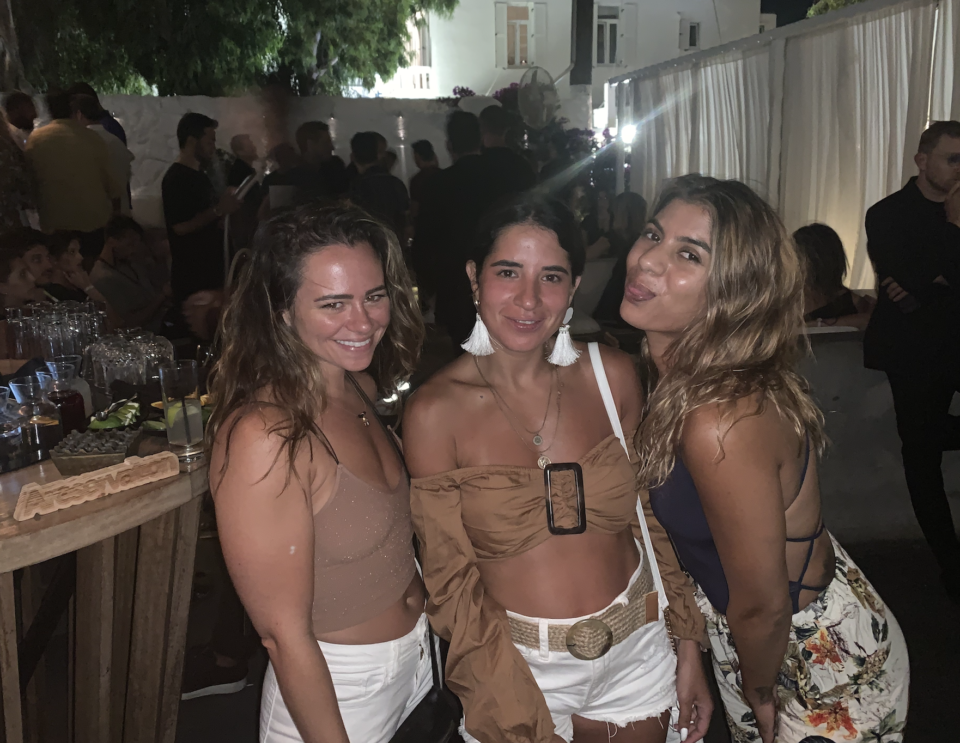 It was hip-hop night at Bonbonniere, and after days of listening to house and techno it was a breath of fresh air so I got my dance on. It was so much fun. Ended up having a dance off with a group of Canadians!
The rest of the night was a blur.
At around 4am!!! Which for me is so late to be out but for Mykonos is prime time, I had enough and left. But here was the issue: getting a ride home!
I called my hotel and said, "Hey, I'm kinda stranded right now. Can you send a taxi?" and the dude said, "We have no drivers at the moment, good luck!" YUP.
Now the thing is Mykonos Town is so crowded with people and tourists that I didn't feel unsafe, but I was tired and wanted to go home and didn't know what to do. I asked a group of tourists and they told me to go to the bus station area and there would be taxis there.
My phone service SUCKED and my GPS wasn't working so I had to figure it out. I was walking around and then I ran into the Canadians! It was the weirdest thing! One of the guys admitted he was on Molly and in a great mood and would help me find a taxi as part of his Molly adventure. When in Mykonos…
He got me to the bus station safe and sound, gave me a big hug, told me that I was a beautiful person, and he disappeared into the night. #truestory
The taxi sensed my desperation to get home and charged me $50 euros (double the normal amount.) Jerk. The funny thing is the later you stay out, the easier it is to get home. So, stay out till sunrise if you can! (only half kidding)
Day 4: Mykonos
Day…? I don't even know at this point.
I decided to go to a more chill beach within walking distance to my hotel where I wouldn't blow all my money: Ornos Beach. It was beautiful and uneventful…a little music, hot people, not too expensive. Worked on my tan, ate some souvlaki, and that was it.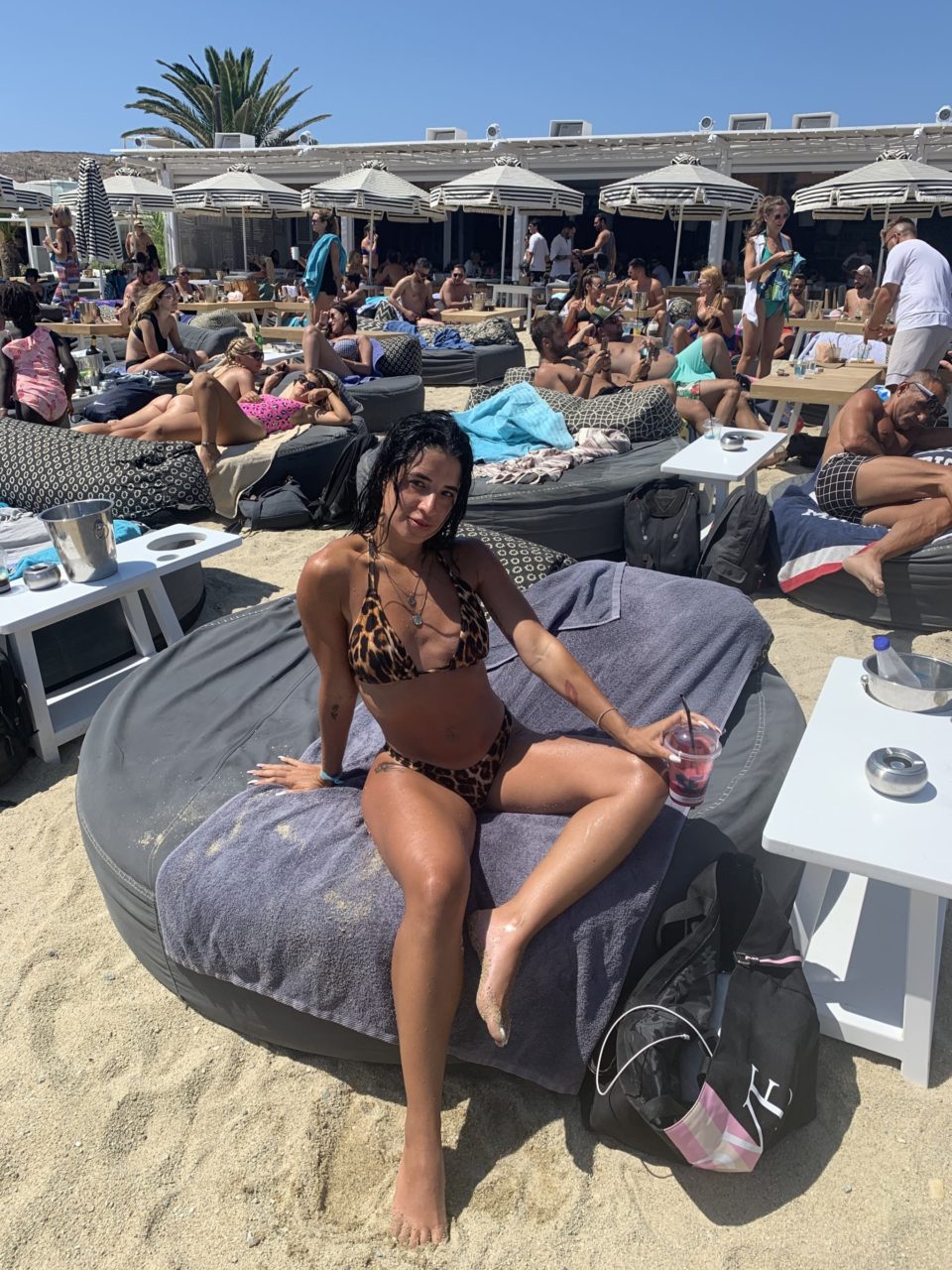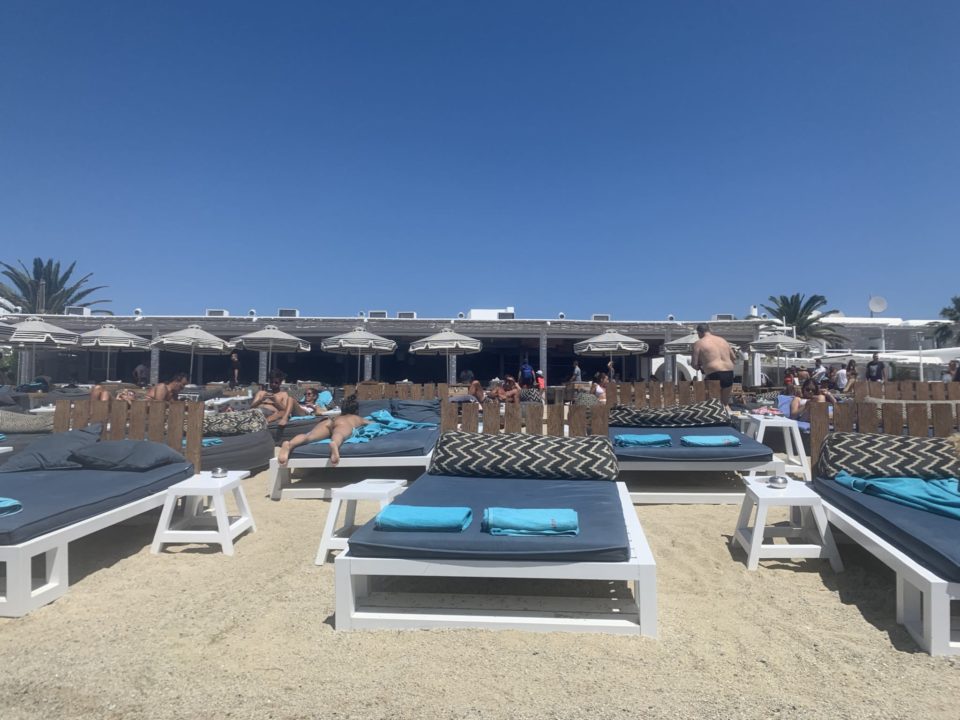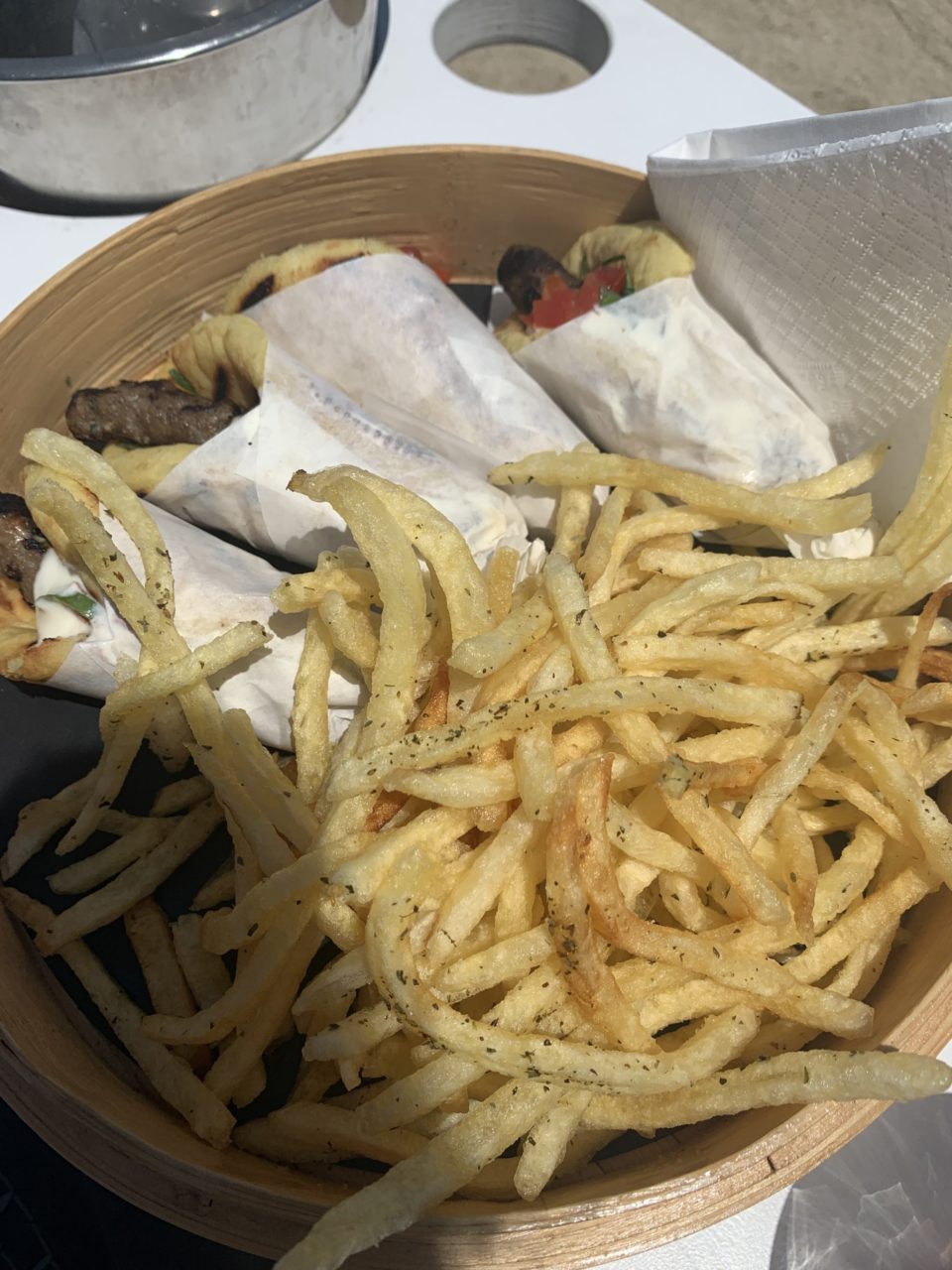 Came back to the hotel, took a nap, got dressed, and went to check out 180 Sunset Bar.
Greece is known for it's EPIC sunsets and I heard 180 was an experience, which it was, but it's also a place that's so Instagrammable, so it is also a place that attracts people who have their phones up their asses. Yes, that is coming from me which is huge.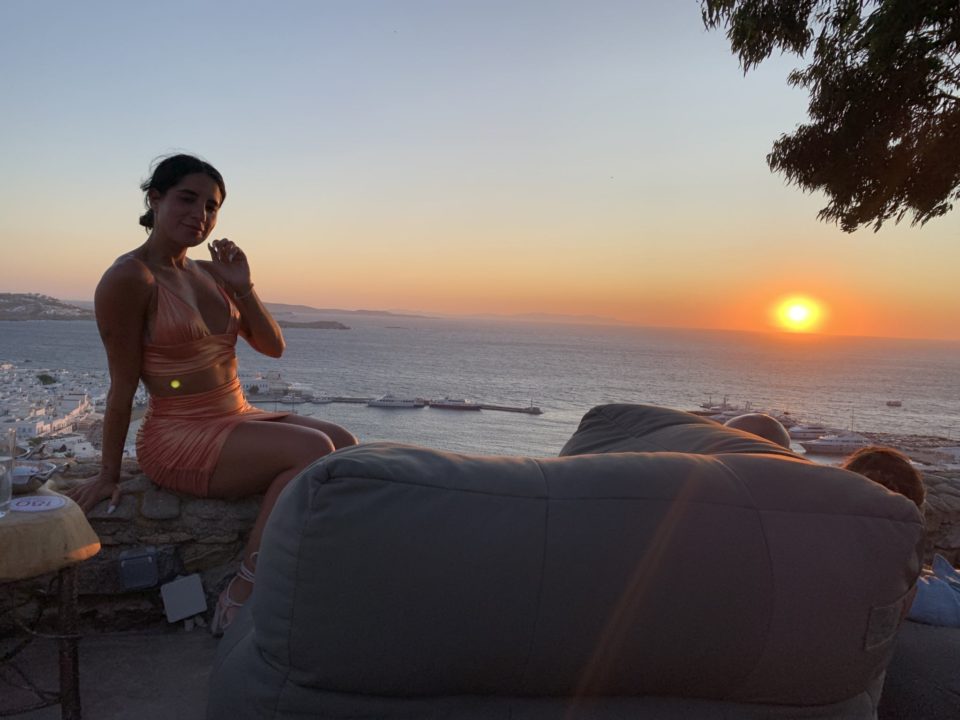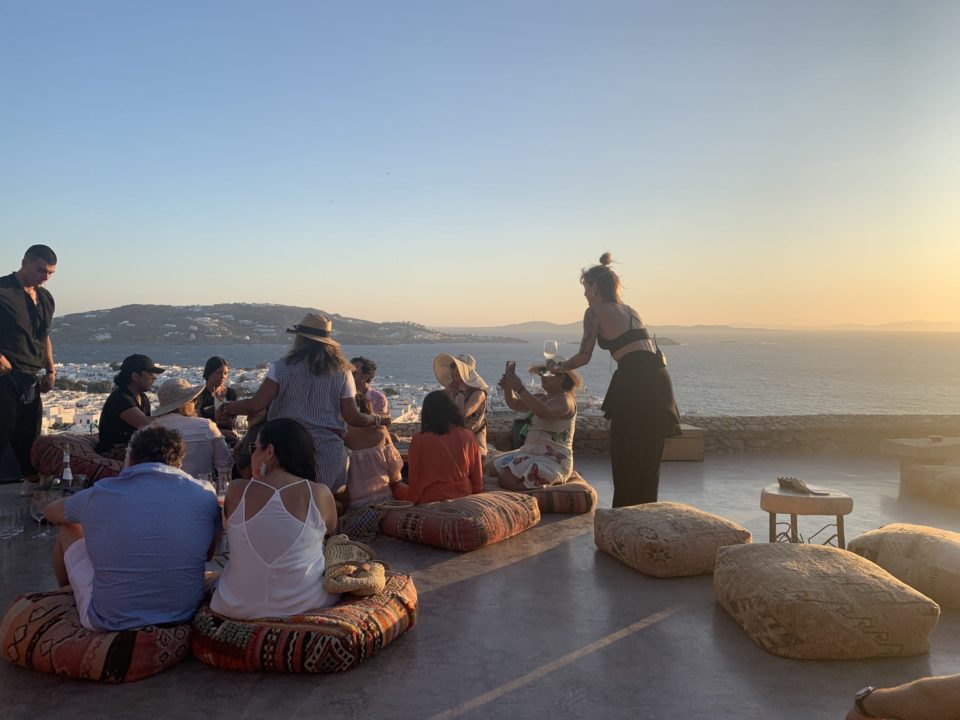 If you don't have a reservation, come early. If you want a table, you will have to pay a minimum. My new New York friends came to join me and we had a blast drinking and enjoying the views. It was amazing. Everyone clapped once the sun set, and the background music was a little intense to add to the moment, I'm not gonna lie. There was def a tear on my cheek (or maybe it was just the drinks taking effect.)
We walked to Mykonos Town and decided to get some food. We went to a fast food Souvlaki spot and ordered a mixed grill for two.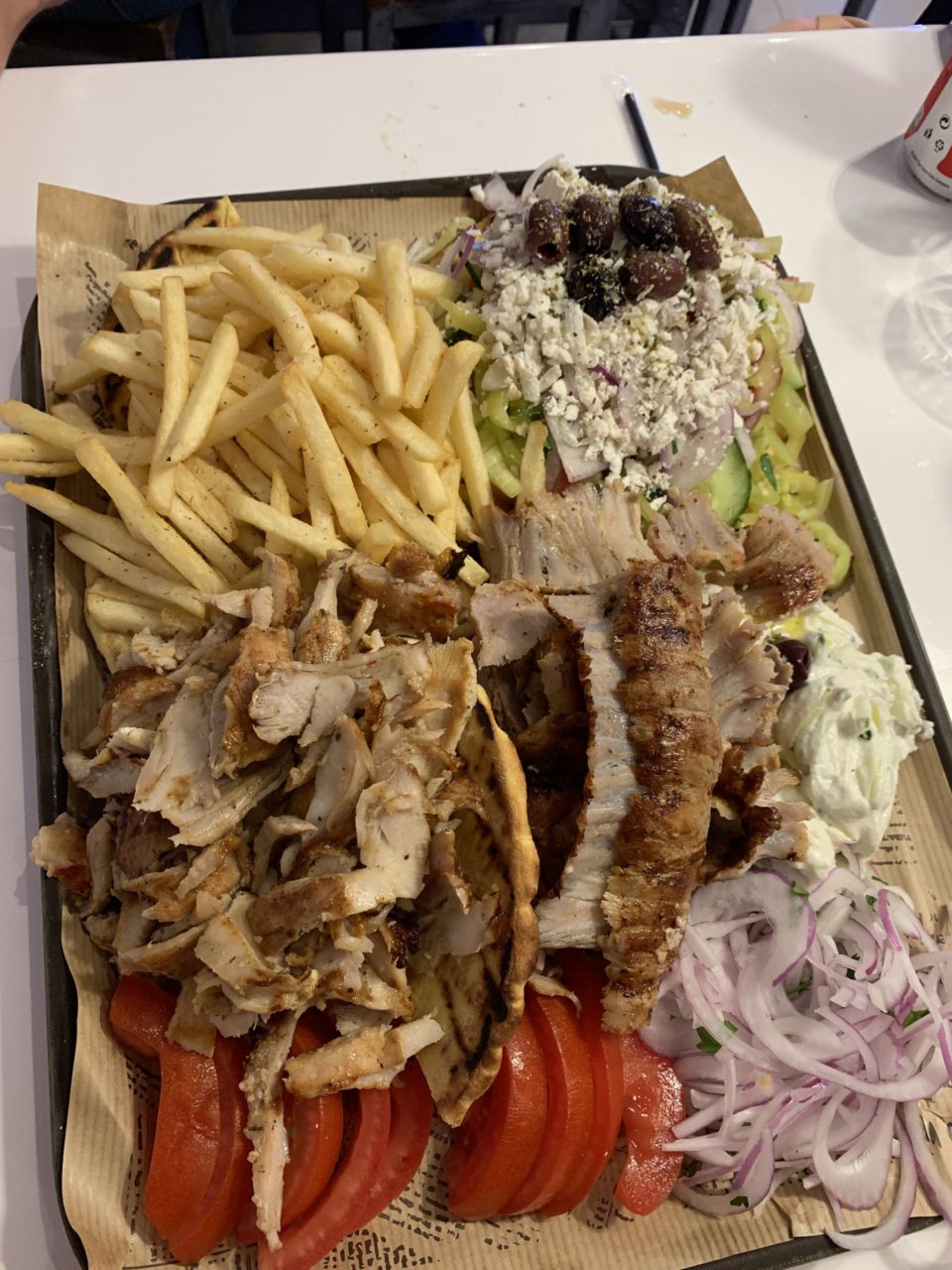 It was INTENSE. So delicious, but after a meal like that you cant move.
I had the itis and honestly was so burned out from partying that I opted to go home. I'm a huge wuss. I def could have chugged a coffee and rallied, but I went back to my room instead.
Day 5: Last Day in Mykonos
I figured since I was paying so much for this hotel, I should enjoy it on my last day. Hung out by the infinity pool, ate some food, took a nap, and got ready for my last night of shenanigans.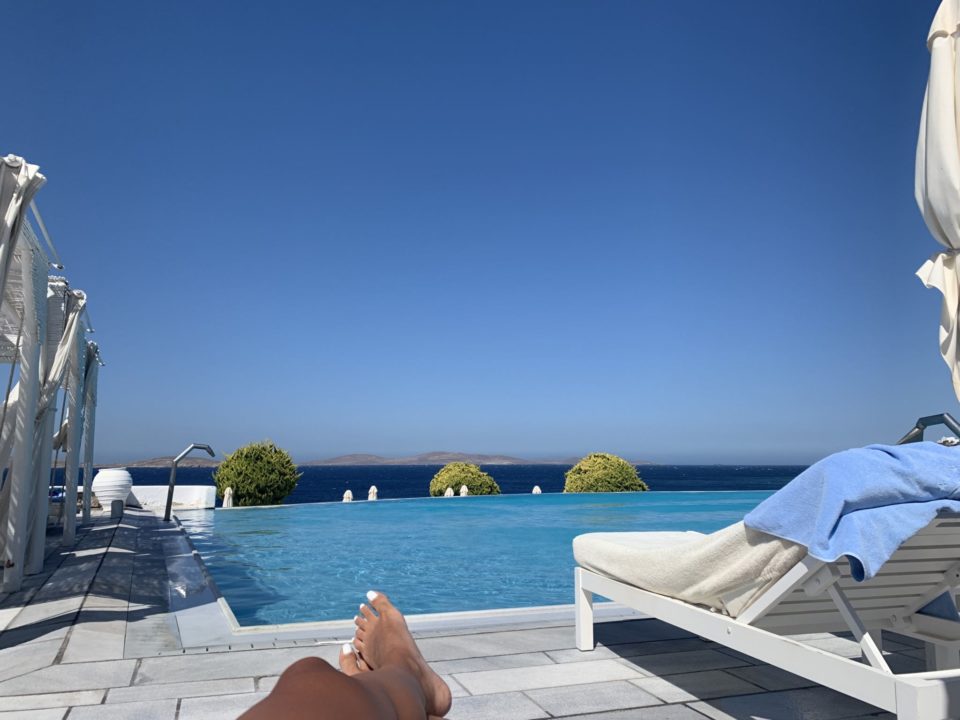 Similar to Scorpios, Alemagou is a beach club, restaurant, and party spot. It was Wednesday and I knew there was a party there so I decided to go. I got there early and asked for a seat at the bar to grab a bite to eat. You need a reservation here for sure. It gets CRAZY crowded. Like thousands of people.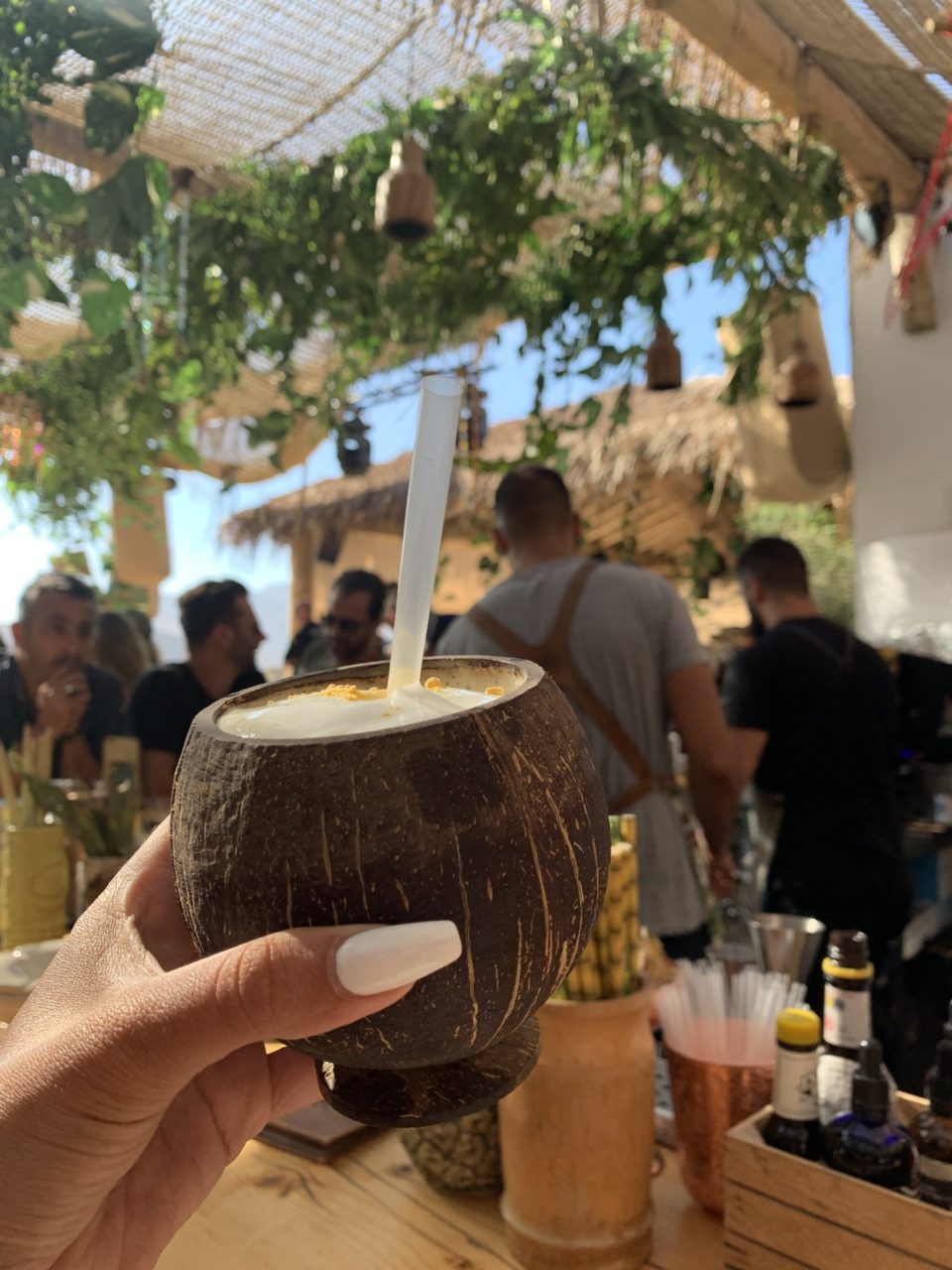 I thought Scorpios was wild, but this was the cherry on the cake. I had fun. That's all you need to know. TOO MUCH FUN. OH, MAN I WANT TO GO BACK LIKE RN!
Again, even though I was alone, I met people, walked around, met more people, and before you know it, it was time to go home again.
ALSO, WHY ARE PEOPLE SO HOT HERE?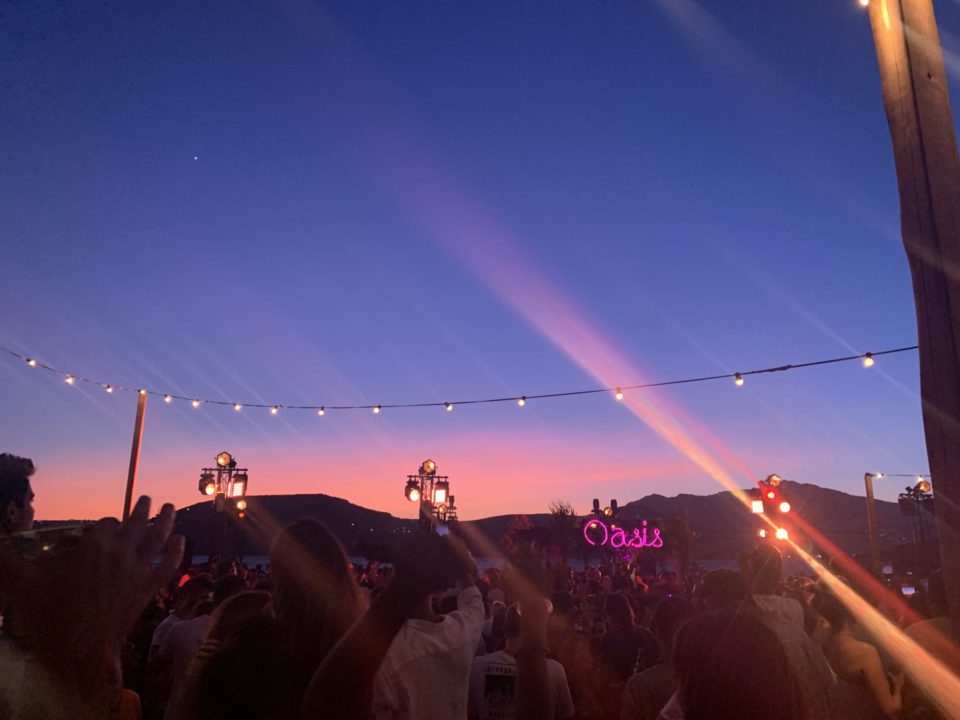 Was it easy to get back to my hotel? No. Took forever.
I love you Mykonos, but get your shit together.
Also this is what I wore… I would never dress like this in Jersey City or anywhere in the U.S. I got some attention for it, no lie, but not once did I feel un-safe.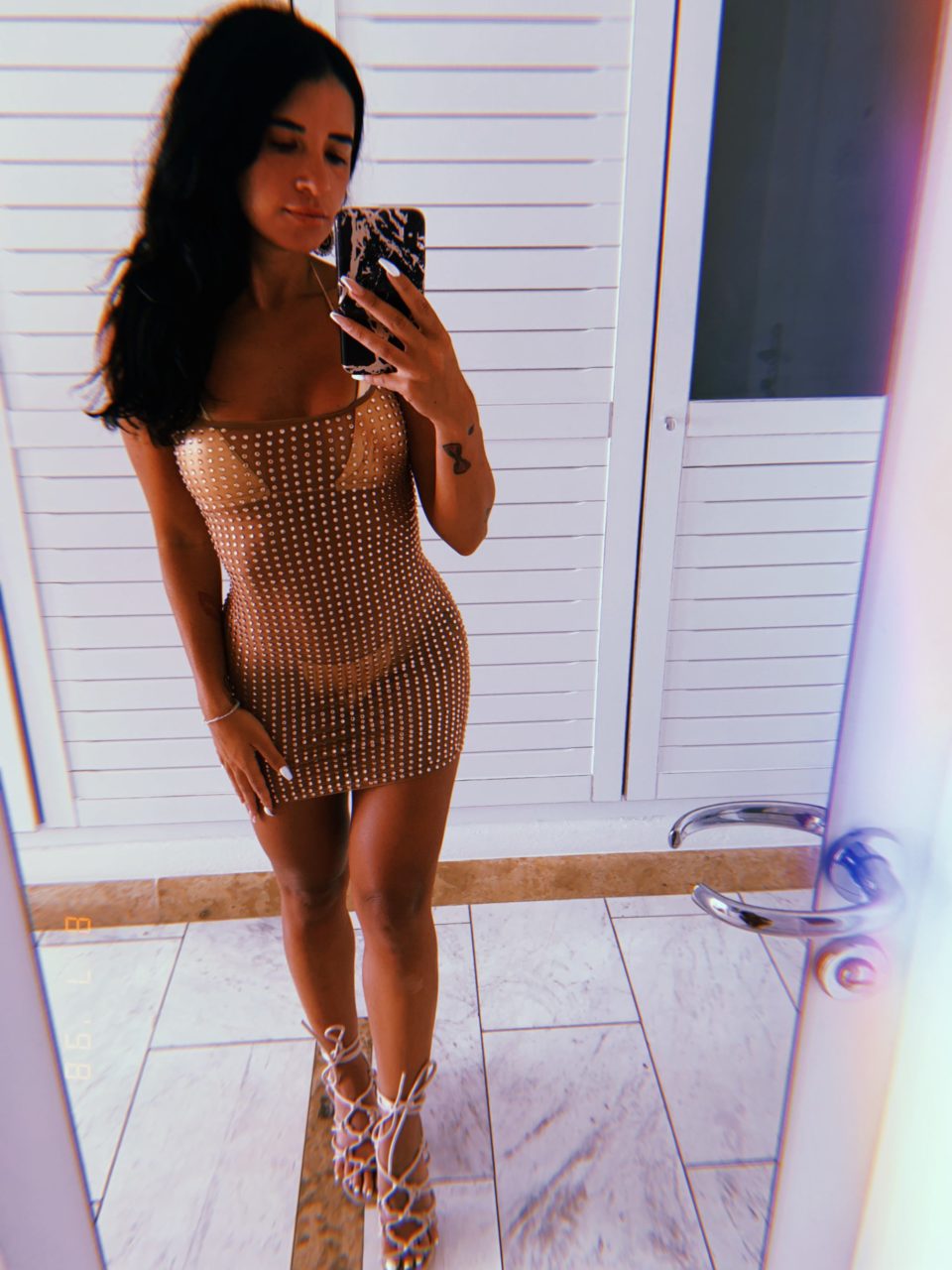 Day 6: Paros
Part of me wanted to stay in Mykonos and continue partying (because that shit will suck you in), but it was time to explore more of Greece.
I took the ferry from Mykonos Port to Paros. The port is a total shit show, very disorganized, you don't know where everything is, no clear signs, etc. So get there early, ask multiple people. Make sure you're in the right spot.
The ferry itself was a breeze – not so much for my hangover – but it went by quickly. I arrived in Paros and was picked up by my hotel taxi.
I stayed at the Akotiri Hotel, a boutique hotel with only around 30 rooms. (Super affordable too!)  I was greeted by the owner, and she was like "Hi, you must be Lynn. Staying with us for 1 night? How can I help you plan your trip?" Talk about customer service!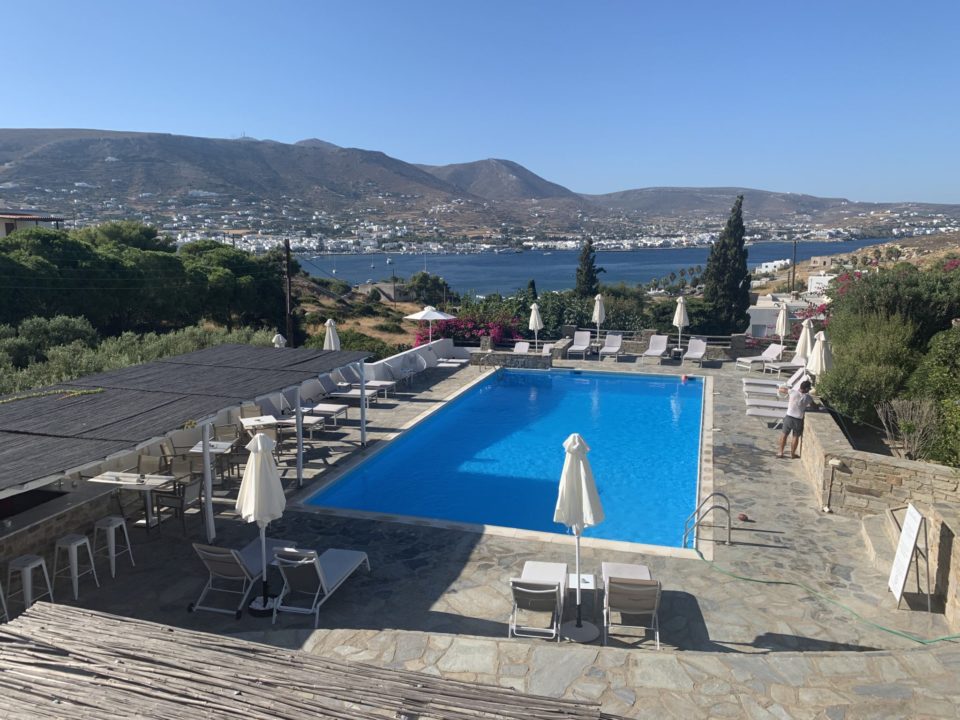 I told her I wanted to see as much as I could in the 24 hours I was going to be on the island. She took out a map and gave me the lay of the land. I quickly realized that Paros was not really a place you just say for a day… you can stay here for days. It's very very chill and the perfect break from sin island.
For starters, she set me up with a taxi service to take me to the beach.
Christos (my new friend and taxi guy) happens to know a lot about the island and actually is passionate about planning itineraries for tourists. Well, look at that! #jackpot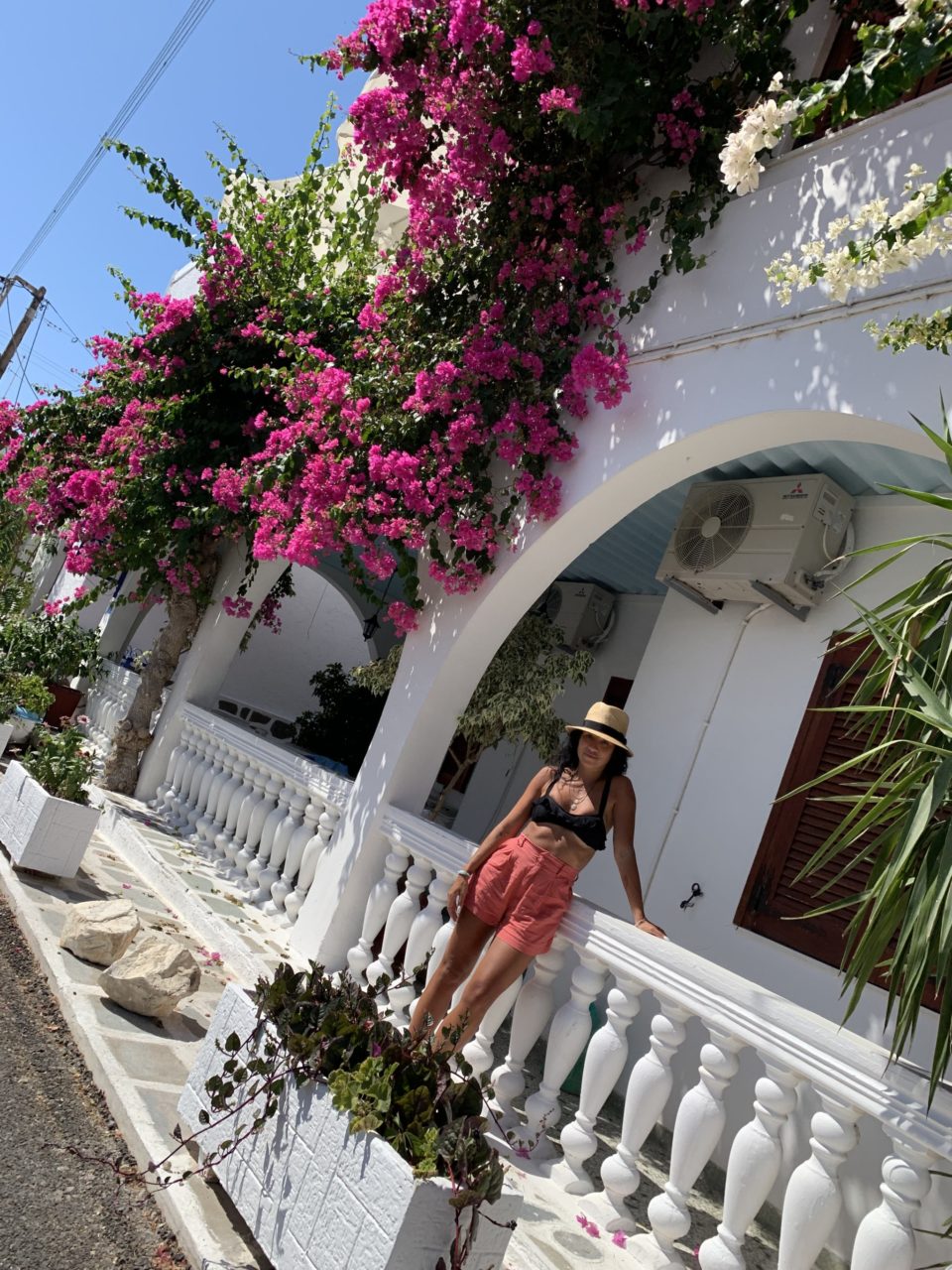 He had a whole plan for me! I basically did almost everything on the list below in 24 hours (minus the watersports.)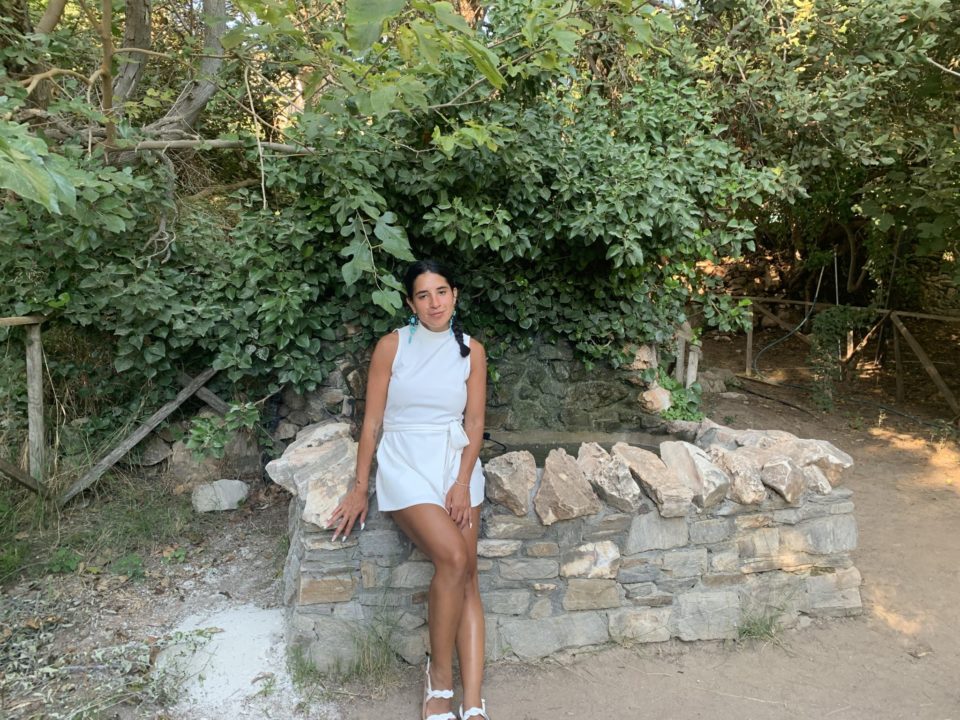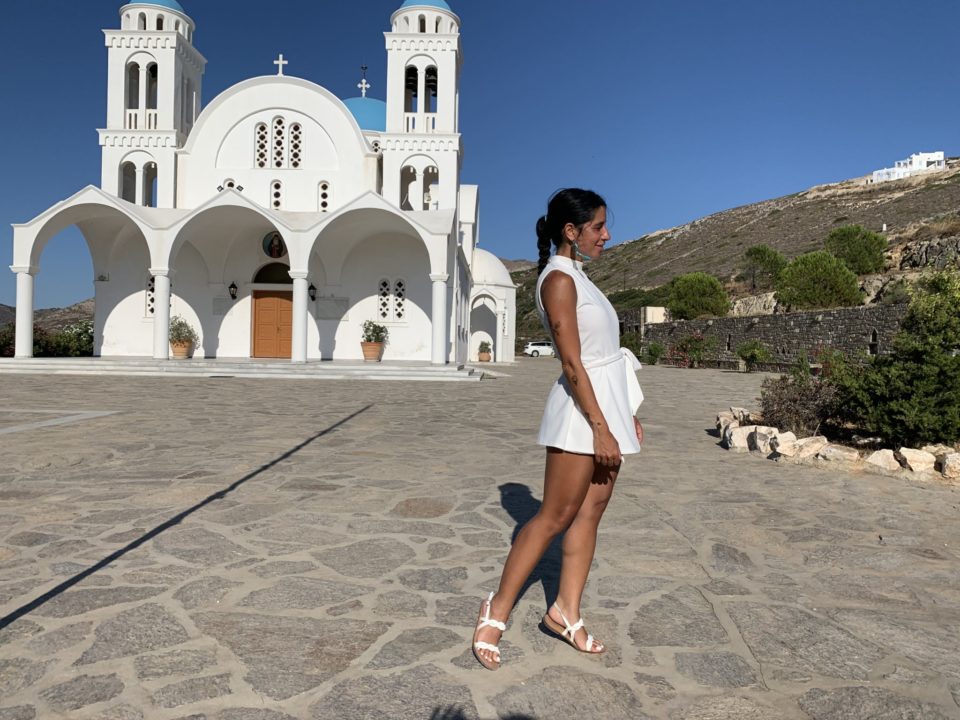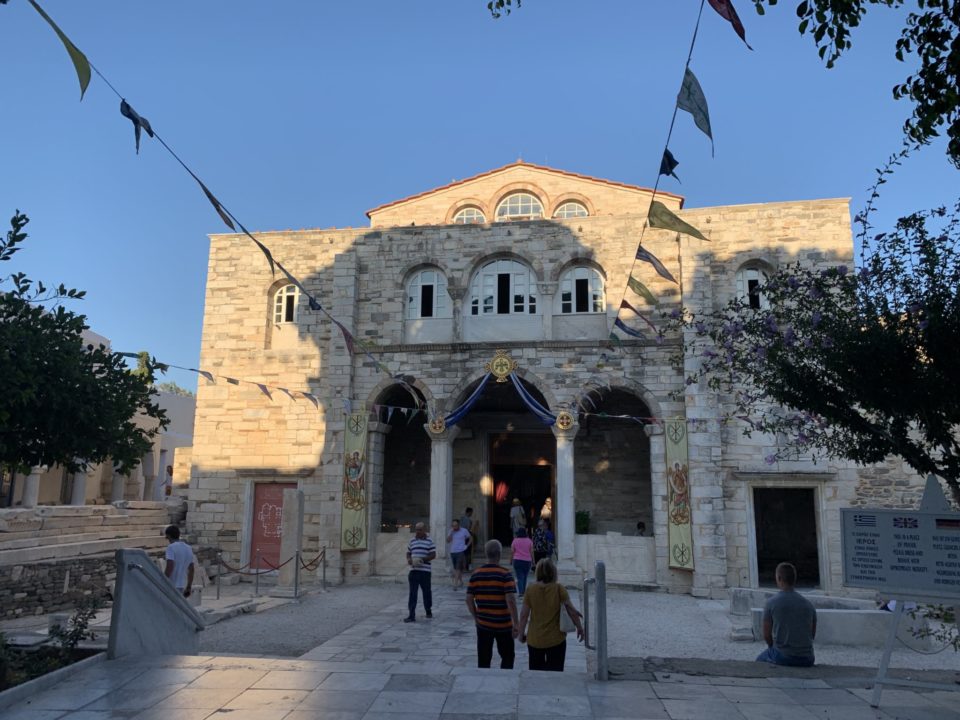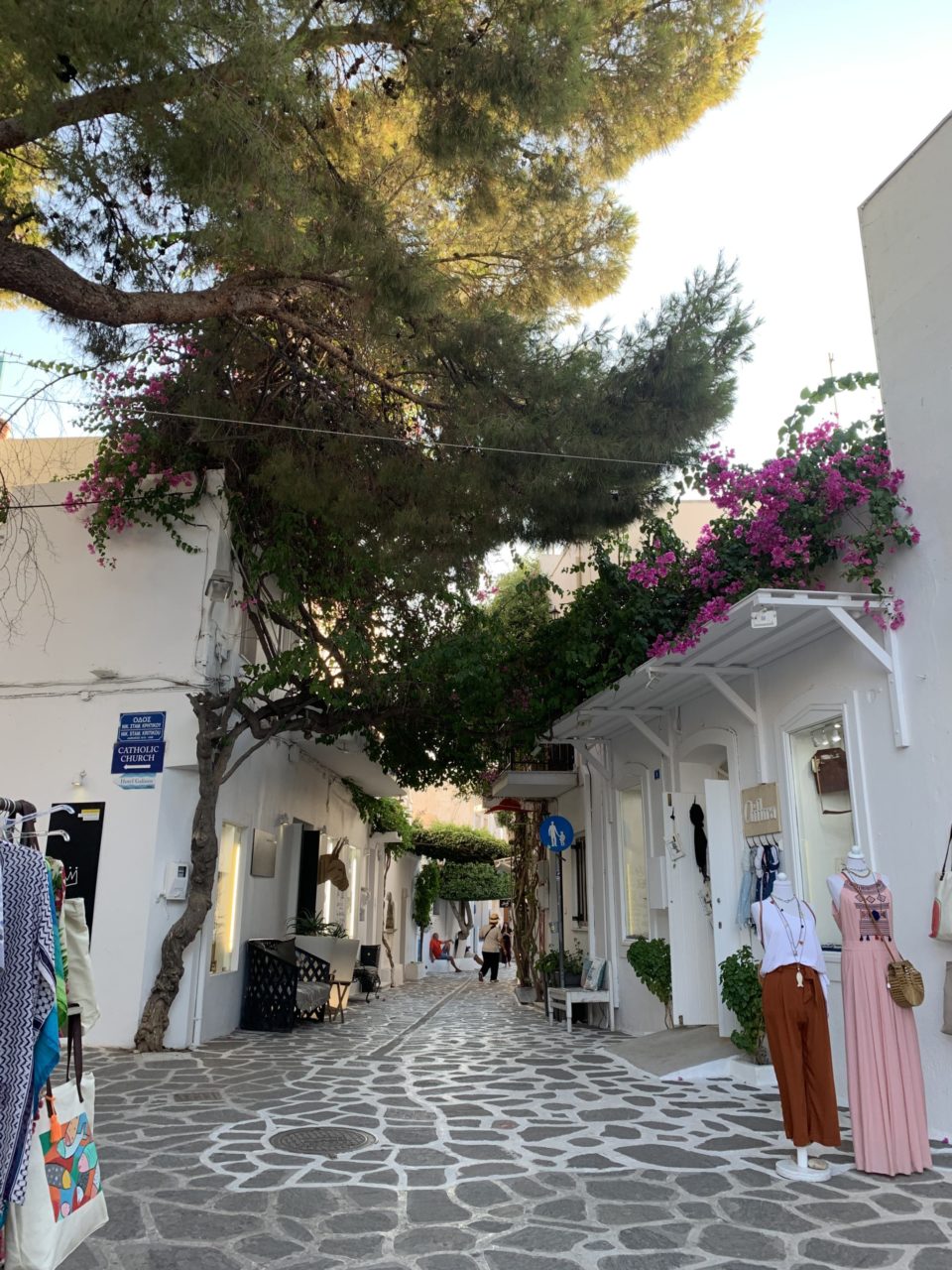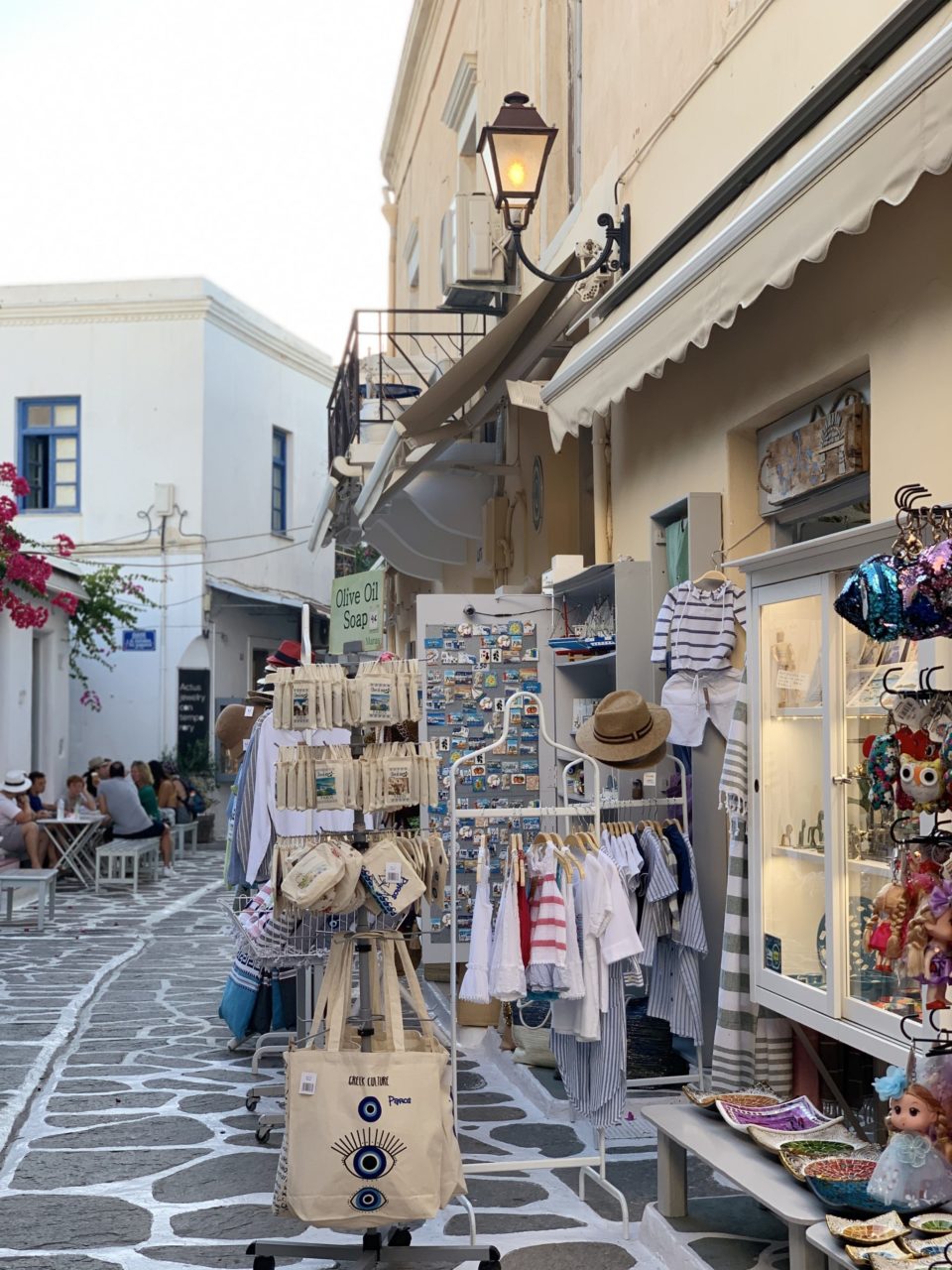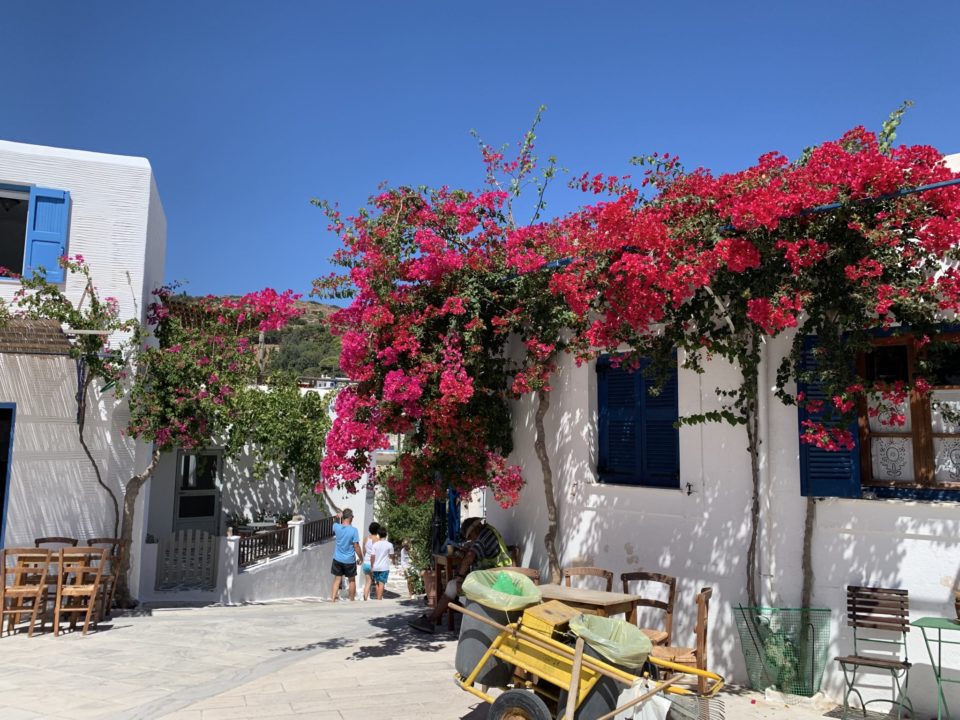 Top things to do in Paros
Santa Maria Beach
Watch the sunset from Bebop rooftop bar
Walk around Lefkes
Walk around the port
Visit the Church of 100 Doors
Party in Naoussa
Do some watersports in Golden Beach
Kolombithres Beach
Butterfly Valley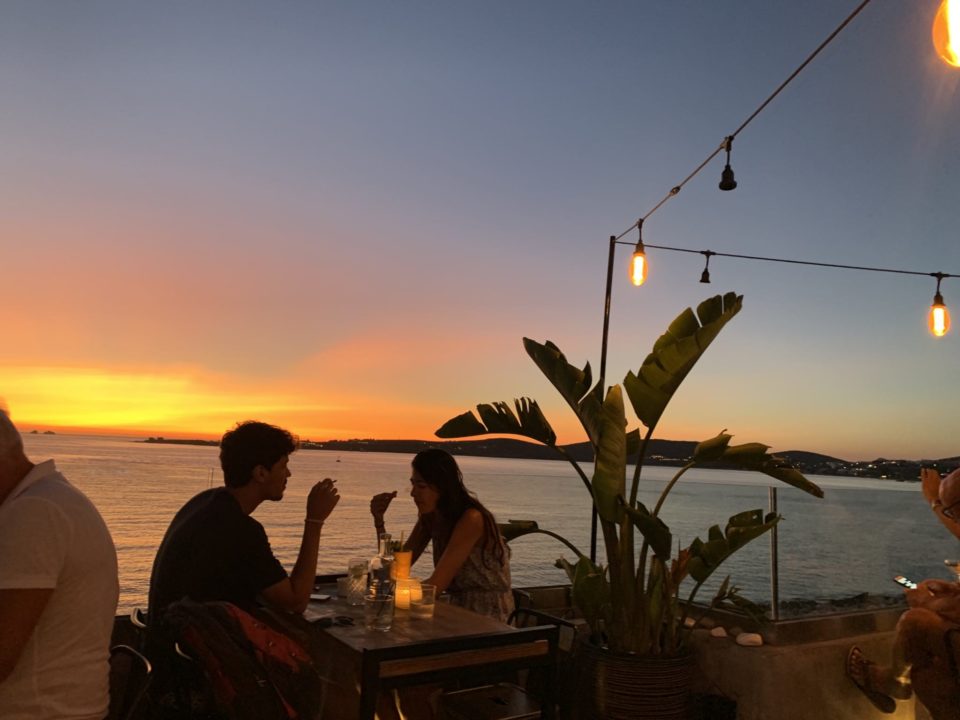 Day 7: Santorini
My 24 hours in Paros were up and it was time to head over to my final destination, Santorini. Considered the most romantic island in Greece, it is honeymoon and lover central because of the most beautiful landscapes and sunsets. Even though I was on a solo trip, I had to experience this magical place and I am so glad I did. It's far from being a party town like Mykonos, but there are plenty of things to do whether you're solo or with a group of friends.
I took the ferry from Paros to Santorini and it was fairly easy to do. Took about two hours.
Where to stay in Santorini
Because of my single-hood, I wanted to stay in the more "busy" part of town, Fira (located by some of the local clubs/bars, pretty central on the island). If you're on a romantic trip, you can stay in Oia which is also pretty magical.
I booked a room at Enigma Suites.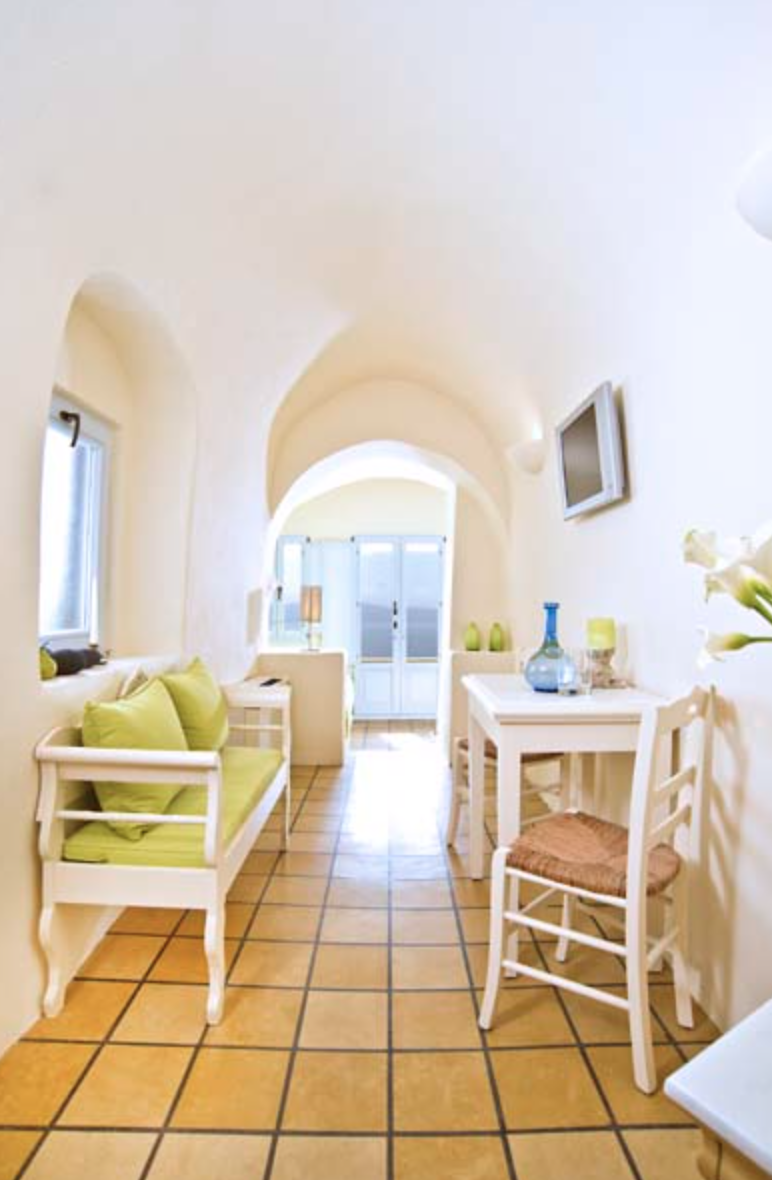 For many reasons it was, by far, the best accommodation on my trip. First, they picked me up from the shuttle and brought me to the hotel to check in. While walking out of the taxi and towards the hotel, I was in complete awe of the views. Right in front of the hotel, there was literally a line of people waiting to take photos of the views! When the taxi driver said this is Enigma Suites, I was ecstatic!
The best part though? The customer service. I checked in with a lovely young lady named Jenny, who asked me what I wanted to do during my stay. She essentially planned my whole 3 days right then and there…excursions, dinner reservations, everything.
She then took me to my room. A cave. I was staying in a cave overlooking the Amoudi Bay in Santorini. You just cant get better than this. I highly recommend staying here! Considering the accommodations, location, service, views, and in-room breakfast room service included, it was very well priced. There are only about 10 suites in this hotel! (They did not pay me to write this review.)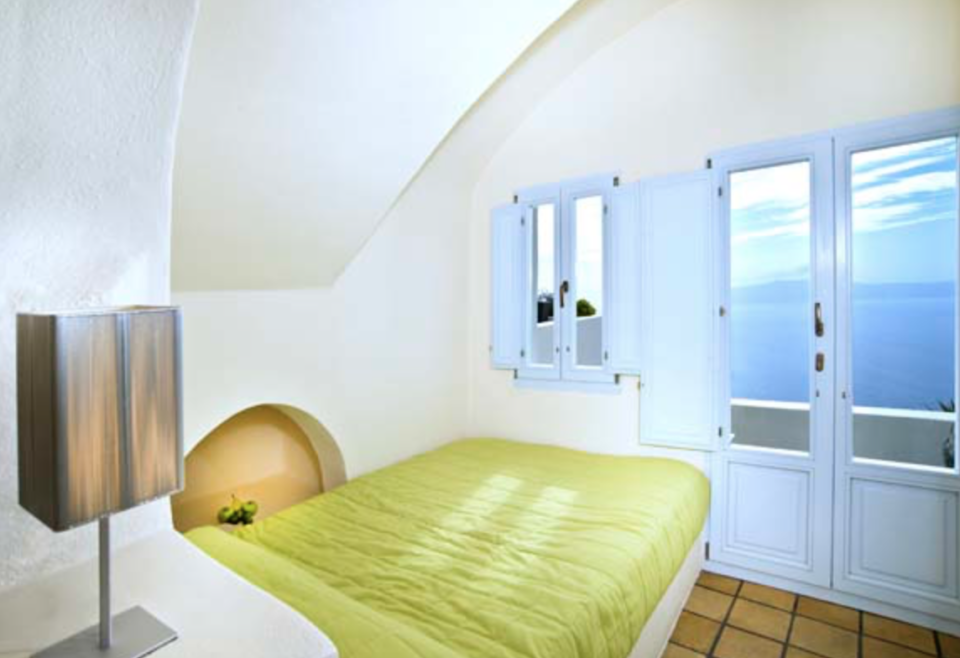 Special shout out to Penny (who also works reception), who I had the pleasure of hanging out with on one of my evenings there. She was awesome. Tell her I say hi if you go!
Day 7 Continued…
It was already almost evening time, so I changed to a cute outfit, went to walk around Fira and grab some dinner at one of the rooftop spots with great views. I ordered a whole fish and Santorini salad (which is a must when in Santorini). After dinner, I just walked around and got lost in the streets of Fira, checked out the local shops, bars, and just people-watched. It was probably the most relaxing night I had on this trip.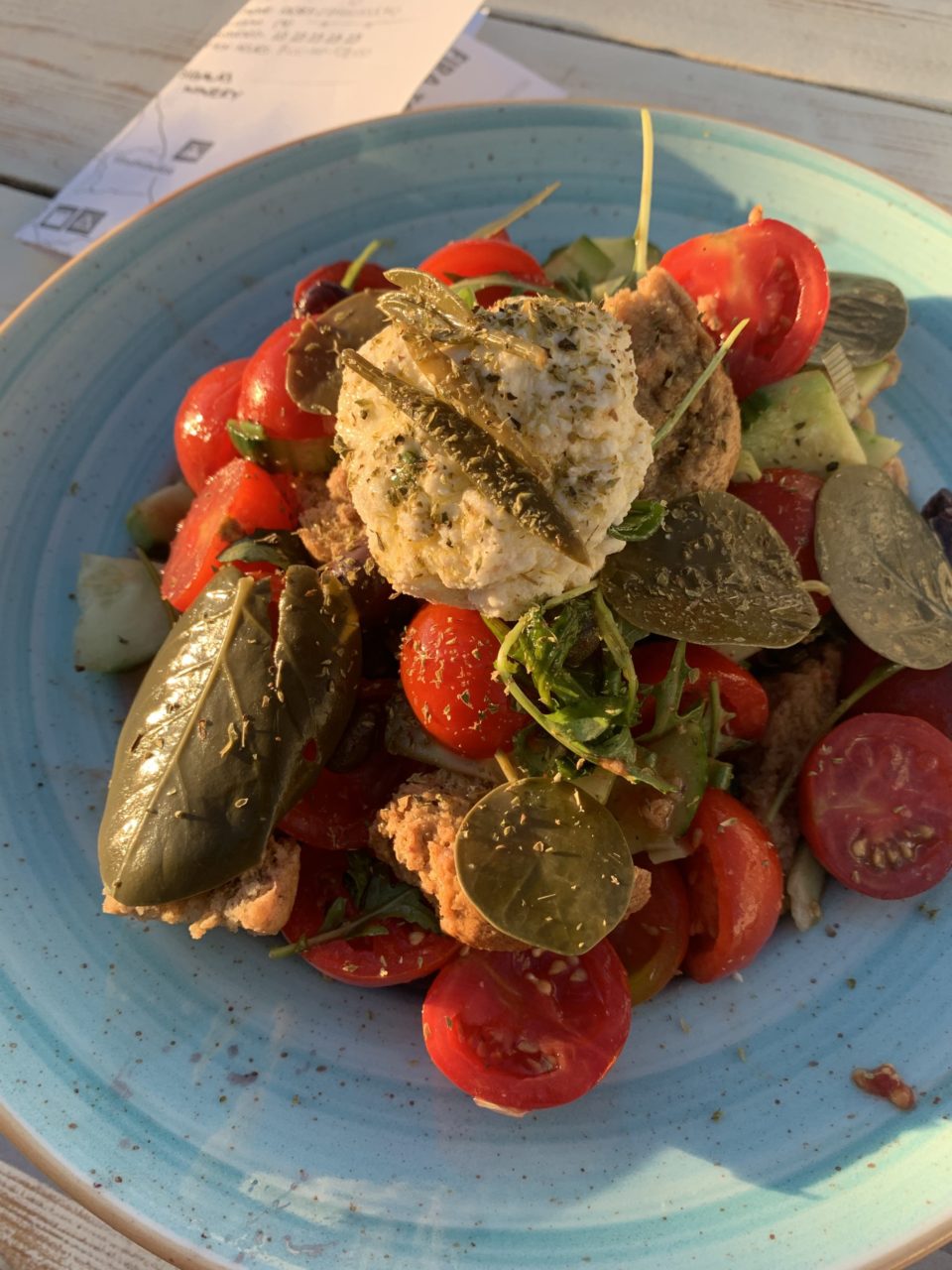 Day 8: Santorini
I woke up, had some breakfast on my porch, and decided to go on a nice walk around Santorini. Took so many beautiful photos. The views are just so incredible, I didn't do it justice. I got tired and decided I needed some beach time. Penny from my hotel recommended I take the bus to the Black Sand Beach. The buses in Santorini are super easy and efficient! Def a great way to get around Santorini. I hung out at the beach (which literally has black sand), ordered a cocktail, and a Santorini salad and just chilled out. I had a sunset cruise to go on, so I had to cut my beach time short and head back to the room to change and get ready.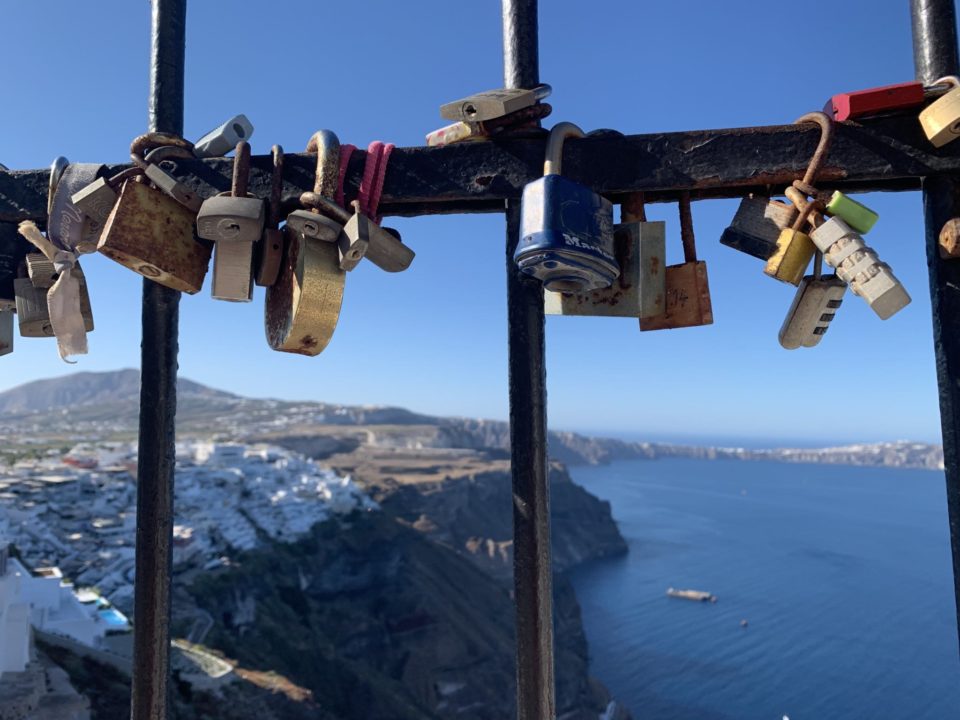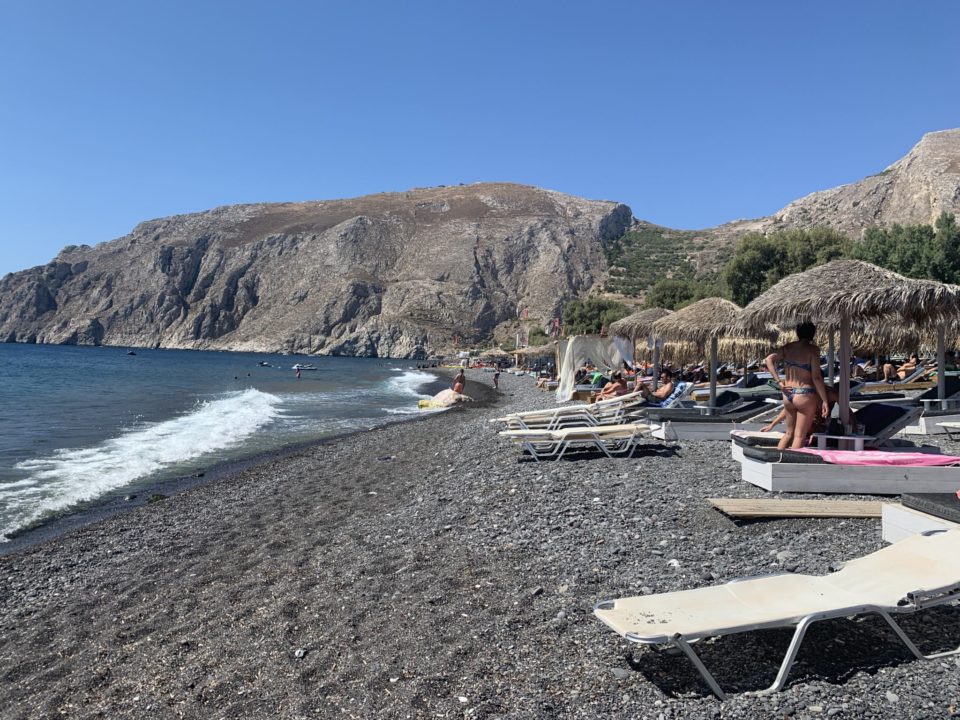 If you go to Santorini, doing a sunset cruise is a MUST. My hotel set me up with this one and it cost around 75 euros for a 6-hour trip (including food and tickets to hike the volcano!)
I went down to the port using the Santorini cable car (also super easy) and waited for the boat to pick me up. It was on old school sailboat that could fit around 75 people. It was not a fancy yacht or anything, but it was majestic and lovely. I found a spot where I could lay out and enjoy the ride.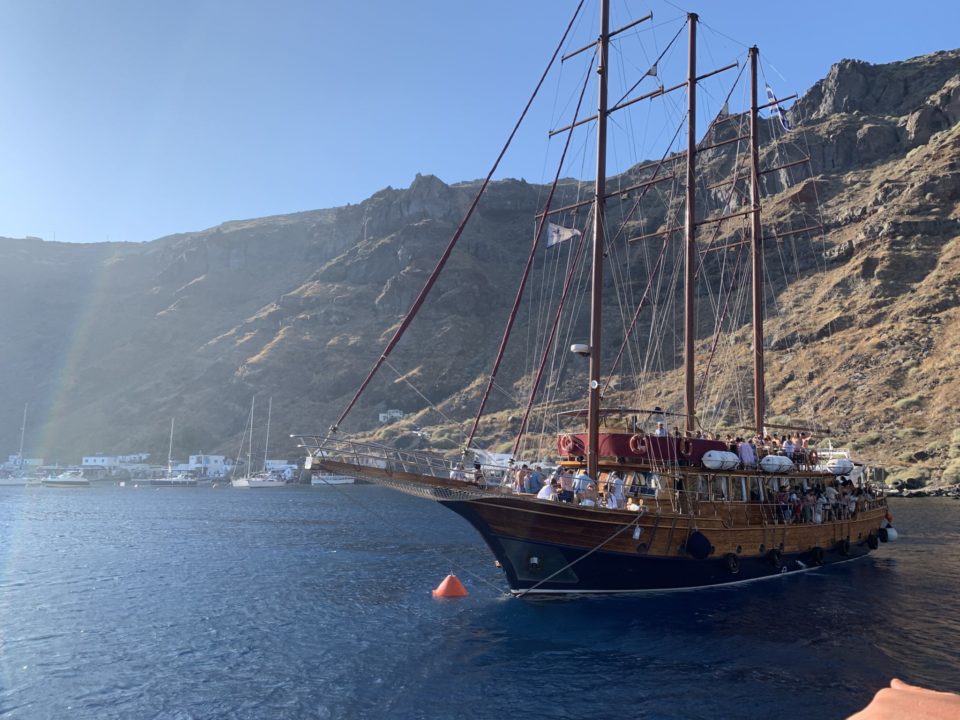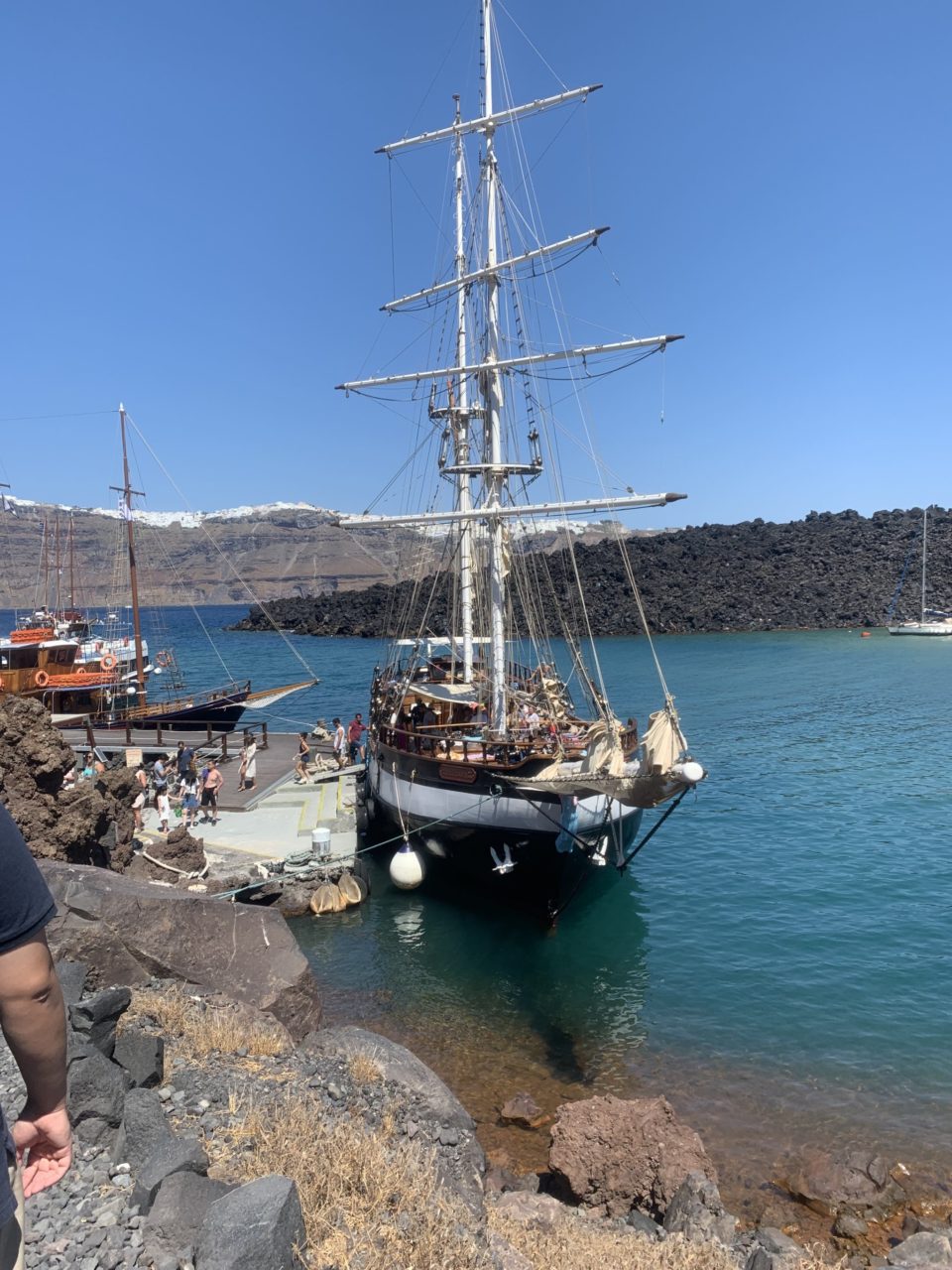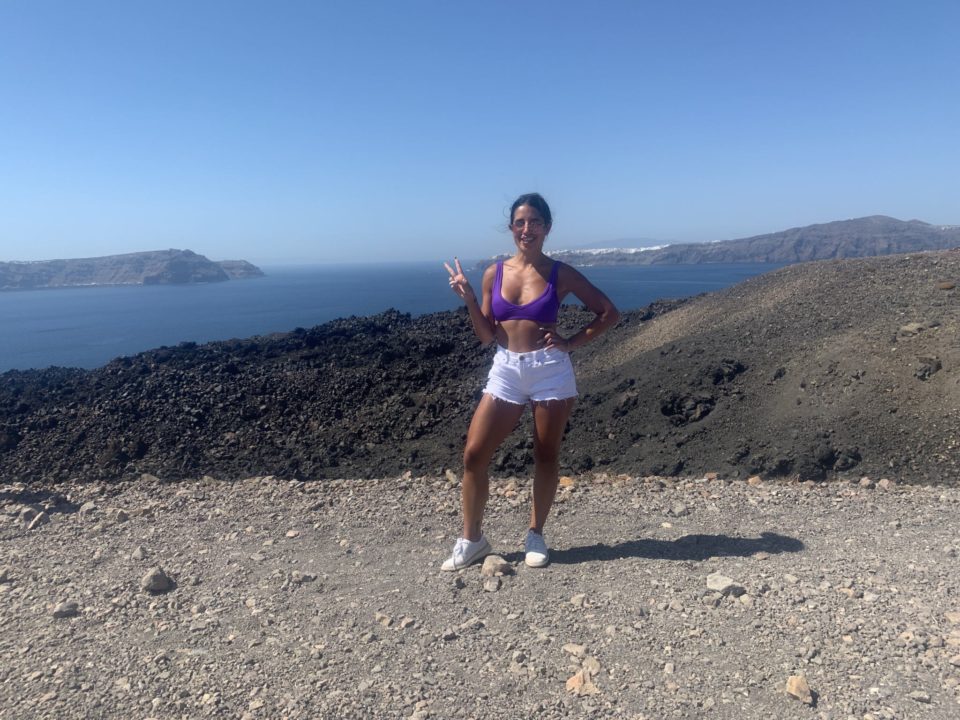 The whole experience was beautiful. We stopped to hike up an active volcano, and then we had the chance to jump off the boat and swim in the wonderful sea to the hot springs! We got to learn more about Santorini and it's beautiful landscape. The whole experience was amazing and I cannot even find the words to express it. So I will leave it at that. Do it. Enjoy every second. Make friends, dance, sing, drink, and fall in love with life because I sure did.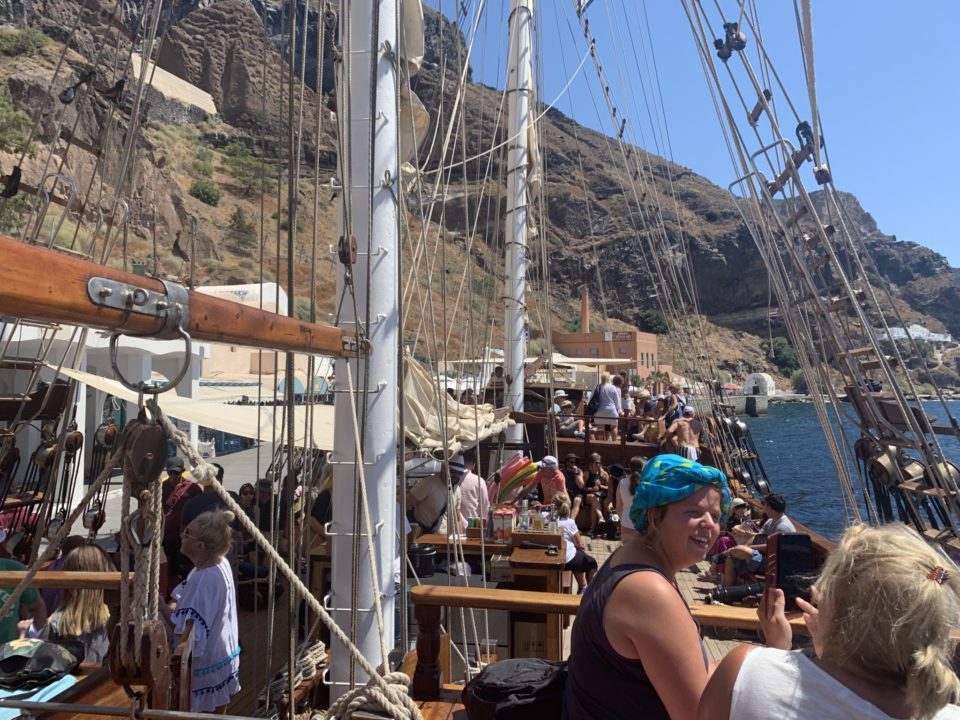 After the cruise I was pretty tired, but of course I was hungry again so I got some gyro and headed back to my room. Tomorrow would be another day. Tomorrow I would hike to Oia.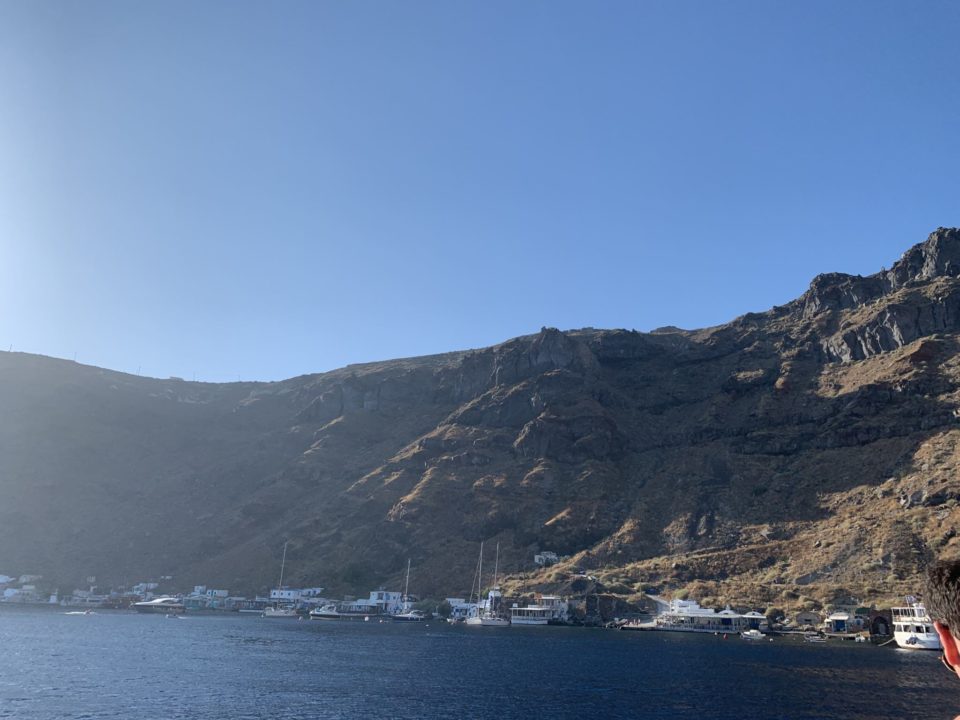 Day 9: Santorini/Oia
Everyone told me I must hike up to Oia to watch the sunset (or sunrise) but that it is also the most crowded time to go. My new friends at Enigma Suites recommended I go in the early morning and said that it would be more chill and relaxing at that time. So that was my plan. They said the hike would take 4-5 hours and I honestly didn't really believe them. I thought they were exaggerating, but later found out they weren't.
I got lost. There weren't any signs from where I was that would point me in the right direction. At one point I was going in circles and then I found another lost person, another solo-female traveler. Who would have thought?!
We started talking and walking together and eventually found the path. Caroline is a singer from Munich, and came to Santorini on a boat with a few other travelers (she told me some horror stories about this trip) but it sounded like she was having fun nonetheless. It was so fun meeting her and hearing her story and sharing mine. It was a cool moment for sure.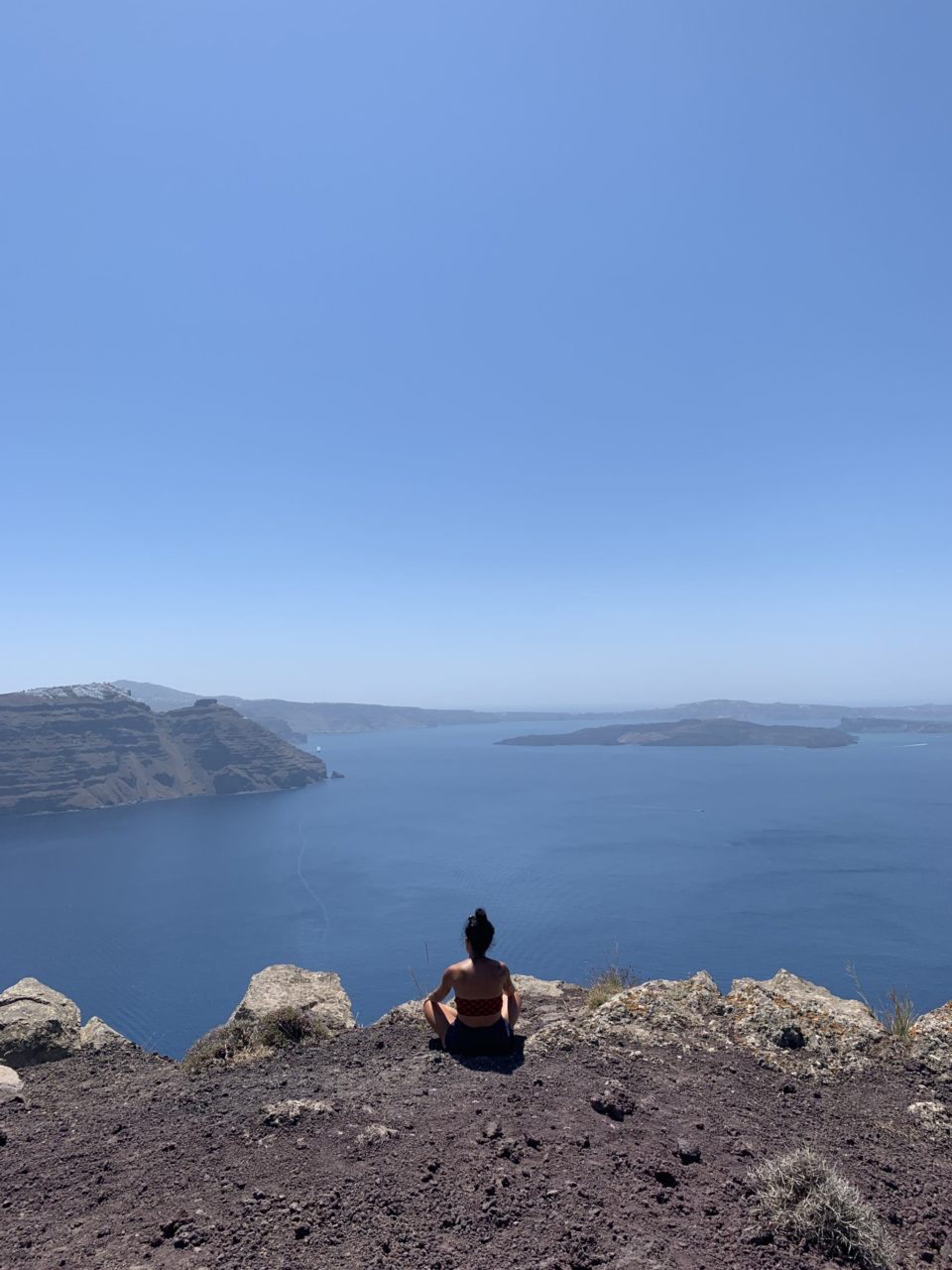 When we reached the midway point, she said she wanted to stay and meditate. We followed each other on Instagram and said that we would stay in touch.
I hiked all the way to Oia, and once I reached the town, I felt like I was in a movie. Marble streets, boutiques, couples walking along the scenic scene… maybe I was hallucinating. It was really HOT. (Word of advice, bring water and snacks for this hike.)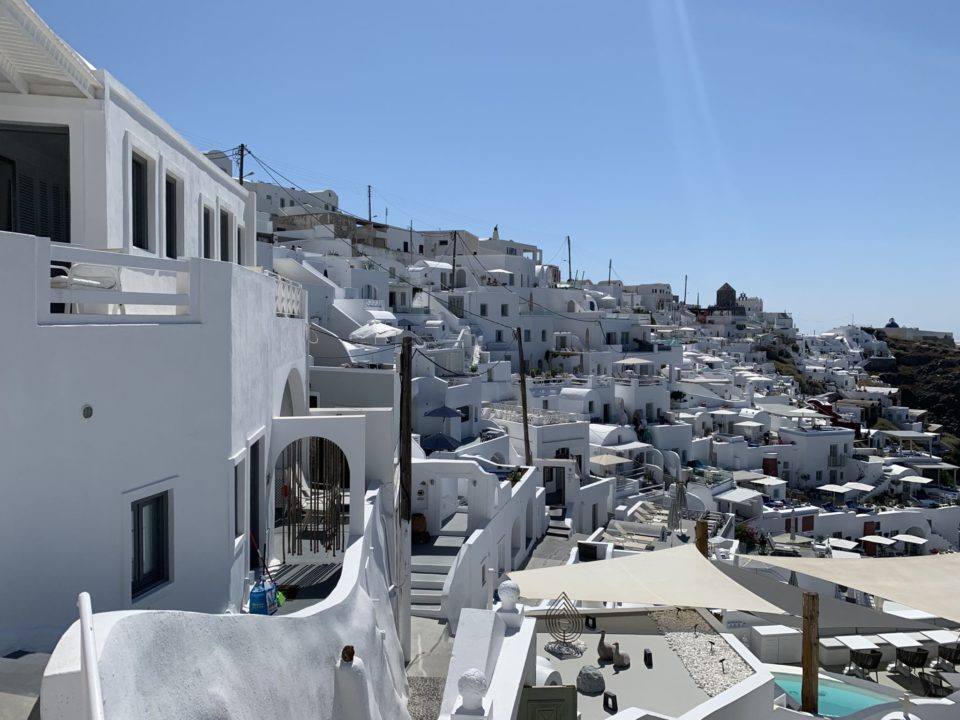 My plan was to walk around Oia and then take the stairs down to Amoudi Bay to eat at a restaurant right on the water. At this point after walking for 5 hours, I was so ready for a good meal and a cold beer. While sitting and eating (which was amazing), I saw people coming from the other side of the bay in bathing suits. I asked my waitress about this and she told me they are coming from a swimming spot. I paid the bill and headed that way because the idea of swimming in the sea after the hike sounded like heaven.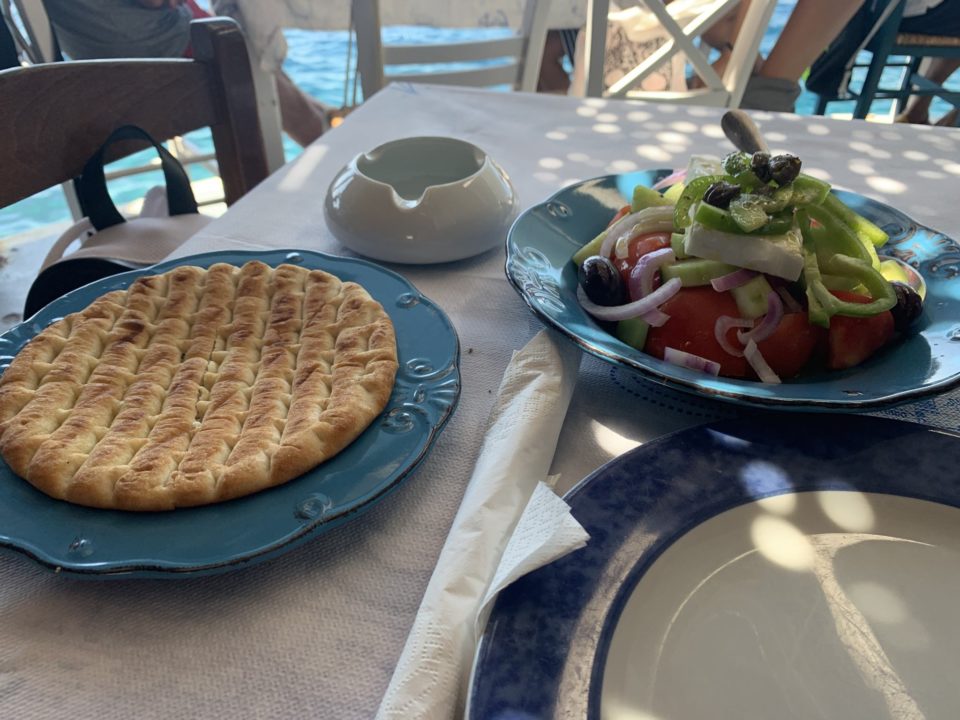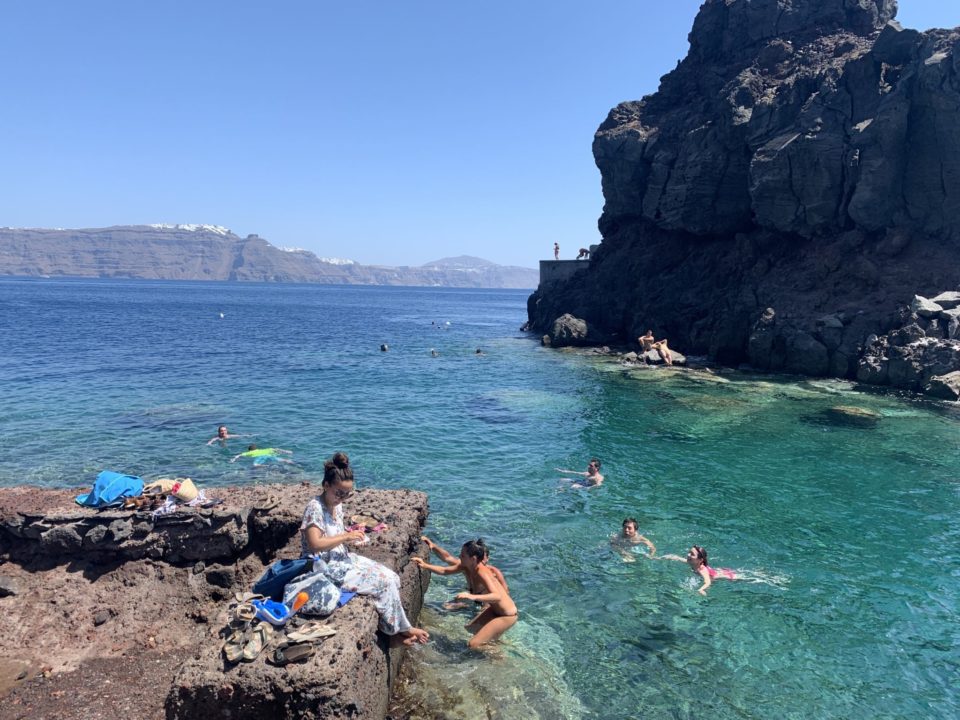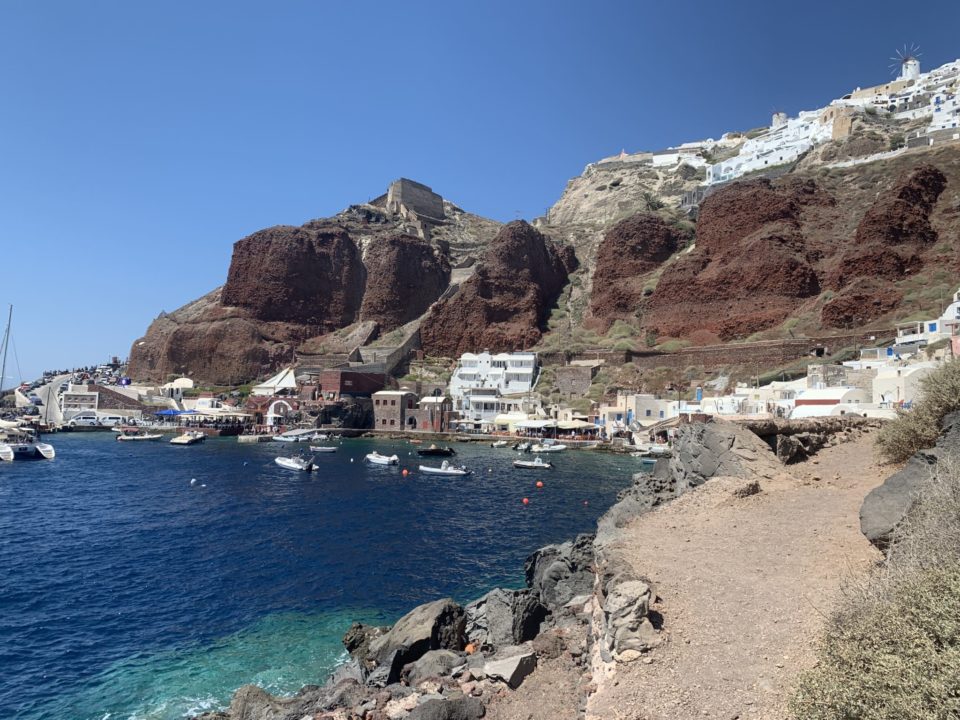 I hiked towards the bay and from the corner of my eye, I saw people jumping off of a cliff! It was super cool. I swam around and had a moment of like, "Wow, I'm so happy!" After my swim, it was time to head back to Fira. Now, in this particular case, what goes down must come up, so the 250 stairs I had to take down to Amoudi Bay, I had to climb back up. Yup.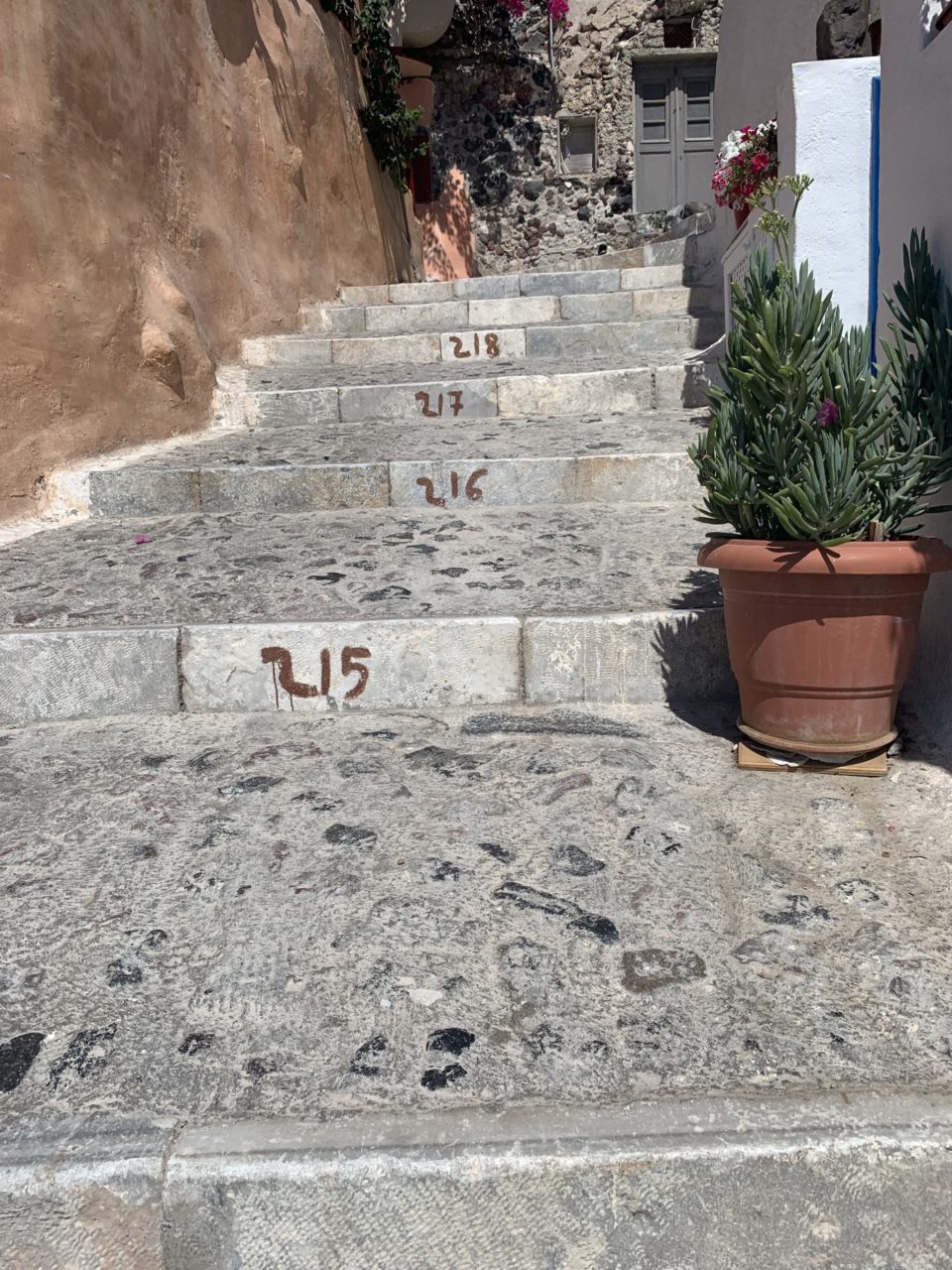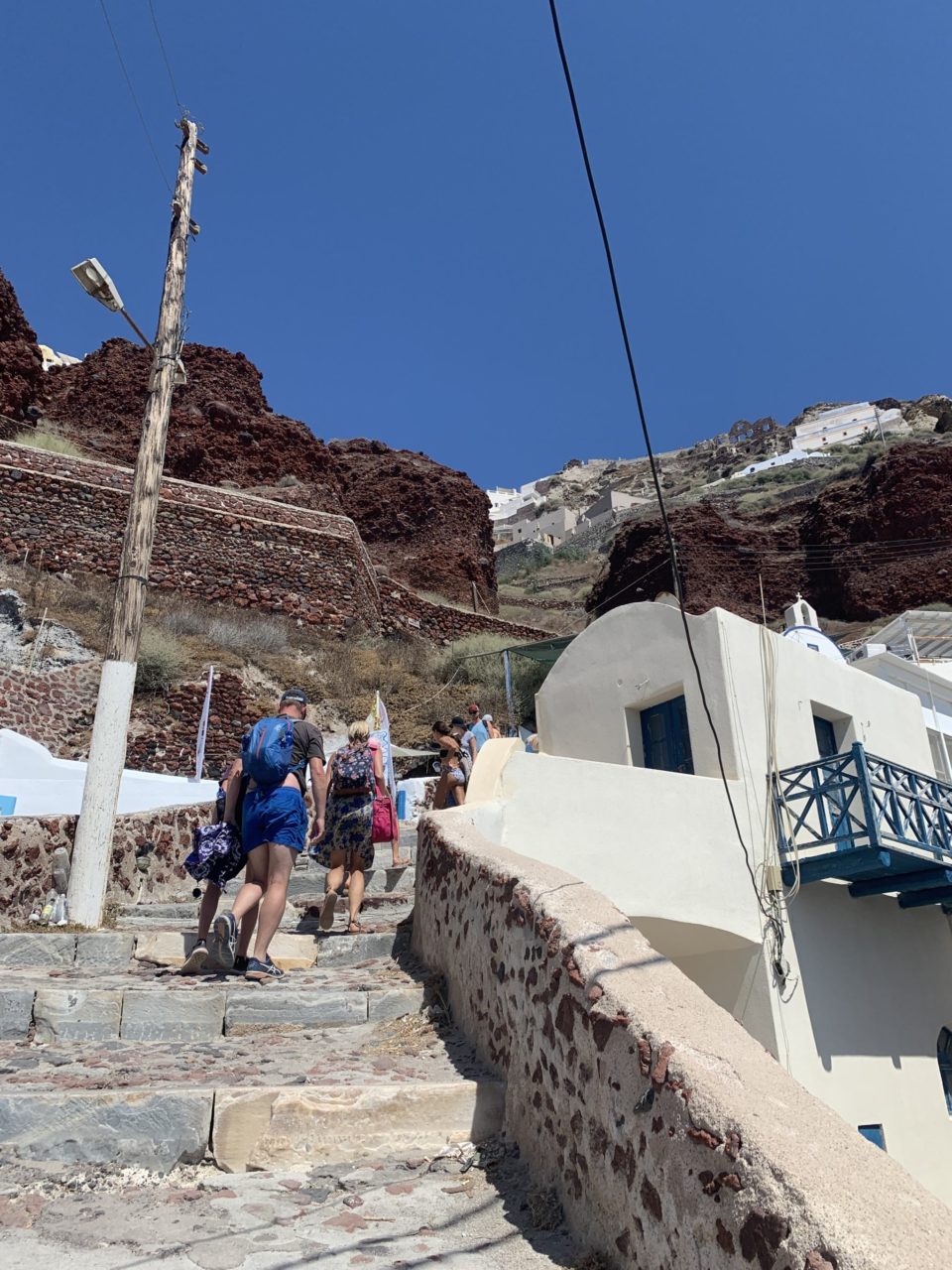 Some tourists will take donkeys up the stairs, but please don't do this. These poor poor animals, who knows how they are being treated. Being forced to walk up and down stairs in insane heat is just not OK. Walk up with your legs please and leave these animals alone.
I wasn't going to hike all the way back to Fira, so I decided to find the bus station. While walking to the bus, I felt an arm on my shoulder. I turned around and there was my new German friend, Caroline! How weird is that?! We took the bus back together and chatted along the way. It was really nice.
Day 10: Santorini
Last day! I looked at my Greece bucket list and saw "rent an ATV" so that was my plan for the last day. To rent an ATV and hop around the different beaches. The hotel helped me set it up (keep in mind, you might need an international drivers license) and the rental company delivered my ATV. They gave me a quick lesson, handed me the keys and my helmet, and I was on my own.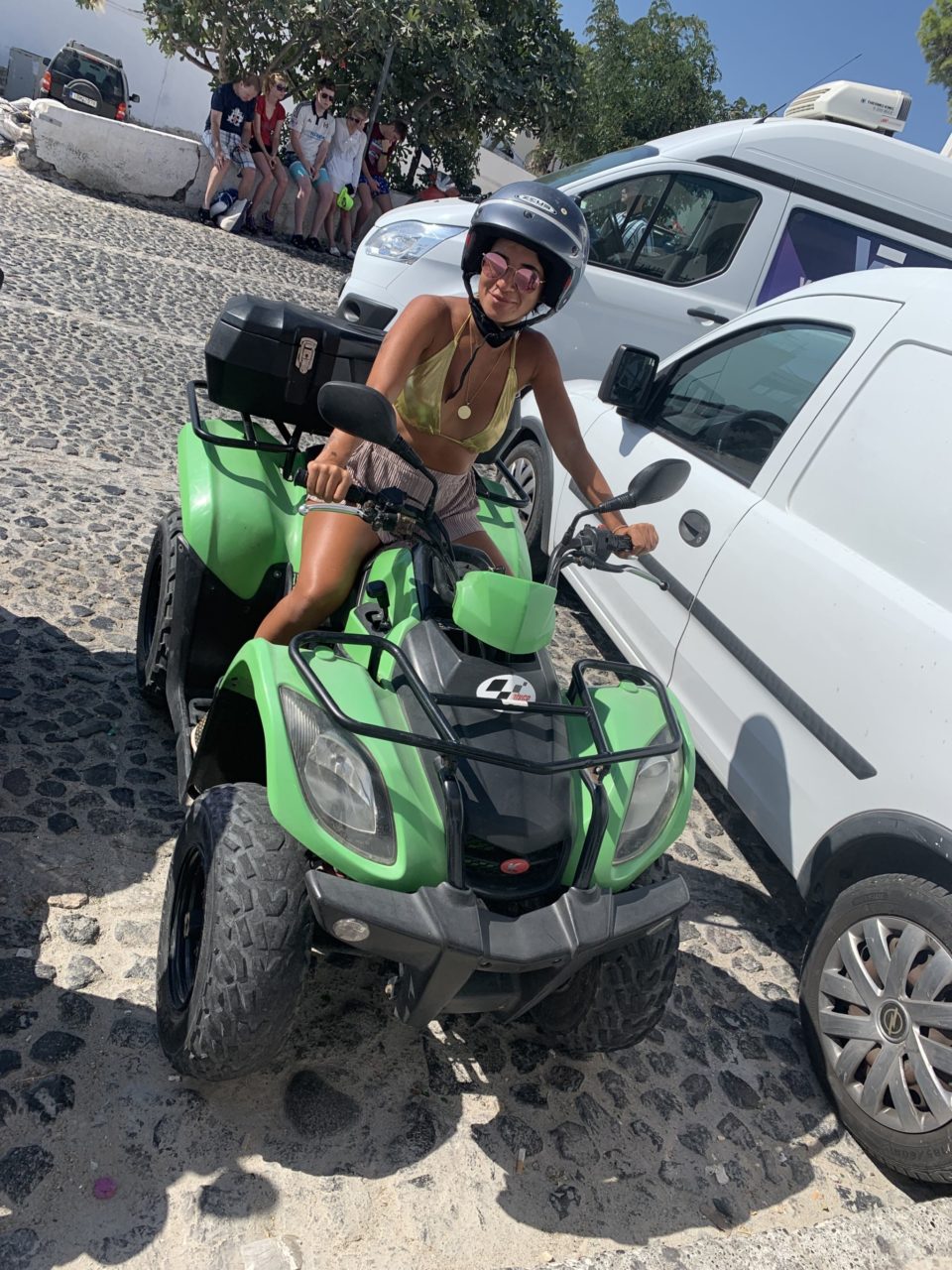 So this was my first time on an ATV alone and I will be honest, I was a little scared especially since I had no clue where I was going, but I said fuck it. I went off to the first beach and it was great! I felt so free driving the ATV (although got honked at for being slow). Went to check out two beaches, hung out, had some food, worked on my tan. It was the perfect last day.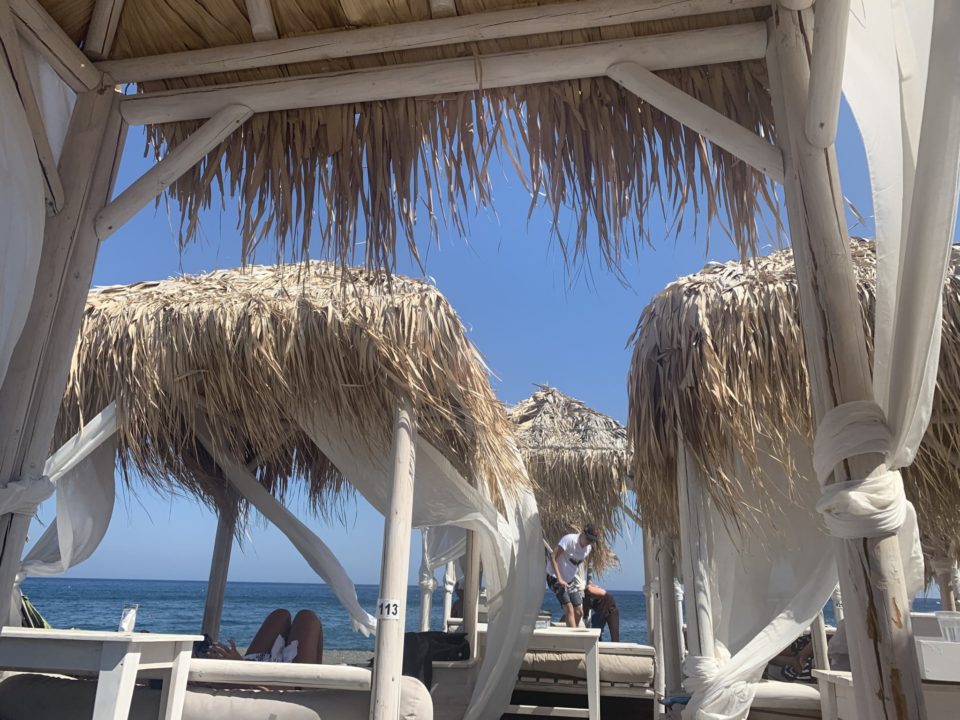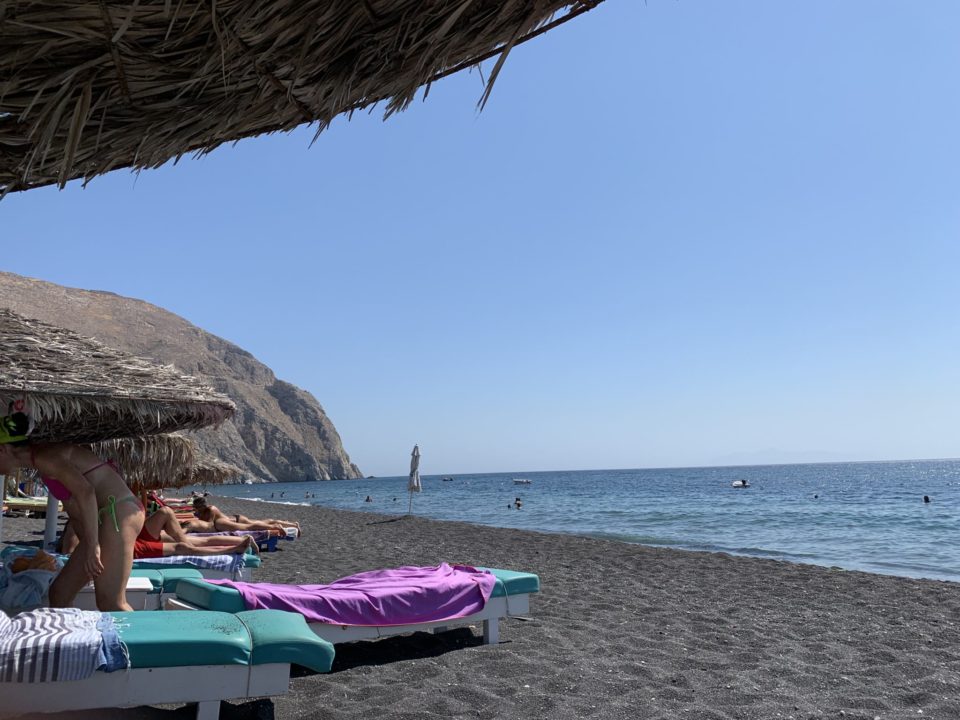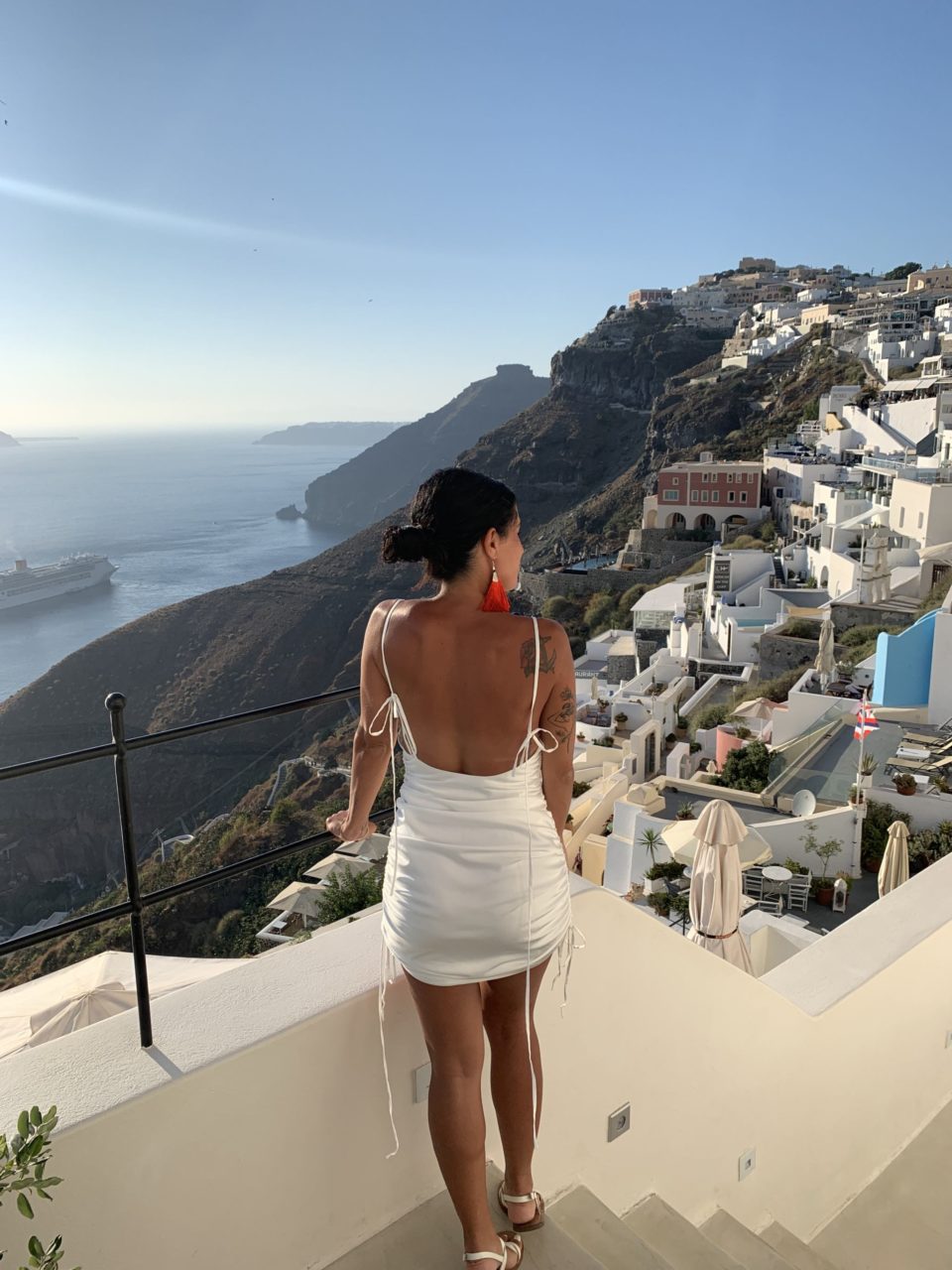 Ah Greece. You were wonderful to me.
Santorini Restaurants/Bars
Top things to do in Santorini
Hike up to OIA see sunset / sunrise
Rent an ATV and go beach hopping
Walk around Fira
Sunset cruise
Winery tour
Red Beach
White Beach
Cliff jumping in Amoudi Bay
Top things to eat in Greece
Everything
Whole Fish freshly cut
Gyro Gyro Gyro – every style you can think of
Greek yogurt and honey
Lamb chops
Greek salad (duh)
Santorini salad
Baklava
Tzaziki spread
Grape leaves
Santorini tomato fritters
Frappe (Espresso Latte) def iced
Moussaka
Pastitio
Santorini wine or any local wine
Saganaki (fried cheese)
Spanikopita
Ouzo
Tips from Readers
Santorini Book Store is the best in the world.
Break up the ferry ride between Mykonos and Santorini. Stay in Naxos.
Rent an ATV and drive around Ios with a dope playlist. Best experience!
Santorini is a must. Make sure to visit Mama Thira Restaurant.
Athens for sure, Mykonos to check out the crazy party life…
Do a boat trip in Santorini, a wine tour and dinner with sunset in Amoudi Bay.
If you go to Mykonos, go to Scorpios and Cavo Paradiso.
Def go to Athens, eat everything! Walk in the Plain Athens.
If you are staying in Athens for multiple days rent a car and drive to Sounio to see the sunset.
Bring back olive oil and honey.
Venetsano Winery!
Go to Oia in Santorini!
In Athens – A For Athens rooftop bar for the sunset.
Go to Naxos, less busy then Santorini, less crazy then Mykonos.
Go to Paros.
Go to Delos.
Rent bikes on Naxos.
Get a beach house in Antiparos.
Stay at Canaves Ons in Santorini and Royal Myconian in Mykonos.
Eat at Mama Thira in Santorini.
Watch the sunset at Santorini Wines.
Snorkeling in Mykonos!
Home cooked meal in Mykonos.
Questions from Readers
Q: How widely is English spoken?
A: For the most part everyone speaks English, never really had any language barriers or issues.
Q: Talk to us about budget!
A: You can do Greece on the cheap, it just depends what you spend your money on. You can easily eat street food and stay in hostels without breaking the bank. A lot of the activities aren't too expensive. What I spent most my money on was hotels, food, and partying.
Here is what I spent in a nutshell and I went all out so keep that in mind. You can split this in half if you skimp on certain things:
Flight $1200
Hotels: $3200
Food/Drink: $1000
Ferries: $250
Activities: $500
Taxis: $300
Q: Did you watch your diet or ate what you felt like?
A: I don't really diet at home, so I wouldn't diet on vacation. That being said, I listen to my body and try not to over-eat. Also, the food in Greece is super healthy and delicious and I ate a ton of salads and fruit. The key on vacation is staying hydrated and drinking a ton of water especially in warm climates.
Q: How's the yogurt?
A: Incredible!!! Had it everyday with honey.
Q: How many days in each island is best?
A: So hard to answer to be honest. It really depends what kind of vibe you're looking for. If you like to party then def do Mykonos for at least 4 days. Santorini is good for 3. Paros I would have down for 3 as well. I heard Crete is huge and you can hang there for a week!
Resources
https://www.timeout.com/athens/restaurants/best-restaurants-in-athens
https://santorinidave.com/best-places-mykonos