I heard about Yoga in the Heights over the summer when they were having classes at the Riverview Farmers Market. The idea of doing a class outside in a park with the most incredible view sounded amazing to me… I was not able to try it out so when Stephanie and Bridget invited me to visit their studio to try a class I was so excited but also a little apprehensive..its been so long since I've been able to shut my brain for moment, and the idea of going to a yoga class and focus on my breath, clear my mind seemed impossible to me… Which meant I really needed it.
I went to Yoga in the Heights on a Monday morning to try their Yin Yasa Flow class. I walked in to the studio and Stephanie, one of the owners greeted me from behind the front desk. She got up to shake my hand, and revealed her adorable pregnant belly. I was shocked! She looked so incredible! Stephanie gave me a tour of the studio and then students started trickling in…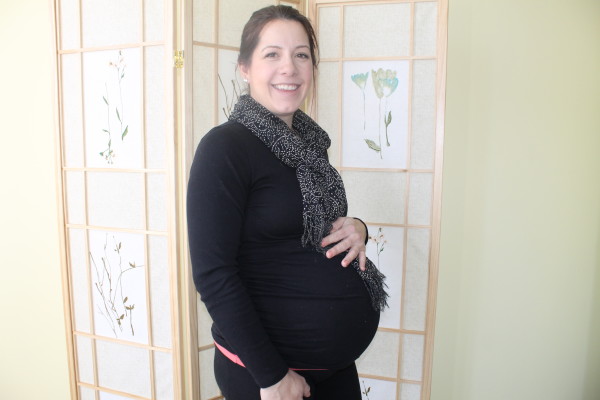 Before class began people where chatting while sitting on their mats which you don't really see in other yoga studios. Then class started. It took exactly 5 minutes and I was in happy land, Karen the instructor was absolutely delightful, the class was challenging but at the same time extremely rejuvenating. I was really able to calm my brain and focus on my breath.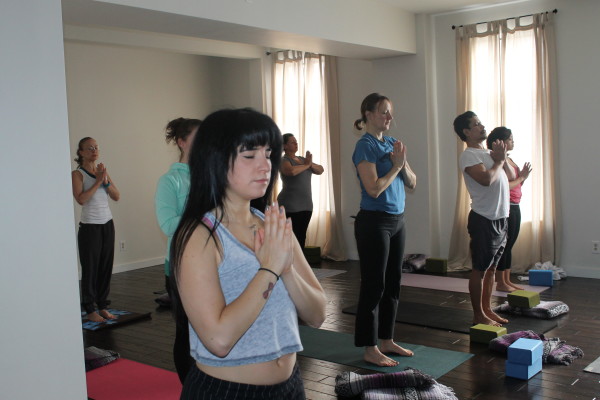 I felt so good as soon as class ended… It's hard to explain but I felt high on life! So much so, when I sat to interview Stephanie and Bridget I could barely formulate a sentence! The next day my body felt amazing; I felt limber, relaxed and I swear my legs looked longer (I would like to think so at least). What I loved most about YITH is how everyone talks to each other before and after class, it's an extremely friendly environment, and it feels like a great community of people and yoga lovers. I will definitely be back.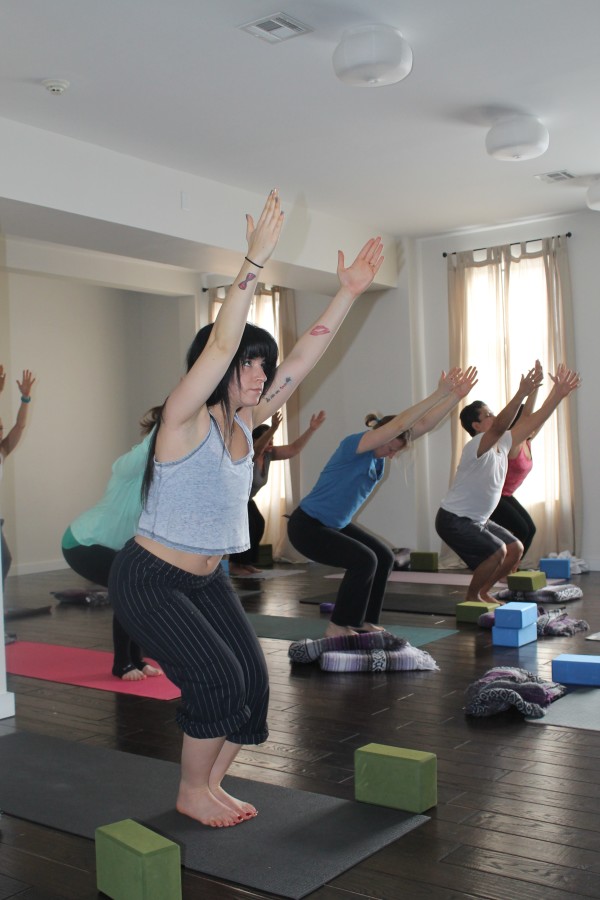 What are your names? Bridget and Stephanie.
What do you do? (Bridget) I am a yoga teacher and co-owner of Yoga in the Heights.
(Stephanie) I am one of the founders and co-owner.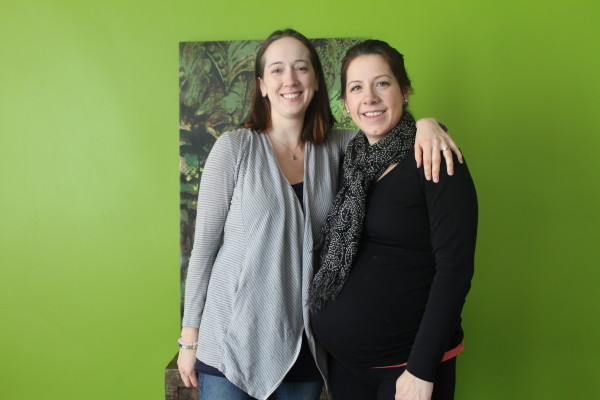 How did Yoga in the Heights come about? A friend of mine, we were both single parents at the time, and we were going down to Hoboken to a yoga class every Saturday. It took a long time for us to get a babysitter, find parking, take the class then come back home…. so after paying for babysitting, parking and then the yoga class,  I ended up paying $45+ fora yoga class. So we were like "why don't we do it up here?". There was the farmers market at  Riverview Park on Palisade Avenue in the Heights which was in their second season so we decided to ask them if we could do "yoga in the park" with the farmers market, and they said yes. We put a request out for teachers in the area, to have local teachers volunteer to teach it. That's where the original teachers came from. We started doing it on Sundays at the park.
It was so well received that we ended up taking it to the Distillery Gallery and Art Space which is on Hutton street when it got too cold to do it in the park. By then we had a small following so we went there and we kept going for a year and then we did the summer again at the farmers market.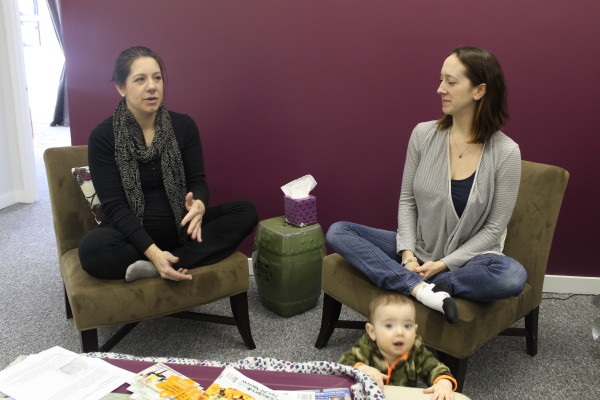 We moved into a place on Palisade Ave and we were there for a year…. Our community got big enough that it allowed us to go off on our own. This is how we ended up on Central Ave!
That is why you are called Yoga in the Heights! (Stephanie) Yeah, it's very grassroots. The community orientation is what started this…. it's our philosophy. As you saw, before and after class people are chatting and hanging out. It's not like a silent yoga class where people are just on their mats waiting for class to begin. Which is such a good feeling.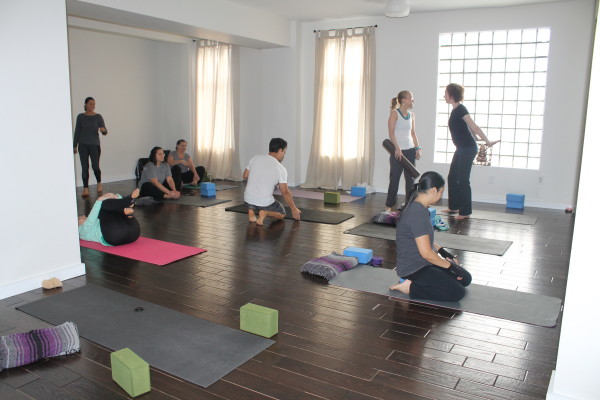 It's really nice. Can you tell me a little bit more about the classes and the yoga you teach? (Bridget) We offer a variety of classes…. we started as mostly teaching vinyasa flow classes but since we are able to have a full rounded out schedule that includes Vinyasa, Basics classes, Intro to Yoga, Yin classes, restorative, heated yoga, classes in Spanish and we also have Yoga for 12 Step Recovery (Y12SR©).
Do you both teach? (Bridget) I teach but Stephanie doesn't.
(Stephanie) Which gives us a good perspective because I have it from the student standpoint and she has it from the teacher. Even in our decisions it's nice to have both sides.
How long have you been doing yoga? (Stephanie) On and off for 10 years.
What made you fall in love with yoga? (Stephanie) Breathing. I started out with hot yoga, and the focus you must have with your breath…. you can't think of anything else. It was my gateway drug into yoga in general. Now I have so much appreciation for all styles of yoga because it slows me down and I can control my breath to the movement. Which allows my brain to just shut down.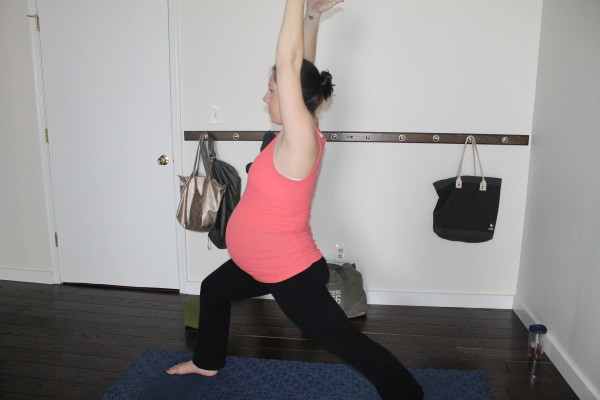 And you? (Bridget) I've been practicing yoga since 2001… I had personal things that were going on in my life that I decided to try a class out with my friend and I was able to change my own self view, world view and heal myself emotionally and physically. I was experiencing a lot of physical pain in different ways and that's how I discovered yoga and a community. That is what also drew me to it as well…
What about teaching? (Bridget) I've been teaching for over 3 years. I always wanted to be able to bring what my teachers brought to me to other people. It changed who I am as a person.
How did it change you? I think most of my life I suffered from depression which I didn't have a label for it at the time. When I came into yoga it was after the passing of my mother and a good friend of mine and it brought me out of it. I became not as selfish, I became aware of my breath and movement of my body. How all if it is interconnected. My teachers where amazing and helped me discover who I am.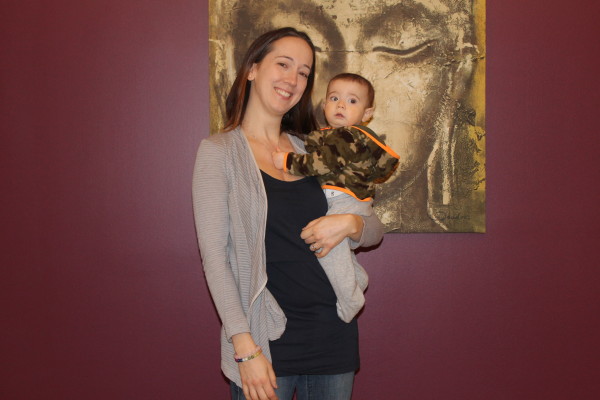 The health benefits of yoga are not just physical but they are mental… (Bridget) I was talking about this in my class last week, how one day I was getting really emotional and I couldn't remember why…. there is a connection with your body and your emotions and two days later I realized it was the anniversary of my mothers passing. That is why I was getting so emotional… there is a connection between your body, your mind and your spirit. When you are in tune to that you can direct it in a way that heals you. I think people come to yoga for the physical benefits of getting flexible and things like that but then you find something else along the way. A deeper meaning to yourself I think.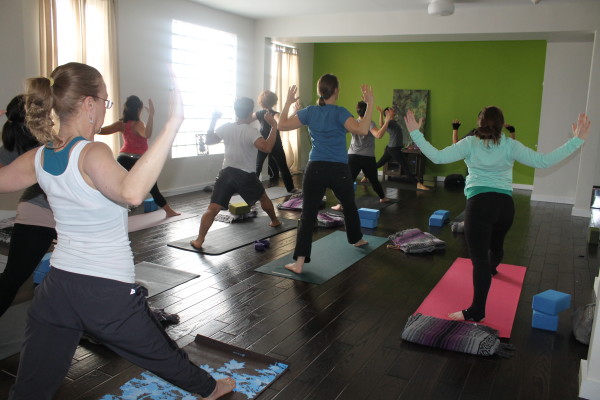 (Stephanie) Because you are able to learn how to still your mind and have a clear mind, and that focus comes off the matt and into your life….
I am so relaxed now to be honest. (Bridget) It's a gift to yourself when you come to class.
What would you tell someone that's never tried yoga? (Stephanie) There is a yoga class for everyone. We offer so much of a variety… like today in the class you took it wasn't just young people, there were older people too… Which is our philosophy, yoga is for everybody. Age, body type… I think because of the area we are in, we don't fall into a stereotype….
Like the real housewives in lulu lemons haha… (Stephanie) Yeah haha. It's also community oriented, it's a warm and inviting atmosphere.
Can you tell me about the other services you offer here? (Stephanie) We have acupuncture, massage, reiki, nutritional consulting and life coaching.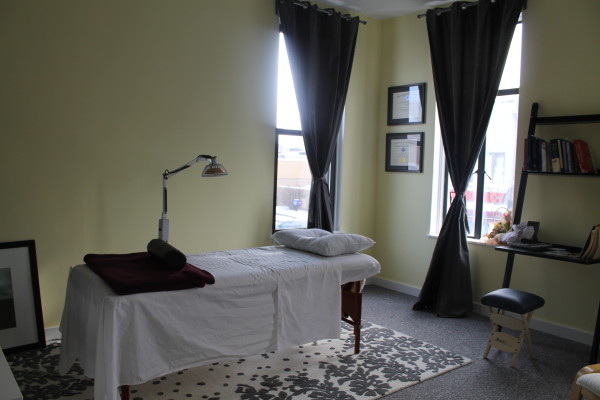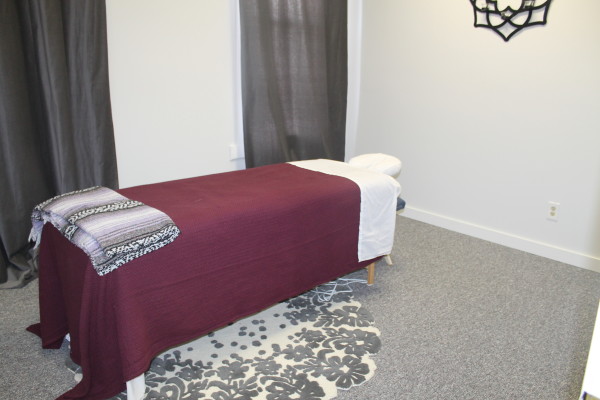 Wow that's everything haha. (Bridget) Well you are treating the whole body so there are different areas…. if you are on a journey to wellness there are different modalities that can help you get you there.
(Stephanie) We have a membership program, and a lot of our members that are dedicated to the yoga are doing acupuncture too, or they do the nutrition workshops, because they get it…. they feel so great. So it makes for a well-rounded lifestyle.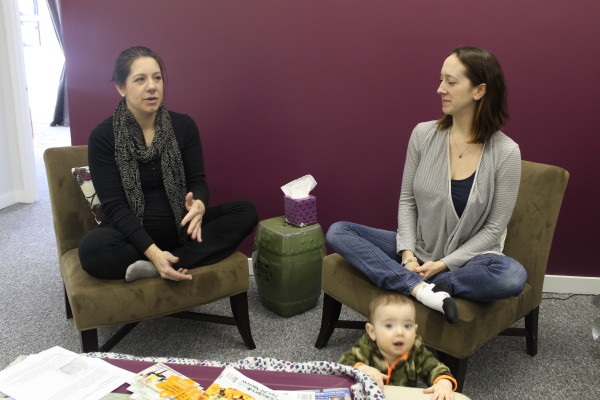 Its spring, what if I just want to look hot in a bikini? (Bridget) Yoga definitely changes your body. We have power yoga classes that are geared towards a lean look… any class can help shed weight really.
(Stephanie) With our Power Flow yoga class, the teacher is also a personal trainer so she knows a lot about all the muscle groups and that is why her class is intense, she knows what she is doing… she isn't just a yoga instructor. It also helps anyone that is kind of bulky, like I have a very athletic frame and yoga lengthens my muscles. Yoga lengthens the muscles in your body, your arms, your legs and your waist… I never had a waist until I did yoga. We also have heated yoga, it's not Bikram style but it's in a room that is at about 85F, and that helps you stretch deeper….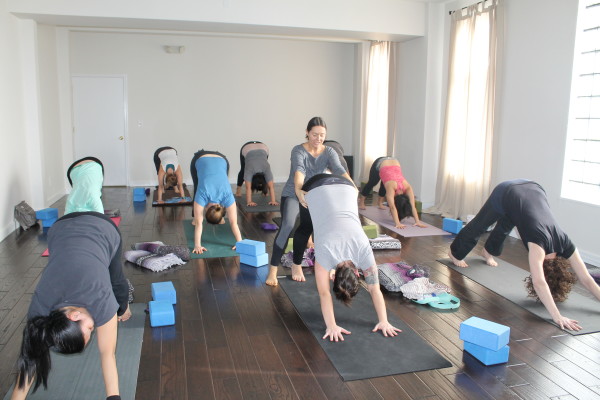 Nice! I am down for that.
Do you have a favorite Jersey City hangout spot? (Stephanie) It's probably kid related haha.
(Bridget) I love the parks, I love it when it warms up. Love Washington park… and the farmers market is really fun. It's one of the biggest community things that bring people together.
(Stephanie) I would say the farmers market for sure.
Favorite place to eat? (Stephanie) We both like Noodlefan…
I love Noodlefan!! haha.
So you are both moms, how do you juggle being woman bosses and moms? (Stephanie) Patience and yoga haha.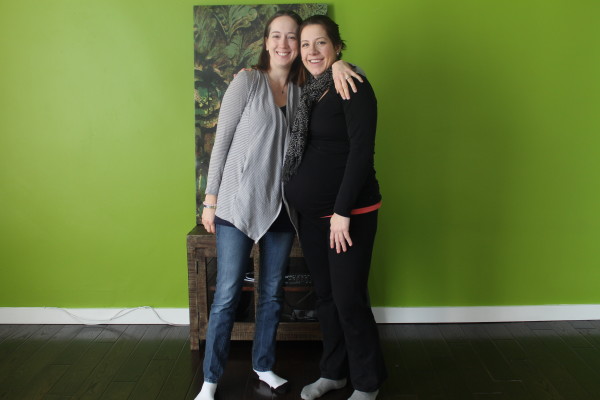 (Bridget) When I had my first son, I stayed home and was teaching occasionally… so it's an adjustment for me now that I am working more. I think our husbands our tremendous help and very patient with us, with our weird schedules…. I think just the feedback and love we get from everyone is what helps us and keeps us going. It's really amazing.
Whats next? (Bridget) Just growing our community here is whats next… finding wellness… reaching out to other areas in the city so that people know that we are here. There is parking! and you can come here its really easy. Municipal parking!
We want to grow our community of students and teachers, continue raising our families here and being part of the Jersey City community in the Heights. We want to weave in yoga with our neighborhood.
Namaste! 
Mention ChicpeaJC and get one month of unlimited yoga for $30!!! 
[wc_googlemap title="Yoga in the Heights" location="317 Central Ave, 2nd Floor, Jersey City, New Jersey 07302″ zoom="16″ height="250″ title_on_load="yes" class=""]