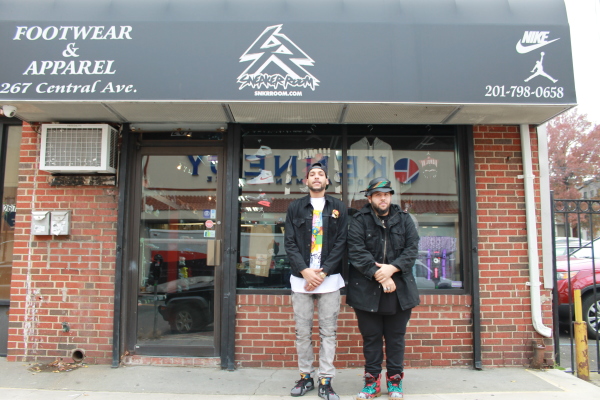 A few weeks ago I met with David, the District Manager of Central Ave SID to have lunch at Cafe Rumba (post coming soon) on Central Ave in The Heights. He was telling me about different cool stores that I should check out… namely Sneaker Room, the mecca for sneaker collectors. Sneaker Room has over 80,000 followers on Instagram and celebrities frequent the store to get their fresh exclusive gear. Not only that, but they are also extremely active in the community, kids come out here after school to hang out, they have toy drives and also help donate thousands of dollars to various charities.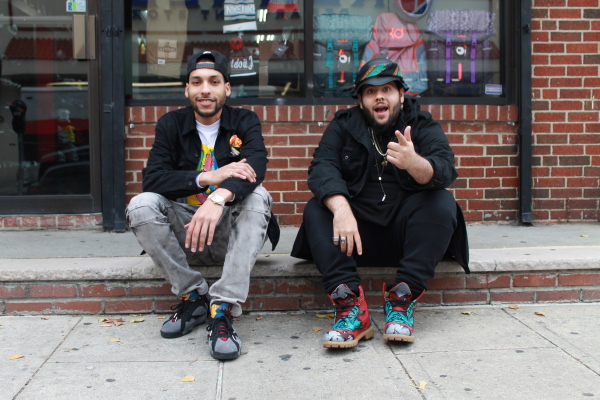 When I walked in the store I was amazed at the selections of kicks and gear, this place puts other sneaker shops to shame.  See the thing with me and fashion, I don't want to walk down the street and see 10 other people wearing the same stuff as me, that's what I love about this place. Exclusive kicks, exclusive gear all at competitive prices.  Yo, don't you step on my fresh kicks now, I will sucker punch you.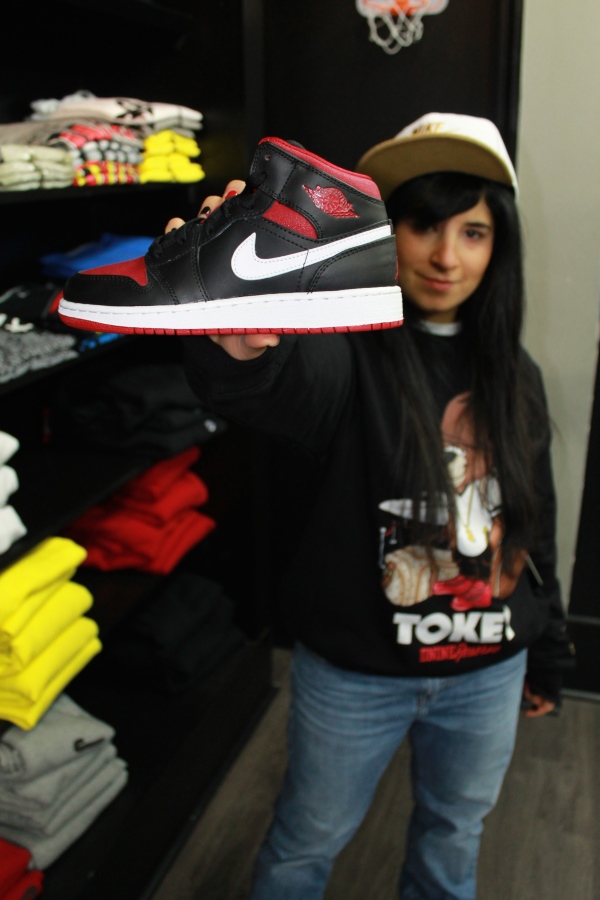 What are your names? My name is Haytham Elgawly I am the creative director and curator for Sneaker Room in Jersey City. I am Jeff Rose, I am the graphic designer for Sneaker Room and manager of the Jersey City location.
Can you tell me about the store? (Haytham) The store was founded by Suraj Kaufman around 2006 as a consignment store in downtown Jersey City… It was between 7th and 8th on Brunswick Ave. It didn't last that long because they internet wasn't booming as it is booming now and sneakers were very overpriced. That store closed down after a while…. then one thing led to another we were all brought back together 3 years ago to open up this store in 2010 here in the Heights.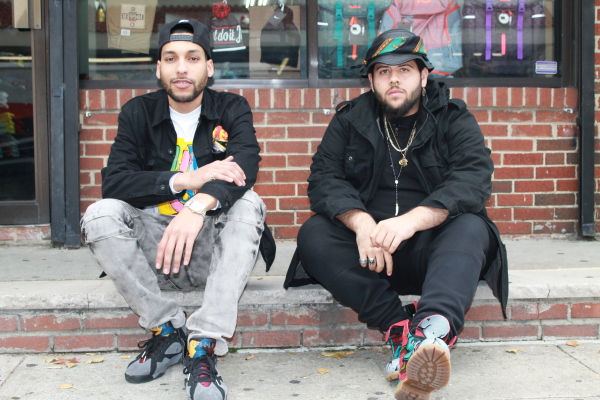 October of last year we opened up our Bayonne location as our second franchise store… from there we've been grinding. It's been quite a journey. After two years in business Sean Combs aka Puffy flew me in and my partner art to Beverly Hills to sit down on his couch to talk about franchising the store so that was a big milestone in our career.
You guys are huge on Instagram. We've hit plenty of milestones, we just reached over 80,000 followers which is incredible because it's all organic. We only follow 5 people that work here… everything is all referral based. Even the way our consumers rate us with our customer service it highlights who we are. We are very big on customer service, culture, big on what we bring to the table creativity wise. We want to brand a whole different market…. a whole different aspect of how you display certain products.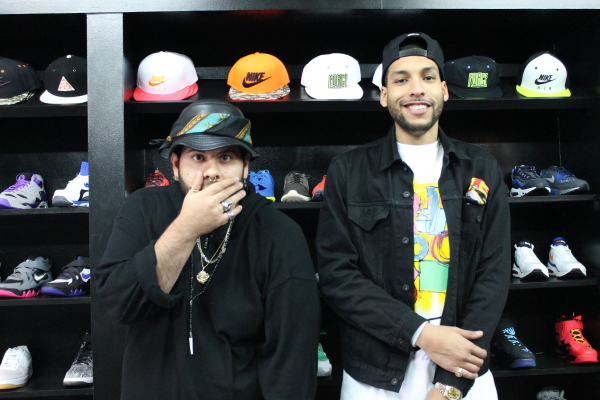 Can you tell me more about what you sell here? Sneaker Room is not just a store, it's more of a lifestyle brand. We are one of the top twenty stores in the country through Nike. We have a pinnacle account so we only carry Nike and Jordan here.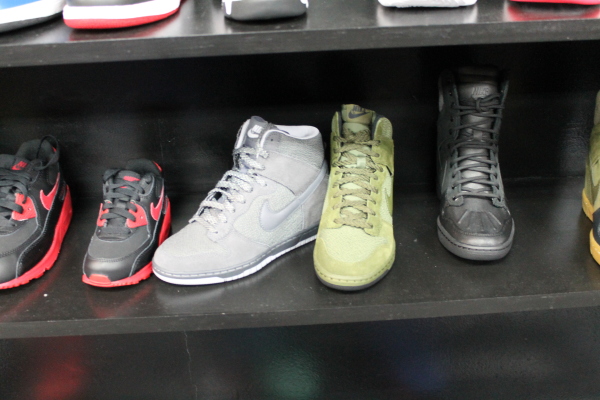 We carry  some of the most exclusive Sneakers in the East Coast and the world for that matter…. that is the type of account we have through Nike. We also carry certain independent street wear brands and we try to keep them very limited. We are very in tune with that culture…. we carry a lot of brands that aren't in any other store.
Imprssve, Peace Unlimited, AKA, Prolific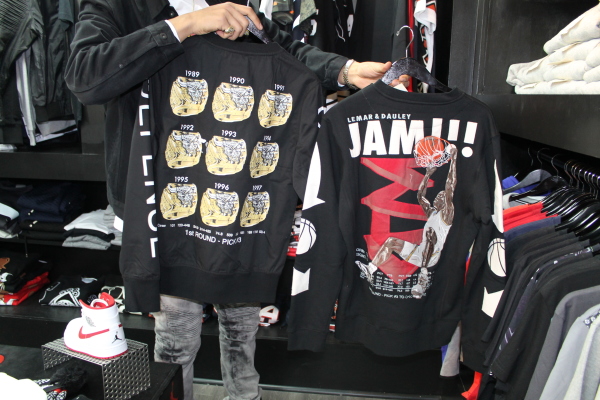 D9 Reserve has great embroidery and chanel patching….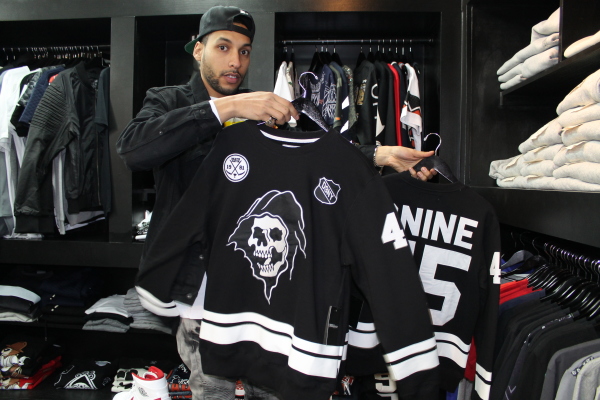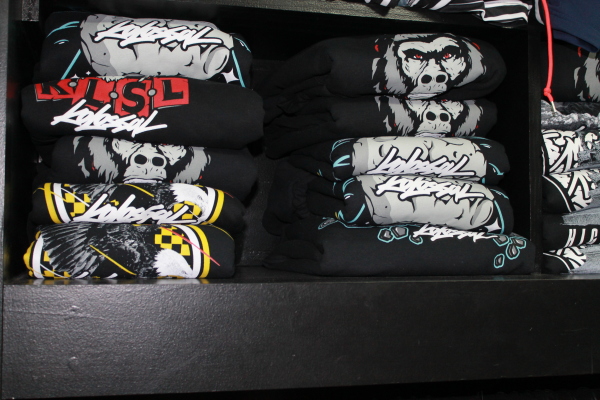 Is it mostly Men? Yeah, we have for women too but it sells out fast. We are going through a complete renovation in January, that way we will try to utilize all our retail space that we have.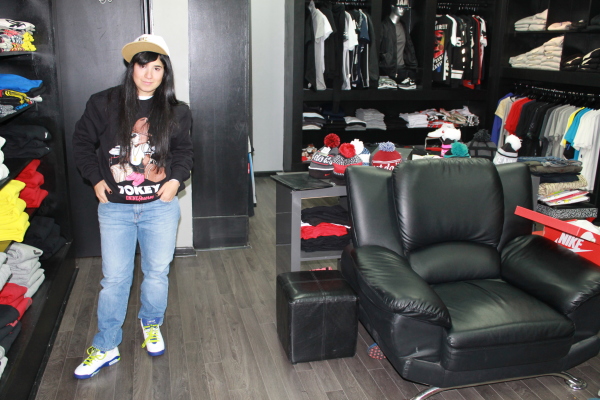 We also do a lot of projects for the community, within the last few years we donated over $105,000 to different charities. Just two weeks ago we created a breast cancer shoe and they we only created 31 pieces that were all individually numbered and uniquely packaged. We raised over 12,000 dollars and donated all the proceeds.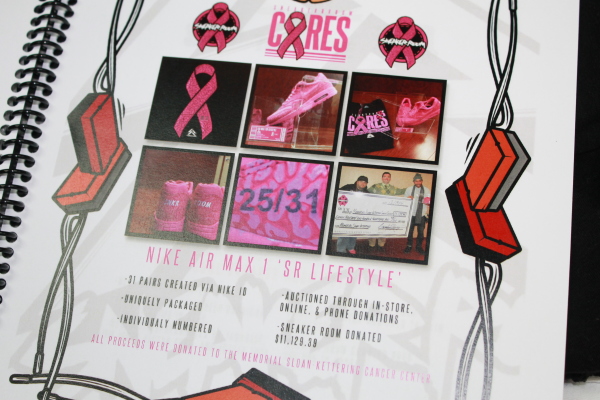 Do you design shoes as well? Well we've been in the game so much that we can do that. That is our avenue. We did them through Nike ID. We try and do different charities… we have a toy drive now in December. We try to fill a UHAUL truck and deliver to the boys and girls club….
That's amazing! So is most of your business done online? All of our followers, alot of our promotions is done online through instagram. We really believe that is the avenue everyone is heading towards right now. Everyone has their mobile device in their hand…Instagram allows us to utilize what we have since it's more visual.
So do people call you? We do accept phone orders, we put our phone number and people can either call this store or Bayonne and we ship world wide.
We also have something really cool, it's called FaceTime shopping so you call up the store, you pay a $20 retainer and then we FaceTime you for the next 10 min and we go around the store so you call tell us what you like and we put it aside….then we check out at the end and once we check out at the end the $20 you paid gets deducted from the purchase.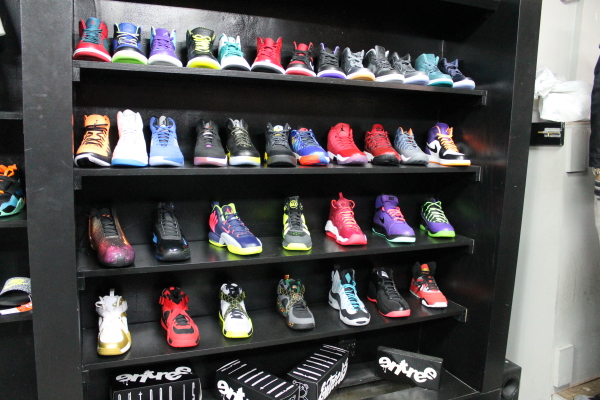 I love that! so people are sitting at home in their underwear shopping at your store. Basically!
It's a little awkward haha. We have people from Colorado, Australia calling all the time… We here different accents…. It's crazy because the sneakers and this fashion stuff is a universal language.
Are you from Jersey City? Born and raised.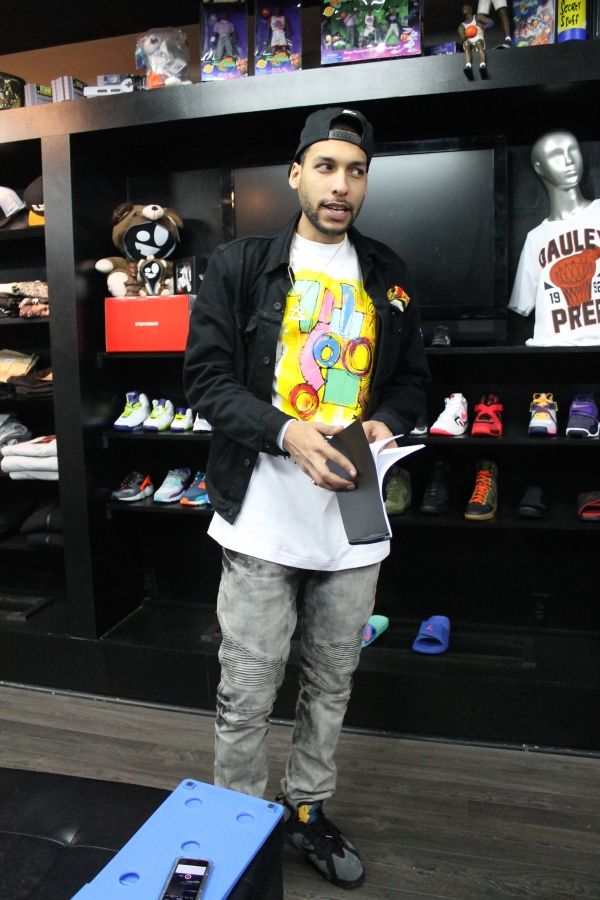 What area? Journal Square and Greenville. Right now I live in Society Hill in Jersey City.
Do you have a favorite hangout spot? I love Pizza Masters. They take care of us all the time. They make us special stuff….
Jeff do you have a favorite Jersey City hangout spot? This whole area, Central Ave in the Heights. I am not from this area but being here in 3 years you walk down the street and you know everyone… you know the post office guy…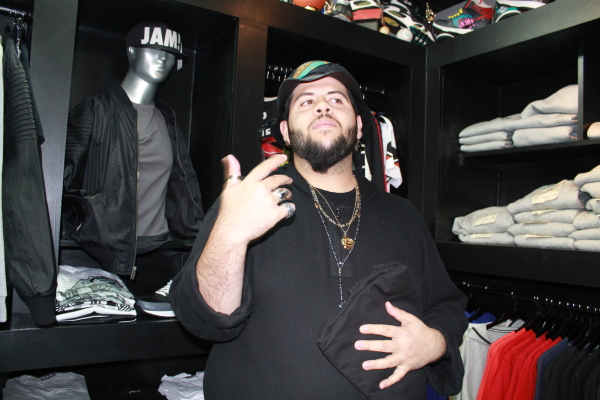 It's a neighborhood feel! Yeah, Central needs more credit than it's getting now.
I am working on it! I am hopping through anything that we are doing it will open people eyes. Especially Faded Royalty too.
(Haytham) Since you are a fashion blogger… we also own our own brands. This brand is called Eye Cre8te.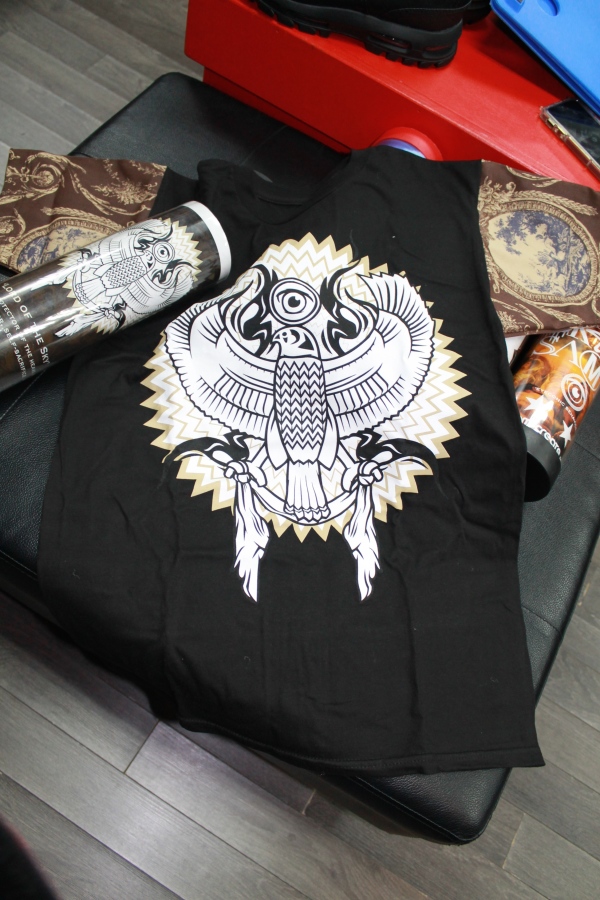 Do you sell this here also? Yeah.
I love it. It's funny. The greatest feeling about this, is anytime I release any of these it sells out immediately. It's really incredible. I will release 200 pieces and it sells out in 12 hours.
What are your future plans? I am going to build this brand into a cut and sew brand and promote it at other stores. This piece actually went viral… It's a Givenchy stars, the Fendi inspired E, Versace, Hermes, Oscar De La Renta, YSL, Supreme, Luis Vuitton, Chanel, Calvin Klein, Stussy, Comme des Garcons, Balmain…. and it says "Everything Looks the Same"  kind of making fun of where high fashion is nowadays.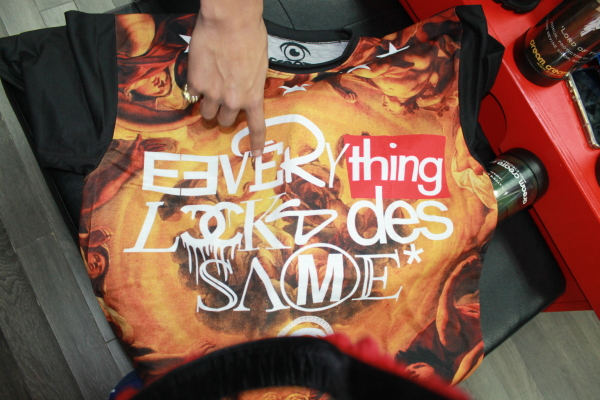 It's sort of true haha. Love it. You designed this? We do all this stuff here.
Very impressed. Thank you very much.
So what happens when you have a new release? Lines down the block! Jordan release every Saturday. We are the only store that does first come first serve. People line up out here… sometimes they start 48 hours before…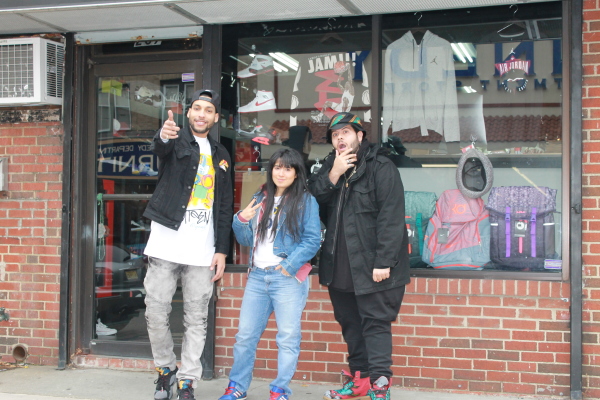 That's insane! Everyone has their vices, I see people who stand out for phones… The way we try to set up our company is we try to get people who really love this stuff. I grew up with Jeff, met him when I was 16 and he is a really talented artist. He is from Miami, and he moved up here… Another female who works here her name is Jen Twice, she just hit 20k followed and blogs pick her up all the time. She just did a 365…. She is one of the first females who did that.
What's a 365? One new sneaker a day for a full year.
Wow. It was incredible.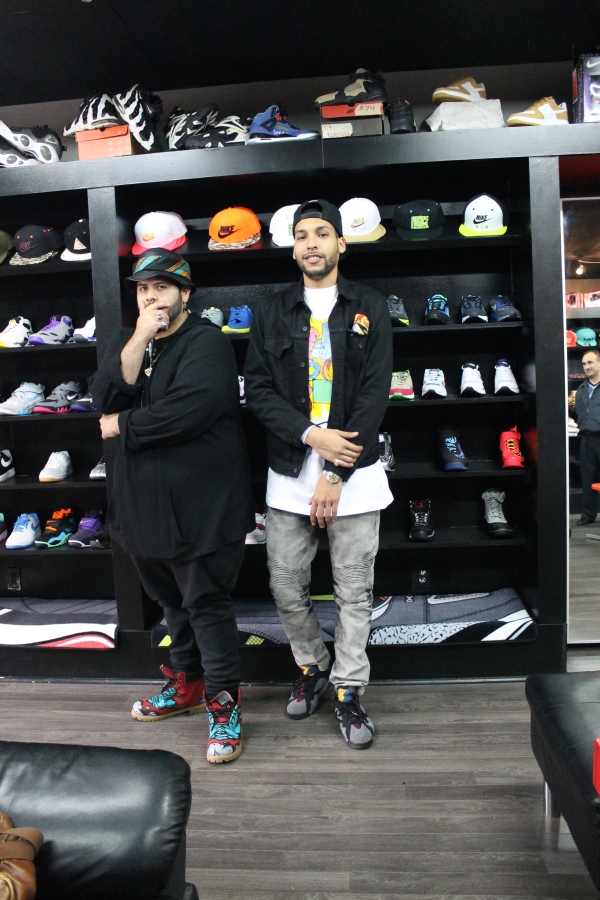 What's your future plans for the store? See how big we get. We are just a small store in The Heights. Who thought we would make it this far. We have a lot of people who are interested in franchising but is that where we want to go? You lose the essence of the store. I am starting a leadership program for kids. We have all these kids out here that come hangout here after school. It's called "Chill Town C.H.I.L.Ldren",  chill town for Jersey City and chilldren stand for Changing How I am living Life. They will have badges… I will sit them all in a room and I have a screen printing company that is already involved and I will teach these kids how to start their own clothing line… I am really excited about that.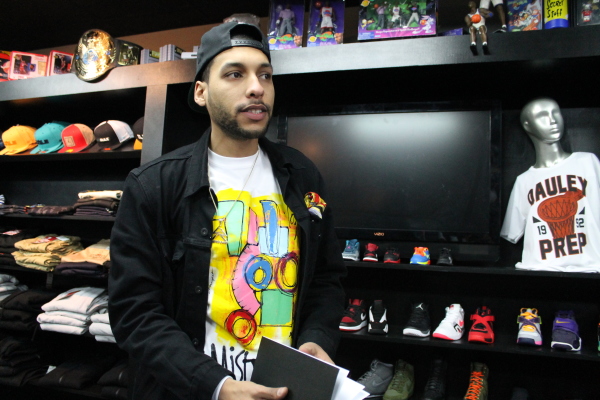 Wow, so you are really all over the place! I try to be.
Do you ever sleep? We can't!!
Sleep is for the weak. We are out here, there is no time for anything.