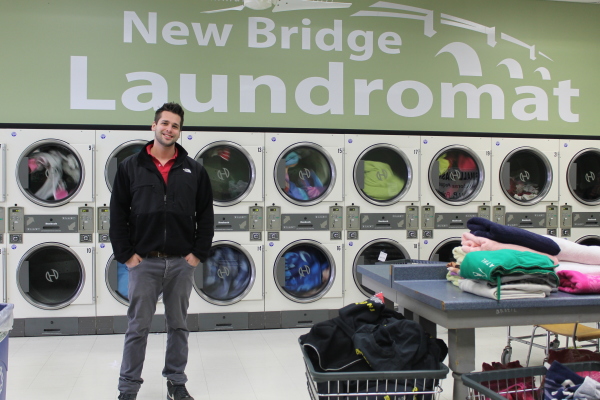 When I lived in Manhattan I was frequently using wash and fold services because there was no washer and dryer in my building… that and I was a little spoiled. That being said, every month I would switch services because my clothes would come back ruined, brittle and smelling like s-t!! Many people in the Jersey City area are in the same situation, they either do not have access to a washer and dryer or simply have no time to spare let alone worry about doing their laundry… who needs another chore am I right? Now, don't get your panties in a bunch, New Bridge Laundry to the rescue!
Mike Porada is a dashing young local fellow born and raised in Jersey City and proud owner of New Bridge Laundry. Mike invited me to visit his commercial laundromat in Bergen County that services his Jersey City clients, to get the inside scoop on his company, ride around in a laundry cart, eat vending machine snacks and I also got to find out where the missing socks go!! This is breaking news!!!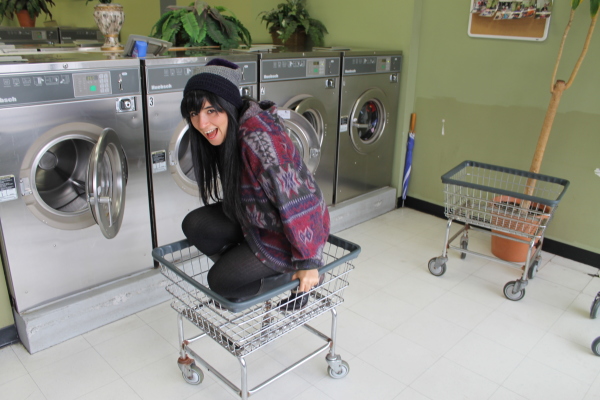 What's your name? Mike Porada from New Bridge Laundry.
What is New Bridge Laundry? It's a pick-up and delivery service tailored to the needs of Jersey City's and Hoboken's uprising of extremely busy urban professionals. People that have better things to spend their time on besides doing laundry and racing to the dry cleaner before they close.
Even if you have a washer and dryer, why waste your time doing your laundry when someone else can do it for you nearly at the same cost… after you factor in detergent, bleach, fabric softener… especially the time you have to waste doing your laundry. You might be even spending more than what I charge!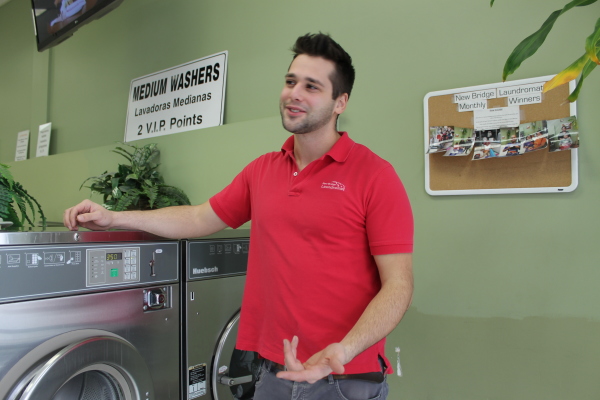 Time is money! Exactly. Clients are extremely thrilled at not only the quality & convenience, but with their time saved. New clients can either sign up online or call anytime. My retention rate is very high as well. Essentially everyone that signs with me has stayed. The only reason they do leave is because they move! I communicate with my customers constantly.
When you sign up, you let me know if you want a pick up once a week, every two weeks, once a month, etc… Also, my customers are not just numbers, I remember everyone by their name, what preferences they like, where to leave their laundry, etc…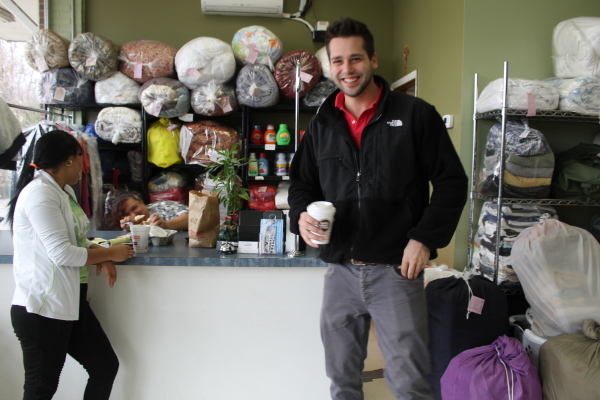 My schedule is unique from other companies because I pick up Tuesday and deliver Thursday.  When Monday evening comes, I send my scheduled clients a text reminding them that tomorrow is pick up day. If clients have laundry or dry cleaning, most reply with a "Yes, thank you!" and if someone doesn't have anything, I simply reschedule them for when they would like.
Why only one pick up day? By synchronizing & consolidating a whole week of clients into only one day, we are able to offer the highest quality service at the most competitive rates; all while reducing vehicle emissions.
We are able to cut costs, focus more of our time on enhancing our services, and really enjoy what we do – pioneering the new age of laundry to give you the best experience possible.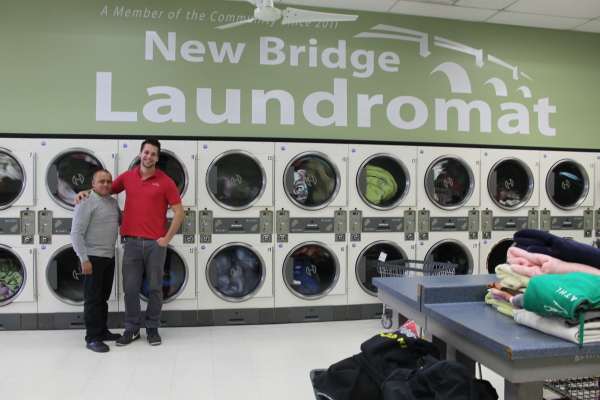 Explain. If customer A wants a pick up – they have to pay the driver to go to that customer to pick up and bring back to the store, then 15 minutes later Customer B wants a pick up… Next thing you know they are spending all their resources on employees, gas, wear and tear on their vehicle and then to maximize profits they use cheap detergent and ignore special requests. Before you know it they are done!
I pride my business model on sustainability, high quality cleaning agents, efficiency and most importantly customer service.
How much is it for a lb of laundry? My lowest rate is .75 cents a lb. The average wash and fold is $1.25 in Hoboken and Jersey City and if you go to any dry cleaners, they are all subbed out so that means a facility is taking everybody's laundry all at once and most likely dumping it into an industrial washer to maximize profits…there is no special care. Gross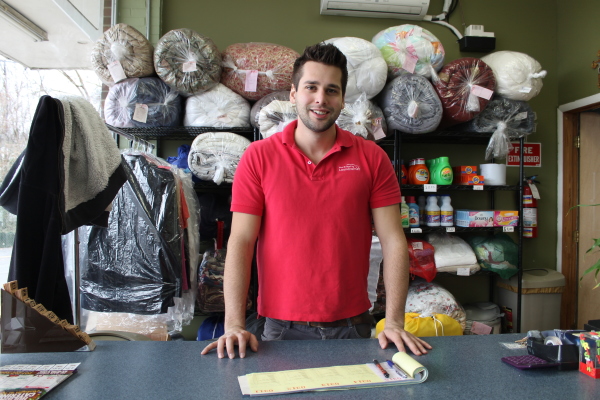 Most people get fed up with having their laundry done because there is no one they can trust. With me, if you have a special request you are texting me directly and I tell my staff directly… Not only that, each client also has their own account on our point of sales system. I save all special requests so for example if someone has a baby and they need a special detergent, I will make a note it so every time I log in their order, their notes appear in big letters and the girls who wash will see it. There are rarely any errors, or communication issues.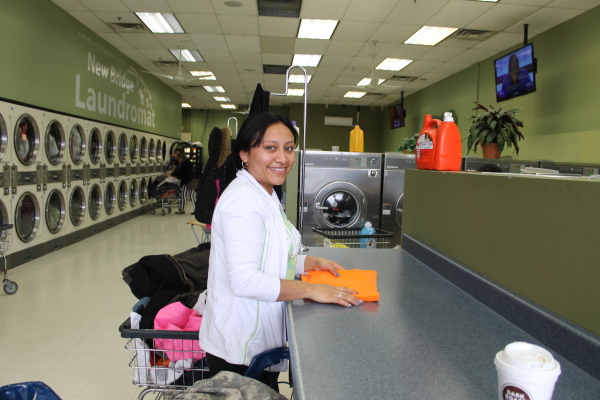 Do people have the option of using Eco Friendly detergents? Yes- A handful of clients give me their own detergent/softener/bleach they love. I write their name and address on it then store it for future use. Specialty detergents which I offer free of charge are "scent free and dye free" for sensitive skin as well as Dreft for babies.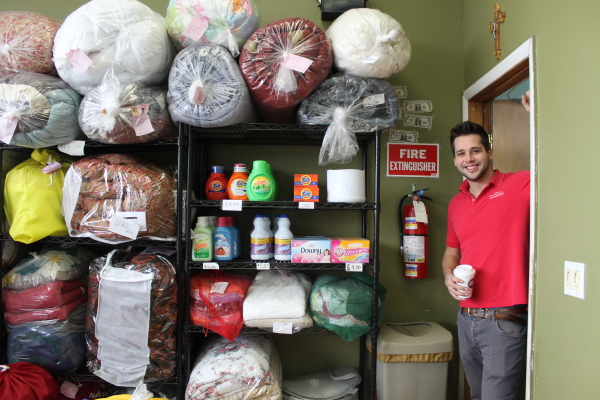 How long has New Bridge been around? My dad, two brothers and I bought the store in January of 2011 so we are going on 4 years. We perfected the wash and fold at our store and as you can see it's always jammed packed with wash and fold ready to be picked up…. people started asking us if we deliver so it got us to brainstorm. Since our store is in Bergen County, we built a waiting list of clients who wanted delivery in Bergen County and once we had a comfortable amount and we launched it –and it took off in Bergen County. Since I was born and raised in Jersey City, seeing the gentrification happening and seeing the influx of urban professionals moving in made me think about bringing this home. It only made sense. I brought it over myself in May of 2013.
Do you do all the pickups and drop off? Yeah, for the most part I like it that way. lt's better that I have my hands and eyes on as many aspects as possible. My brother John has been getting involved more and more which helps tremendously.
So it's a family business? Yeah. We've always worked together in everything we do. I've never had a traditional job my entire life… Actually one brief occasion When I was a senior in High School, I did an internship at a corporate office downtown for a few months – Interest Analysis was my department. I hated it. I knew I never wanted to work for anyone at that point. It was too cut and dry. I love the laundry industry – Everyone is so relieved and thrilled that I can eliminate such a mundane chore so efficiently once thought impossible.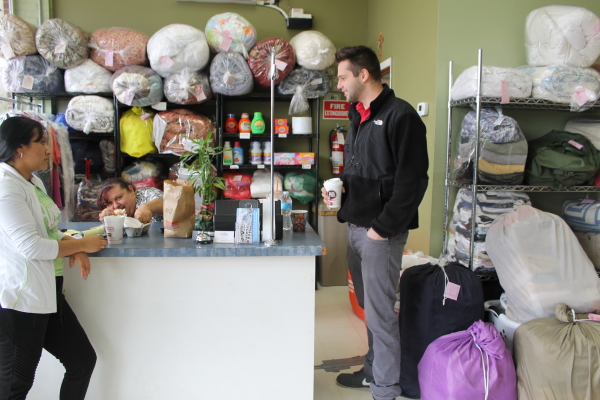 Ok I have a really important question. Where do the socks? Where do they go? Is there like a secret world beyond the dryer they disappear to? like a sock wonderland with the little spoons you also lose in the dishwasher? Hahaha. Basically there is a trap behind most dryers and washing machines for debris, like napkins, papers, candy wrappers, money etc…. this trap filters out small items, it's like a door, the size of a baseball. When the washing machine drains it. If your sock is unlucky it will go through the drain and into a sewer…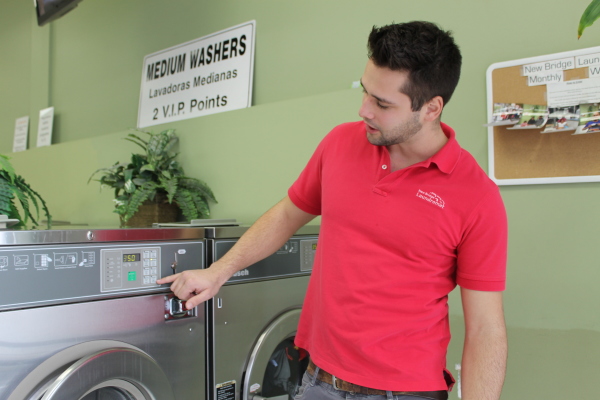 Haha. I always wondered. What is the weirdest thing you've found in peoples pockets? I had a customer once who left a pocket protector full of pens and would have stained everything if we didn't find it. We've found iPods, found peoples cell phones…I found some guys car keys to his Mercedes! Everyone is so happy to see their items returned safely. I pride myseld on old world service. I found $700 in someones dry cleaning recently…
What? who the hell forgets $700?! Yeah it's crazy. He just cashed his weeks pay. My father always tells me honesty is the best policy and no good deed goes unnoticed.
Do you have a favorite Jersey City hangout spot? Sure – Downtown overall is great to grab a bite and a drink. "The coffee shop" on Grove is great and the Lincoln Inn in the heights is a little hidden gem I like. They have live bands and a great atmosphere.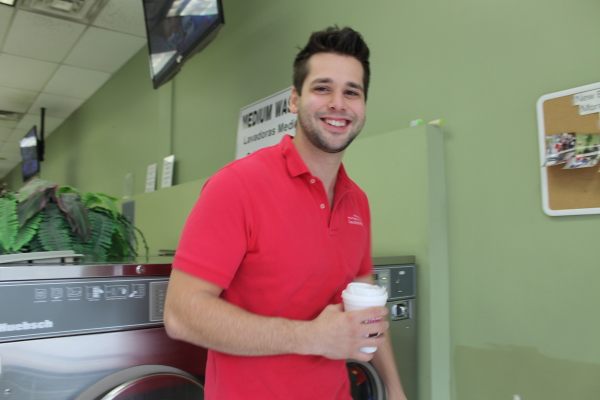 Ok so let's go over your process. Tuesday comes along, I leave my laundry outside my door, you come pick it up. You bring it back and on Thursday you drop it off in front of my door. Yes. I will leave it on your door step in the hallway of your building or with your concierge and also send you a text that it's been delivered.
Something we also do that a lot of laundry services don't is hang dry. What we do is you give me 20lbs of laundry and a few lbs of hang dry we will wash it separate. Then when it's time to dry we will hang it to dry.
Any future plans?  I do want to get involved into more community events- participate in markets to spread the word meet fellow residents… become a bigger member of the community.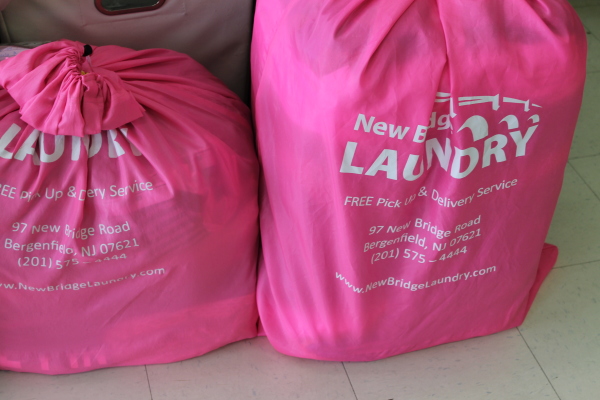 Anything else you want people to know? We really care about the customer. I learned from my father at a young age to be honest, to pay attention to the customer… no one is a number at the store, I know everyone…. I say hi to them when I walk down the street.
Service with a smile! Yep! We really are service with a smile – which is so hard to find these days. We pride ourselves on providing a classic charm and a standard of quality you can trust. We hope to be a household name in Jersey City.
 Well it smells darn good in here! 
---
To sign up visit http://www.newbridgelaundry.com
Mention Chicpea and get $15 Off!! That's like the equivalent of 10 #lotd's!! (look of the day)
Follow New Bridge Laundry on Instagram! @Newbridgelaundry