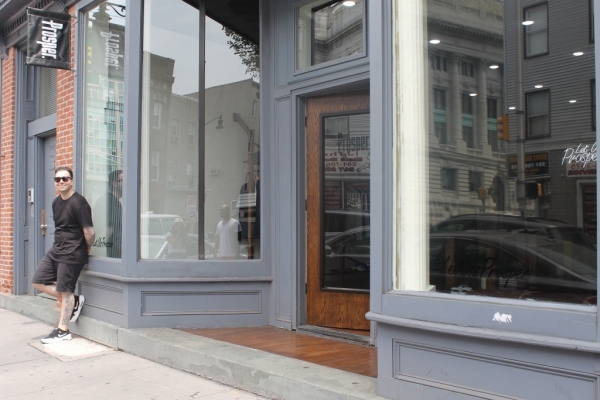 There are a few street wear brands coming out of our fine city that are putting Jersey City on the map in the fashion world; Faded Royalty, MBS, Chilltown Collective, Modest Mind (there are more I am for sure forgetting) and the newest in the game, Let Us Prosper. It makes me so proud to see all these local people doing their thing and coming out with their own brands, but above all these brands are proud to be from JC. They represent to the fullest.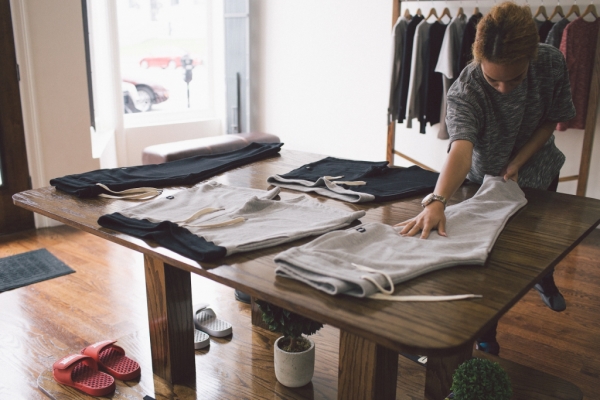 About a week ago my Instagram friend and local JC enthusiast, "Ced" reached out to me to let me know that his buddy, Peter was opening a street wear store called "Let Us Prosper" in the JSQ area. Before he could say come check it out, I said "When?! Where?!". Unfortunately I was unable to attend their soft opening because I was away but I went to check out their store as soon as I got back… like TODAY.
What's your name? Peter Koytroulis.
What do you do? I am a designer/manufacturer, clothing, and boutique owner.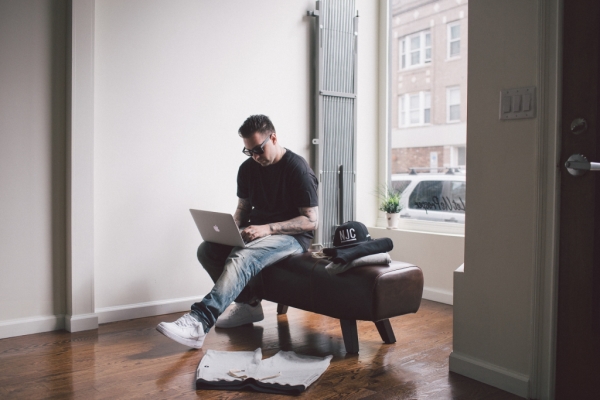 What is "Let Us Prosper?" "Let Us Prosper," is the slogan for the store…[It's] based off of the Jersey City slogan, "Let Jersey Prosper," so when opening a store, we thought about the slogan for Jersey City, "Let Jersey Prosper," and that's how we thought about the name "Prosper." And thinking about Jersey City and just thinking about everything in general, we said we wanted to come up with our slogan for the store which is "Let Us Prosper."
We can kind of translate that into anything we do in terms of our clientele, the people who work with us, our photographers, 'cause we want everyone to prosper. So if they do anything for us too, it would be, "Let John Prosper," [or] "Let Drew Prosper," because it's all about really uplifting and a community thing and just letting everybody kind of getting to the next level.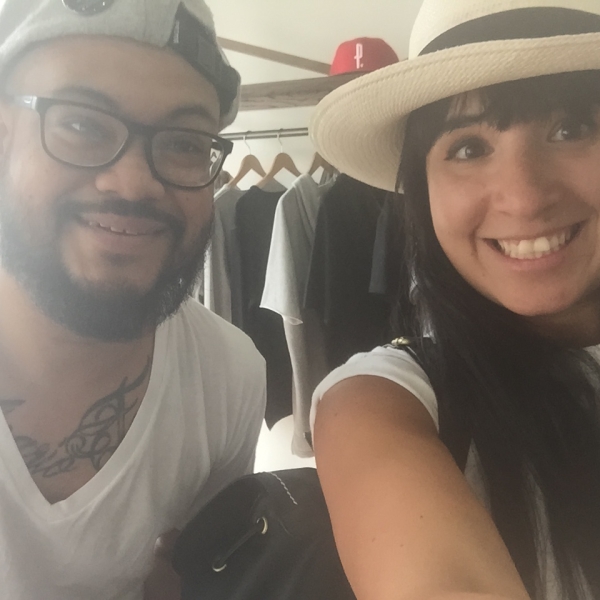 Why did you decide to open a store? Where did the concept start? I've always been into fashion; I've worked in retail before. The whole concept for the store really started with me thinking about being able to bring something to Jersey City that I think we didn't have. And also be able to offer them something that was basically from a factory straight to retail, cut the wholesale out.
One of our icons is a diver helmet which was inspired by a company named "Snead" they where located in JC and found in the early 1930's I believe.  They manufactured diver helmets.  Based off of that we thought it would be cool to have a diver helmet as an icon and tie into some JC heritage.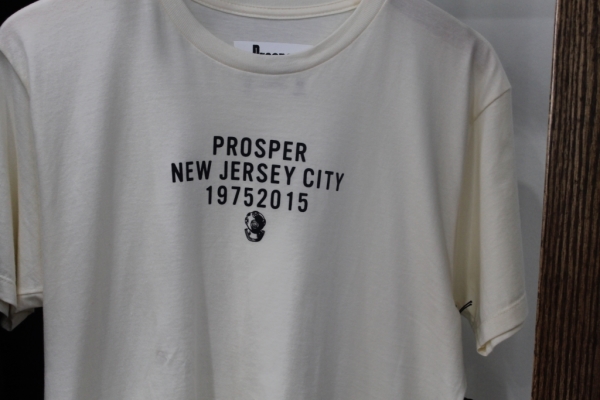 Can you elaborate on the aesthetics of your line? When you come into our store you'll see it's broken up into three parts. We have our basic and our clean section which is hoodies, crewnecks, clean t-shirts, some cut and sews, and then you get into some printed items, printed hoodies, printed crewnecks, and then in the third rack we have a few woven pieces as well as some Jersey based pieces for the locals.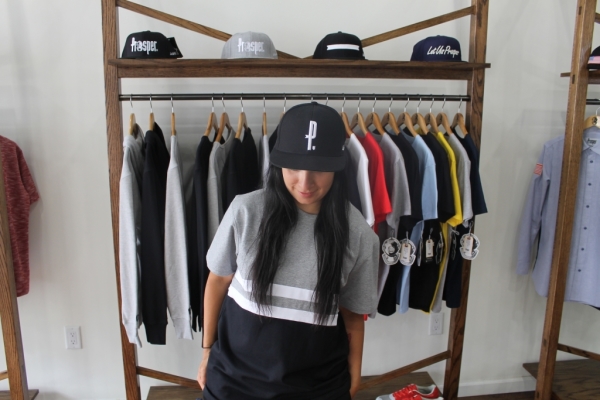 When did you guys officially open? We had a soft opening on Wednesday, for press and then Thursday we opened up.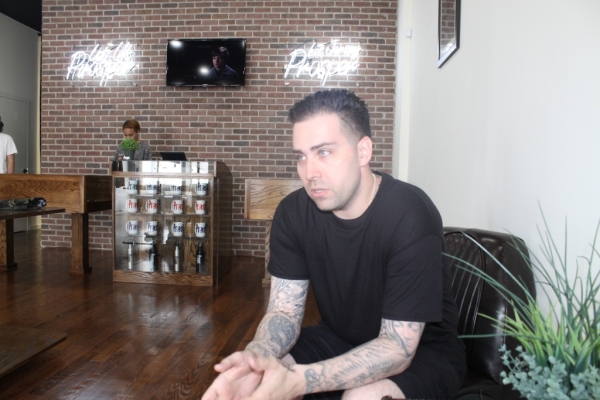 Are you from Jersey City? Born and raised.
What area are you from? I'm actually from around the Journal Square area. So I live right around the Journal Square area, I went to the grammar school at St. Aeden's which is on Tuers Avenue, the same block that I live on now… that I bought my house on and I went to high school at Hudson Catholic which is across the street from St. Aeden's. So this is kind of like where I grew up.
How do you feel Jersey City has changed in the past couple of years? I think for the better. I'm seeing a lot of improvement; I'm seeing a lot of different faces; I'm also seeing just an uplifting… I'm seeing a lot of people trying different things and that always makes me happy… a lot of the kids I used to coach in basketball or were in the grades younger than me start doing things. When I see them coming here and see what they're doing, that makes me happy.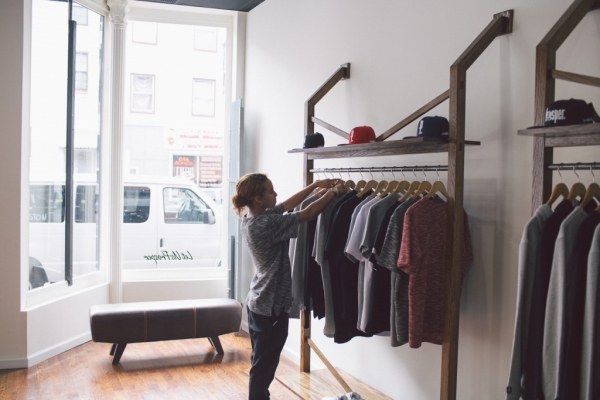 How do you feel the fashion industry in Jersey City is doing? I actually think it's doing [well]. A few years ago people would think Jersey City was a little slower than New York but I think now it's come to a place, because of social media and because of all these blogs that just everyone is up on it now. It's not like your waiting, you just get stuff instantly. I think the kids here have a lot of style and they're able to translate that now.
What are your future plans for the store? We're definitely going to come out with a fall collection, so we would drop seasonal as if it was a regular clothing line. We're about to launch our online store this week because not only do we want to be in Jersey, but we would like outside people to support Jersey and support our shop as well. So we'll do the online and just [have] new products and new [and] different pieces.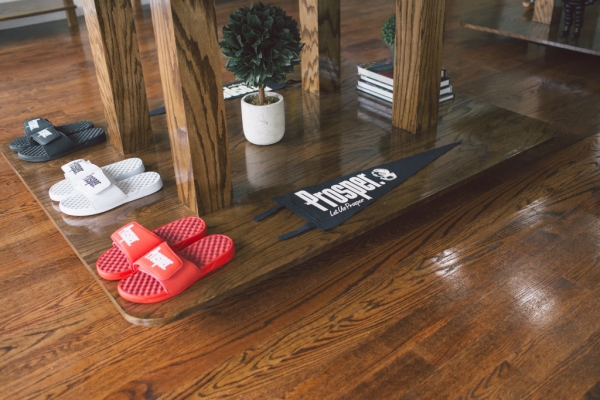 Is it unisex of mostly men? We do make sizes small so if women wanted a size small they could and in the future we noticed that we will be going into extra small. I mean there [are] definitely pieces that could translate between both, men and women; you know some of the joggers, some of the shorts, some of the shirts and that's amazing.
That's really huge; I'm dressed like a dude sort-of today. Everybody's doing it, it's not even us. Girls are going into every shop and buying stuff, so then it's like, they'll get a small or maybe they'll even by a large or a medium 'cause they want it a little bigger. It's just changed so much in the past ten years, five years even. Before, a girl would stay with wearing a girl's clothes or clothing lines license their name out just to women's apparel place just so they could make it for women. Now the girls are going, they'll buy the men's stuff, they'll get it tailored, they'll get it to fit them or they'll wear the extra size. It's just changed so much. That part is cool for us because obviously, we'll offer a small, we'll offer an extra small. And I think our style is pretty universal and it's kind of on trend so it could translate to both.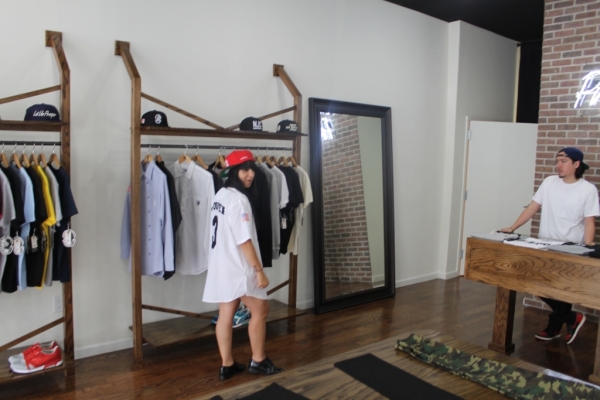 Who are your biggest style influencers? There's a few of them. One of my favorite brands growing up was definitely Supreme, being from [New] Jersey you would always go to New York. You've guys on the West coast, Chris Stamp'd, who are doing great things. Ronnie Fieg in New York, he's doing great things. More than that too, I just see a lot of younger guys just doing things and just trying new stuff. So, we'll look at that and I admire what they're doing…
Do you find the streets where culture has changed that it's become cleaner and more refined? Yeah, definitely, again, [especially] compared to five years ago. Being in the industry and kind of seeing the cycle for as long as I have been, it's definitely a cycle, everything comes full circle. It is cleaner now, it's more depending on your cuts, [and] it's depending on the fabric, the material, and the details. Now you have extended T's or you have scoop-bottom T's, like before that wasn't really happening but it's like alright, how do we redo the T-shirt?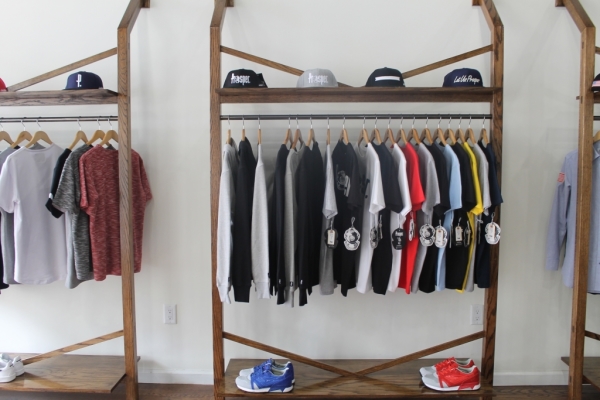 Maybe somebody doesn't want a graphic with it. But it's definitely cleaner; it's weird because you either see people wearing all black or all white. We kept that in mind when we were doing the store too, we wanted a clean section of the store but we also wanted a printed element because of our location. We're right by Dickinson, you've got McNair a few blocks down, [and] we've got Ferris. Now these are younger kids also, so you don't know if they might want a graphic T. So I didn't want to just like say alright, "We're only going the clean route," I wanted to make sure that we offered both and just have a line that's segmented in a way that you could do the clean route or you could go the other route.
What is your favorite Jersey City hangout spot that you like to eat and drink at? That's tough because I have four kids.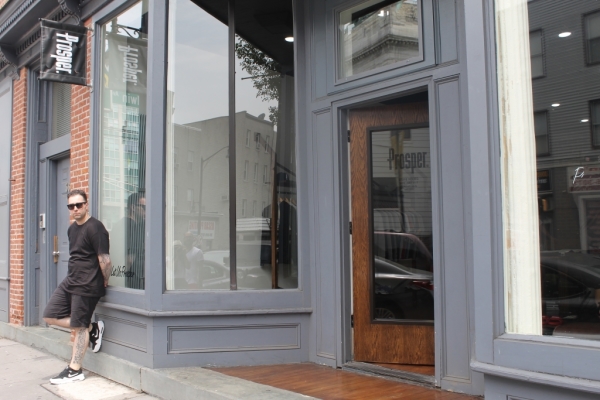 Do you have a favorite park you like to take them? We usually go to Lincoln Park, Hamilton Park, or Liberty State Park, it's a tossup. I just try to rotate them so they don't get too tired.
Anything else you want people to know about you or the store? We're really happy we could do something like this, especially in Jersey City, and offer something that we feel like wasn't here before or like to be one of the first people to actually offer a shop like this. We told someone earlier, he lives a few houses down, he said he'll come back and spread the word. And I told him, "It's not even necessarily about coming in and shopping, just come check out the shop, come check out the experience, see what we have to offer." To me that just like sometimes enough in itself, because people can see it and they can tell somebody about it and that person may come in and buy something. So that means a lot to me just knowing that people are excited enough to come check it out and talk about it.
558 Newark Ave