Time is money and as a busy working mom, I always look at new ways to save time, especially on mundane house tasks like doing laundry. Imagine not having to worry about your dry cleaning, dropping it off and picking it up, and having a service that takes care of all of that for you. You can even use an app and not have to speak to anybody – how millennial is that? I'm going to bless you guys with Coastal Cleaners, owned by small business owner Frank Giusto, who I actually met a year ago at a business networking event.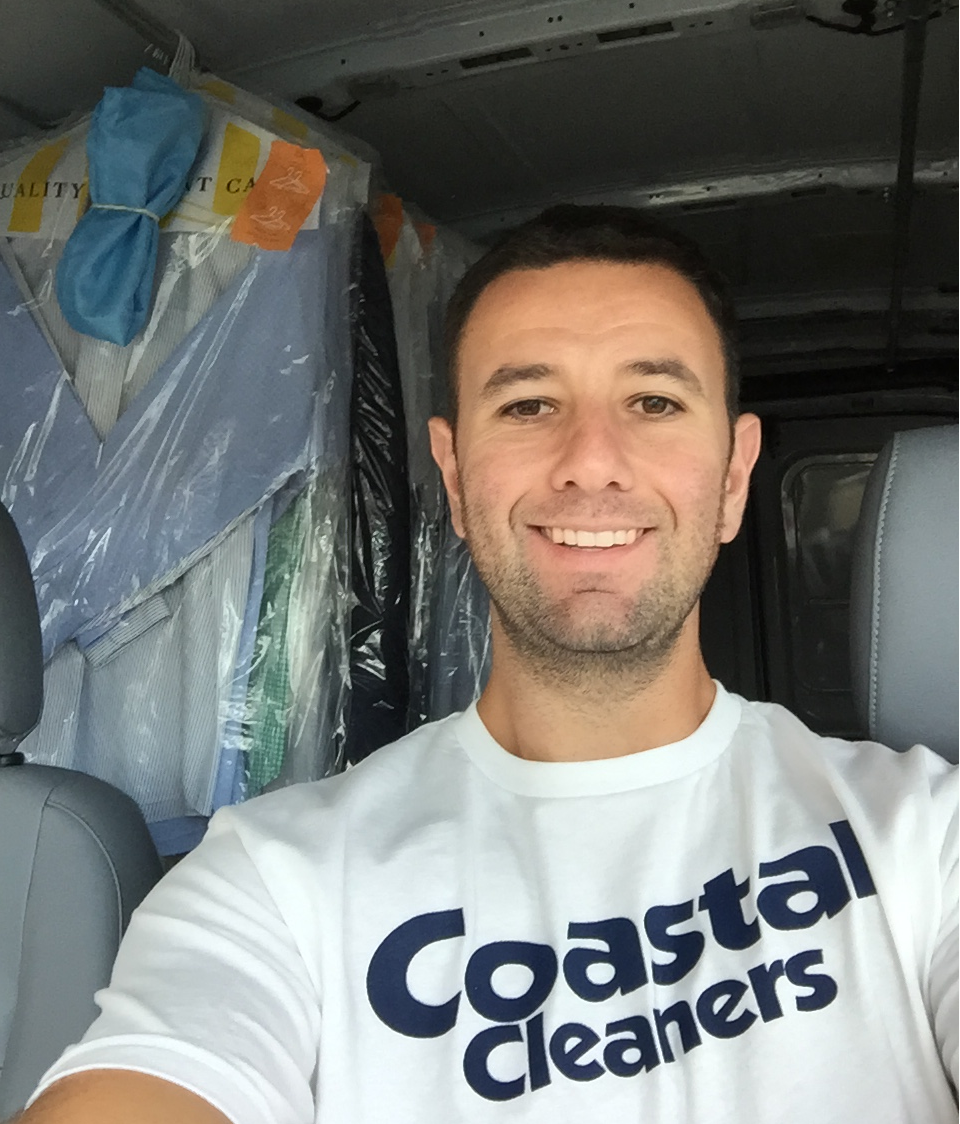 ---
What's your name?
Frank Giusto
What do you do?
Dry cleaning delivery in Hudson and Bergen Counties.
What's the company called?
Coastal Cleaners.
How long have you been around?
We have been in business a year and a half, however our dry-cleaning facility has been operating for over 30 years.

How did it start?
With 10 years' experience in Equities Sales and Trading, I came to a point where it was time for a change and started exploring different opportunities. After interviewing for a few positions in the financial industry and being frustrated with the process, I realized it was time to think outside the box and explore the possibility of starting my own business. I was constantly coming up with different business plans and this was one that had the lowest risk with the biggest upside. At the time, I was spending over $150/month in dry cleaning between my wife and I using a local cleaner in Hoboken. I started bringing my clothes to a dry cleaner in Clifton and saw my cleaning bill drop dramatically. I thought: why not bring all my family, friends and neighbors' clothes there and turn this into a business? I did a lot of research and partnered with one of the best dry-cleaning facilities in the Northeast (one of only 12 in New Jersey certified by the Green Cleaners Council) to handle the actual cleaning of the clothes. Over 95% of dry cleaners in the area do not operate their own plant and send their clothes out to a wholesale vendor (rent is way too high to operate a plant due to the space needed). All other cleaners have the wholesaler come to them and pick up the clothes. However, our focus is on quality control and providing the highest level of service to our customers, so we go to the plant every day, managing the whole process: pointing out any stains, specialty items, or rush items to ensure everything runs smoothly.  We do not operate a traditional storefront, which eliminated the cost to build a store and other expenses associated with operating a storefront.  The end result is lower prices for our customers.
Can you tell me more about the services you offer?
We offer 100% Organic dry cleaning, laundered shirts, wash and fold, alterations & repairs, comforters, coats, shoes, handbags, homeware as well as leather, suede and fur cleaning. We also specialize in wedding gown cleaning and preservation. There is no delivery fee and no minimum for orders.
New customers can create an account through our app (Coastal Cleaners – available on the App Store or Google Play), our website (CoastalCleanersUSA.com) or they can call us (201-744-9034). It's all safe and secure, unlike many of the other vendors in the area that make you fill out a paper form with your credit card information on it and place it in the bag with your first order.
Who do you service?
Currently, we service most doorman buildings in Hudson and Bergen County.  We also service buildings that have a leasing office that accepts packages or buildings with a virtual doorman. As we grow, we will eventually expand our services to all residences. For wedding gown cleaning or preservation, we service all types of residences and are planning to offer pickup of the dress the day after the wedding at the hotel.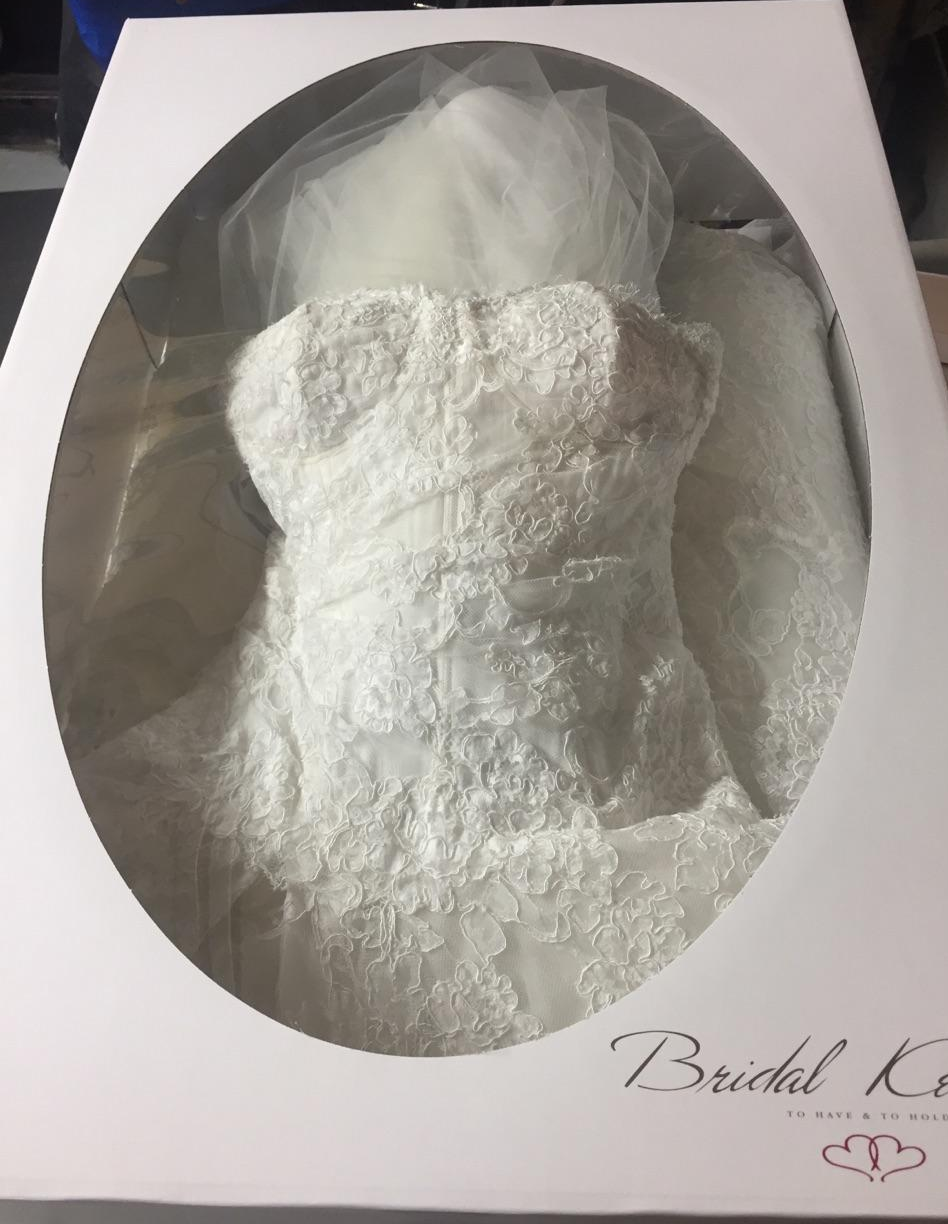 What are the main buildings you work with?
We work with many communities from Jersey City up to Fort Lee.  We try to create partnerships with property managers and offer to create custom bags for the building where each new resident who moves in receives a bag. Our biggest customer base stems from Maxwell Place, Hudson Tea Building, Harlow, Trump Bay St, Liberty Towers, Vantage and Hudson Lights.
What's the turnaround time?
The normal turnaround time is two days; however, many orders are ready the next day. We try to get orders back to our customers as soon as possible, but some orders can take an extra day if there are alterations or if a stain needs additional attention.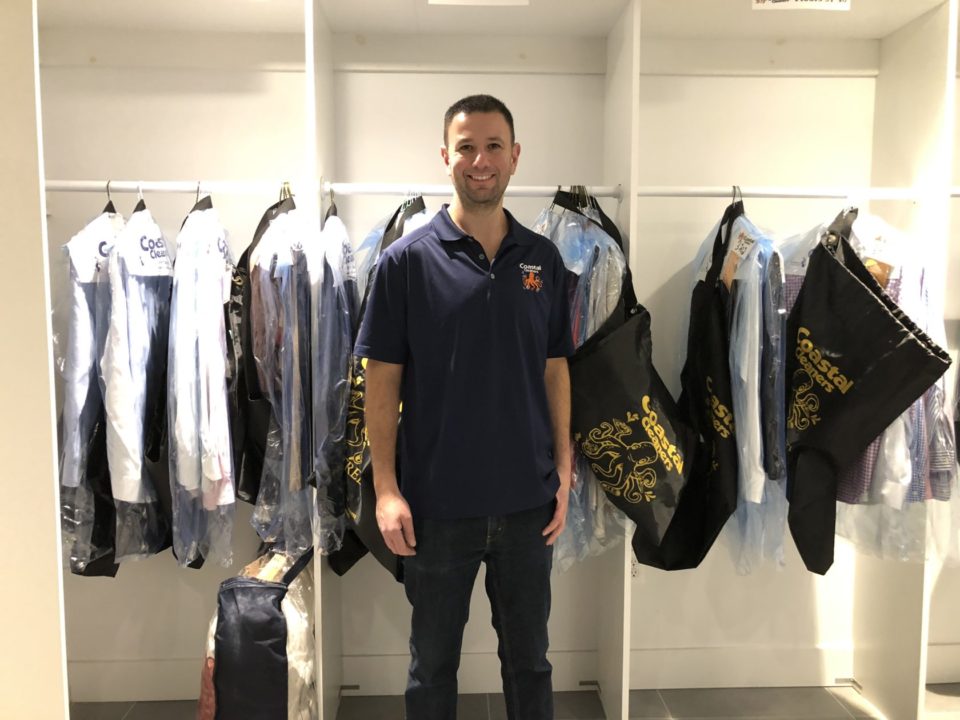 What's a typical day?
A typical day starts with some marketing and finalizing orders from the night before. Pickups typically start at 9 AM, with a route from Hoboken to Jersey City, and then to the warehouse in North Bergen.  here, we take the clothes out of the bags, look over the items and sort by material/type of clothing, put the tracking tickets on and enter the orders into the system. We load everything back into the van, transport it to the dry cleaner and drop everything off. Finally, we load all the orders that are ready and complete the deliveries for the day. There are many formalities in between that take up any spare time I may have during the day.
So you do a lot of driving?
Yes. I drive from Hoboken to Jersey City to North Bergen to Teterboro to Fort Lee to Weehawken to Hoboken to Jersey City every day. I am a human version of "Waze" now, always recalculating my route based off of closed roads and how I can maximize my route.
You've created a whole system.
Yes. From start to finish, we've created an efficient and streamlined process that focuses on keeping costs down for our customers while ensuring they receive the highest level of customer service.
How has the transition been, going from corporate to being your own business person in something completely unrelated?
It's funny, you'll think now that you don't have a "boss" it'll be great, but now your customers are your bosses. Everything falls on you, so you're really answering to them. At the end of the day, we will do whatever it takes to keep our customers happy.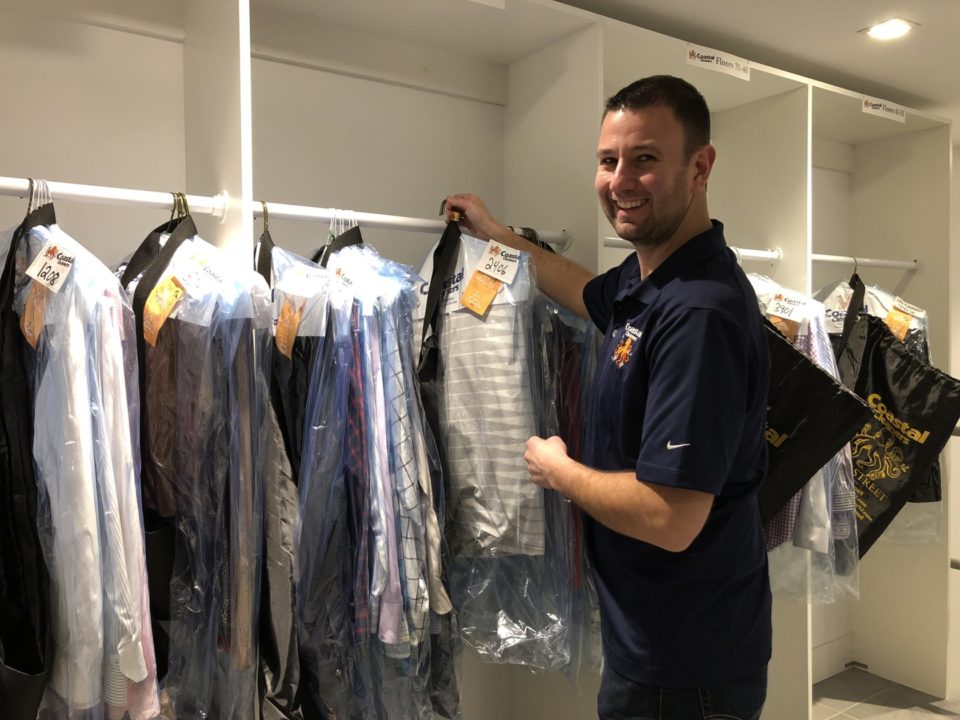 Do you like it more?
Yes, I love it. It's a lot of work managing the order flow while also growing the business. Each day we become more efficient, allowing us to handle the increased workload and demand. I am looking to hire one or two people to help support our growth and continued expansion.
You've expanded so much already in the past year and a half.
Yes; the biggest barrier to entry in the buildings is the doorman. Many of them receive payments for referring a particular cleaner – which we do not do. We try to work directly with the property managers or building owners and ask them to hand out our bags to each new resident as they move in. If it was an even playing field, we would have a significantly larger customer base based off of the services and amenities we offer compared to the competition.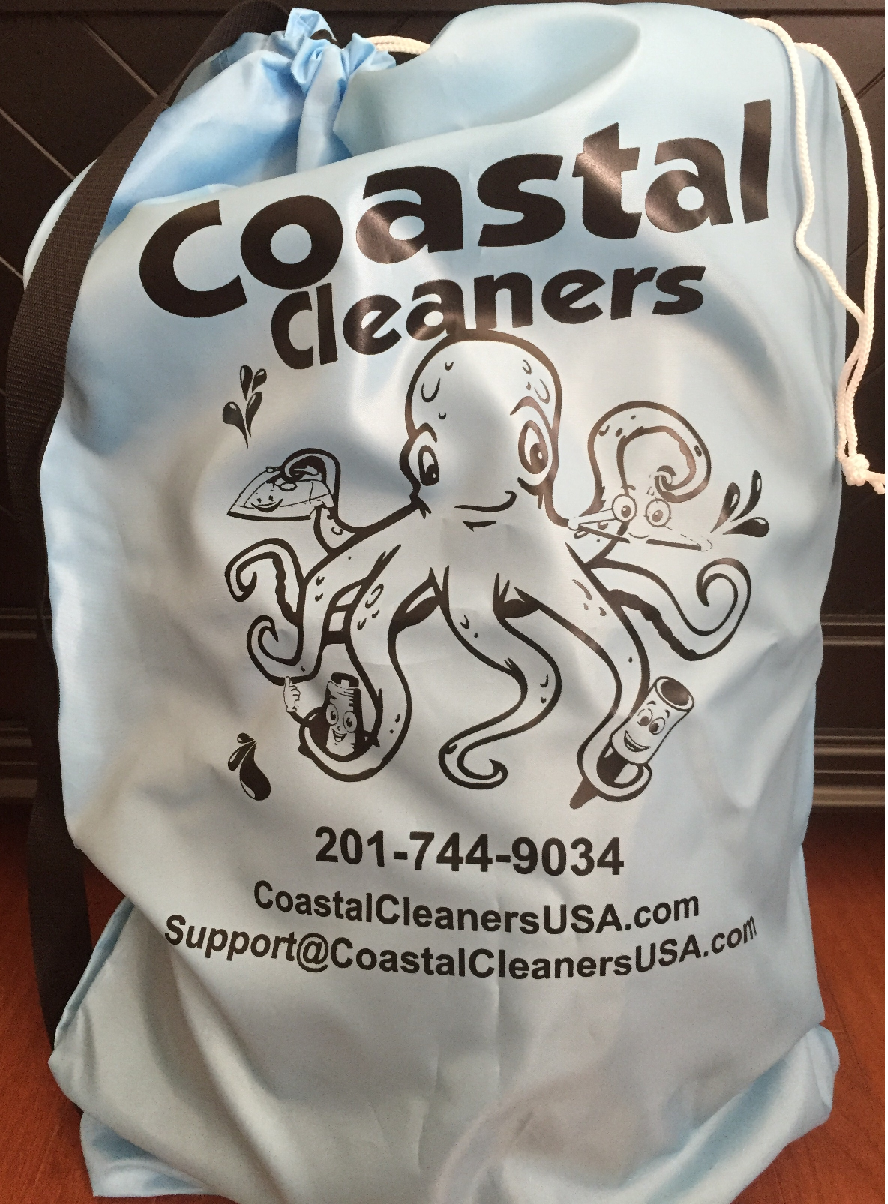 Right. So, why the octopus for your logo?
I had the business plan for a couple of years before I started this thing. My wife and I went on a tour in Cozumel where we stopped at a bunch of secluded bars on the east side of the island which have no electricity and rarely visited by tourists. One of the tour guides was an artist and a painting he was selling had an octopus holding wine glasses and bottles. I based my logo off of that, and after months of tooling around I was able to come up with a rough sketch. My friend, who has a graphic designer on his team, was nice enough to lend me her time and with her skill, we were able to piece together to what the logo is now.  Funny thing is, I had the logo before I came up with the business name – needed a name to match the logo.
Anything else you'd like people to know? Where can people find you?
They can search for Coastal Cleaners and find us. They'll see two locations – Trump Bay St in Jersey City and Maxwell Place in Hoboken. Maxwell Place is our office and Trump Bay St is our virtual valet (only residents are allowed to use it – everyone else, we pick up and deliver to their doorman).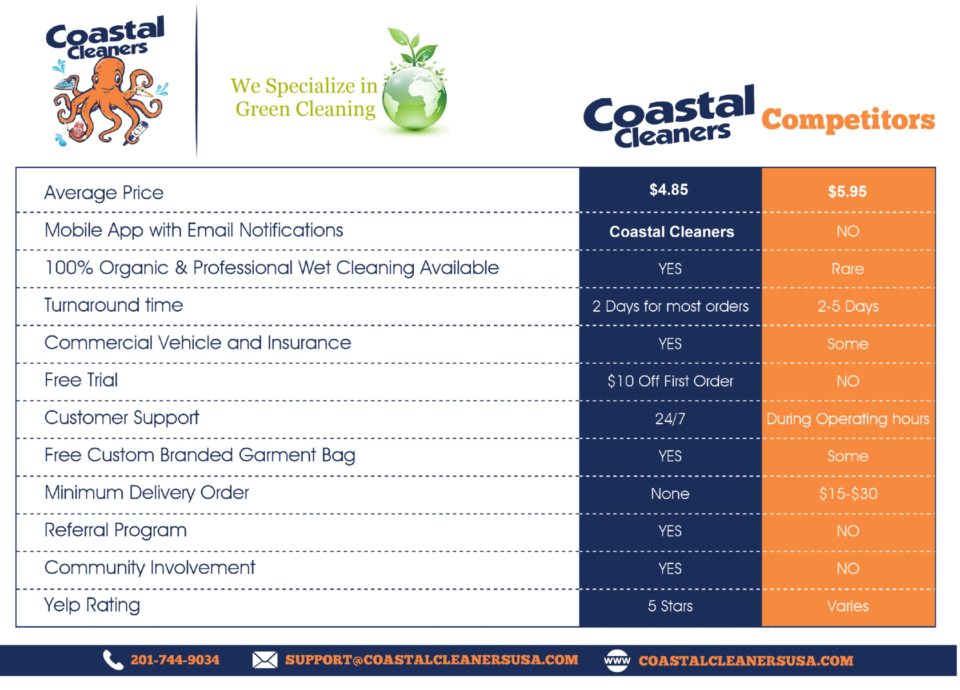 Coastal Cleaners also holds clothing drives, especially for Dress for Success and local shelters/fundraisers, for Alex's Lemonade Stand, St Jude's, and local education and veteran foundations.
---
You can check out Coastal Cleaners on their website, Yelp, Facebook, Instagram, and Twitter. 
The Coastal Cleaners app is available on the App Store or Google Play.
They are offering ChicpeaJC readers $10 off their first order – Enter Chicpea when creating an account.
With their new referral program, customers can refer new clients through their app and receive 5% credit of all the referred customers order flow!
Coastal Cleaners is also looking for ambassadors at each building who can earn cash referring residents in their building to their services. Spots are limited and are filling up so contact them via email or phone for more information.