I've known about SILVERMAN ever since I started my blogging career. SILVERMAN are not just developers, they are a huge part of the Jersey City community, always planning fun events, working and helping local businesses, non-profit organizations, schools… basically everyone. I always see Paul walking around, shaking people's hands and saying hello. They are good people doing great things for Jersey City.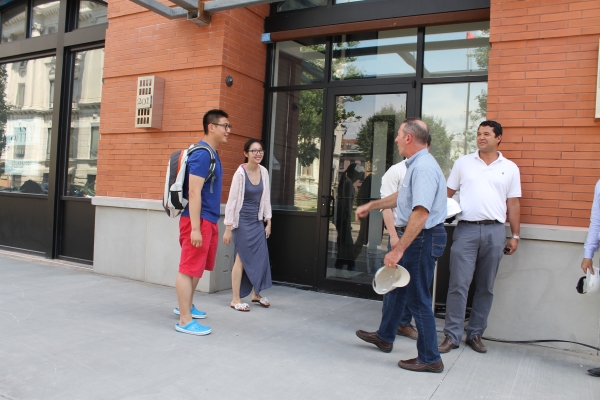 A week ago Brittani Bunney, Manager of Leasing and Community Relations invited me to tour the new Charles & Co. building on Grove Street. I was so excited about this, because before this building went up there was this horrid parking lot that I would walk by everyday and it killed my vibe… when I heard they were putting up a residential building that would be housing new local businesses I was ecstatic!! Shopping?! food?! Yes!!!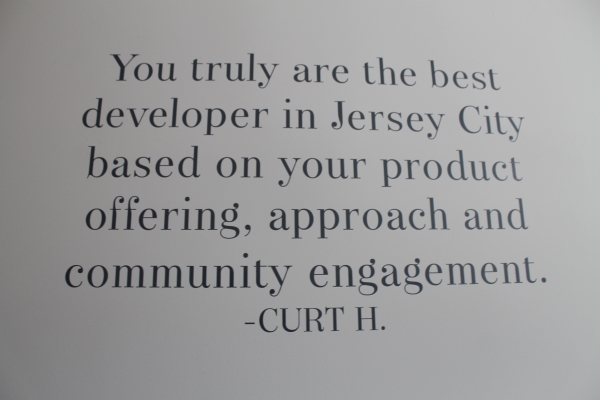 6 months later Charles & Co. completely changed that block and it's only going to get better. I had a blast touring the place with a few people from SILVERMAN. Fun fact, I actually grew up around many construction sites, my father used to own property, and worked in construction… built homes,  did renovations etc… so the first thing I did when I walked into Charles & Co. was knock on the walls. All I can say, SILVERMAN built a high quality building which you don't see often in a rental building. When I moved to Jersey City years ago, I lived in one of the highrise condos and they were shit in comparison (sorry?!). Anyway my point is, this building is awesome.
But wait. Eric Silverman heard that I went to visit the place and he wanted to give me a tour himself! I am down with that. Eric is so cool, what a nice guy. Hey if Chicpea doesn't work out can I get a job?! Thanks.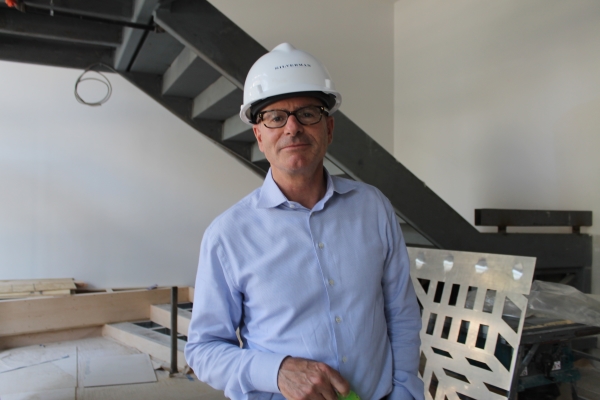 What's your name? Eric Silverman.
What do you do? Developer and Builder.
Can you tell me a little bit more about Charles and Co.? Charles & Co. was named for the store that was on this corner. The owners of the store were really great in the neighborhood and helped people in the community in the 40s, 50s, and 60s. We heard about them and that's why we named the building Charles & Co. We purchased this in 2007 and started building in January 2014.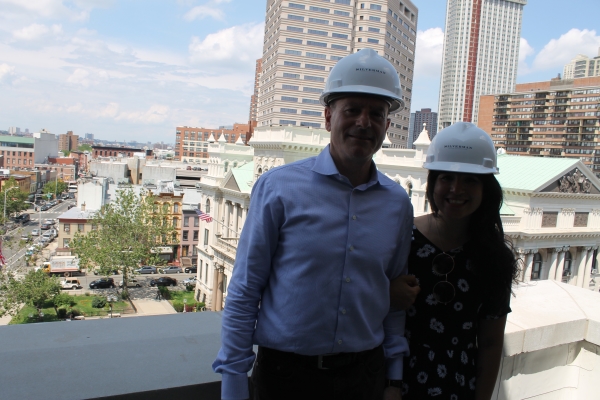 What was it before? It was parking lot, Charles and Co. store and The Garden Preschool that now has a permanent home in our building on Tenth Street in the Park Foundry.
Can you tell me a little bit more about what's in the building? It has 99 apartments on the upper floors. The ground floor is all retail space, we have seven stores, all independent shops. Another Man's Treasure is moving here from Grove Street, Kanibal Home is moving down from a block from here, Hazel baby  is expanding to Hazel baby and kids, Cool Vines Wine Shop has a space here. They have a store in Princeton and one in Westfield; they'll have a wine shop and market. We'll have a restaurant.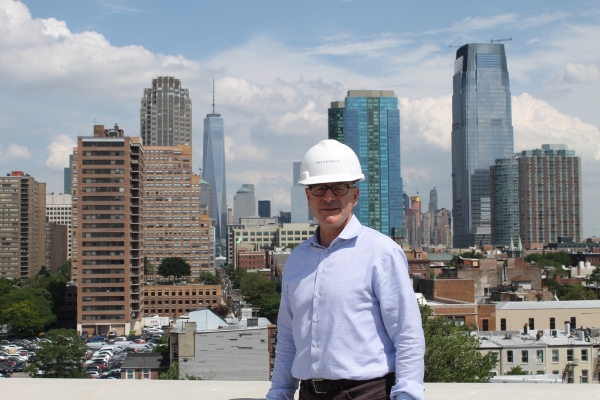 What restaurant will it be? We have three proposals and we're going to select from this week. All really great places. We have a gym and fitness studio called Maximum Motion Fitness that's moving from 340 Grove Street and a tutoring company called Mathnasium. Hidden behind the stores is an indoor parking garage.
Are there going to be amenities? On the second floor we have office space. Co-working space where we hope to have 100-200 people, independent entrepreneurs like you, to have desks or small offices here.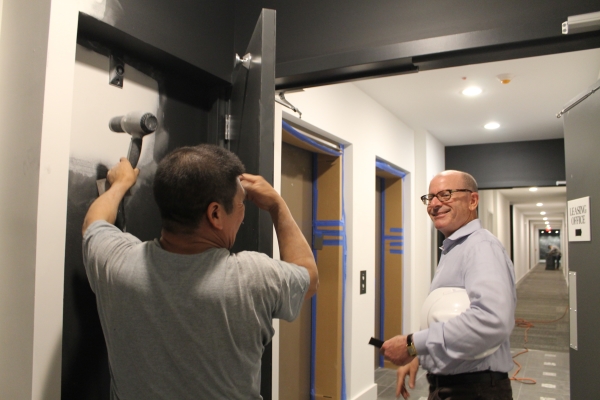 What is the purpose of that? Co-working space is kind of like a health club during the day for the workers. We are deciding upon a name, which we will have shortly.
Approximately how much will rent be? The range for the co-working space is still in the works, but we hope to release more information soon.  For Charles & Co. current rents, the leasing office has the most up to date information their number is (201)434.1000.
Can you give me a tour? Sure!
This is a piece of the railing. And the beauty of this is that it's fabricated by Jersey City Artisan named Peter Man. He's a furniture maker and metal worker and the pieces are actually made in Jersey City at StaLoff, it's an old-time shop that does laser cutting and plasma cutting. We try to incorporate all [local stuff].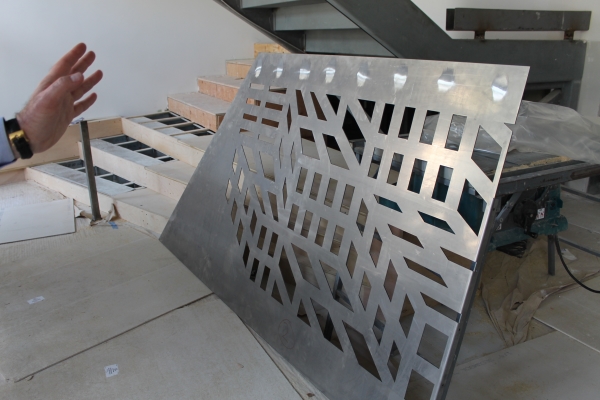 The gentleman who is doing the wood work is Eric Powers, he's also from Jersey City. He's built the Majestic lobby, the bar at The Merchant which is now Park and Sixth, he did the lobby at Schroeder Lofts for us and in Hamilton Square, he did work at Hamilton Health and Fitness, Two Ten 9th Street, and the New Thanh Hoai on 10th and Erie.
The reason why we put really neat stair in is that when people work in the offices, we wanted to have a nice entry way to the offices instead of taking the elevator. This was complicated structurally to build but it was worth [it].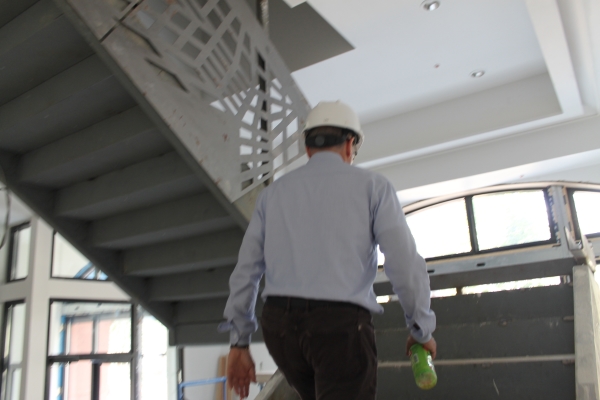 How long did it take to build? The building has taken about sixteen months.
When we come in there, this will be the office space.
When is that set to be finished? September.
This space is like a communal workspace. We'll have a real big lounge in here where you can hang. There'll be a little café up here, booths and things, really highly designed. And then this space on this side and that side will be open with big desks, some private desks, some library tables, and then we'll have a smattering of individual offices that people can rent.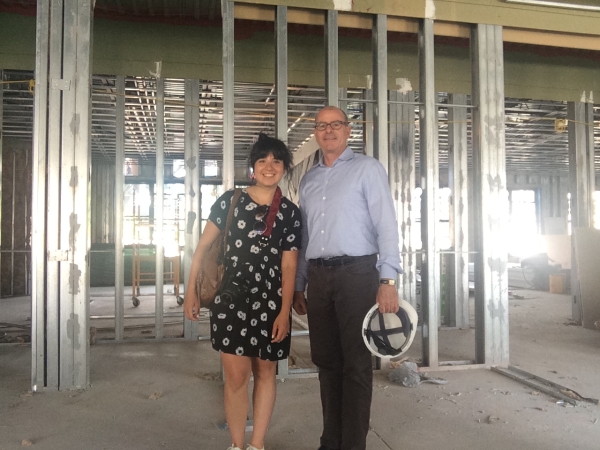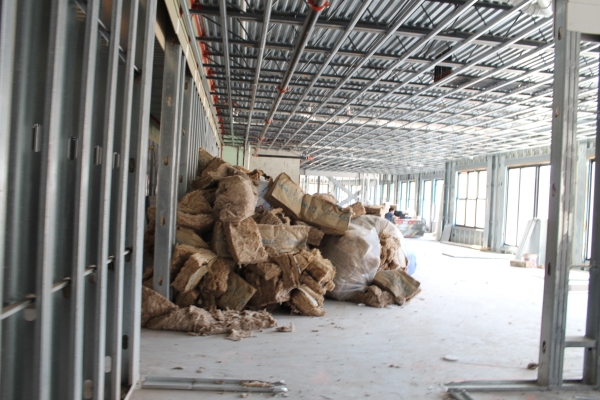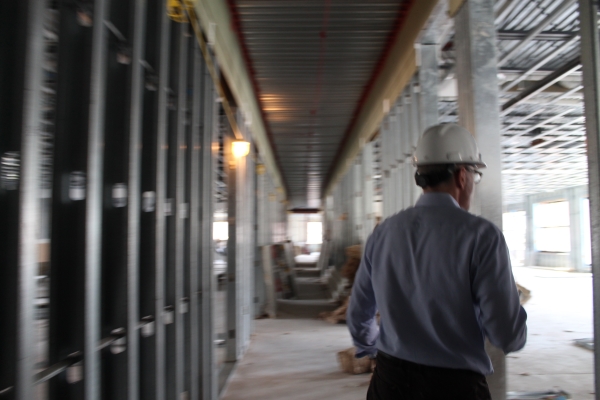 Let's say I wanted to rent a cubical, how much would that cost? $500 a month, all in. Use a credit card, [it's] like a gym membership. We've got a lot of creative, fun, and interested people. We're going to actually move our headquarters here and then we have one subtenant at a company called URL, owned by Dave Barry, and he's going to be a partner in the co-working space as well.
So there's going to be a café? We'll probably have it fed by Short Grain or one of the other local people, but it's a good place to hang. People love to hang around food.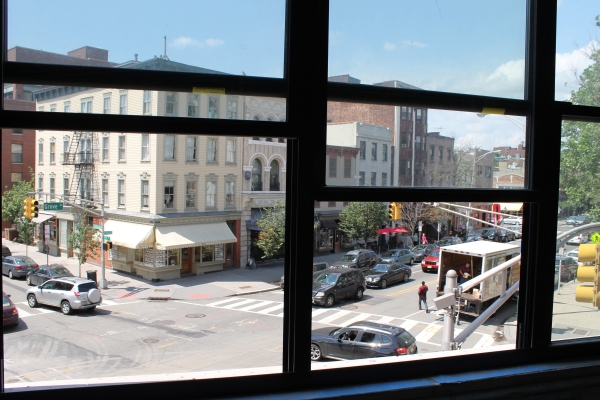 Why did you guys decide to do this co-working space? It's actually been very difficult to design and build, but we really wanted to make a commitment to energizing this Grove Street area during the day. We realized it's only activated at night and we want to help the other businesses and get more people in the street here. I wouldn't be surprised if we had more than 200 people working in this office.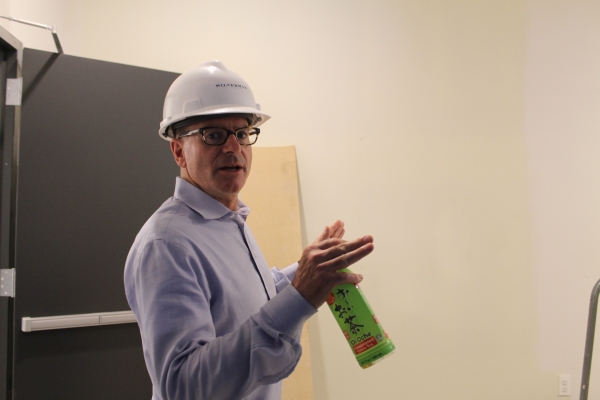 Have you started renting out apartments yet? Yes, we rented forty-four apartments in less than four weeks.  We are now over 50% leased.
Where did these people move from? All over.
These numbers [were] designed by Holly Tienken, our graphic designer from Jersey City. These are made in Jersey City. I got that idea, I was in Paris four weeks ago at the Picasso Museum and I saw the different art displays had offset numbers like that.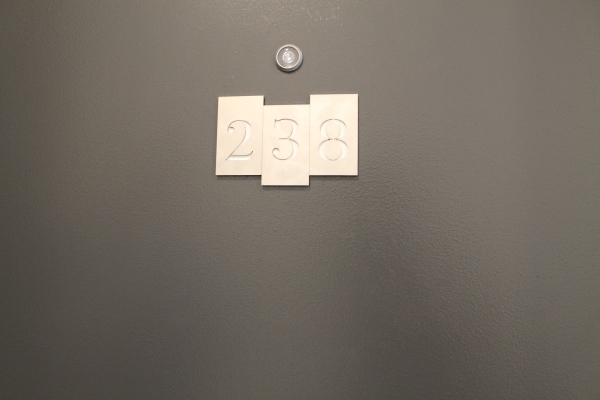 When are the businesses going to move in? We're building them now. The first ones we'll build are Cool Vines, Another Man's Treasure, and Kanibal Home and then we'll build the gym, Mathnasium, and Hazel baby and kids.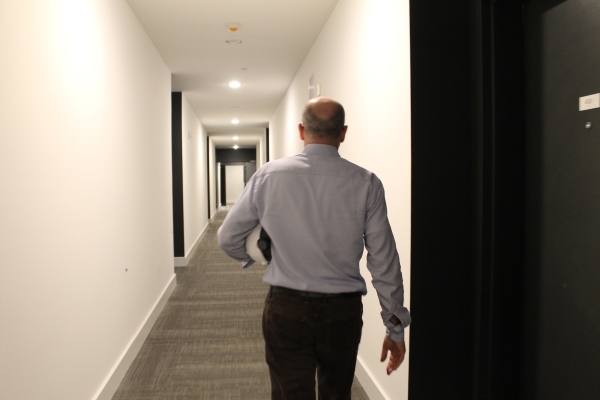 Where do you live? Bernardsville
Do you have a favorite Jersey City hangout spot? My favorite place is Marco and Pepe's, but I love GP's, Razza, the Hamilton Inn, and New Thanh Hoai. Oh [and] Milk Sugar Love.
So is this what a Two-Bedroom Apartment will look like? These are the things I love about this apartment, the oak floors, the nicest thing in any apartment building right now. These stone counters, the double sinks, and this faucet. The Parisian subway tile backsplash. The fact that we have gas cooking is really something different. Every apartment has central air conditioning, no electric heaters all really highly efficient gas-heat and central air conditioning.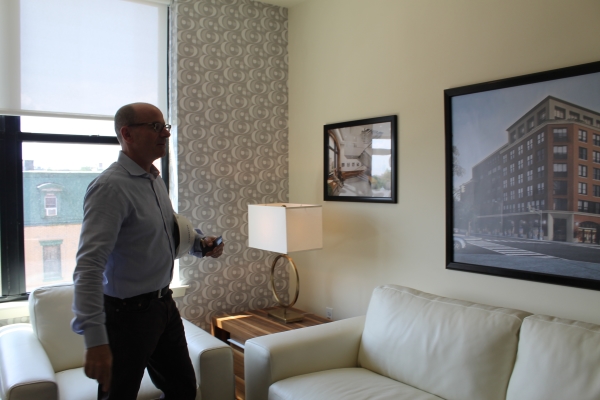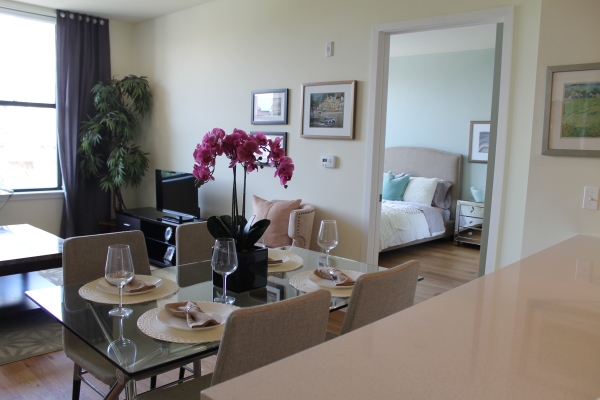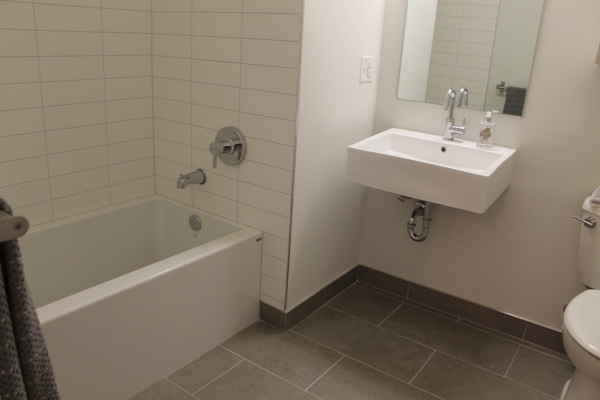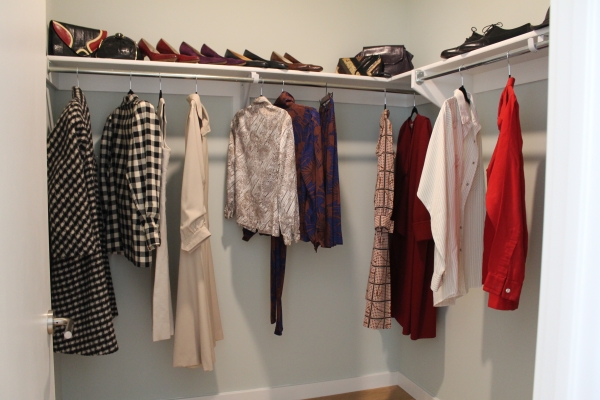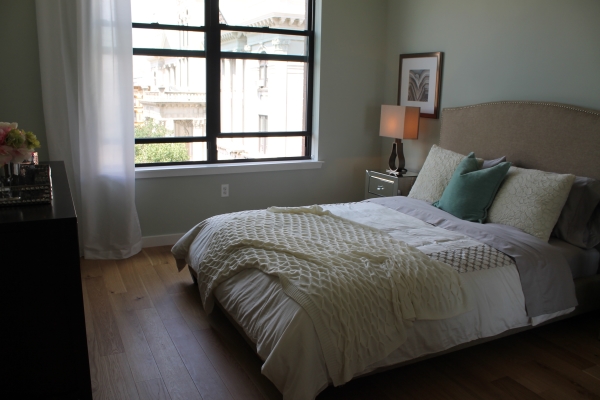 Can you tell me about the view that you can get from the building? It's always great where you can view a monumental city landmark and we have that right here at City Hall. And the building is oriented where you pick up the light and air from the City Hall Plaza.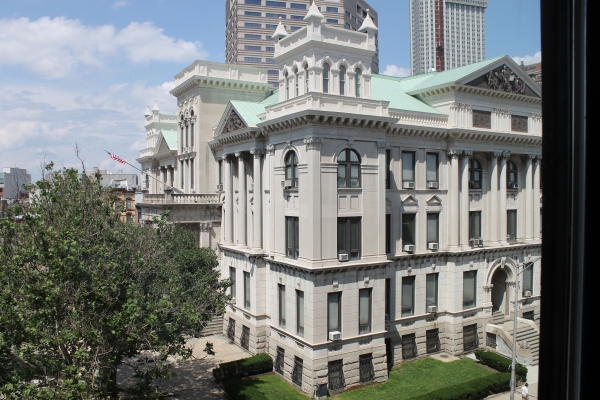 What else is unique about the apartments and this building? All the light fixtures are all selected by us and hand curated. And the hallways in our buildings are always nicer than the rest of the apartment buildings. We have really nice wide hallways, nice paint colors, good light fixtures, they feel spacious even with the drop ceilings, [and] it doesn't feel like a dormitory.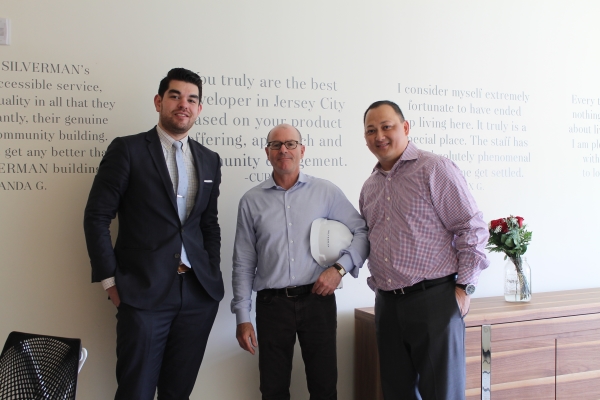 Edwin, what's your favorite Jersey City hangout spot? I am always at Skinner's three times a week.
And you were born and raised here? Yeah, I grew up on Clarke Avenue in Greenville.
And now you work for? SILVERMAN, which is a great thing.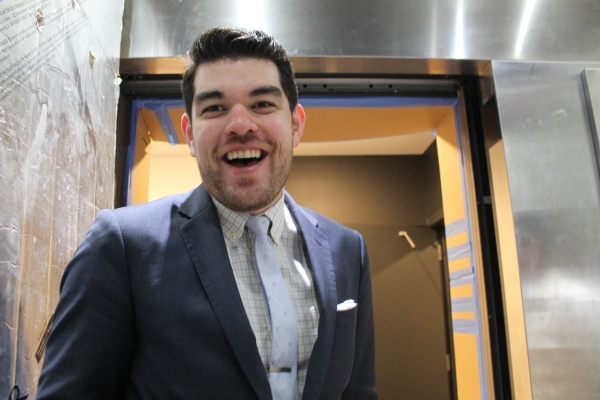 How do you feel about the change in Jersey City? I love it. I welcome it. It's funny because when I was growing up my mother wouldn't let me hangout downtown and now I can live here. It's been a great change.
Eric: Leo's going to be our chief doorman. He's our best asset.
What is going to be on the top floor? This floor is going to be the communal lounge. A lounge a fireplace, a kid's room, communal roof terrace with expansive Jersey City views.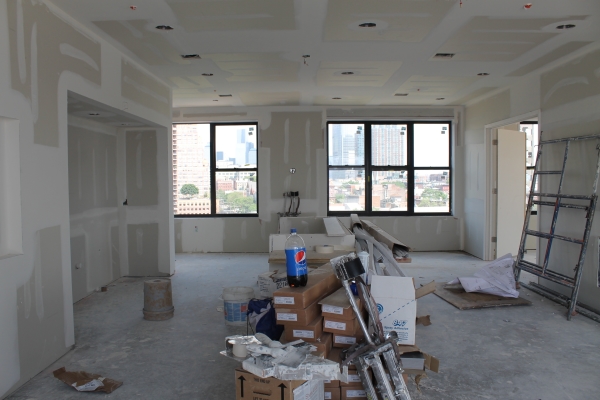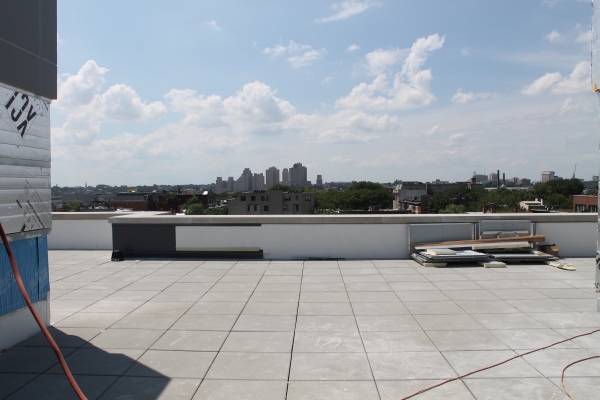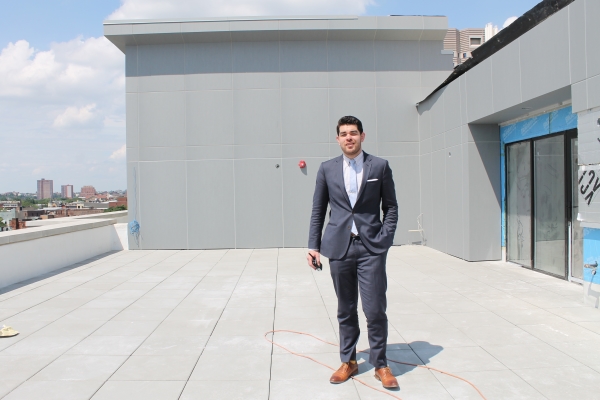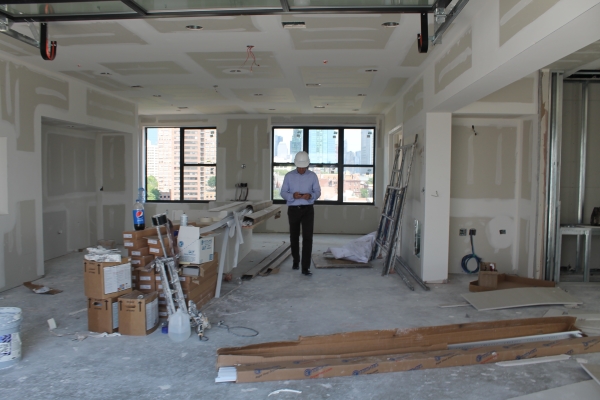 After this building is up and running what's next? What's next is Hamilton Square South, same sized building, another hundred apartments. This is our thirty-ninth building in Jersey City.
So is it just you and Paul? Yeah. Well, no, the whole team. One person can't build this.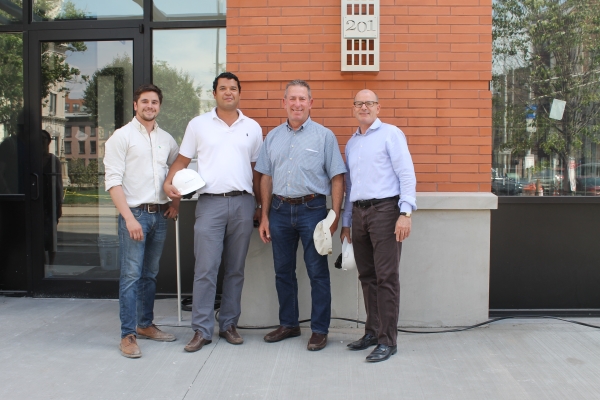 So Eric are you here every day inspecting the building? What's a typical day? I'm probably here a half-hour a day. An hour a day. Multiple times a day, but at the end we're here more, but we're thinking about it all the time.
www.facebook.com/SILVERMANbuilding
www.instagram.com/SILVERMANbuilding