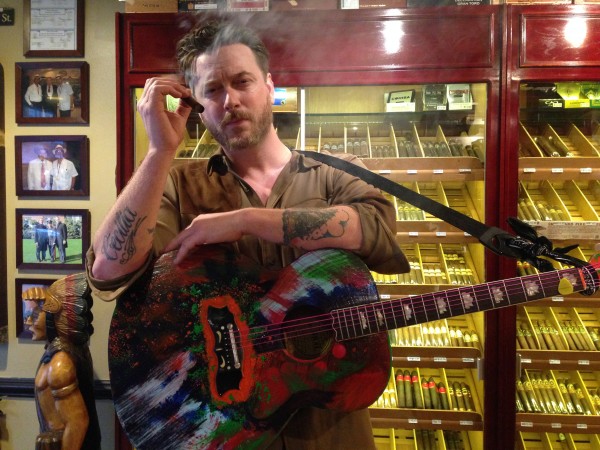 I first met Kieran with his wifey (and stylist) Mercedes at Roman nose in Jersey City a few weeks ago. Two words to describe him…. BAD ASS. He's so f-ing cool! He is the type of guy every one wants to be friends with; super chill, laid back, but also really friendly and he is kind of hilarious!
Kieran is a very talented musician, producer, guitar player, cigar smoker, burger eater…. He is a jack of all trades! I met him at Starbucks in JC for the first interview, after taking a bunch of pictures I got a text from him saying that his "stylist" did not approve of his fashion choice and he asked for a do over. I wouldn't normally do that, but glad I did! We met at the Sky Tobacco  Cigar shop on Grove street and he did a fun EXCLUSIVE performance. Check out the Video below!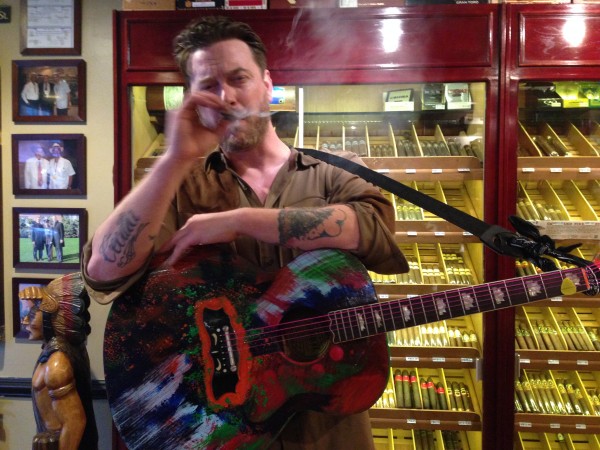 What's your name? "My name is Kieran Sullivan"
What are you wearing? "Shirt by Polo, pants are J Lindberg which I got at E.Tittlemouse & Co, Boots are from Aldo at Newport Mall, the guitar ; my friend Mark Finne found it in the garbage and I rebuilt it and he custom painted it. I get my hairdo at Instyle hair studio on Grove street by Consuelo"
What do you do for a living? "I am a songwriter, a producer, a singer…..  I am a front man of a band named Cecilia Celeste and I am a guitar player and producer for a band name Jessie Wagner at Envy and I am also solo artist as Kieran Sullivan.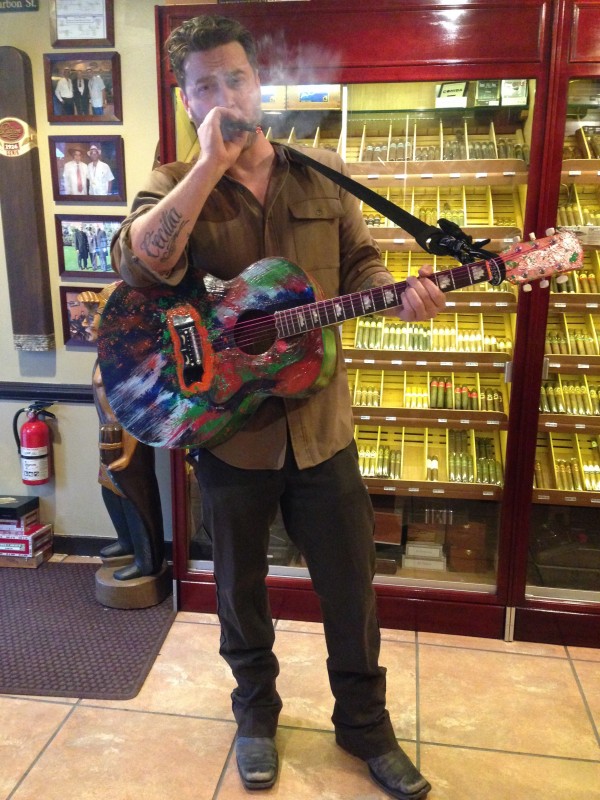 Wow. Impressive! What's your favorite Jersey City hangout spot? "I like hanging out on the waterfront, grabbing a fishing pole and maybe a little Powers whiskey in a coffee mug. As far as bars and stuff I like the way Jersey City does its own pot luck and private parties…. especially at 660 family (post coming soon!)
I am waiting for my invitation to that by the way…. "Oh you will, now that you are here and we know you… I also love the KeyHole, Ohara's downtown on Marin on the off nights. I like to go to places on off nights…most of the time on weekend I'm working. I gotta say Northern Soul in Hoboken even though its on the border of Hoboken and Jersey City … a lot of people from Jersey City go there . Its the midway point and they support live music. I have a show coming up there June 19th. (What is this chicpeahoboken?!)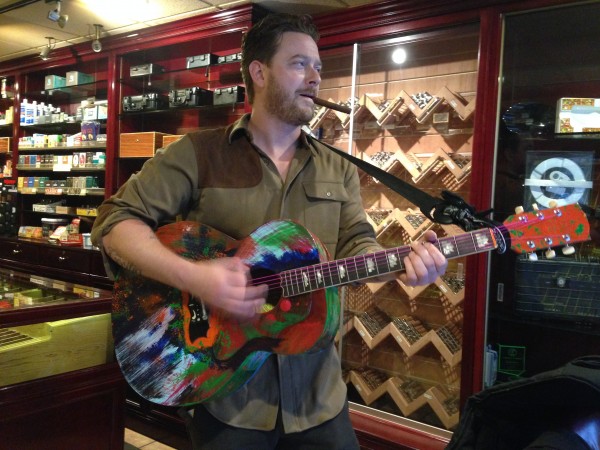 What's a fun fact about you? (Dusty, a local Jersey City Sax player interjects) "He will whoop a muthaf-s ass…."
Haha too funny! "He said it I didn't…. my fun fact is that I still skateboard and I used to be a jock"
Kieran is a Bad Ass Mofo…. Check out this video of him singing "The Vampire" song, which is all about Jersey City.
I am the luckiest CHICpea alive.