If you spend any time walking around Jersey City during the hours of 11 to 1, you will surely see them. You tend to see the same ones, at the same time, in the same neighborhood. Decked out in all-weather attire, specialty belts and backpacks, and a smile on their face, because right on their heels is a four-legged friend strutting its stuff for some treats. The pet sitters and dog walkers of Jersey City are a vital part of our community, offering their much needed time, support, and love to our treasured family pets.
I wanted to get an inside look into the life of these walkers to learn more about what their day looks like, what struggles they face, and what brings them the most joy. I sat down with Sofia Pica, founder of Sofia to the Rescue to learn more about what it takes to be that special human people call on to watch their favorite little friends.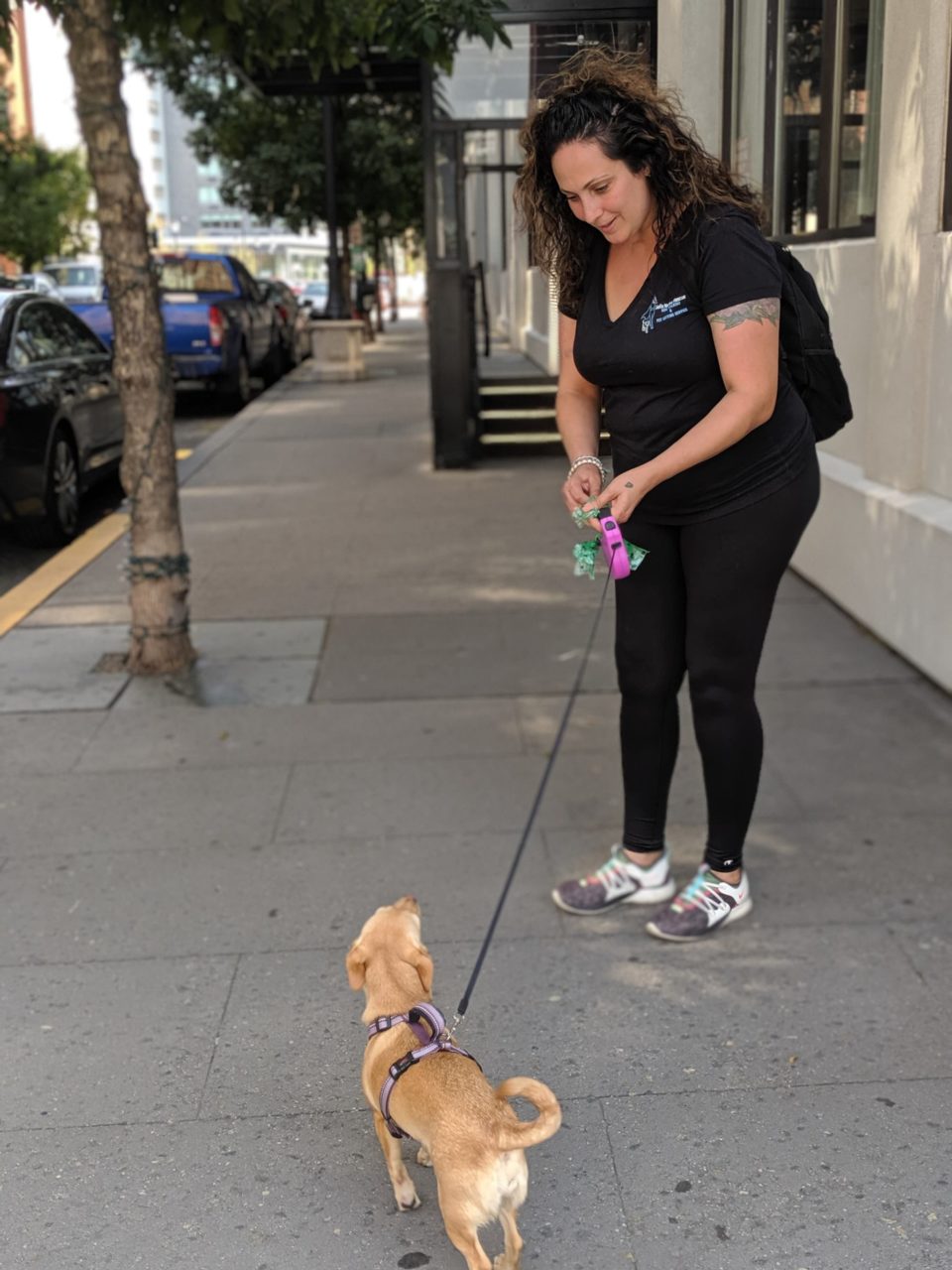 JB: Your background is working in veterinary clinics.  How long did you do that before pet sitting?
SP: In total 20 years. I started in 2001.
JB: How do you think that having 20 years of experience in vet care sets you apart in the field?
SP: I can tell when there's something not right with a pet.  I can give medications. I know many doctors and where to take them at all times of the day. I can even take care of some minor things myself.
JB: What made you finally make the transition to doing pet care full time?
SP: People would ask me here or there. Can you feed my cat? Can you watch my dog? Then I started to get really busy and I had to make a decision and I made a decision to do this. Now I can never picture myself sitting in an office again.
JB: What is a typical day like for you?
SP: If I don't have a sleepover, my first walk is at 9:30. From there I go do a pet sitting in between my daily walks. Then I start walks for midday around 10:30-11:00. I start at Journal Square, come to downtown, then I go to Bergen-Lafeyette, Greenvile, and then back to Journal Square and then I'm done.
JB: Wow. So you're nonstop busy. How do you make time for yourself?
SP: I try to, at least every two weeks, have a few hours to myself. In that time I'll go get a massage, I'll go do my nails, take naps, do something that I like. I haven't had complete time for myself since I got started. Every time I think I have a weekend, I have to fill it, but that's just the way it goes and it's rewarding.
JB: I know you do a lot of dog walking, but you do pet sitting for all kinds of different animals, right?
SP: So I'm caring for guinea pigs right now. They're super cute and they're fun. They're even happy to see me when I walk in. They make the little noises. I also did a bearded dragon. I've watched cats, dogs, ferrets, hedgehogs, fish, and birds. I would basically do anything. Somebody asked me to do horses, but they're not around here so I had to refer them to someone else.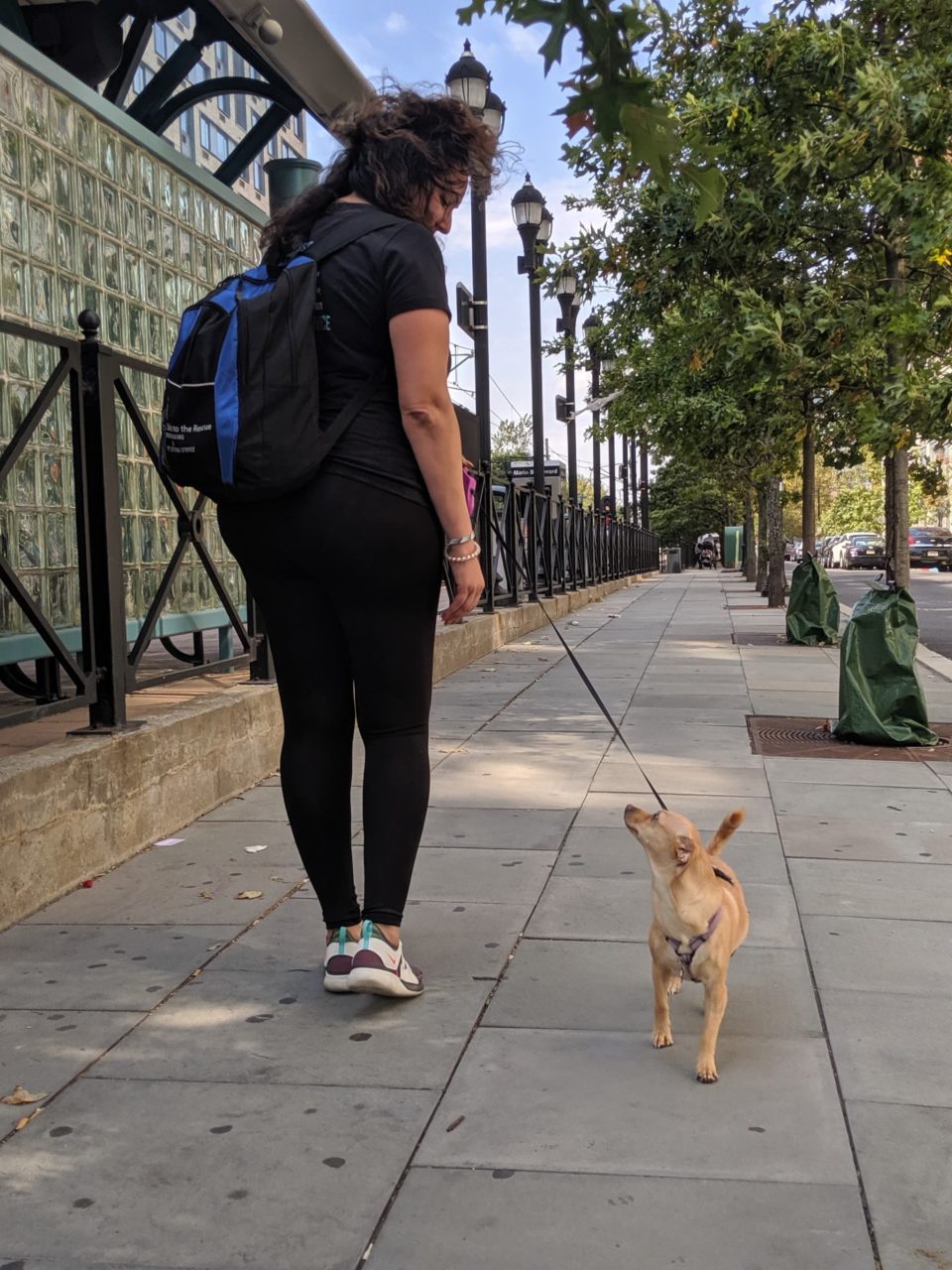 JB: What's the craziest thing that's ever happened to you while you were pet sitting?
SP: The fire was pretty crazy. I showed up to walk a dog and there was a fire in the building. They wouldn't let us go inside so I had to wait outside. I needed to make sure the dog was okay until the owners got there. I had to tell my other clients I was going to be late. Fortunately, all of my clients understood because they would want me to do the same for their pet.
JB: What is the pet sitting community like?
SP: It's nice. Everyone that I've met so far is nicenand they all have the same idea as me: there's enough pets out there for everybody.
JB: What do you think is the hardest part of your job?
SP: What I've been struggling with the most is people not understanding why sometimes you can be running a little bit behind. That's why I always ask for a two hour time frame. If I get to a house and a pet is sick, I have to take care of the pet. I'm not just going to walk out. I wouldn't do it to their pet or any pet. Clients who are understanding get it, but some don't.
JB: Finally, what is the best part of your job?
SP: Being with the pets all day. They're the only ones that I care about. My life ends up being just pets. That's it. I can't even have a conversation with someone who doesn't like pets (laughs). It's almost like therapy for me, being with them. They're always happy to see you.  Even cats.
After meeting with Sofia and hearing more about the ins and outs of her daily workday, I wanted to hear what other pet sitters in Jersey City had to say.  I took to our #petsofjc Instagram community to ask our favorite walkers and pet sitters about their jobs –
Steve, Founder and Owner of Canine Trekker
"The best part is following my passion and doing something I love to do.  I don't take crap from people anymore, I take it from their dogs."
" The hardest part is when my clients relocate and move away.  I'm a crier."
Megan Ixim, Founder and Owner of Meg the Pet Sitter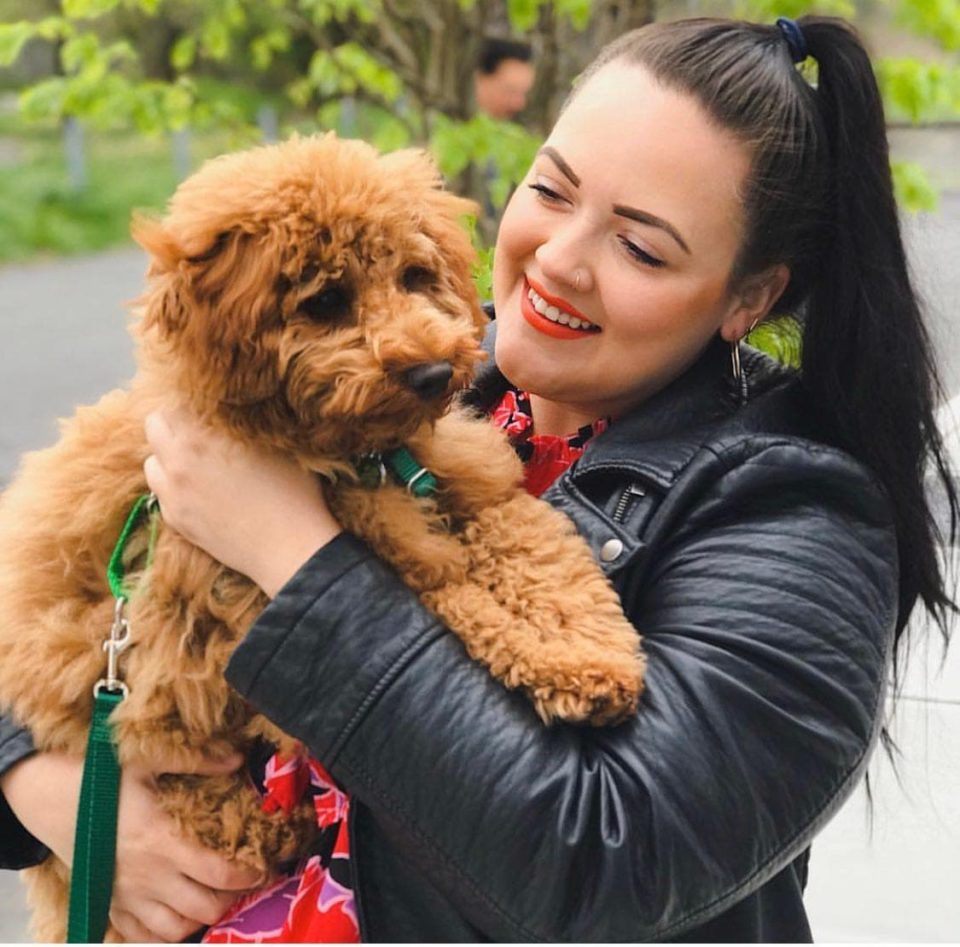 "The best part of my job is knowing that no matter what is going on in my life, I start my work by receiving wagging tails and faces that are always excited to see me."
"The most difficult part would be how strenuous it can be.  As of now I average about 15,000 steps a day in all weather conditions."
Jayda Rios, Anything's Pawsible
"The best part about being a dog walker would have to be the bond you create with all the pets. You are able to make them go crazy with excitement when they first lay eyes on you as if they were your own. It's an amazing feeling."
"It does have its hard moments, though. From having to work in all weather conditions to finding parking and more. But the hardest part is losing a pet that you have grown that unbreakable bond with."
Judy Nunez, owner and founder of Tails On Trails, LLC 
"The best part of my job as a dog walker/cat sitter is getting to build both professional relationships with the pet owners in the Jersey City community and absolutely, hands-down falling in love with the pets entrusted to us! Most of our clients are long term, enabling us to all mutually grow in partnership as their pets grow up. It's a wonderful feeling to help with the care of cats and dogs from early beginnings to mature adults and beyond."
"The most difficult part of my job as a dog walker/ cat sitter, is the general isolation that long-term walkers face. We walk most days of the week, 6-8+ hours a day, in all kinds of varying weather, from the months of negative degree weather through the summer scorchers of above 95, mainly on our own for most of the day. Being a walker for over 12 years it has been difficult, day to day, to find the community centered around what walkers face and what difficulties arise. In light of that fact, we have partnered with Aisha Darius-Bakastov, owner of PoshPups JC, and together, this fall, we are launching Dog Walkers of New Jersey Facebook Group for those in our industry."
"Dog walkers and cat sitters are truly a special breed of determined, caring professionals who do all that we do and more for the pets entrusted to us, purely for the love of it! We pet sitters should all have a safe place to voice what we go through, while receiving the kind of support that has been long needed for all pet care givers."