Did you know that Jersey City is home to an internet sensation with over 100K Instagram followers, nearly 34K Facebook fans, past features on sites like BuzzFeed and PopSugar, and a book being pitched to publishers? Not to mention her own merch store, two appearances on The Today Show, and role as Martha Stewart Pets canine correspondent at the Webby Awards? Oh, you thought I was referring to a person? Think again—this celebrity has four legs, one very, very prominent tongue, and unlike her namesake is insta-famous for actually doing something with her celebrity status.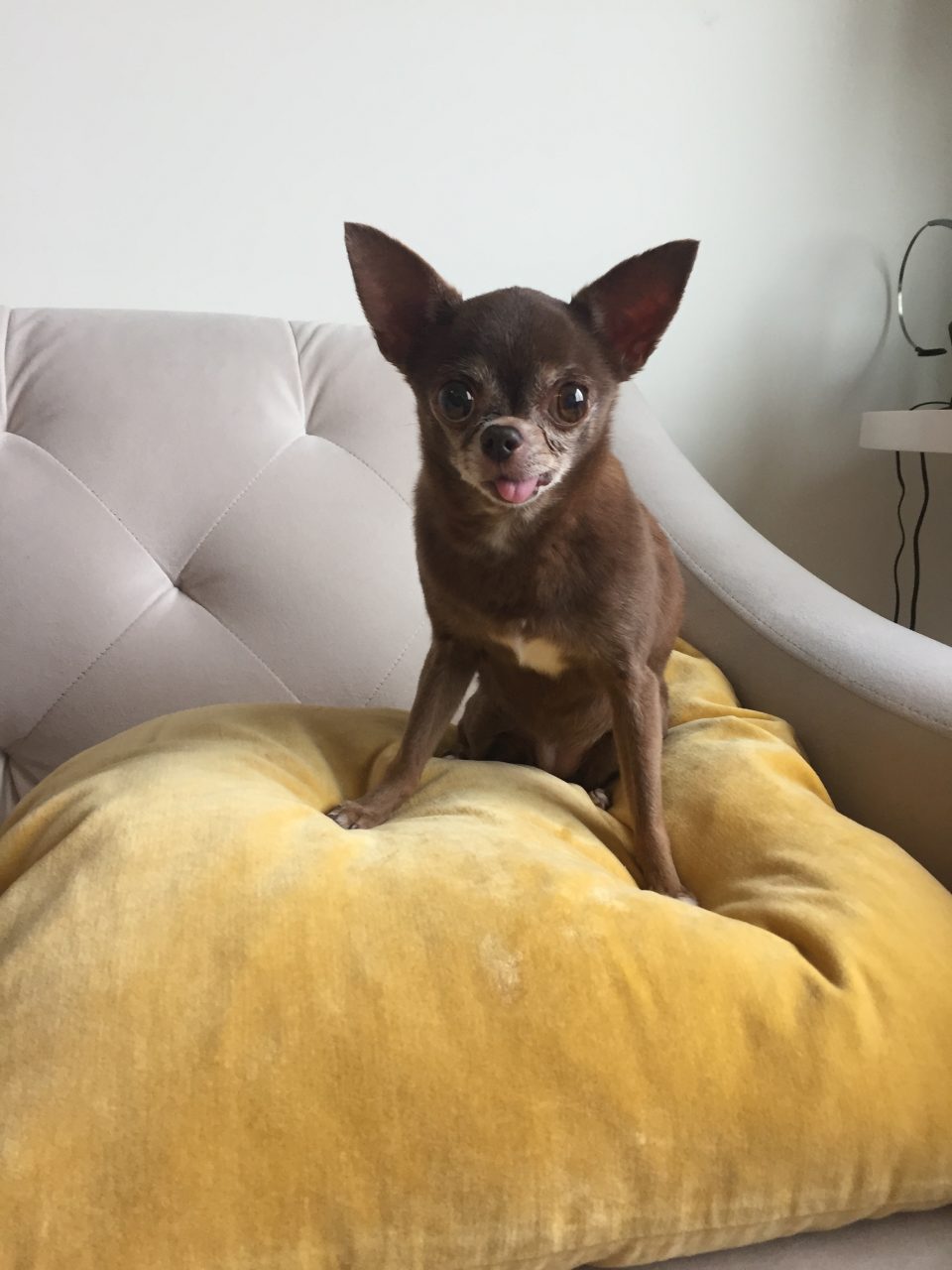 Name: Chloe Kardoggian
Age: 12
Weight: 3.5-4 lbs (depending on treat consumption)
Teeth: 2
Breed: Chihuahua
Follow her on: Instagram & Snapchat @chloekardoggian |  Twitter @CKardoggian |  Facebook
Website: www.chloekardoggian.com
Buy her face on a t-shirt at: https://society6.com/chloekardoggian
ChicpeaJC: I have to be honest with you, Chloe. I've been a longtime fan of yours and never dreamed that I'd get the chance to actually sit down with you in person. Thanks for being here!
Chloe Kardoggian: Thanks for having me! I love to meet my fans whenever possible. Keeps me humble.
CP: First things first: what's your backstory? Where were you born, what have you been through, and how did you finally wind up in Jersey City?
CK: I was originally bought as a puppy by someone who wanted to breed me, but once I reached my full size, they realized that I was too small for that nonsense and they gave me away to a friend. For the next nine years, I bounced around between lots of people in the family. It was a little confusing, but I have so much love to give that it was nice to have the chance to spread it around. My last stop in the family was with the grandmother, who hurt herself one day and wasn't able to care for me anymore. Luckily, my now-human saw a note on Facebook through a mutual friend that I was in need of a home, and the rest is history! I've lived in Florida, Manhattan, and New Jersey, most recently Jersey City. I like to think of myself as a bit of a world traveler.
CP: I've read through your track record to date, from press coverage to simply observing how influential you are on social media platforms. How did your fame first come about?
CK: It was a truly organic thing that all started from my adoption. My human was posting pictures of me to her own Instagram and Facebook to try to keep my old family up to date, because they all still loved me—they just couldn't care for me anymore (the old "it's not you, it's me" scenario). After a while, she made me my own account to make sure that only those who wanted to see pictures of me would have to. As it turns out, everyone wanted to see pictures of me (DUH!). I'm a total ham and just love posing, and I really can't take a bad picture. My witty captions play a big role in my success, too, and my human is nice enough to transcribe what I tell her to write. Susie's Senior Dogs did an interview with us way back in the beginning, and from there people really started to take notice and my popularity just took off.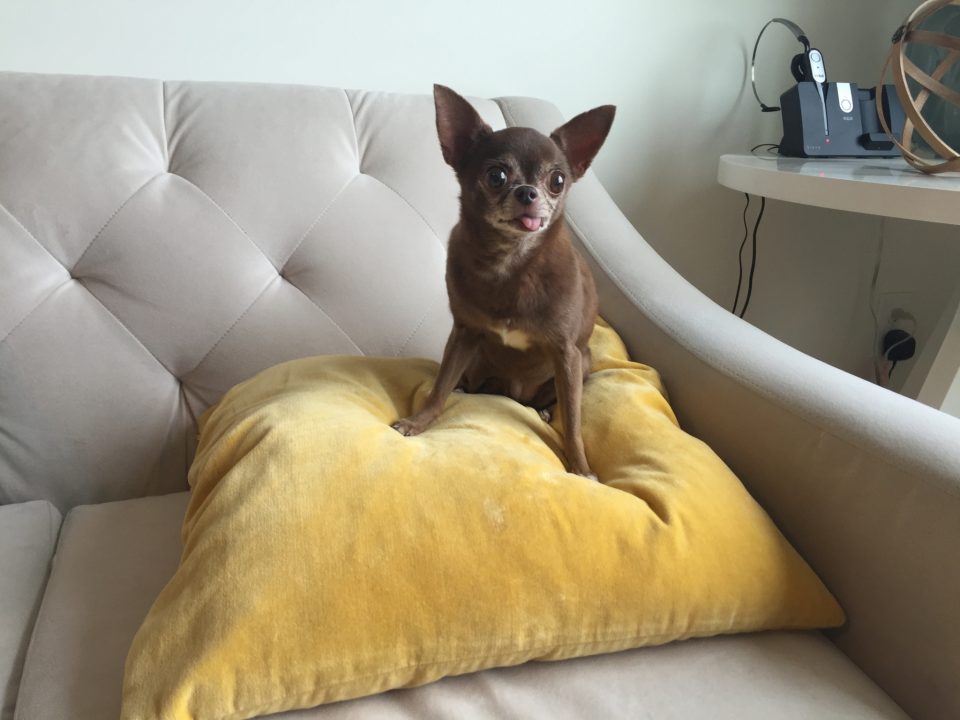 CP: How did you get your name? Are you a huge reality TV fan?
CK: My birth name was Hobbit. Most people laugh when I tell them that, some people think it's mean. I've come to terms with it. Fortunately, the first family that adopted me changed it to Chloe. When my human adopted me and began my social media accounts, she added Kardoggian at the suggestion of a friend because, obviously, it's hilarious.
CP: You've been on The Today Show, been featured on sites like the Huffington Post and People.com, and have gotten love from human celebs like Lady Gaga. How do you keep a clear head through all of the attention?
CK: Well, as my human always says, my head can't get any bigger because if it did I'd topple over! In all seriousness though, I have to stay cool because that's what people expect of me. If I thought about it too much, I'd get stress lines, and that would not bode well for my photoshoots. Truthfully, it makes me so happy that the world is giving so much attention to a senior dog like me, and that I have this opportunity to bring attention to my fellow elderly canines and also show people how nice Chihuahuas are. We have such a bad reputation sometimes and are perceived as yippy and bitey, and it simply couldn't be further from the reality.
CP: What's been your single most amazing experience to date?
CK: I was in a short film at the end of 2015 that Alan Cumming directed for the W Hotel, promoting the relaunch of their hotel lobby bar. They used a whole slew of rescue dogs, and I was lucky enough to be included! It starred Alan Cumming, Bernadette Peters, and Carol Kane among others. I was held the whole time by Amanda Lepore, who was one of the first transgender superstars and an inspiration of mine because we share a mutual love of nudity. I can't even talk about it without getting star struck all over again. It was an incredible day.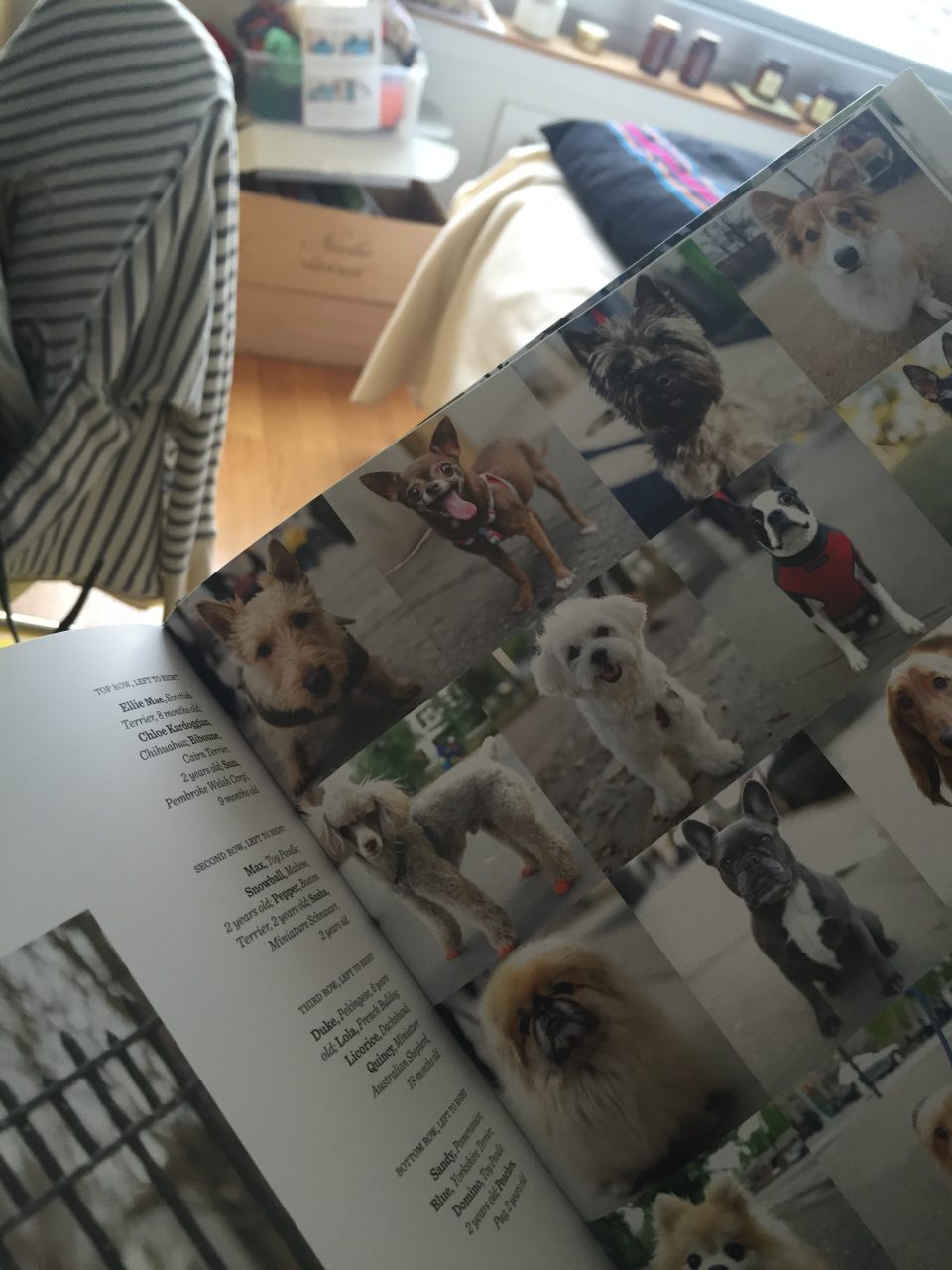 CP: Let's get back to your personal life. What are some of your favorite places to visit and things to do in Jersey City?
CK: See Spot Rescued did a really fantastic fundraiser earlier this year at a restaurant downtown, so that was great. I love to support local rescue efforts whenever I can. I love going to the farmer's and artisan markets too. I always grab Lucky Honeybee candles there to keep the apartment smelling fresh. People here are so talented. Word Bookstore on Newark Avenue is also one of my favorites, because they have a convenient walk-up window that is completely pet friendly. Who likes to be tied up outside when their human needs some java, am I right? Another huge perk about living in Jersey City is being able to watch fireworks right out of my window. There's nowhere else where you get that and the Statue of Liberty all in the same view.
CP: Do have any weird quirks? Deep dark secrets?
CK: One of my biggest weaknesses is pillows. If you put a pillow down, I will sit on it—anytime, anywhere, any kind. I also won't let you pick me up without being on a pillow. I just can't resist the cushiony feel on my backside (it also makes me feel like Aladdin on his magic carpet). I'll also admit that when I do #2, I do a rendition of the chicken dance beforehand. I have no explanation.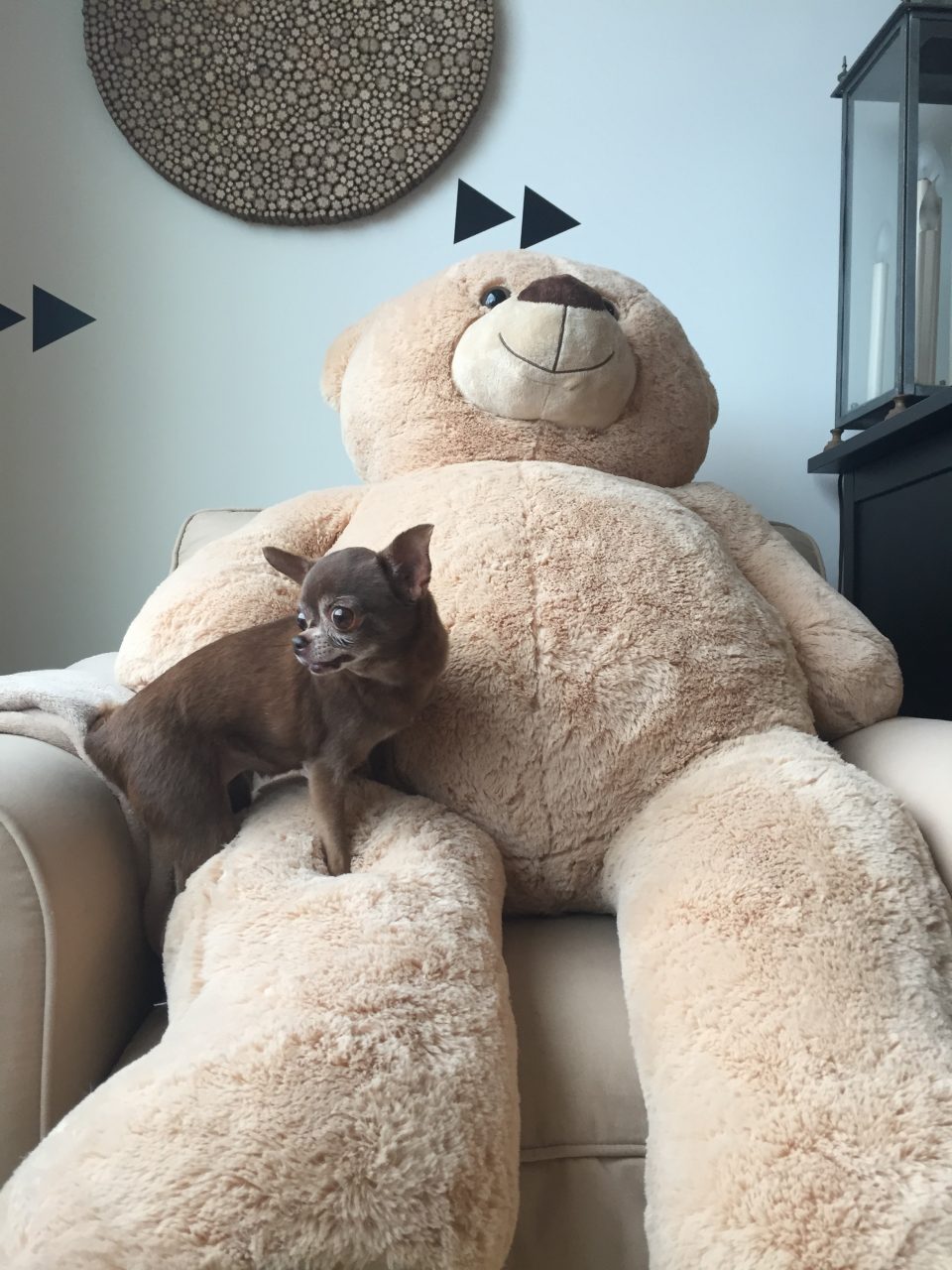 CP: Have you worked with any rescue organizations here in Jersey City?
CK: I've supported both See Spot Rescued and Liberty Humane Society. For LHS, I was actually the guest of honor at last year's Bark in the Park and hung out in a photo booth all day to help raise money for the organization. I also work regularly with Foster Dogs, Inc. in New York City, particularly with their Fospice program. It's sort of my core initiative; I help to raise money for terminally ill or super-senior dogs that are hard to rehome. The program covers the dogs' vet bills, items like treats and beds, and also gets the dogs professional photo shoots to facilitate adoptions into loving families. The program also works with programs like See Spot Rescued to sponsor dogs into their care, so it all comes full circle. I love being a part of it.
CP: Who do you share all of your experiences with? A sibling, or a boyfriend, perhaps?
CK: My brother, Cupid! He just joined our family in February. He's from Susie's Senior Dogs via Animal Haven, but I don't think he's more than 5 years old. He's quite the mix—Yorkie, Chihuahua, Havanese, Pomeranian, Toy Poodle, and Mini Poodle. I'm just straight Chihuahua, but it's cool to know he has Chihuahua in him too – it solidifies our sibling bond. As for boyfriends, I have too many to count!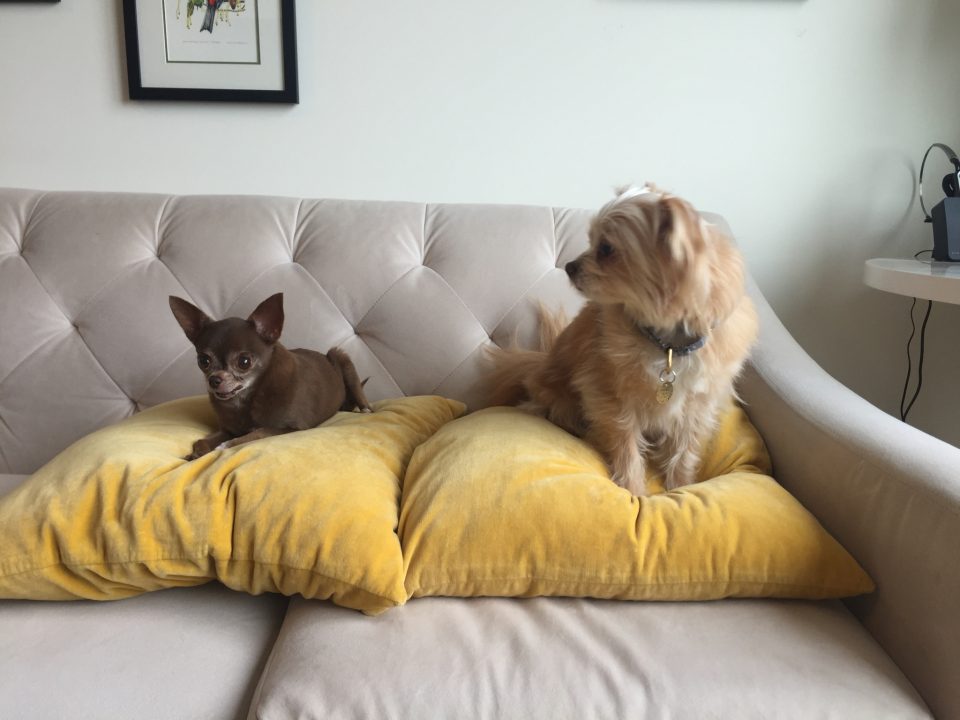 CP: I heard that you just hit 100,000 followers on Instagram. Congrats!
CK: I did, and I'm SO excited! The best part about it was that we planned for it in advance and partnered with PetSmart to do some good with the milestone. I made my very own kissing booth (I'm a closet crafter) and posted a picture on Instagram asking for kisses from my followers. For every kiss that I got, PetSmart donated to Fospice. I wound up getting 79,260 kisses while the booth was open, which meant that Fospice got a $5,000 donation, the largest single donation they've ever received. I was so happy that I cried a little.
CP: Underneath all of the media appearances, free kibble, and other perks, there's a message that you never cease to communicate to your fans. What is that?
CK: Age is just a number, baby! Senior dogs have so much life left in them, and so much love left to give. Don't let outward appearances or something as unimportant as age keep you from adding a fantastic member to your family. What you see in a stressful shelter is not necessarily representative of what a dog would be in your home. Give a senior dog the chance to lead a really great life with dignity in the time that they have left.