Tick tock! The time for holiday shopping is quickly slipping through our fingers. For many of us, regardless of background and religious affiliation, shopping for gifts of appreciation for our friends and family is one of the biggest things on our to-do lists. If you're a pet owner like myself, one (or more) of the most important names on your list belongs to your household pet. Of course, there are so many items online and available at the typical retail giants, but I wanted to see what our local Jersey City businesses had in terms of gifts for pet owners and pet lovers. I went into some of my favorite small businesses and was amazed at everything available for our pets of Jersey City (and their pawrents).
Hound About Town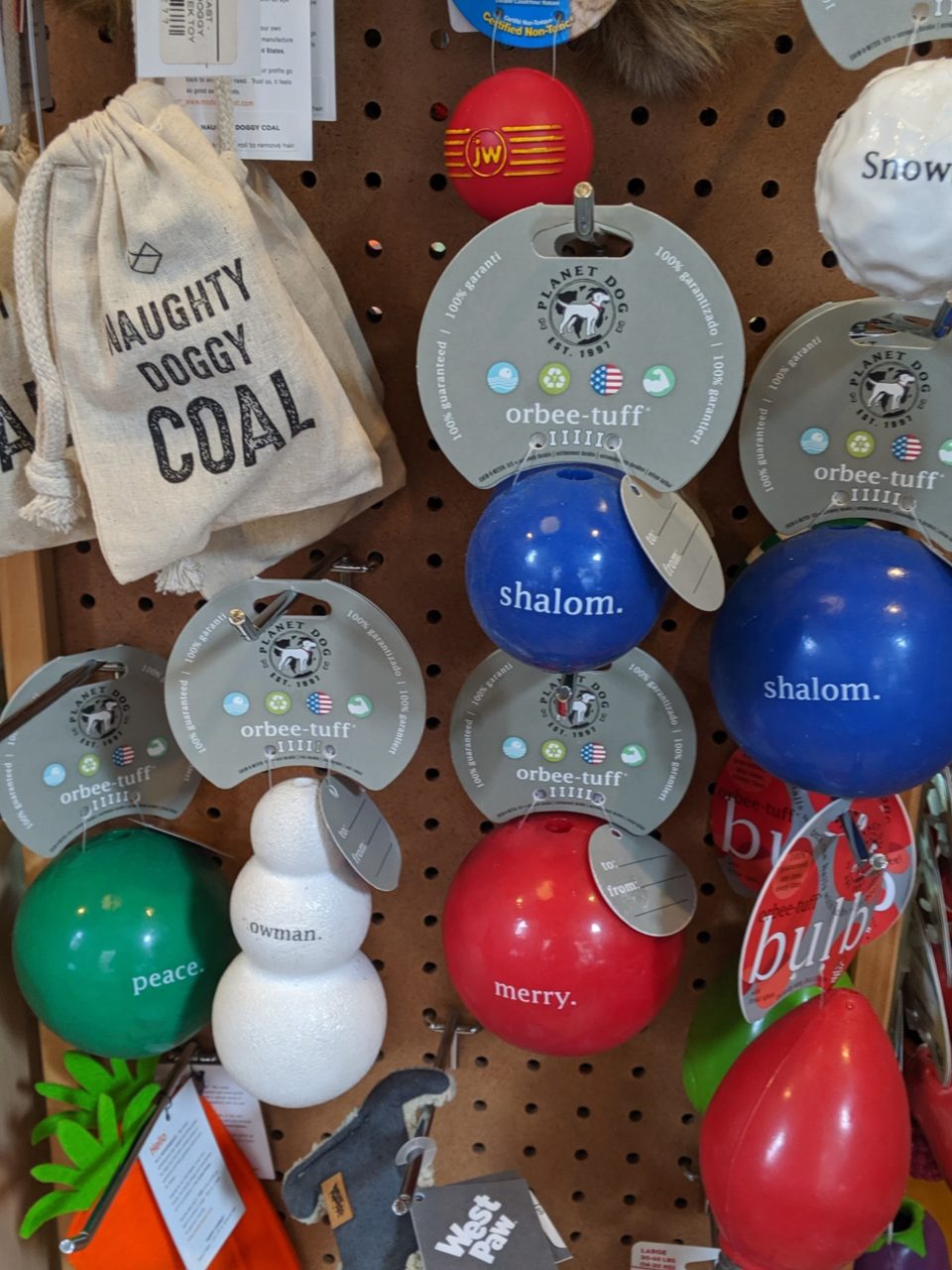 Located at 17 McWilliams Place and 218 Montgomery Street, Hound About Town is a tiny boutique store providing a BIG holiday punch. The first thing that caught my eye in regards to their holiday selection was the fact that they're carrying both Hanukkah and Christmas items. This is something you don't see often in pet goods. Among the normal offerings of this Jersey City pet store, I found the following holiday specific items:
Naughty Doggy Coal Bag

Hanukkah and Christmas Orbee-Tuffs

Hanukkah and Christmas dog collars

Festive holiday and winter bandanas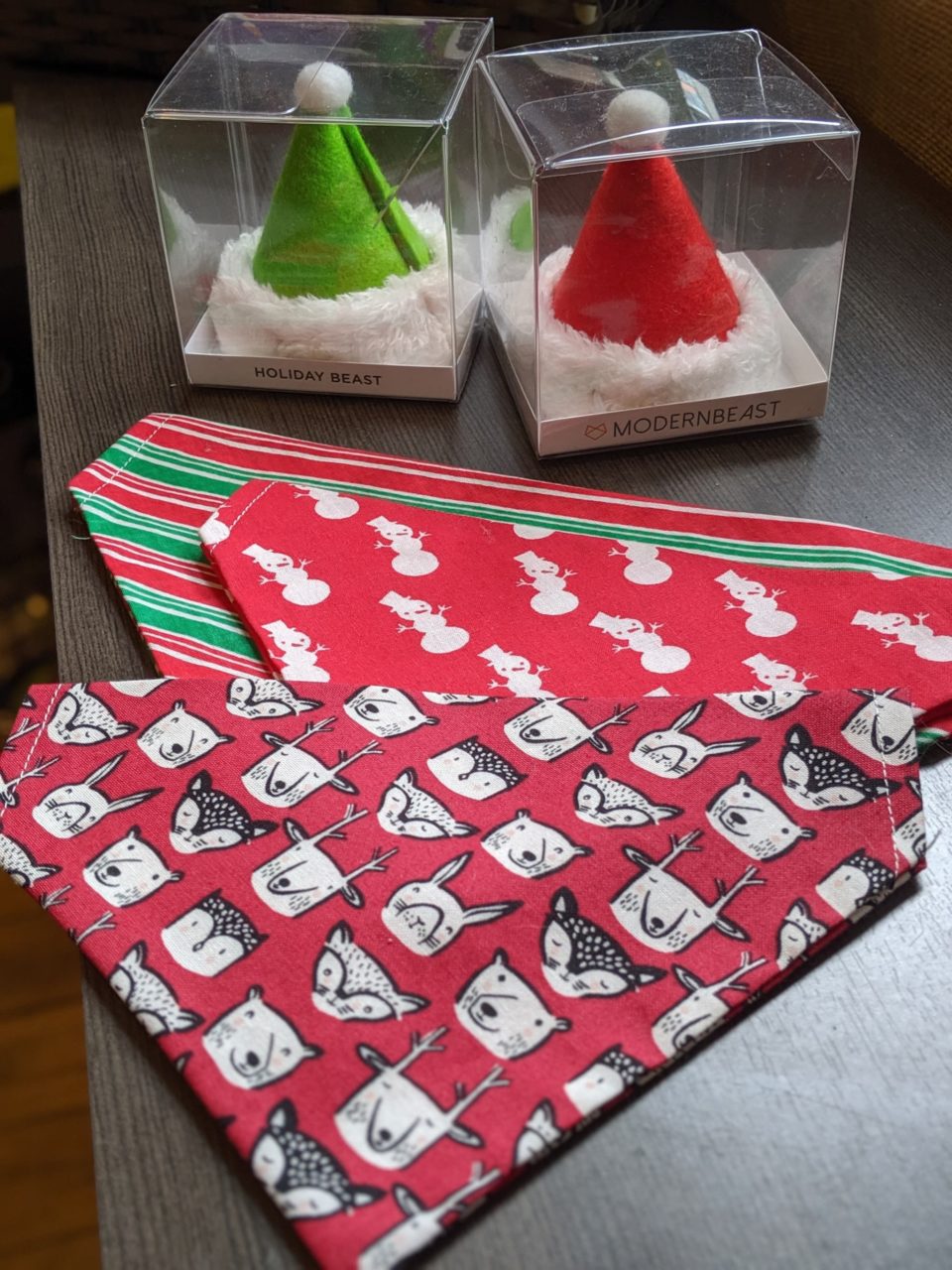 Holiday hats

Reindeer and bear plush toys

Holiday pug cards

Special stockings for pets

Turkey & Cranberry Mini Trees from Zuke's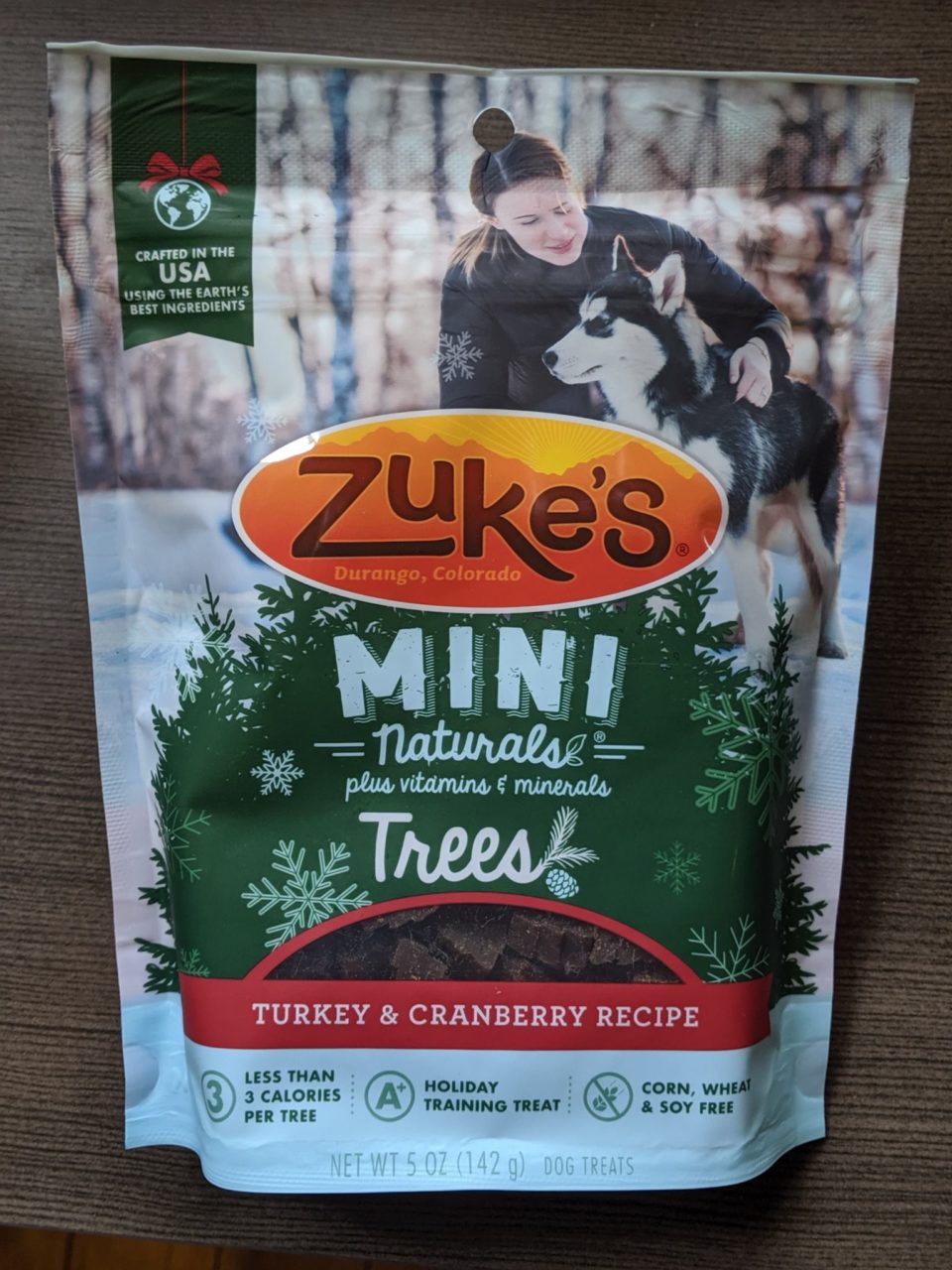 There were definitely a few more items in addition to those, and of course their normal selection of treats, clothing items, and accessories make great gifts. The best part is, items are available at both locations!
Fussy Friends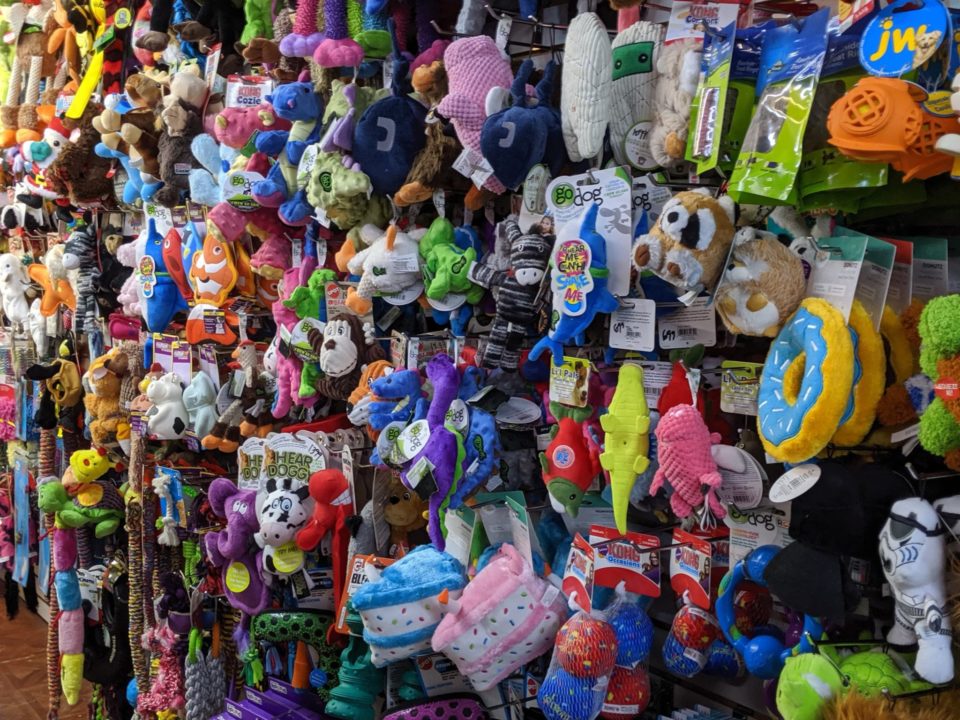 Of course I had to make a stop into Felicity's favorite stop for toys! Fussy Friends, located on Newark Ave, is a Jersey City must see for all things pet supplies. This larger store extends beyond the typical cat and dog products into all pet needs. I walked around the store and found quite a few festive finds that would make great gifts for your favorite friends. What I saw in holiday themed seemed to be geared towards only cats and dogs, however.  Here's some things to add to your list:
Pet puffer jackets and coats

A full stock of sweaters, including those which are holiday themed

Pet themed cards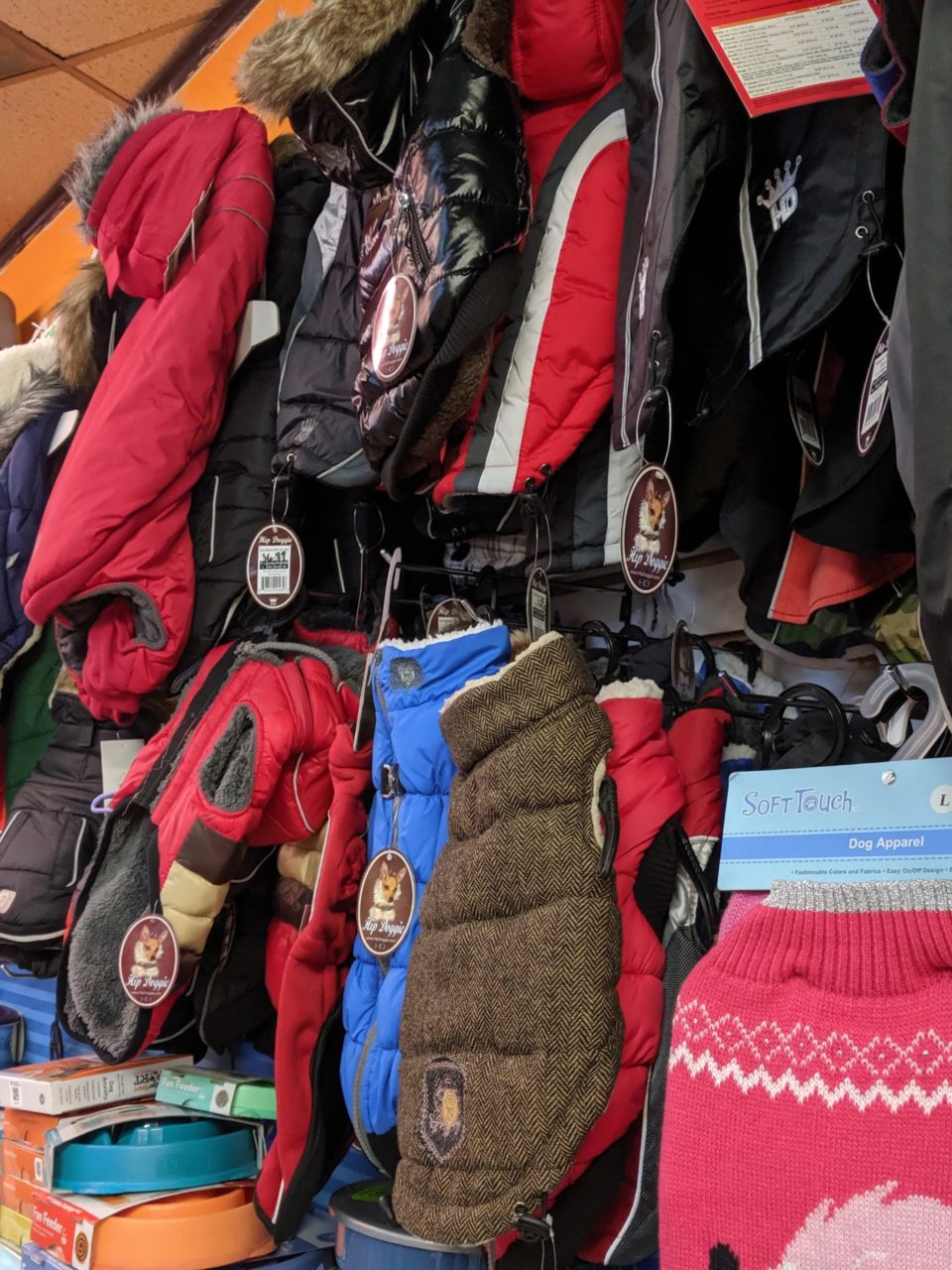 Christmas Cat-Nip

Holiday and Winter leashes and collars

Their typical HUGE supply of toys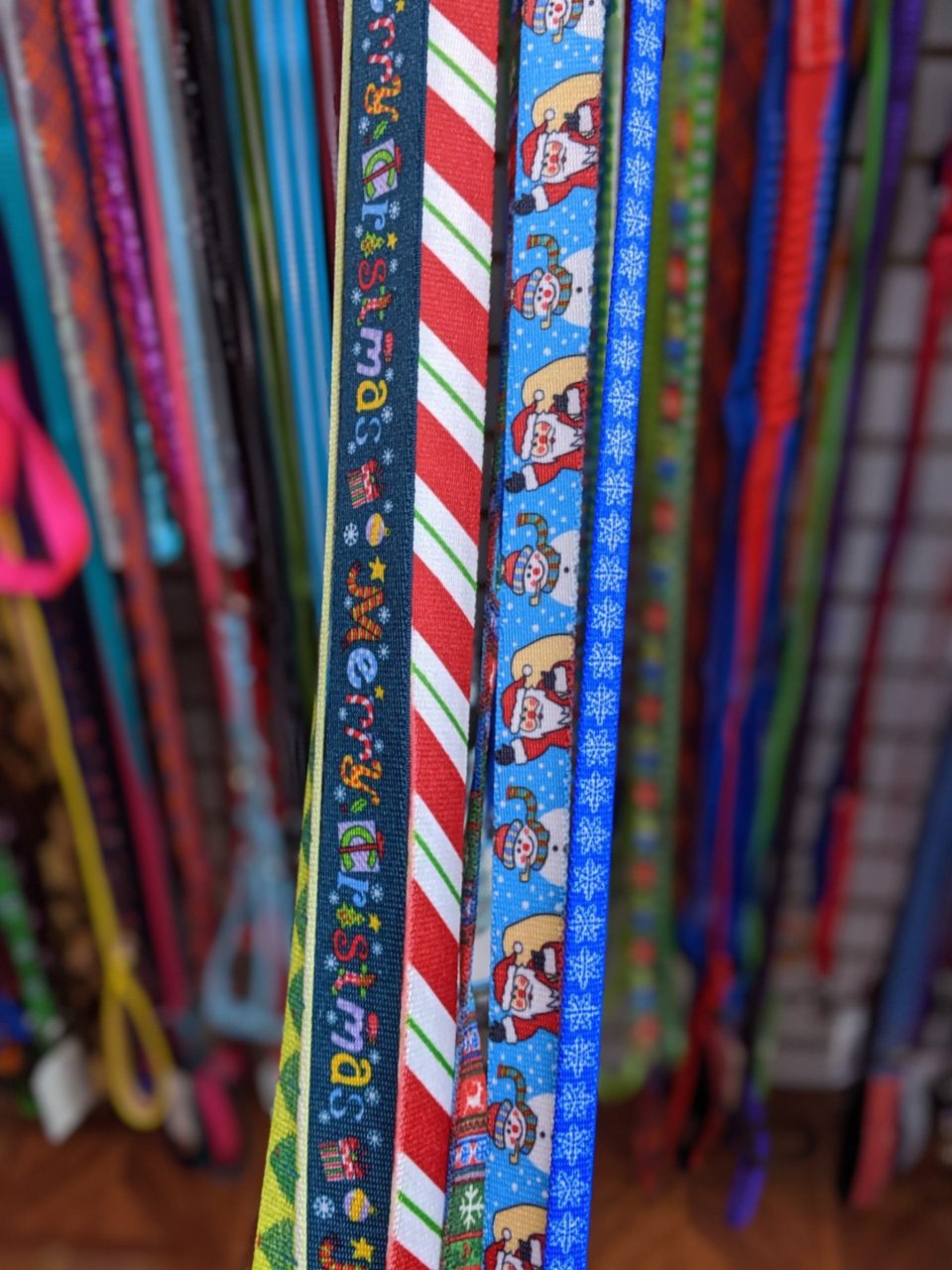 Fussy Friends also does cat adoptions. So, if you're thinking about gifting a cat to someone this holiday season, contact them for more information. 
Kanibal & Co.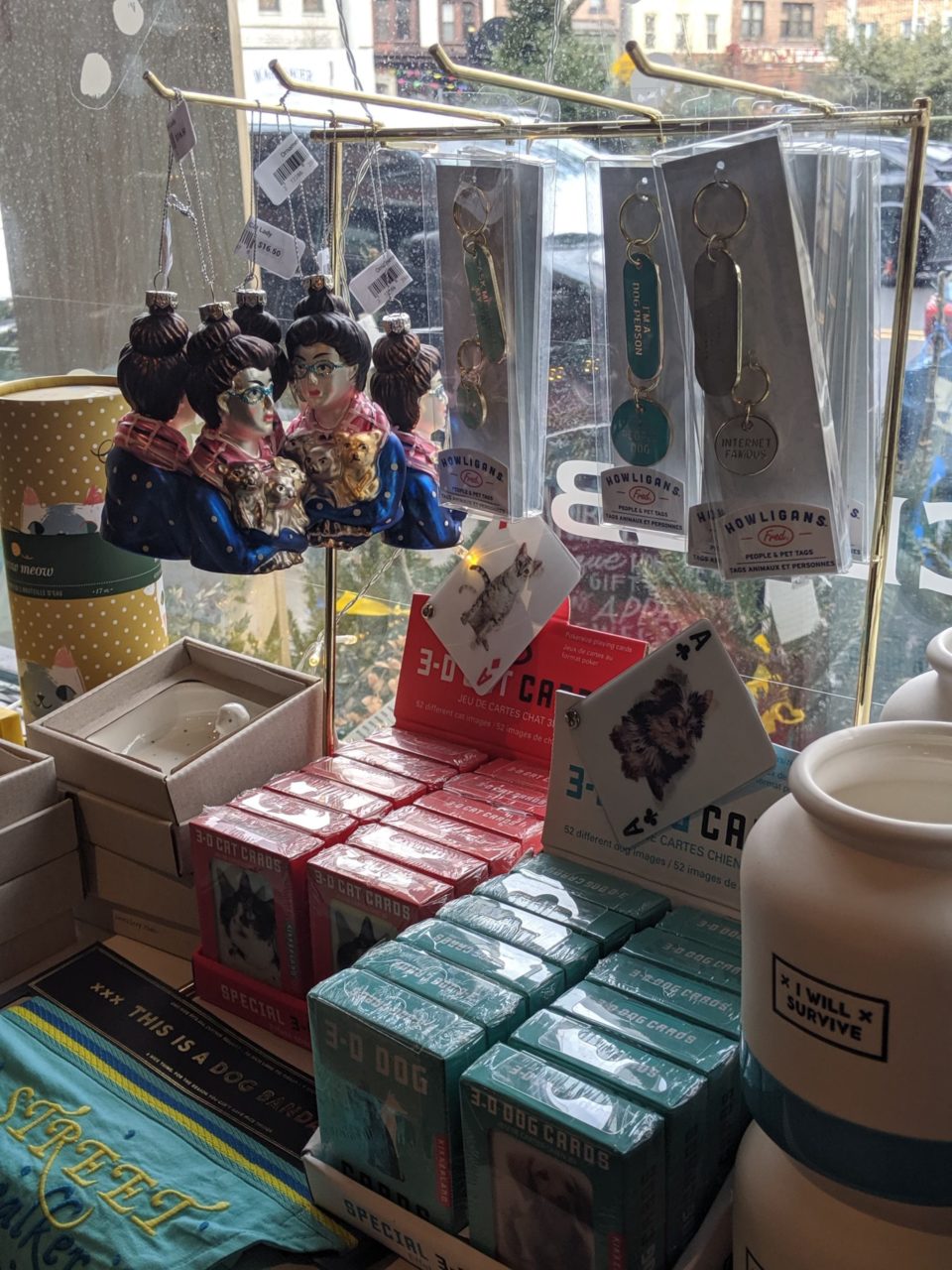 Although Kanibal & Co. isn't technically a pet store, it is a great place to stop in for those pet lovers in your life. I'd be remiss if I didn't give a huge shoutout to their special "Animals of Jersey City" line, which features real pets from all over Jersey City. Every year, the store asks local residents to submit their entry to have their pet featured on custom-made Kanibal products. We're not just talking dogs either. The products feature a diverse range of animals including pigs, birds, snakes, hermit crabs, etc. Check out my list of pet-related products that I spotted below:
Animals of Jersey City bags, bandanas, mugs, and water bottles

Dog illustrated match boxes

"Street Walker" dog bandana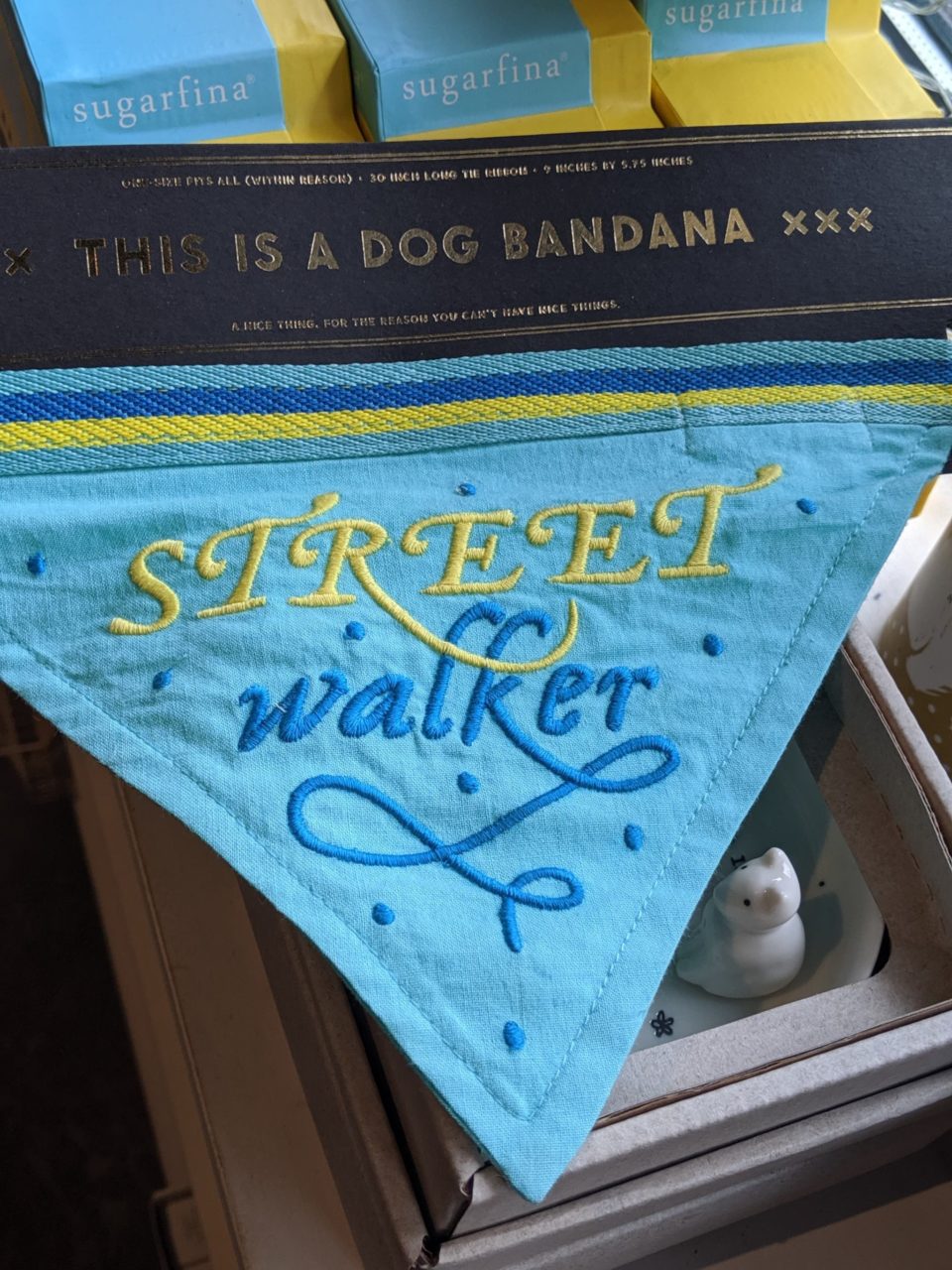 Dog and cat jewelry dishes

Pet keychains

Pet playing cards

Cosmic Cat kaleidoscope

Piggy Banks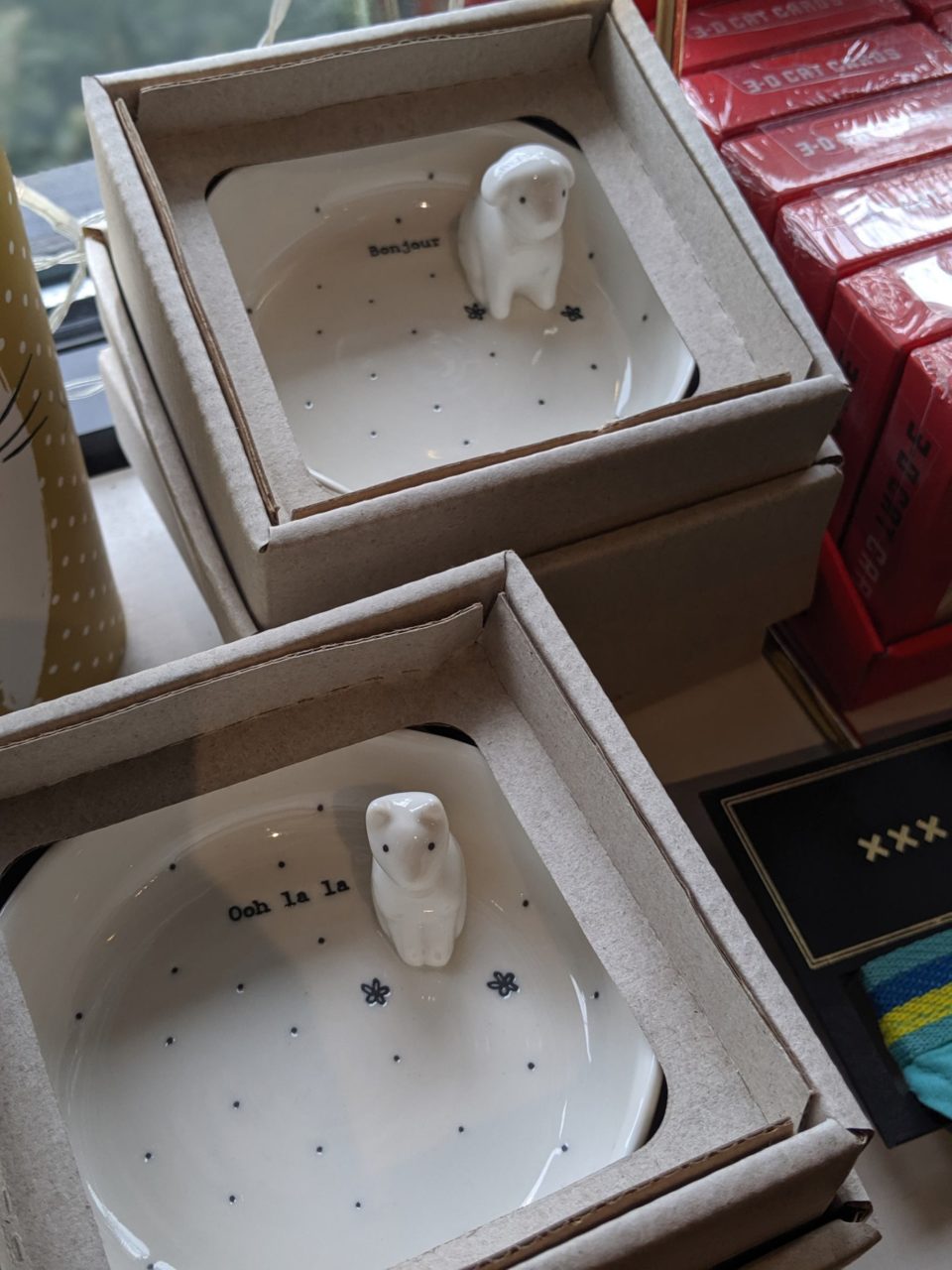 If you've ever been inside Kanibal & Co, you'll know they have hidden treasures everywhere. Don't hesitate to ask the employees for what you're looking for or to point you in the right direction of all their pet-themed products!
K9dergarten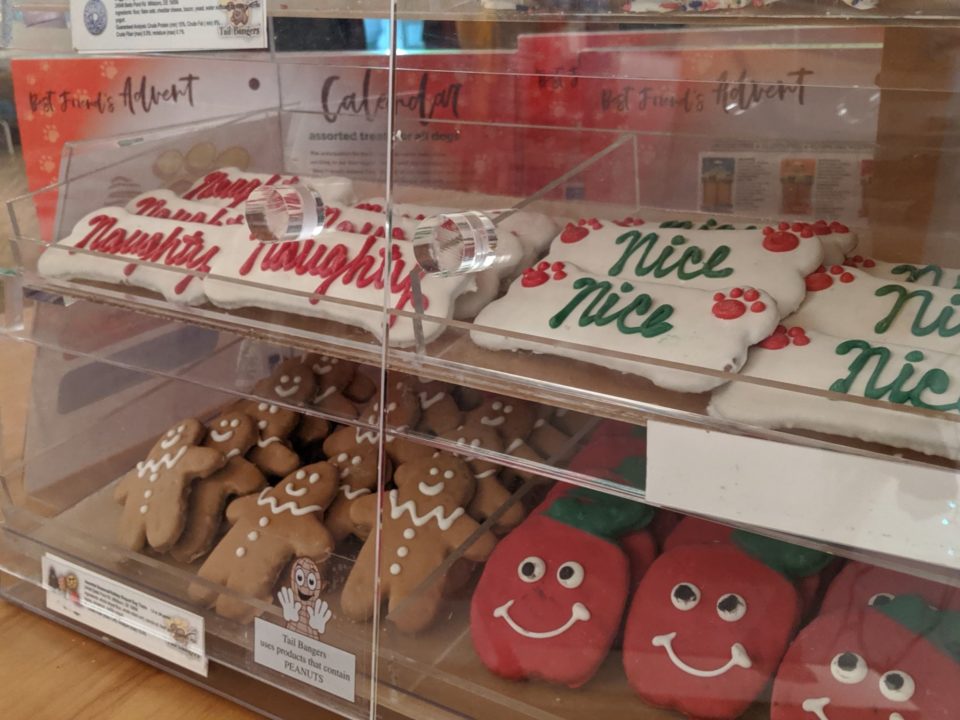 Although this location is known more for their dog boarding and daycare services, I remembered buying special Christmas dog cookies from them last year, so I stopped in to see what festive products they were offering again this year. They had a few goodies that were holiday themed:
Holiday dog cookies

Dog mugs for human parents

"Best Friends" Advent Calendar (dog themed)

Festive plush toys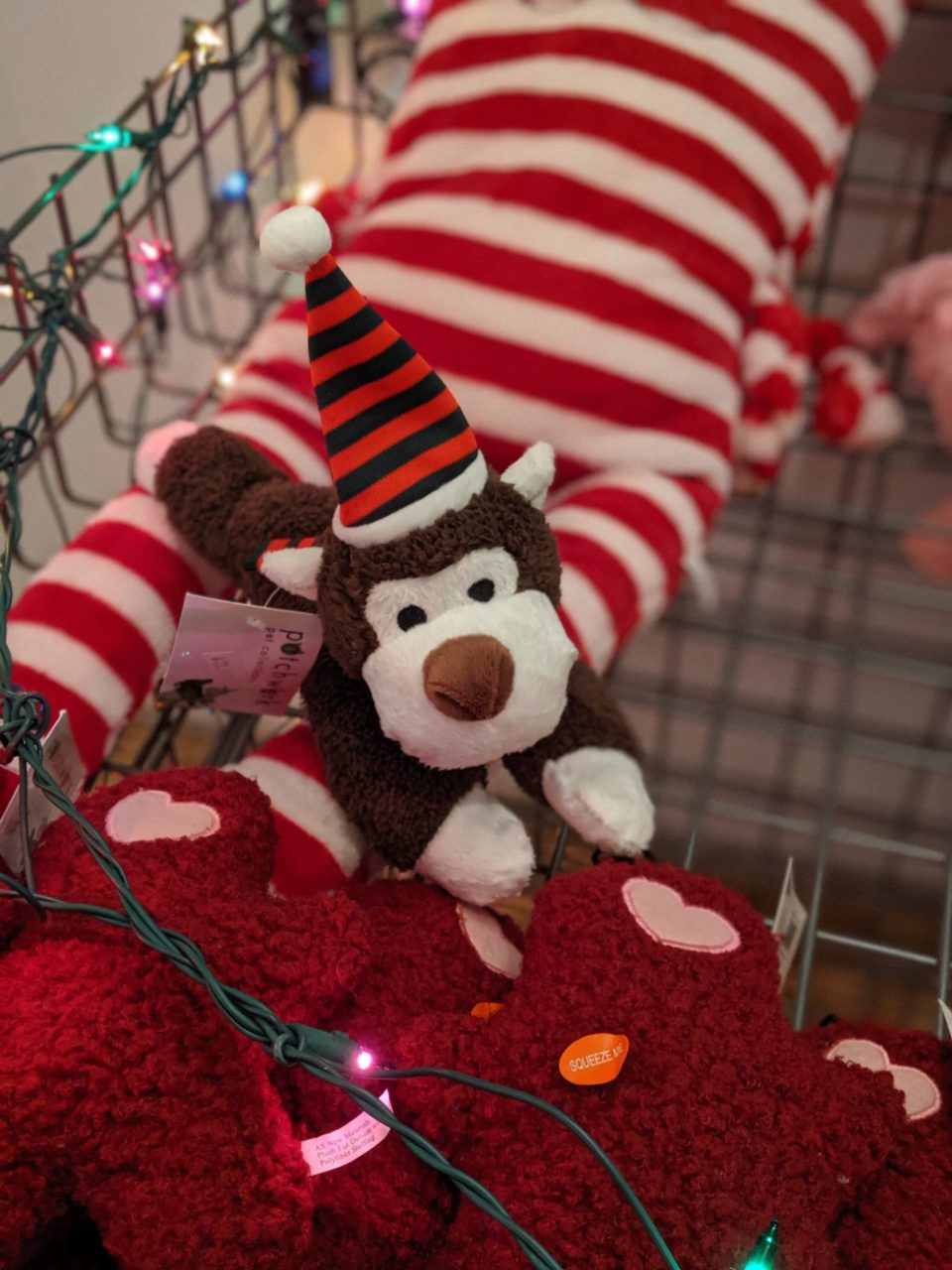 Whether you have a pet at home who you're looking to buy for this holiday season, or you know someone who is obsessed with their furry friend, Jersey City has a TON of great, seasonal items for you. I encourage you to skip the online and chain stores and shop local in our great city. Know any other locations with great pet products? Make sure to let us know, so we can check them out.