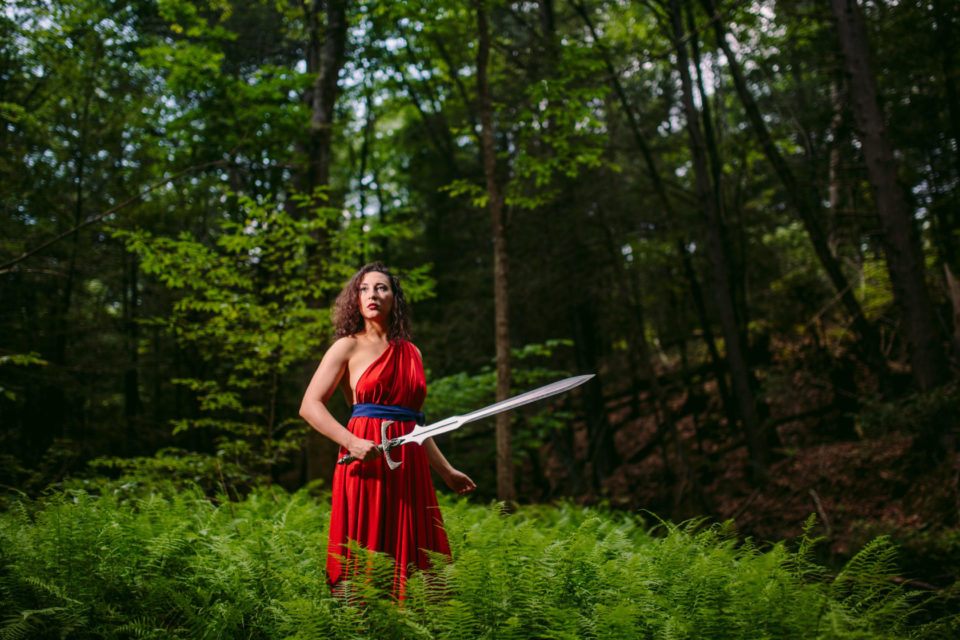 That's what she told me when I asked what "Heavyhead" meant. She being Sylvana Joyce, a  phenomenal drama-rock singer/songwriter and pianist out of Jersey City's Heights. As a performer, she is a force of nature – whether she's performing solo or with her impeccable band, Sylvana Joyce & The Moment, every song is epic, intimate, devastating. Her intensity especially shines in her upcoming album titled Heavyhead, which explores darker side of being female artist in today's world through a sort retelling of the story of Medusa and her origins.
As a great admirer of her style and craft, I was equal parts nervous and ecstatic to sit down with her. She spoke with a similar intensity and intentionality as she displays in her music, being sure to explore every idea, every imaginative moment. This just one of the few things I noticed about her as we talked about Heavyhead, as well as her upcoming album release show at Maxwell's Tavern in Hoboken.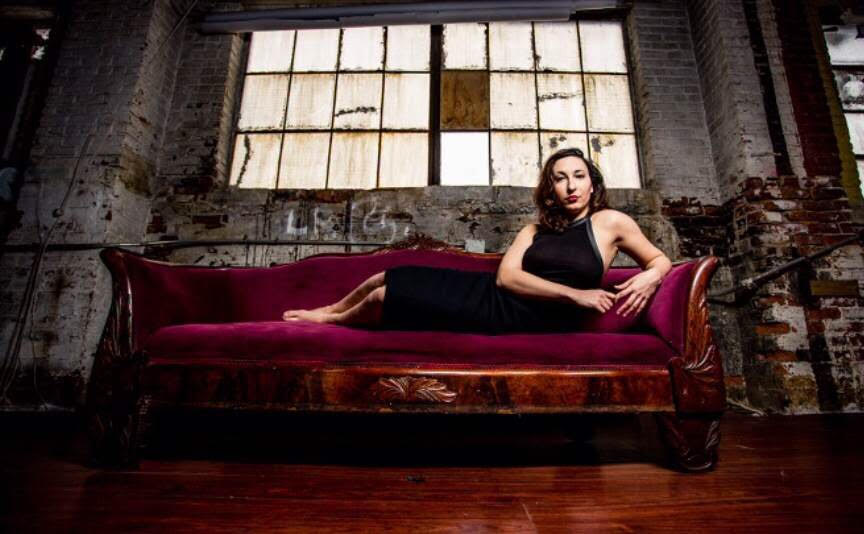 So when does the album come out?
Saturday, December 16th!
OH! Same day as the album release show!
We will celebrate the worldwide release, and it's gonna be wonderful to wake up the next because 99% of the work will be done.
How long have you been working on it?
I've writing for it for the last 3 years. Last summer, I went into the studio after 6 months and pre-production and we hashed out all the tracking in 6 days. It was a grueling process to organize with everybody; singers, string players, horn players, and the band, but we made it work. It took a lot to get to the finish line, and now I'm anxiously awaiting the album release show.
Did you produce it yourself or did you work with a producer?
I recorded it at Barbershop Studios with Ryan Barber who owns the establishment. I chose to work with Brett Romnes, who's worked with a lot of wonderful bands. I thought he had an amazing sense of aesthetic and I shared producing with him. It was a collaborative effort.
So I really enjoyed your last album, "For You, Comrade." It was very fun, well produced, and well written, with a lot of great musicians on it. Sean(David Cunningham)'s violin performance definitely sticks out.
Yes it does. He was actually the last minute addition to the band. We grew up together as kids and we played chamber music together. I didn't really grow up listening to rock and roll, I actually enjoyed a lot of opera. My mom was fresh off the boat Romanian, and my Grandfather was a folk musician, so I was heavily influenced by their music. So my approach to rock is very different because I listened to it late.
It definitely shows in your style. I notice a lot of classically trained artists have a similar experience where they find more freedom of expression in rock and pop genres.
Totally. Yea, I knew when I was studying classical piano that it wasn't my world, and that's when I started delving into my own songwriting and I felt so much freedom.
Did you start writing songs on piano or guitar?
I definitely started on piano, but It was more convenient to write on guitar because I didn't own a piano in college, so it depended what was available. I really liked the quiet, acoustic folk sound at first, which isn't representative of my current sound at all, but it was my beginning. I enjoyed Feist, Cat Power, Rilo Kiley, Leonard Cohen, Bob Dylan, or Mia Doi Todd – She has a fantastic sensibility of songwriting that is very sensual. I was kinda caught up in that delicate, sensual vibe, but then I started playing bars and realized that no one listens to the quiet folk girl in the back, so I started pushing for a louder sound. Putting a band together definitely helped gravitate towards that, so it was an evolution.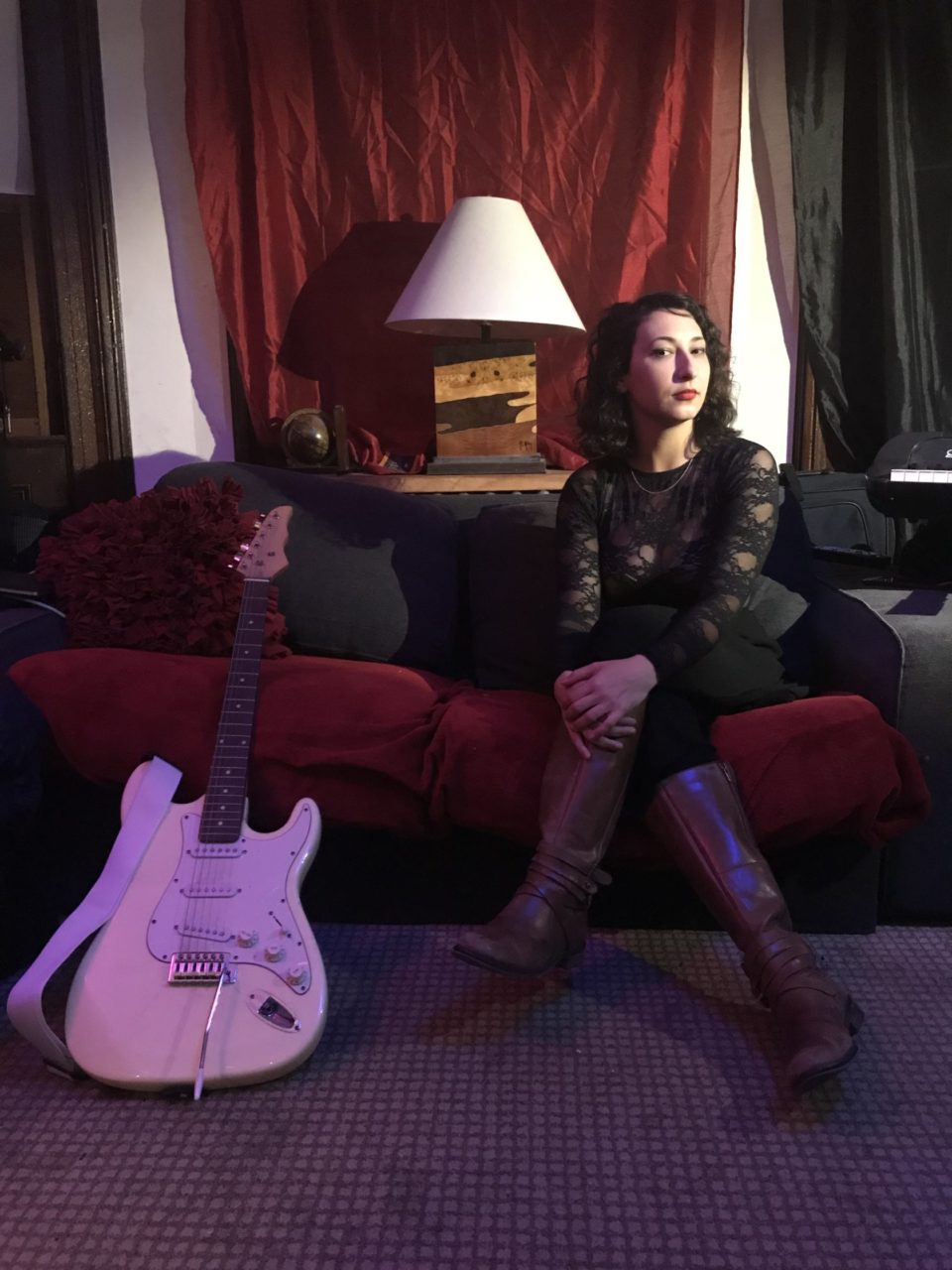 It's an interesting thing how a venue can kinda shape your sound. You have find a way to adjust and without letting it change you.
Right. Now I'm learning how to bring the venue to what I wanna do, which is actually what the upcoming Heavyhead show is all about. I'm hiring lighting and set designers to help transform Maxwell's into a theatre. It's a lot of work and it's a big dream but I think more than ever artists have the opportunity to take full creative control, and when we challenge ourselves and push the limit, we then stick out in a good way. I think it'll just be a good promotion for who I am as an artist.
Yea, it's hard to get anywhere without being truly you. That's all and everything you have to offer to the world.
Right. The thing that will truly penetrate is something that truly feels like it's coming from your heart. People are starved for that. They wanna see truth happen in the room.
There's so much great music out there, but I can't think of another Sylvana Joyce. Your sound is extremely unique – you're so good at taking the dynamic and bringing it up and taking it back down suddenly yet smoothly, and the theatrical expression combined with the pure mechanical skill is amazing.
Thank you, that means a lot to me.
How did you come to develop that sound?
I think about that often. Especially because I started out so timid, so I do think it helped to find my voice in front of an audience. But a big part of it was taking an acting masterclass before I started my band. The class really focused on emotional presence and finding your imagination in front of you. So we'd be asked to put our hands physically out and delicately start feeling the texture of the world in front of you and interact with it. And the more you get involved with this specific imagination, the more the audience is drawn to what you're doing and the more they experience it with you. So that acting class very much empowered me to have that specificity on stage and to use that moment in time as an energy to work with and shape. For me, performing is as much a theatrical, acted event as it is a musical one, so I think that where the dynamics come in – it's from being true to every single moment and emotion in my imagination.
Watch Sylvana Joyce & The Moment perform "The Break."
That makes so much sense thinking back to your performances I've seen. Do you feel like you're fulfilling a role when you're performing then?
Oh absolutely, it definitely feels like being in character. But the writer is still me so it's usually a composite of a character in my mind, and some part of me, and it's cool to delve into the different parts of myself and humanity.
Do you feel like that changes between songs?
Absolutely, I've written songs that scared me. Songs that really delve into darker aspects of the human psyche that aren't necessarily a place I wanna stay for a very long time (haha), so I kind of use songs as an "exorcism." Trying to get sadness out, and express desperation grief, desire, romantic or sexual – those things are just so profoundly thrilling to share live with that intensity and emotion.
Wow. So darker topics, do you explore that in Heavyhead?
So Heavyhead is a shortening of the phrase, "Heavy is the Head that wears the Crown." I realized all the songs on this record had a feminist vibe to them, and they talk about the female artist in a specific way. I think women have a responsibility to themselves to be authentic and stand up for ourselves and pave our way through this industry. So for me, the responsibility, the weight on the crown is being put on women now.
And the image that I thought was perfect for that was Medusa – she's known as a snake beast who petrifies men, but the origin story is that this young girl is assaulted by Neptune, and Athena, who is in love with Neptune, turns her into a monster out of jealousy. It's a tale of an innocent woman being subjected to the emotions of the gods, and I kind of want to rewrite her story. It's unfair that men and men and women and women have these relationships they have with each other. So I delve into those topics of jealousy and betrayal and aggression. want Medusa to be human again. I don't want her to be the result of other people's problems. I want her to have her own story, so that's how she ends up as the emblem of this album. And of course Medusa was beheaded, and that kinda plays in the idea of "Heavyhead."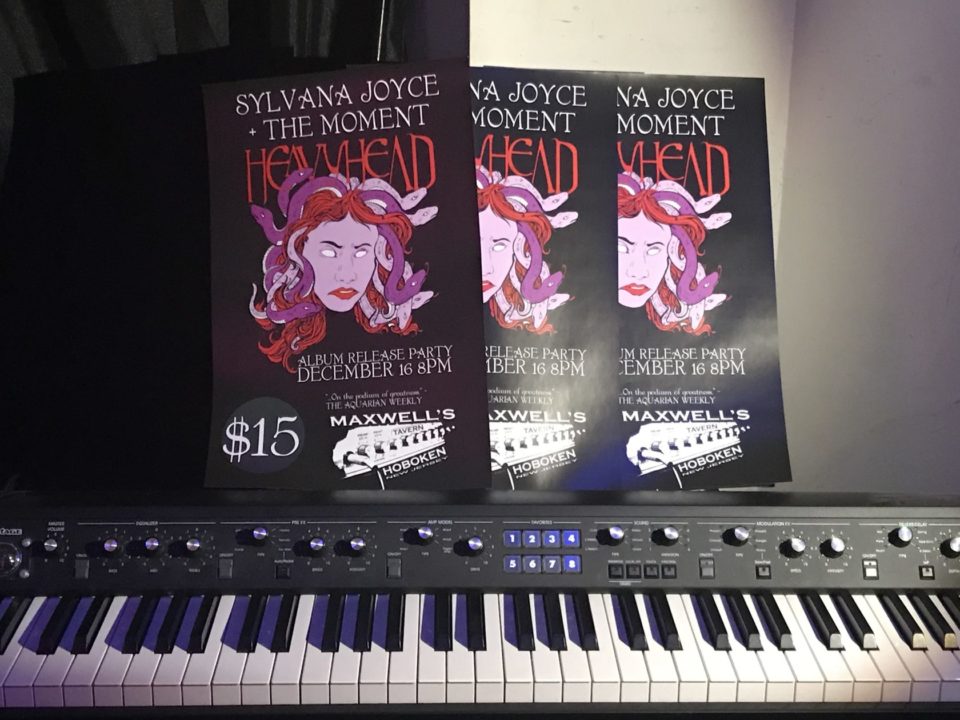 Wow so many layers! I love it!
So many layers! I'm a little bit of a nerd, I'm not gonna lie.
That's awesome. Don't worry, I'm definitely not the guy to judge anyone for being nerdy, haha. Do you do other nerdy things outside of music?
I definitely make time to play Dungeons and Dragons with friends. I love board games as well, but D&D specifically has been so fun, and I recently started being a Dungeon Master, writing a story about vampires, to match my transylvanian descent.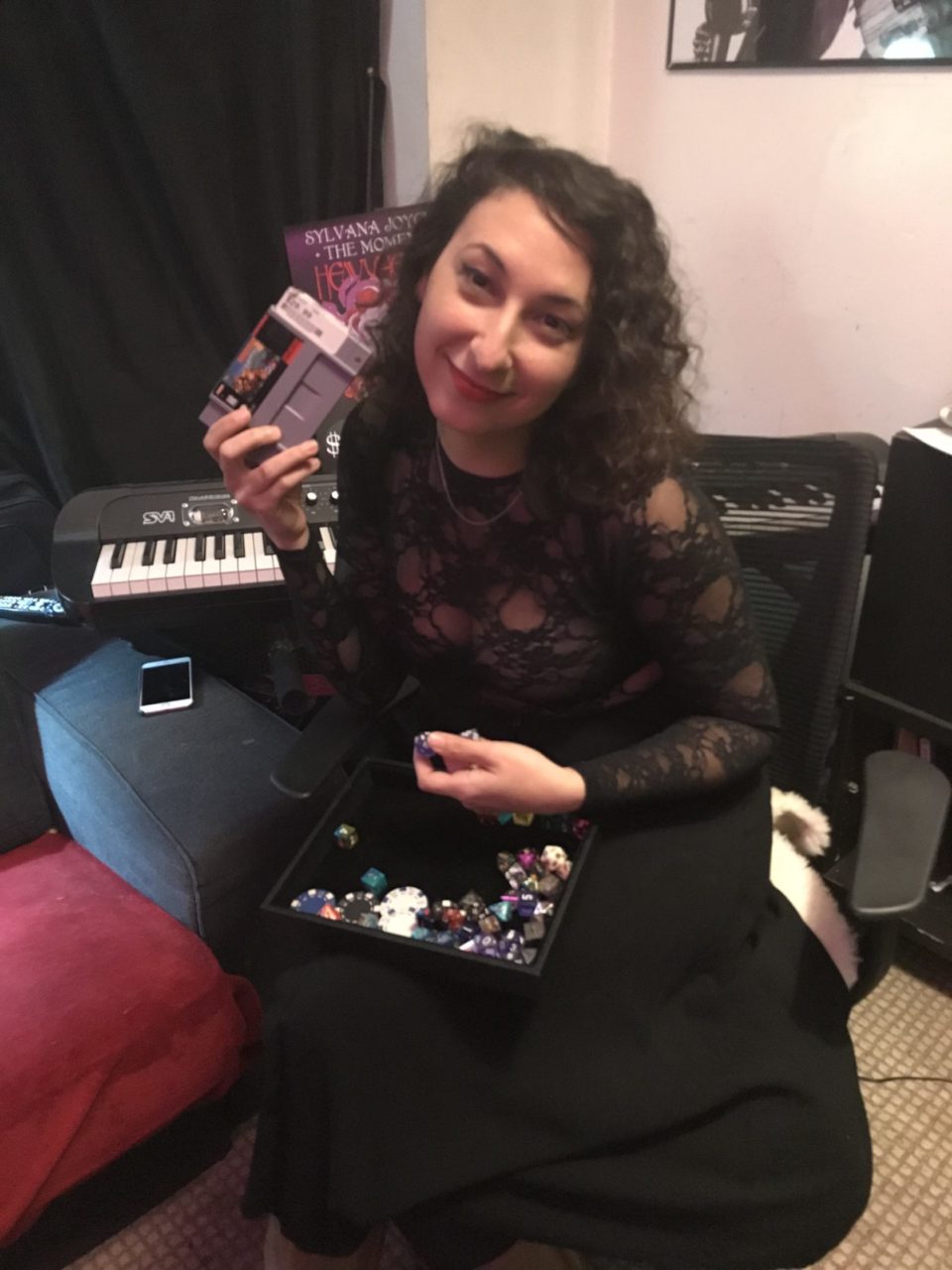 Can you tell me about your song Vultures on the upcoming record?
Sure, so if it helps, we can listen to it first. I think it's important for artists to know that we're pulling the arm of the dragon in a way where there's more and more layers as you pull a subject apart. Were trying to unravel the human psyche, especially where people aren't ready to explore more personal or intimate topics This song, Vultures, is about us feeding on life and how that scene is very aggressive.
Listen to Vultures by Sylvana Joyce & The Moment on Spotify.
Wow. That was amazing. Ok, I'm definitely going to the release show now.
Thank you, haha. So I when I was writing that I was exploring the idea of something hovering over you just waiting for you to expire, and I think that someone who isn't experiencing life, and not living life to the fullest is ultimately sitting around waiting to die. That's a fear I have, so I just liked that concept of vultures circling you around you just waiting for you like "alright, when are you gonna kick the bucket (haha)." So between the person waiting and the vulture, I'd rather be the vulture. I'd rather be one of them. I'm the creeper, I'm the devil, I'm all these things you see as wrong but guess what, we're getting ours. We're tearing away and grabbing for life. It's kind of this idea where the things you're scared of might save you.
I feel like I've noticed there's a slightly different experience between male songwriters and female songwriters where they feel more pressure to be careful about the topics they explore. Do you experience that?
I think the only time I've been careful is when I wrote a song called "Fuck Me," and in that I explore a seductress who says "I know you're making eyes at me and I know you have a girl, but why don't you just do what you're body is telling you to do." And the thing about performing that as a woman is you receive negative attention and undesired responses. That was probably the only time when I thought I couldn't perform this song anymore and have peace of mind. For me Heavyhead is about writing songs that I don't see a lot of women doing. And so I feel it's  important for us not be afraid and to really just break open that gate in terms of what woman can write and not just be qualified by gender. There are very particular things that women experience, but it's important not to be limited by that.
Did you grow up in Jersey City?
I grew up in Astoria, Queens, and lived in NY most of my life. I had a bad breakup in 2012 (haha) and my entire band lived here in the heights and I inherited this apartment from my then bassist, and we've been playing here since. It's a testament to the family community nature of this place, its so heartwarming.
I agree. I grew up in Jersey City and now more than ever there's so much music and art coming out of Hudson County. I'm so glad Frank (Ippolito) invited me to the Spaghetti Sessions where I got to meet you and so many amazing artists.
Definitely. I'm very influenced by my peers – my close friend Janna Pelle, Gerry Rosenthal; he's a phenomenal force musically, he's a craftsmen. And being able to hear the singing of Ariel Gudry or Christina Alessi and other Jersey City/Hoboken artists. We're really lucky, we're growing into a sort of new New York, new Nashville, and making it impossible for artists to resist. People are hungry for live music and they still love to see it live, and you just need to be in a scene that nurtures that and I think this scene does that.
Any closing remarks?
There's a lot of pressure for us to be discovered, and I've of the opinion these days that the only person that needs to discover you is yourself. If you discover yourself and what you want and and you put that out into the world, good things will happen. It may not make you a household name, but it sure as will make you noticed by people who love and appreciate what you do.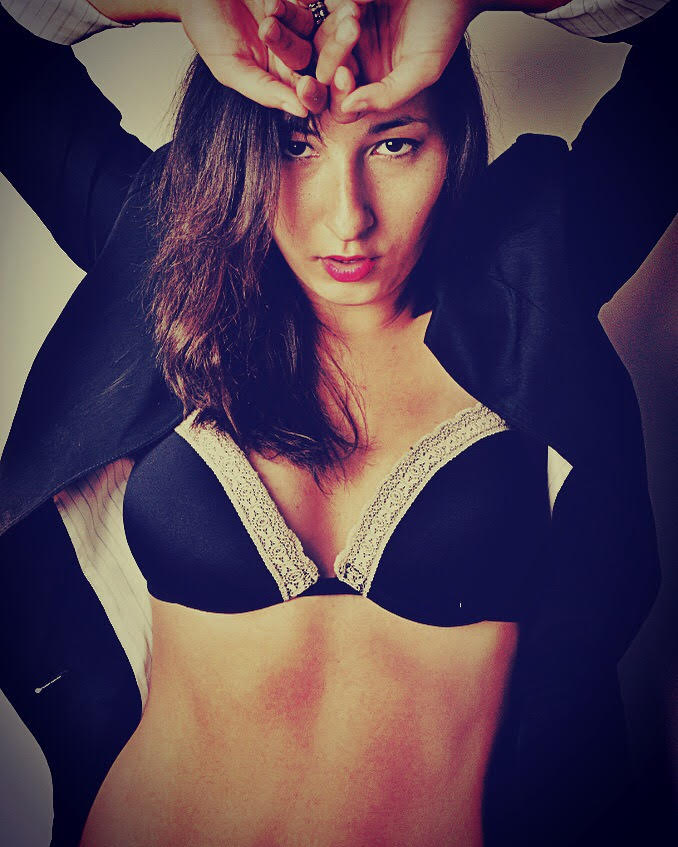 Thanks so much for sitting down with me! So one more time, Heavyhead comes out on…
December 16th!
And what's ALSO happening on the 16th?

I have the album release show at Maxwell's! We'll have an Kelsey Warren of Blak Emoji, a band I actually play keytar in, opening at 8. I'm on at 9, and it'll be closed by Corey Feldman of Cousin Earth. It's gonna be exciting!