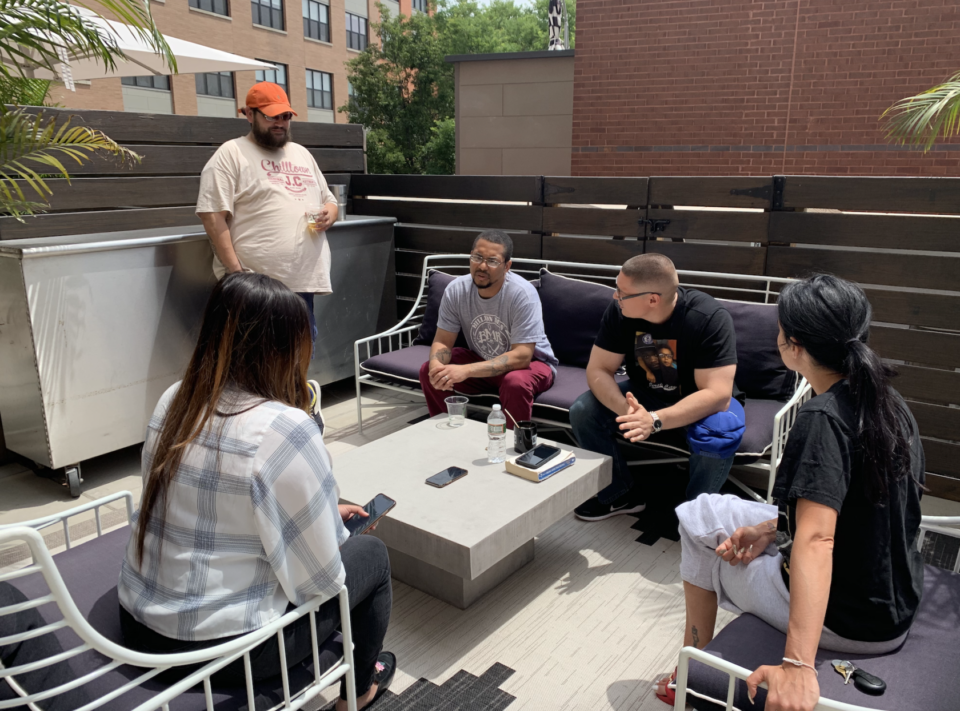 Many have argued that hip-hop isn't just music, it's a culture. Since the widespread popularity of hip-hop in the 80s and 90s, it is without a doubt that hip-hop is alive and well. Here in Jersey City, hip-hop culture continues to be represented and embraced. Jersey City is also known to produce some of the most talented rappers in the game, such as CF and Dontique.
CF and Dontique have been friends and rapping since 1994. There's not a lot of people who can say that they've been on Stretch and Bobbito or Tim Westwood, as well as perform side by side with other famous rappers at some of the most prestigious concert venues. It is without a doubt that these two rappers – who came from humble beginnings in Jersey City, inspired by their own life stories and the loss of their best friend – would be able to accomplish success and inspire more creatives to pursue their dreams.
Without further ado, here are CF aka Constant Flow and Dontique of BMR Billion Man Rebellion.
---
Anna: I'm so excited to interview you guys and just learn more about your music, your background and how Jersey City has influenced your music and your love for what you're doing. The first question we have here is, what are your names and what do you do?
CF: My name is CF aka Constant Flow […]. I'm a recording artist. We politicize hip-hop to a certain degree.
Dontique: We do everything as far as music is concerned, but mainly hip-hop.
CF: Associated acts who I work with are Immortal Technique, who is also known to politicize underground artists so I travel the world with him.
Dontique: I'm Dontique, I rap, produce, and deal with him.
Anna: Must be fun. Have you guys been friends for a really long time?
CF: We met each other…
Dontique: '94.
CF: 1994, in Ferris High School. Dontique was signed at Epic Street at the time. Epic Street had a subsidiary at the time. So when he first came in there, me and my friend Juan were the only well-known rap artists at the time, and I'm like, "Wait a second, if this guy is from out here I'ma test his chin, I'ma see what he got going on." Because he was from Brooklyn, from Brownsville and we're from Jersey City, so obviously there's competition there.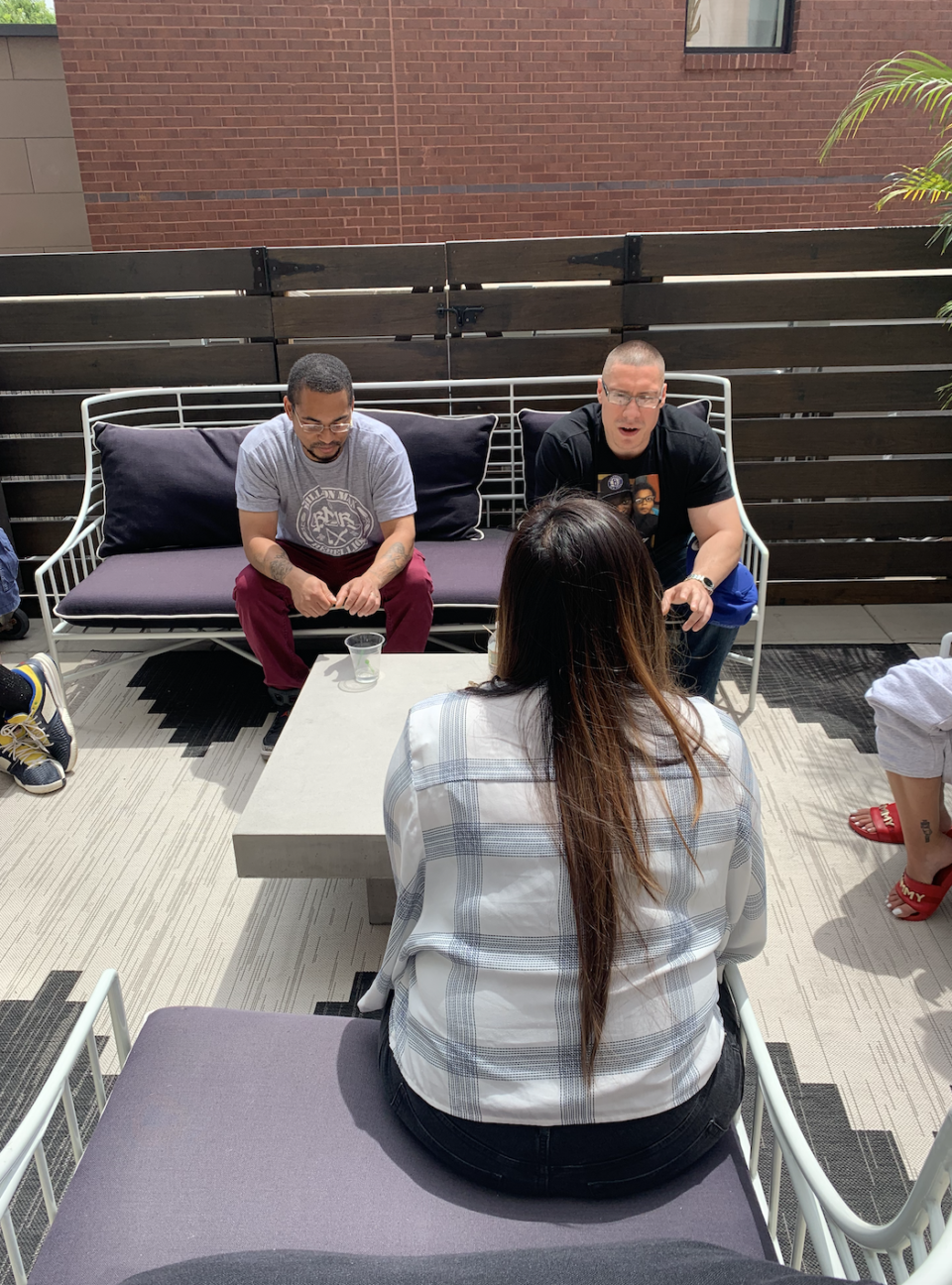 Lynn: It's tough to break into Jersey City, you know?
Dontique: I just so happened to be on the step at the right time, already battling his friend. Then he walked up and we all battled, and we all skipped school that day.
CF: I'm not advocating for anybody to skip school. Our passion for music was such that we had to write a song that day, which we did. From there, we formed a group or a connection with myself, Dontique, and Juan. Unfortunately, in 1991, Juan was murdered by his girlfriend. Me and him (Dontique) had to continue to carry the torch and that's how we became Billion Man Rebellion, BMR.
Dontique: We went to Amsterdam and recorded an album there and wrote down Billion Man Rebellion because that wasn't the name of the other group at the time. We wrote it down to do an album called Billion Man Rebellion and then years later we were like, let's revisit it and make it the group instead of just making it an album.
CF: Our bond got stronger after the murder of our friend, Juan, one can say.
Dontique: Definitely a Jersey City story, and this is with the backdrop of the Twin Towers there. That story goes on and on.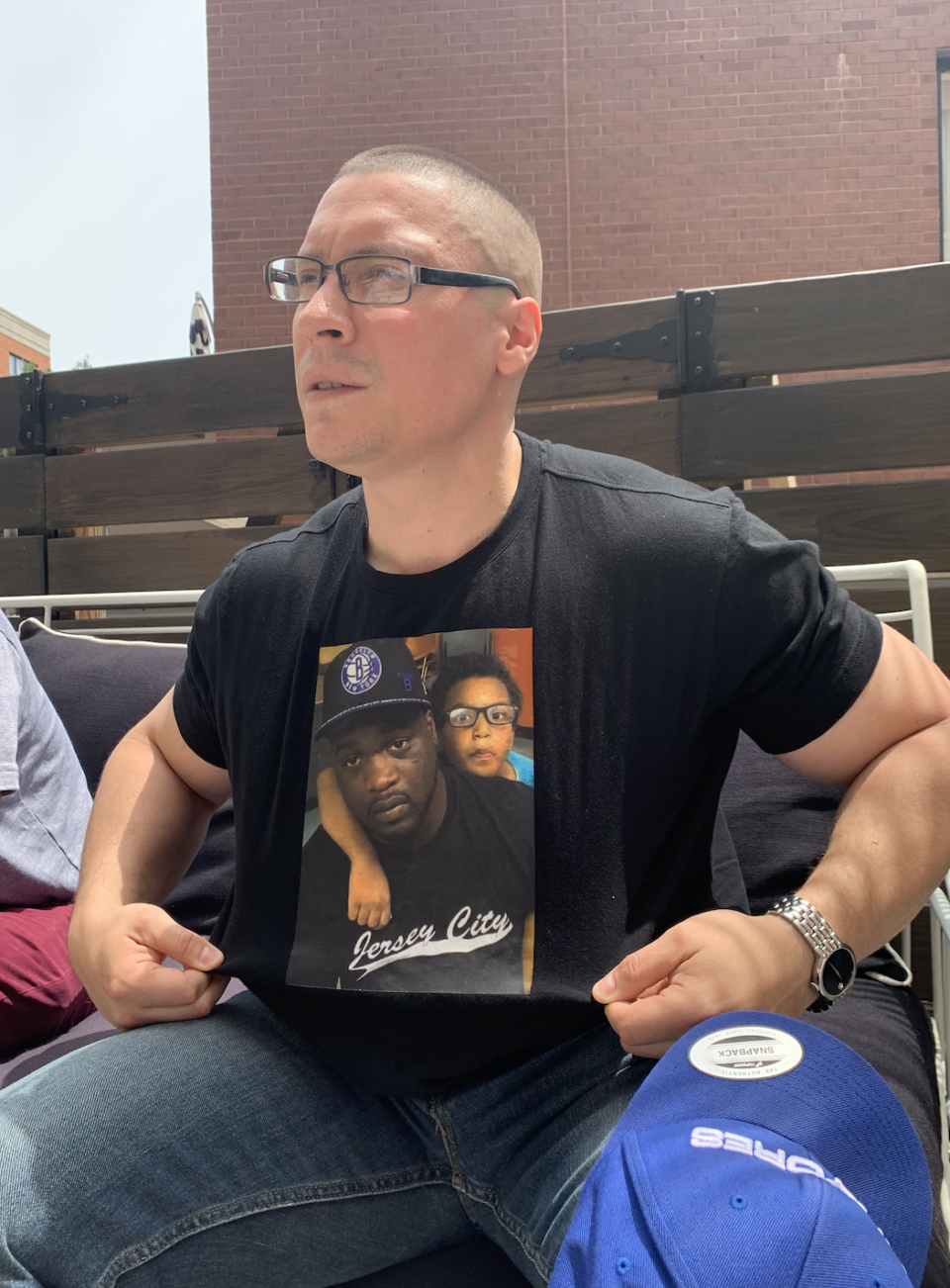 Anna: Since 1994 you have been writing rap songs, when was the moment you realized that this is something you wanted to pursue?
CF: Life happened – Dontique had children, I had relationships.
Dontique: I made babies.
CF: So many different Jersey City stories in that timeline, it can be a movie. I was grieving from the murder of my best friend and after we came from Amsterdam, I started to frequent New York City more because the underground hip-hop scene was up there. It was a big thing. There was a show there called The End of the Week show at Baby Jupiter and they moved it to Pyramid. It's really where you can have access to all the big underground acts at the time. This was pre-9-11 for the duration of post-9-11. That is where I met Immortal Technique and I read everything that he was saying. It was kinda mind-blowing to me because of a lot of the stuff he was talking about, foreign policy, anything that pertains to what was shaking across the world, manifested itself on 9-11. We were there because I saw the Twin Towers go down. I was working at an investors relation boutique, coincidently a job that I was hired from after my best friend was murdered because he used to work there. So the guy would take us from the street and he was gonna sponsor us to take our series 7 or what not. Immortal Technique took a liking to me and I allied myself with him based on his rhetoric, the message. He said, "One day, I'm gonna take you on tour, we're gonna go around the world." I said, "That's bullshit, smoke up my ass. People tell me that all the time." But in 2008, he reached out to me and I did a song called Young Lords with him and Joell Ortiz and a couple of others – Pumpkinhead, rest in peace. From then on, he started taking me all around the world. I was on Tim Westwood, which was a famous radio show. I was there for 20 minutes. Tim Westwood would never give anybody a 20-minute run, do you know that? Not even Eminem – it's crazy.
Dontique: You gotta take it.
CF: From then on, we started traveling, but periodically me and Dontique were creating a plethora of songs. There were so many songs – creating, creating, creating. And I had an album that came out and I got signed to Viper Records, on Immortal Technique's label, in 2012 and I dropped the album with them in 2014 called Ascension. They were dragging their feet basically because they were waiting for Immortal Technique to drop their highly anticipated album.
Man: The follow up to the Third World called Middle Passage.
CF: So me and Dontique had a couple of songs and I was like, "You know what man, I don't need a label to put my music out. I can do this myself." So I decided to start a GoFundMe and the community started to respond heavily. We wanted to reach a $4,000 mark and we did in 2 months.
Dontique: Yeah, and we went a little past that.
CF: And that's the money we used to finance the project we currently have. This is our first project as best friends since 1994 to now that we've done fully together.
Dontique: We've done mixtapes and throw them out, but it wasn't anything like an actual album.
CF: Nothing cohesive, right?
Dontique: Yeah. With the same producer producing and the videos and all of those.
CF: And now we're executing our vision because we have the time to. But imagine a friendship that endured for all those years through all the changes in Jersey City and still continue to create music together. Have you ever seen somebody that you really mesh well with? You'd be like, "We gotta make beautiful music together." That's basically the story between Dontique and myself.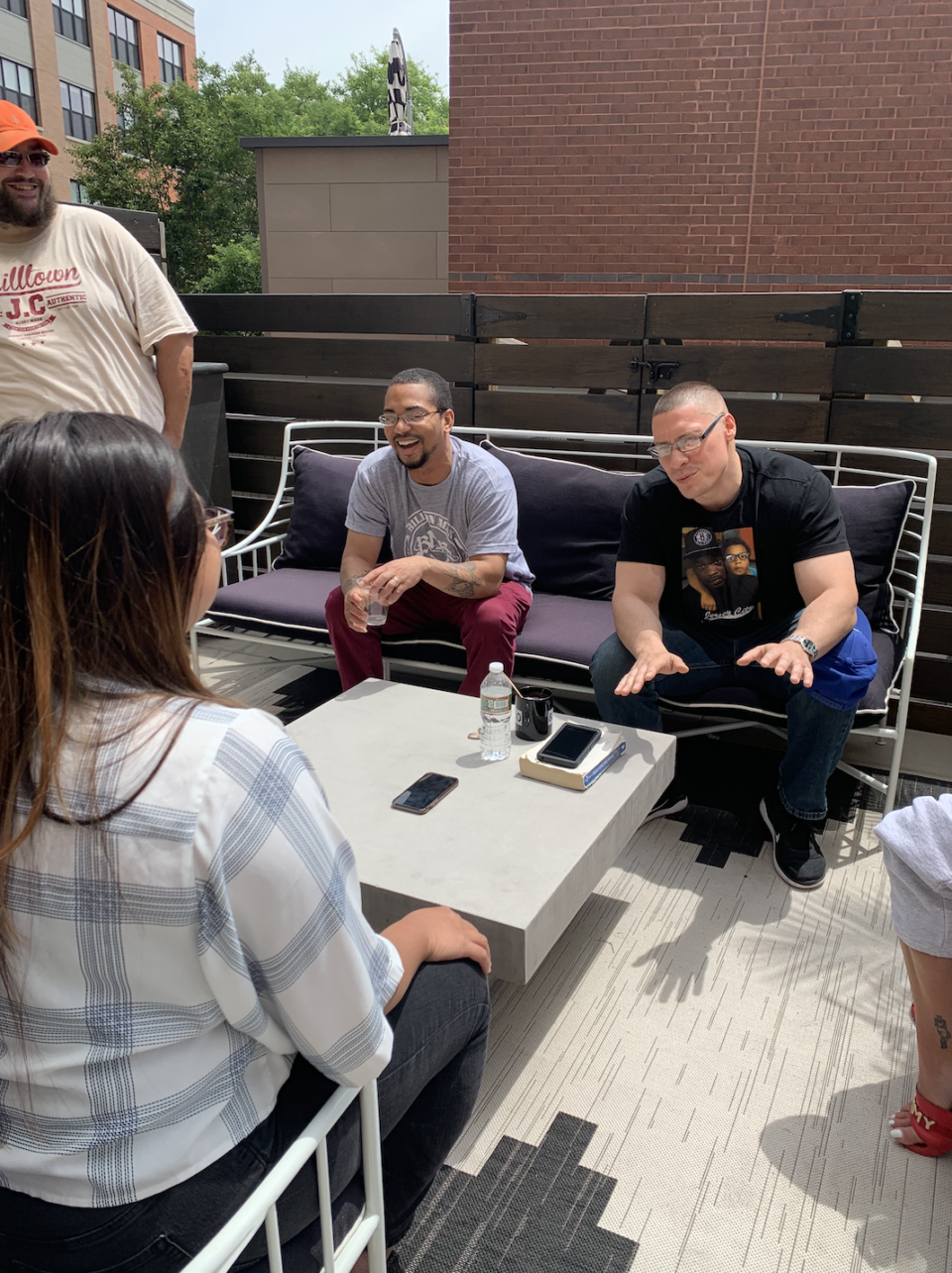 Anna: That's really inspiring. It seems like you really drew inspiration from your best friend passing and all the experiences you've been through. Since you were from Brooklyn, you're both based in Jersey City now. How do you think Jersey City has influenced your creativity and your music in general?
Dontique: It's a different place.
CF201: The story of Jersey City, I mean just look at it – the Statue of Liberty over here, the Twin Towers over there. My first date was taking a girl at Flamingo's having a burger, and my first kiss would be right there in the shadow of the Twin Towers at night time. That's a story no one else can tell unless you were here. It should be put in the movie.
I.D.: Everybody in the world wants to be in New York, right? That's our backyard. While we're doing things, we look around the skyline that people have postcards up all over the world, is our backyard. Sometimes there are so much we are taking for granted – it's just part of our life. It becomes part of the landscape that shapes and moves everything. When I was little and I would go home, the Twin Towers were still up, I would look at it and be like, "One day I'm gonna take New York." If you can make it in New York, you can make it anywhere.
CF: And that's the beautiful thing that he says, like being in the backdrop of the skyline and what not. It's only one or two people that you got here; you got people that like to live in the shadow of greatness and people that either rise to go above it.
Dontique: Since I'm from that side, I don't see it the same way, it just looks nice. But I give back to the city. I just finished cleaning up the city. We do it with the Hundred Murals Code, they got a thing where they put murals up throughout the city. We also clean the city. If it's dirty or it looks crazy, if there's trash there, we get the tools and clean it up.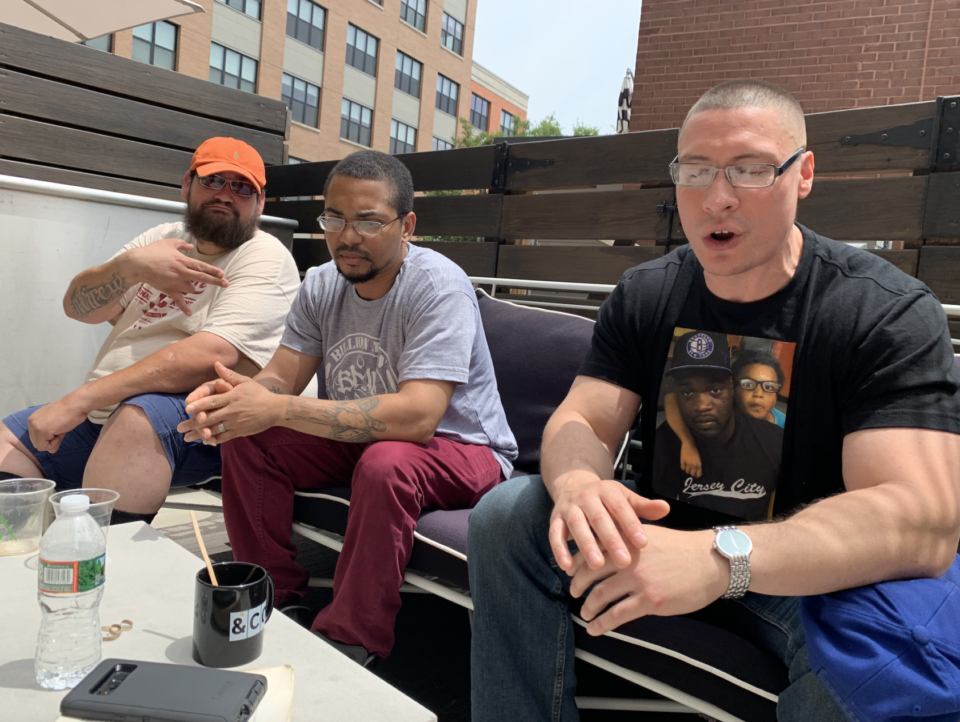 I.D.: There was tires, boxes, old baby bibs.
Dontique: I definitely give back, I didn't just come here to take.
CF: Everything that started was because of Jersey City. We got inspired because we know we were in a place that we knew had so much potential.
Dontique: I came and I never left.
CF: It's the home of the underdog, one can say.
Lynn: How do you guys feel about all the changes through all the years?
Dontique: It's good and bad.
CF: Initially, I was totally against it, but then you can't stop the tide of change, especially of something that's in the proximity of New York. That's an inevitability. What can be done is a fusion of the old and new to make even a greater "new," if that makes any sense.
Lynn: I love that.
CF: There's people out there who have ideas and experiences that only the new people who come here, who get reinvigorated by what we have seen all our lives but lack the resources, can help us tell that story. It's a partnership between people that love the city regardless if it's the people who are lifelong residents or the people who just came here and they feel like, "wow, this is the American dream for me." Once you put those two together, you have an unstoppable force – cultural force. It represents all aspects.
Lynn: And that's what we're trying to do here.
CF: Initially, I was resilient to a lot of things. Jersey City people, we're very fucking grumpy.
Lynn: Judgmental.
CF: We're judgmental, even though this is a place where demographically it's so diverse. I grew up in a household, my grandfather was an alcoholic. My mother was a single parent that went to college. As a single mother, obviously you understand.
Man: My mom got her Masters.
CF: Exactly. Public Policy Program spearheaded by Dr. Perrier at St. Peter's College. I learned vicariously through her and going to school with her. She didn't have a babysitter sometimes, so she would take me there. That's why I kinda internalized a lot of social commentaries. Even though I only went 2 years of college myself, I think all my college experience comes from my mother – from her going to school. My grandmother was a sickly person. She had rheumatic heart fever as a child in Puerto Rico. When she came here, she had heart conditions and shit like that so when she would get really bad or have heart attacks, she would stay at my great-grandparents' at Hoboken and I would have to be with my grandfather while my mother would take my sister on these parent-teacher conference trips. My grandfather was a raging alcoholic, I mean a functional alcoholic but he would take a cold switch.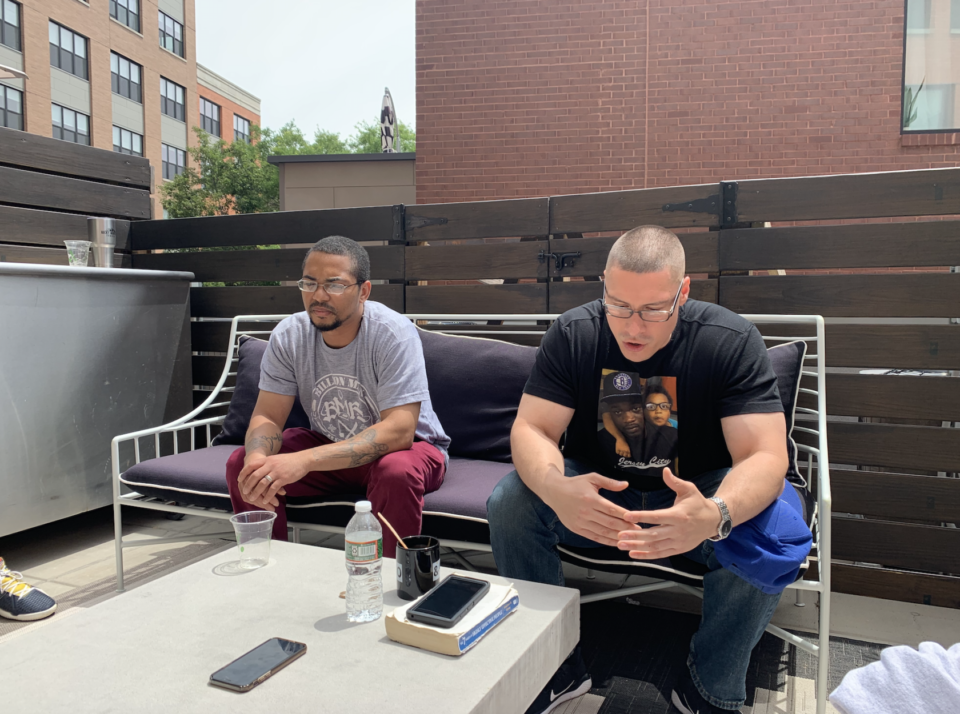 My mother decided when I was younger and my father left it, she'd be like, "We got some money saved and instead of buying the clothes that you have, you can get the clothes that you have when your father was around like Nikes [because this was in '86], or we can get you something called the encyclopedia." I thought it was the new Transformer or something like that. So when she got me the encyclopedia I was like, "What the fuck is this? Books?" But anytime my grandfather would riff, I would go upstairs and just immerse myself in words and reading, and I used that as an educational opportunity.
Living in Jersey City, you walk outside and you see somebody who is Indian, Italian, Polish, Askanavi Jewish, you start to want to know about these people. And me being Puerto Rican, people always thought I was Caucasian but my family is mixed with Indian, Africa, indigenous, Sephardic Jewish. I came to find out my family has Sephardic ancestry from Mallorca. Being that diverse in your genetics in an inner city, that kind of diversity makes you want to become a better person and educate yourself overall about everyone else. Even though my educational situation started a little bit rocky, nonetheless the city is what inspired me to wanna be a better human being, if that makes any sense. When people come here like yourselves – I grew up in a Filipino neighborhood at one time when my mother and father were together, they bought a house there.
I had too many great experiences and I had Filipino friends, and we've been friends since the sandbox til now. That doesn't stop. It feels like we just picked up where we left off. You wouldn't have that experience in another area, and people say, "Oh yeah, in New York you'll have an experience like that." But Jersey City in itself is a different experience altogether – that story needs to be told. About how all these different kind human beings interact and how they all influence, inspire and reinvigorate each other.  I just found out that Betty Shabazz graduated from NJCU.
I.D.: An eclectic utopia that can make anything possible if you have the drive to actually go for it.
Anna: It does sound like you've had a difficult childhood but you made it fun because you were able to create and pursue your dream.
Dontique: We made it fun.
CF: Creativity comes from strife. Dontique says, "You can't make diamonds without pressure."
Dontique: Something like that.
CF: I don't think about my story as a struggle. What about the people that worked at the waterfront? The dock workers and all the other people that came before us trying to make a life for themselves? The Germans, the Irish, when they had the Irish community over there called the Horseshoe.
Anna: What advice can you share with other young creatives who want to pursue a career in music?
Dontique: Don't stop.
I.D.: Be determined and yes, don't stop. Don't half-ass it. You got a skill, you did a great song, don't show it to your friends for 5 months and talk about how great it is – go to the studio tomorrow and do another song.
CF: I would say be more network-centric. Be more open-minded because I was close-minded initially, and that's another Jersey City goldfish-in-a-bowl thing.
Dontique: Also, don't just do it, also have a job because otherwise, you're a bum.
CF: It depends where your drive is at. You can make a career out of what you love. Chicpea is a prime example of that.
Lynn: I have multiple hustles. I do everything. What else can I do?
Dontique: But a job keeps you afloat.
CF: And that's a Jersey City story too.
Dontique: Some people just want to pick up a guitar and think that's it for the day.
CF: I gotta rap, I work for the Hudson County Register department where we process property documents, title, deeds, mortgages, and all that stuff.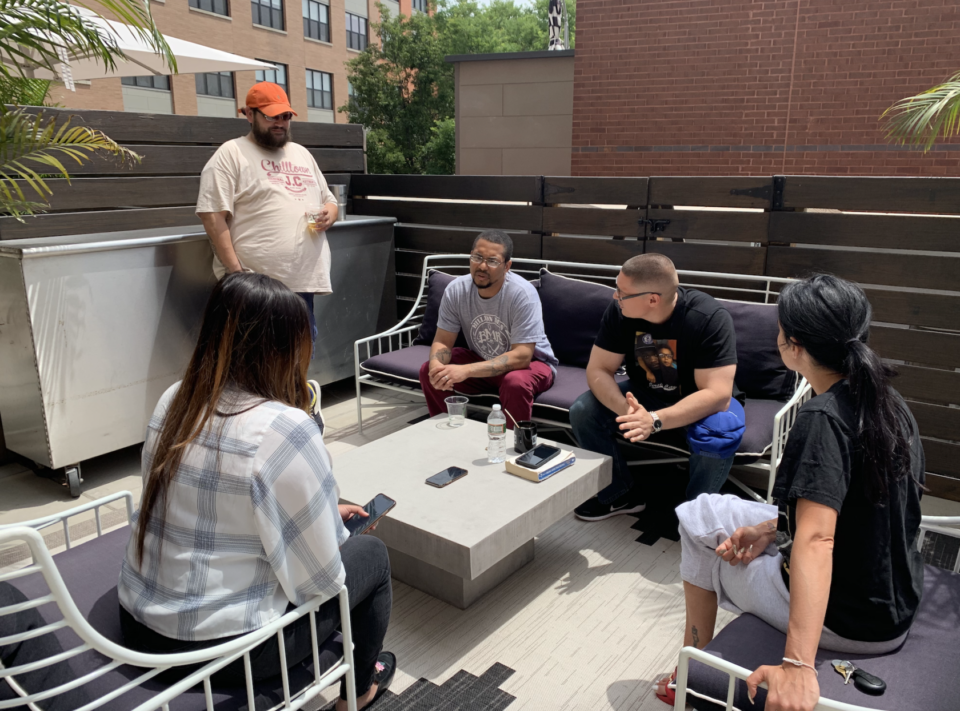 Lynn: Even millionaires have multiple businesses, not just one. If something goes downhill then you can do something else.
Dontique: If you want to be a billionaire, you have to, in order to be a billionaire.
CF: You have to diversify your revenue. That's how it is.
Lynn: Let's talk about Hip-Hop. What are your influences growing up? Any rappers that inspire you or have inspired you.
Dontique: Slick Rick, Big Daddy Kane, Kool G Rap – just it period. I just listen to the radio. Back in the days, the radio is the thing. You listen to BLS or KISS at the time whoever was playing hip-hop, I'm just tuned in to it.
I.D.: Yeah, there wasn't a dedicated hip-hop station back then.
Dontique: Then it turned into 89.9 after that with Stretch and Bobbito, which we was on at one point.
CF: We were on that, which is crazy. How many people can say that they were at Stretch and Bob?
Dontique: But just anything that had the feeling of being authentic. Anything that wasn't authentic you could kinda tell.
CF: My influence is Nas, obviously. We grew up in the 90s.
Lynn: Yeah, me too. So we're old heads.
CF: I'm an old head – yeah. I'm 40, I don't look it – I got good genes but I'm 40.
Dontique: I got 2 months to be 40.
CF: Nas, Wu-Tang obviously, Kool G Rap, Redman – he was from Jersey. It's crazy because back then, there was no dedicated hip-hop station. You had to turn the dial and then you'll find, "Oh shit, is this WuTang?" That wouldn't be played on a normal RnB station that played hip-hop for 4 hours.
Dontique: That's where Fat Joe came up.
CF: That's how we came across the underground by turning the dial. Hot97 didn't come out until 1994 or 1995.
Dontique: It was a techno station.
CF: I remember hearing that Cece Winans song.
I.D.: I used to think that KRS-One, the militant knowledgeable rapper but with the Slick Rick story. If you can merge them 2 rappers, that was the perfect rapper.
Lynn: How do you guys feel about hip-hop nowadays? How much has changed, mumble rap scene, and trap music?
Dontique: That's there but you don't have to listen to that. You can listen to anything. There's underground hip-hop. The variety is crazy right now.
CF: My answer to that is, I mean look, there wouldn't be a Malcolm X without a Detroit Red. A lot of these kids are young. A lot of them didn't get the time to find their voice yet. They probably found a constituency, that doesn't necessarily mean they found out who they are as an artist so it's gonna take time. A lot of these guys get snuffed out even before they end up getting to that point where they recognize what they are and what their true self is.
Dontique: But it's because of what they showed originally.
CF: So I don't criticize this music anymore. I took an open-minded approach.
Lynn: It's like our parents didn't understand what we were listening to so we don't understand what they are listening to.
CF: Exactly.
Dontique: My thing is, I bet you I rap on that beat better than you did. I don't care what age you are.
CF: I mean, you got Kendrick Lamar, J Cole, you have other upcoming artists even XXXTentacion, he had a lot of potential – Little Snoop and all of these other people that people don't know about. The fact is that the internet brought about this whole explosion of so many different artists coming from all different regions of the country. When we were out here, only the East Coast was getting represented and if you weren't from the East Coast specifically, you were either from New York or you were country even if you were from Jersey. My take on the state of hip-hop is that just like any musical genre, it's evolving and who am I to criticize and stop change just like who am I to criticize and stop change from happening in Jersey City? As long as it doesn't kick us out of here.
Dontique: That's another part.
I.D.: I got a 16-year-old son. I rapped growing up, we all went to Ferris, we all did freestyle – battling each other.
CF: His son is dope.
I.D.: My son is from the new school, he raps about the way he feels – he's sad, he's morbid, whatever is going on. I would never stifle his art because nobody did that to me. Nobody told me not to explore.
Lynn: It's a different time, for sure.
CF: Imagine someone who is ragtime or a ballroom, jazz, looks at bebop and be like, "oh this shit is trash." Bebop actually took American music before to next level and I noticed that about hip-hop when I was younger and was like, "Wow, it is constantly getting better" even when you think it is getting bad.
Dontique: But that is also like with blues. Blues took over everything. You can't sing a country song and say it's not derived from blues. You can't sing an RnB song and say it's not derived from blues. There's always an origin.
Lynn: Do you have a favorite Jersey City hangout spot?
CF: I used to hang out, across the street of my house, at the Latin Lounge. They shut that down.
Lynn: Yeah, I remember that.
Dontique: FM is dope.
CF: FM is dope. FM is pretty open to the hip-hop scene. We have a show coming up on the 15th opening up for 38 Special. I'm the type of person that I've done performed in many different venues; The Fillmore San Francisco, House of Blues in Los Angeles, The Garage in London, Best Buy Theatre and shit like that.
I.D.: NYU, UCON, Arizona State, every college.
CF: I can appreciate it from that point, but I can also appreciate it from a more intimate setting. Like when my grandma used to let me rhyme for her in my house. So a lot of times, just being in the small spot and starting with people like that whole garage feel is really what hip-hop is all about. That's the type of feel that FM brings, that's the type of feel Jersey City brings. Shout out to the White Eagle Hall. They really got their shit together. The sound there is freaking amazing.
Anna: Can you tell us more about your music and anything else that people should be looking out for?
CF: Billion Man Rebellion is the name of the group. We currently have 2 videos out now.
Dontique: Paranoia and BMR1.
CF: BMR1 – you can look that up on YouTube. You can also hit us up both individually on Instagram @CF201 and @Dontique3 . Our music is like a moment encapsulated in time. Like ember that made it through the prehistoric to now just being discovered by scientists. We still are pretty hip in terms that we're relevant with what's going on. Our skillset has never died, we've actually become better.
I.D.: You can expect a strong political message from them, but not corny in a way.
CF: Political message, a message about unity. There might be some vulgarity in there because that's how Jersey City is, that's the real culture of Jersey City. C'mon, we talk like this and shit.
Dontique: Totally not disrespectful vulgarity. Every now and then, somebody says "fuck."
CF: You can expect a lot of metaphors. You can expect a lot of, especially now with the type of stuff I'm reading, the 7 Habits of Highly Effective People, this self-help shit. You're gonna experience a lot of life-transforming rhetoric in the music. We're trying to change people's lives and we're trying to also entertain them at the same time.
Anna: Do you have any upcoming shows or anything else you want people to know about you?
Dontique: We're supposed to be going somewhere far.
CF:  Oh we're going to Paris. We might go to Paris in October to open up for Xzibit at a prestigious venue up there. We set that up ourselves. Everything we're doing now is independent. Shout out to Viper Records. Shout out to Immortal Technique, that's the bro. This BMR stuff is basically us. The production is done by DJ Static. Mike Marvel was a known engineer in Jersey City and the guy who is mixing down and mastering. The project should be out in about October, coincidently around the same time we head out to Paris. That's our main thing.
Anna: Congratulations on your future success and everything else that you guys are doing. The places that you will reach and the people that will hear your music.
CF: Yeah, we're definitely gonna take that Jersey City vibe, which is what BMR represents – Downtown Jersey City vibe to the world. I want to give a big shout out to my man Brandon Magwood. He was murdered recently about 2 months ago in Monmouth Street, Downtown Jersey City. He was a lifelong resident from Jersey City, he's an amazing father. Unfortunately, his life was snuffed out early, just like we were talking about those artists who didn't get to find their voice. Everyone knew what Brandon was capable of, how great of a person he was and he was taken away from us a bit too early, but God bless him. This is what BMR represents.
I.D.: Yeah – it's music like this.
Dontique:  That's what comes along with it. This is the representation of the city, the cleaning up of the city, the bringing ya'll the music.
CF: Community feel, because music comes from the community. Back in the days the Lenape on Communipaw, they used to congregate over there. They probably celebrated with music. We are continuing that tradition from that time until now in the Hudson area…
Dontique: With our form of music.
Lynn: Thank you guys so much!
Dontique: Thank you for having us.
Follow @CF201 and @Dontique3 on Instagram. Subscribe to their Youtube channel, and you can also show your support through their GoFundMe page.