People seem to think our youth today is only ever focused on social media, but I find that the youth is very in touch with what's going on in the world and are taking a stand in what they believe. I believe they are our future and will change our future for the better. They're the ones who will lead this country to real social change.
A few months ago, after the Parkland shooting, I attended the March For Our Lives nationwide organized march.March For Our Lives is a movement created by the students of Parkland and grew into a nationwide movement to address gun violence. In Jersey City, it was led by Jai Patel and his sister Mya. When I heard Jai speak on the steps of City Hall, I saw a future leader in the making and it was incredibly inspiring.
I sat down with Jai and Mya, along with our youth writer Safa, to get the background story on what they do and what motivates her.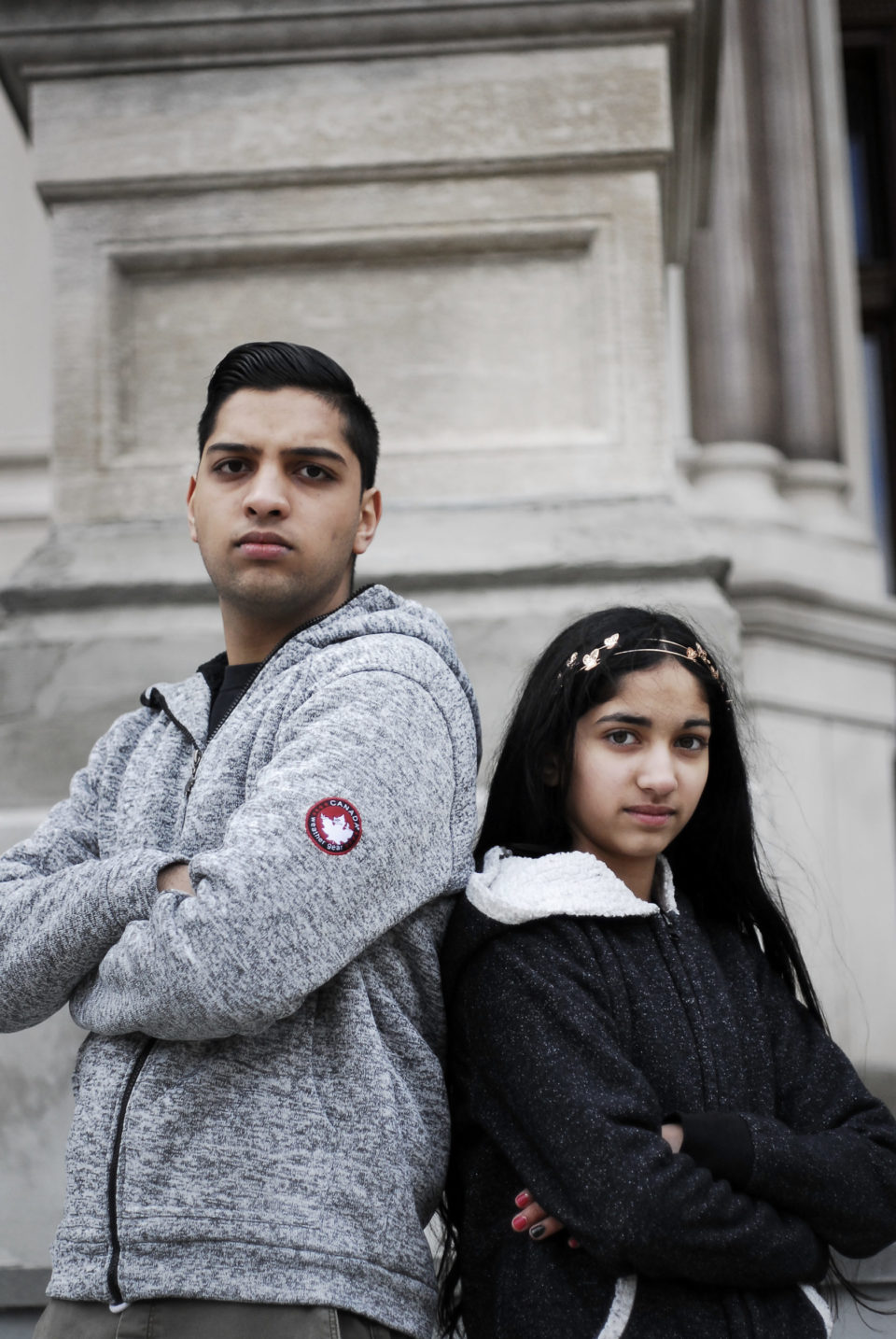 What are your names?
Jai Patel and Maya Patel.
What do you guys do?
Jai: I'm a senior at McNair Academic High School and a member of the Youth Court. I organized the March For Our Lives in Jersey City with the help of my sister.
Maya: I go to MS 4 in Jersey City. I help my brother with stuff he likes to get me involved in.
You guys are so cute! How old are you guys?
Jai: I'm 18.
Maya: And I'm 12.
Wow, you guys should be very proud.
Thank you!
We're here to talk about March For Our Lives. How did you get into it? 
Jai: My mom always made sure we're politically active in whatever form that is. When she went to vote, she'd always take us and show us the process. After Parkland, she told us, "They are doing the march. It's not an announcement, it's a challenge. What do you guys think?" We thought of making a Facebook page, and she booked rooms in Washington already. I thought, instead of organizing groups from here to go there, why don't we just have one here? I immediately got my sister involved and we talked to Cultural Affairs, we got Ms. McLaughlin involved. She's my boss at the Youth Court. She has connections so she was super helpful. I got a bunch of my friends involved right away, and Maya tried to get some of her friends involved, but at her age some of the parents were skeptical. Our first challenge was the walkout on the 14th, and from there, the whole month we were working on the march and the walkout. For the walkout, it was kind of like, "I'm not going to tell the kids at Snyder what to do for their walkout or Ferris because I'm in McNair." I go to McNair, so I know the doors we have and the streets around us. I had a representative of my team at each of the schools and said, "It's up to you. Draft a plan with your principal and see what you can do for the walkout." I talked to Ellen Ruane, who's the Associate Superintendent of Schools, and she's been super helpful. I showed her the flyer and wanted to get involved, she thought the walkout looked great. She said she'd be at the McNair walkout since I was the first person in the district to bring it to her attention.
The whole point of the walkout is to walk out without district sanction and all of that, but a lot of kids are skeptical. Not the seniors, but more of the underclassmen. They're thinking, "I don't know if I want to, I might get in trouble." If a shooter goes to a school, he's not discriminating. Teachers are just as susceptible to getting shot as students, so I wanted teachers out there too. I spoke to Ms. Ruane and she was like, "You know what, let's try to do this with the whole district." We got that done, and that was our first plan. The Journal came to our school, then the Mayor's photographer came to our school. We linked arms around the school, almost like a human shield, in solidarity and also protecting our school in a way. The neighborhood was awesome. People were walking dogs and would stop to take pictures. People stopped and observed with us.
Maya: For our walkout, I emailed my principal first with two of our teachers I thought have always supported me. When I did that, they said I had to talk to the principal but she never answered. She pulled me out of my math class and asked me, "You're aware that middle schoolers can't do the same things as high schoolers?" And I said, "I'm aware of that, but that doesn't mean we can't do anything."
Good for you! That's hardcore. What did she say?
Maya: We started on the route, we just went around the school. They contacted the police department and they escorted us. From there, I gave a speech over the intercom.
That's great! That's so powerful, especially in middle school to stand up for something you believe in to your principal.
Jai: Yeah, she had no help from me. I was busy with the district, so I said, "Maya, you got this. This is up to you." Instead of being hesitant, she talked to her principal about it and made her speech.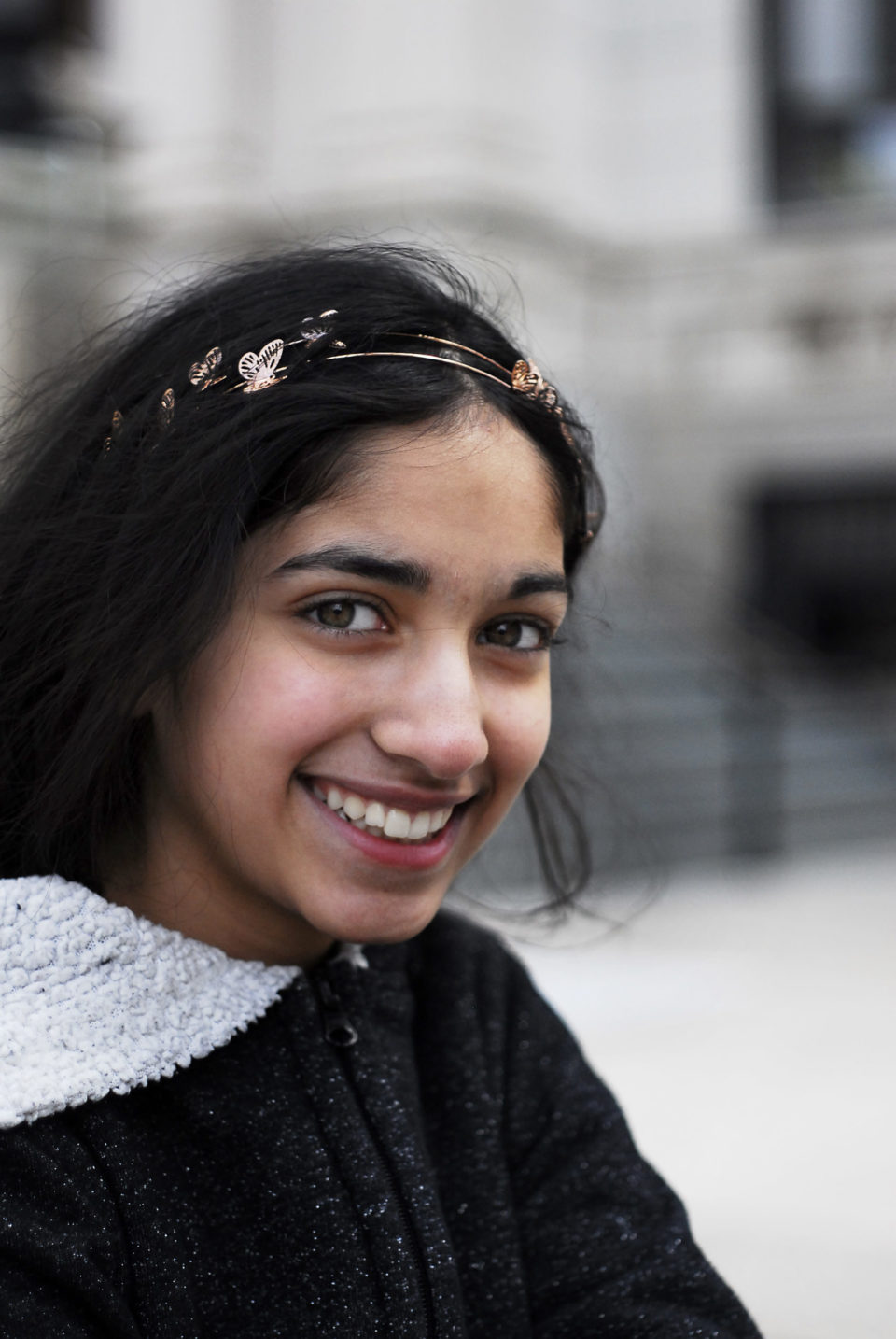 Let's rewind a little bit. What was your reaction when you heard about the Parkland shooting?
Jai: Sadly, we've become desensitized to it. For me, it was like, "Oh, again?" I didn't think these kids were going to say, "Enough is enough. We're going to do something about it." I really didn't see that coming. After first graders in Newtown were shot and nothing happened, I just thought, "What could teenagers possibly do?" They actually got a lot done and I was proud of them. When I saw Emma's speech, I knew we had to do something. It was so powerful. There's two sides of the movement: David Hogg who's more media-trained, and then there's Emma who's just like, "I'm coming for all of you. I don't care who I offend." I identify with her more, so when I saw her speech, I was so proud of her.
So that motivated you.
Jai: Oh yeah. Especially since they're always telling us to be respectful and she was just calling out everyone – the President, the NRA, politicians, Florida, she was calling out everyone in her speech. I thought she was awesome for doing that.
For people who are reading this, the adults who aren't in high school, how does it feel being a high schooler or middle schooler knowing that this could happen to you?
Jai: In Jersey City, we're not as worried about mass shootings as we are about shootings throughout the city. If we just forget about location, if someone comes into our school, the only training they've given us is to hide under the desk or hide in the closet. At my school, when they say we're having a Code C and to be quiet, everyone treats it like a joke. Let's be honest here, if a shooter does come into a school, no one's waiting in the classrooms. We're out, we're booking.
Maya: Some of the codes that they have, I've never even heard about and maybe that's for a reason because isolated shootings are more common than mass shootings in Jersey City, but just in case, no one wants to be the next victim of a school shooting. They don't want to bring guns into a place when they weren't there in the first place.
The whole drills thing, that didn't exist when I was in high school. I think you guys are just used to that where I'm not. If I was a teenager and there was a drill, I'd be traumatized. The idea that kids at the age of 12 are hiding underneath their desks for a drill is, to me, absurd. 
Jai: I agree with you, we shouldn't have to do that. I've voiced my opinion on that many times. Instead of worrying about hiding, we should fortify our schools. There's a Green Beret who goes to offices after San Bernardino and trains people on what to do. He takes a water gun and tests it. The drills they've given us in schools are stupid, so he teaches people what to properly do. I feel like these drills are terrible. School shootings are more recent.
What do you guys think? You guys are the future, you're clearly interested in helping, voicing your opinion, and getting people involved. What do you think is the solution to this? Other than gun reform. 
Jai: There are waves to this. I'm hearing a lot about repealing the 2nd Amendment and 42% of Democrats support the repeal, but I think that's a bad idea. If you repeal the 2nd Amendment, that's like a gateway to repeal all of them. Sure, the 2nd Amendment is different from the others because it's the right to bear arms and people think of it differently, but I think the right thing to do is: if you're 17 or 18, register to vote and start preparing yourself because come 2020, we have to vote them out. Local elections and national elections, regardless of left or right. Joe Manchin, the senator of West Virginia, is a Democrat but Trump won West Virginia by 42 points or something like that. He sways usually, he's a swing, and he sides with his people who are mostly Republican. He takes donations from the NRA. Not just blue or red, all politicians take donations from the NRA. We've given them a warning. We said, "If you're still taking them come election season, you're out." That's the thing, you have to vote. Worry about policy, not the person.
What's your plan in a couple of years, as a representation of the youth in Jersey City?
Jai: Maya is already on the team, she's always going to be, and we're starting a non-profit organization in Jersey City called Teen Up JC. Essentially, it's intersectionality. It's a gun issue, but our generation deals with a lot – LGBTQ+ community, DACA recipients. Everything's up in the air right now. A lot of people think they can voice their hateful opinions and they do. We're approachable youth, the city knows our faces, politicians know our faces, so what we're doing is we're going to be the bridge to all these corporations. Someone who has a story of being discriminated, we can send them to someone to take their story. We're trying to be the first responders, in a sense, with an open door policy. You can come to us and we can direct you to resources. We'd also organize events and not just gun reform events, all events. We've already established a rapport with Cultural Affairs, the police department, politicians. We're going to use our platform and our experience to further move the city in the right direction.
Maya: Yeah, and it might help if kids are talking with other kids instead of adults because if they interact with each other, maybe there's a better chance of creating a solution.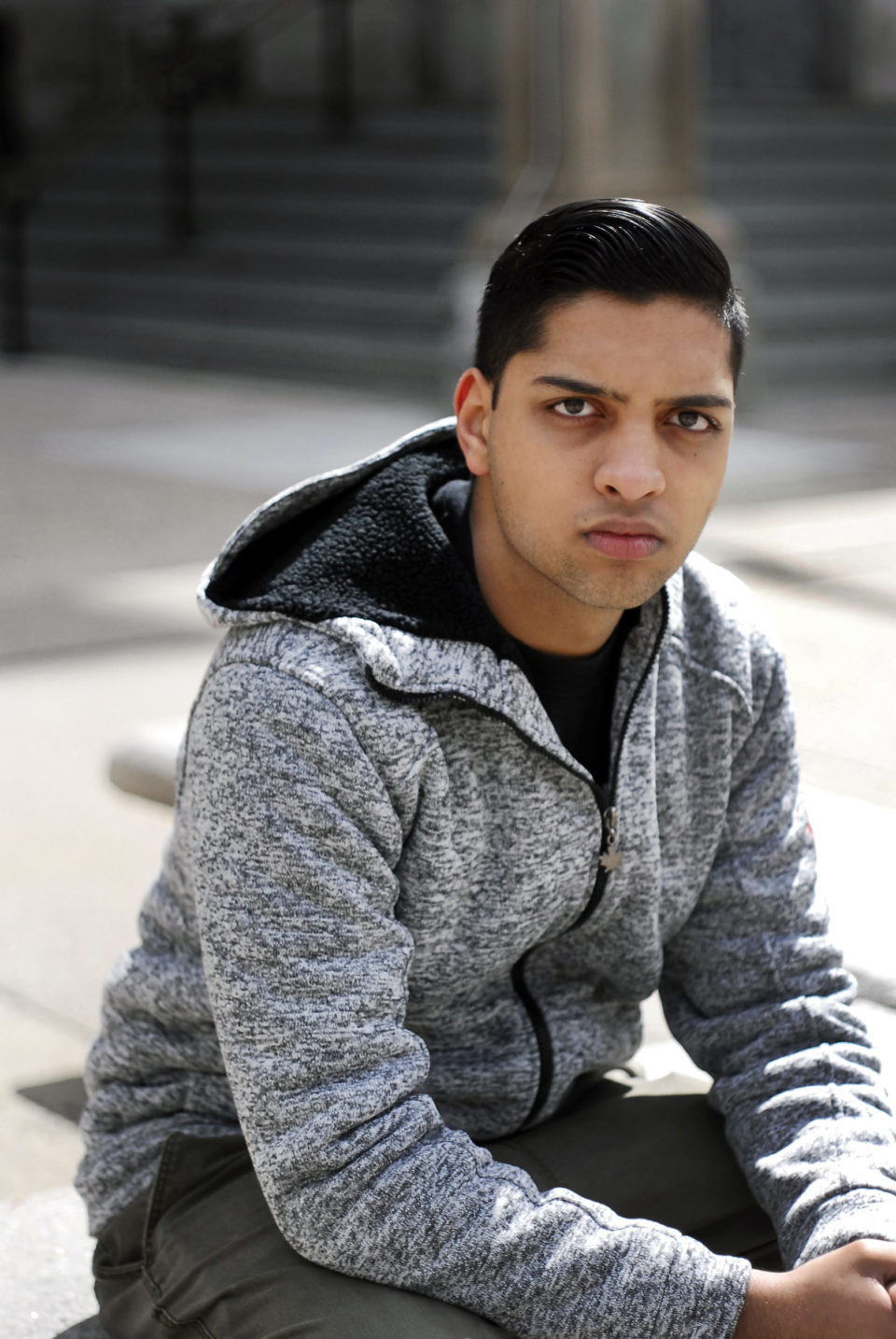 So you're educating your peers, as opposed to an adult who's like, "This is what you should know." If a friend is telling you something, it's easier. 
Jai: Exactly. That's the same premise of the Youth Court where I work. Instead of having police officers and giving them hearings, why don't you just have a jury of students who can relate? I live in Society Hill, I can't relate to someone who's gone through tough situations and lives in Greenville, but there are members to do. That's the whole point.  We have to be reflective of our society, otherwise it doesn't work. Same thing with the police department, you can't have a police department that doesn't look like us policing us. Jersey City had a problem with it and we're trying to get back on track, but we have to be reflective of who we are as a society.
What's next for March for our Lives?
Maya: We had the Columbine Remembrance on April 20th. When Columbine happened, there were 14 fatalities and it happened in 1999. We're remembering it so people know what happened, we had speeches, but we already knew what to do because we've been through the speeches before.
It's great that you're keeping the momentum going. I came to the march and saw both of you speak, and you guys hyped me up. How did it feel being up there?
Jai: It felt good. I love public speaking, I do standup comedy so it's not anything new to me, but this was different. I wrote that speech at 1AM the night before so I hadn't gone through it yet, but I knew delivery is what mattered. I delivered it in a way that gave spaces for people to chant and voice their concerns. If there was any time to do it, it was then. I'm glad so many people showed up and supported us.
Seeing you guys up there brought me back to my childhood. I grew up in Tel Aviv, Israel and when I was 13 at a peace rally, I witnessed the Prime Minister get assassinated. It completely changed my life. Witnessing that gave me the kick in the butt to take action. I knew I couldn't just sit there and let everything just happen. I know where you guys come from and how difficulty it is, especially because you're still a kid. You're trying to balance everything. It's important what you guys are doing. You're inspiring people. What I see is a revolution.
Jai: We're young and fighting a lot, but we're forced to act like adults. But we need to do it because no one else is going to do it.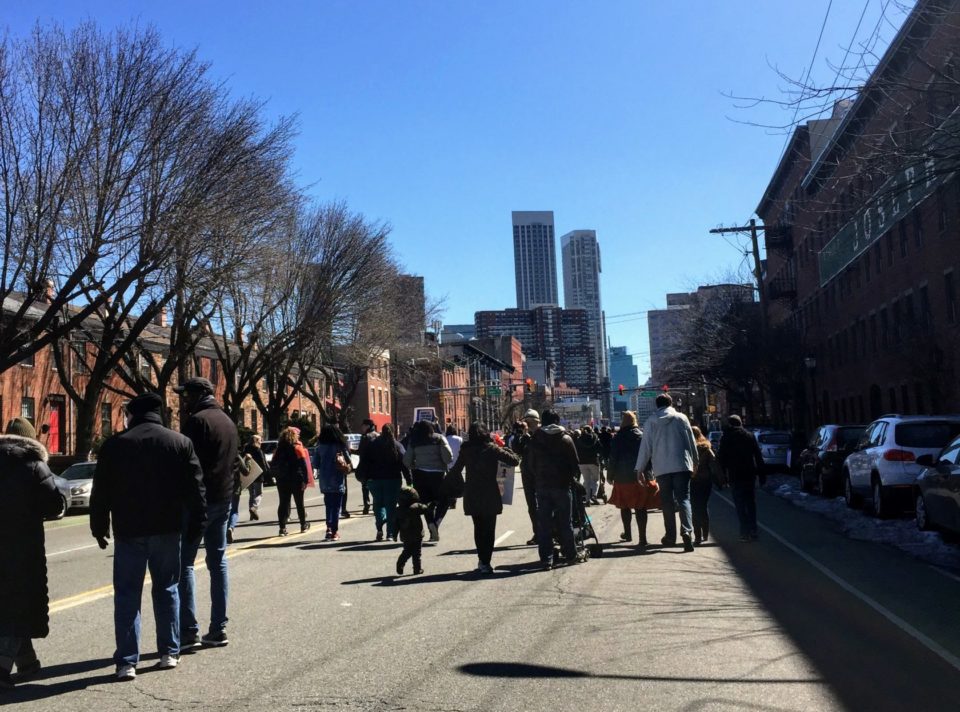 Let's talk about being teens in Jersey City. What is your favorite Jersey City hangout spot?
Jai: My dad owns a place on Warren St, Simple Sam's. We're usually over there chilling. I've been working there since I was 13.
Is he proud of you guys?
Jai: Oh yeah, super proud. He always gives us advice.
Maya: And he always takes pictures.
Do you guys see this in your future?
Maya: Yes! I want to become a marine biologist, though.
Jai: I don't know. I feel like once you get into politics, you have to be PC. I'm not really a fan of being PC. It all depends. I had a round table discussion with Booker and I liked that, but a lot of the kids were kind of kissing up and weren't putting pressure on him, but if there's anyone to put pressure on, it's our side. You have to put pressure on our side regardless of where they are. I asked him, "Is there anything in Congress?" And he said no and he doubts they plan on it, but he should write something. If you write something and they shoot it down, at least they see it and they know.
People like you will hold these politicians accountable.
Jai: You have to, you can't just give them a pat on the back. It has to be love/hate because at the end of the day, they work for us. You have to put pressure on them.
How can readers or residents get more involved?
Follow our social media. Right now, we're March for Our Lives Jersey City, but we're looking to change it to Teen Up JC. Attend our meetings. We usually throw out our meetings on social media. They're at City Hall in City Chambers on Fridays from 3:30 PM to 5:30 PM. If you can't make it, DM us to be a part of our mailing list. Show up to our rallies. Share us on social media or with your friends and family. If you don't attend or support the events, fine, but don't complain when nothing changes. This is the way you use your platform and speak.
You both have very bright futures ahead of you and I'm excited to see your journey!
You can keep up with March For Our Lives and Students Demand Action Hudson County on Facebook and Instagram.