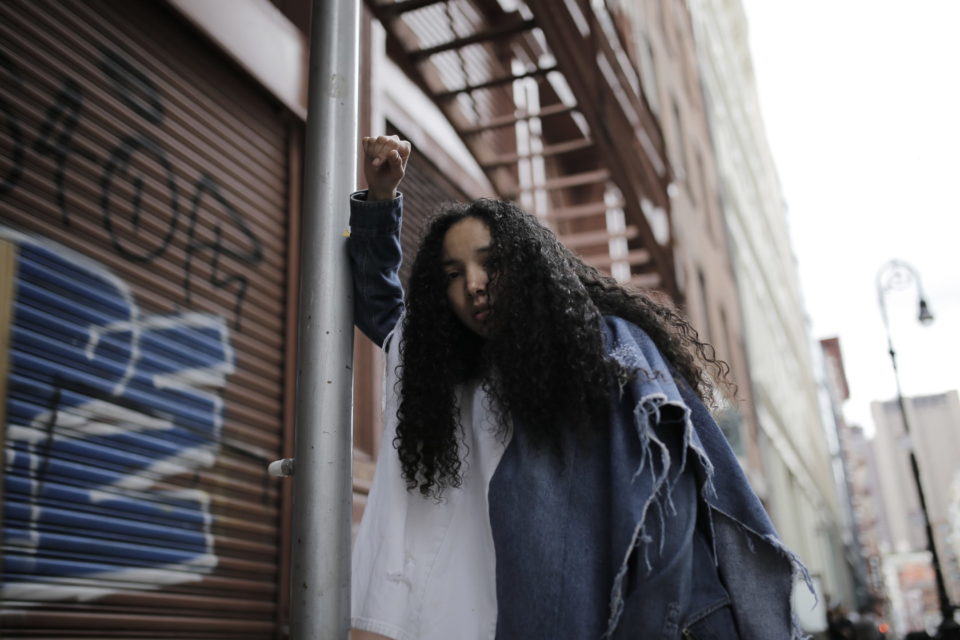 There is no shortage of young talented creatives in our area, but there are a few of them that are way ahead of their years. Yaya is one of them. I met her at our CP5tudio grand opening back in February. She arrived with her team and they were all wearing her unique designs. Yaya is the brains behind the clothing brand "OTW Threads." She uses mostly reclaimed denim and creates one of a kind pieces that are suitable for both men and women. Yaya is not just a talented fashion designer, she is a mogul in the making. At 24 years young, she is only getting started.
Press play or read the full transcript below:
What's your name?
My name is Janirah, also known as Yaya. Everyone calls me Yaya, no one really knows my real name.
What do you do?
I'm a graphic designer, fashion designer, an overall artist. I dabble into all forms of art, but right now my focus is fashion.
How old are you?
I'm 24 years old.
So young! When did you start being creative in general?
I started studying graphic design in high school, about tenth grade. That's when I started finding myself as a teenager. I started coding in 2013, and that's when I also started doing fashion.
How did you get into fashion?
I just always liked to dress nice and wanted things that didn't exist, so I had to make it myself. I decided to start a company. It was at that point as a teenager when I thought, "What am I going to do for the rest of my life?" And just tried this.
Can you talk more about your type of designs? You use mostly denim, right?
Yeah, so the name of my brand is "Out of This World." What I try to do is make things that no one's seen before and go above and beyond, against standards. Right now, denim is the focus and I believe the standard for denim is people wearing it as pants and jackets. I decided to construct my own pieces out of the standard fabric, so my style is going against the standards. To describe the style of the clothing, it's like grunge, distressed, genderless, out of this world.
I love it. Where do you get your denim? Is it mostly reclaimed?
Last year, I got a couple hundred pairs of new Calvin Klein denim. It is vintage, but they're new. The cut is vintage, like mom jeans.
So what inspires you to create? It seems like everything you have is one of a kind. What's your creative process?
My creative process is aiming to be out of this world and the brand is about individuality, so I give that to each product as well. Everyone has their own style and their own preference, so none of the pieces look the same. They're all different just like we're all different. If you don't like one product, there might be another one you like because they're the complete opposite. As far as completely distressed or completely painted. They're all different, and it's really about individuality.
Right now, we're here in SoHo in Broadway Market…
It's like a marketplace, set up like a flea market. Everyone is an independent designer with their own niche. I'm pretty much in the denim section, but there are other sections like sunglasses, sneakers, stuff like that. When I first came here, it kind of reminded me of Urban Outfitters because it's so diverse and random. It's definitely a cool platform. People around here like to shop.
Great. You went to NJCU, right?
Yeah, I studied graphic design at NJCU. I did 2 years there, so I got my Bachelors degree in Graphic Design. Maybe I'll go back to get Masters, just so I'll be able to become a professor.
That's awesome. Do you have any advice for young creatives who are trying to do their own thing and create their own brand? How did you get to the point you're in now?
Just keep working and stay true to yourself. When I was coming up for the name of the brand, I just knew I wanted to do things I hadn't seen before. That's when everything fell into place. Just work… work a lot. Be original.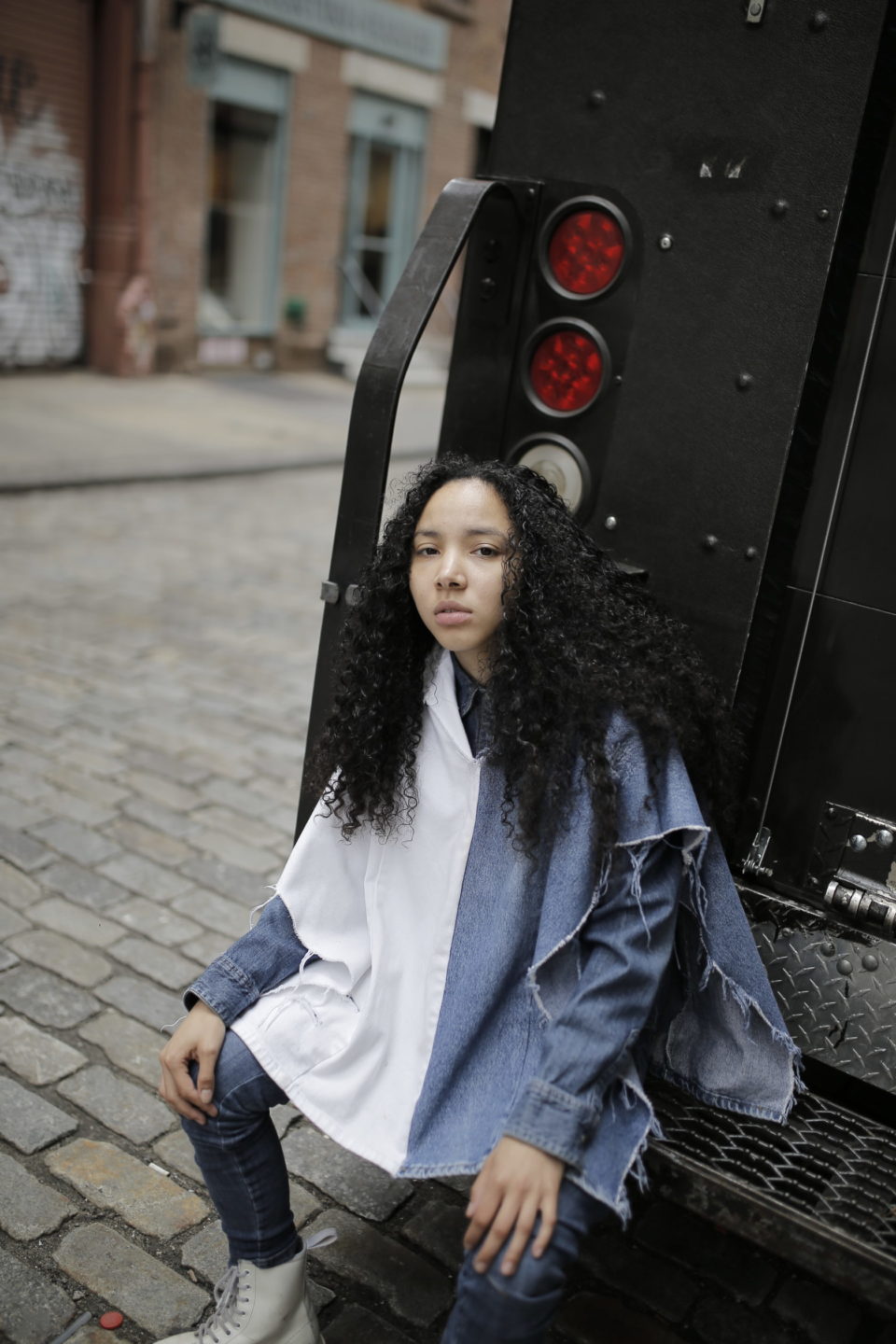 How has social media played a role in your success?
It's a platform where I'm able to bring people along for the process and the journey. I use it as a tool to connect with people, show my work, and bring people together.
And what's next for you?
I'm releasing the collection I showed at the ChicpeaJC Turns 3 fashion show. It's the Denim Sport collection. I'm releasing that and starting a modeling agency to bring models together because they seem to contact me to model for the brand. I'm just trying to give everyone a chance because it's really hard to get into modeling. That's what I'll be doing this month.
That's awesome! Do you have any inspirations for fashion?
No one really inspires my designs and my work. It's all stuff I'd wear and never saw before. There are some cool designers out there, like Virgil from Off White.
Do you feel like you're living your dream? 
Definitely. I have a vision of how I want the future to go, and I know it won't go exactly how I want it to and it's going to be better in the vision I have, but I'm definitely living the dream.
Awesome! Any last words for other creatives?
Just do it. Don't do it for fame, don't do it for money. Just do it from your heart.
Do you hang out in Jersey City at all?
Sometimes. I've been to Porta. Now that I've finished college, I'm not really out there often. I would like to be in the art scene of New Jersey.
Awesome, thank you!
Thanks for interviewing me!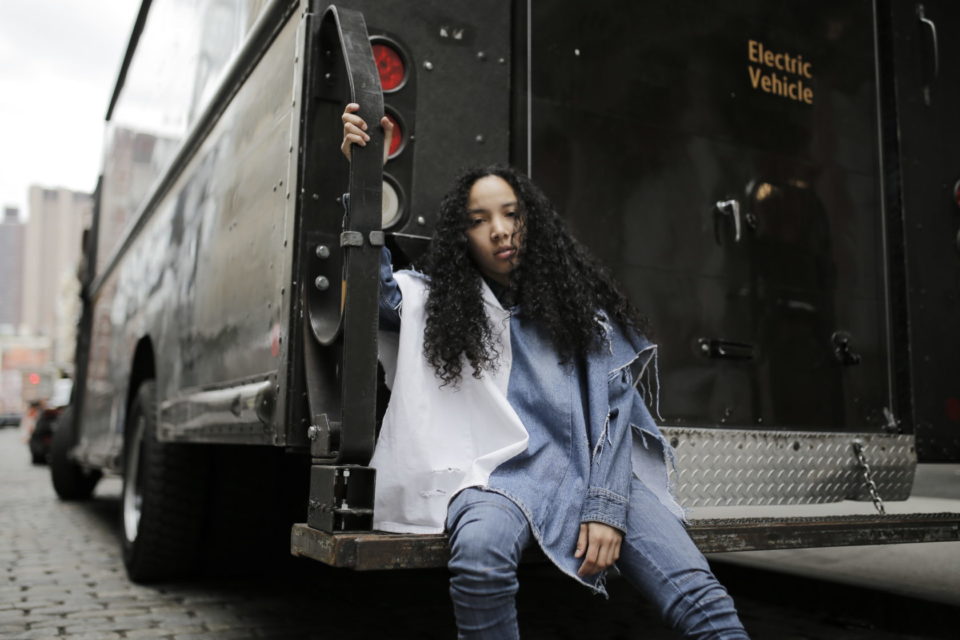 Keep up with OTW Threads on their website and Instagram!