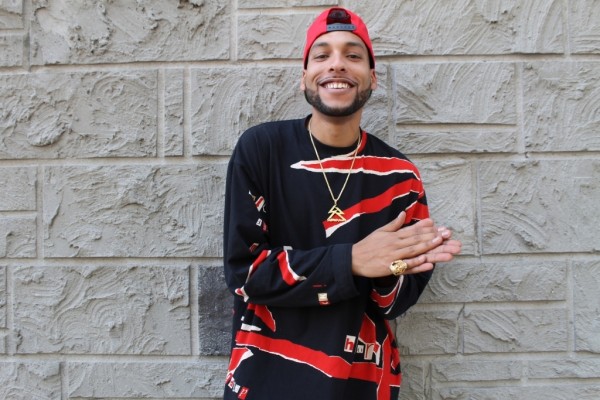 I first met Haytham about a year ago when I walked into Sneaker Room and interviewed him and artist Jeff Rose about the shop. I didn't want to leave! Between the energy of both of them and the vibe of the store I felt like I was in a reality T.V episode. Sneaker Room is not just a store, it's a legit hangout spot, there is always good music playing, random people coming in… Whenever I am on Central Ave. I come by to kick it (literally and figuratively).
Over the year I've become friends with Haytham and he is one of my favorite Jersey City people, probably the coolest guy I know. Haytham is so charismatic, energetic and positive, it's infectious.
I was also lucky enough to be part of a panel with him a few months ago at an Inspired Artist Movement event. He had so much to say about working in the creative world and being an entrepreneur. He is a mogul in the making. I love the guy, can you tell? One last thing, he is crazy stylish. So much so, THE Puffy, aka Puff Daddy hired Haytham to style him.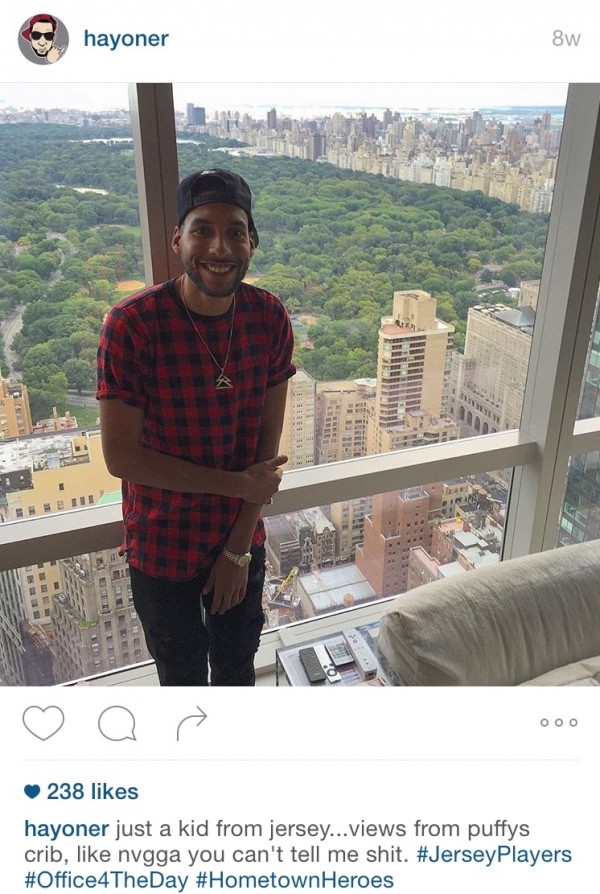 What's your name? My name is Haytham Elgawly AKA HayOner.
Why Hayoner? When we were growing up we used to really into graffiti. In graffiti terms Hay One, or COPE ONE, or whatever one it is you were the first one with that name. My name was Haytham; I was the only Haytham I knew. I took Hay which everybody calls me, and I put 'one' under it and all my friends kind of teased me and would call me "Hayoner" with the 'er' and it kind of stuck with me. That's what we roll with [so] Hayoner became my nickname.
What do you do? I'm a creative director for Sneaker Room; I'm also the founder and designer for a brand called Eye Create.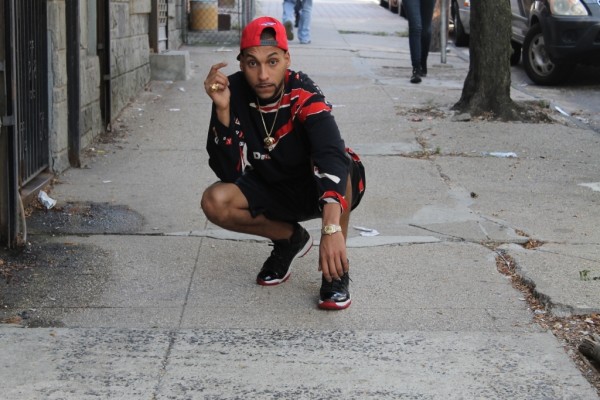 How long have you been doing both? The Sneaker Room since I was like sixteen, but officially for about five or six years, and Eye Create for the last three or four years.
How did you get into fashion and the sneaker industry? We were always into fashion. Growing up you could always find me in Journal Square in any of these sneaker stores; any of these fashion stores crying my eyes out to my mom trying to get her to buy me a pair of $150 garments, sneakers, or whatever it is but we could never afford it. I always think that you want it but you can't have it always supplies you with a passion to do more, especially with us being the internet generation. When I was younger I was always in front of the computer, blogs, or magazines looking at different styles; getting inspiration pushing myself further even though I couldn't afford any of the stuff. Although my parents couldn't get me any of the stuff I'm still into it. I'm still there with my cousins and my friends trying to persuade them to buy certain garments instead of what they really wanted. In my own sense I was kind of buying it without really buying it; through them in a sense.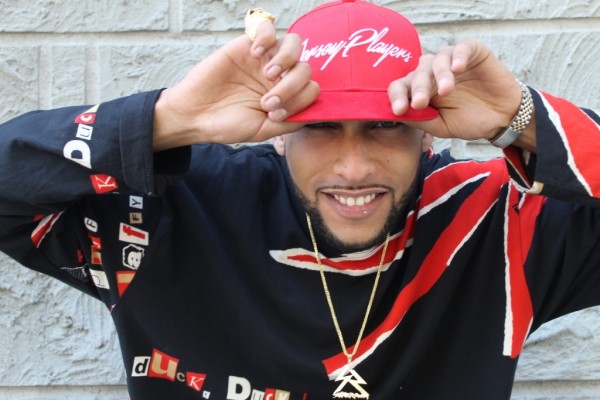 How would you define your style? My style is like clean street wear. I feel like it's where street wear meets an older style, just because I'm getting older now. I used to always wear bright colors and crazier textiles. Nowadays it's dumbed down but it still pops, I guess my style is me; it's Jersey, Jersey City, it's East Coast. Especially with the internet now I see a lot of styles being influenced by different places different, different people because everybody is so connected now. I feel like I'm still originally affiliated or inspired by my surroundings out here.
Were you born and raised in Jersey City? Born and raised in Jersey City. All my entire Life! I grew up and lived by Journal Square, moved up by the Hill, moved back by Journal Square, and now I'm up on the Hill again.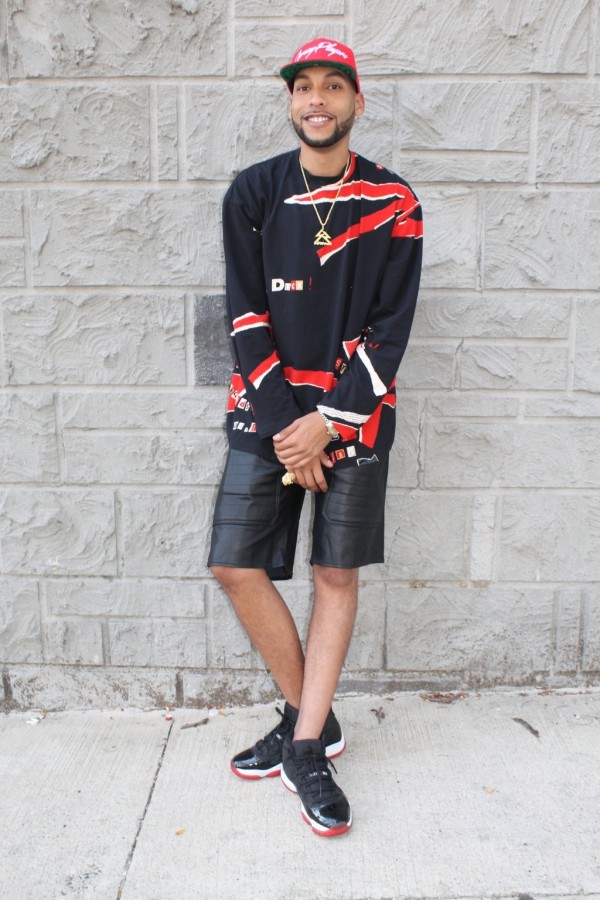 One question but two parts, how was it growing up in Jersey City and how do you feel Jersey City has changed? Growing up I've always Jersey City to be known as Chilltown. We called it Chilltown because it was a chill town. Back in the day you could go from house party to house party, from the Hill all the way to Downtown; house to house and nobody would tell you anything. They would greet you and tell you "Hey, come into our party and have fun!"
Come chill. Yeah, come chill, that's why we were called Chilltown. Somewhere along those lines we lost that identity as a city. Growing up it was "Yo, I'm better than you," everybody was fighting everywhere. You couldn't even leave your bikes outside, even though I still don't think you can leave your bike out here. You couldn't walk around three blocks with your group of friends without getting accused of something, or starting a fight. Nowadays at our age I feel like I'm going Downtown and it's a whole other world. Five years ago it was never like that, I feel like I'm in a mini-Brooklyn or a mini-Hoboken nowadays, which is amazing. I feel like our town needs that and it just brings different people from different places out here and it exposes our culture to everybody else.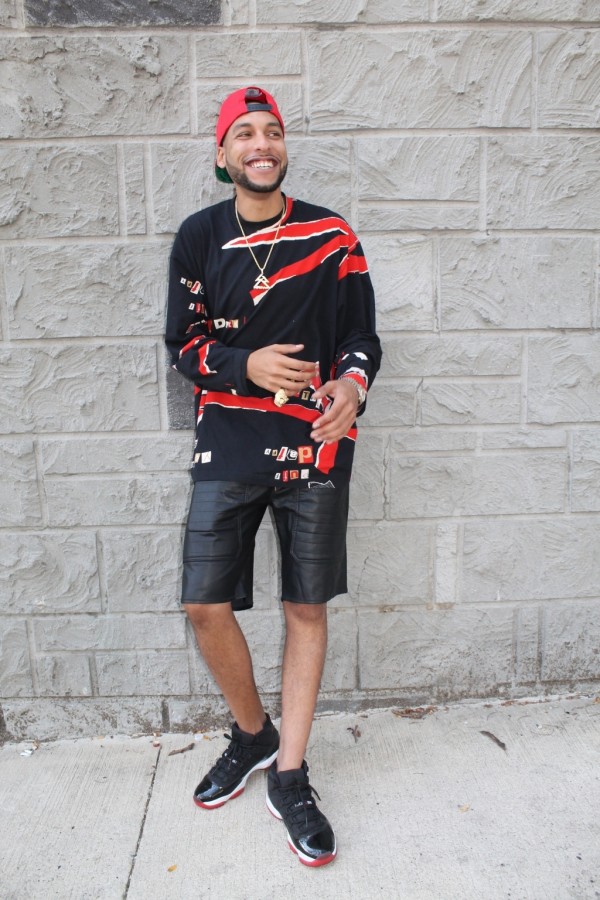 Do you think it's a positive thing? Absolutely, one hundred percent! I feel like the only non-positive thing is the newcomers or the downtowners have to embrace the people who have been in the city. As long as that happens I think we will embrace you guy's right back and it's going to be amazing.
What are your favorite JC hang out spots? I love staying in the hood, so I love Phebe Night Club with my boy Jacob and my boy DJ Robcast we go hang out there. Porta is always nice; I love downtown, hanging out at the sneaker room of course. Pizza Master's- eating up there with Mark, Sabrosos, Rumba's; there's a couple of nice little spots where we like to eat and grub, but otherwise we're always too busy working but we show love to our city like no other.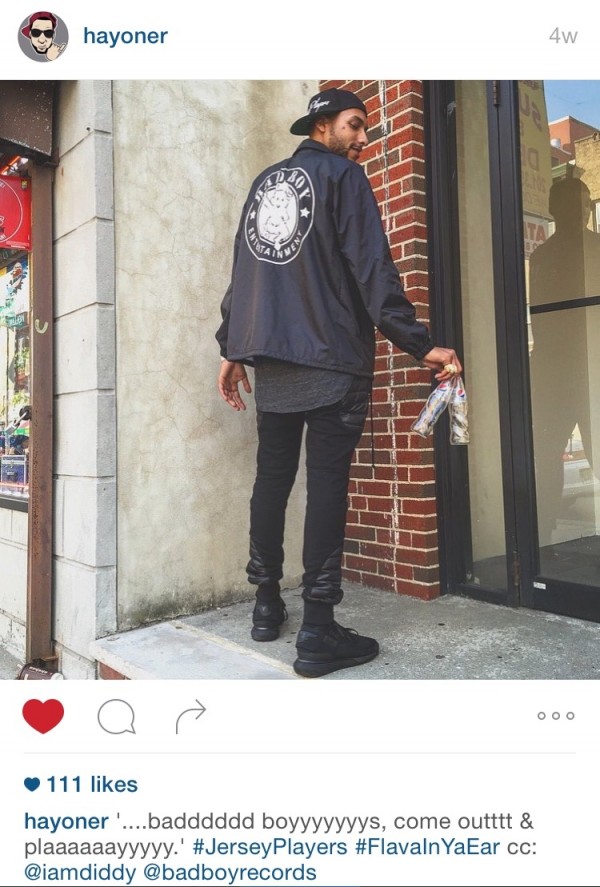 So, you're a very positive person can you tell me why? Yes, because it's all about the energy it's all about the vibes, it's all about what you put out is what you get back. I started putting out these little vibe videos on Instagram everybody been attracted to them because that's how you see my energy. If you ever met me in person you'd understand my energy, I'm always on 110 or 120, and I'm always jumping up and down. I'm always smiling and I'm always trying to put that energy onto other people. That's the way I was raised, growing up my pops was always joking around every time I tried to be serious to him he's always joked around back, my mom is always smiling. There is nothing to be upset about, we're doing what we love every single day we look fly as fuck.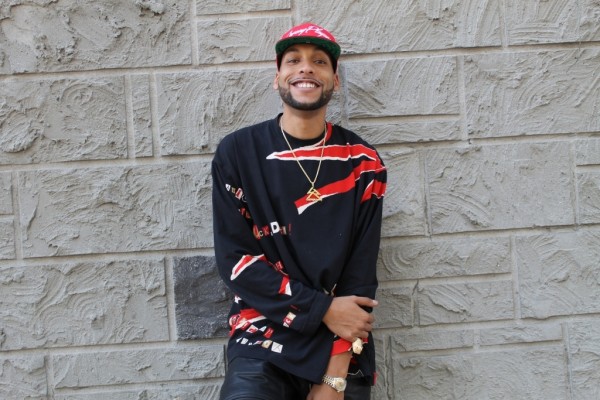 Yeah you do. Thank you!
You're also kind of a local celebrity…. I think it has to play the part where I've been here my entire life; I known a lot of people. I went to Dickinson High School, so there's four thousand students out there, everybody knows me. Plus I started doing things in our town that nobody else started doing, I'm at the hub of freshness that's how I see it. We started a store called Sneaker Room which I'm the creative director of which I'm in charge of marketing and basically exposing our brand to the world. Doing so, I feel like everybody gets to see me and everybody gets to know who I am. With that being said; I'm just trying to push that energy to other people. Coming from there, people get to see what you're doing, especially with the internet, with Instagram nowadays, people get to be exposed to all the projects and events you are doing. One of those is just putting this city on and I feel like everybody could appreciate that.
There are a few other side projects that you work on, you have CHILLTOWN Children? I'm a busy bee.
You're a busy motherfucker. You're busy, me and you are alike……it's crazy.
That's why we get along, we get it. One hundred percent!
Tell me about Chilltown Chilldren. Chilltown Chilldren is a group that I started out here; Chilltown is what we call Jersey City like we said. Chilltown is spelled C.H.I.L.L.D.R.E.N.; chill standing for "Changing How I'm Living Life," is this group I started with maybe twenty local kids that used to come visit me after school to say what's up. I used to just talk to them as just a friend; growing up we never really had anybody that we wanted to talk to.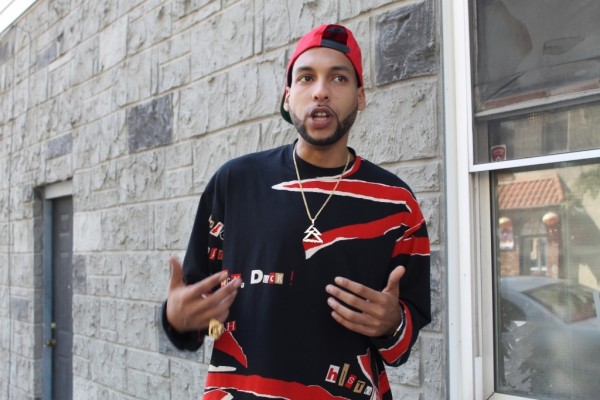 Like a mentor? Everybody was too cool, like come on man take your cool off sit down for a while and spread your knowledge to other people. Seeing that; started with twenty kids we started being cool, I started seeing their interest and what they really liked and they really enjoyed the fact that I have my own clothing line and designing my own stuff. I decided to teach them that. Why give someone a fish where they can eat for a day, when I can teach you how to fish and feed for your whole life. That's the way I see it. We started this group where we started mentoring children on how to design, create, and market their own clothing brand. That's exactly what we did, we're up to volume 3 were about to do volume 4 soon, which is going to be in the form of a trade show which is going to be really cool. Nobody knows anything about that. The next step, hopefully I want to maybe bring in some DJ's, some bloggers, or whatever you want to do you can be a part of this. I just want to teach you how to better your life because like I said growing up nobody that I looked up to, nobody I was cool with wanted to teach me the next step.
I love it. I just don't want anybody to get lost out here.
Tell me about Eye Create. Eye Create is like my little baby, it's like my avenue, my outlet to free my creativity, free myself. It started with a simple T-shirt, then it became two T-shirts; I started printing in quantities of fifty, then one hundred, and now two hundred quantity. I started selling my first T-shirts at $100 each which is crazy. Every garment is uniquely packaged; I sold out on my first run giving me the confidence to keep going. This year hopefully will be the first year I'm going to throw my own first fashion show.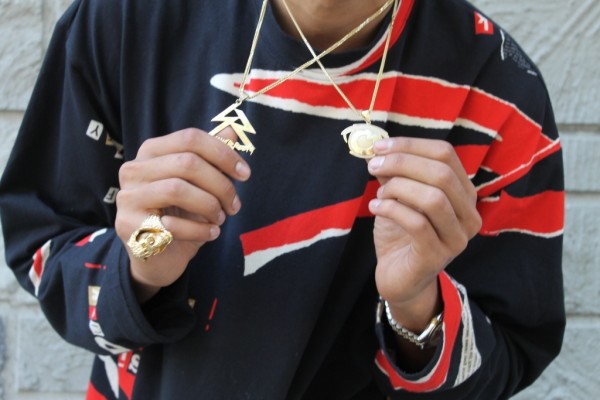 I love it. I'm going to throw a fashion show on an eighteen wheeler parked on Central Avenue.
When is that going to happen? Hopefully, within the next month and a half—two months. Hopefully that's my fall line and I'm taking it to the next step. I want it to be in more stores, I want it to be on certain celebrities. Being in the store all day, being at the hub of freshness I get to meet so many people so if I can find my own brand and I can put it on you then why not. Instead of putting somebody else's brand on you I'll put my brand on you and that's what happened. I started getting on certain celebrities which I started getting cool with, which is a phenomenal feeling. Like I said I'm a kid from Jersey City, for us to even see Jadakiss here, Cassie, Victor Cruz; on Central Ave. it blows my mind still.
That's awesome. You guys always get celebrities. Which is insane because you can go anywhere for this type of product. Why do you come to us? Then you start to realize it's because of who you are, what you do, and how you speak to them. That goes into another thing which is the relationship I have with them.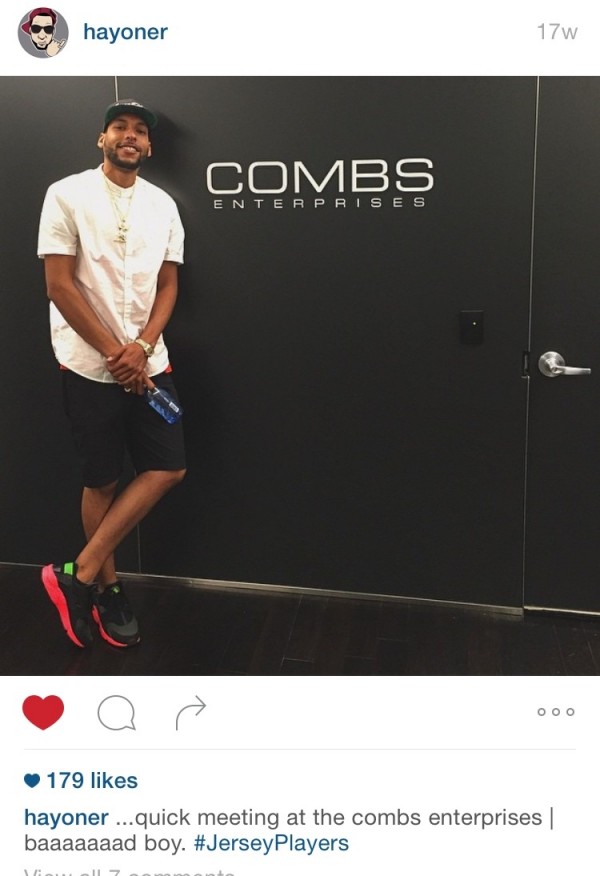 So you're styling Diddy now? Yeah, which is pretty cool! I meet Diddy a few years ago he flew us out to Beverly Hills because he saw us on Instagram and saw all the positive things we were doing, and saw the energy. He's really big on positive vibes, he saw the way we were dressed, he saw the product we had and he really enjoyed that. One of my good friends, Neal, put us on and they took us out to Beverly Hills. We meet him out in Beverly Hills; we sat down and spoke to him for a while. I think two months later we were at the BET awards in Atlanta with Puffy, and this whole time he's talking to me about my style, looking at me up and down, talking smack to me. The whole time I'm thinking this guy is worth a billion dollars talking to me like this…its insane. Maybe a year and a half passed we stayed in touch I'm doing stuff for Revolt as a fashion sneaker consultant for their network. He actually reached out to me a few weeks ago asking me to come over to a club to meet him, he asked me to become his stylist and pick out different garments for him for his upcoming album and for an appearance for the fall. I was always willing to help especially a person like Sean Combs.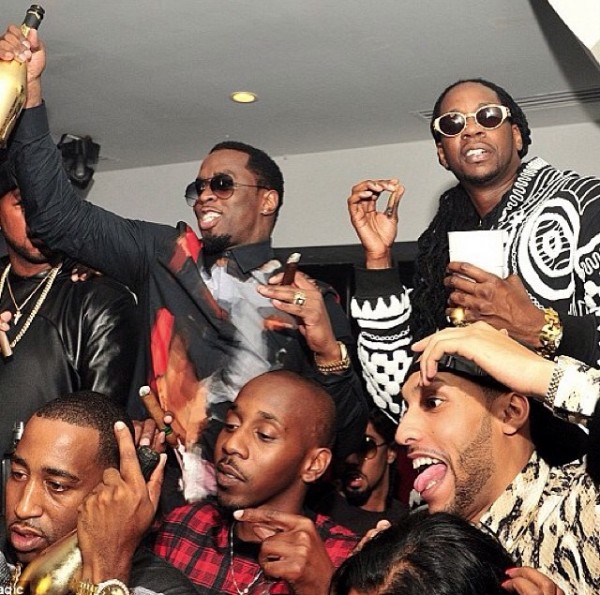 It's Diddy. Yeah, it's Diddy. Next day, he gave me a black card and gave me my own assistant and a personal driver and I drove all around the city spending like $20,000 on footwear and garments for him. I went up to his house put the outfits together, so it was an experience like no other. Now we're seeing where we're going to take it after this.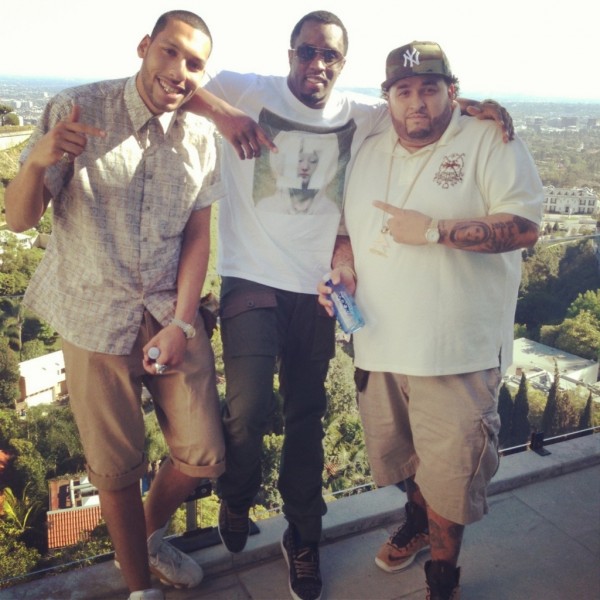 What's next for you? Maybe become president or something…nah…(Laughs). I don't know, maybe mayor of Jersey City, we'll start small. Realistically I feel like I just want to grow into my part, I want to grow into who I am first. I feel like I'm still young, I'm only 27 and I'm just getting started out here, people are just recognizing what I do and what I have to offer so I'm just taking it one step at a time. I want to own a few business's out here and really put the youth on and create different avenues out here. I was born and raised out here I know the void that's missing and I know the clientele out here, I just want to use that.
Anything else you want people to know about you? Just that positivity goes a very long way, hard work is everything, and nothing was ever given. Honestly I came from nothing, we used to wear fake jerseys out here in Journal Square; I used to get cracked on for wearing snapbacks. I just want to say time will tell everything just keep working, stay in your position, and just do what you do to the best of your ability.
Are you single? I am single, ladies holler…Hey! (laughs). I have a question for you chicpea…
Shoot… If we smash can I call you hummus?