What is one thing that everyone in the world can agree they share a love for? The one thing that brings us together? The one thing that no one can say they hate? Everyone has a taste for it, everyone craves it, and everyone smells it – FOOD!  What better way to get deep into the love of food than talking to someone who loves food enough to make it their career choice?  Everyone shares their love of food, but not many are that familiar with the person who's whipped up most of their favorite dishes. So the best way for me to get deeper into understanding the love of food from a chef's view is to speak to a chef himself! And that's why I'm here with Eliott Sanchez.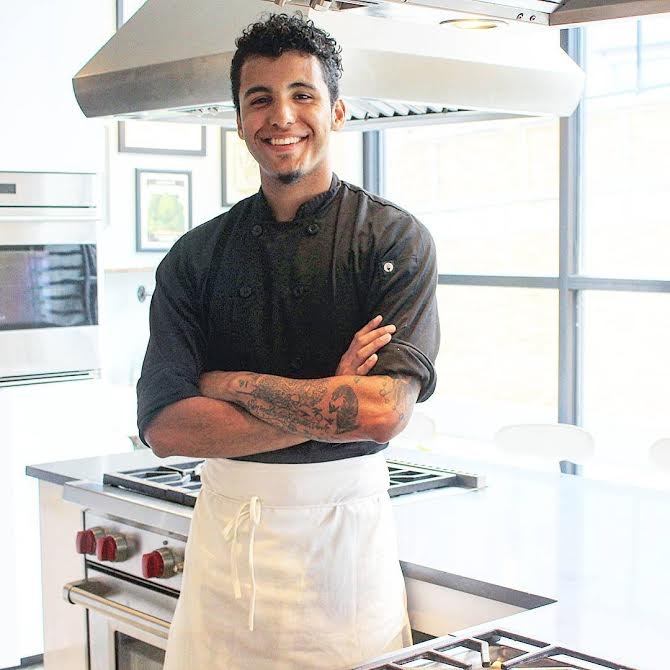 This is a first for me, interviewing a chef, so bear with me! What's your full name and how old are you? Eliott Sanchez, often misspelled and I've struggled with that my whole life. I'm twenty-one.
When did you know that you wanted to be a chef? I knew I wanted to become a chef after taking culinary for four years at County Prep in Jersey City. I had a breakthrough. The chef I worked with for four years pulled me aside and told me, "Eliott, what are you doing with rest of your life?" I replied, "I don't know," and he told me, "Well, you better find out because you're graduating in four months!" He told me about culinary school, and he took me under his wing from day one not knowing where I was going. It was definitely Chef Kevin Collins in Jersey City!
What culinary school did you attend? And for how long? I obviously did the four years of culinary classes at County Prep. That was just the groundwork. It was just an elective in high school. I went to the Hudson County Culinary Arts Institutes in Jersey City, one of the top culinary schools in the nation. I graduated in 2015 with my Associates Degree.
You are young and so well established already. Anything to say to anyone trying to pursue the same career? The Do's and Don'ts of becoming a chef? Well, let's start off with the Don'ts: don't come into the business with the mentality that you're going to be given anything. Nothing is going to be given to you. You have to work every single day; you have to put your hours in. And when you go home, instead of going out to a party, open a book. Nothing is gonna be given to you. The hours are incredible, I've worked 50-60 hours a week for most of my career so far. It's not easy. The work itself is challenging to your body – your physical, your mental, your spiritual. You're going to be pushed to the max, so don't even think about doing something like this if you don't have a strong passion for food. If you don't have the self-love… you have to love yourself and believe in yourself. Definitely, don't think being a chef is some type of cakewalk because it isn't. Your passion for food and love for people has to be more important to you than a pity check because chefs, as you may or may not know, don't make a lot of money. You have to put passion and love at a higher priority than money. Go to culinary school. There's chefs that will tell you not to, but go to culinary school, get your foot in the door, and work! Start from the ground up. I was doing remedial tasks for years, peeling potatoes. It was five years until I started actually to create!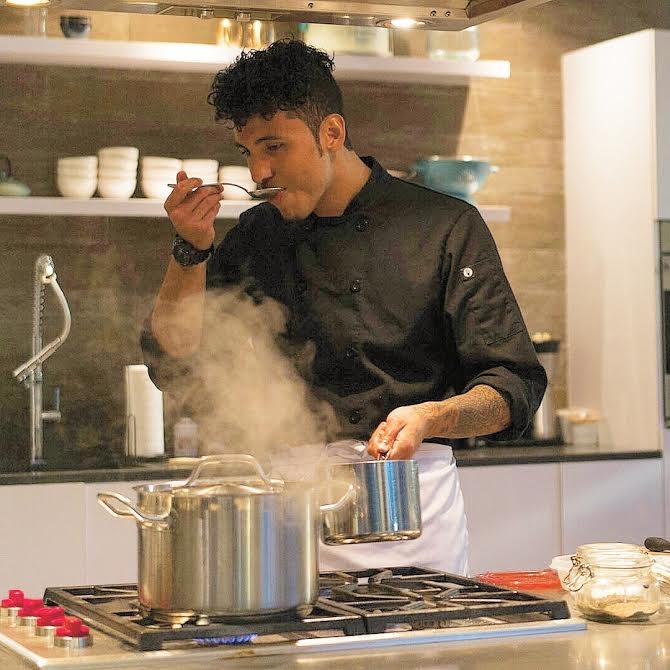 Were you once a picky eater?  NO! I was never a picky eater. I was born curious, really. There were a few things I wouldn't eat, but I was always curious, like liver and stuff like that. Things that nobody liked. But generally, I was always open. Food was something that always represented family to me. It always brought my family together, and I've always loved it. I've loved food since day one. It wasn't until age seventeen that I decided, "Hey! Maybe this love can become something."
You have your own catering service. Do you have help or an assistant, or is it all made solely by you?  So far, I'm still in the fledging stages of developing my business. Therefore, I don't have any employees yet. I'm keeping things small for my own benefit. I want to develop a base clientele before I begin to bring anyone else into the operation. Basically, my business model is just I am the chef, I am the talent. I come to your home, in the comfort of your home, and prepare the food right in front of you in your kitchen. I handle procurement, the cooking, and obviously the clean up. That's my business motto right now. It seems to be working. People like the idea of someone coming into their home, especially that knows what they're doing. We're in a society where people number one don't cook, and number two don't have time and order out a lot, so if you order out a lot, having a private chef come once in awhile is nice. It's a change of pace.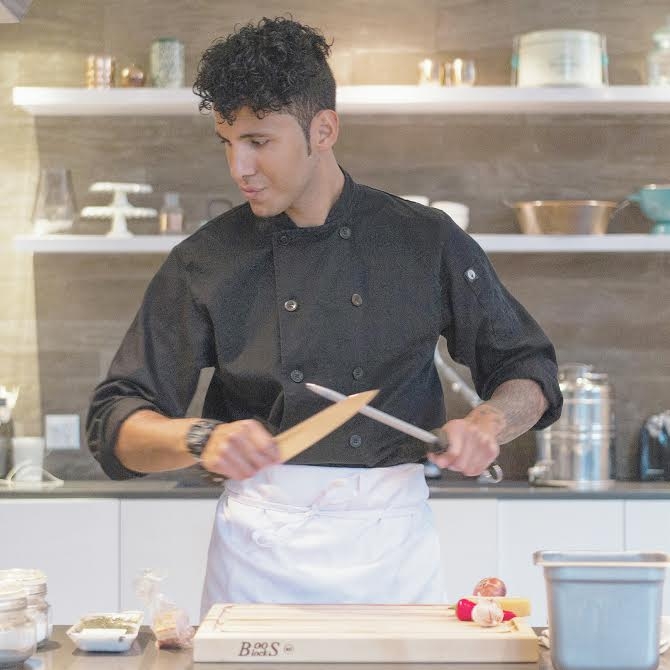 What was your favorite catering order thus far?  It was a private dinner I did for someone from the National Basketball Association in Hoboken. It was such a great time, everyone had so much fun, the food was delicious, and that was probably one of the events I'll never forget because I had such a great time. Doing that event for someone in the NBA.
What would you say for someone like me who wants to expand their taste palette but is a picky eater? Wow, you're a picky eater! Definitely don't just jump into anything. I would say find someone or somewhere that makes the food very well. For example, somebody came up to me and said, "I don't like seafood." I said, "Well that's interesting. Perhaps the reason you don't like seafood is because whoever prepared it for you or whatever restaurant you ordered it from didn't prepare it correctly." You have this rubbery squid or this overcooked salmon, or this Mussel Spaghetti Bolognese with mussels and clams that were bad, and now you say you hate seafood and it's not entirely true. You just hate that dish that was created improperly. So what you need to do is find someone or somewhere that will prepare that dish properly, have an open mind.
What would you say is your favorite kind of food? That's the thing… I get this question all the time and generally, my answer is I don't really have a favorite. My approach to food is so open, so eclectic, that I try not to. I would say eclectic as in having an open mind and taking in all this information. I like to study different cuisines. I'm over here, and I'm tasting something from one country, and tomorrow I'm tasting something from another. But if I had to answer that question under penalty of death, I would say my favorite food is Indian food.
Would you ever run a cooking class? I would love to. I jokingly went back to my high school a few months ago, and I said, "Hey Chef Collins, you know when you retire, I'll gladly take your job. And he's retiring soon, so I was only half joking when I said that because I feel as if I could give back to the community and give somebody else what he gave me, just one person, I would do something great.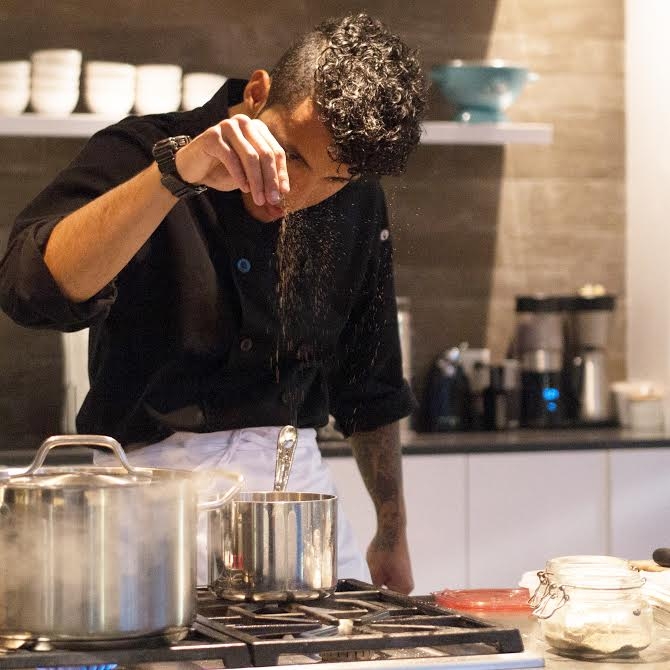 Do things every get too hectic as a chef? Every single day. It's a real sh*t show; it's the stress. It's funny how stress works, right? In life, there are stressful events, some events more stressful than others, but it gets to a point where you're like, "Well, wow. It can't get any worse than this; this is about as stressful as it gets." Then the next day, that level of stress gets completely blown out of the water by this new level of stress that is even higher than the previous level of stress. So it's funny, you think it can't get any worse, then it gets worse. It's the nature of the beat. You have to be able to cope with stress. It's going to affect your body, you're going to be exhausted, your mind and soul will be exhausted. You have to find it within yourself to keep moving one way or another.
Would you consider publishing a cookbook? Wow, that's a good question… Yes, I would love to do a cookbook. There's a lot of things I want to do. My agenda is pretty huge. I want to do a cookbook, television, cooking classes, a lot. I would love to.
Have you ever done pastries? My interest in pastry didn't begin until culinary school. It is a requirement you have to take a pastry course, four pastry classes actually, even if you have no interest in pastry. It's part of the program. In retrospect, I am very glad I went to culinary school because the things I learned in pastry have really helped me. For example, if a client says, "Hey Eliott, I need a cake for my wedding or my son's birthday," I can tell them, "Sure, I can make you a cake!" Let's just say I didn't go to culinary school, and a client asks me to make them a cake; I won't be able to make them a cake! A chef needs to know as much as possible.
What's the largest amount of food you've had to make for a catering order? I did Thanksgiving. This was before I opened my business, but I did a Thanksgiving catering event for 496 people so that you can imagine the number of turkeys and mashed potatoes, gravy, and apple pies for 496 people. That was Thanksgiving 2014.
Before becoming a chef, was there anything else you were interested in doing? There were a couple of different journeys I was on before I picked up a chef's knife. I wanted to be an actor. I did theater for three years in middle school all the way up to 8th grade. I was in several school plays. I enjoyed it; it was fun. I like entertaining in front of people. That was nice, being an actor was definitely a thing. I also wanted to be a marine biologist because I love the ocean. I spent so much of my time there fishing and hanging out at the beach; I felt like I belong there. Studying marine life was huge on my list of things I wanted to do. That's what I wanted to do when I went to County Prep, but then one thing led to another.
Were you born and raised in Jersey City? Born and raised in Jersey City, NJ! I have a tattoo of Jersey on my left arm; I swear to God. I love Jersey City so much, and there are people from Jersey City that talk badly about Jersey City, and I can't see why. It's a beautiful place, and I wouldn't want to live anywhere else. It's my home, no matter how far away I go. I'll never forget my city.
Where in Jersey City are you located? I no longer am in Jersey City, but the place I was born and raised for 20 years in Jersey City was Zabriskie Street in the Jersey City Heights. I recently just moved. I work in Hoboken; it's only a little thing I do. I focus on my business at this point. What I do in Hoboken is just small events here and there. My primary focus at this time is building up my clientele and my business.
Favorite Jersey City hangout? Oh, my god, there are so many I can go on for hours about Jersey City, but going back to my childhood, I would say my favorite hangout spot was the White Mana Diner on Tonnelle Ave. That was my first job when I was 14/15. It was my childhood. I grew up in that neighborhood. Everyone kind of came together there to have greasy burgers. It's part of Jersey City history and has been in operation for almost 80 years. I like Pershing Field basketball court, as well.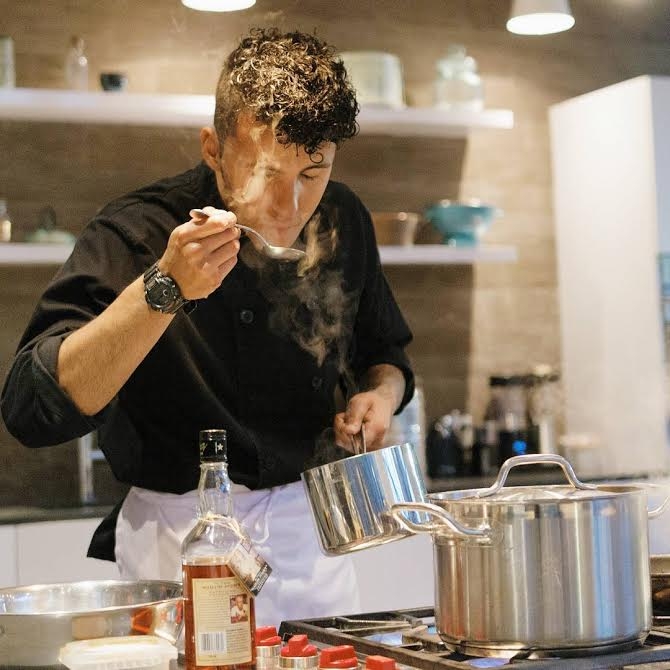 Do you feel the youth of JC is doing their part as a whole to make a change? The youth in Jersey City… I was born and raised [here], so I can speak on experience – it varies. There are people who are out there doing great things; there is youth who are volunteering their time, reaching out to others. I see it every day. I see it on Instagram, on Facebook, and in person. They're reaching out to others, and they're helping other people move up with them. People who are artists, singers, rappers, they can paint, they can cook, musicians, there are a lot of young people in Jersey City that are doing a lot of great things. Based on my experiences, I would say that they are people who are doing great for themselves, and doing great for others to change and to help move Jersey City forward and not forgetting where they came from. You can come to Jersey City and end up successful but never forget where you came from.
As always, is there anything you'd like to say to the youth of JC? Well, I'm not going to answer this in the context of being a chef, I'm gonna answer this open-ended. For the youth of Jersey City – no matter what you do, find something that you love. It doesn't matter what it is, find something that you love no matter what job you have. No matter where you go, whatever it is, keep that passion in your heart. Don't let it go. You never know when that passion can become the greatest thing in your life. Hang onto your passion.
Keep up with Chef Eliott on Instagram!